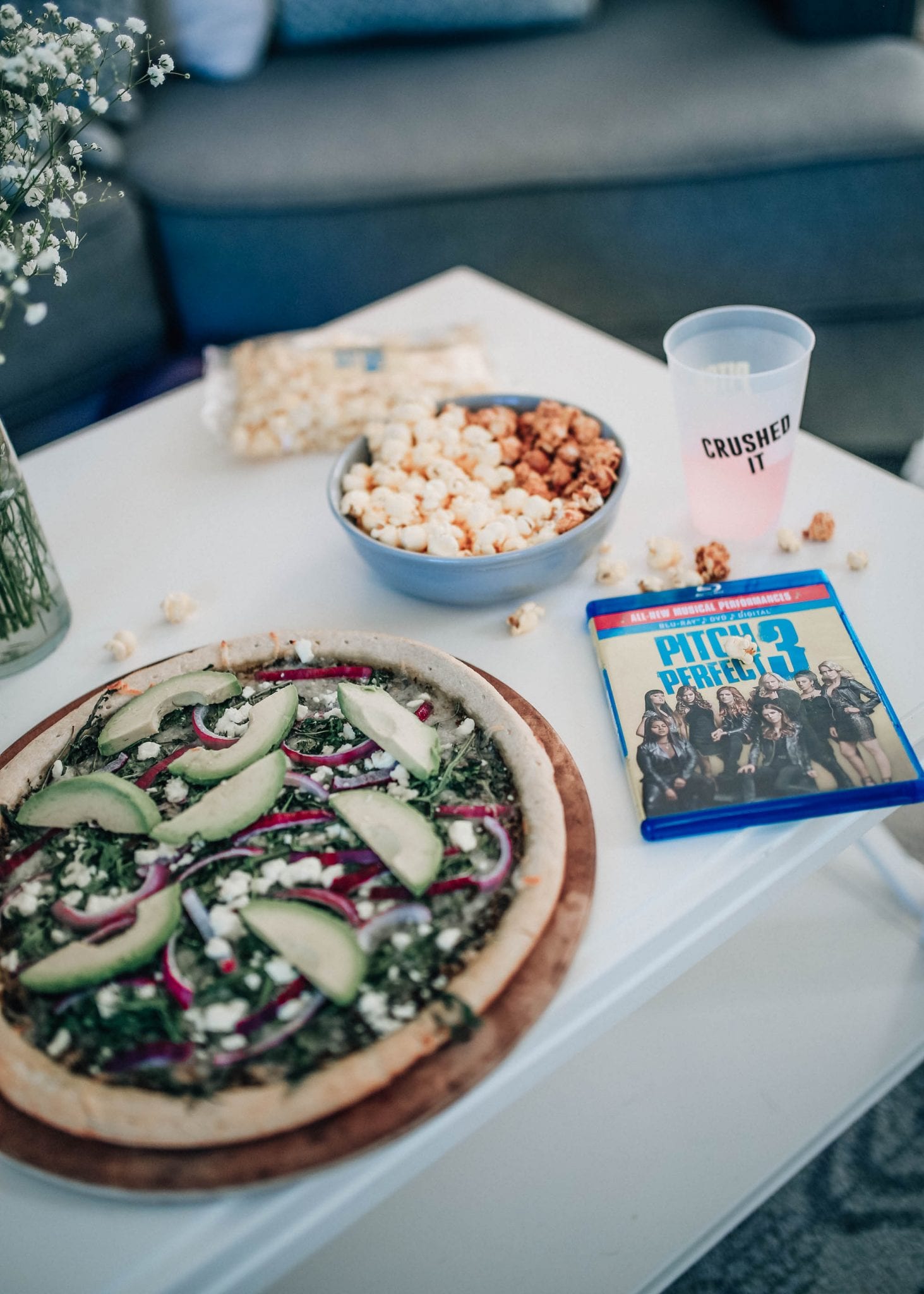 Thank you, Universal Studios Home Entertainment, for sponsoring this post.
If there are three things I'm always in the mood for, it's avocado, pizza, and a movie night. Luckily, I found the BEST pizza combination the other night just in time for the release of Pitch Perfect 3, now available on Blu-Ray and, don't worry, I'm giving you all of the details today! I was super excited to hear that the Bellas are back because I couldn't get enough of the first two movies. Fat Amy is just everything. Have any of you all seen it?! Now you can own it with new musical performances, gag reel and extended scenes not seen in theaters! Even Colbie dressed up like a Bella with her neck tie.

So, lately, I've been adding avocado to everything. I love how filling it is but also how 'healthy' I feel when eating it… making it seem nutritious when added to something like pizza. Normally, we like to take fresh pizza dough home from the store and add our favorite toppings to it. This time, we just used a pre-made crust to save some time but I used a pesto sauce for the base and added a few of my favorite things to it. Read below for the full recipe!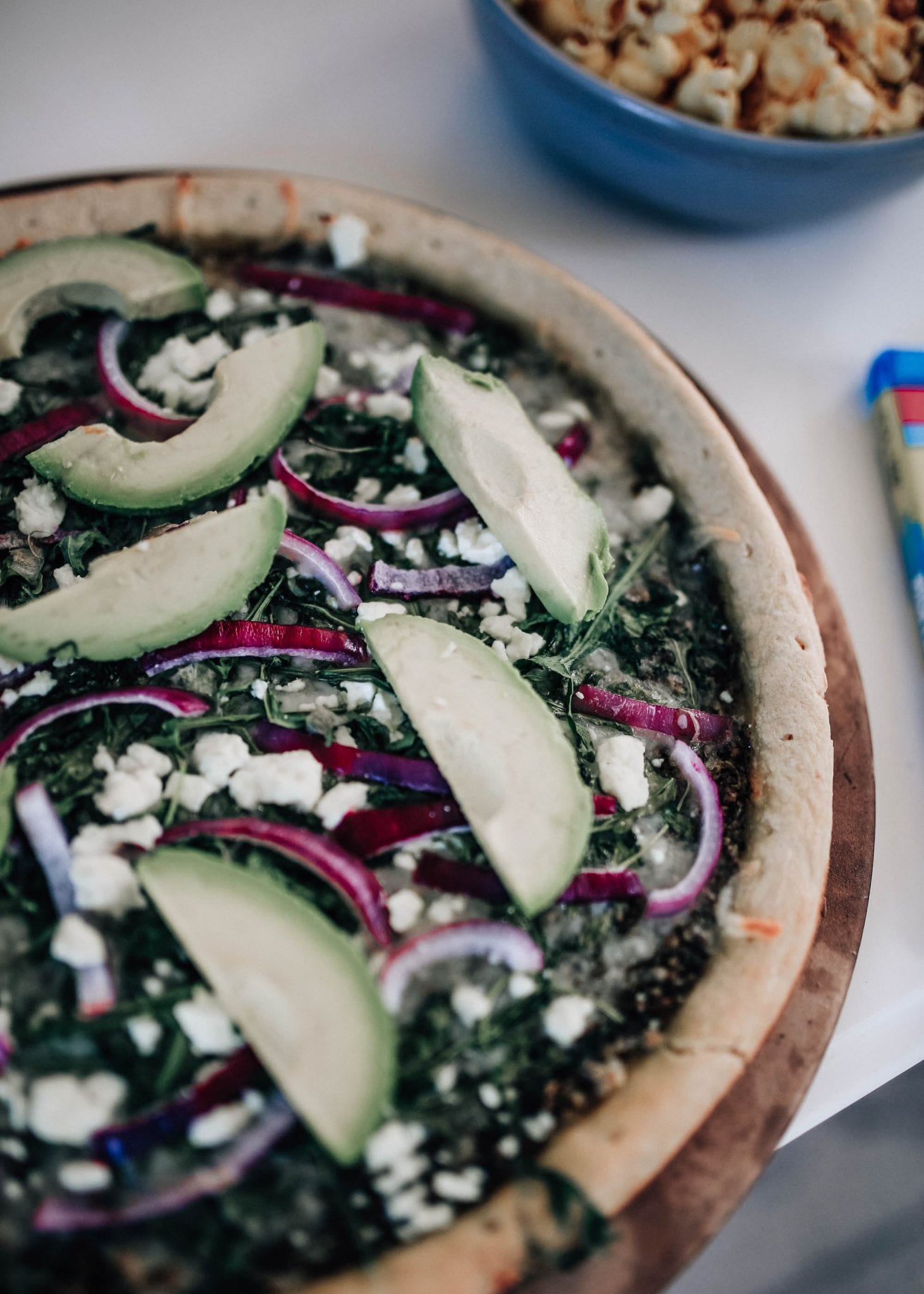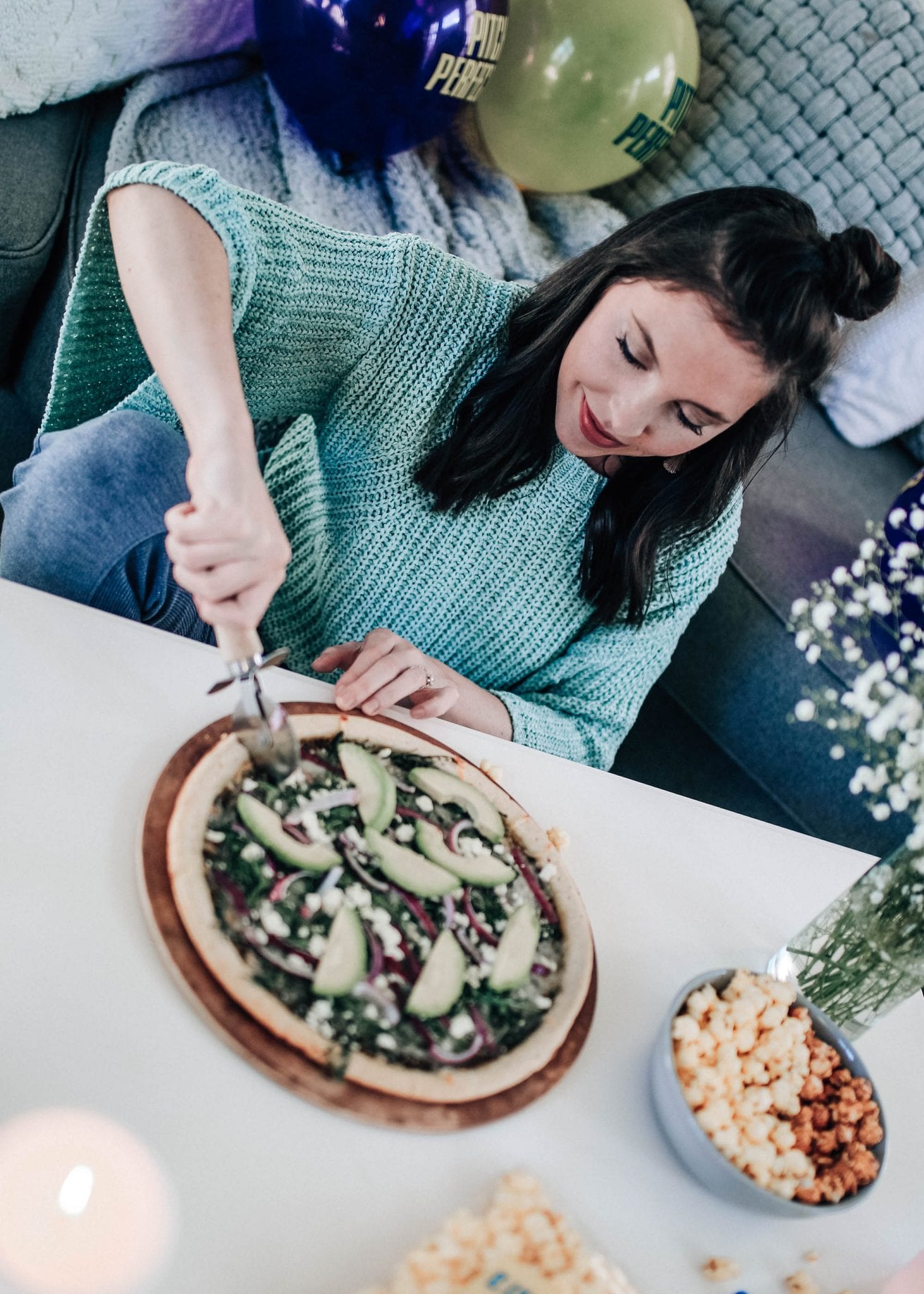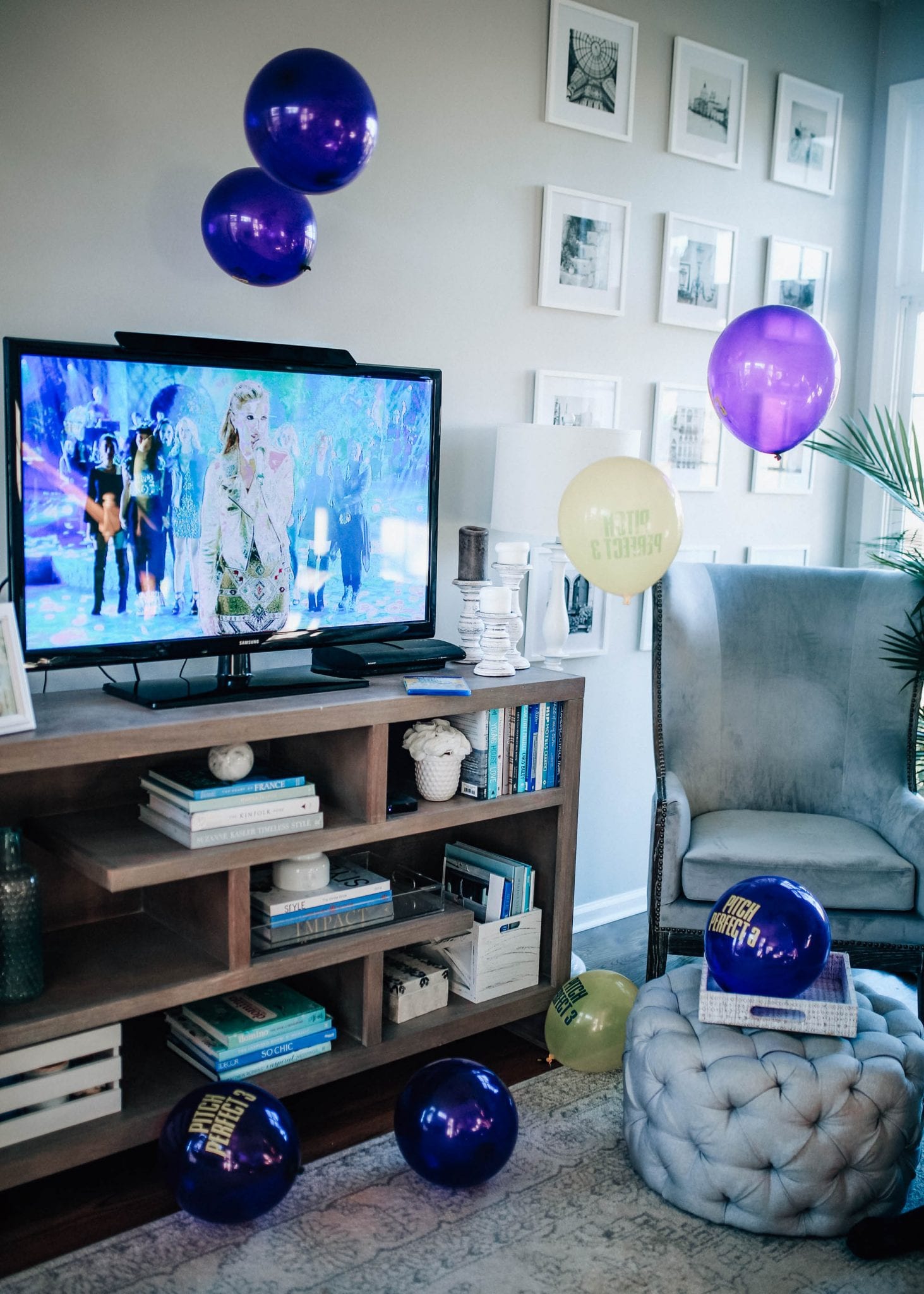 Aca-Avocado & Arugula Pizza

Ingredients You'll Need:
Pizza Dough or Pre-Made Crust
Pesto Sauce
Arugula
Red Onion
Feta Cheese
Mozzarella Cheese
Avocado
Instructions:
Preheat oven to 425.

While oven is heating, begin preparing the pizza.

Once crust is made (depending on if you used fresh dough or pre-made crust), evenly spread pesto sauce over the crust.

Add toppings including mozzarella cheese, red onion, arugula, and feta cheese.

Place pizza in the oven for about 8-10 minutes or until crust is golden-brown.

Once pizza is done, remove from oven and let cool for a few minutes. While waiting, cut slices of avocado for the last topping!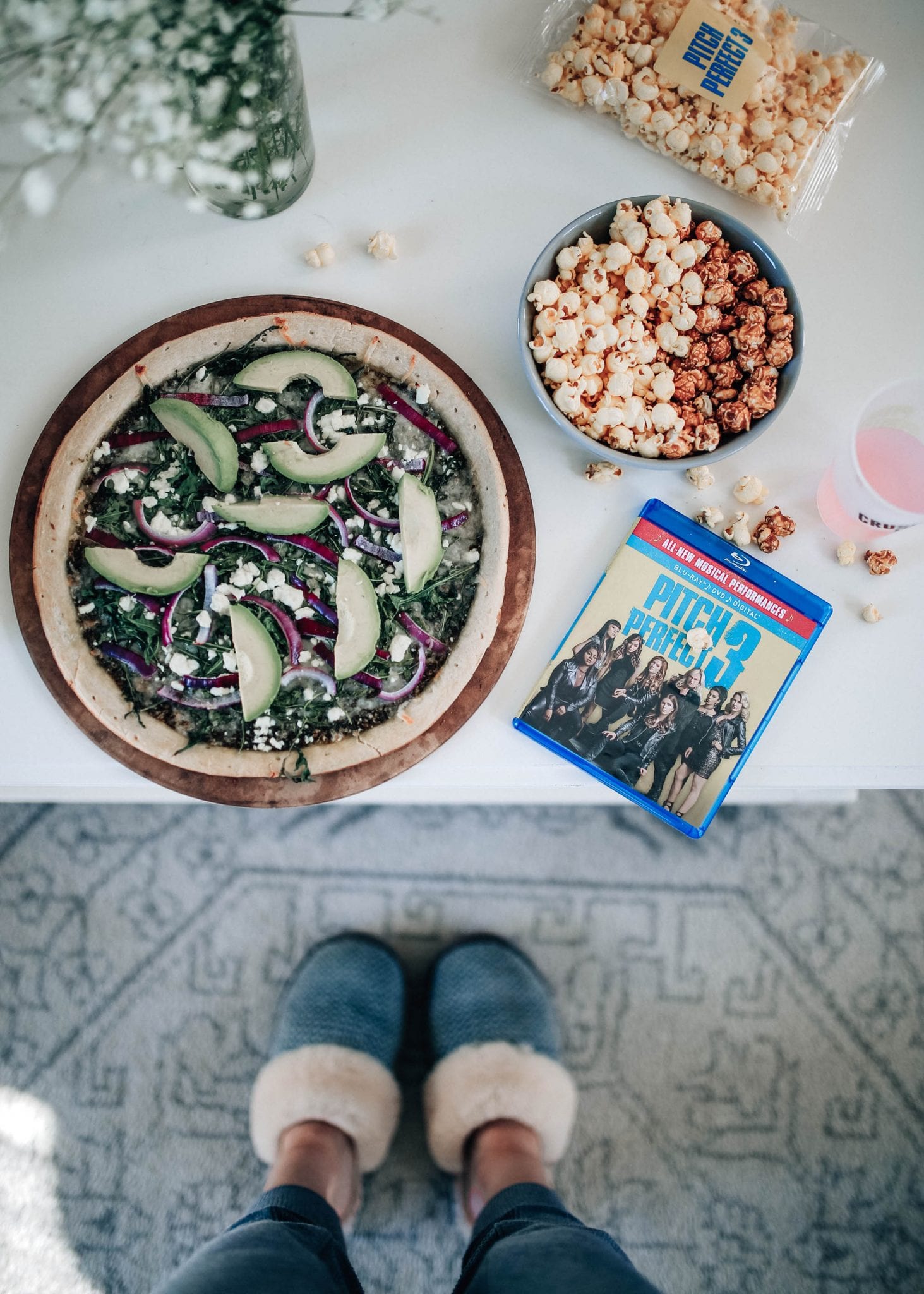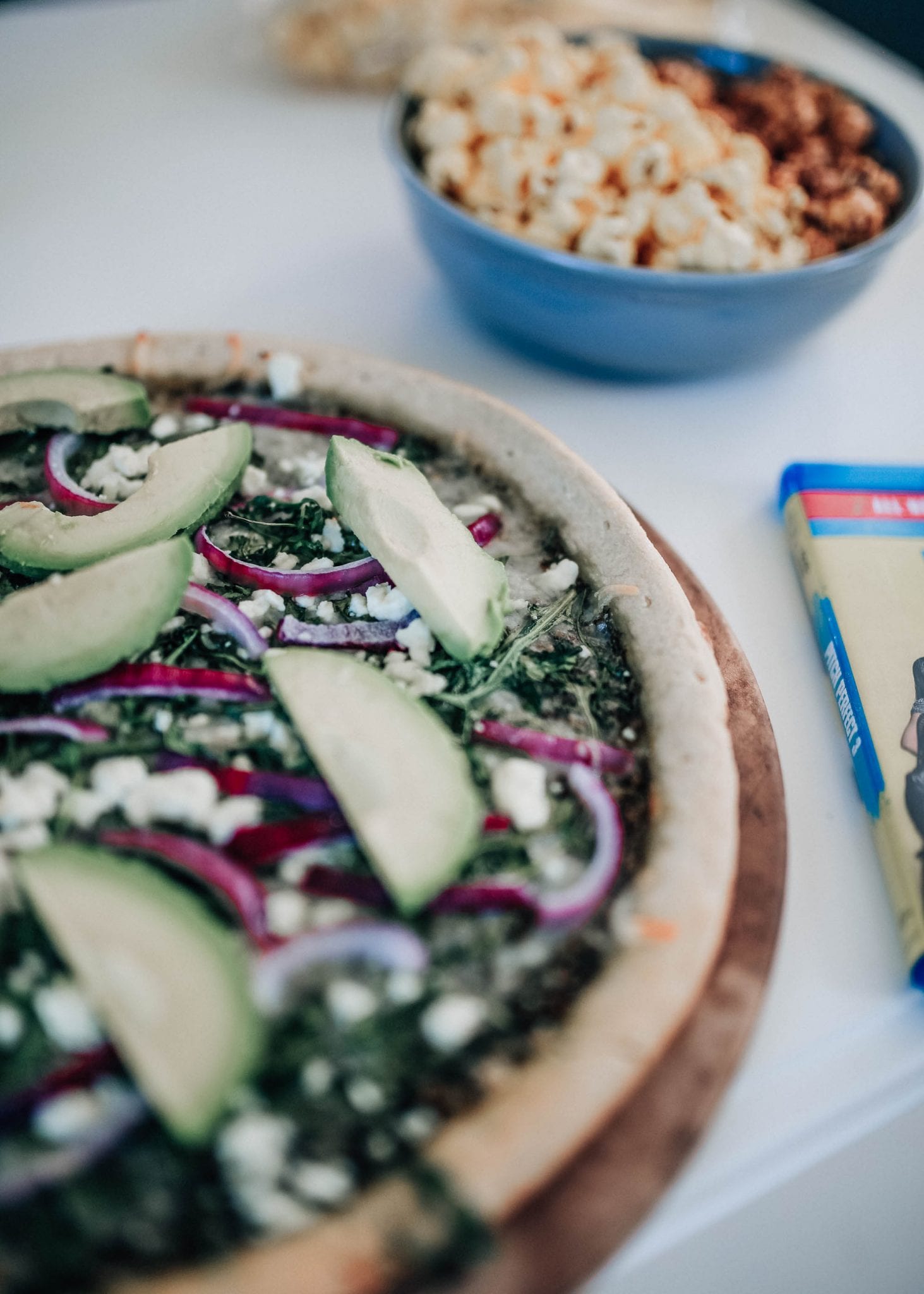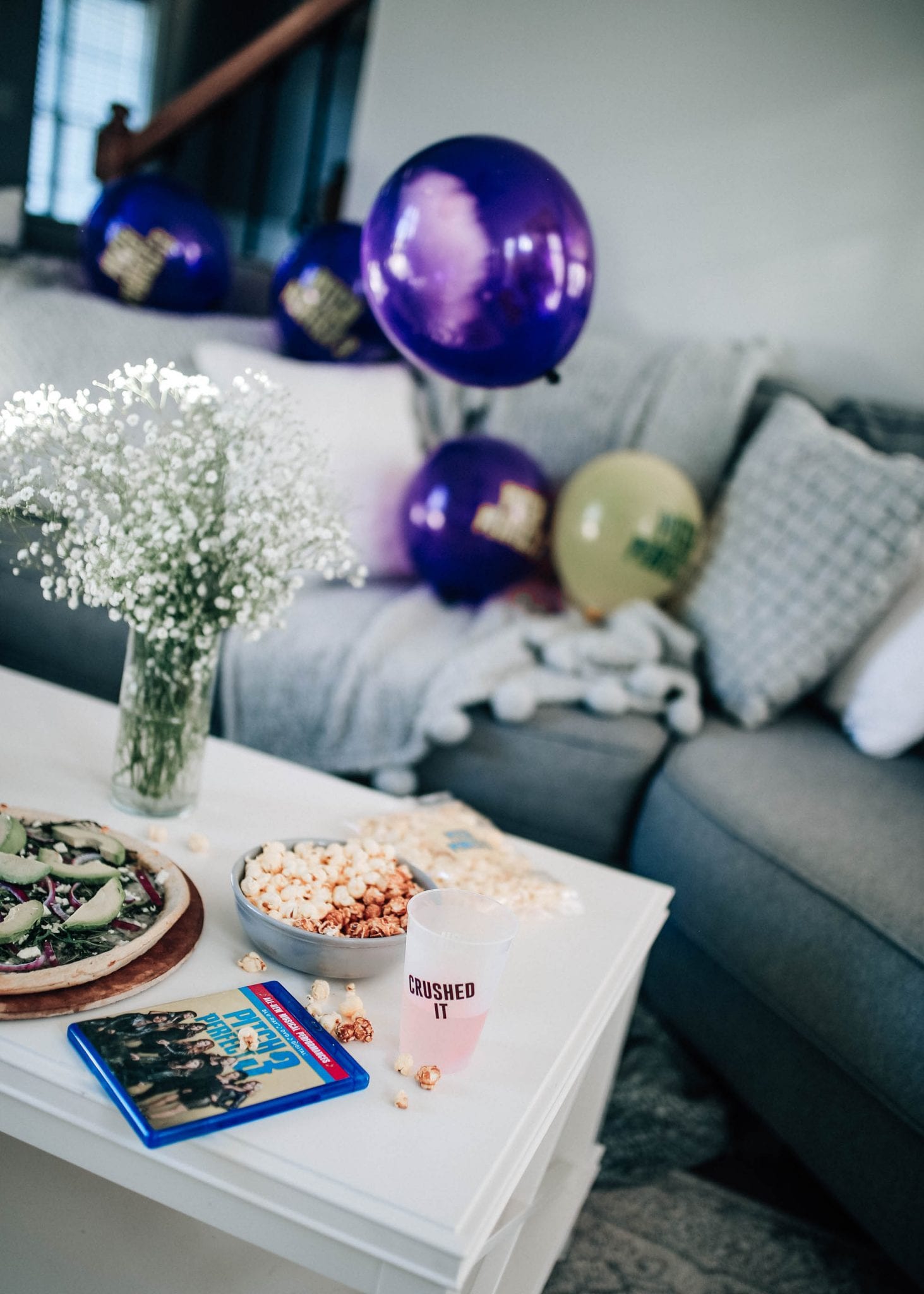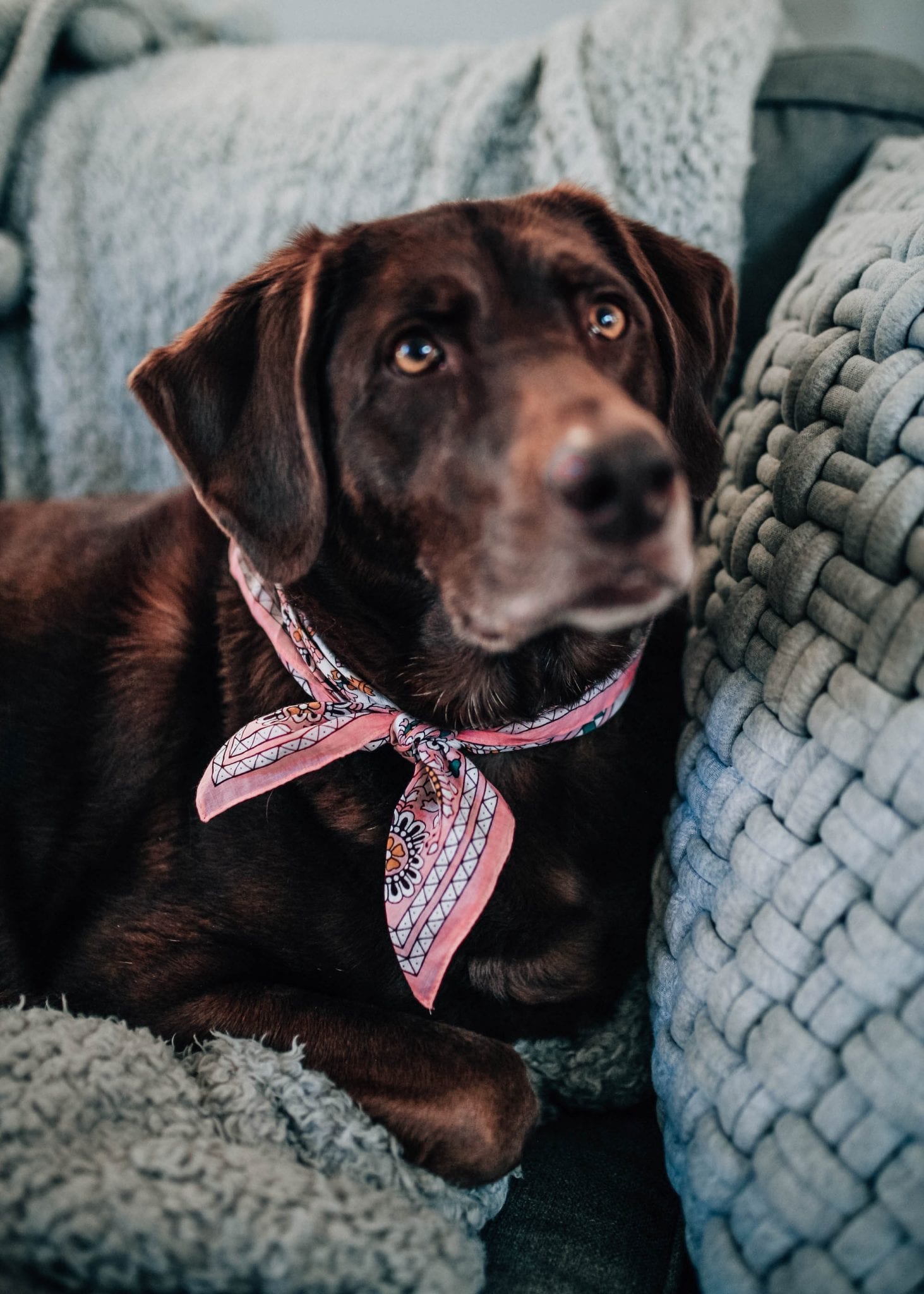 Even Colbie dressed up for the occasion.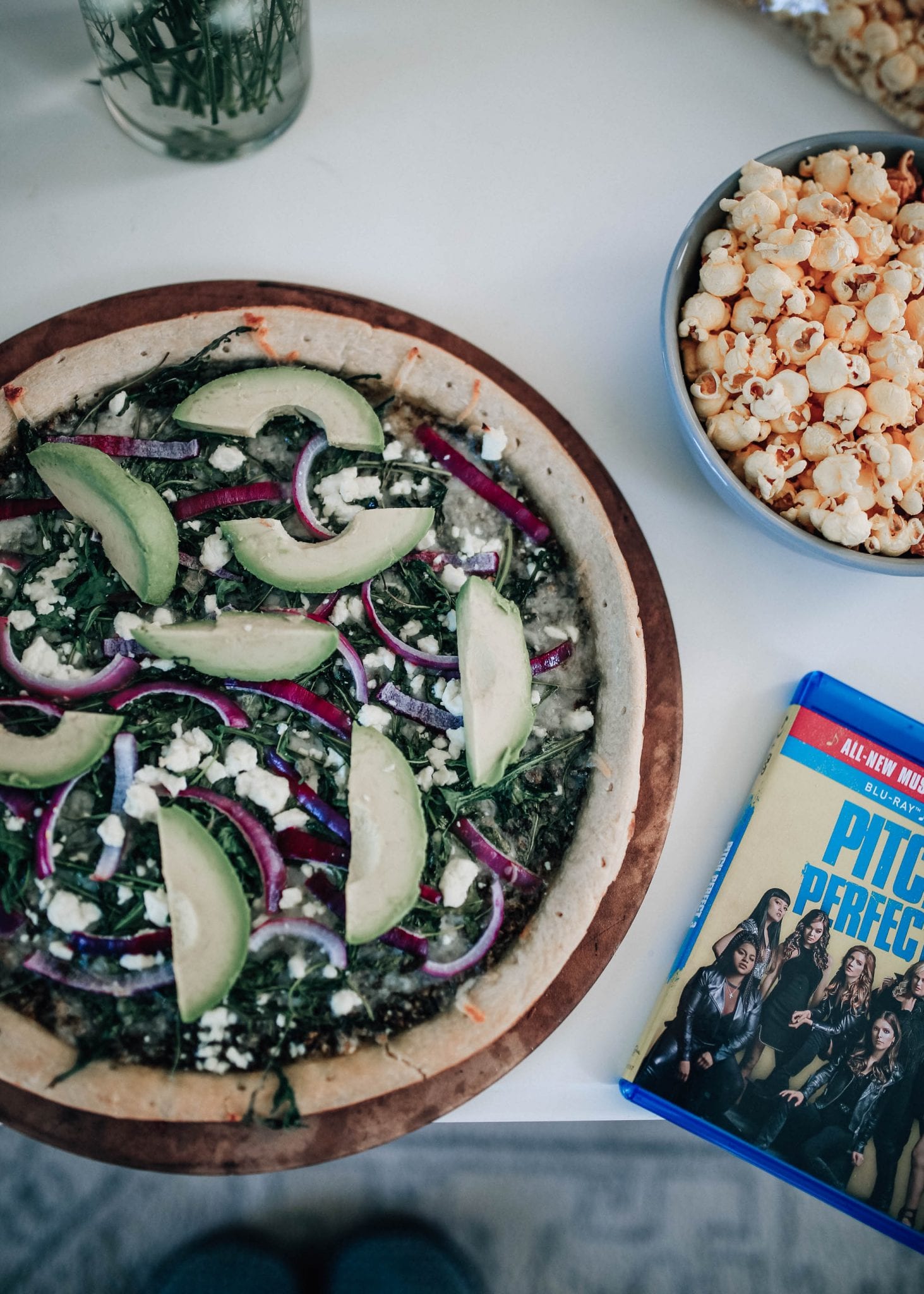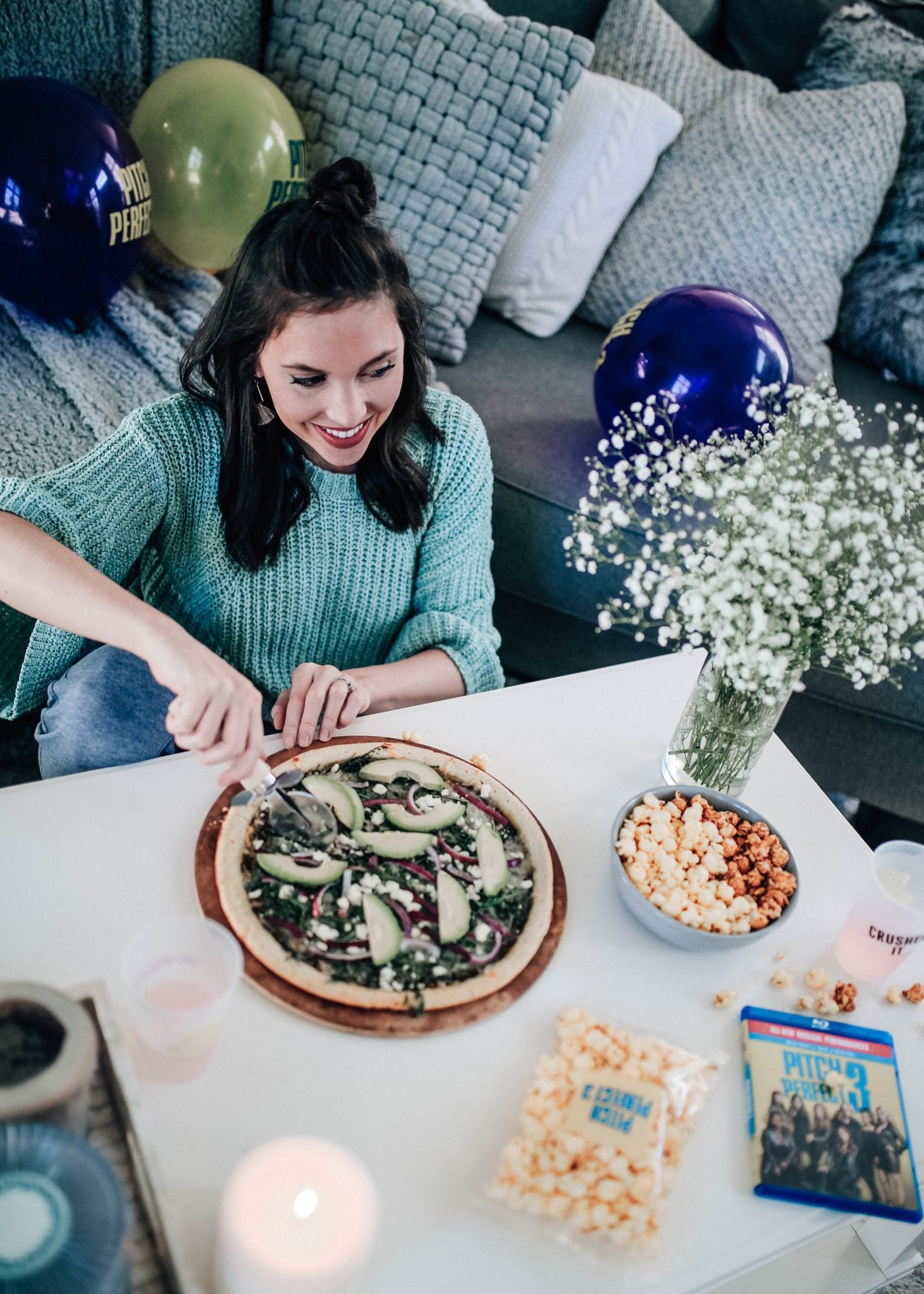 It's really the easiest pizza ever and is such a fun change from regular cheese/pepperoni pizza. Anyways, it's supposed to rain a lot starting this weekend so it's the perfect time to rally your besties for a #PitchesNightIn, make some delicious food, and host a cozy movie night!

Incase you haven't seen the trailer yet, you can watch it here!

<center><iframe width="560″ height="315″ src="https://www.youtube.com/embed/QVSCB0syZOA" frameborder="0″ allow="autoplay; encrypted-media" allowfullscreen></iframe></center>