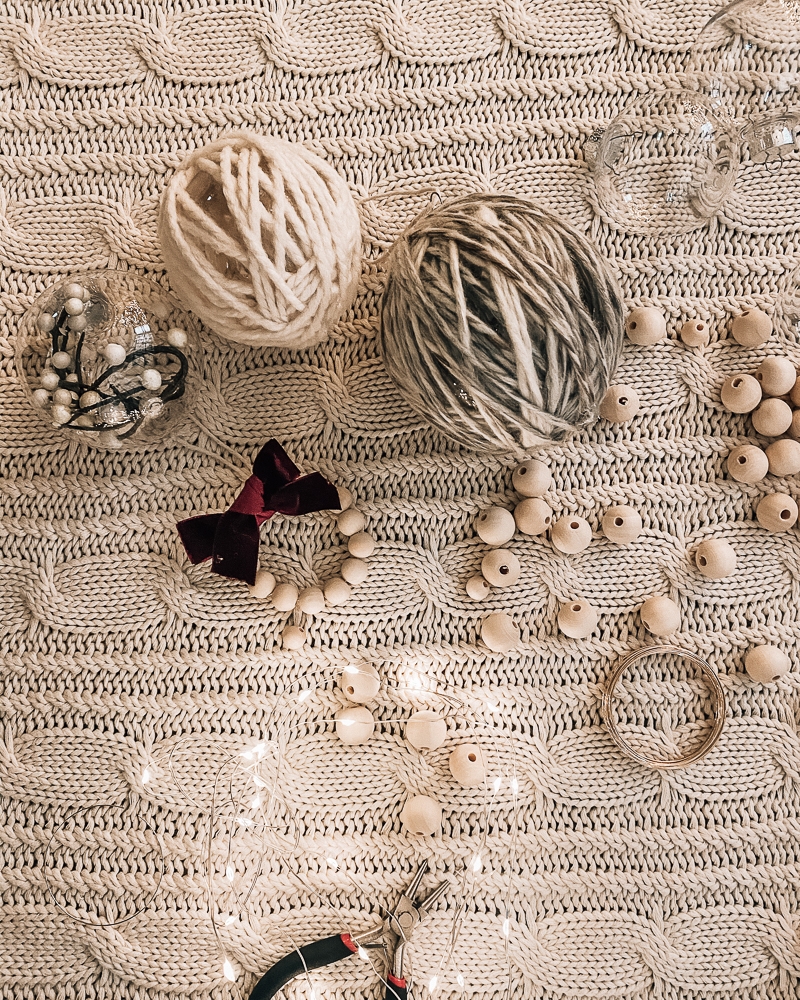 I kept telling myself I'd order some Christmas ornaments this year until eventually I realized "wait, all of the good ones are either sold out already or way more than I want to pay". I didn't want anything super messy and glittery and I wanted to keep the ornaments pretty minimal and simple. Last year, when we were moving to NYC, we actually left a few storage containers filled with Christmas decor in my parents' garage down in NC. I always said that I would come back and pick them up before the holidays. Well, it's been about 9 months and we haven't been back at all (well, once over July 4th very briefly, but that was it). So, ultimately, we started fresh with Christmas decor this year.

SO, I thought I'd share a few simple ornament ideas that require minimal supplies that you can make this week!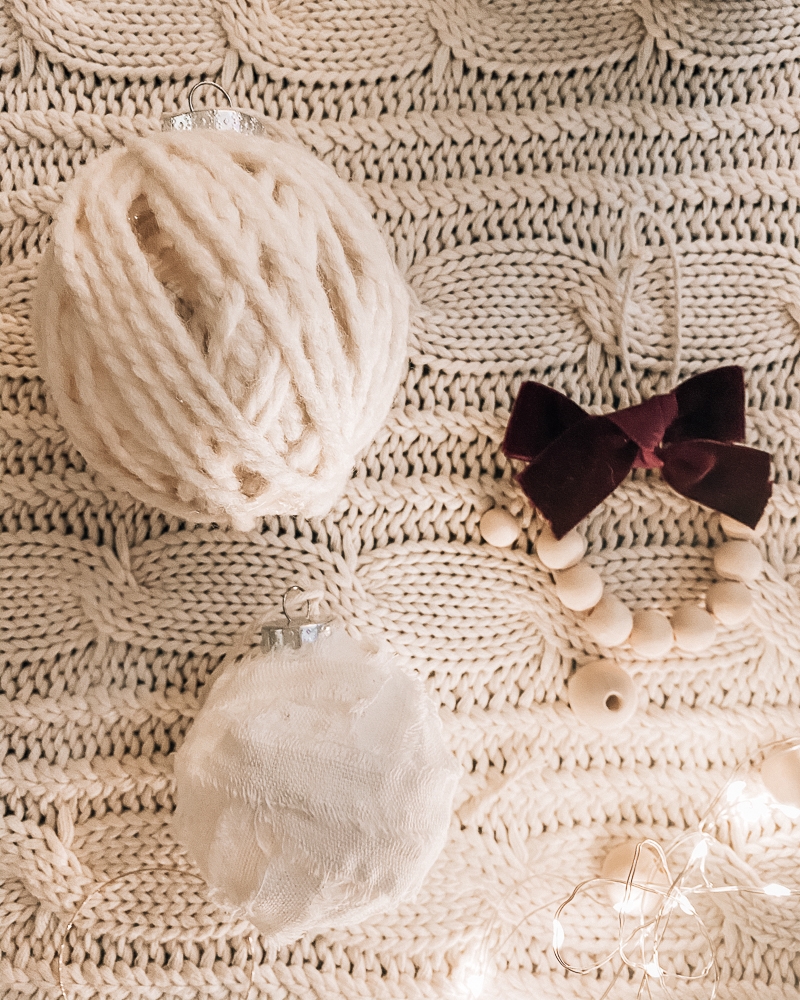 COZY YARN-WRAPPED GLOBES
These are the most simple ones to make, by far. All you need are clear plastic (or glass) round ornaments (you can buy them from Michael's like I did). I've also seen some people use old wiffleballs!? Honestly, anything round will work. I just happened to be at Michael's and they had all of the clear ornaments in every shape I could imagine so off we went! You'll also need yarn (get the thicker kind), a hot glue gun, and maybe some twine to actually hang the ornament on the tree.

Start by adding a dot of hot glue to the bottom center of the ornament which will be your starting point for the yarn. Then you'll just wrap from opposite side to opposite side until the ornament is as covered as you want it to be! Personally, I left some open spaces so that the lights on the tree could shine through.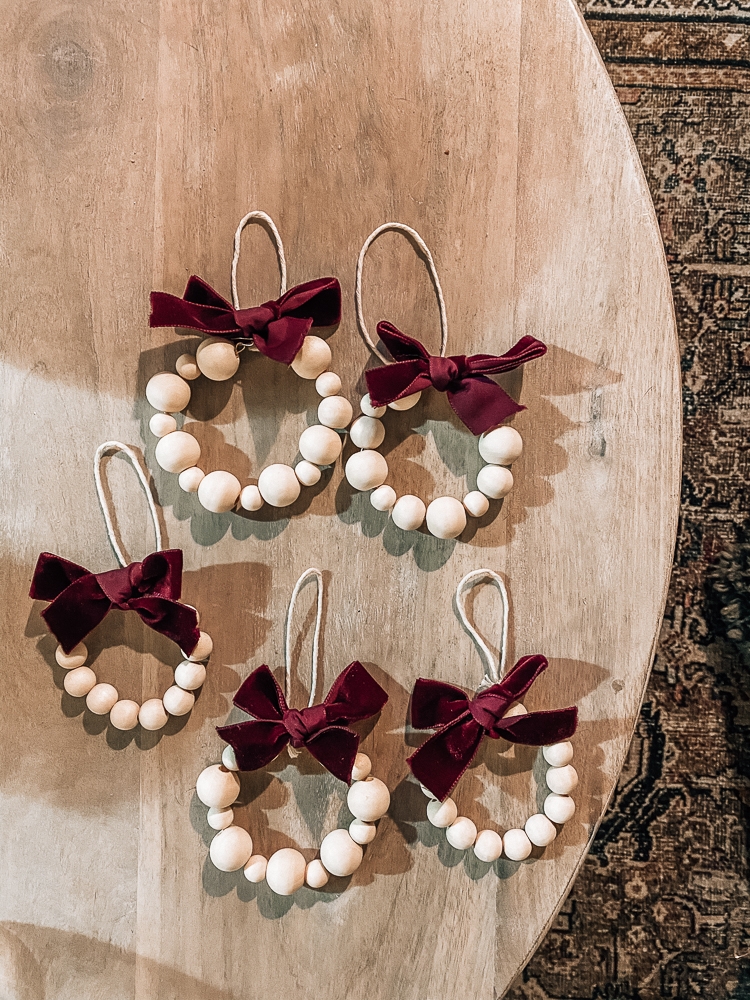 WOODEN BEADED WREATHS WITH BOWS
These ornaments took a little more supplies that I didn't already have (like wire cutter, memory wire, wooden beads) but the supplies were all pretty affordable and I was able to order most on Amazon to get them the next day.

SUPPLIES:
Pliers, Memory Wire, Wire Cutters, Wooden Beads (various sizes but if you want one size only I recommend the .5 in.), ribbon (mine sold out but I just searched for "burgundy velvet ribbon", twine for hanging.

I basically created a hook by bending the wire backwards, added the beads, then made another hook so that it resulted in a bracelet type shape! Then we added bows and made a loop of twine to hang. So simple!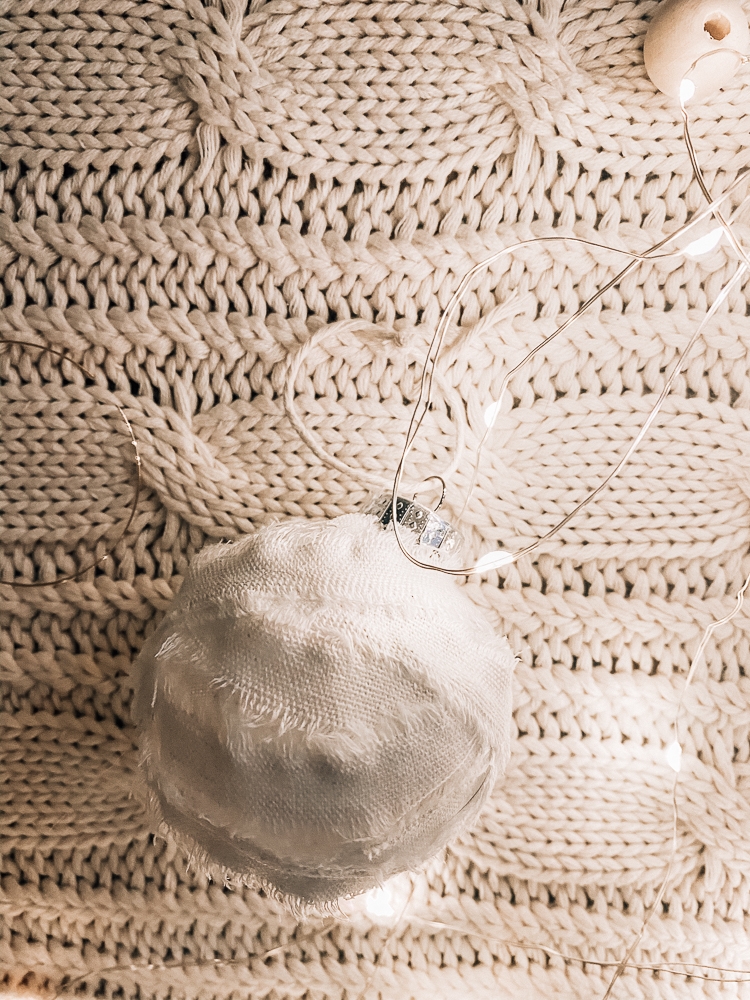 LINEN WRAPPED GLOBES
This is basically the same idea as the yarn-wrapped ornaments BUT I had some sheets of linen fabric that I cut small cuts into to make .5-1 in sections and then ripped the fabric the rest of the way. By ripping it, it gave it that organic lived in look and ended up looking high-end. These might be my favorite of them all.
If all else fails, CLEAR ORNAMENTS FILLED WITH… ANYTHING
I am SURE you have seen clear ornaments filled with pine/greenery, dried florals, etc. but they really do end up looking SO GOOD for being so simple. I found some dried florals as well as faux berries from other places in the apt and ended up filling some leftover ornaments. So, if all else fails, this is a simple route that also allows your tree lights to shine through!
And if you REALLY don't feel like making ornaments yourself but still want the homemade look, I've rounded up a few of my favorites that you can buy from various shops on Etsy:
[show_shopthepost_widget id="4305705"]