Every home has "that corner", the one that is a little awk and it might be enough space to put a chair but might not… It could maybe use a plant but you have no idea what type of plant to even place there. You might have a hard time deciding what to hang on the wall… a gallery wall? A grid-style gallery wall? Just a few frames? One massive frame? A mirror?

We put our Christmas tree up the first day we moved into our house so a few weeks ago, when we took the tree down, the corner it was in looked very sparse. I wasn't totally sure what to hang on the wall or if the corner would be too big for the chair I had.

I had always wanted to create a big grid wall of personal photos (family, travel, life) in my home but never knew exactly where it would go, not to mention, they can be SO expensive depending on where you purchase them from. After hours of searching online, I came across a set of 12 for UNDER $100! Now, they are definitely not the best quality (one of mine came broken and we had to super glue it back together), but they are a wonderful budget-friendly option. It even comes with a stencil to help you hang all of the frames evenly.

So, this inspired me to create a list of ideas of what all can go into that awkward & empty corner you might have in your living room.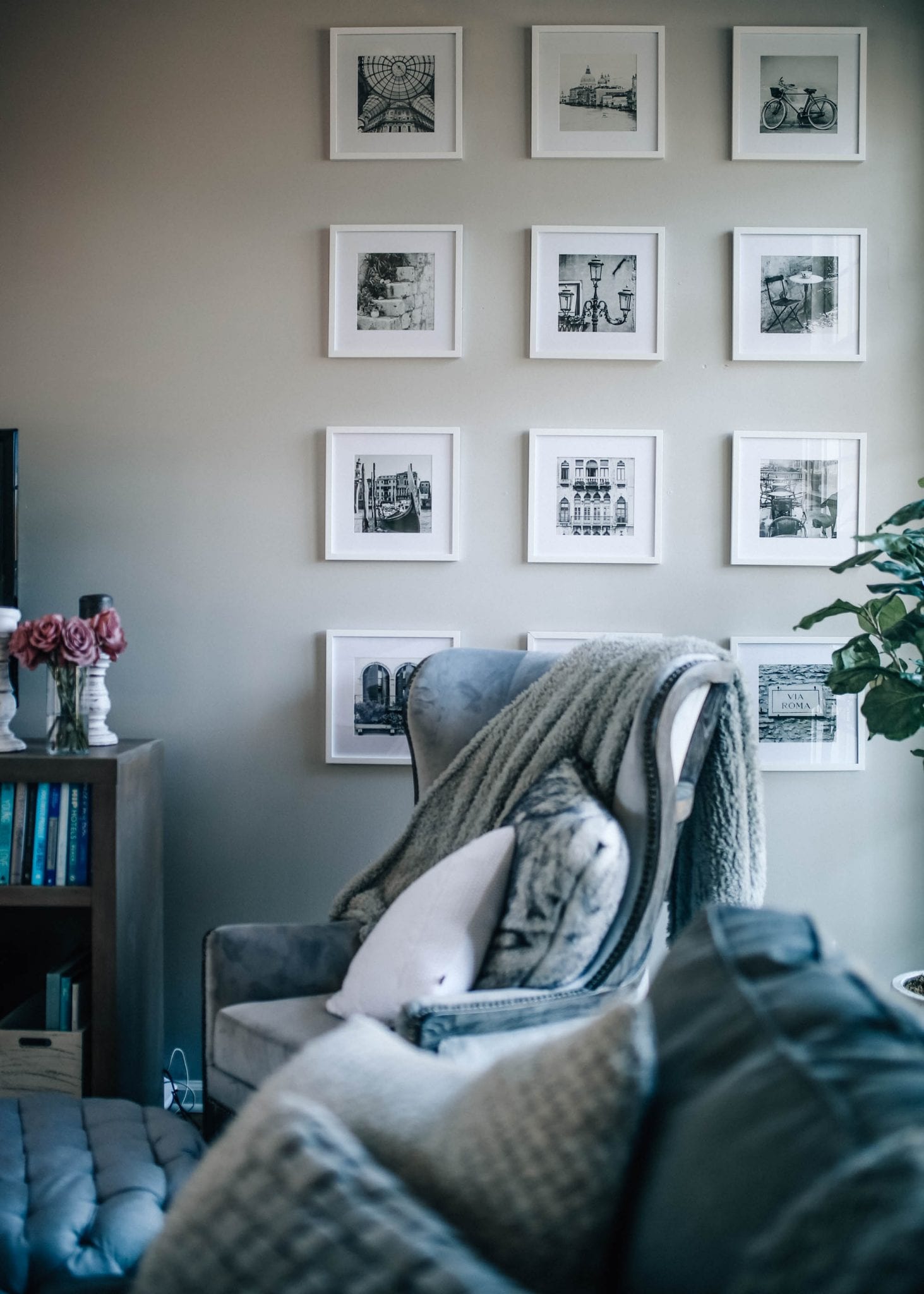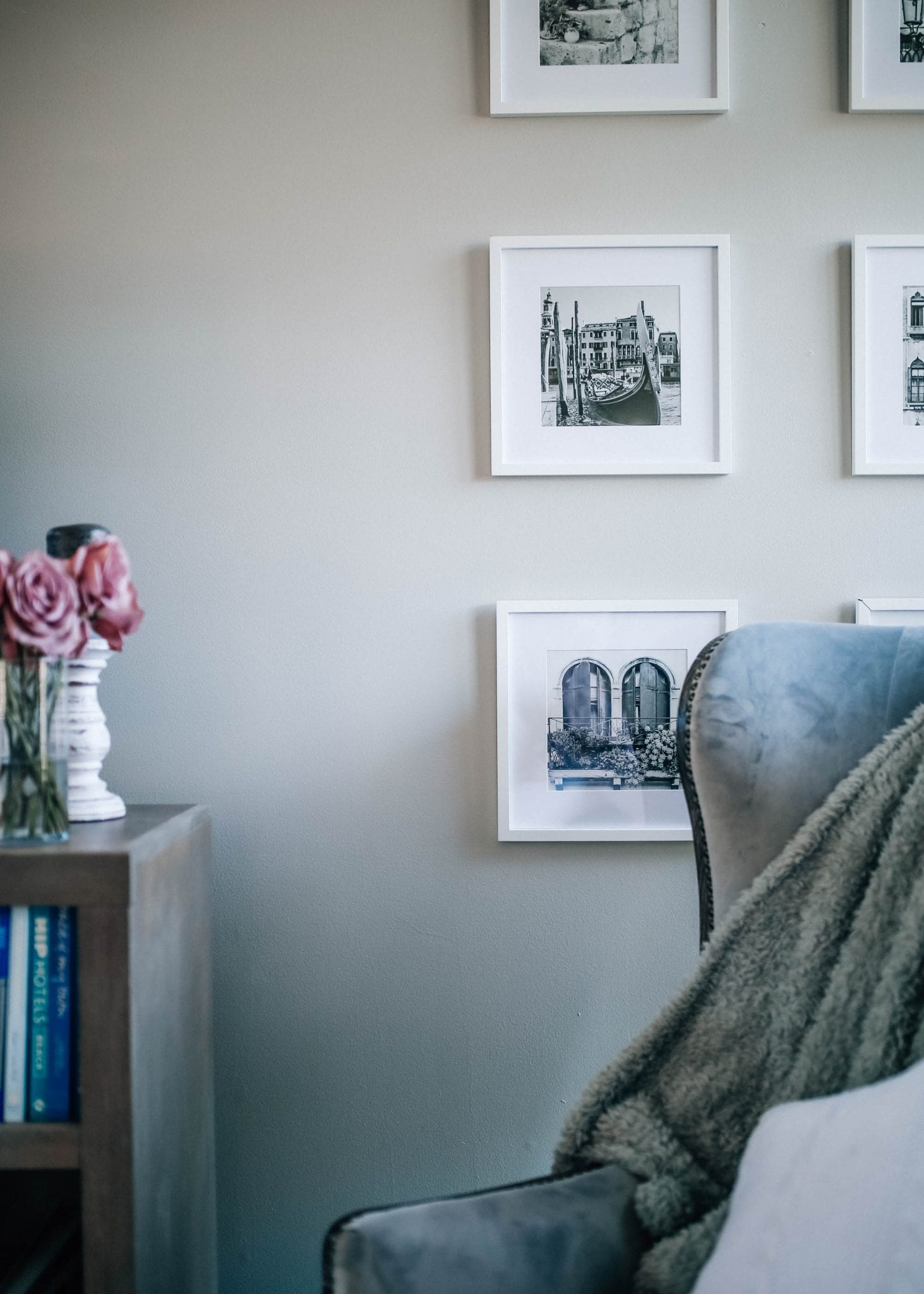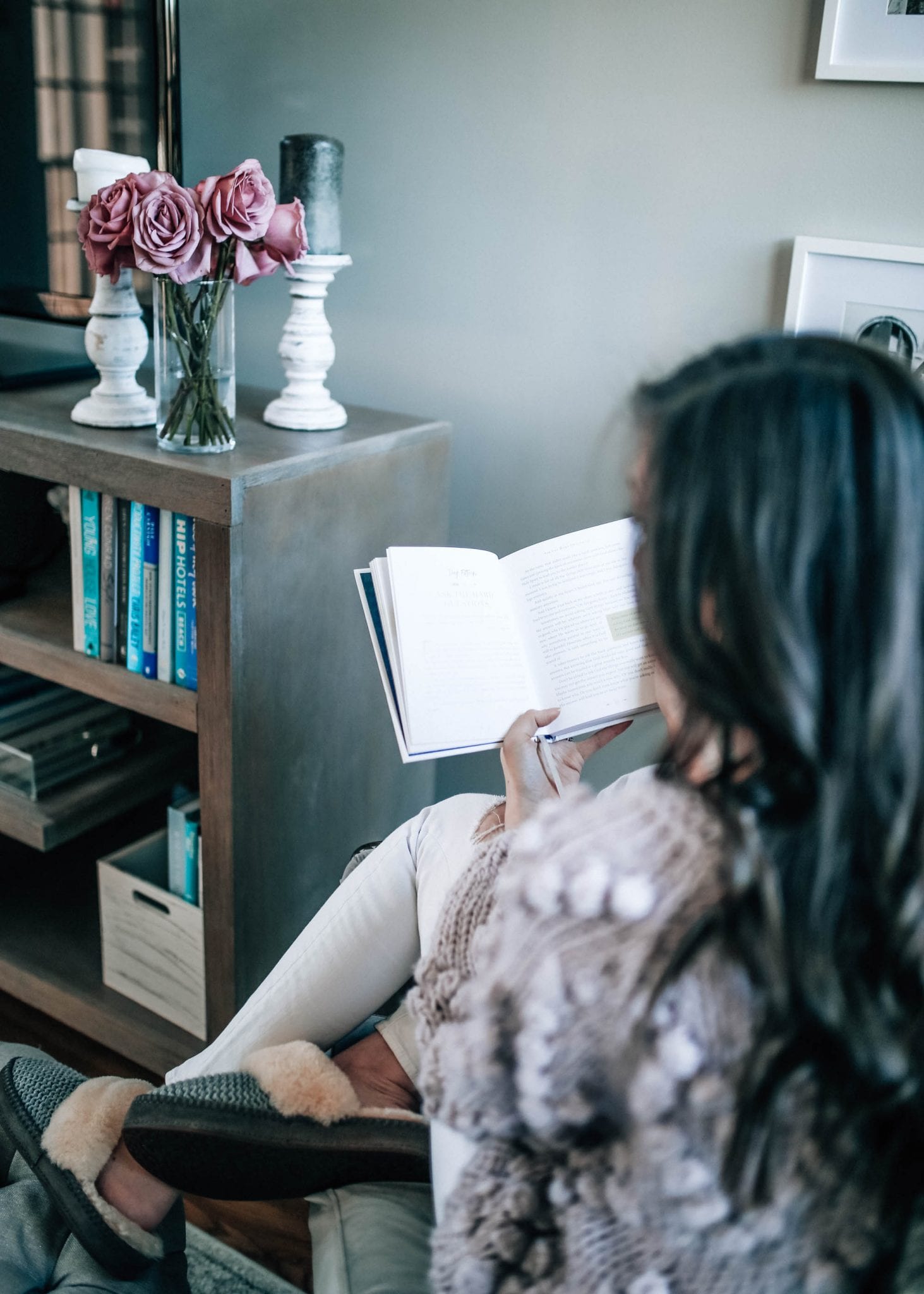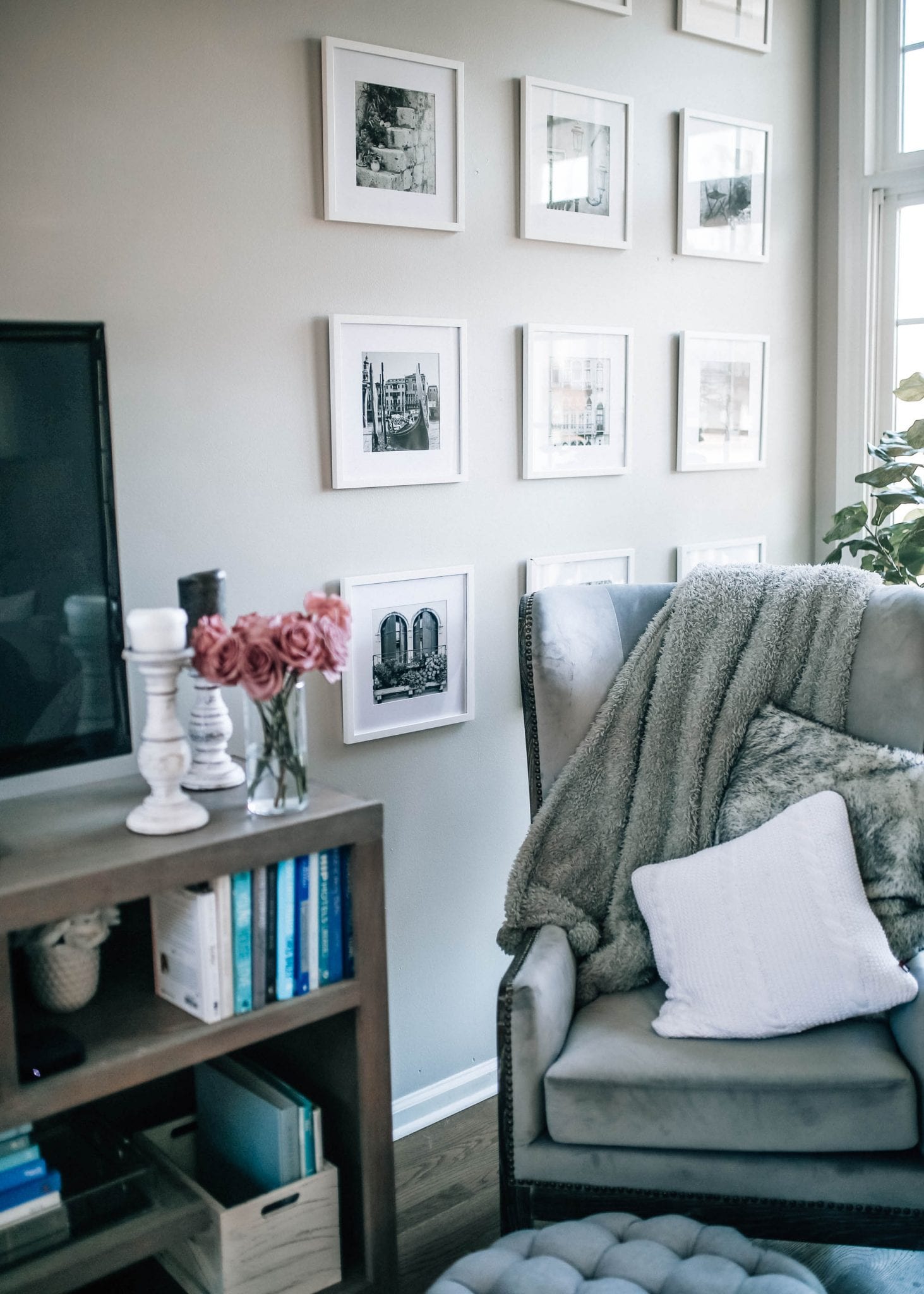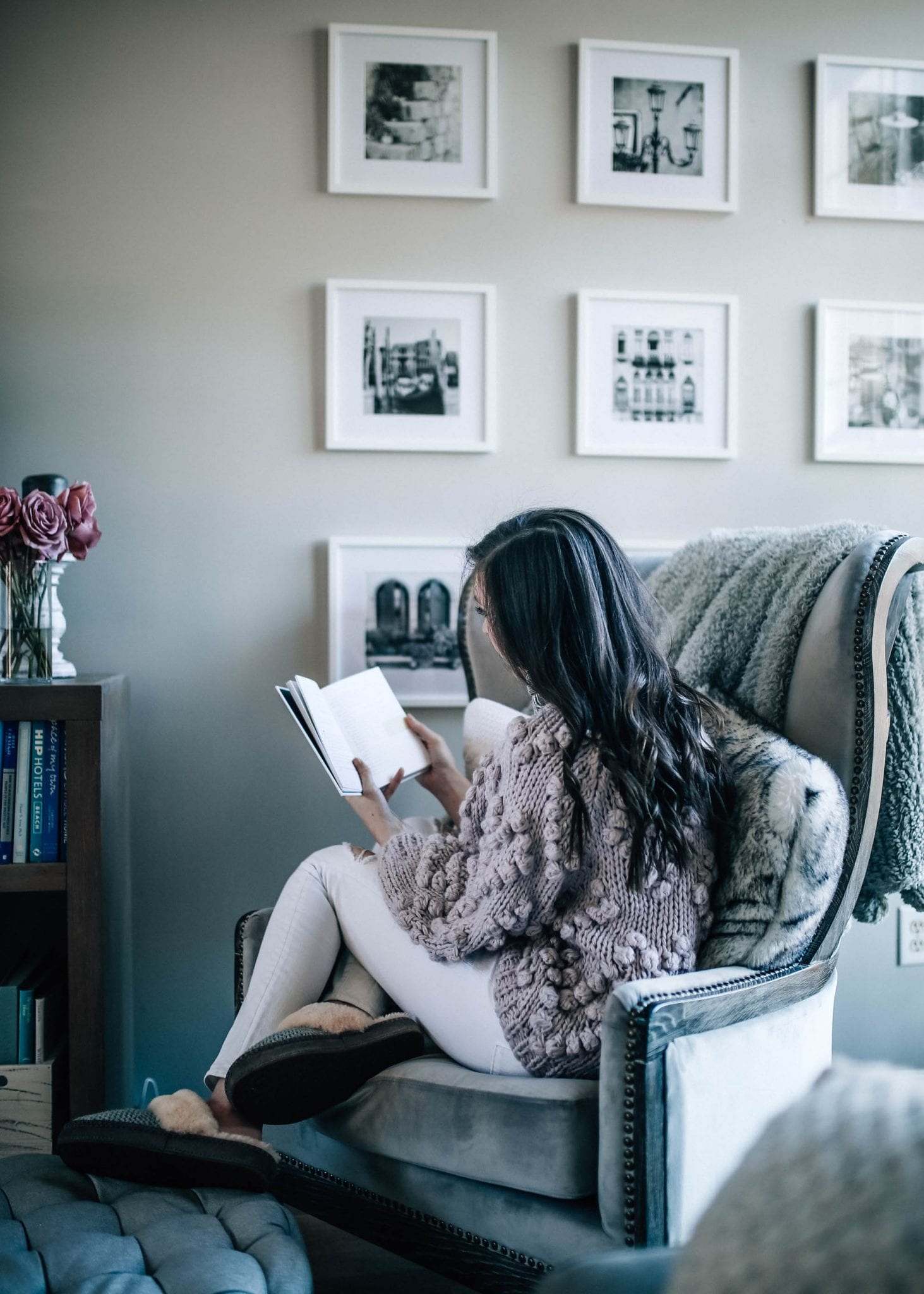 PLANTS
After seeing our Christmas tree's void, I knew I had to put a plant there to replace until next November. We had a faux fiddle leaf fig in another room so I just made a switcharoo and now I think it'll stay! Here are a few cute faux plants you may want to consider for your home:

<center>

</center>
WALL ART
When it comes to wall art, there are SO many options. Let's walk through them:

One Giant Classic Frame: Find a cute print off of Etsy to save money, frame a special photo, or any other art print. Print it out in an extra-large size to make the space pop!

Gallery Wall: I'm a fan of gallery walls; however, I already had a standard gallery wall on the wall beside this space. You can see more photos of my gallery wall here.

Grid Style Gallery Wall: This is the particular style I went with for my corner. It doesn't take much creativity which can be nice although you can still make it as personable as you want! I still have the stock photos in my frames but I'll be adding photos of our wedding and life as soon as I order some prints.

A Row of Frames (Horizontal or Vertical): Hang a column of 3, a row of 2, or as many as you want depending on the size of space you have to fill! I'm going to be doing this with the wall above our bed since that space is more horizontal.
Floating Shelves with Frames of Various Sizes: I LOVE seeing floating shelves with frames and other knick-knacks on them above couches.

<center>

</center>
CHAIR

Depending on the size of your corner, you can put a smaller more dining-table style chair in the corner or you can go all out and put a larger statement chair.
<center>

</center>
OTHER IDEAS
Bar Carts or Bookcases: I love the idea of a bar-cart in the corner of a room… what could be more welcoming and inviting than a bar cart or a bookcase? You can even add a mini gallery wall of art above a bar cart for an extra cute corner space. Here are a few affordable options I absolutely love:
<center>

</center>
I hope those help inspire you! You might already have some of these in other areas of your home that you can switch over. Let me know if you end up creating this grid-style gallery wall! I'd love to see how it turns out!
PS – I just realized that our bar-cart is on sale today.
xo, Shelby
<center>

</center>