Whether you're from NC or not, chances are you've seen videos on the news of the coastal/eastern NC areas that are completely flooded, videos of people being rescued and heading to shelters, or even animals that were left behind in Hurricane Florence. While we are in Raleigh, which somehow got very lucky not being directly in the hurricane's path, there are definitely people who were not as lucky, who had their businesses and homes destroyed. If you're looking for some ways to help, here are some that I've seen on social media or come across on the news…



American Red Cross: Help people affected by Hurricane Florence by donating funds or book an appointment to donate blood since hundreds of blood drives had to be cancelled.
Direct Relief: Has committed an initial $200,000 and inventory of more than $100M in medications and other med. products to hurricane victims. (medical supplies $)
Foundation for the Carolinas: Donations will be directed to nonprofits in North and South Carolina providing relief to storm victims. (send funds to various non-profits focused on hurricane relief)



Diaper Bank of NC: Provides disaster relief focused on hygiene needs of families who have had to evacuate. You can give a monetary donation online, drop off diapers, wipes, sanitary pads at their HQ (1311 East Club Blvd. in Durham), volunteer to prep relief kits of personal hygiene products, or donate items on their Amazon Wishlist. (diapers, feminine hygiene products, adult incontinence supplies)
Food Bank of Central & Eastern NC: helps families, seniors, and children who are without power, food, and water by providing all of these for as long as needed. You can donate funds here or donate food at one of the Food Bank distribution centers. Some of the most needed items: high-protein canned meats such as ravioli and soups, single serving meals that do not require refrigeration or cooking, peanut butter, paper goods, and more. (food, water, supplies)
GoFundMe Campaigns:
TASK FORCE 75: an organization that consists mainly of US Military Veterans who continue to assist Americans throughout hurricane season // provide Search and Rescue Teams, Animal Rescue Teams, and First Aid Personnel.
There are numerous GoFundMe campaigns focused on hurricane relief and you can see them all here.





Doobert: a website where you can sign up to volunteer to provide transportation assistance or shelter assistance to animals in need (a great resource if you are an organization).
Local Animal Shelters: Pender County Animal Shelter has waived their adoption fees to help encourage more dog adoptions during this time. If you've been considering adopting a pet, now is the time because many shelters have no more space for animals since they've been taking in other shelters' animals. Most shelters are also in need of foster care for dogs and cats until it is safe for them to return to their area. If you're not able to take care of another pet, these shelters can use donations for pet transportation, spay/neuter, and vaccines, and food. *If you're serious about helping animal shelters, I'd recommend following them on their Facebook pages for updates… it is the quickest way for them to provide updates*
Follow Shelters & Rescues on Facebook for more details on how to help:
Carteret County Humane Society
Pender County Animal Shelter
Peak Lab Rescue (have already brought dogs and cats to NC State Fairgrounds… stay tuned for how they'll need help at fairgrounds)
Saving Grace NC
ASPCA: Donate to support the ASPCA's efforts in saving animals lives in disaster and cruelty situations, providing care and supplies, and carrying out rescues where needed.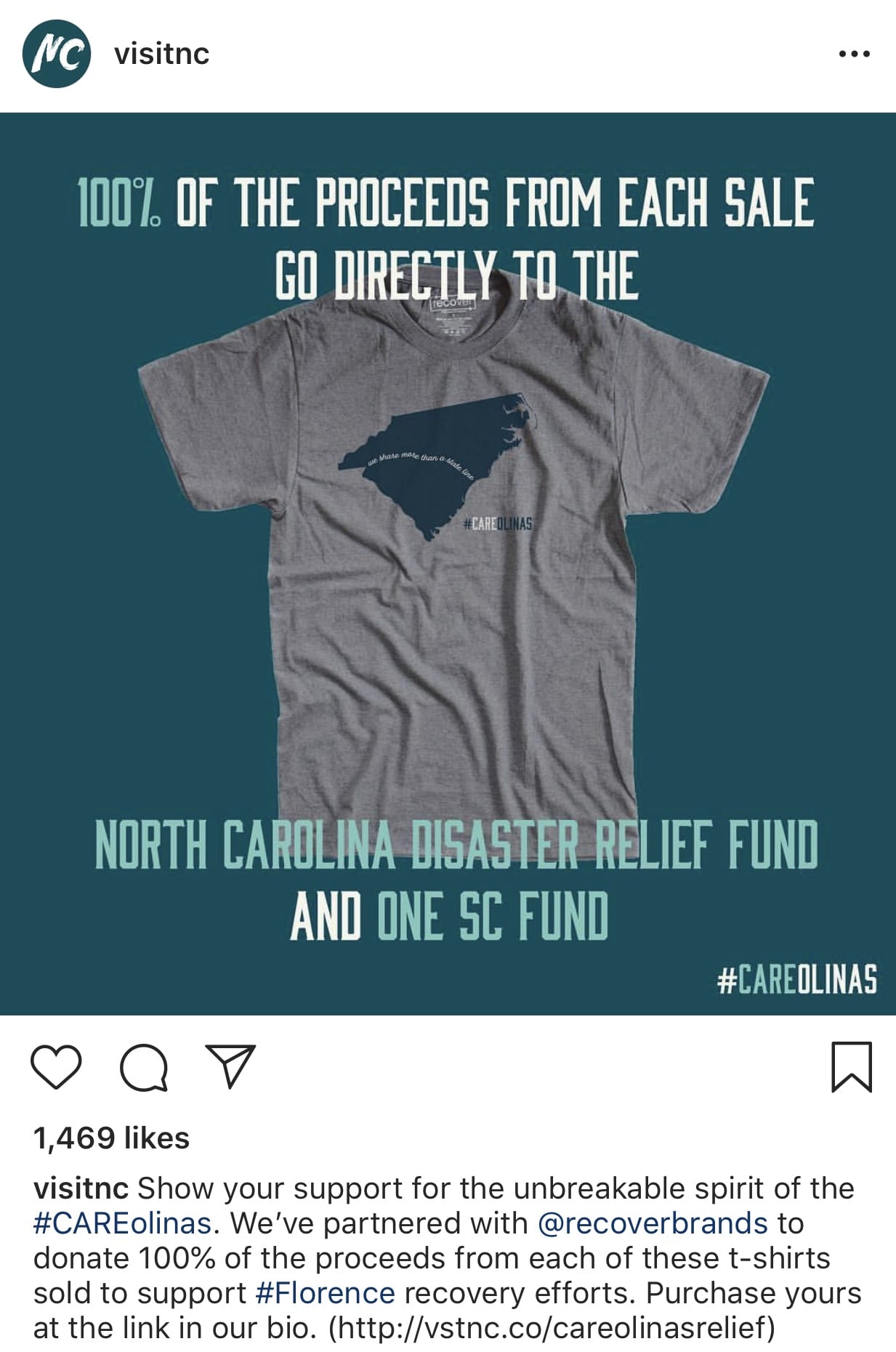 Visit NC has partnered with Recover Brands to donate 100% of the proceeds for these t-shirts to hurricane recovery efforts. You can purchase one here!