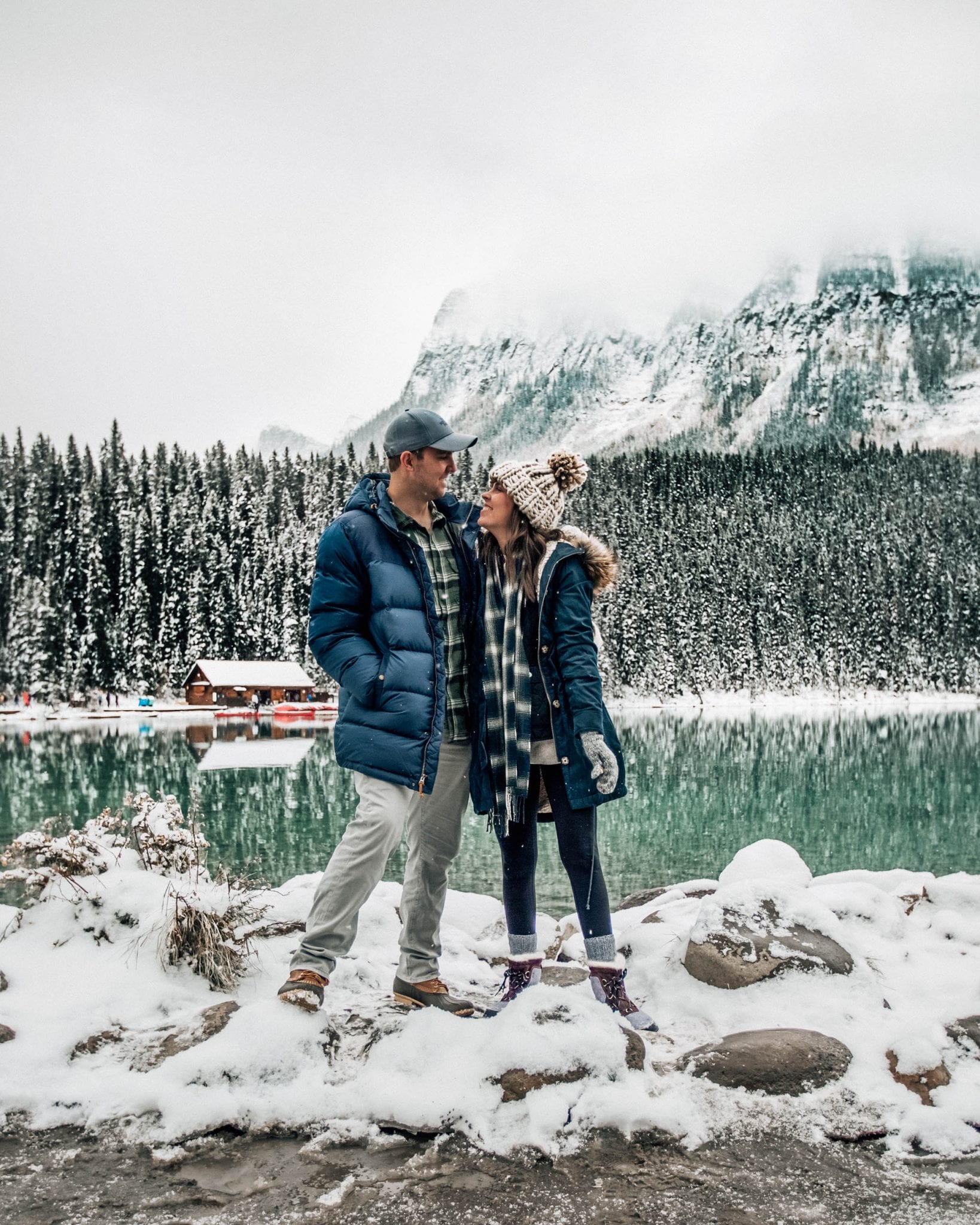 We arrived home from our trip to Banff, Alberta on Thursday and, with it so fresh in my mind, I thought I'd go ahead and write a recap post on our travels. TJ and I had never taken a trip quite like this before and we booked it almost a year in advance. We just used Expedia and booked our accommodations at Emerald Lake Lodge and flights together. I mentioned this on Instagram but, at one of my first jobs out of college (about 5ish years ago), I sat near a nurse named Sue who had a screensaver of a photo she had taken of this beautiful mountain landscape behind a lake. I remember asking her about 1,000 questions about this spot that I knew I had to visit one day. Ever since then, it has been the #1 place on my travel list. It has also become very popular among travel photographers since then and the best hotels tend to book really far in advance. After asking TJ for years, we finally booked a trip and we loved every minute of it! It might even be my favorite place I've ever been.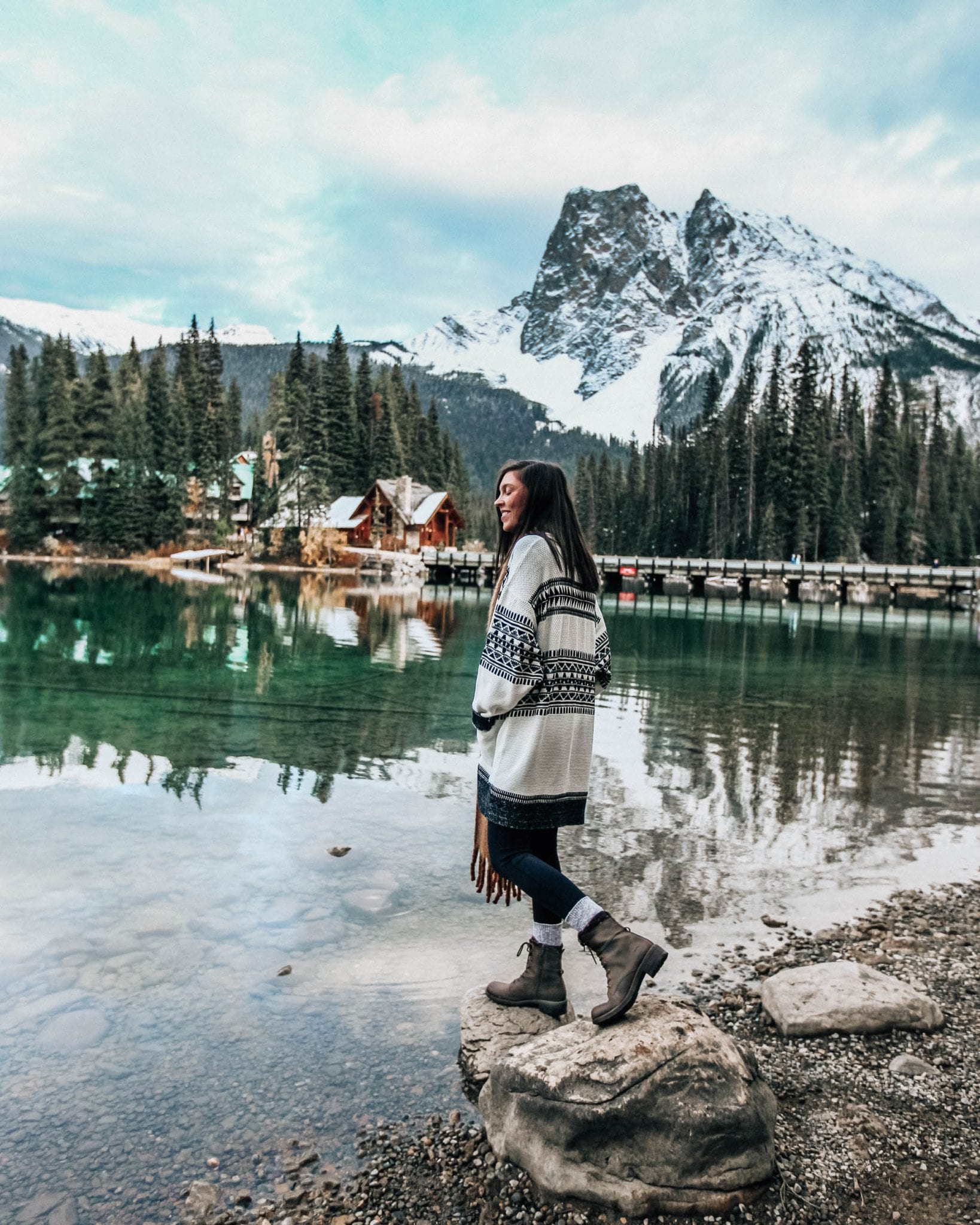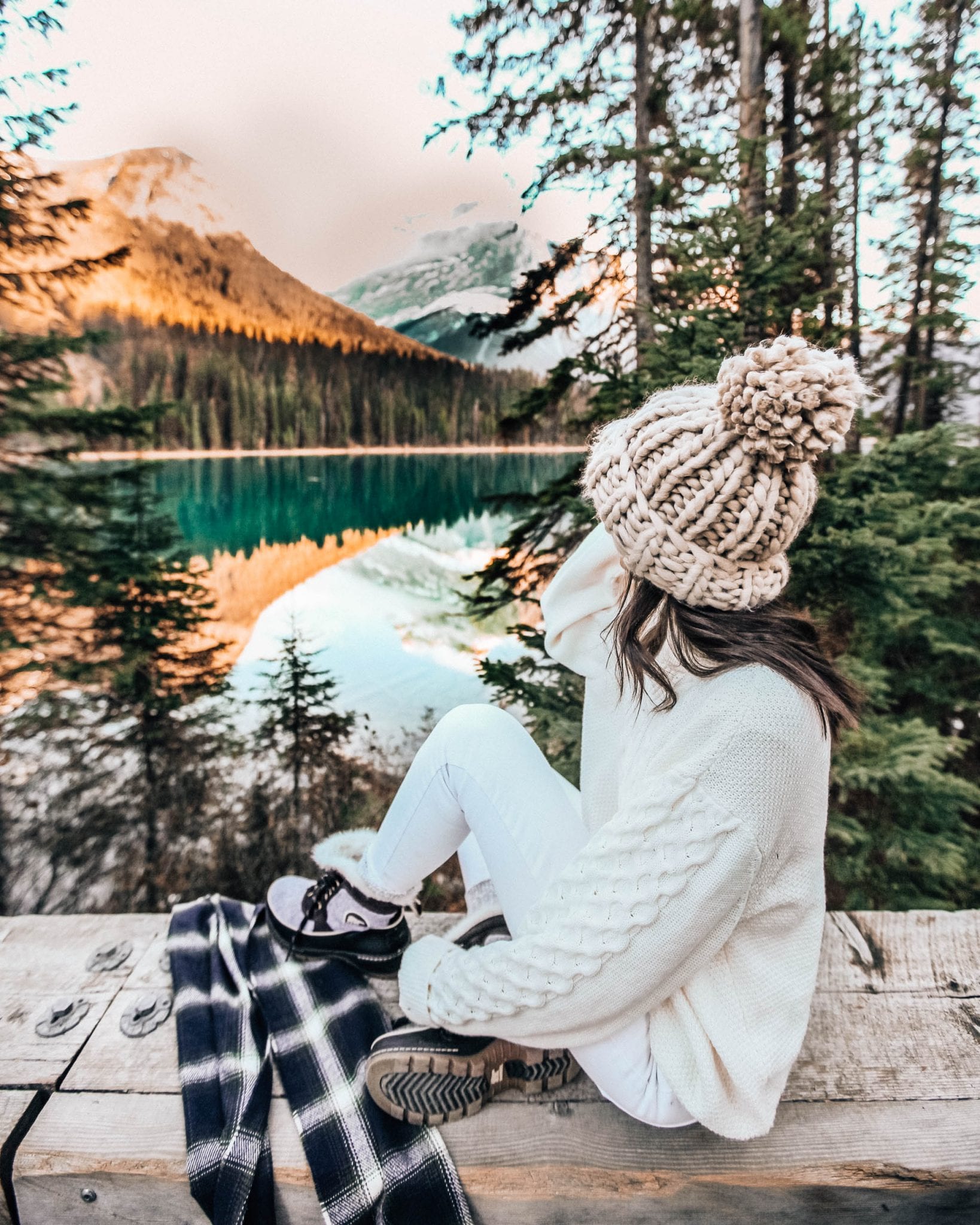 <center>

</center>
Getting There & Where We Stayed
We stayed at a secluded lakeside lodge located right outside a town called Field which was located about an hour from downtown Banff. Emerald Lake Lodge is located right on Emerald Lake in Yoho National Park, which is technically in a different province than Banff National Park. We flew into Calgary, rented a car, and drove about 2 hours to our lodge in Yoho National Park. We flew Air Canada to Toronto which was about 2 hours from Raleigh and then flew 4 hours west to Calgary, where we were greeted by a winter wonderland. We booked our car rental through Budget, by the way. If you're visiting in the colder months (October through May/June), I'd recommend renting an SUV due to the snowy conditions, although most roads were pretty clear. Parking lots were a different story. I'll talk more about "when to visit" down below.

Emerald Lake Lodge is a great place to visit if you want to really get away from everything. It's not close to much, so if you stay there, you should plan on driving a lot if you want to see or eat at a variety of places. I was totally okay with eating at our hotel's main restaurant and lounge for almost every single meal because the food was so delicious, the staff was very friendly, and we had a front row seat to an extra large fireplace. This was also the only spot where you could find any wifi, FYI. It was refreshing though. I ordered hot chocolate most nights and the first full day we were there was Canadian Thanksgiving so we ordered their Thanksgiving special which didn't disappoint. Honestly, I loved this place so much. When we visit again (we will totally visit again), we may decide to stay in downtown Banff for a change though.

Other popular options to stay: Fairmont Banff Springs, Fairmont Chateau Lake Louise, Deer Lodge at Lake Louise. I loved how secluded our lodge felt though and am so happy we stayed there… just depends on what you're looking for though.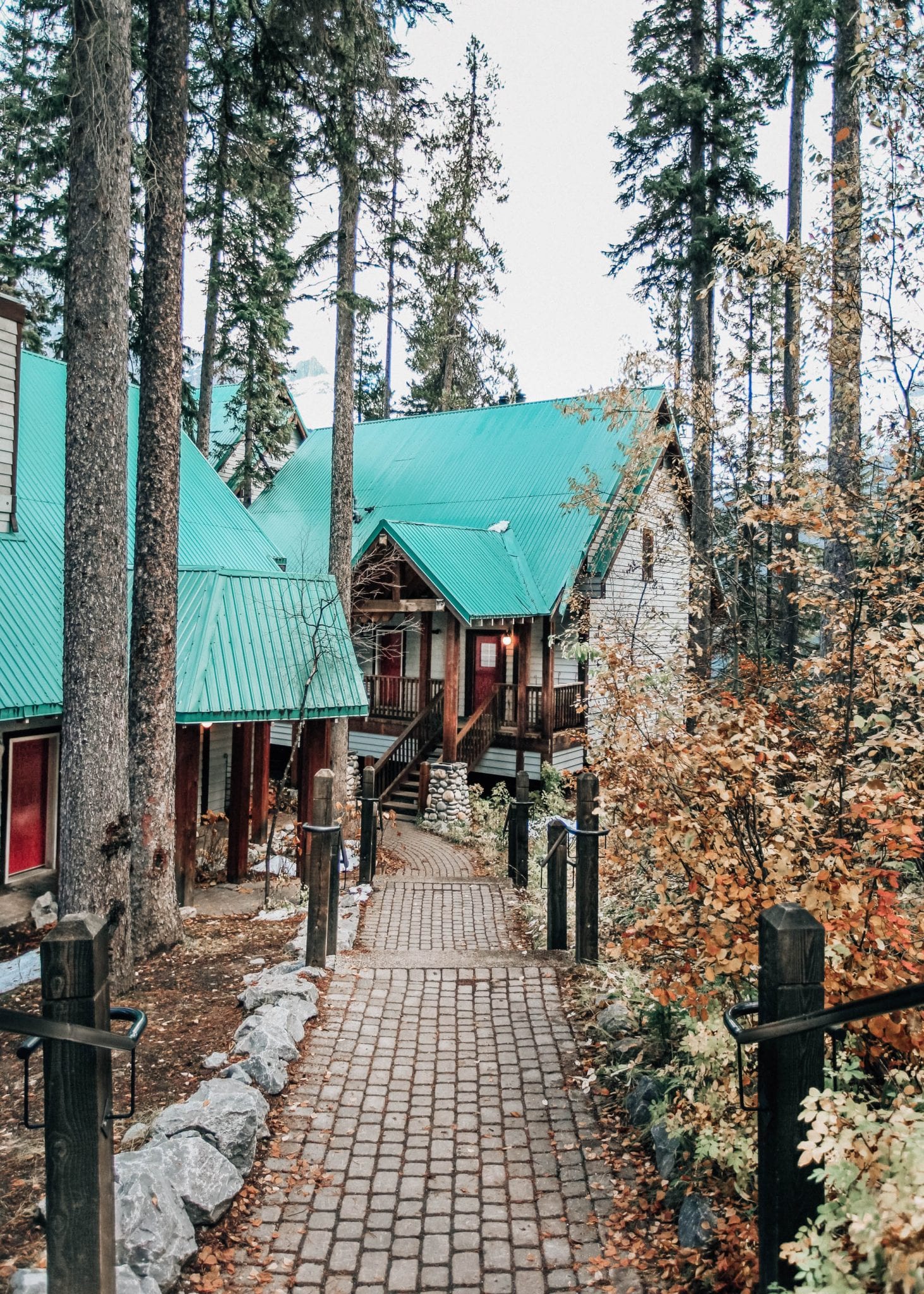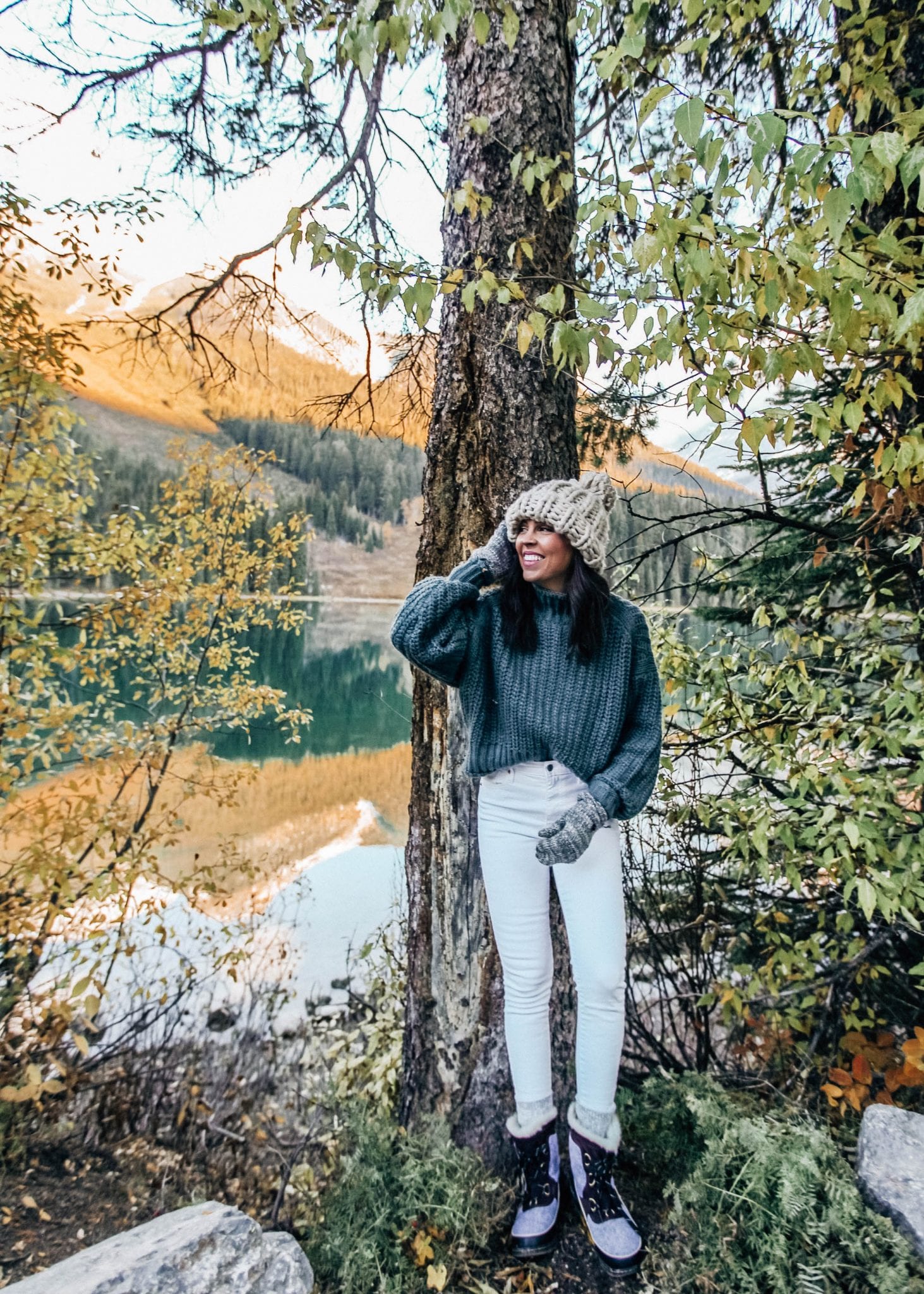 <center>

</center>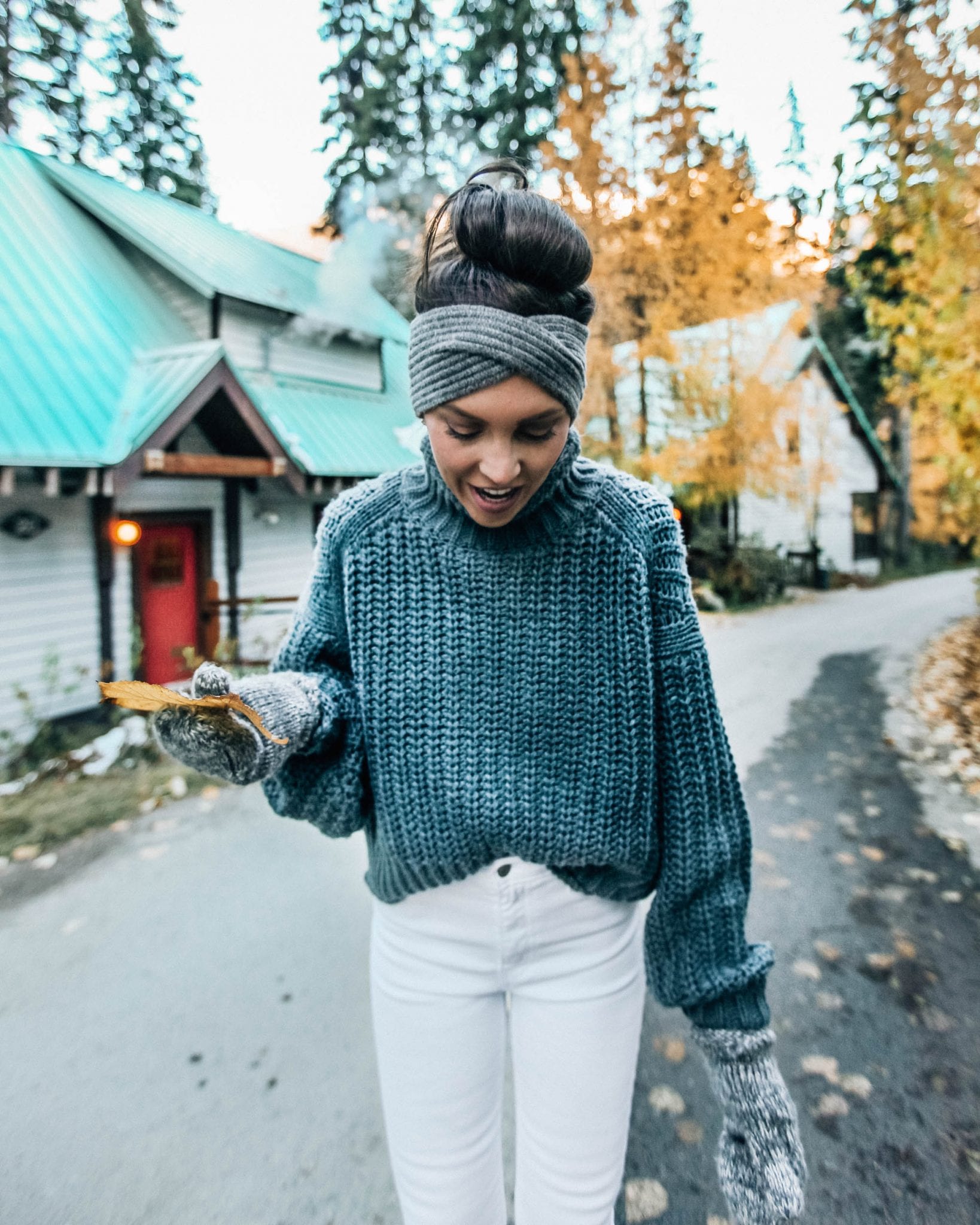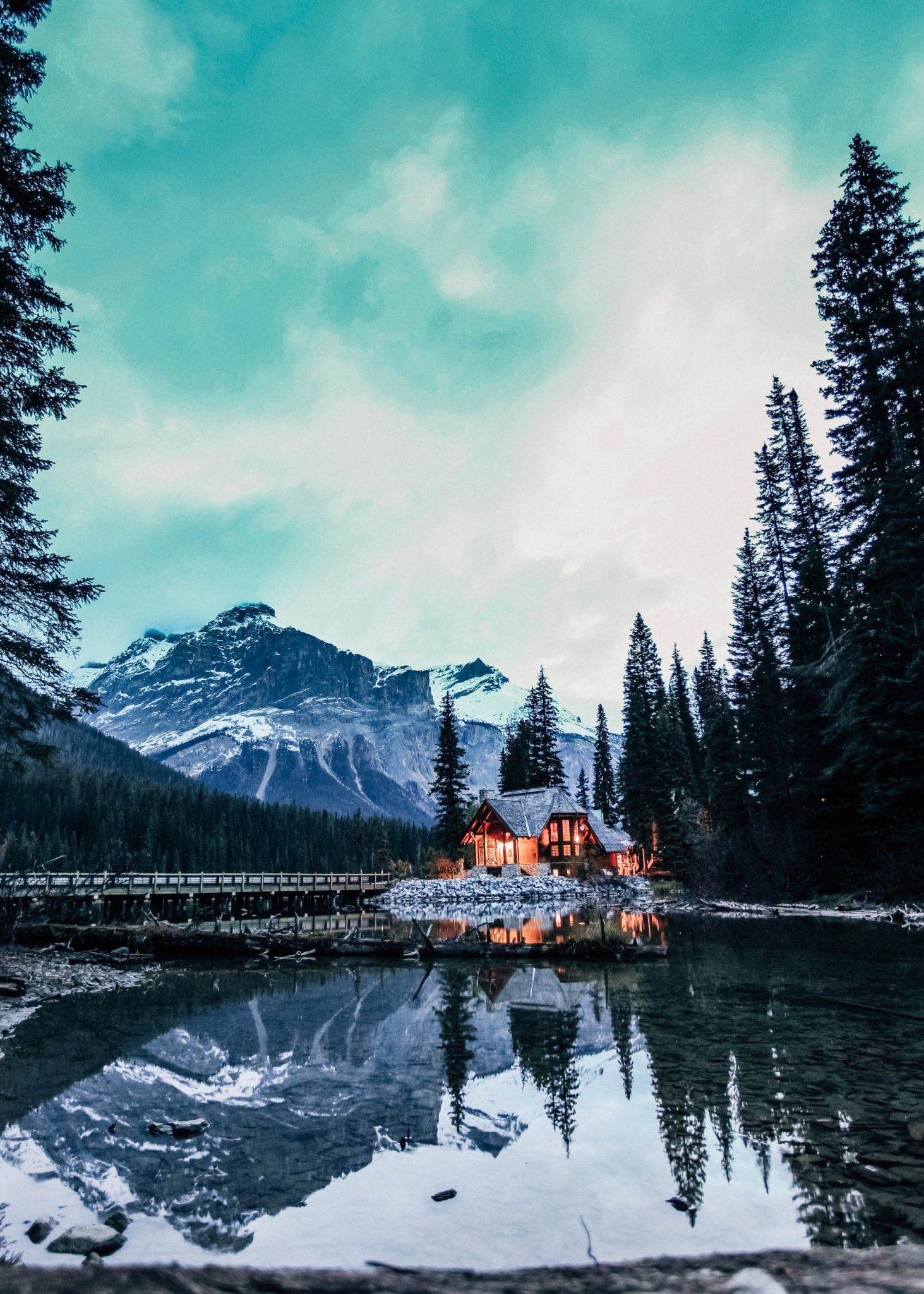 TJ took this before the sun came up one day and love how it captured the glow of the lodge.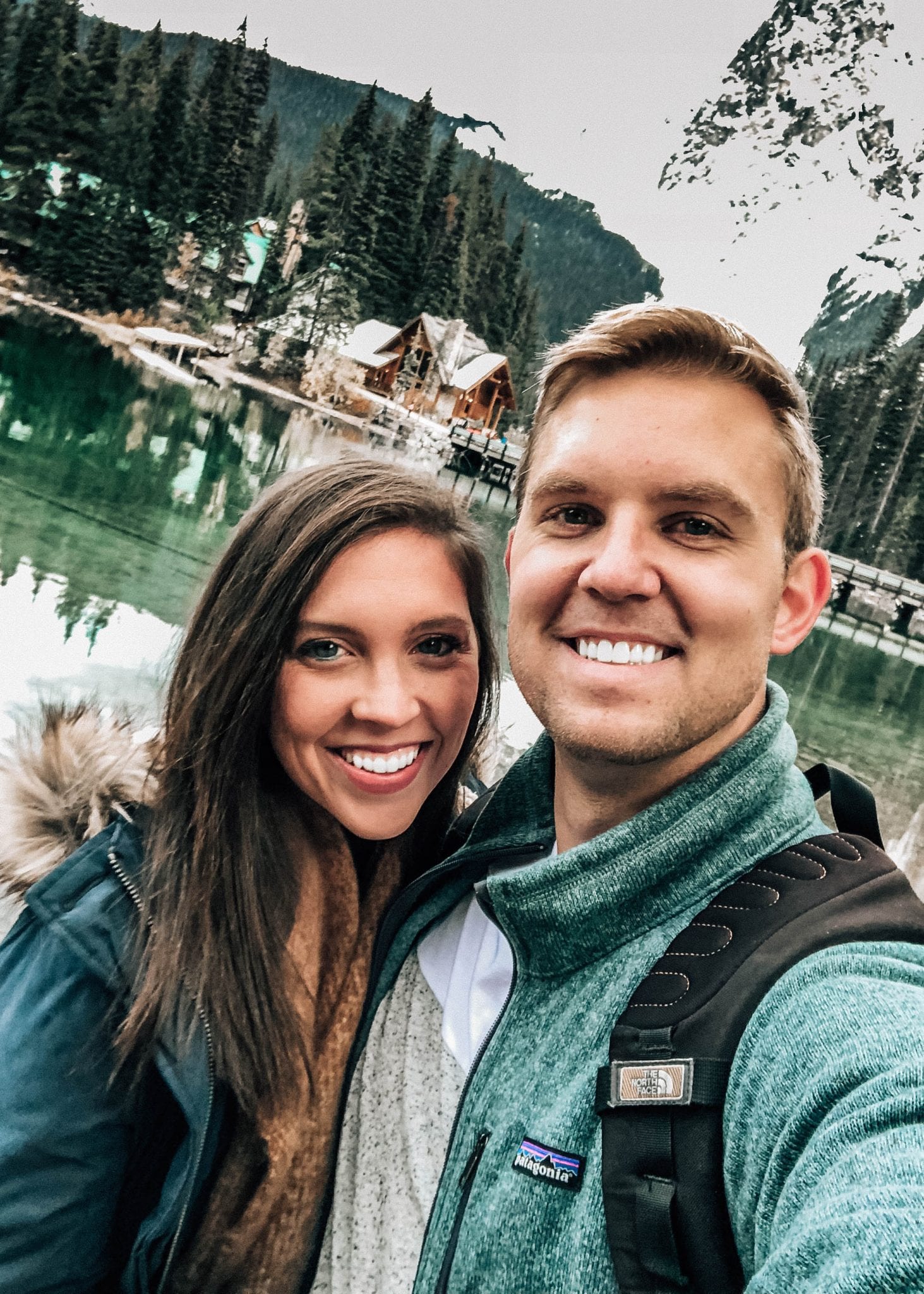 right after we first arrived and we couldn't believe the views!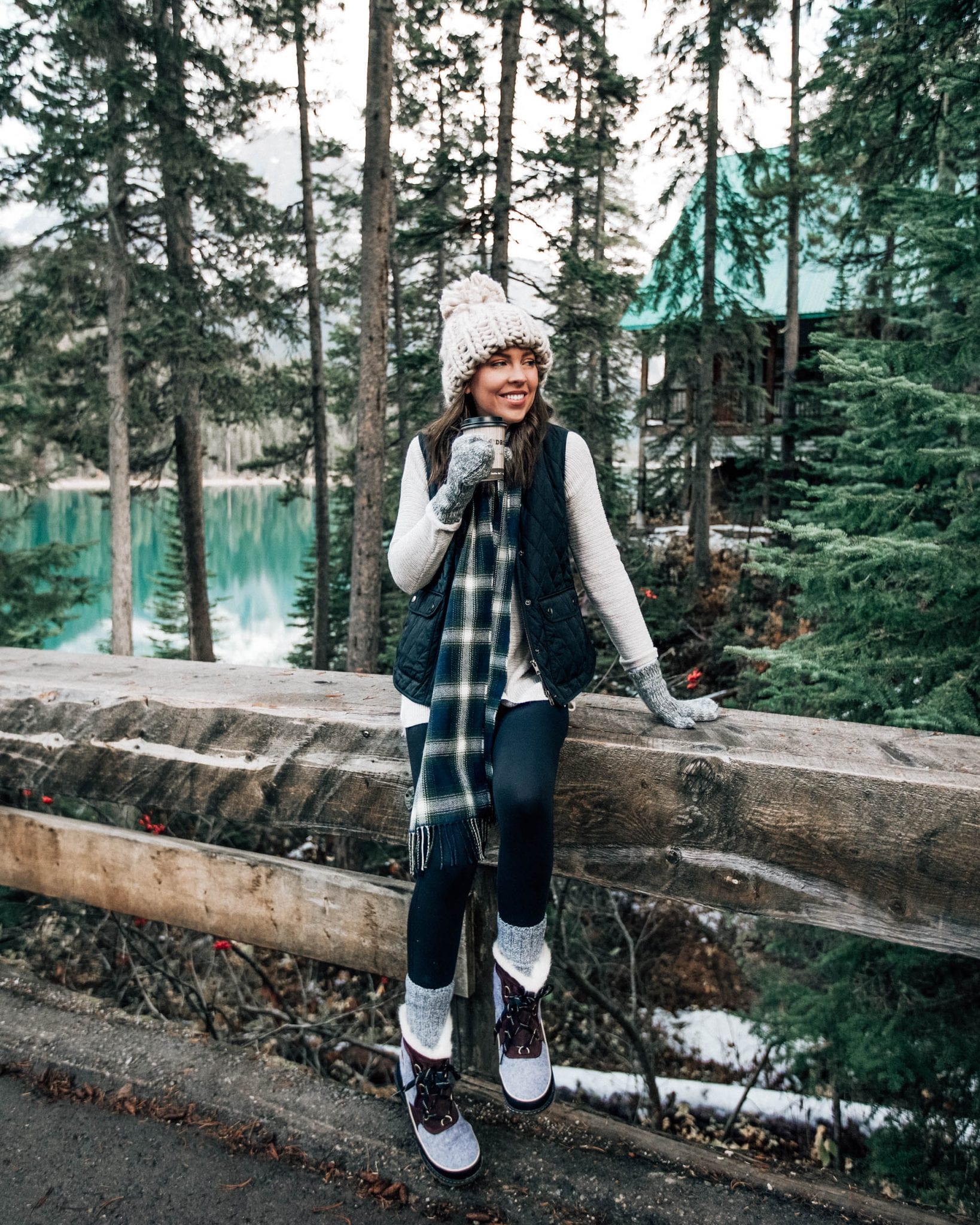 *more of TJ's photos before the sunrise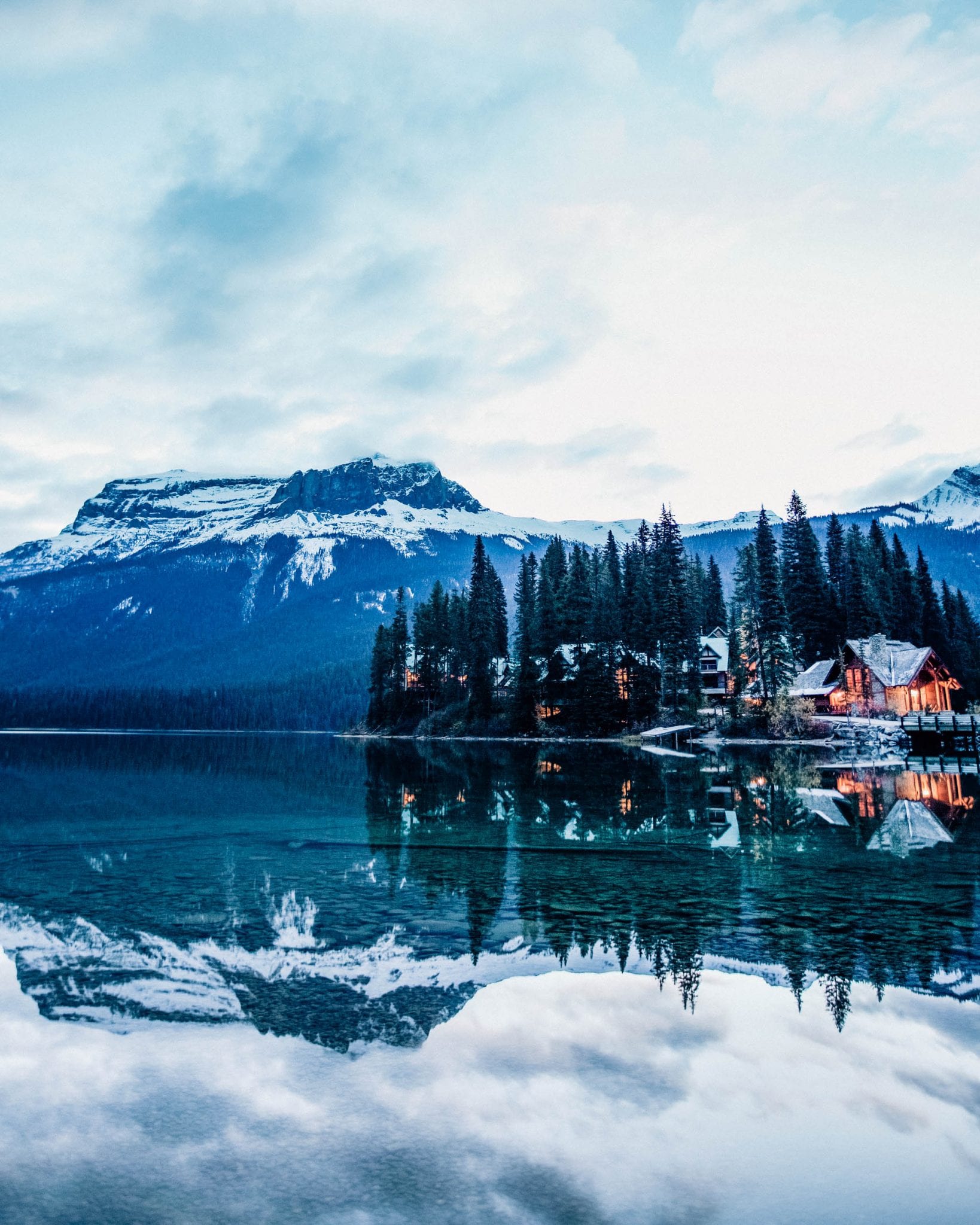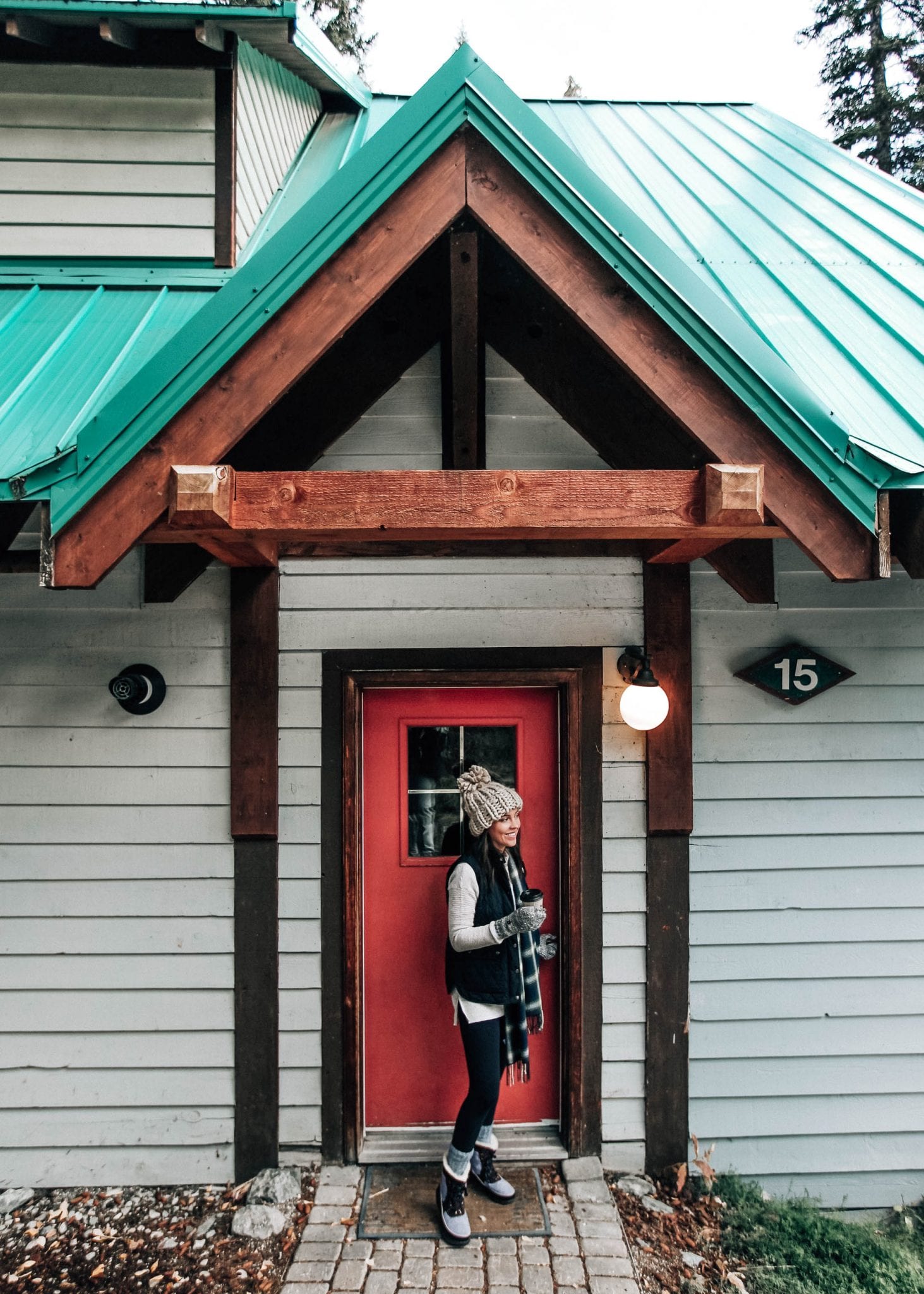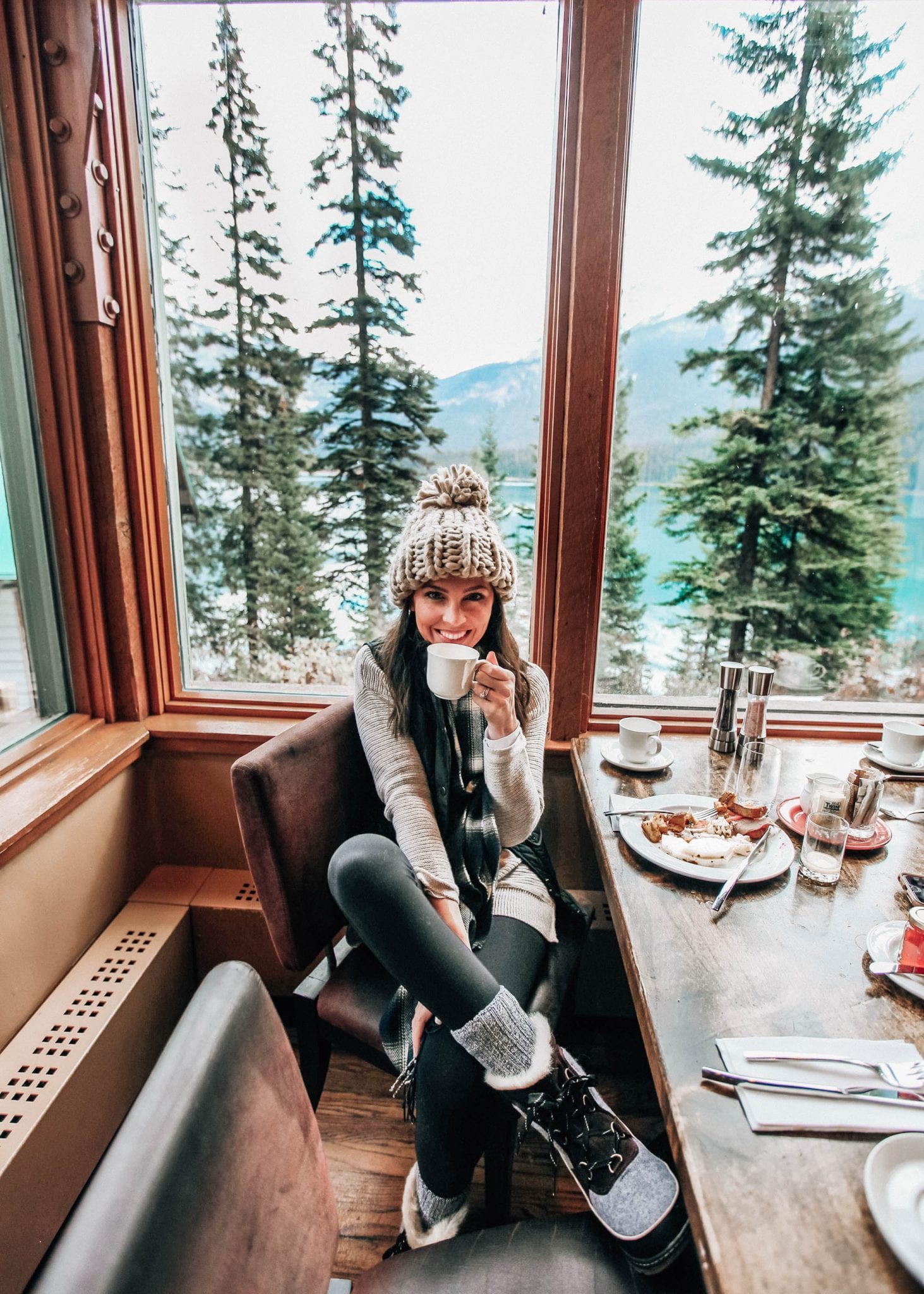 This was where we ate breakfast every morning (and where Emerald Lake Lodge guests could find wifi if needed). You basically had two options of breakfast: cold buffet or hot buffet. Their goat cheese eggs & potatoes were too good to pass on the hot option and you couldn't beat these views! It wasn't cheap but it wasn't as high as some places we've visited in the past. I also want to say we paid around $300 a night for this lodge but our receipt isn't itemized as it was booked along with our flights on Expedia.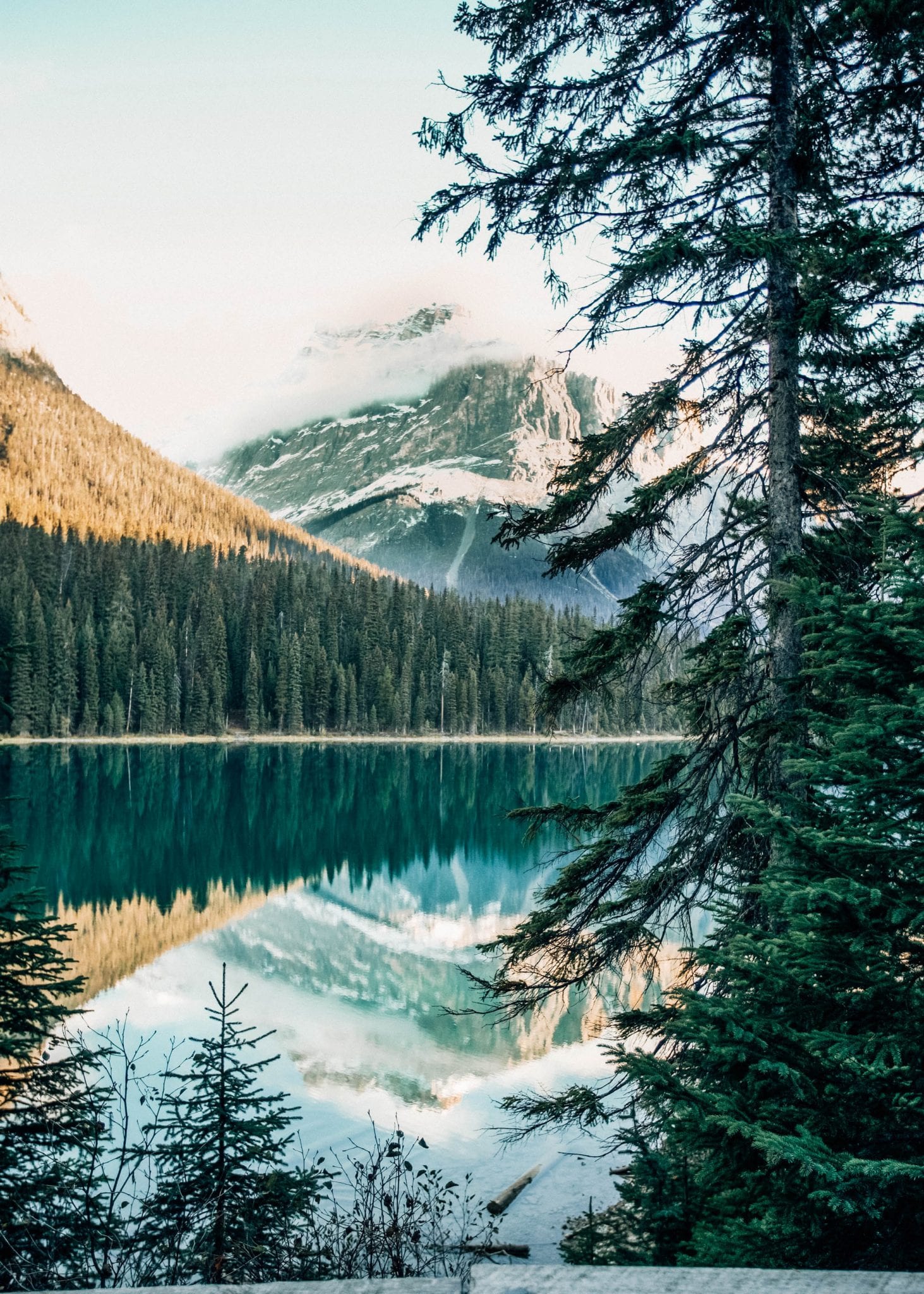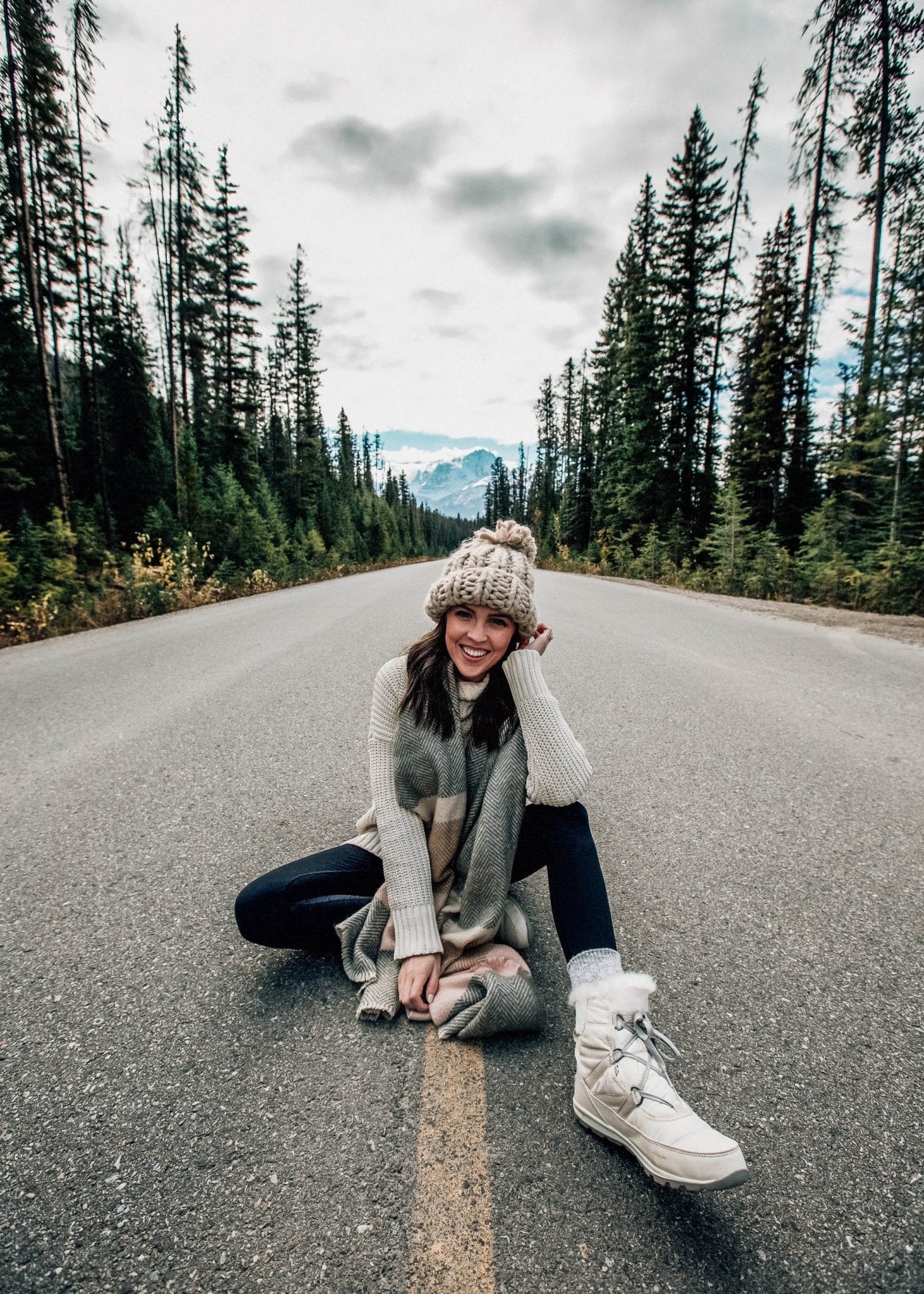 Emerald Lake was at the end of this long road, Emerald Lake Road, and this photo doesn't do it justice but the views were INSANE the entire way.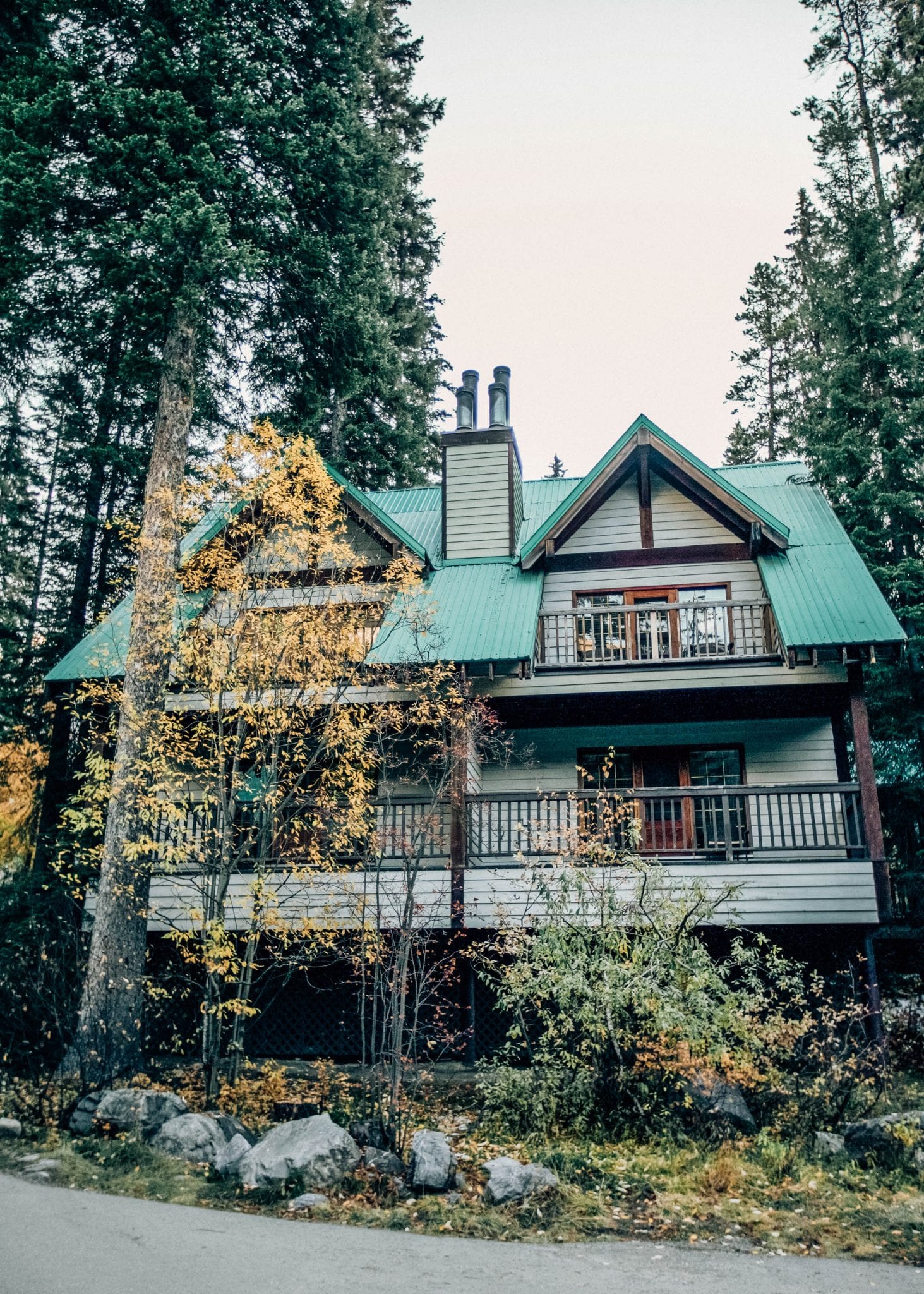 More cabins at Emerald Lake Lodge. We stayed in Cabin 32 at the end of the property which overlooked the lake. Each room had their own cozy fireplace in it too. With no cell service in any of the rooms, TJ and I slept SO good every night.
When To Visit

Banff is beautiful year-round but the most popular time to visit is July/August after the lakes have all thawed and the weather is perfect. We were hoping to visit for a fall trip right before the snow fell but it decided to snow early this year. This snow was still beyond beautiful but there were some trail and lake closures due to the danger of avalanches. For example, one of the most popular and beautiful lakes, which normally closes October 15th-ish, closed a few days before we arrived, which was a major bummer (Moraine Lake). If you want to travel to see the blue lakes, I'd recommend visiting between late June or July and October. But if you want a magical winter wonderland, you can visit in the fall/winter just be prepared to bring a lot of layers! Another plus to visiting in the late fall/winter is that all of the dog sledding and ski businesses are open. You know I called every dog-sledding place but there is a law that prevents them from opening until November.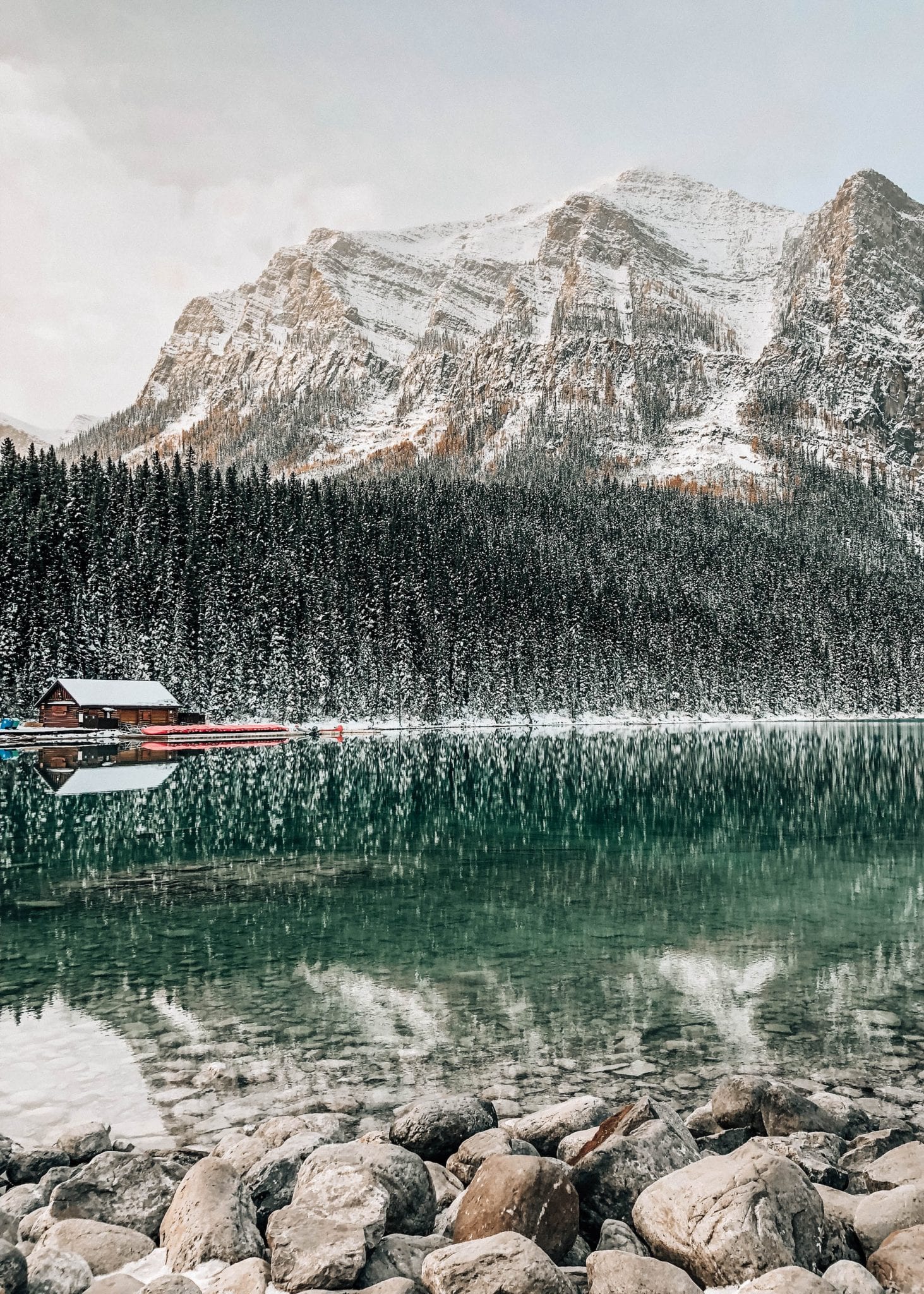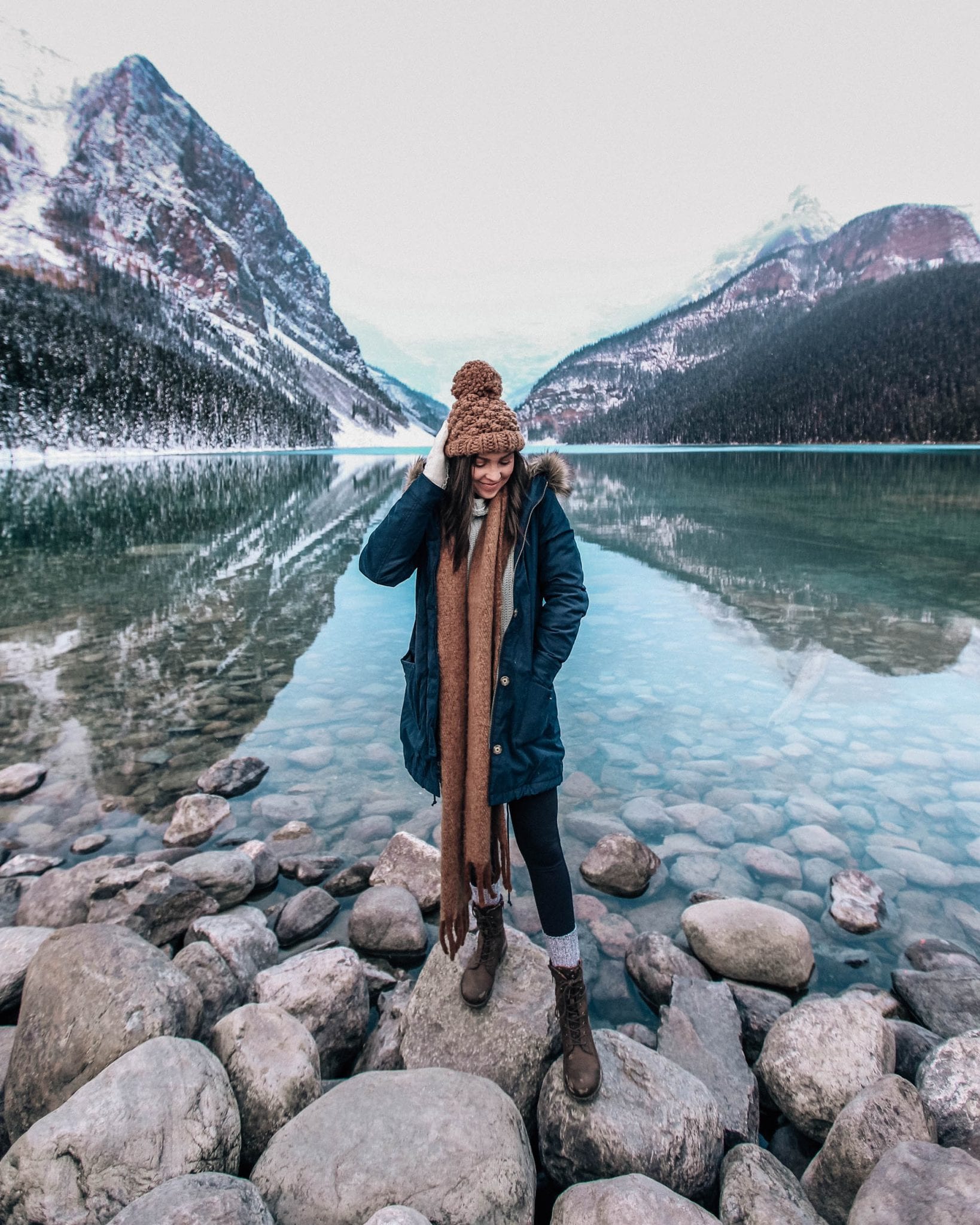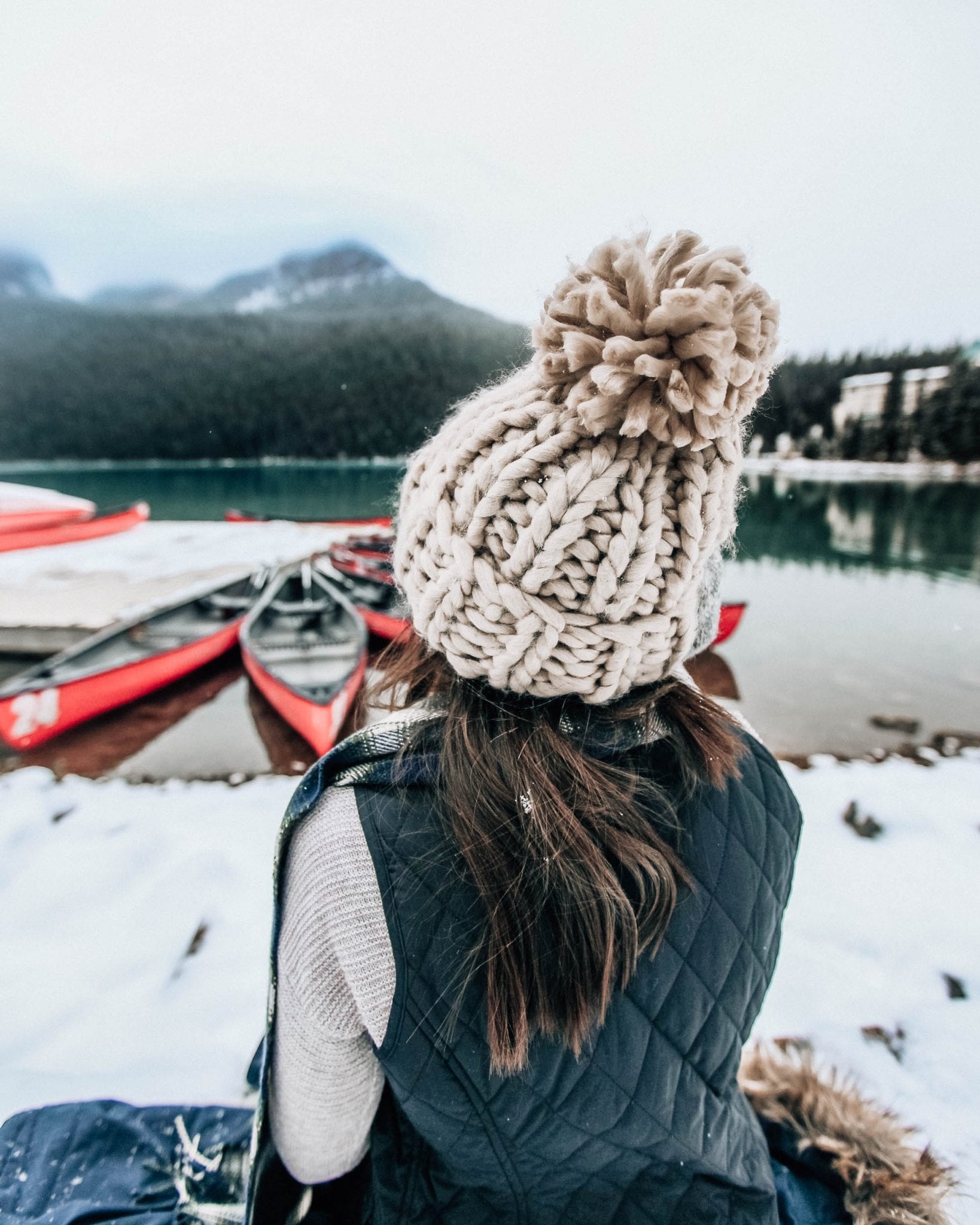 What To Do


We mainly wanted to hike, see the beautiful lakes and mountains, visit downtown Banff, and have a relaxing yet adventurous trip. We visited Lake Louise, which doesn't look real, spent a lot of time around Emerald Lake where we were staying at night, hiked up to see Peyto Lake (seriously the most beautiful view and a very easy hike), drove into downtown a few times to explore, visited a wolf sanctuary, and just took in the incredible views every single day. Everywhere you turn, you'll find views that you won't believe are real. If you're into outdoorsy things, you'd love this place. Other popular things to do: ride the Banff gondola up Sulfur Mountain, hike Moraine Lake (if the roads are open), hike to Johnston Canyon, hike the Lake Agnes Teahouse Trail. We felt a little limited in what we could do due to the weather since some trails were closed. Someone recommended that we visit this spa and next time this is definitely on my list. The spa is called Kananaskis Nordic Spa it looks amazing!
Expect to pay a $20 park pass daily for when you'll be in Banff National Park, unless you're just passing through. You can order these and print them online or buy them right before you drive in.
One of my favorite things we did was drive down the Icefields Parkway and hike up to see Peyto Lake (shown above).
<center>

</center>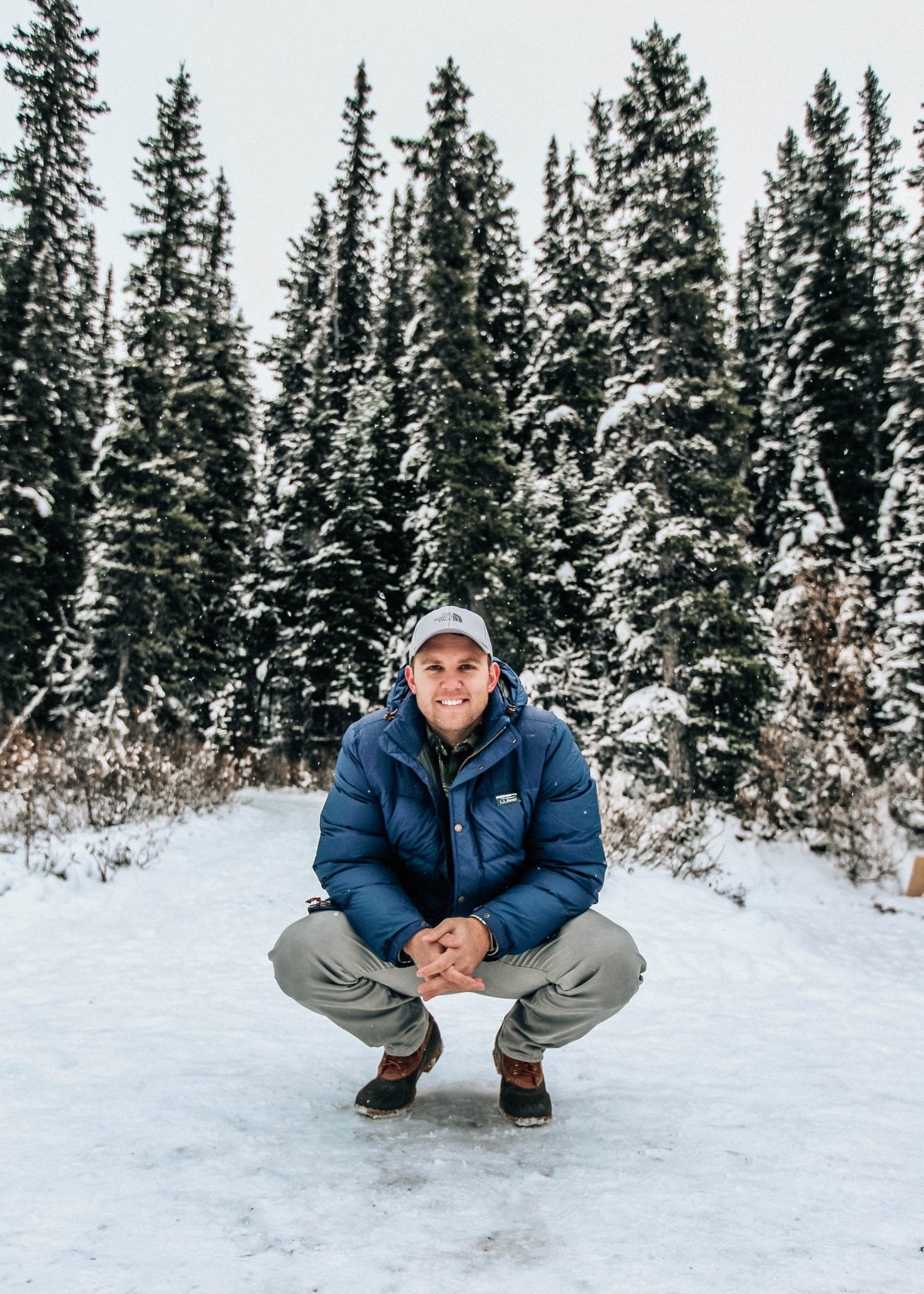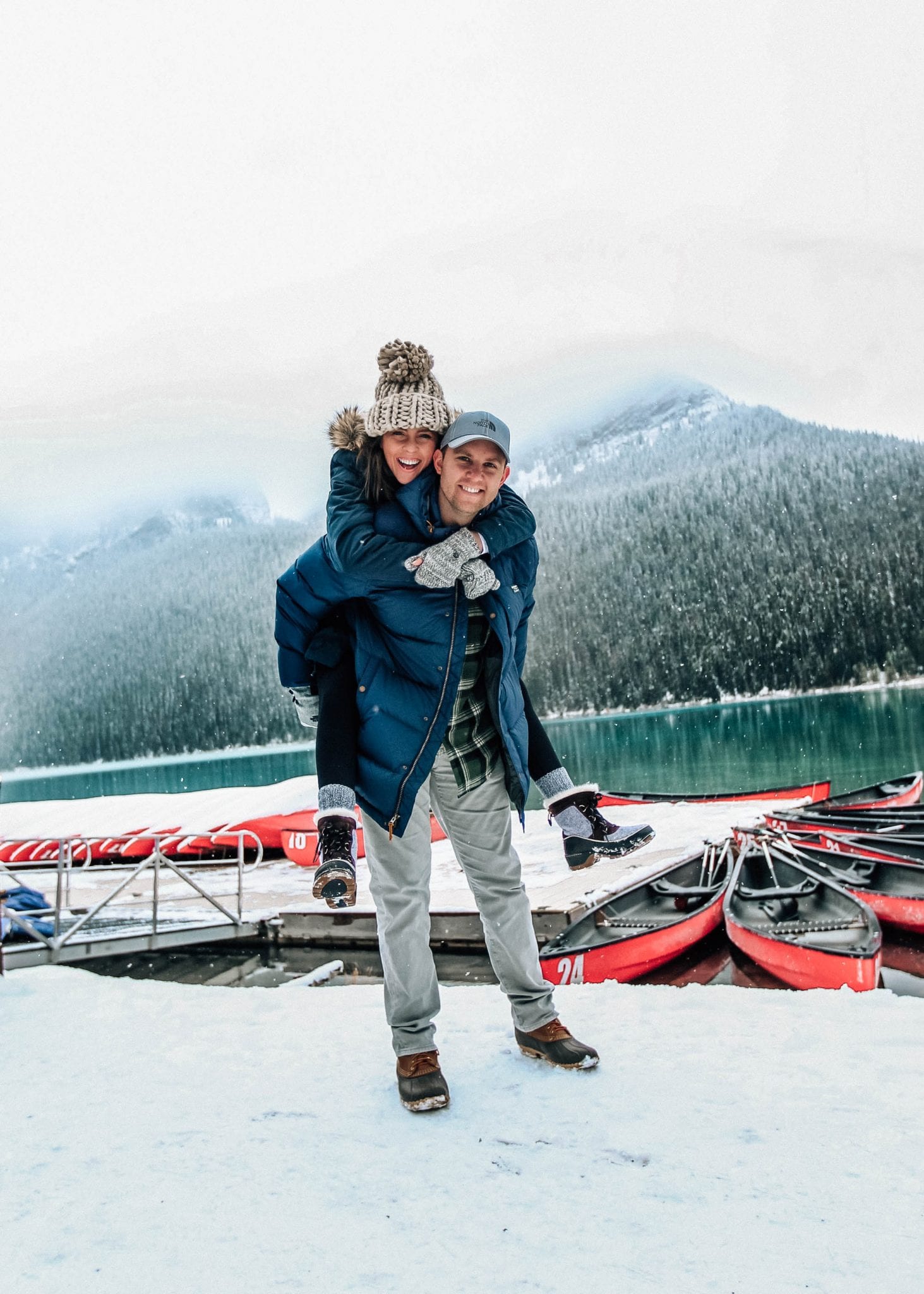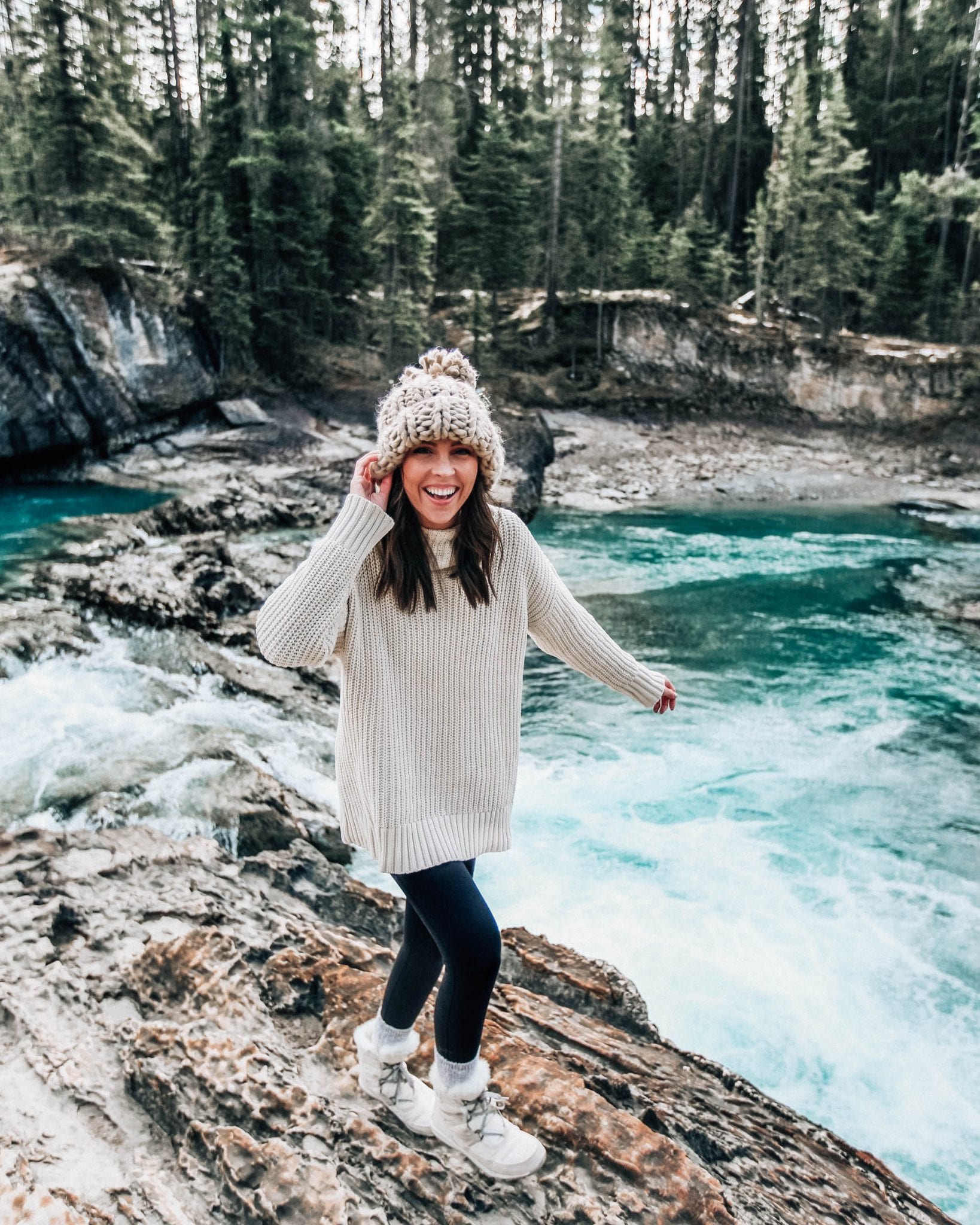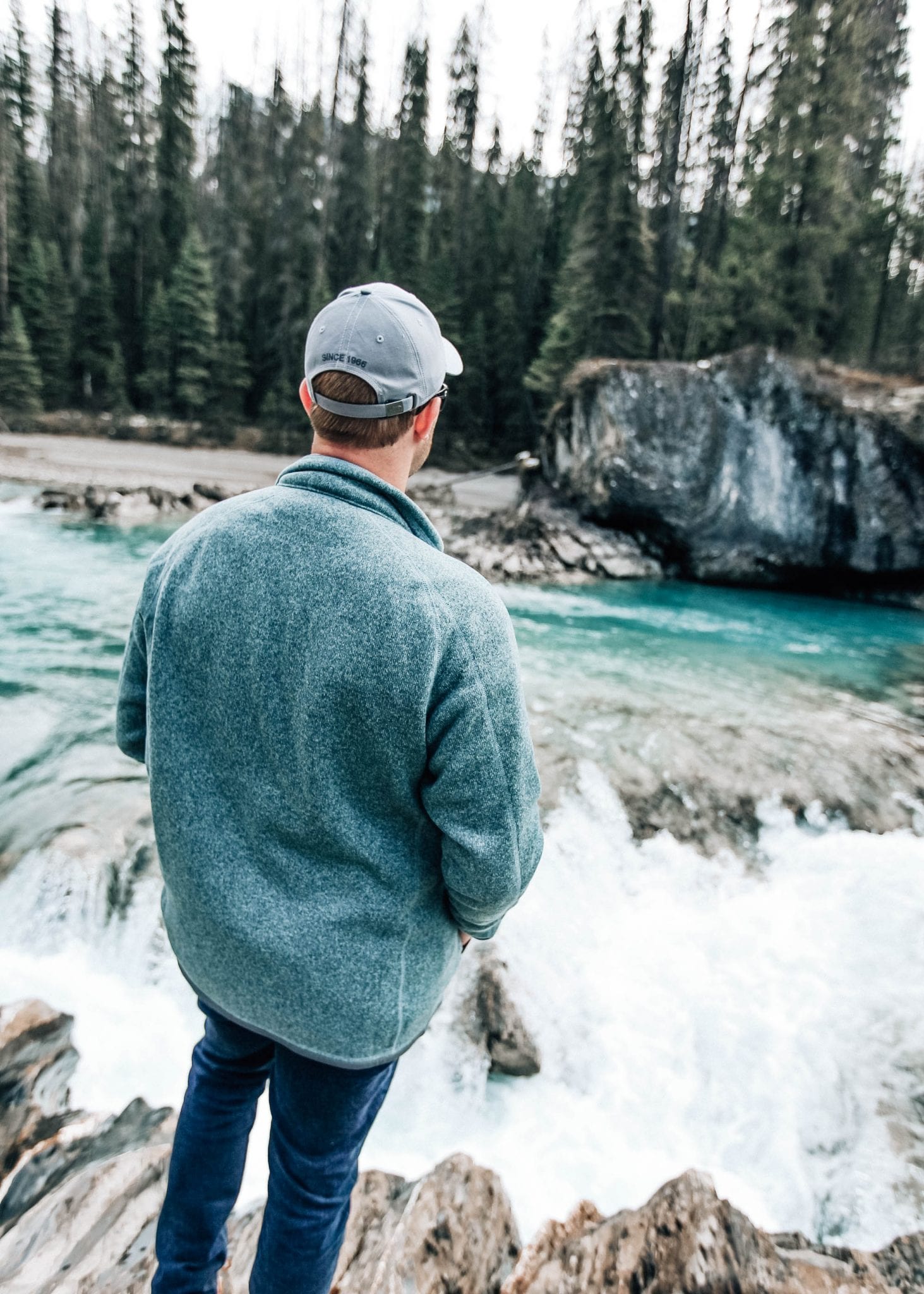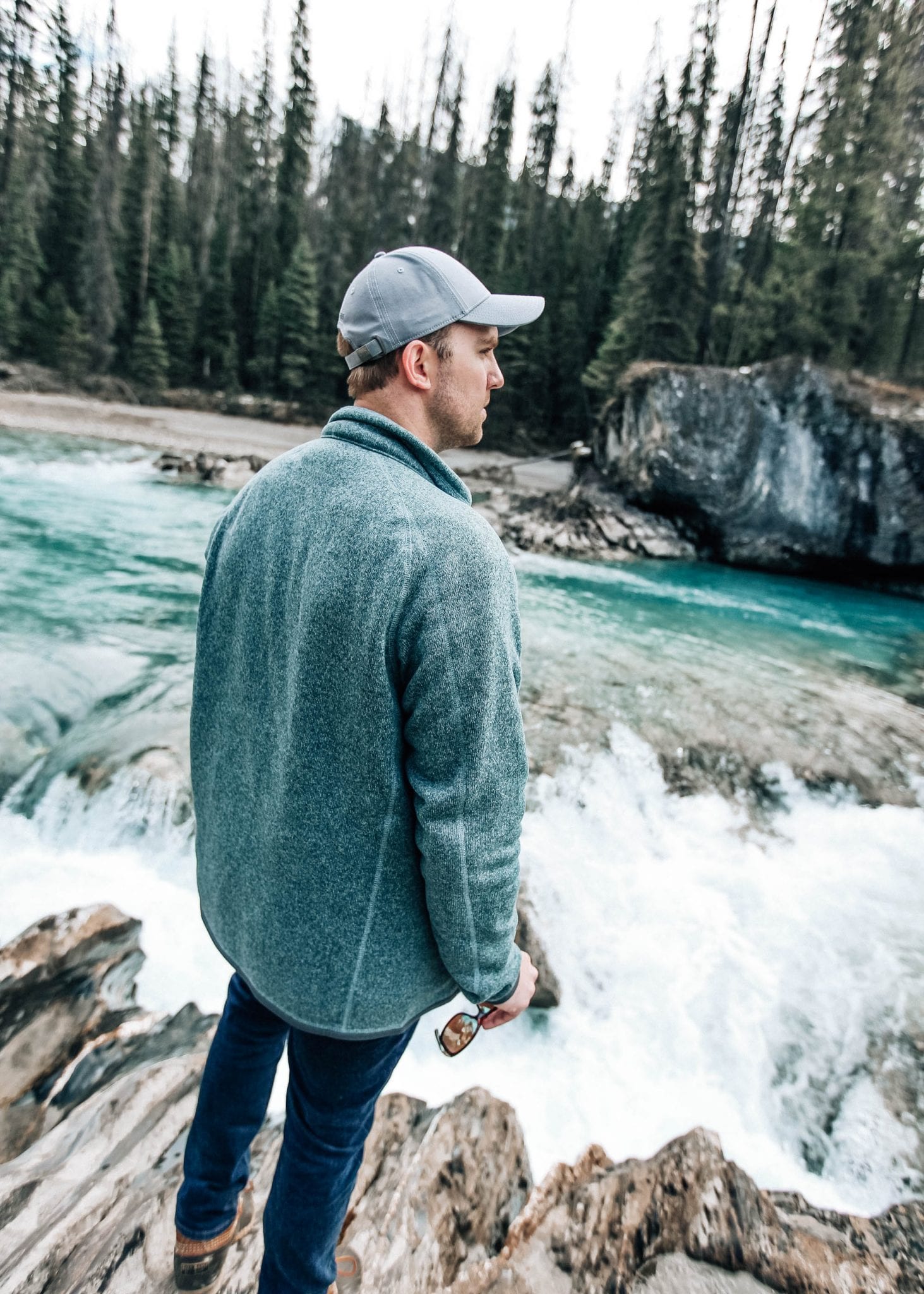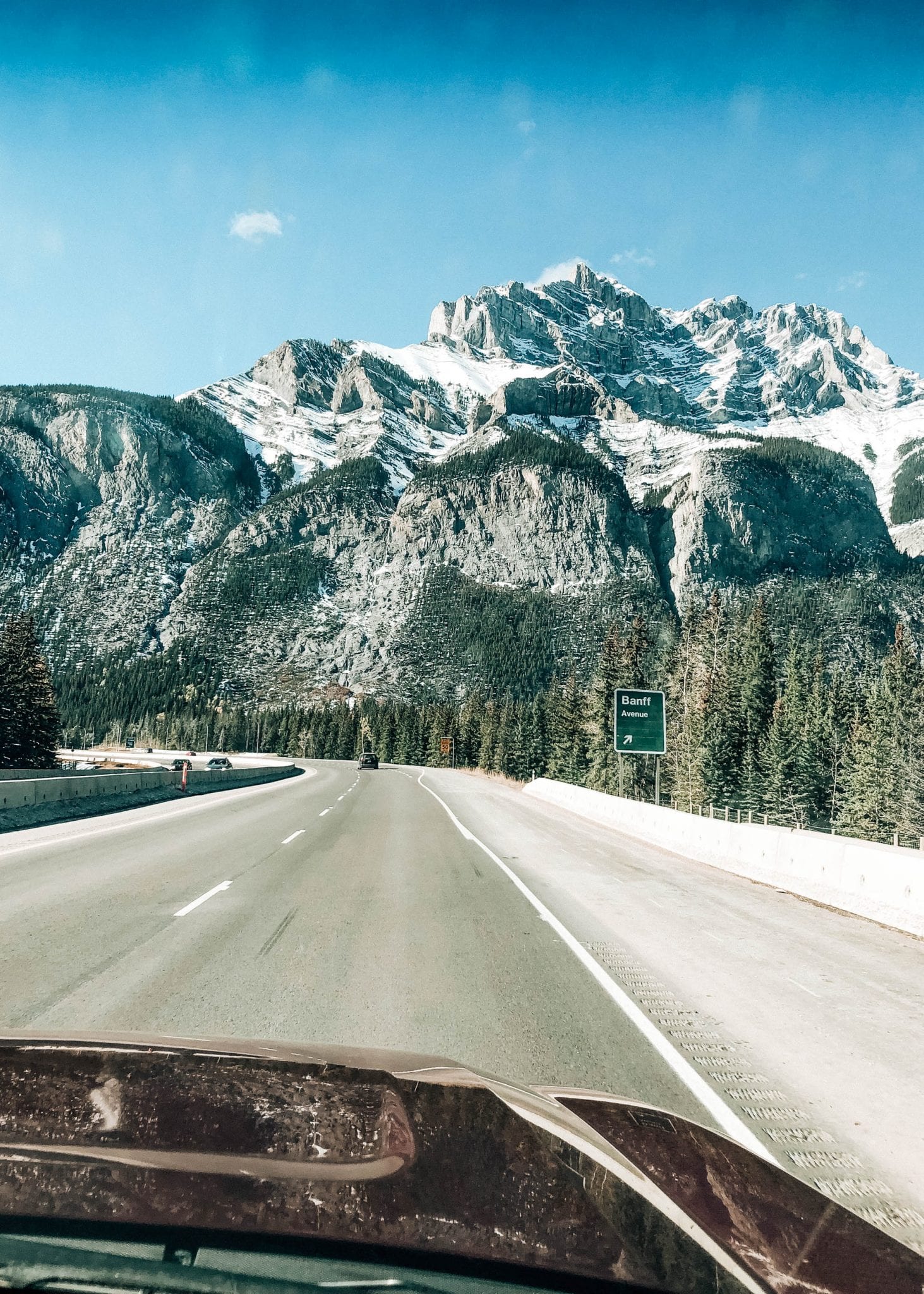 why we didn't mind all of the driving from place to place.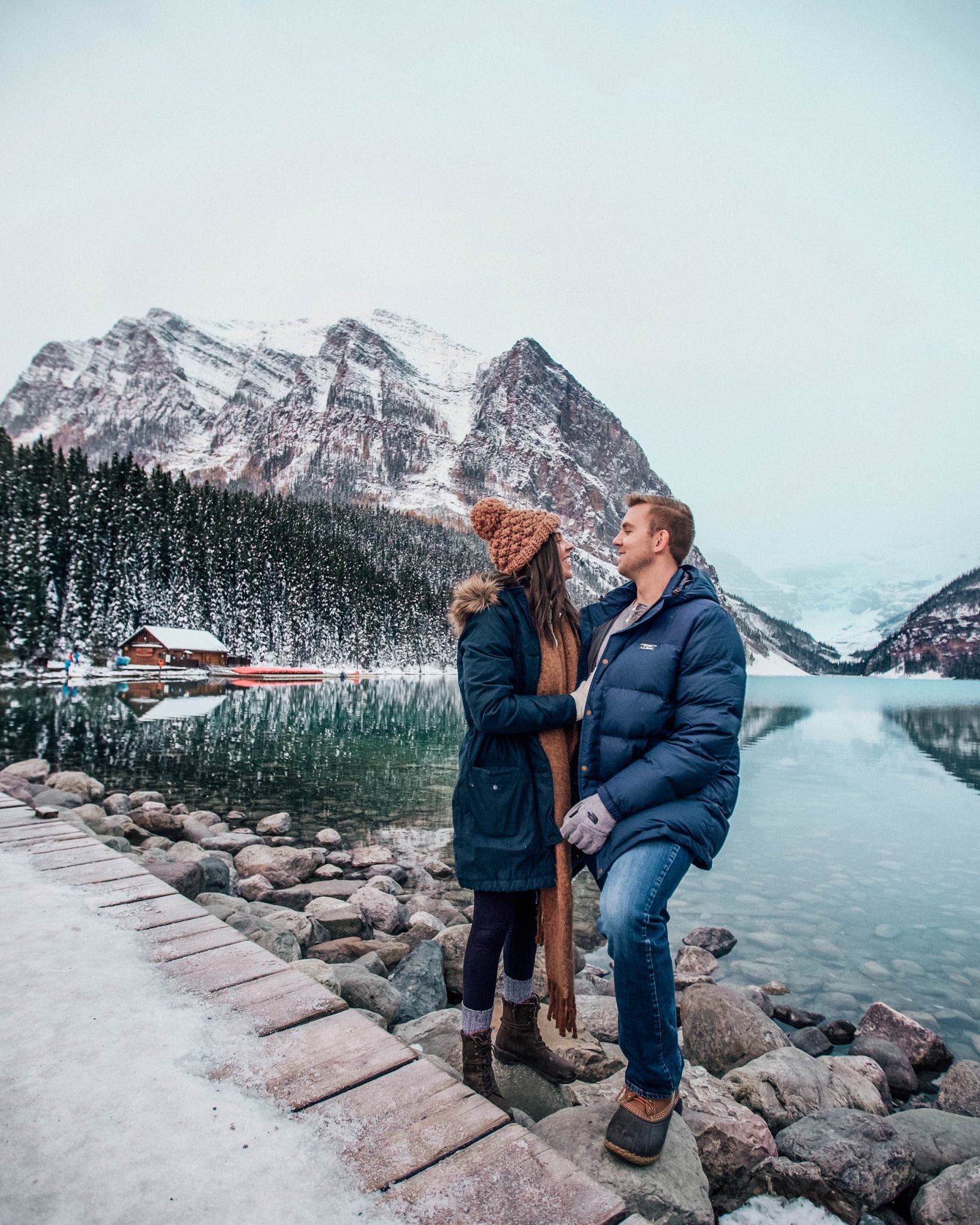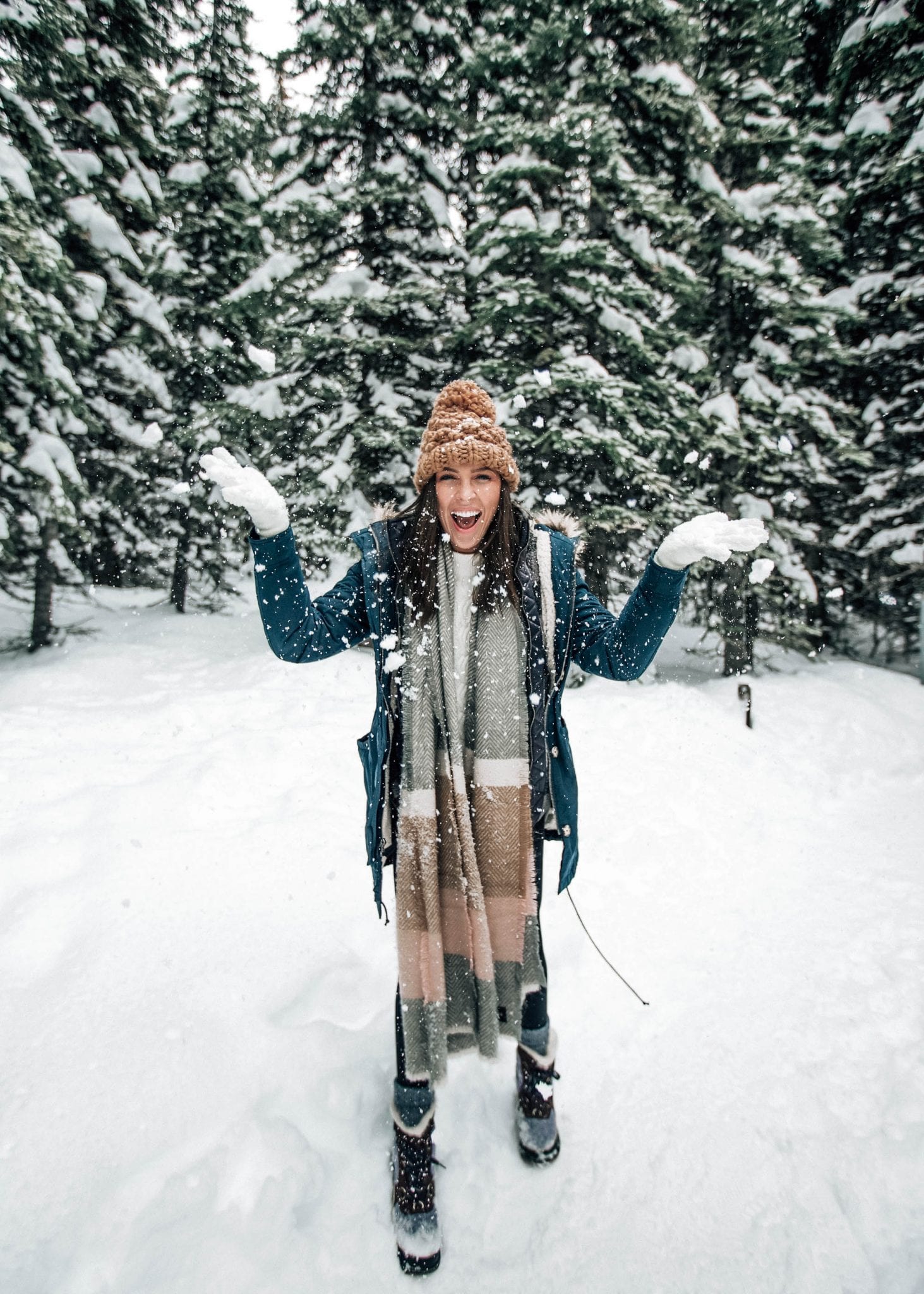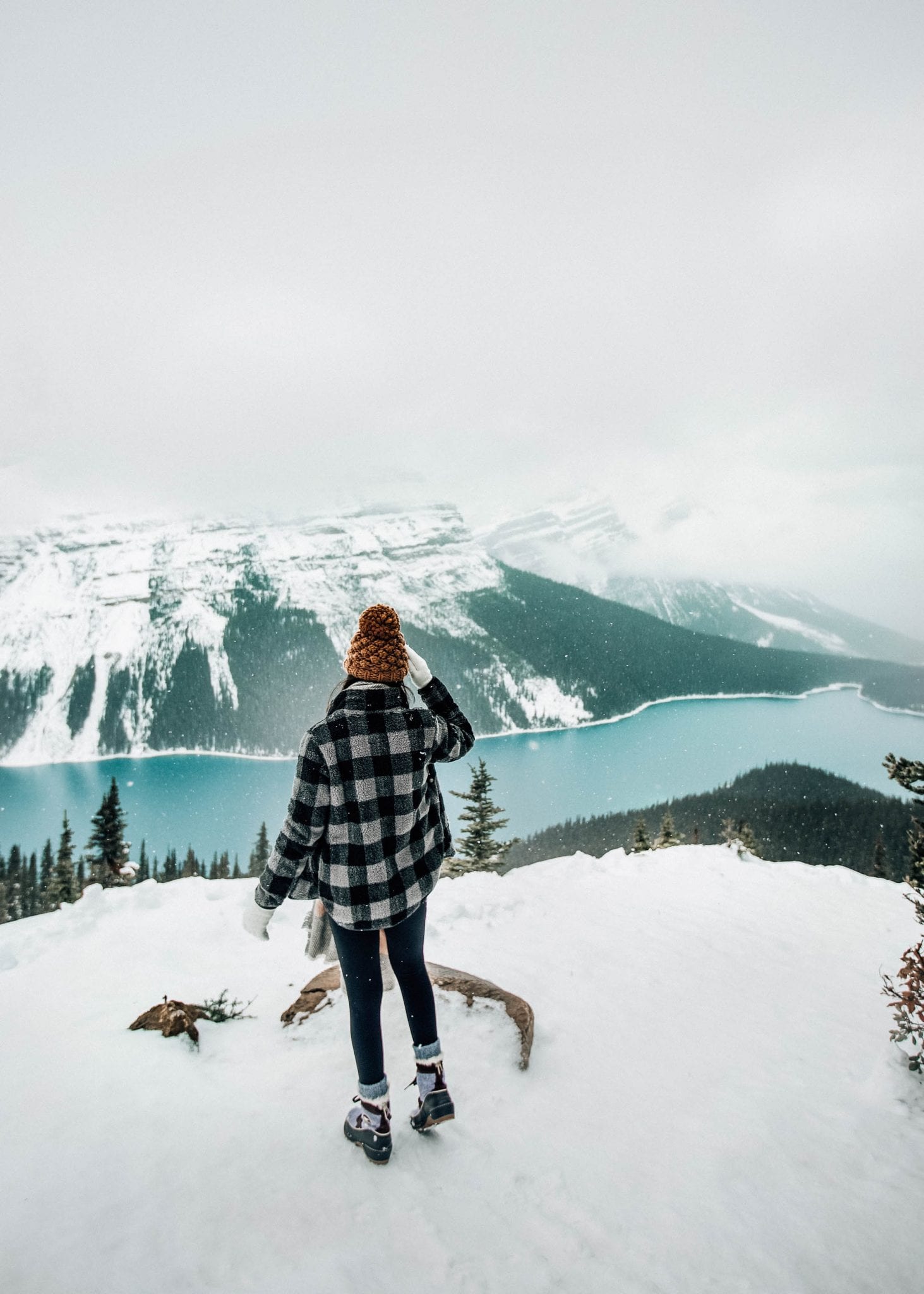 I'm probably not the best person to ask where to eat because we just LOVED the food at Emerald Lake Lodge so much. Some of the most popular places to eat in Banff are Sky Bistro, Park Restaurant and Distillery, High Rollers, Three Ravens Restaurant and Wine Bar, Juniper Bistro. We also visited a couple of coffee shops we loved: Good Earth Coffeehouse and Little Wild Coffee. We'll definitely have to stay in Banff next time and try more restaurants!

I'd also recommend stopping by the IGA in Banff to pick up snacks for your trip, especially if you are staying in a secluded area.

<center>

</center>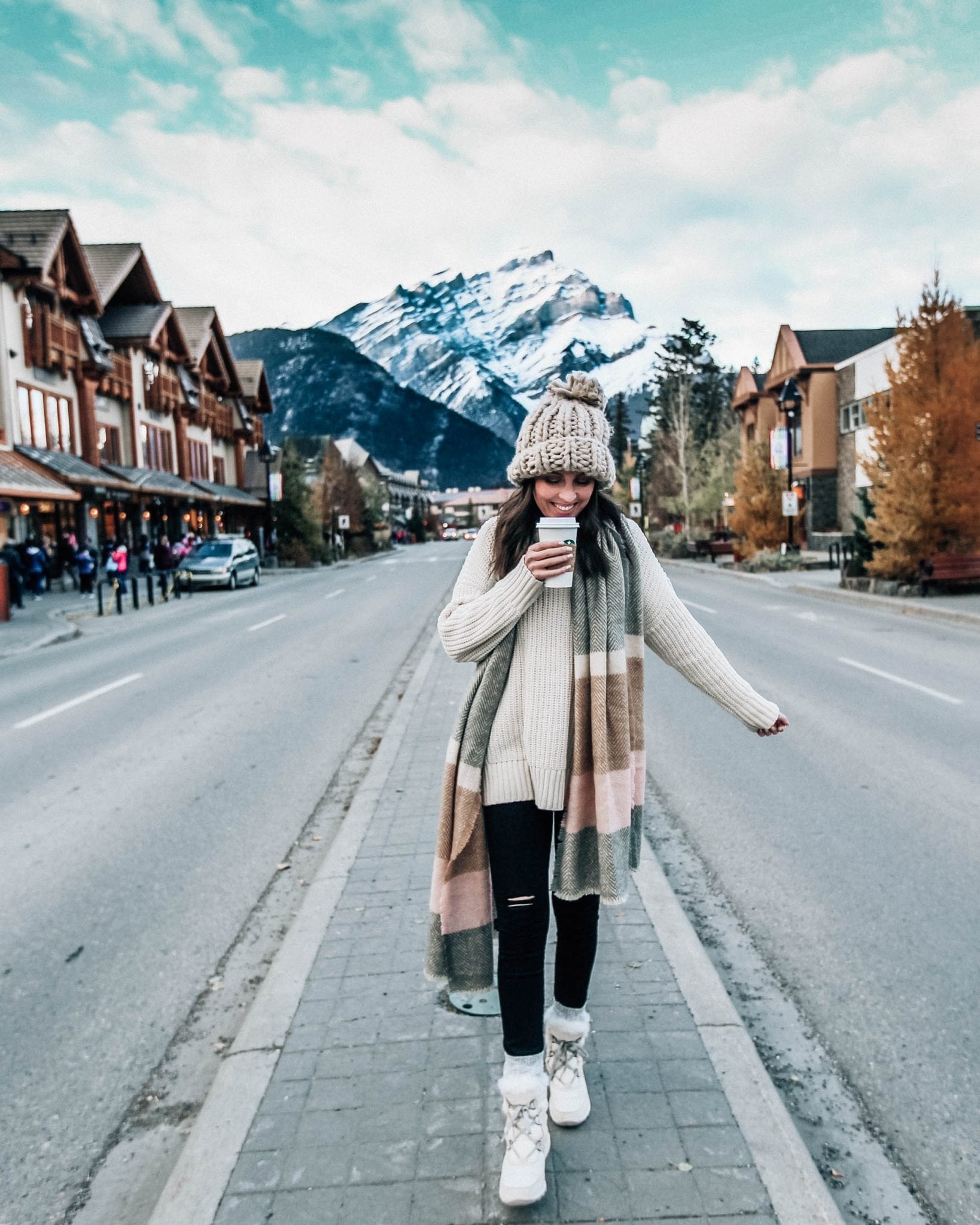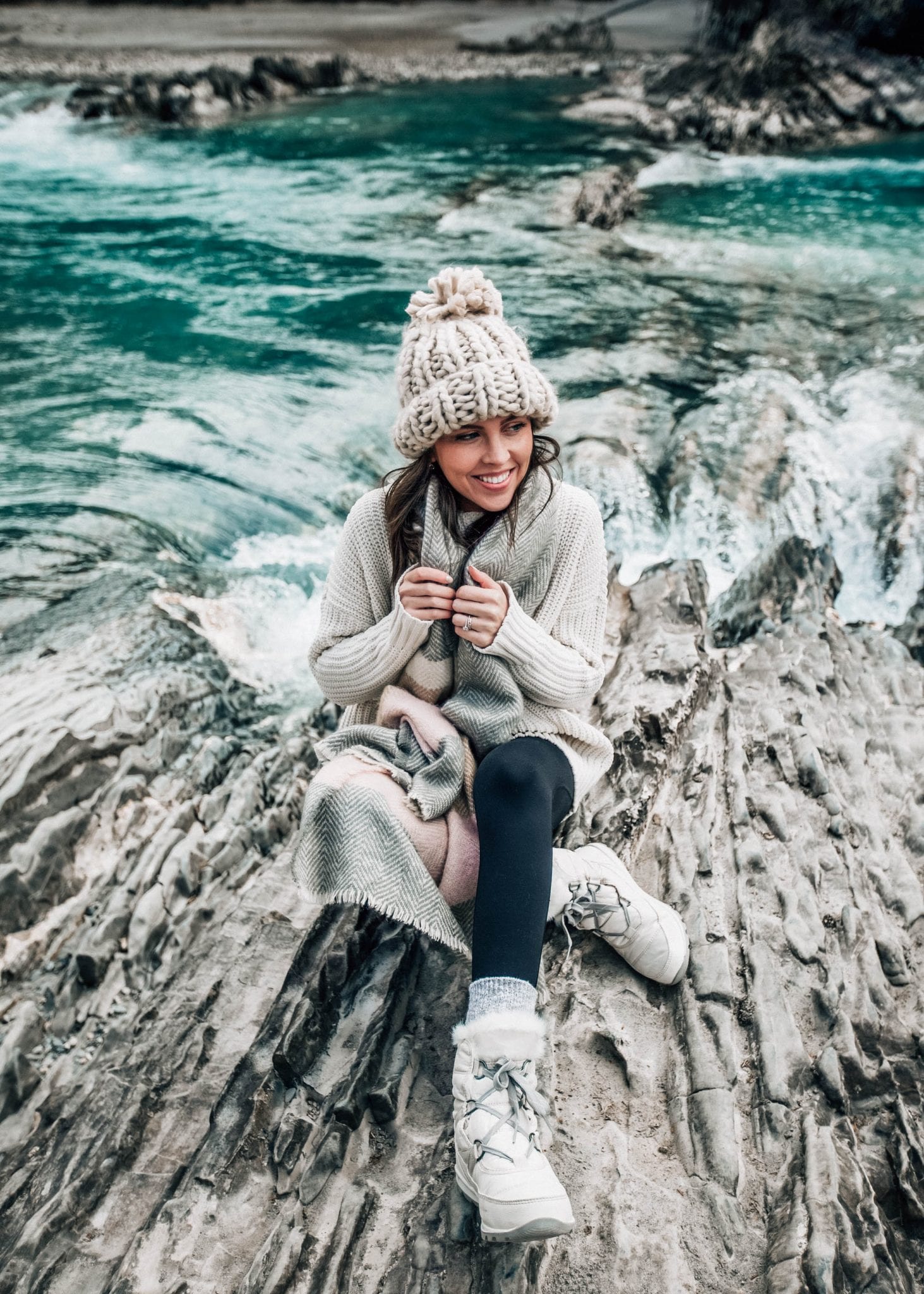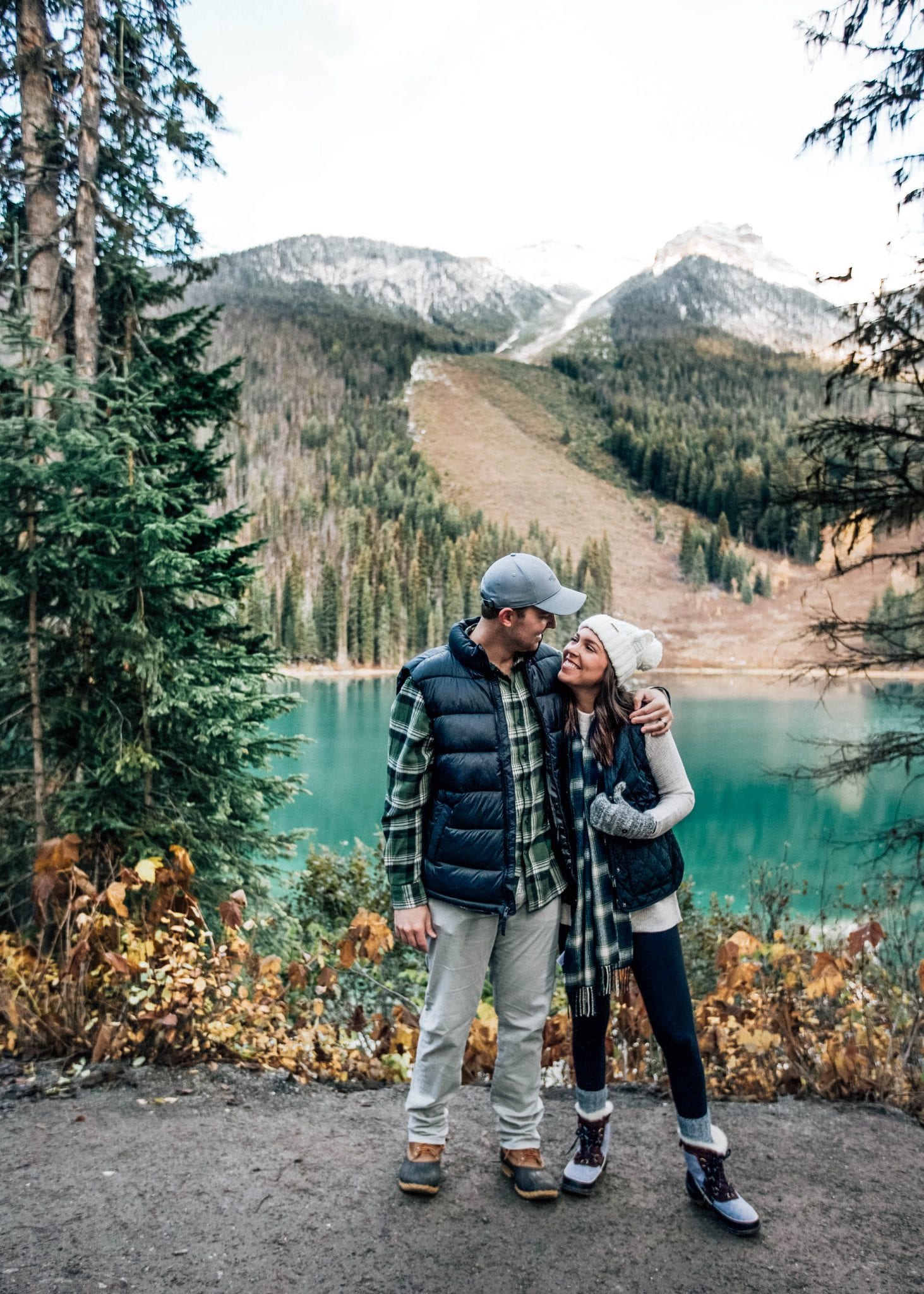 What I Wore and What I Wish I Packed

Before we left, I wrote a post on what I was packing… you can read it here. BUT, there were a few things I kept wearing day after day, some things I never really took out of my suitcase, and some items that I wish I would have brought.
The most worn items of the trip? These black leggings, this sherpa military parka, the chunkiest knit beanie, all three of my boots I brought: a casual brown lace-up pair, the warmest snow boots, and the lightest weight pair of white snow boots, this zip-up jacket to layer with, and some sweaters. I also always wore a white long-sleeve tee underneath everything to keep from getting too cold.
Fleece lined leggings are one thing I wish I had packed. I had my regular leggings but it didn't cut it most of the time. Also, more socks! I had to borrow some of TJ's socks because one pair wasn't enough most days.


<center>

</center>
TJ's Favorites He Packed:
<center>

</center>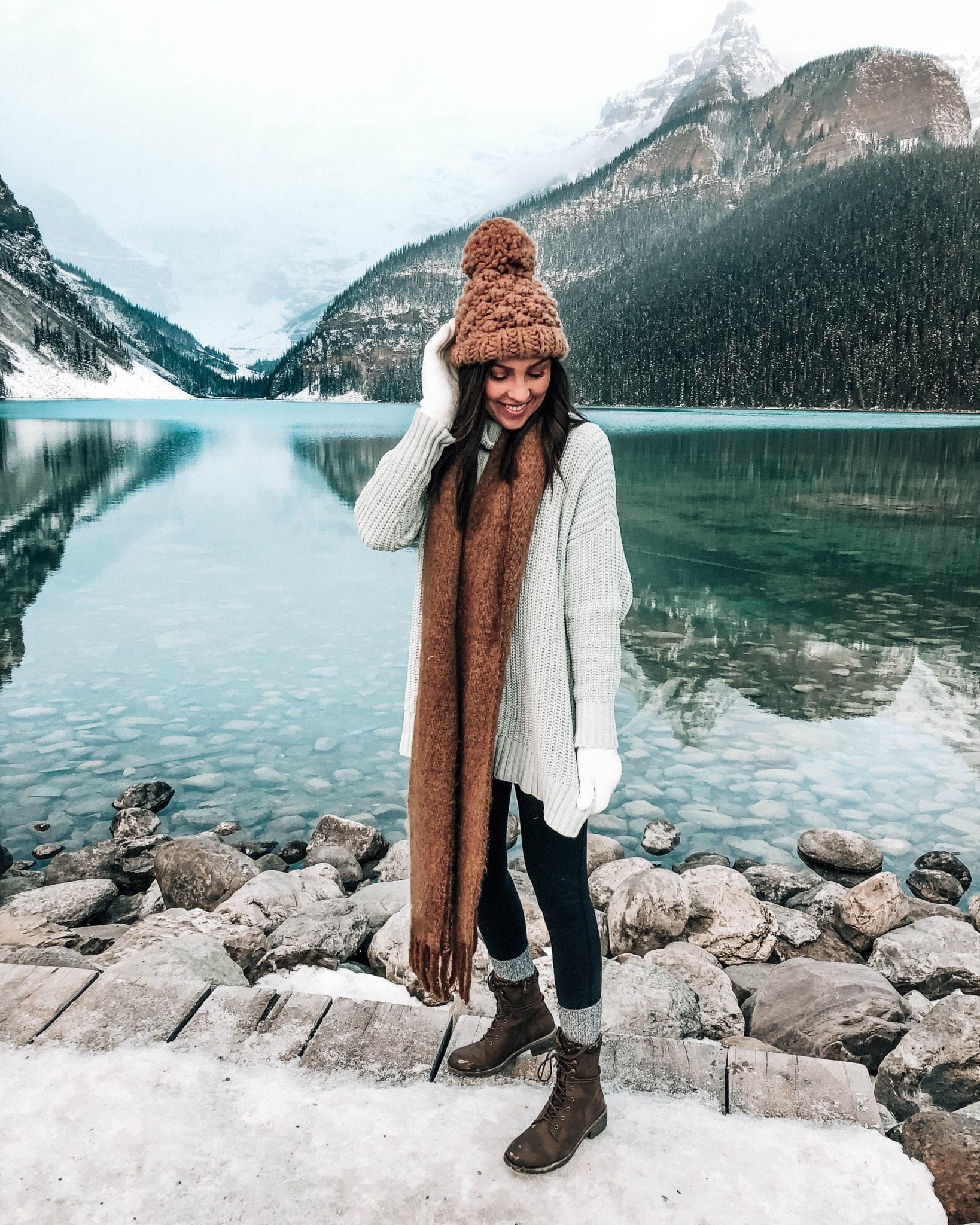 I felt so at peace here and I'd love to visit again. Sometimes in the past when I've traveled I've felt anxious and that wasn't the case at all here. It was such a perfect mix of relaxation and adventure and it was so refreshing to be so disconnected from technology in the most beautiful setting. Even just driving from place to place was peaceful with those views. Banff was beyond beautiful and I already have some major post-vacation blues now that we're home.