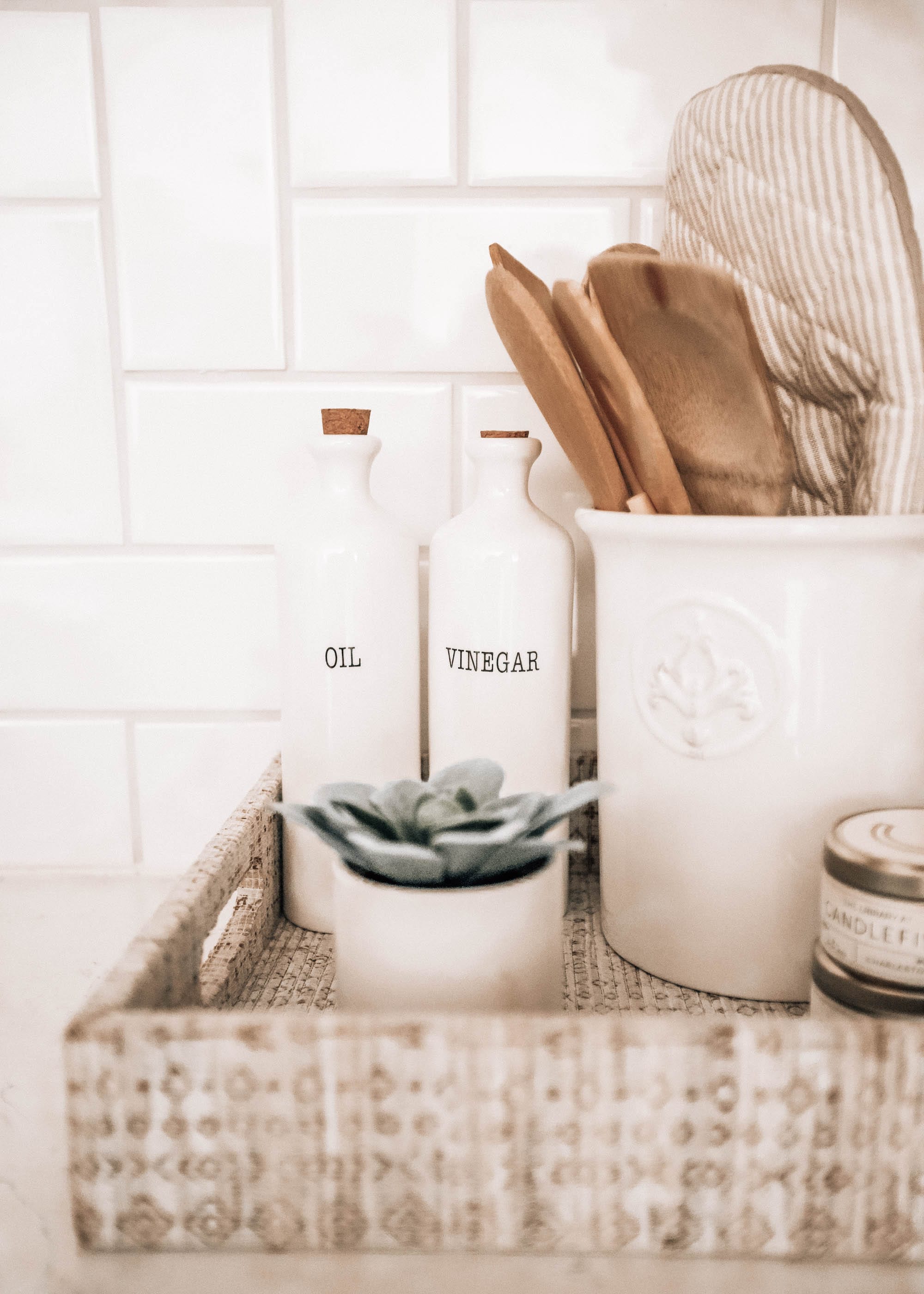 If you've been following here for a while, you might know that we've been working on our DIY kitchen renovation since the very beginning of the year. It is not complete just yet but while I was doing some shopping the other day at Home Centric, I picked up a few new kitchen accessories to decorate the countertops a little bit. I wanted to add in functional items that can also help spruce up the space. If your kitchen is in need of a budget-friendly refresh, there are so many cute smaller items that you can find for a quick and simple update.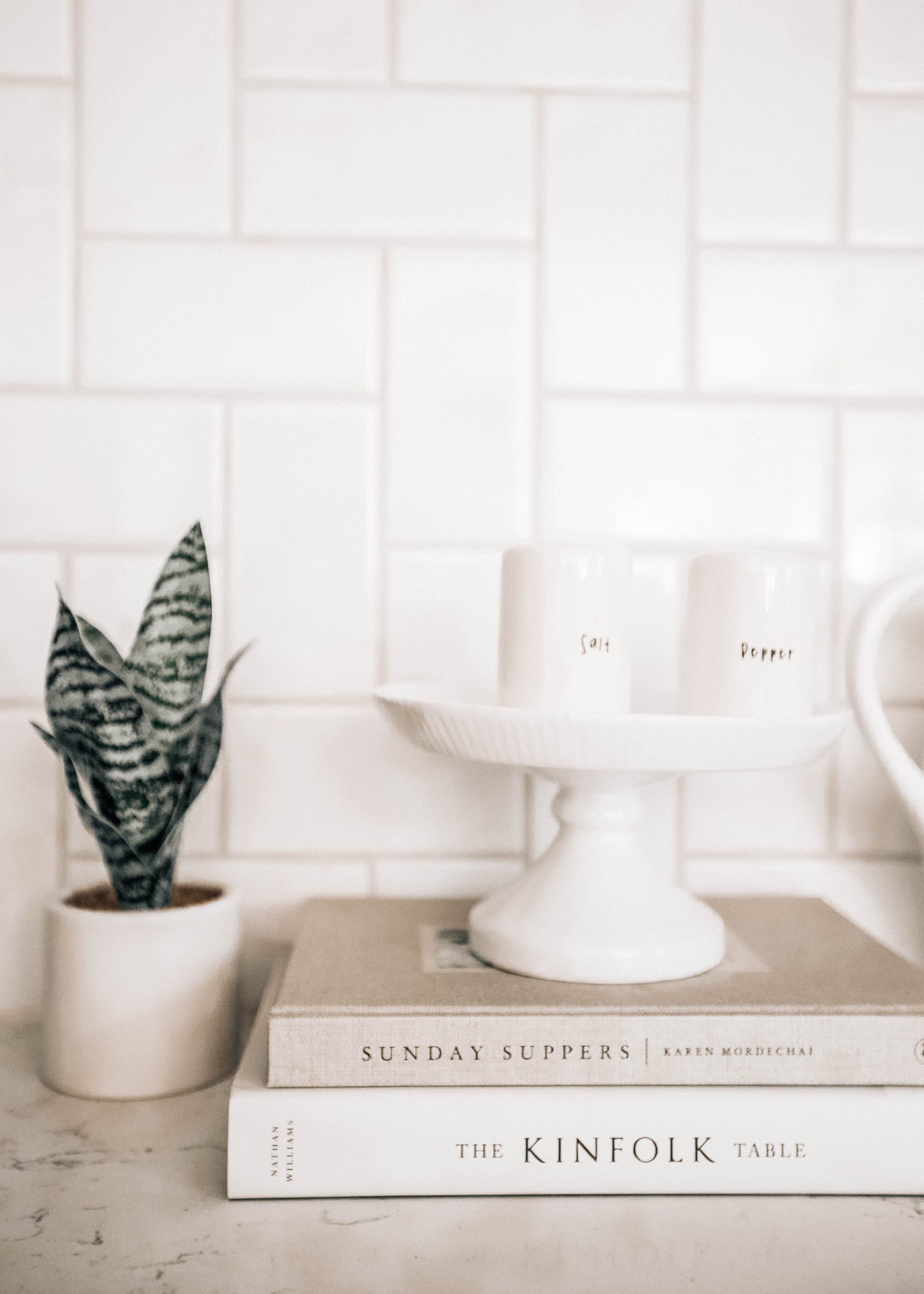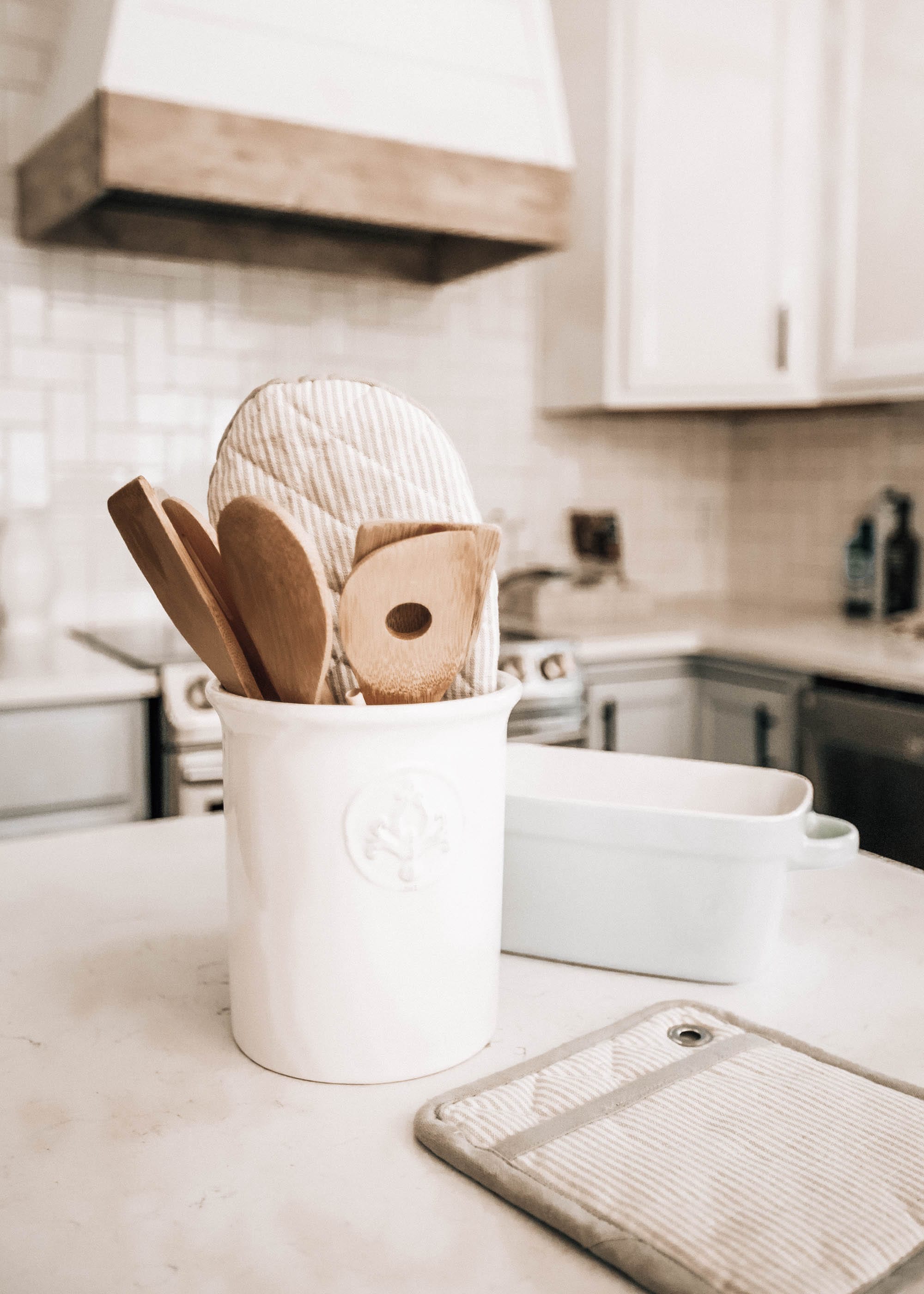 The first item I knew I had to have: these white oil and vinegar bottles. Sometimes too many oil bottles on the countertop can look cluttered (although it's convenient for them to be on the counter) but these are the perfect clean and simple addition! I also found a large white utensil holder to put all of our wooden spoons in. I also love placing a pretty oven mitt in that same utensil holder to have easily accessible. I have another one of these holders under the counter to hold plastic/rubber utensils but I love having these in an easy to reach spot plus all of the wooden pieces together just makes the space more cozy and cottage-y. I also store our bamboo straws from the farmer's market in there. If you're in need of an inexpensive utensil holder, or really anything for your kitchen, you have to check out Home Centric's selection. I'm still on the hunt for a bread box so I can store our bread out of sight but still close to our toaster.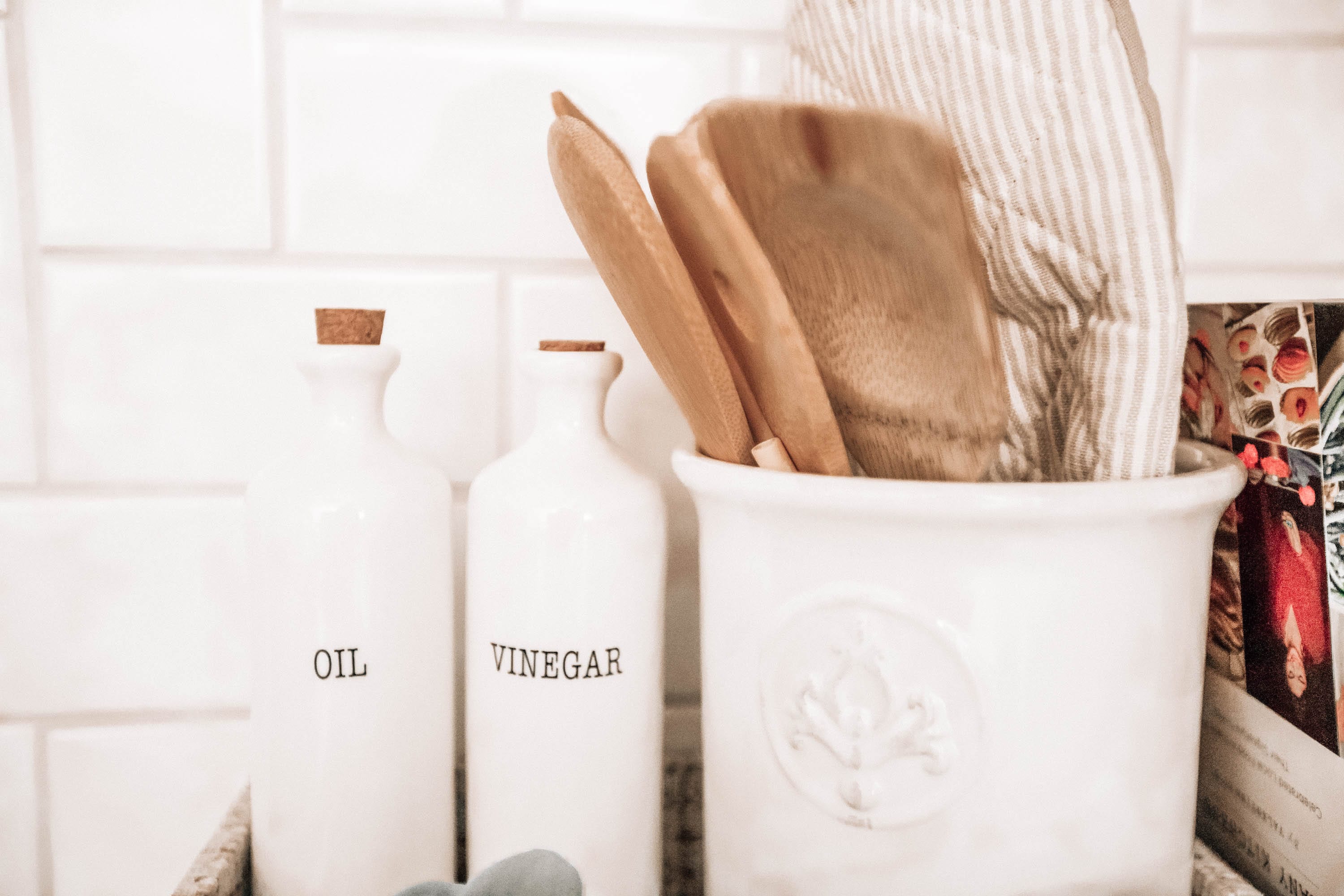 Some other pieces I found were striped oven mitts, a small cake stand, salt and pepper shakers, a ceramic pitcher for fresh flowers or branches, cook books, and faux succulents. I also picked up some dishware, pots and pans. I needed a new pan to saute all of our vegetables in and I found this beautiful champagne one with a white interior. The prices were too good to pass up. I thought I was almost done shopping until I came across the cabinet organizers and I picked up some organizers for pots and pans. If you follow along on Instagram, I have a story highlight where I share spaces I've organized including the refrigerator and the pantry but we haven't quite tackled the cabinets yet! Hopefully these will help start that process.
Functional Kitchen Accessories:

– storage jars or canister sets
– utensil container and wooden spoons
– oil and vinegar sets
– salt and pepper sets
– cookbooks
– paper towel holder
– bread box
– cake stands
– pitchers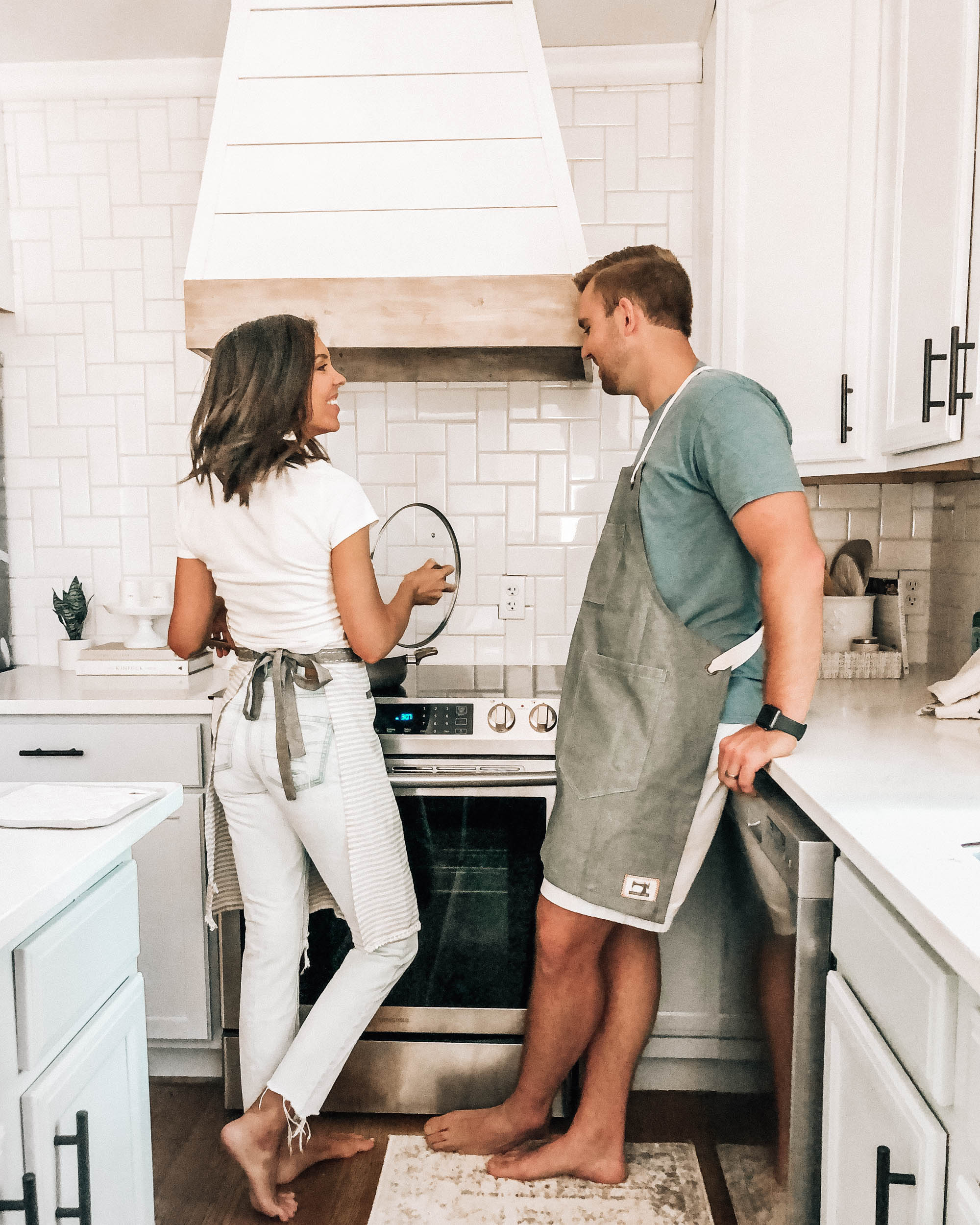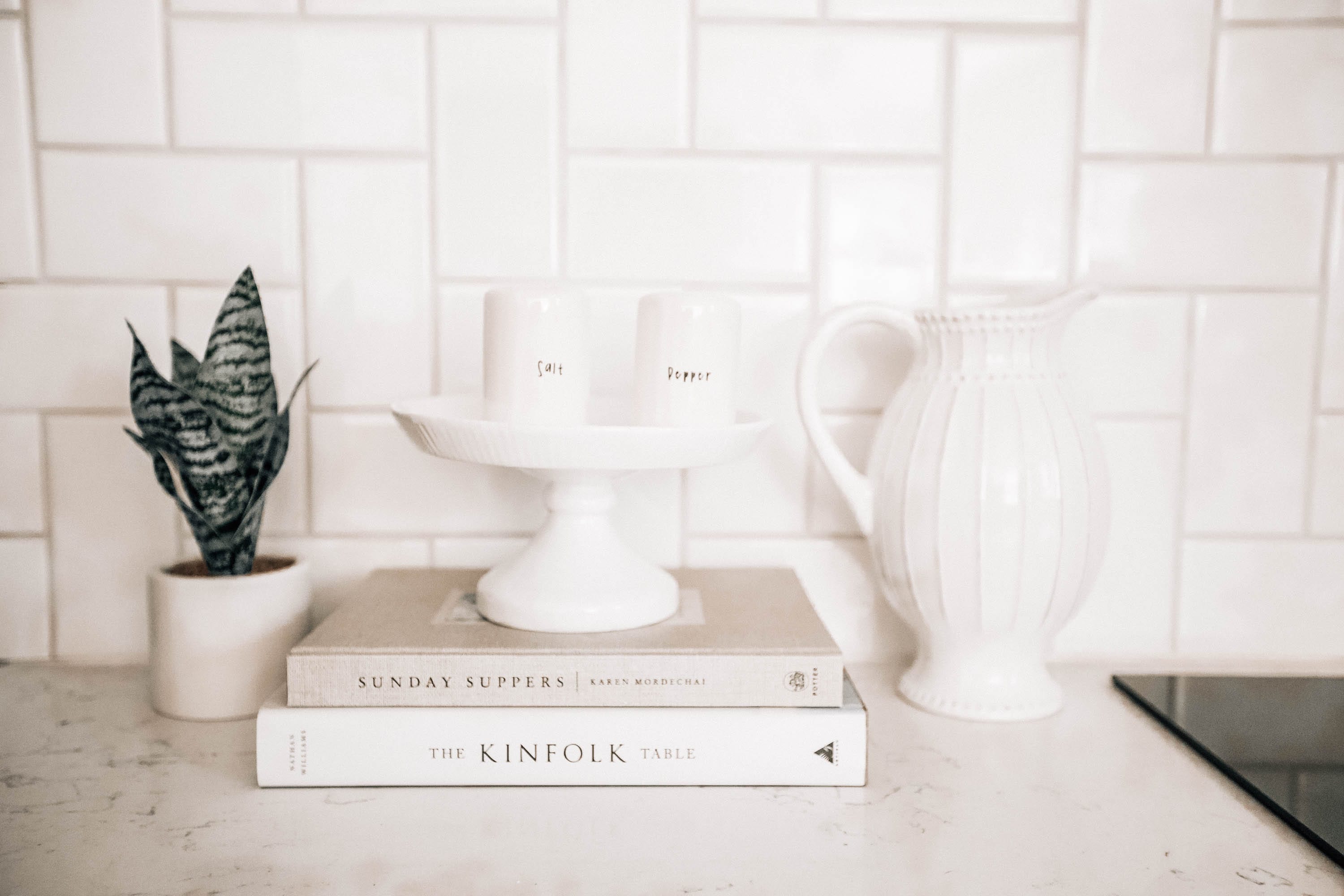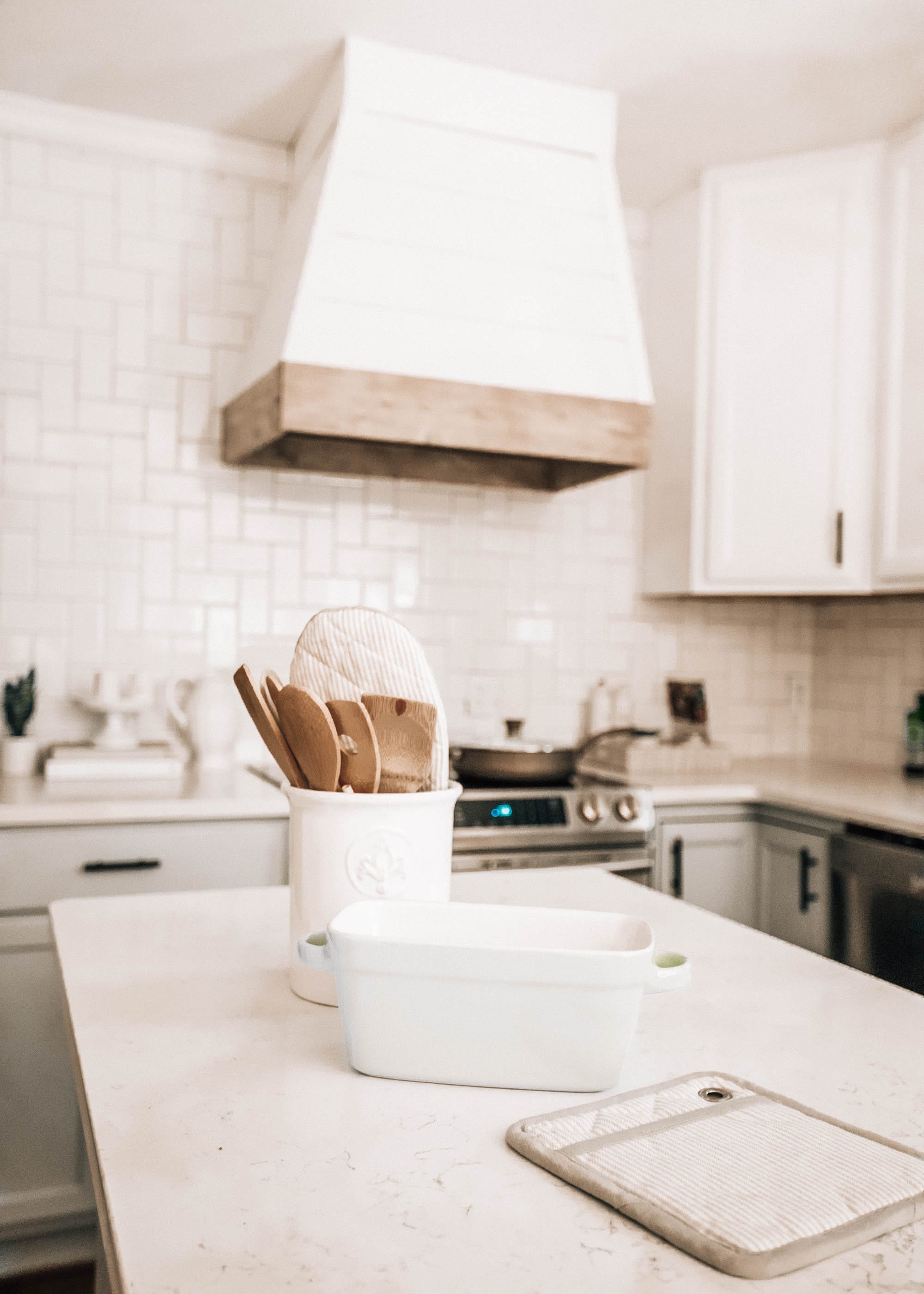 Anyways, do you see that small space to the left of the range hood? I can't decide whether or not to add some shelves on the wall there. If we end up doing that, I'll for sure be picking up a few more items! If you're near Raleigh/Cary, I highly recommend stopping by Home Centric in Crossroads for all of your home needs! If you're not around Raleigh, you can search for the nearest location near you here. Hopefully this gives you some ideas of how to decorate your kitchen using some useful items!
This post is in partnership with Home Centric. All opinions are my own.