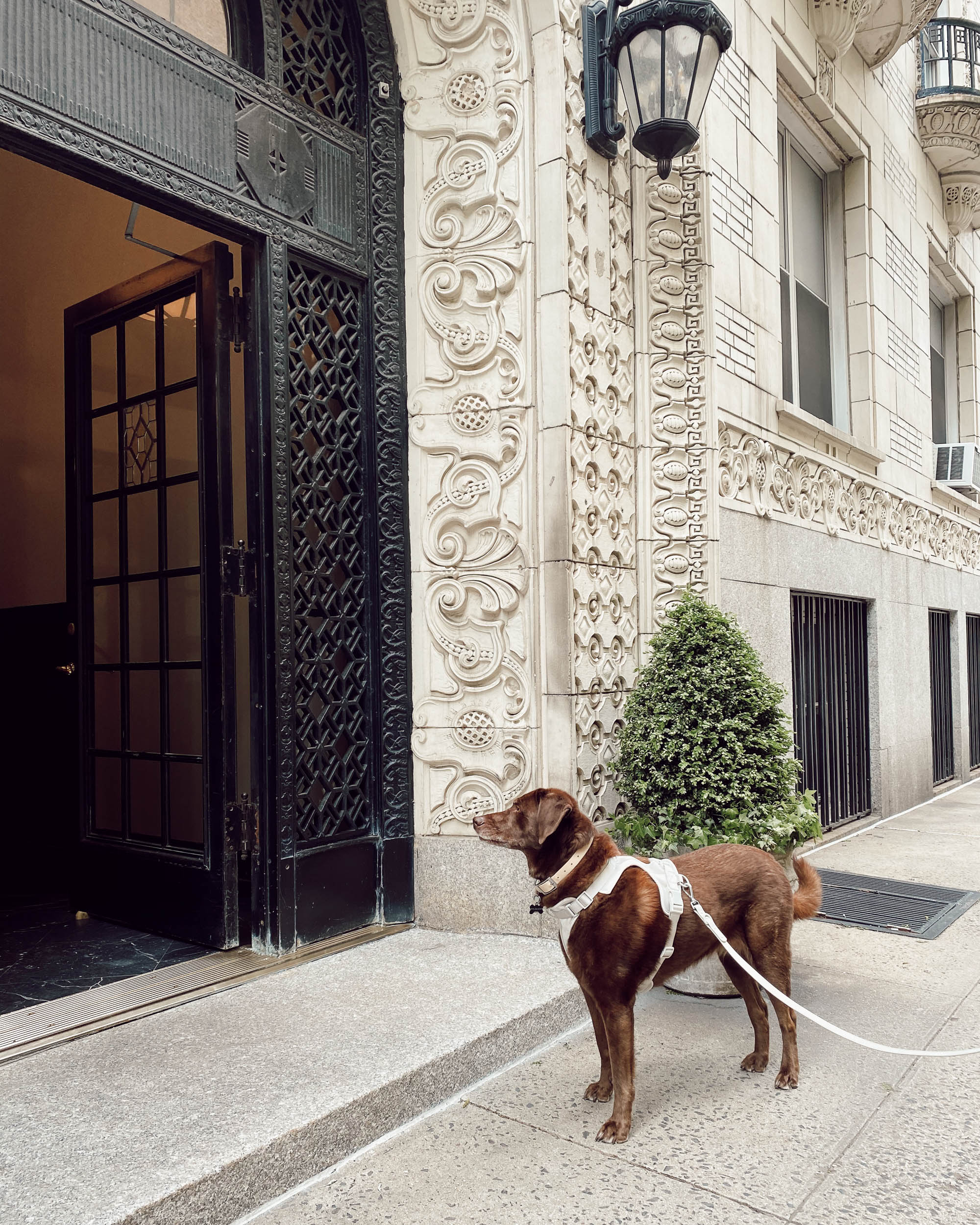 Hi friends!
This is Colbie, the dog. My mom let me write this and I figured I would share a few of my favorite city essentials. Who knew I'd be living in a city? One day back in February, my mom told me to get in the car and the next thing I knew, we were in this new place I'd never seen before. We haven't left since so I guess it's my new home. It's called New York City and it's pretty cool. We go on a lot of walks and I meet a lot of friends in the parks. I've never seen so many dogs in my life. I also love when the doormen give me treats when I walk by. Anyways, let's get into my favorite things for this new city life. You'll want to get a NYC dog license here too if you're new.

Leash Kit
I've used this collar for the last year or so and then my mom got me a matching leash and harness. They have a harness walk kit and a collar walk kit. This brand is nice because the collar and leash never get smelly or dirty thanks to the material it's made of. The harness has 3 different attachment points for the leash so it's super comfortable to use for everyone. My mom has been a loyal customer since the first day they launched! You can occasionally find this brand at Nordstrom, Anthro, and Bloomingdales but I've found that the best prices are directly from the brand's site.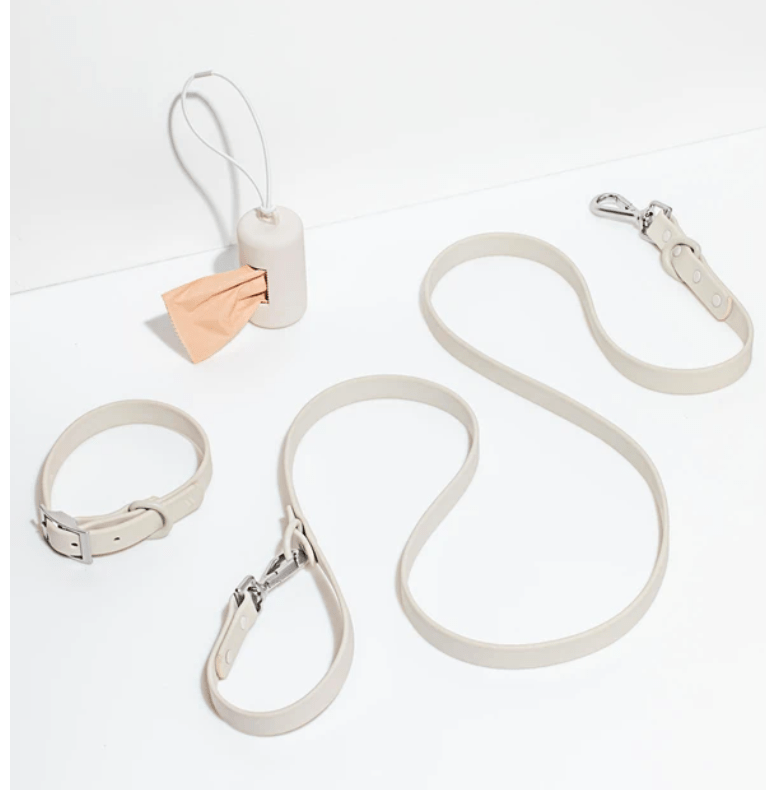 Bags and Poop Bag Holder
Gone are the days of privacy in the backyard. You'll need a very large quantity of poop bags for dog life in the city. There is pretty much no area or situation in the city where it's ok to not clean it up so it's important to always have some stocked up. One time after we first moved here, my mom forgot one and we had to stand there until she could call my dad and get him to meet us with an emergency poop bag. I love this bag holder because, again, it's easy to keep clean (and chic… who doesn't love a chic poop bag?) and stays attached to the leash. For bags, I like these because they are better for the environment.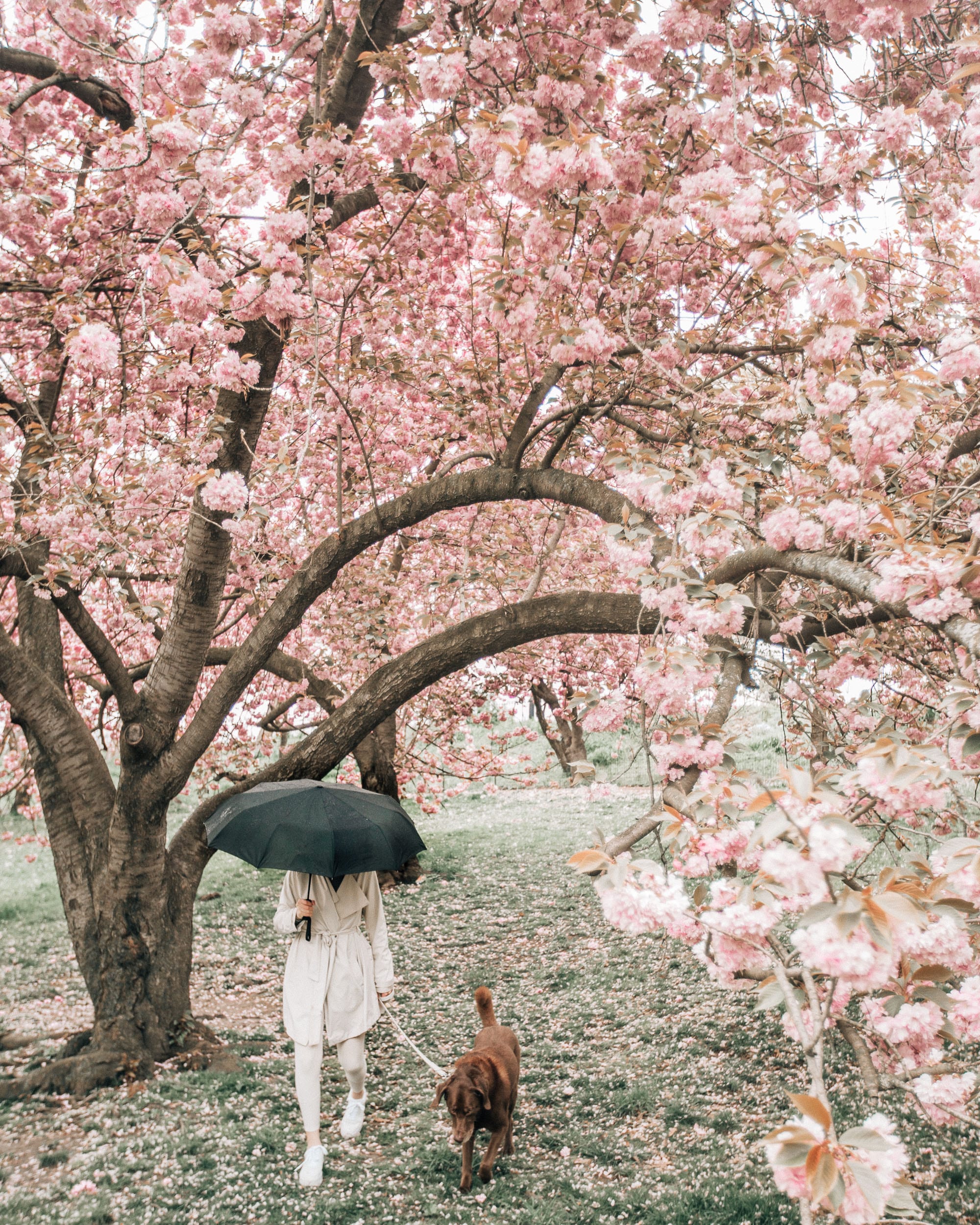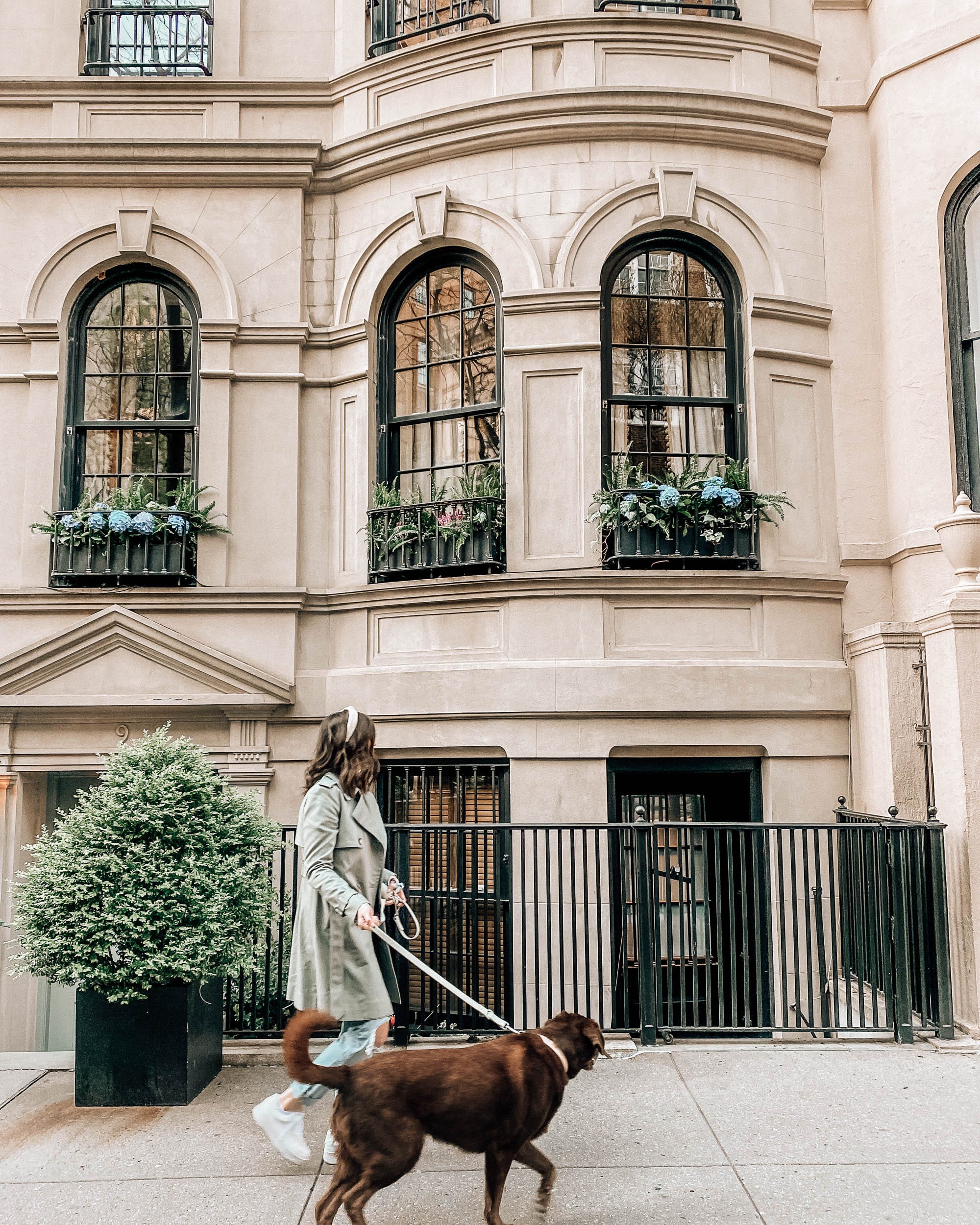 When I tell you that we go on more walks, that is an understatement. We not only go on more walks throughout the day, but on the weekends my mom likes to go on very, very long walks all across Central Park, and it can get really hot here! It's nice to have one of these water bottles (with a bowl attached) in her backpack so that I stay hydrated all day long.

Grooming Wipes and Shampoo
On rainy days, these wipes come in handy so I don't track dirt and germs around the apartment. You'd be surprised at how dirty our paws can get from just one long walk.

Dog Booties or Dog Leggings (yes, those exist)
One day, I noticed a couple of dogs wearing pants in the park…….. Apparently that's normal here, especially in the winter. From what I've heard, when the roads are covered in salt for snow, it can be painful on the paws. Turns out, they're called "dog leggings" LOL. My mom ordered me these dog leggings after I told her all my dog friends had them so I can't wait to wear them next winter. They're also nice for a rainy day, not just snow/ice. But seriously, once winter rolls around, I've heard dog booties at least are a must. Including some others:


Rain Jacket
Another sight you'll see often in NYC, dogs in rain jackets! I've included some of my favorite ones on the internet here: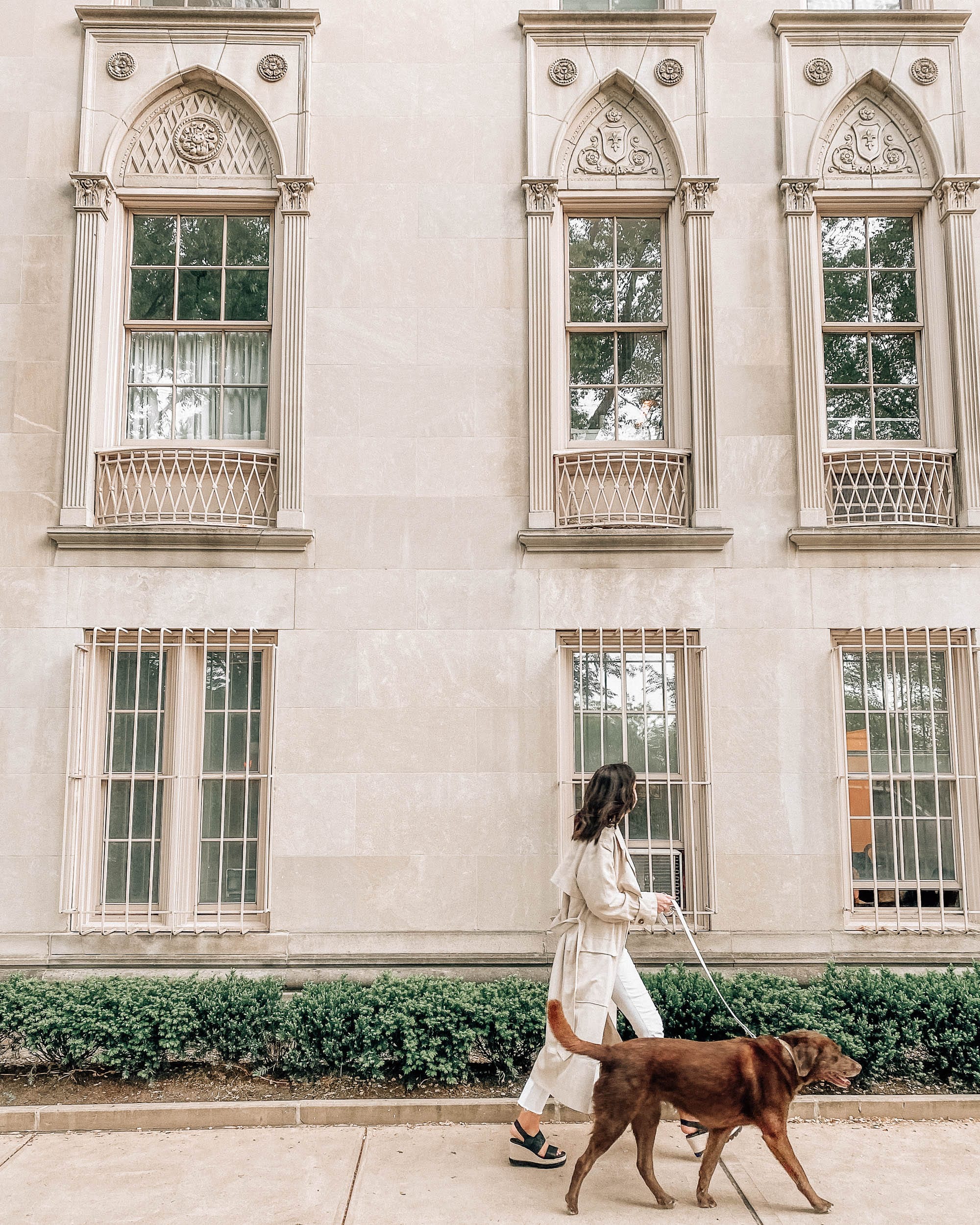 Mini Backpack
This one's mainly for all the dog moms out there who like to go on long walks. If you move to NY, get prepared for way more walking than what you're used to. A mini backpack is always a good idea so you can keep balls/treats/water in there.


Did I miss anything? We also love the Furbo camera because it throws me treats when I'm alone although we haven't had to use that in a while.

Thanks for reading! Stay tuned for my "dog day in the life" video coming soon!