Now that the days are getting more crisp and it's truly beginning to feel like fall, we've been trying to spend as much time as possible outside. Despite the time we spend outdoors here exploring the park and everything the city has to offer this time of year, I like to keep our home a cozy retreat to come back to on a chilly day. After a trip to Pottery Barn, our bedroom is officially feeling equally as ready for the season now. I know I can usually count on Pottery Barn for classic and timeless pieces that will last a very long time. Since it's not quite holiday season yet, I usually just decorate with a few cozy fall items to keep it feeling simple yet autumn appropriate. Plus, we have limited storage space living in the city so it's key that I choose any seasonal decor very carefully and not overdo it for fall. I rounded up 5 items that I always use to decorate for fall and love that the majority of these can be used year-round too and especially through the winter months.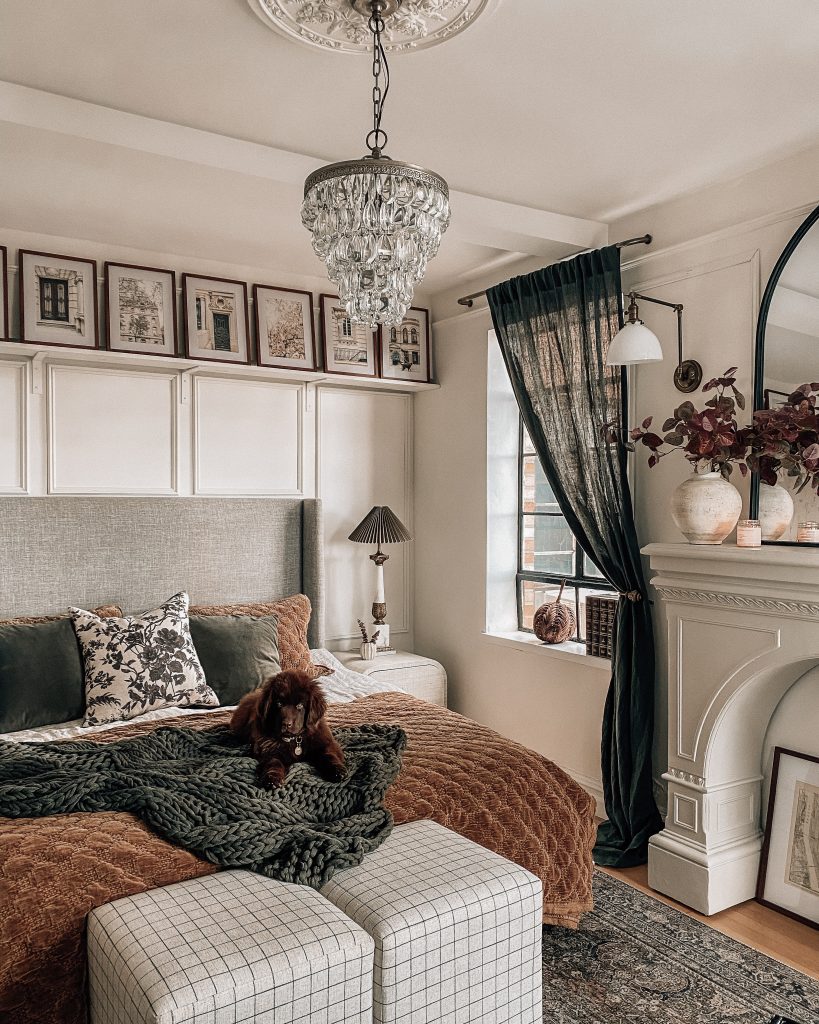 THROW PILLOWS
Fall is the time of year where I love to incorporate rich textures and heavier fabrics that add a little bit of luxe while still keeping things casual. Velvet is one of those that I always gravitate towards this time of year and I love adding a couple of velvet throw pillows to our bed. I absolutely love all of the olive and forest green hues that Pottery Barn has this year! I picked up 2 of these in the color Moss. I've also been buying pillow covers lately as opposed to pillows just so we won't take up more storage space.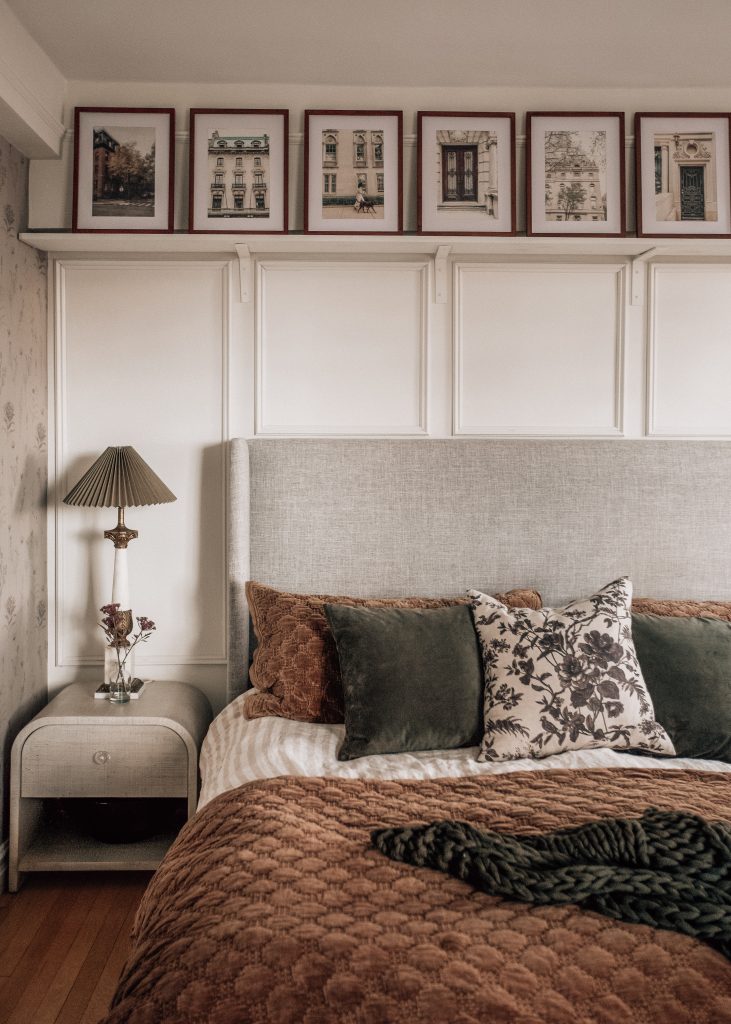 THROW BLANKETS
Faux fur or chunky knit… I always add a super thick and cozy throw blanket on top of our bed to accessorize it a bit and add a bit more texture. This year, I couldn't resist this Colossal Handknit Throw and actually got one for the bedroom and one for the living room… these will also tie in perfectly with my holiday/winter decor. I've been noticing that they'll have a random color marked down almost every day so if you're wanting to save some $, click around the different color options! I have this one in Grape Leaf and Bronze but noticed that the Straw color is on major sale today.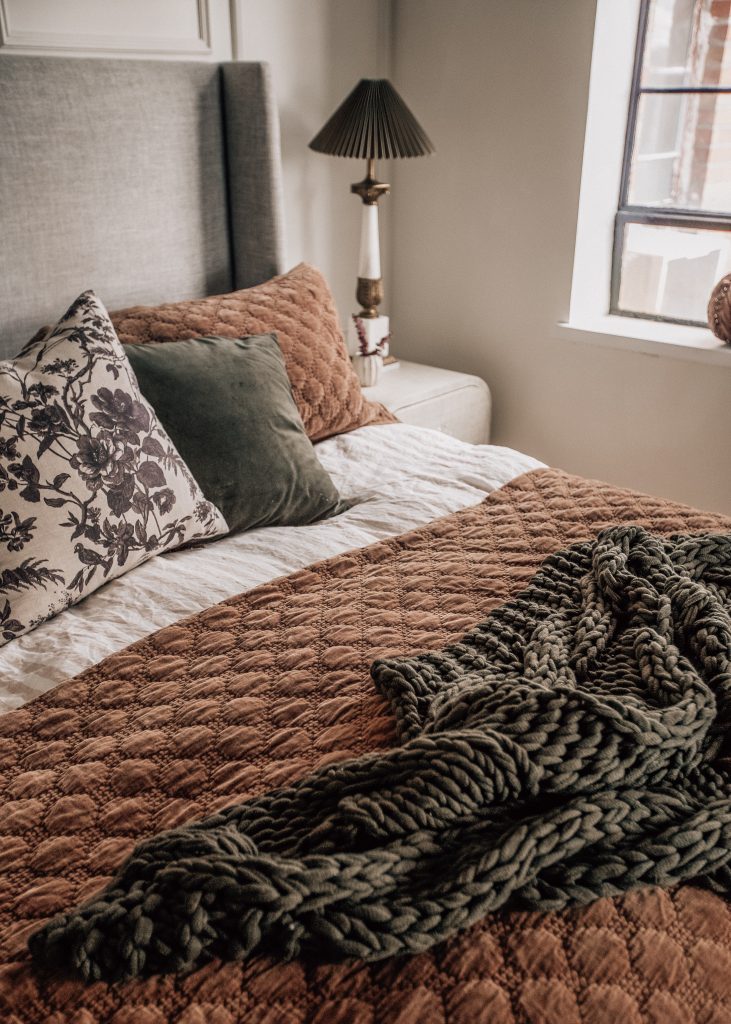 EARTHY BUT NEUTRAL PUMPKINS
I don't go crazy with the pumpkins, mainly because we have limited storage space BUT, I did add one cute little woven pumpkin to our window sill in our bedroom and I love how timeless this dark brown straw material will be for years down the road.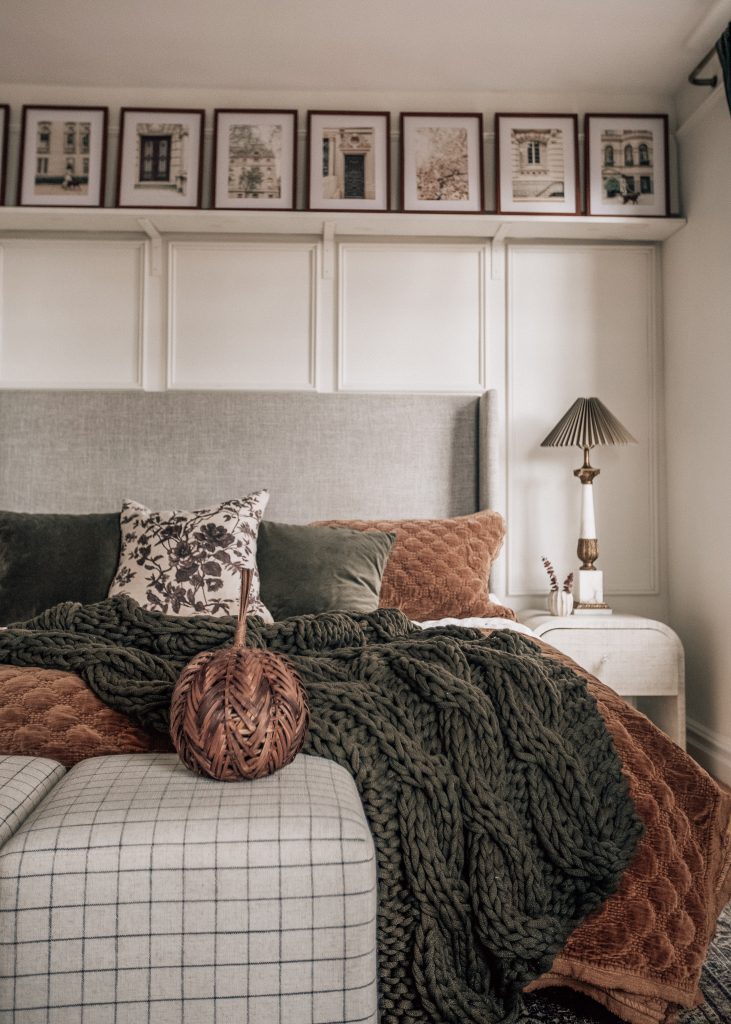 VELVET QUILT
About a year ago, I decided that our bed will forever have some sort of quilt on top of it. It adds so much visually and takes our room to a different level when it comes to comfort. Pottery Barn currently has several velvet quilt options but my favorite has to be this Velvet Lattice Quilt.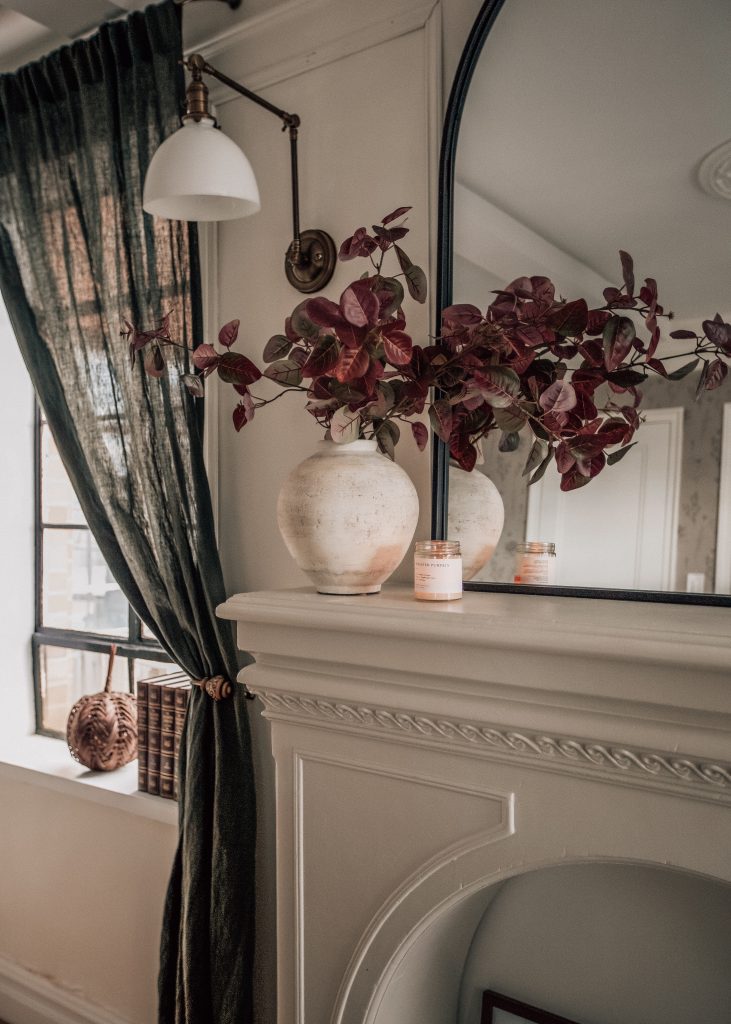 WEATHERED VASE with FALL FOLIAGE
Any piece of decor I can use through all seasons is a win for me so I had to include this weathered vase I found a couple months back. I can't wait to swap out the branches seasonally and I know that this style vase will work for all seasons but there is something about the worn and weathered look that feels extra fall appropriate.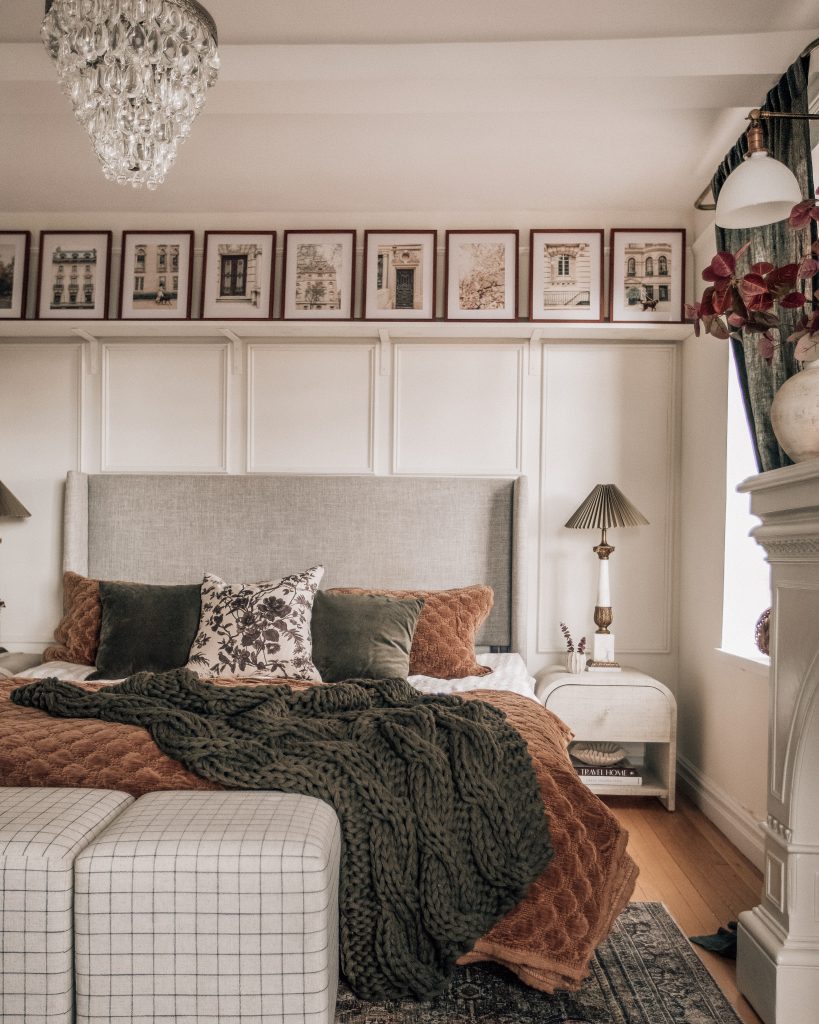 All of these items can easily be translated to a living room too. The rich textures and autumn hues of the velvet and knit details really make the room feel like a fall escape without it feeling like too much. Plus, the dark green is such a great winter color and matches our year-round curtains perfectly tying the whole space together.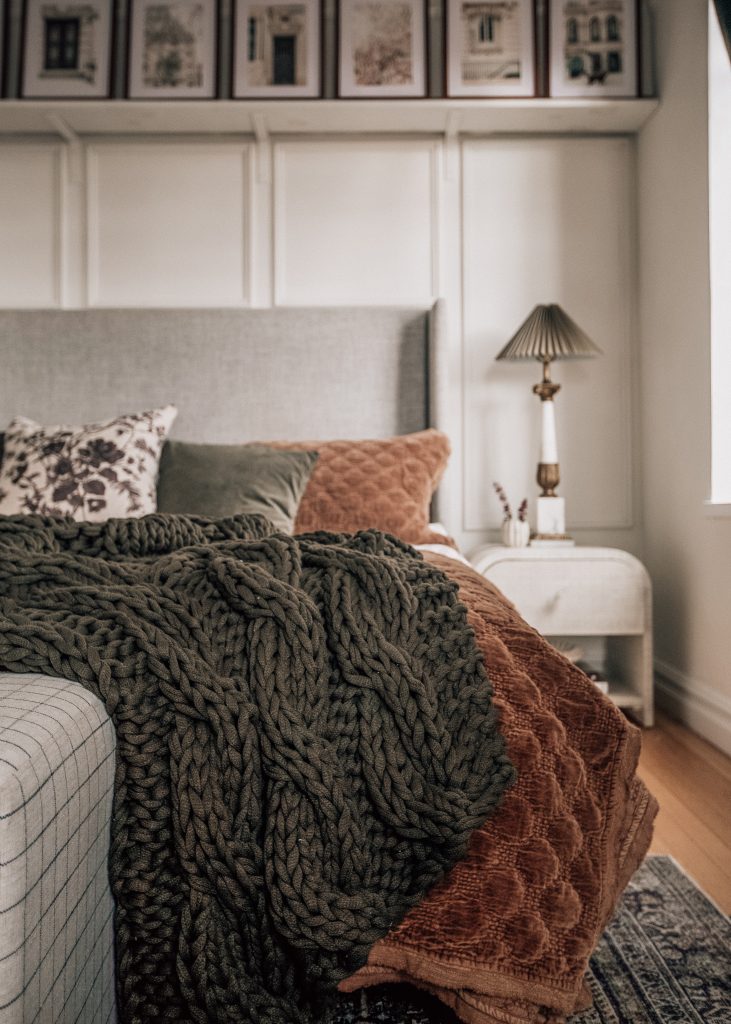 Pottery Barn's newest fall arrivals are some of the best I've seen and I love how timeless each piece feels, as usual. Good quality and items I can use year after year are what I look for when selecting seasonal decor and I couldn't be happier with how this room came together!

This post is sponsored by Pottery Barn.