Back when we toured our current home in December, I was very hesitant about one specific part of the space… the refrigerator was not actually in the kitchen. The actual kitchen itself is very tiny and narrow but right outside of that room is another room where the refrigerator was just sitting by itself. In a way, I'm extremely thankful for it's weirdness because I know it helped keep it on the market a bit longer (long enough for us to find it without it being super competitive) but I knew there had to be ways to maximize the functionality of this space. You might be wondering, "Why would there not be a refrigerator in the actual kitchen to begin with?" and, if you're unfamiliar with NYC apartments, you also might be shocked to know that washer/dryers are very hard to come by. Well, this place had a washer/dryer in the spot where the refrigerator would traditionally be and you cannot just switch the two around due to plumbing. There's no complaining happening here because we have our own washer/dryer in the city which we did NOT have in our previous place but my original vision was to extend the kitchen space to include the room just outside of it and surround the refrigerator with a cabinet, add shelves to the wall, and make use of every inch. Technically, it now could be described as a butlers pantry which typically serves as an inbetween room between the kitchen and dining room. One of the first steps was to select a paint color and I turned to one of my all-time favorite paint brands, Farrow & Ball, to book a Colour Consultancy appointment. I love Farrow & Ball for their high quality and eco-friendly formulas. Their low odor finishes and lack of toxic fumes make me feel much better about using it in our home and I appreciate their passion for using sustainable materials.
[show_shopthepost_widget id="4584711"]
If you're having a hard time narrowing down a paint color for a space in your home, Farrow & Ball offers their Colour Consultancy services (virtual or in-home) to help guide you through your design dilemmas. Sometimes the process can just be overwhelming so the Colour Consultancy experts are there to provide their expert knowledge of the Farrow & Ball palette (and finishes) to make the design process more simple for you.

On the morning of my booked appointment, I showed the consultant around the room I wanted to paint (via the computer screen). I had previously sent her responses to a questionnaire so that she could learn more about my style and types of colors I'm typically drawn to. I also showed her around our future nursery and narrowed down those as well to make use of the time! Having this color fan of all 132 colors was extremely helpful to have when talking through the best options. It was also nice to have to compare to wallpaper options.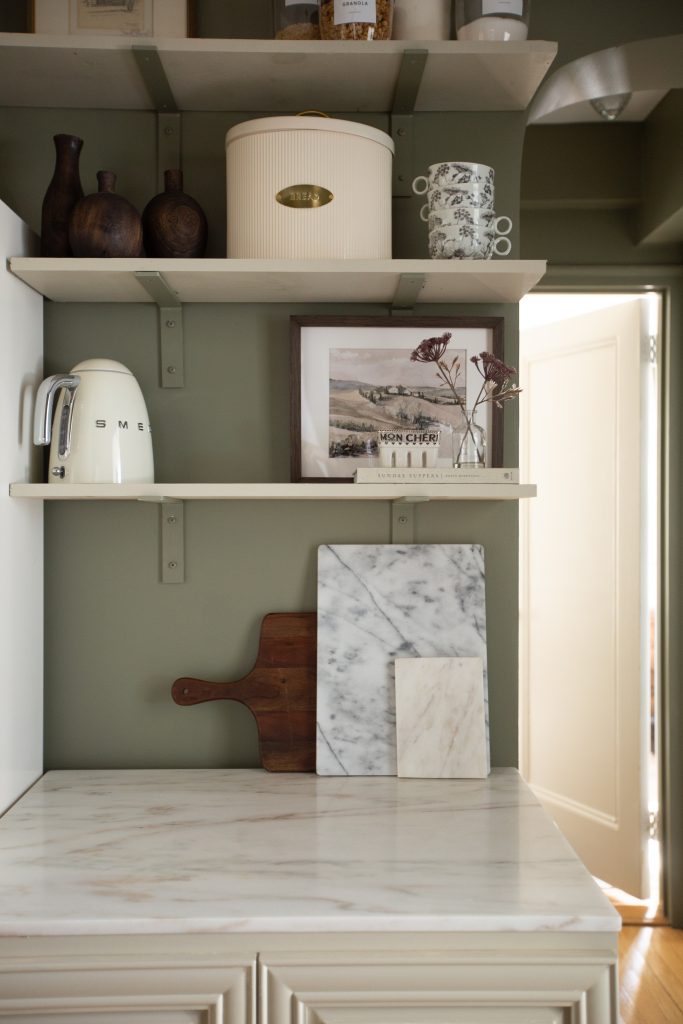 [show_shopthepost_widget id="4584714"]
We ultimately decided on two contrasting colors, Treron and Old White. Treron is a dark grey green (very typical of me to choose) and Old White is a traditional neutral that we thought would look great on the doors to make them pop. I also ended up painting the shelves and cabinet Old White as well. The two colors look SO good together and being able to talk through the options with an expert made such a difference in finally making the decision. Old White matches really well with our retro refrigerator so it gives them a more built-in feel too. 
[show_shopthepost_widget id="4584715"]
I am SO happy with how this space has turned out. I ended up finding the piece of marble from a local antique shop and the shelves were made with the same brackets and wood we've used in previous shelf projects. This room went from awkward and non-functional to useful and cozy.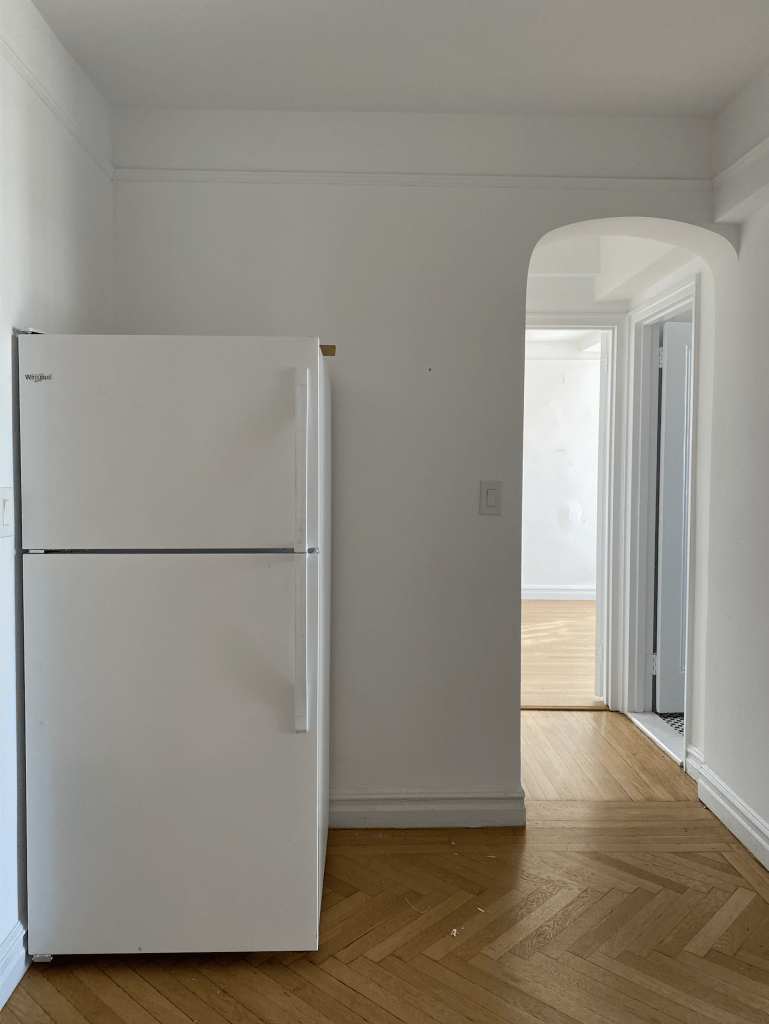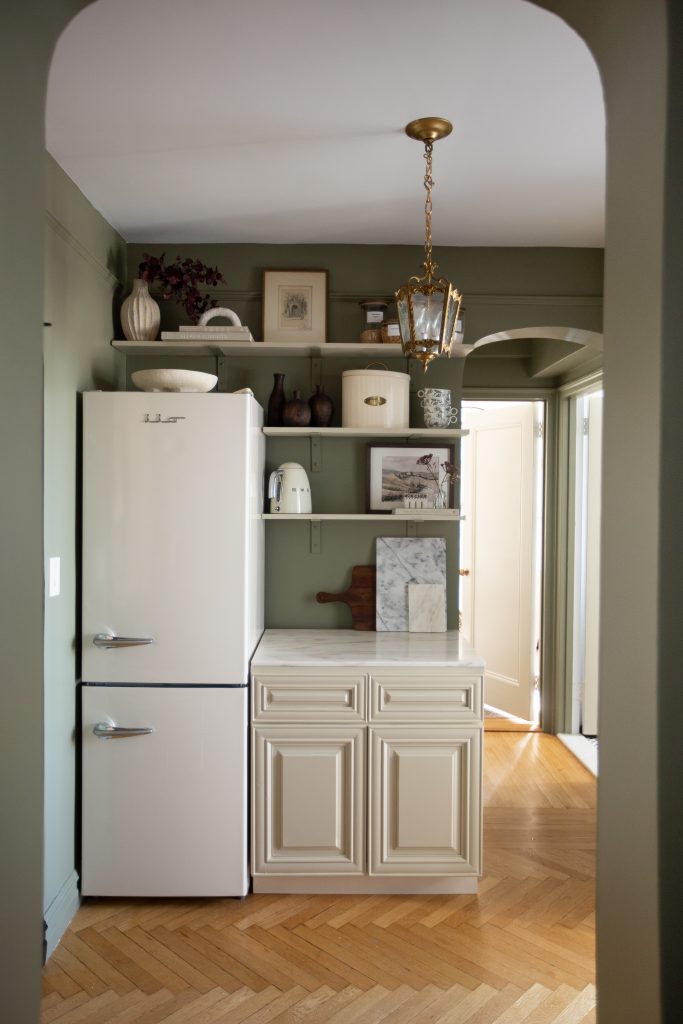 [show_shopthepost_widget id="4584715"]
Click here to explore all of Farrow & Ball's paint colors and to book a Colour Consultancy appointment for design help!

This post is sponsored by Farrow & Ball, a company that I have used and loved for years.