Now that it is getting a little cooler, it is time for one of my favorite parts of the fall (and winter) – soup season! There are so many different soups that TJ and I love to make but there is one that I keep coming back to – a chickpea noodle soup. It's simple, vegetarian-friendly, light,  but if you add the right amount of flavor, it is SO comforting and delicious. It took us a while to really figure out how to get the flavor right and the # of bullion cubes is KEY. This is a recipe I'd make every single week though. We recently made it when our family was all battling a cold a couple of weeks ago – highly recommend for a sick day. We hope you enjoy it! 

Ingredients
3-4 large carrots, peeled and chopped
3-4 stalks of celery, chopped
1 large yellow onion, chopped
2 tbsp olive oil
1 tsp garlic, minced
1 tsp of Italian seasoning (or dried basil and oregano)
Pinch of salt and pepper
2 quarts chicken broth 
2 quarts of water
6-8 bullion cubes (chicken or vegetable)
1 can of chickpeas, drained and rinsed
2 cups of uncooked pasta (we like to use Rotini)
Add olive oil to the stockpot on medium-high heat and cook until shiny. Add garlic and saute for 30-45 seconds or until aromatic. Add in vegetables, Italian seasoning, and salt and pepper, and cook until tender. Once tender, add broth, water, and bullion cubes and bring to a boil. Once boiling, add in pasta and cook until al dente. Once pasta is cooked add chickpeas. Cook for another 2-3 minutes. Take off heat and serve immediately. We like to have a loaf of fresh sourdough bread to go along with it, if possible!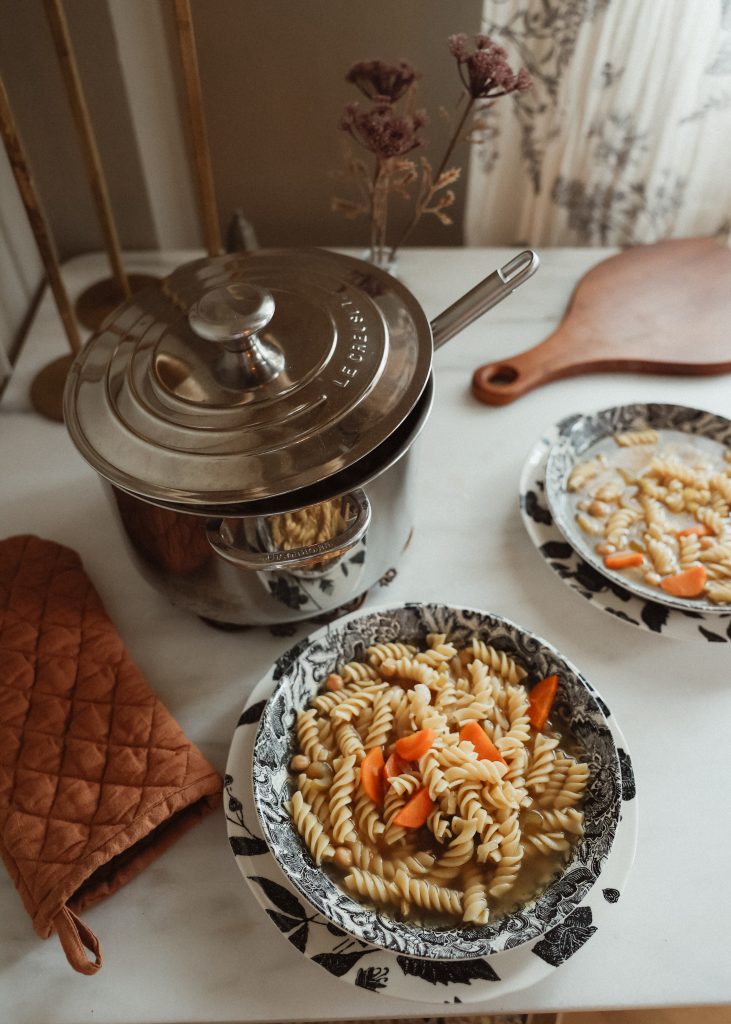 We hope you love this recipe as much as we do! Let us know if you add anything or cook it a different way in the comments!