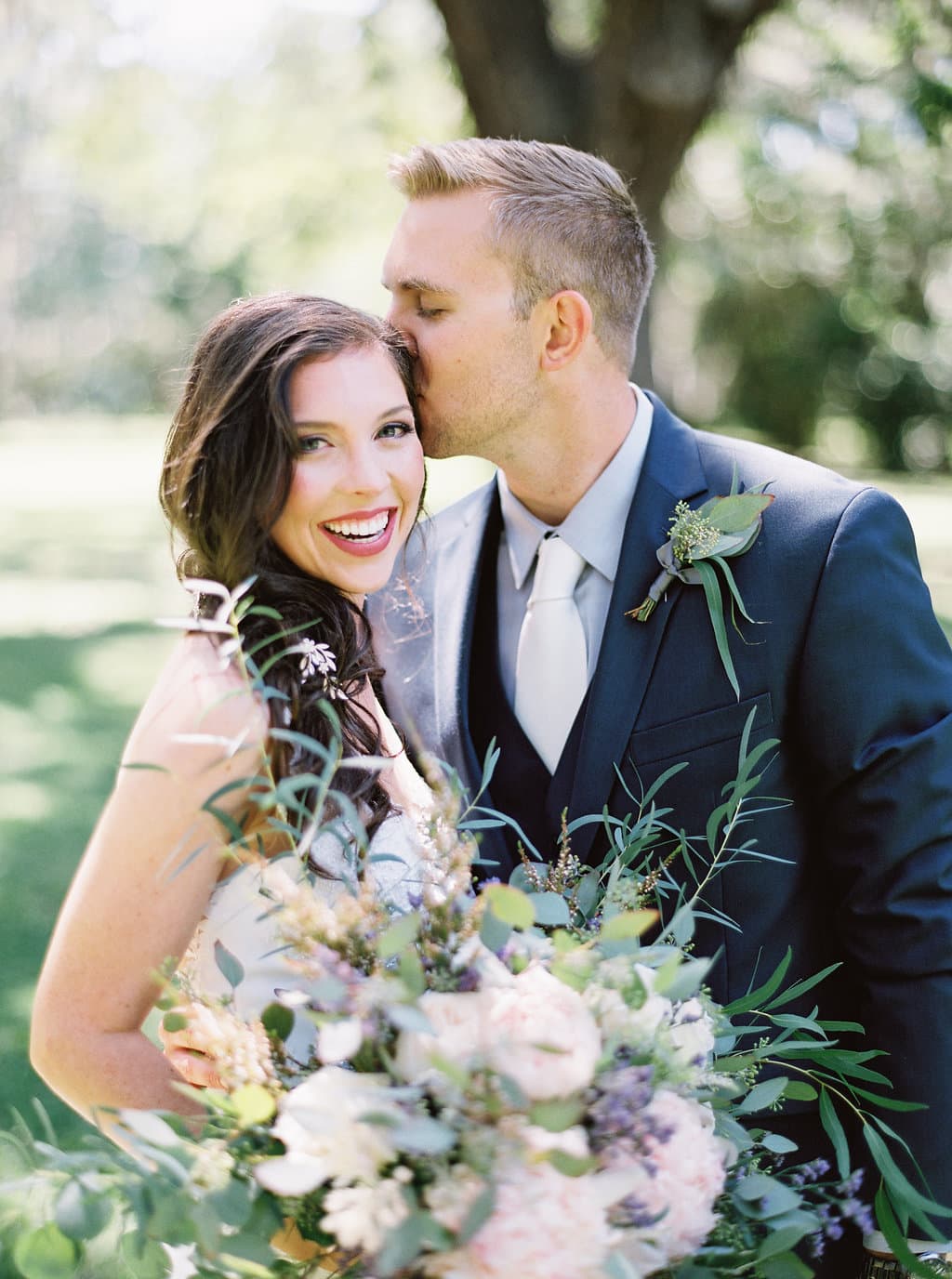 I am SO excited to share with you all of the details of our favorite day… June 10th (which is also my grandparent's anniversary). Having spent a year and a half planning our wedding together, we were beyond ready for the day to finally arrive. The entire weekend was filled with so much love, was more perfect than we imagined, and we just loved reliving the day through these beautiful moments captured by Jake and Heather. Where do I even begin?!
As seen on Style Me Pretty:
When I woke up the morning of our wedding day, I felt the most calm I'd felt in a long time. I had this sense of pure joy and gratitude and I just couldn't believe how lucky I was to be marrying my favorite person in front of all of our family and friends. Soon after my bridesmaids and I arrived to the beautiful Legare Waring House, I snuck downstairs to peek at the reception being set up under the tent. Seeing the vision we had been putting together in our minds come to life was SO exciting and all I could think about was how I wanted this day to slow down! Even the weather was unseasonably cool (well, no humidity and in the 80's for Charleston, SC is not normal). The sunshine was out and I was bursting with excitement for everyone to arrive! One of my favorite parts of the day was getting our hair/make-up done with my mom and bridesmaids. I treated each bridesmaid to a comfy robe to get ready in and the prettiest crystal cluster earrings to go perfectly with their bridesmaid dresses. This was actually the first time that I had even seen all of the bridesmaid dresses in person. We decided to do mix-and-match dresses from completely different places in a variety of grey and blue shades and each had it's own unique details and embellishments. I'll always vividly remember the moments of getting ready with my girls and listening to 2000's hip-hop music with Ash & Co.! Everyone just looked SO beautiful.
TJ had a pretty epic morning as well. He was walking around downtown Charleston with one of his groomsmen looking for a place to have brunch and he saw our chocolate lab pup Colberson walking with her petsitter! It made TJ's morning to see her and we both say that it was a sign for how amazing the rest of the day would be.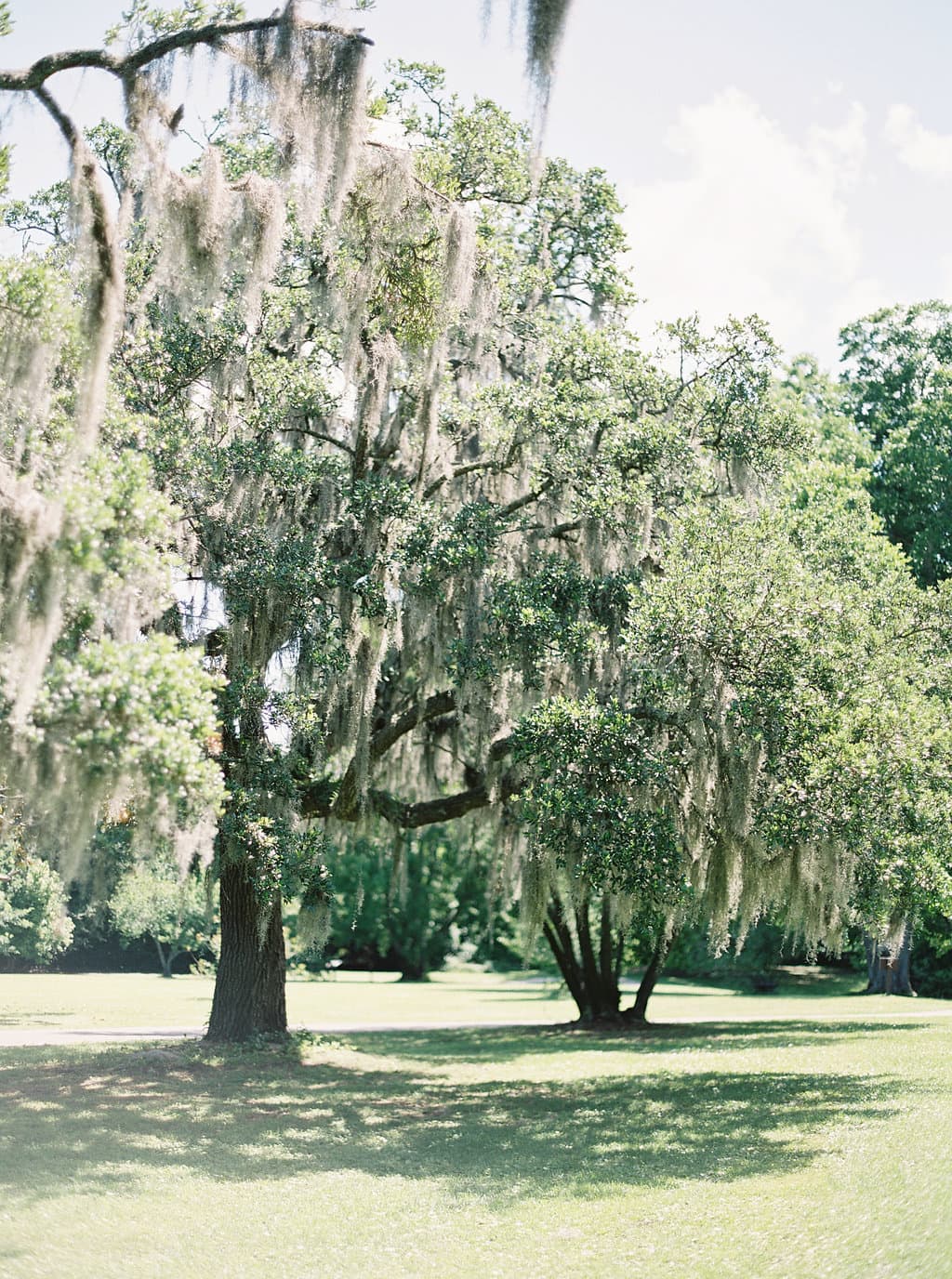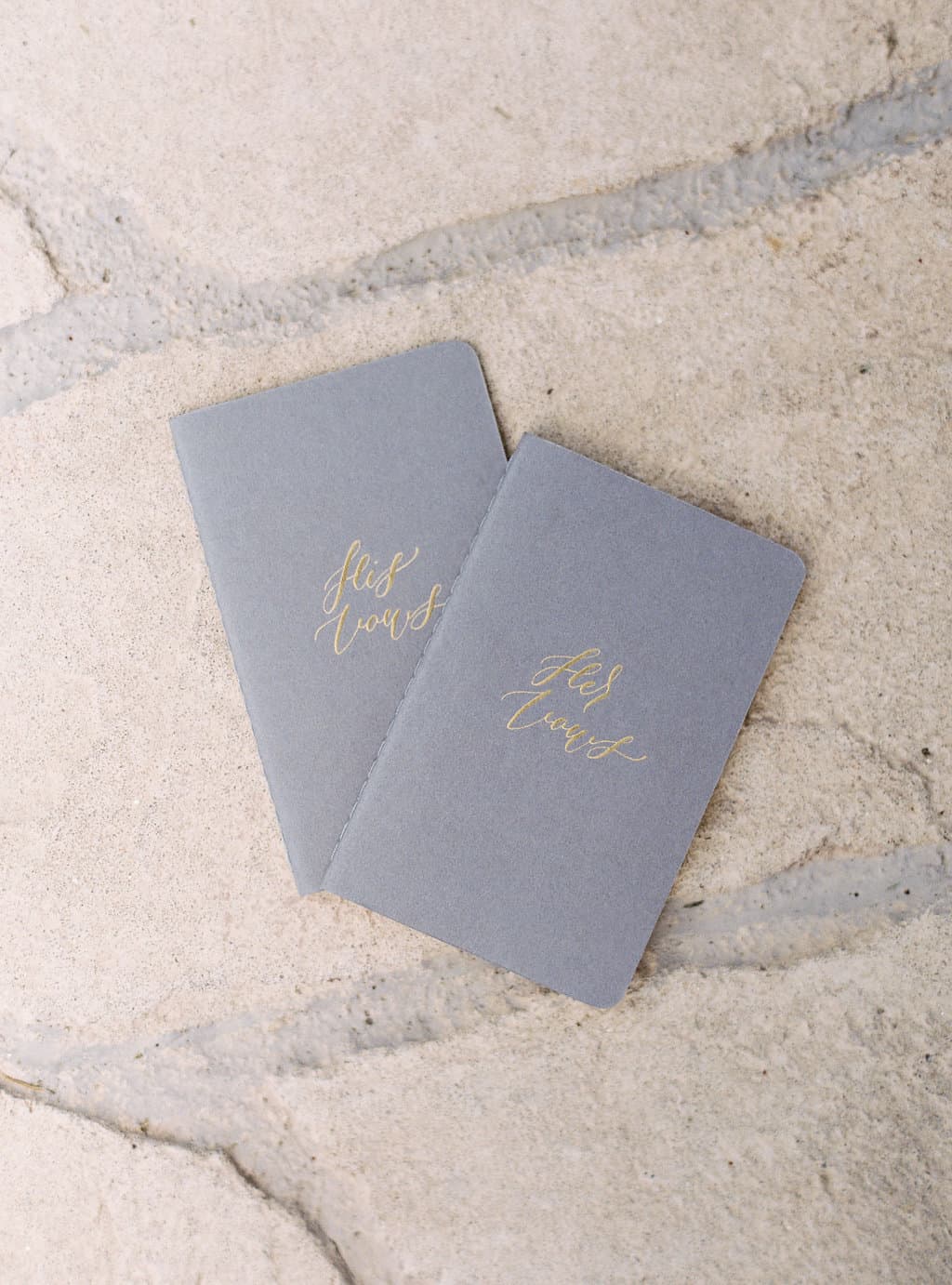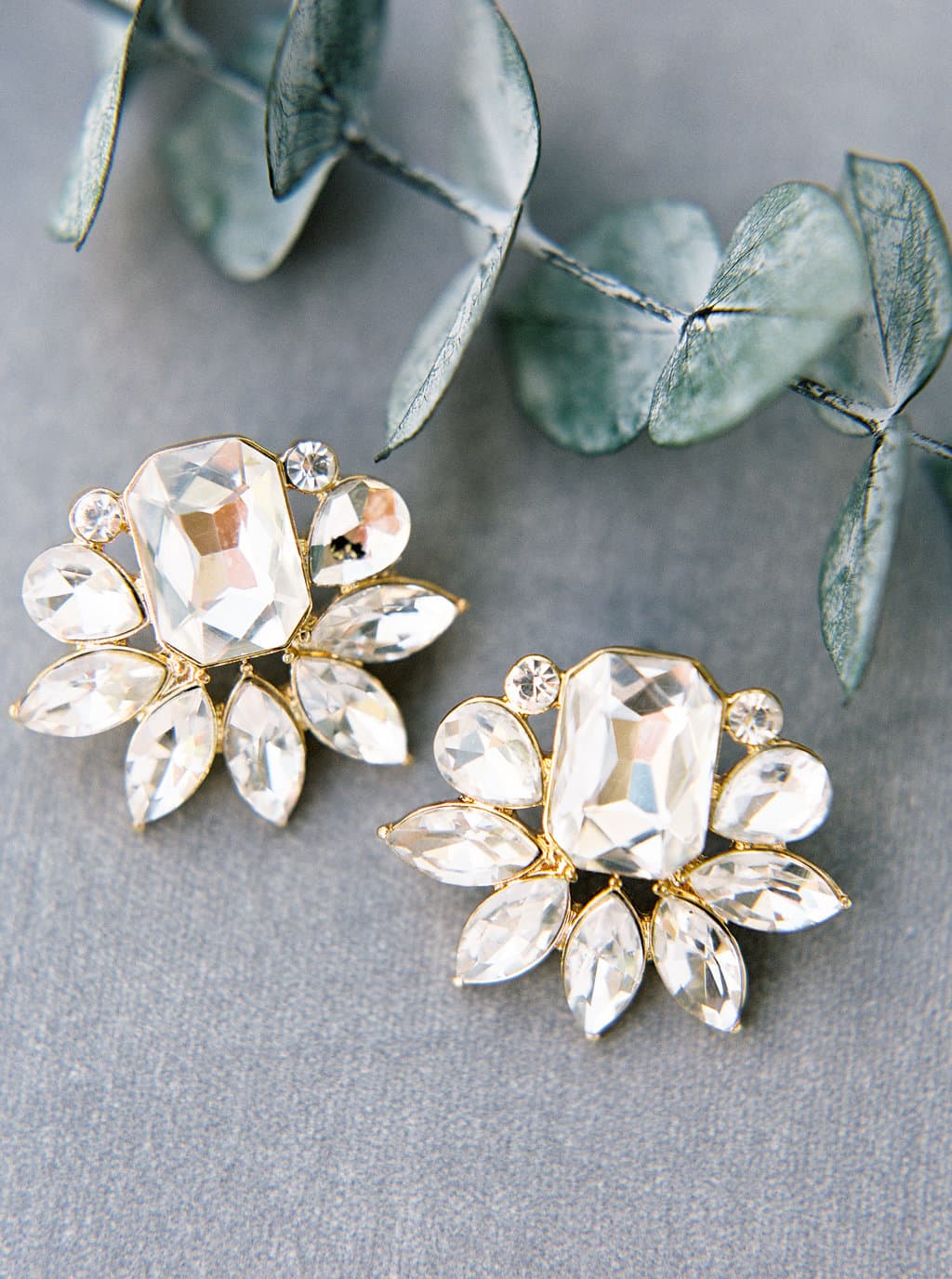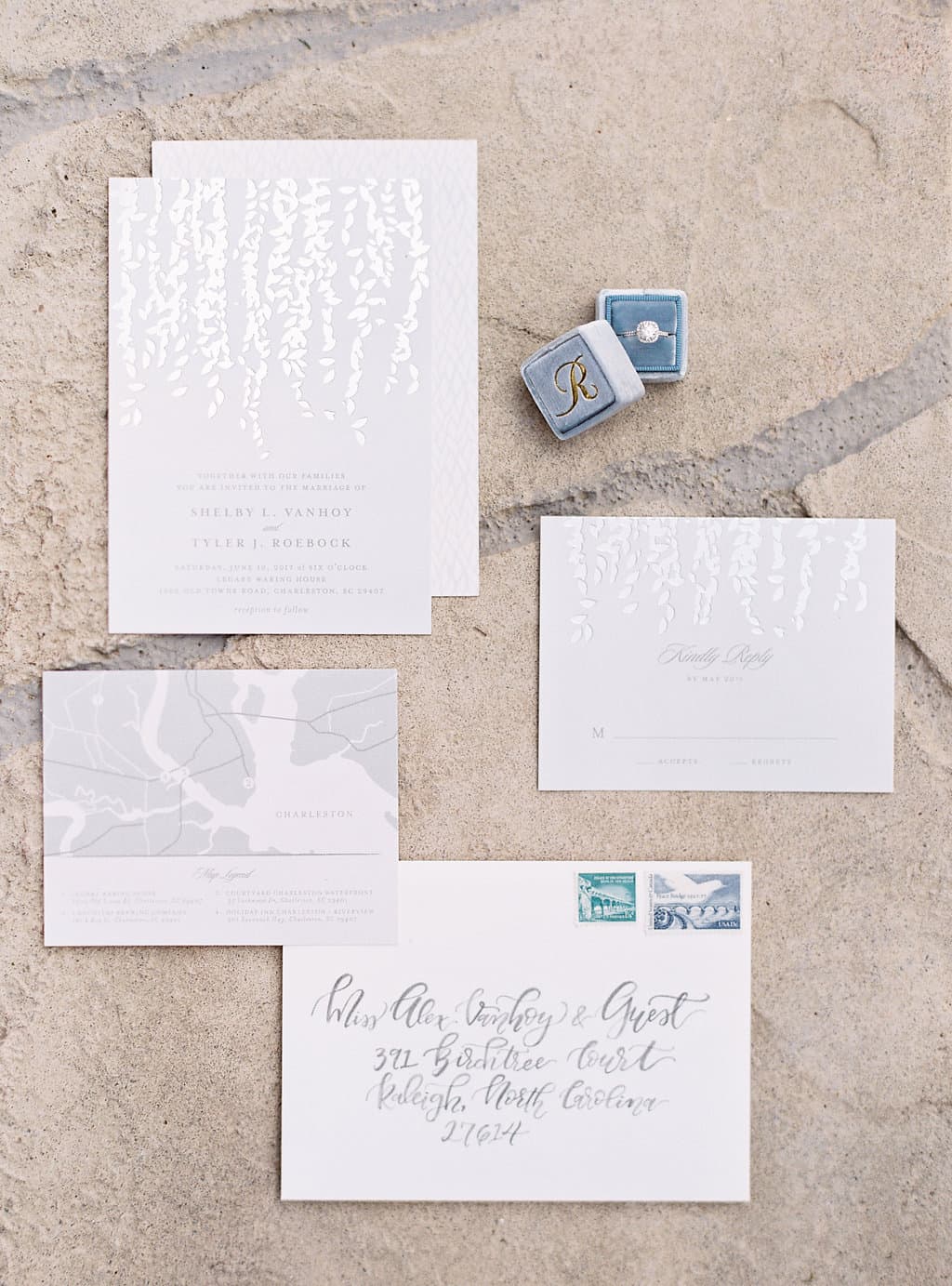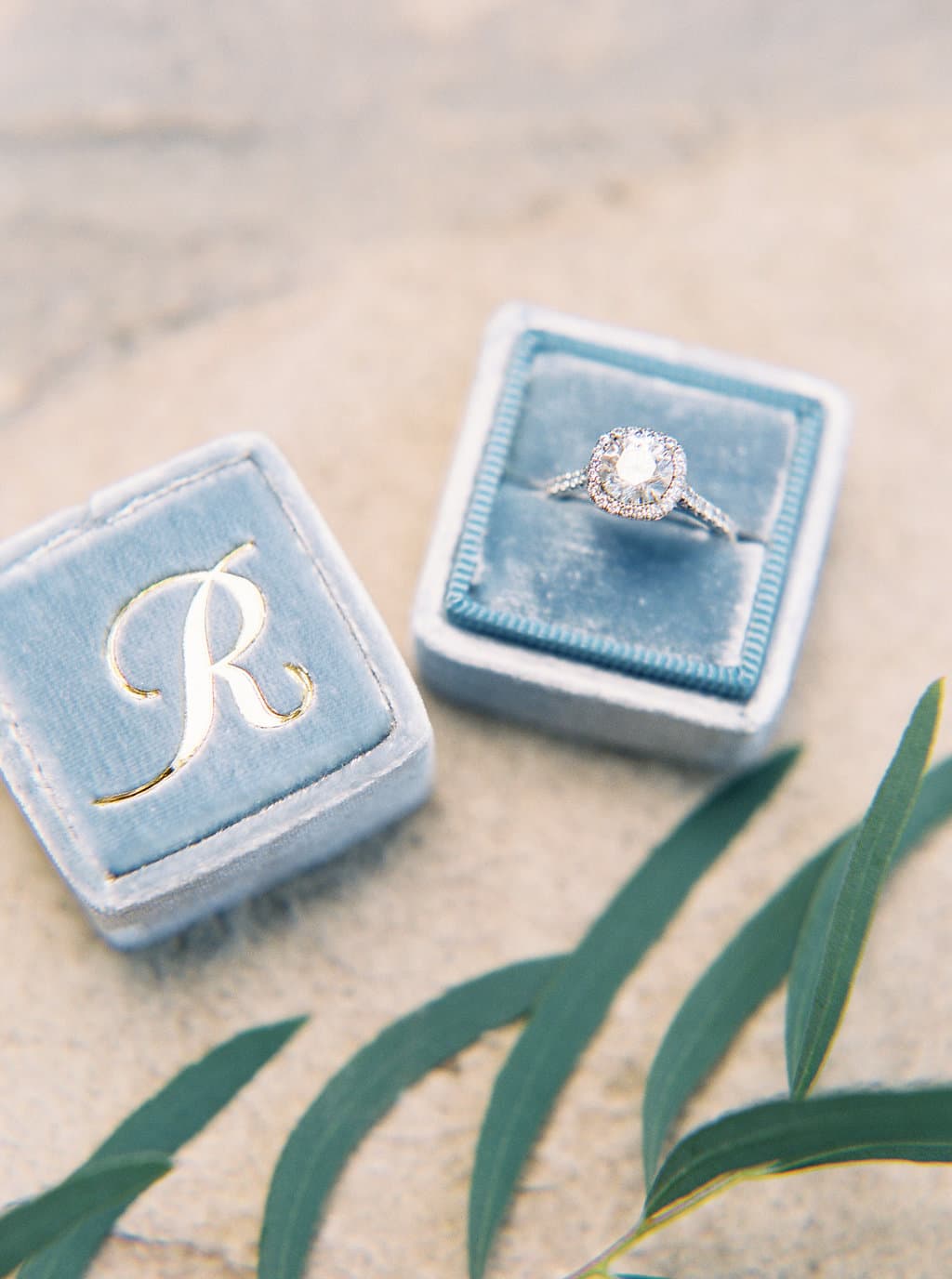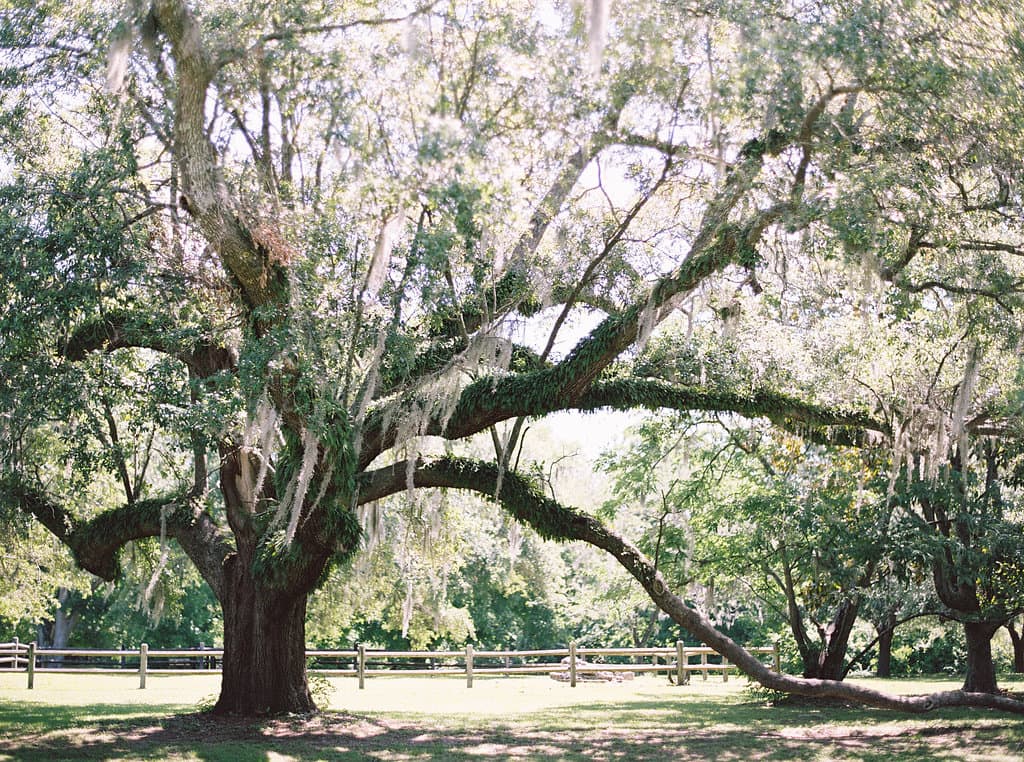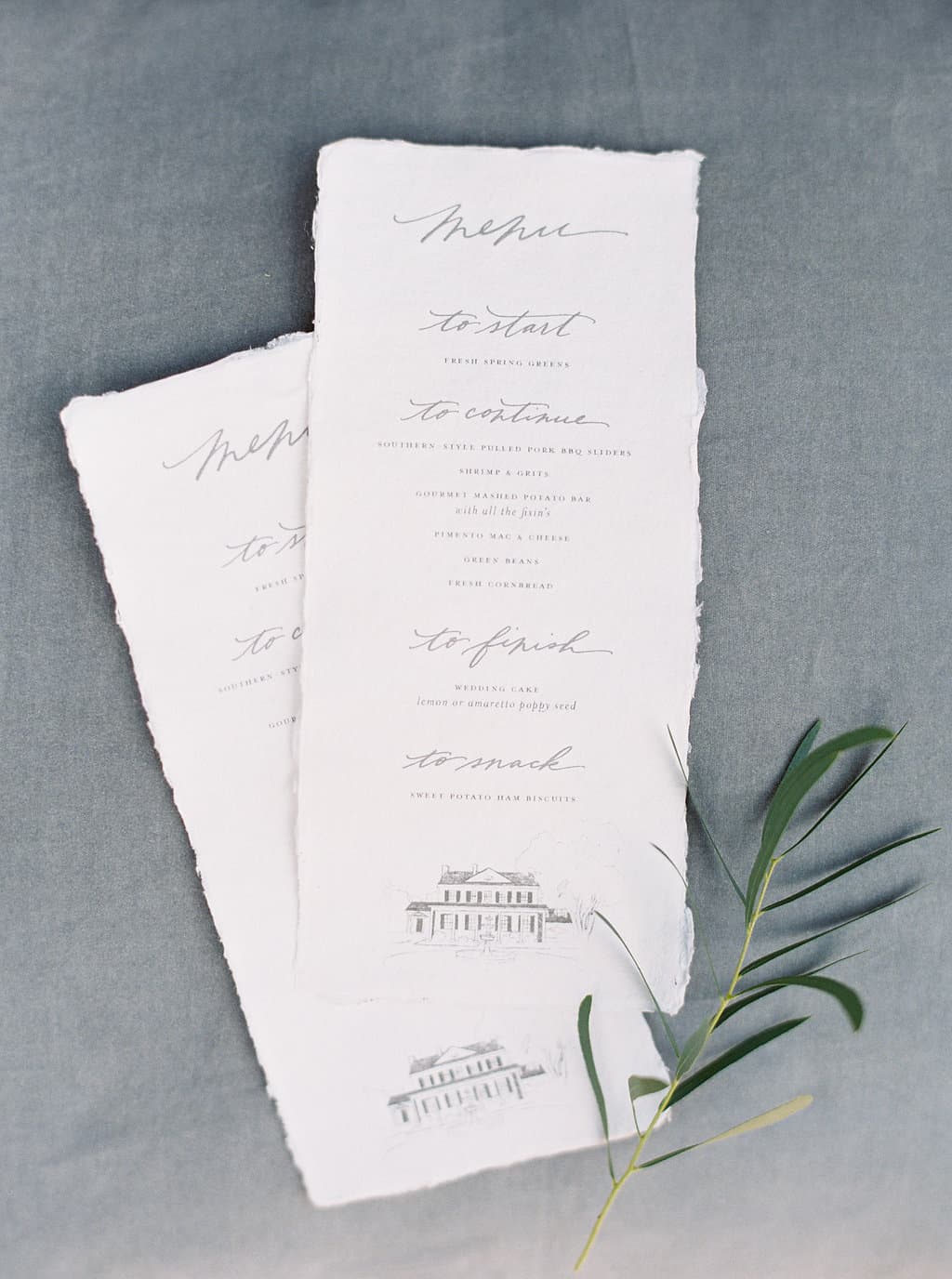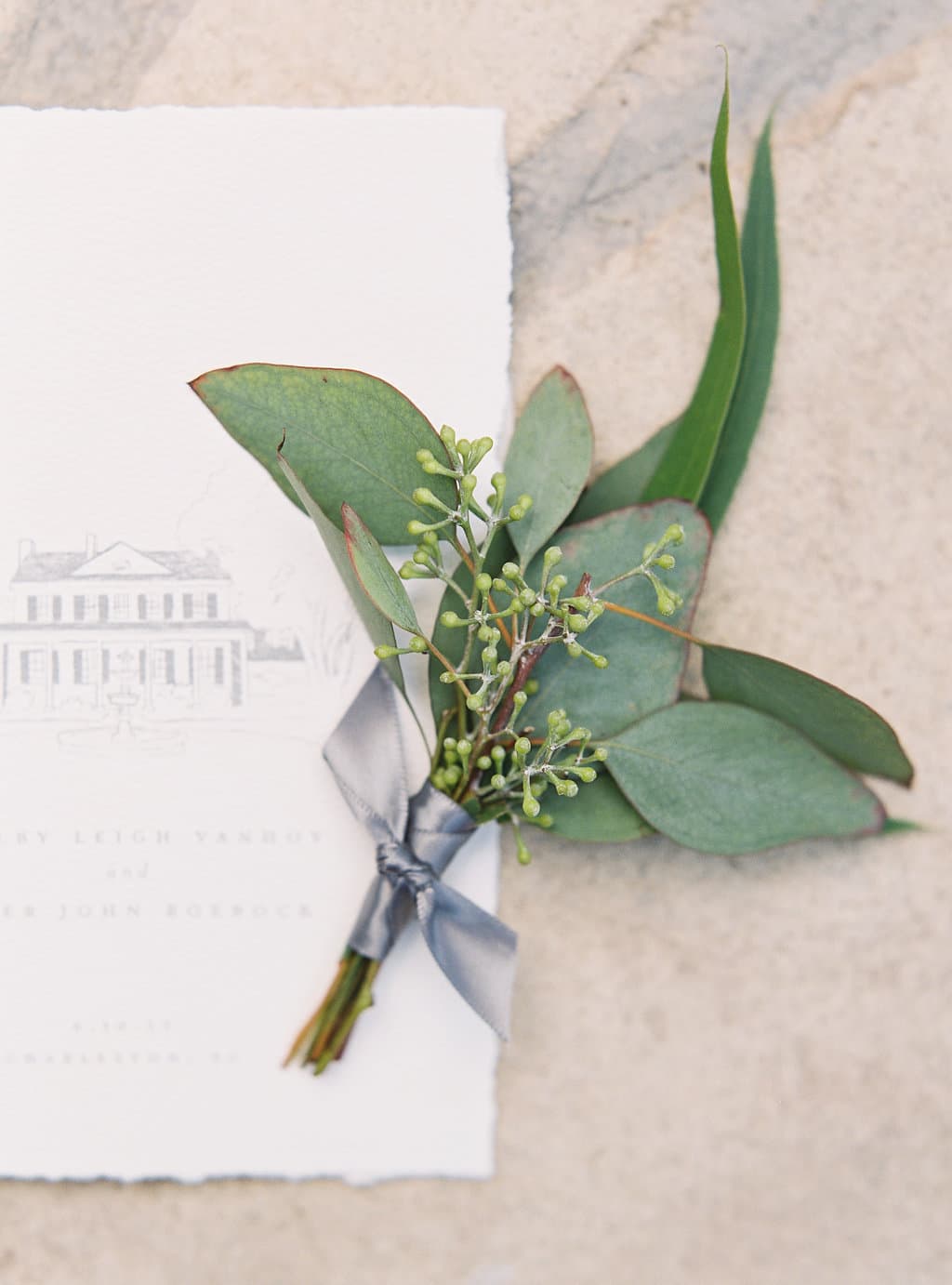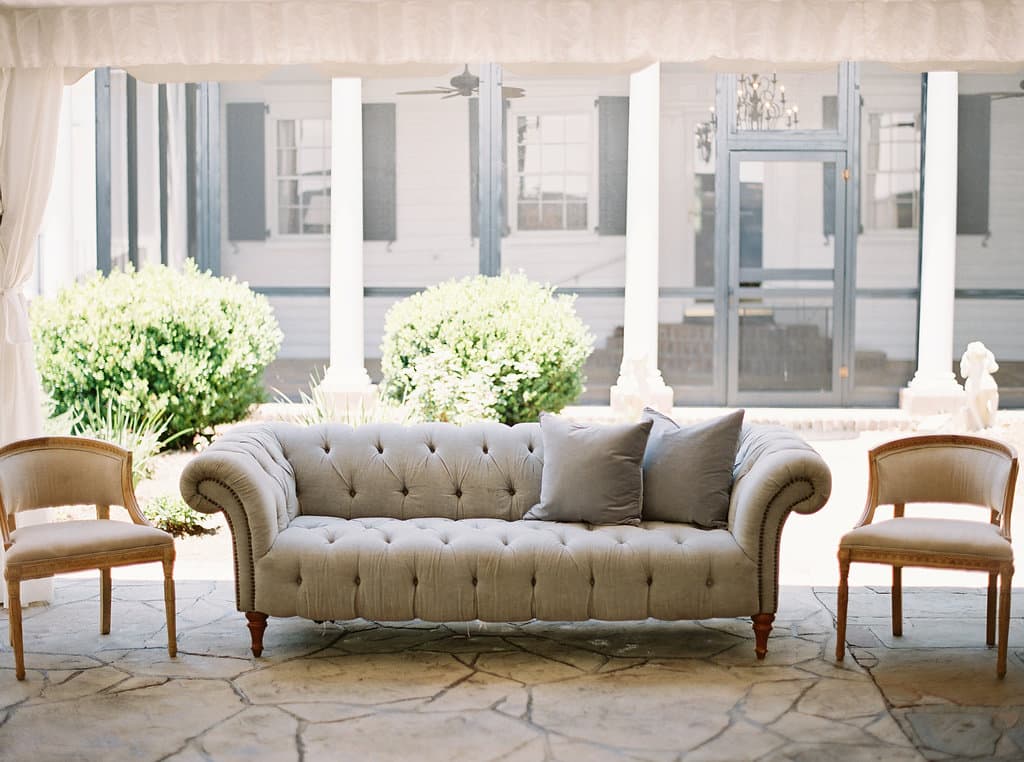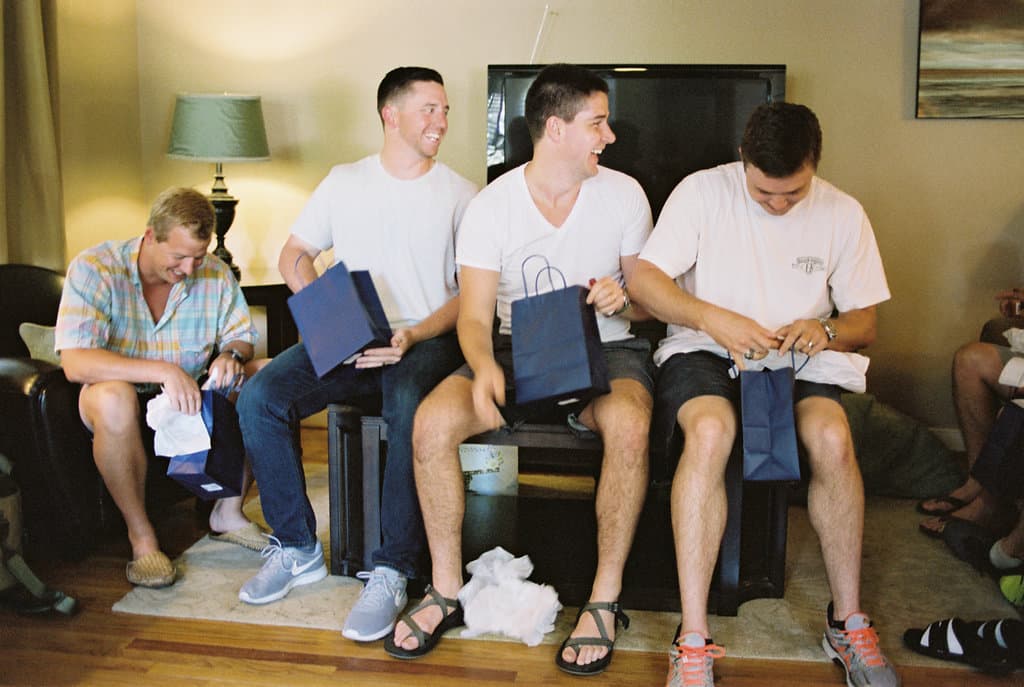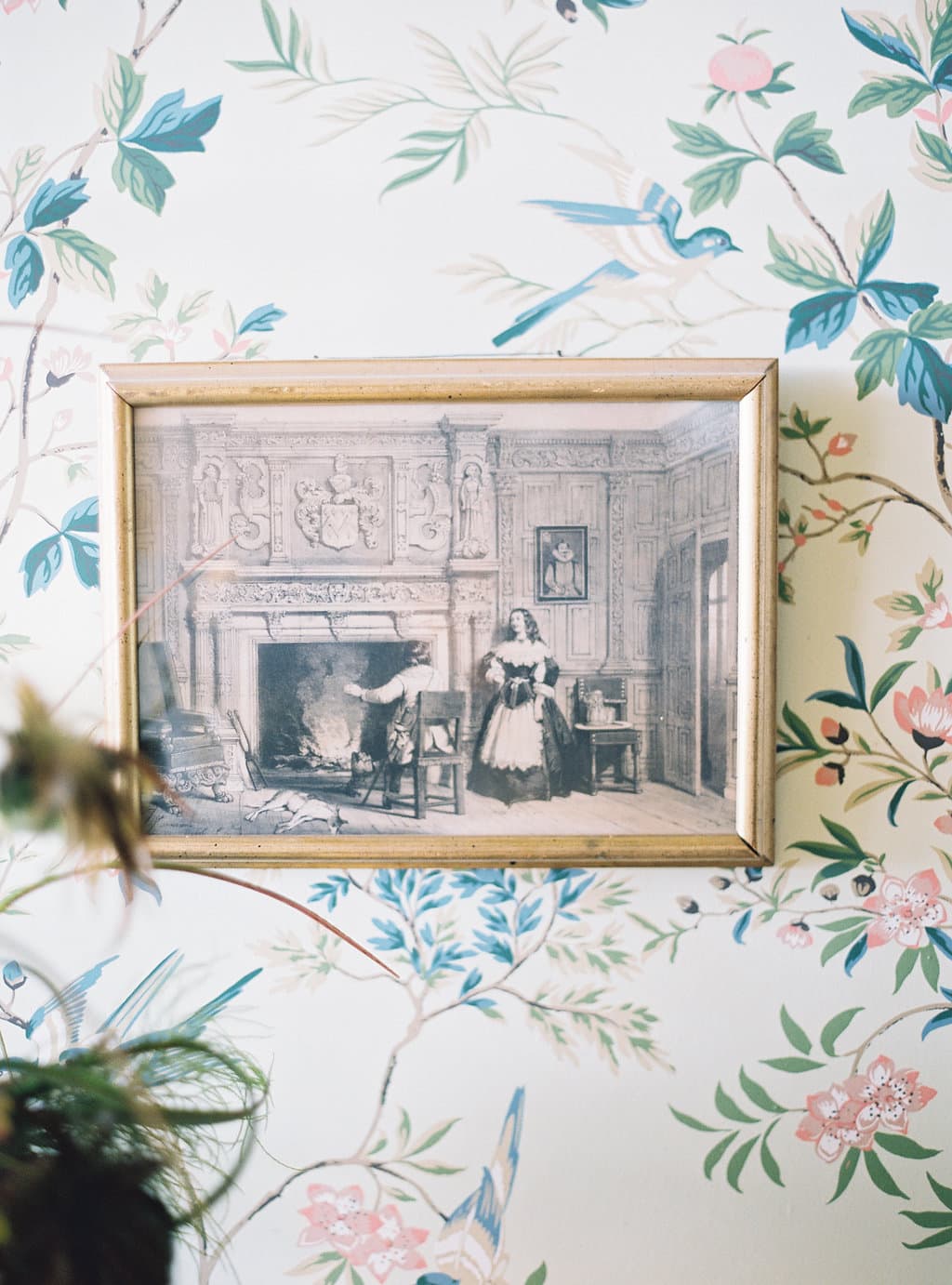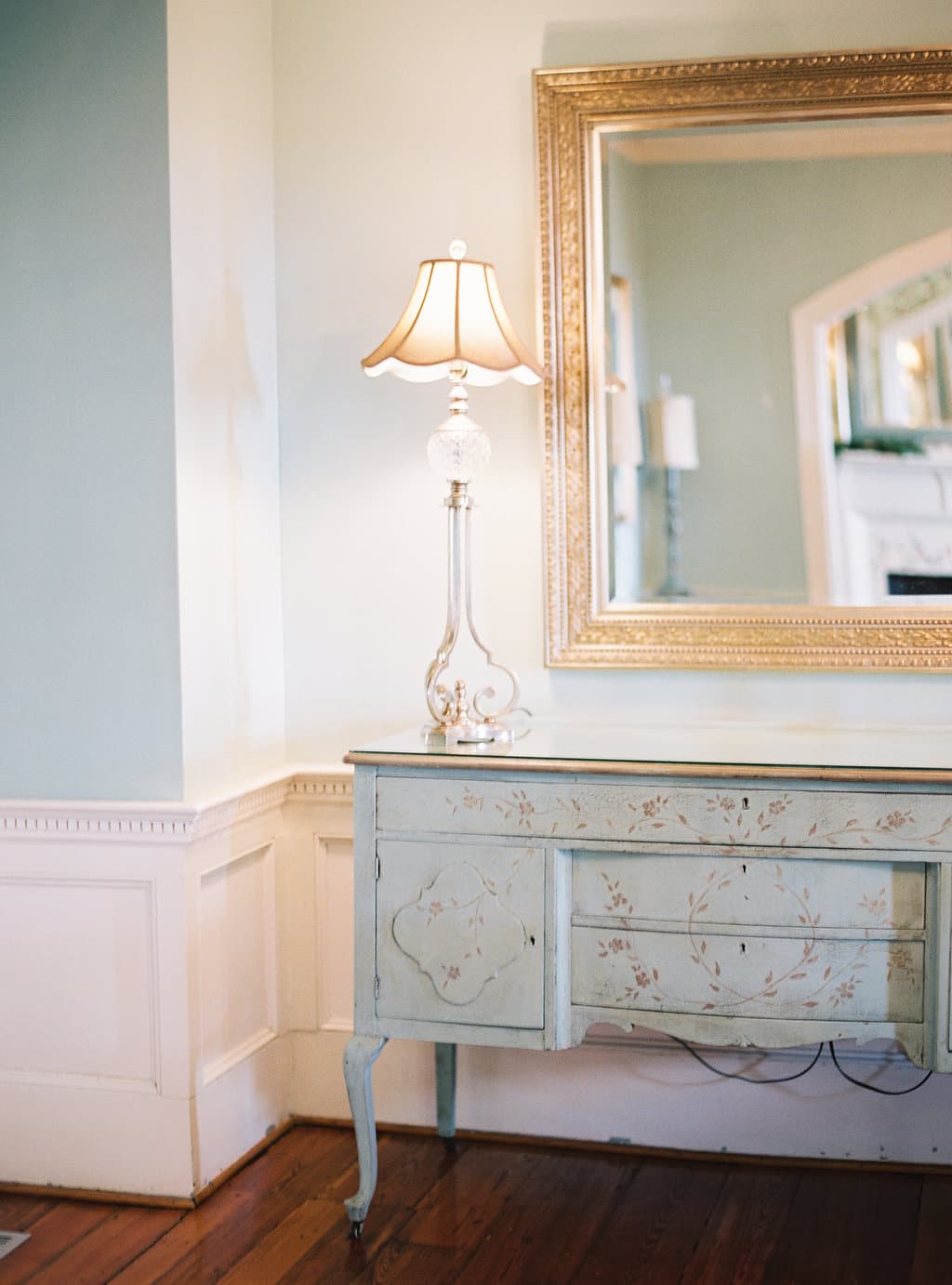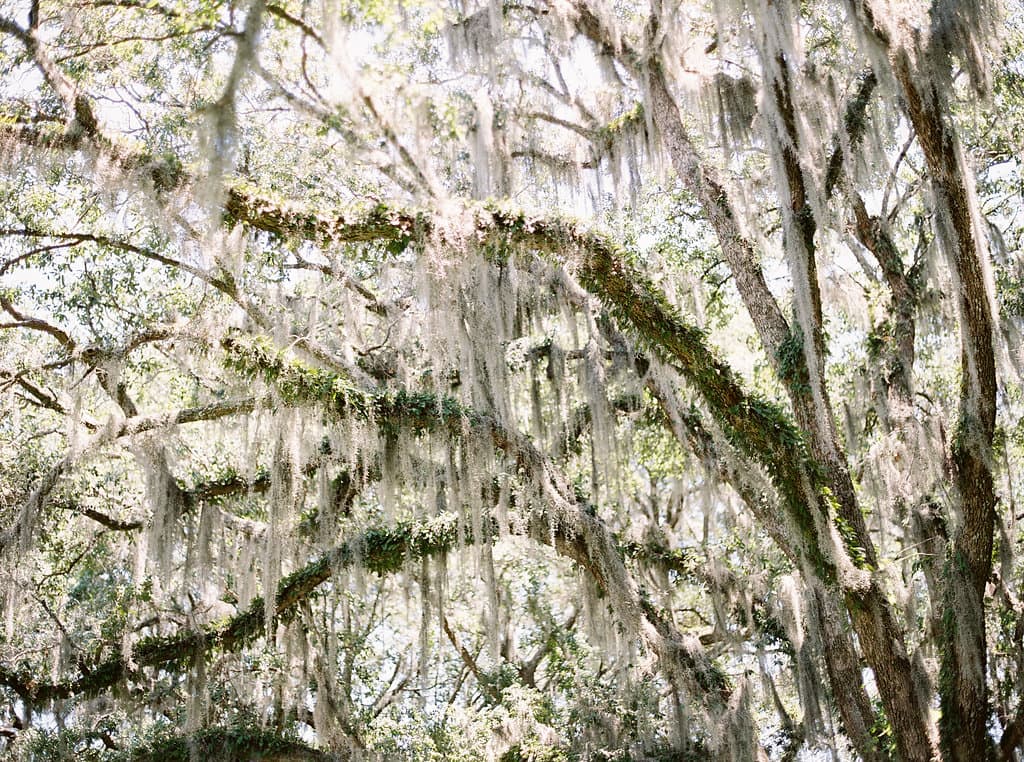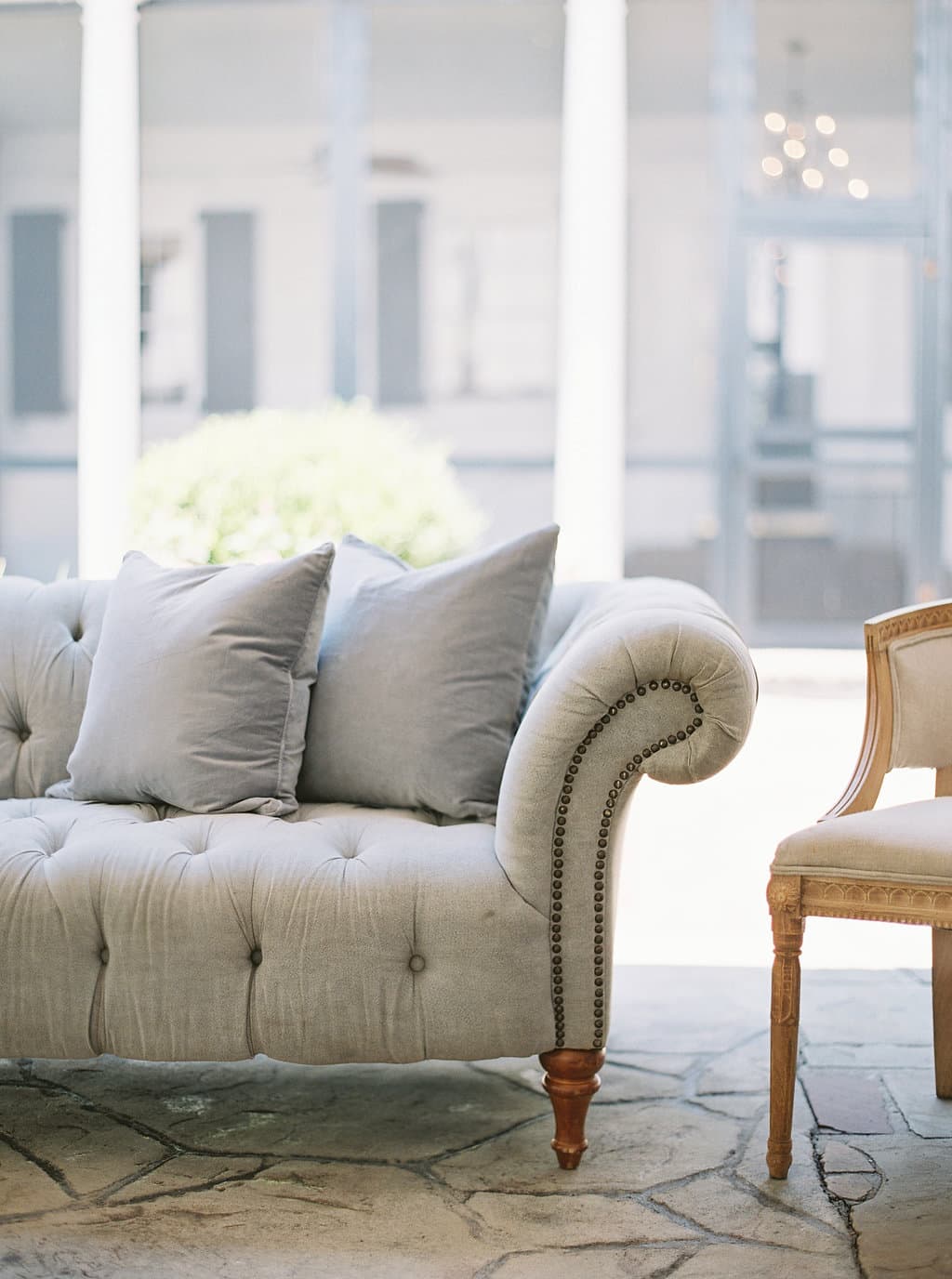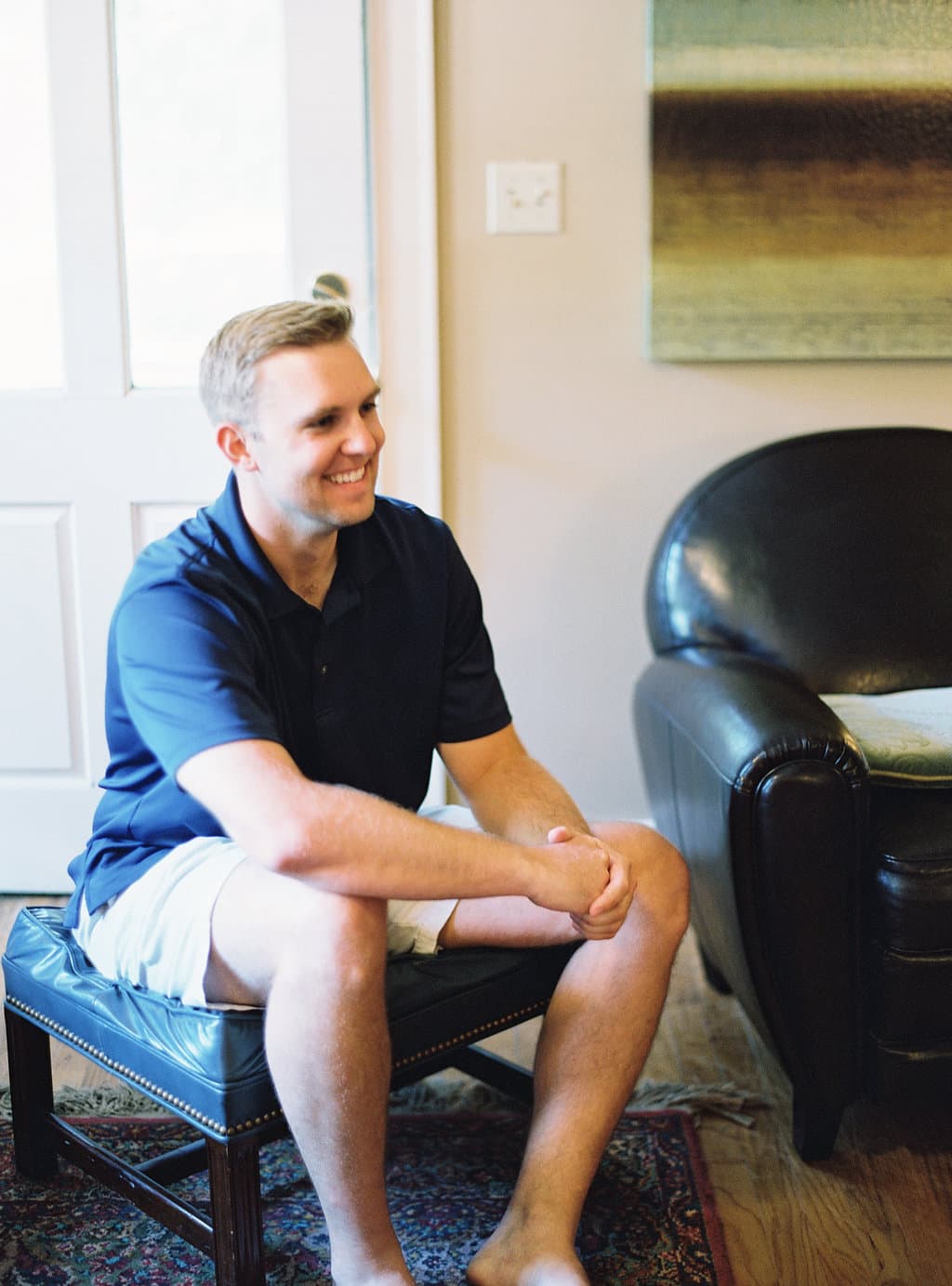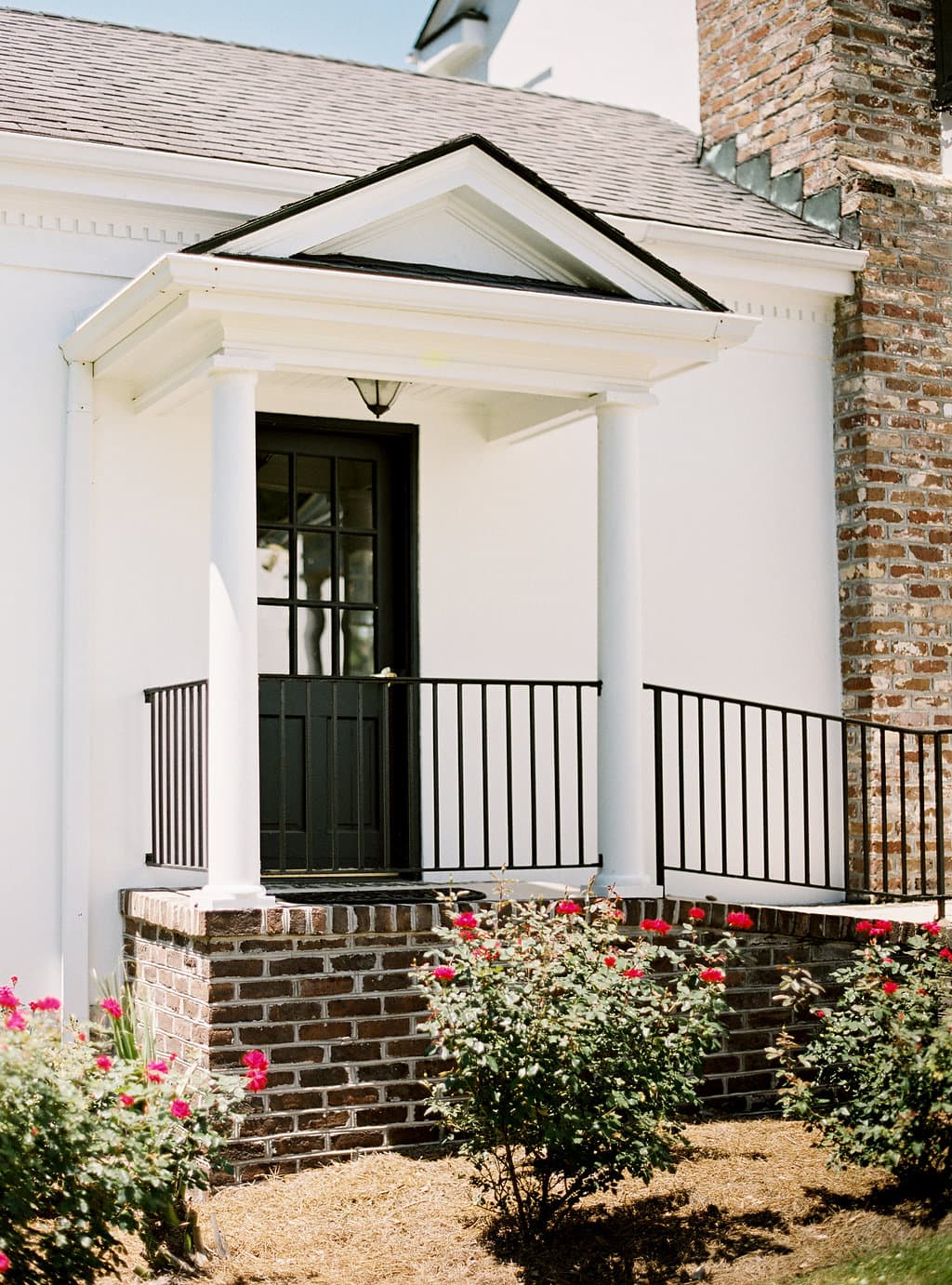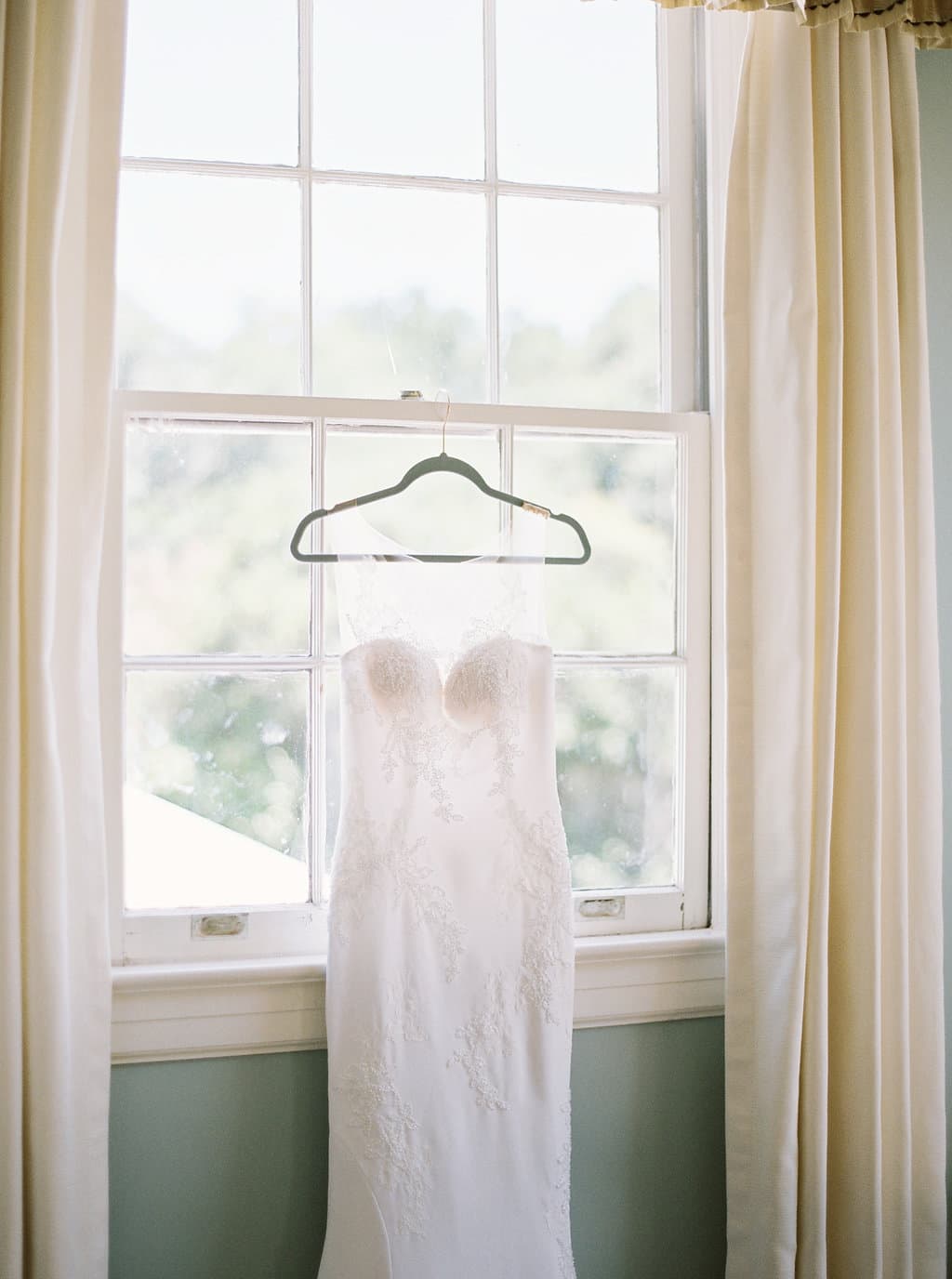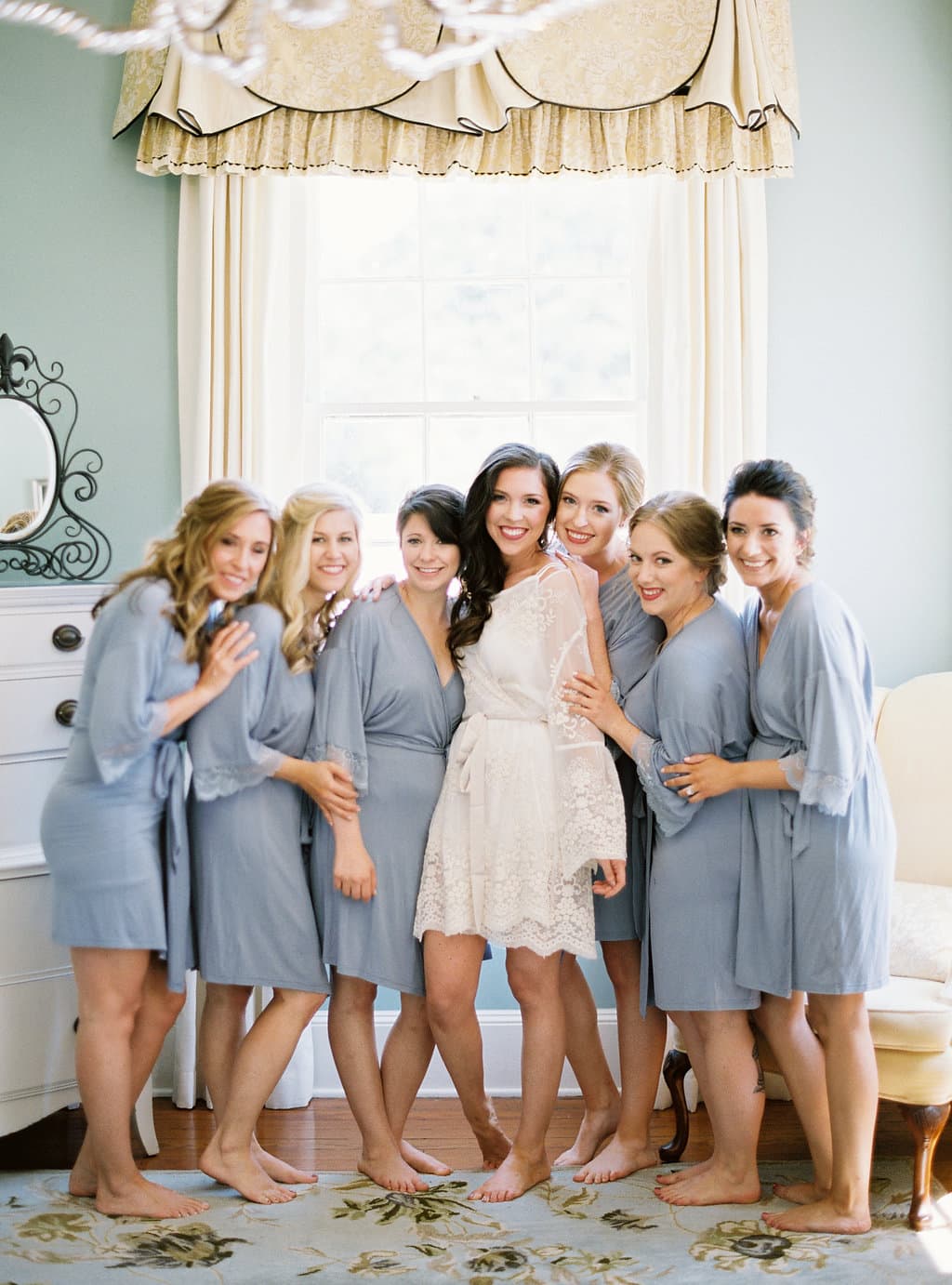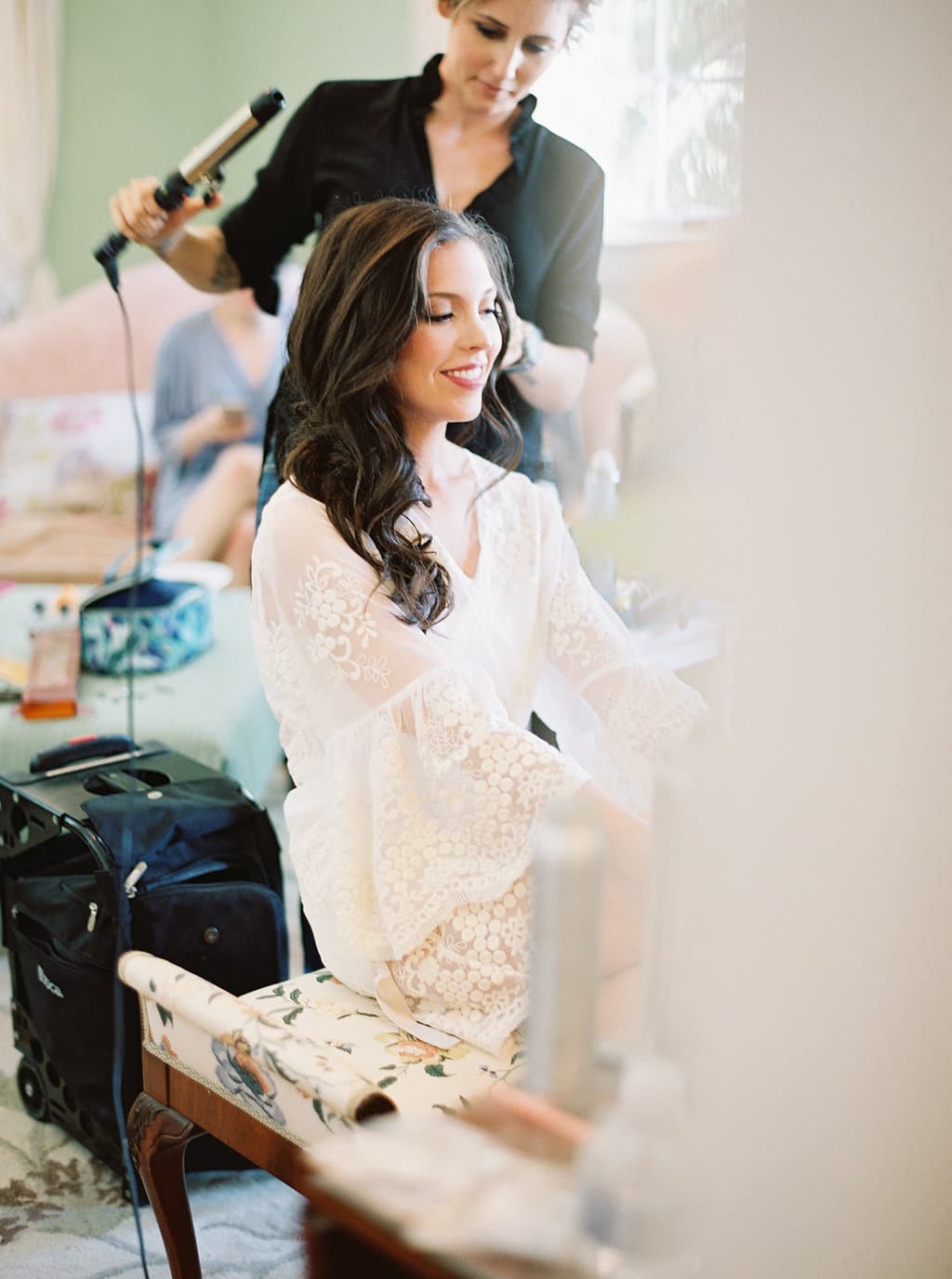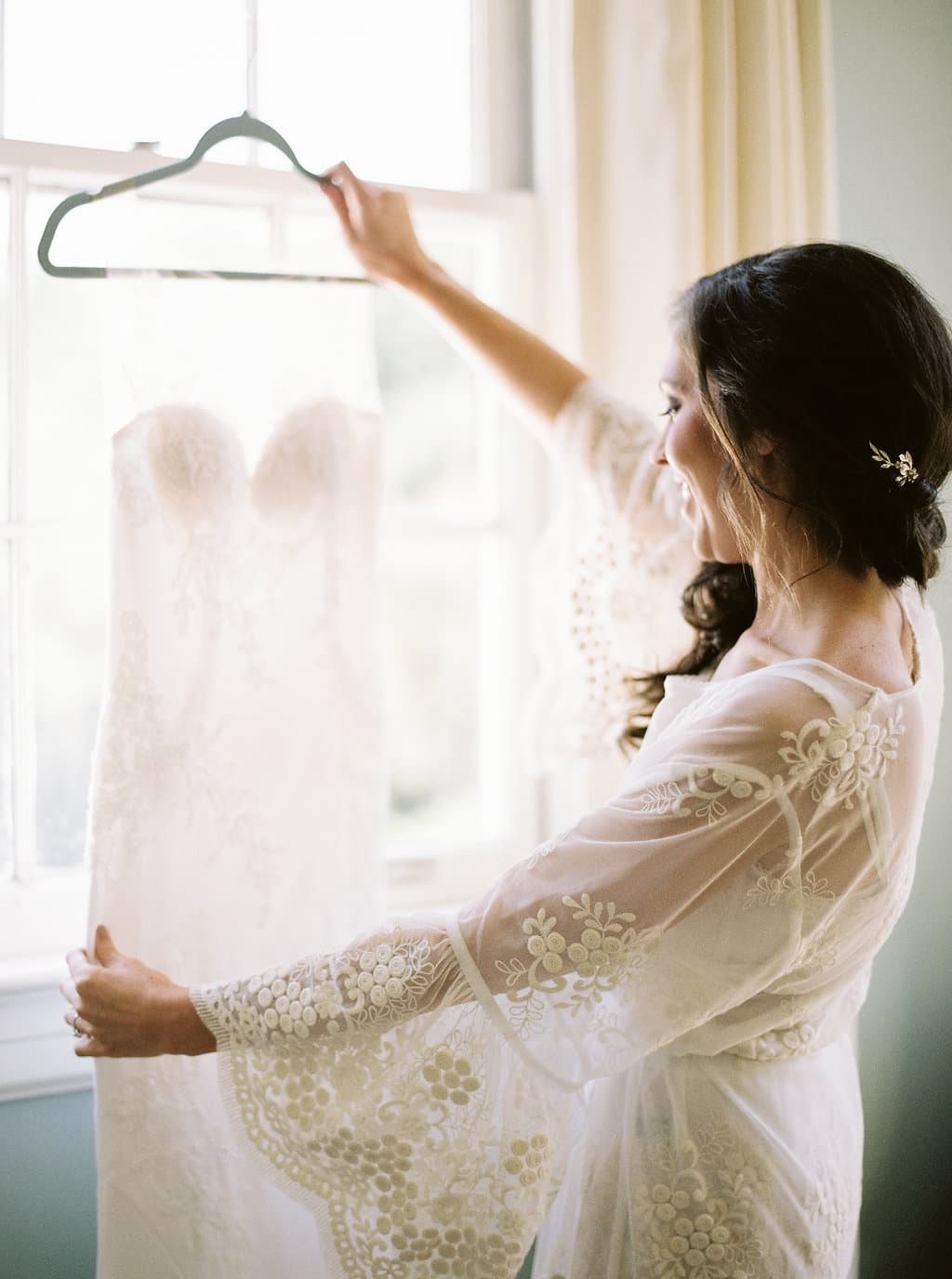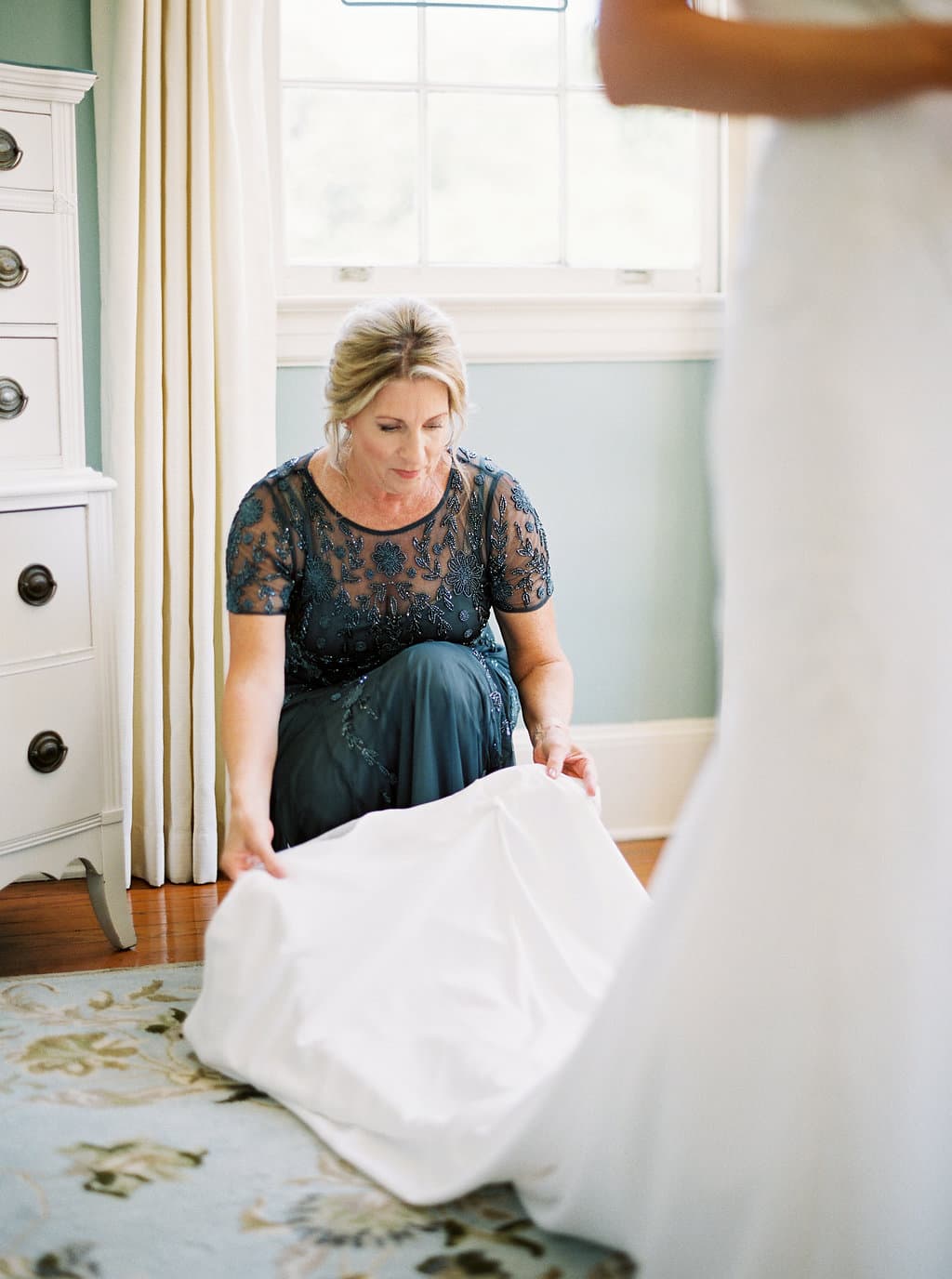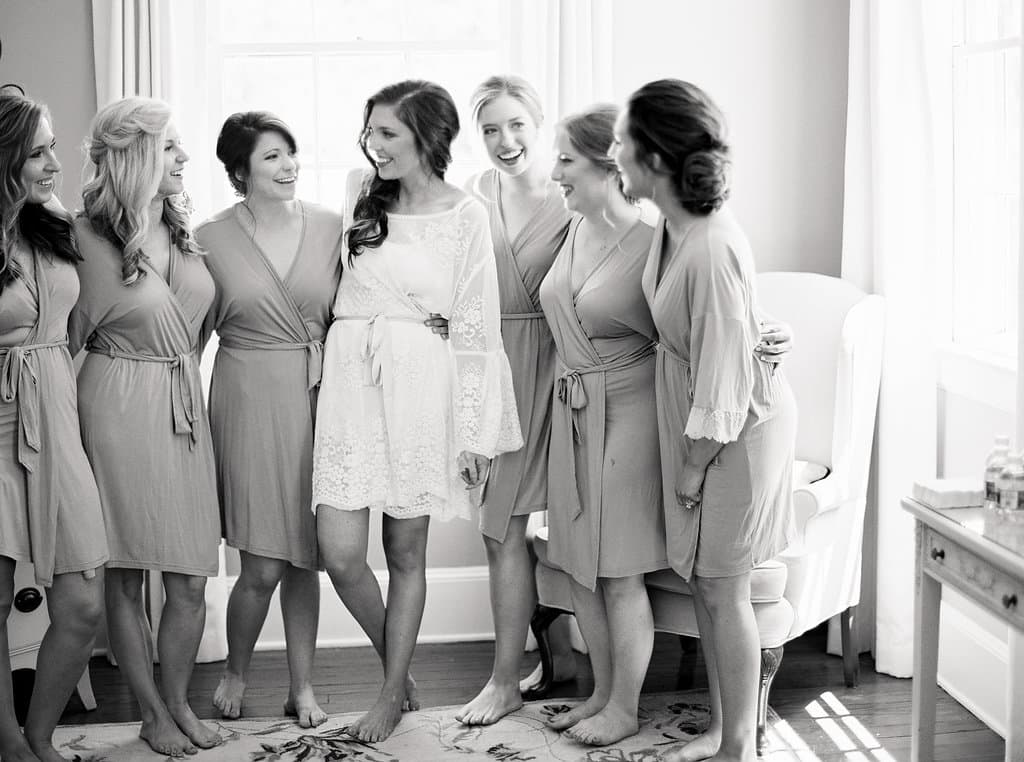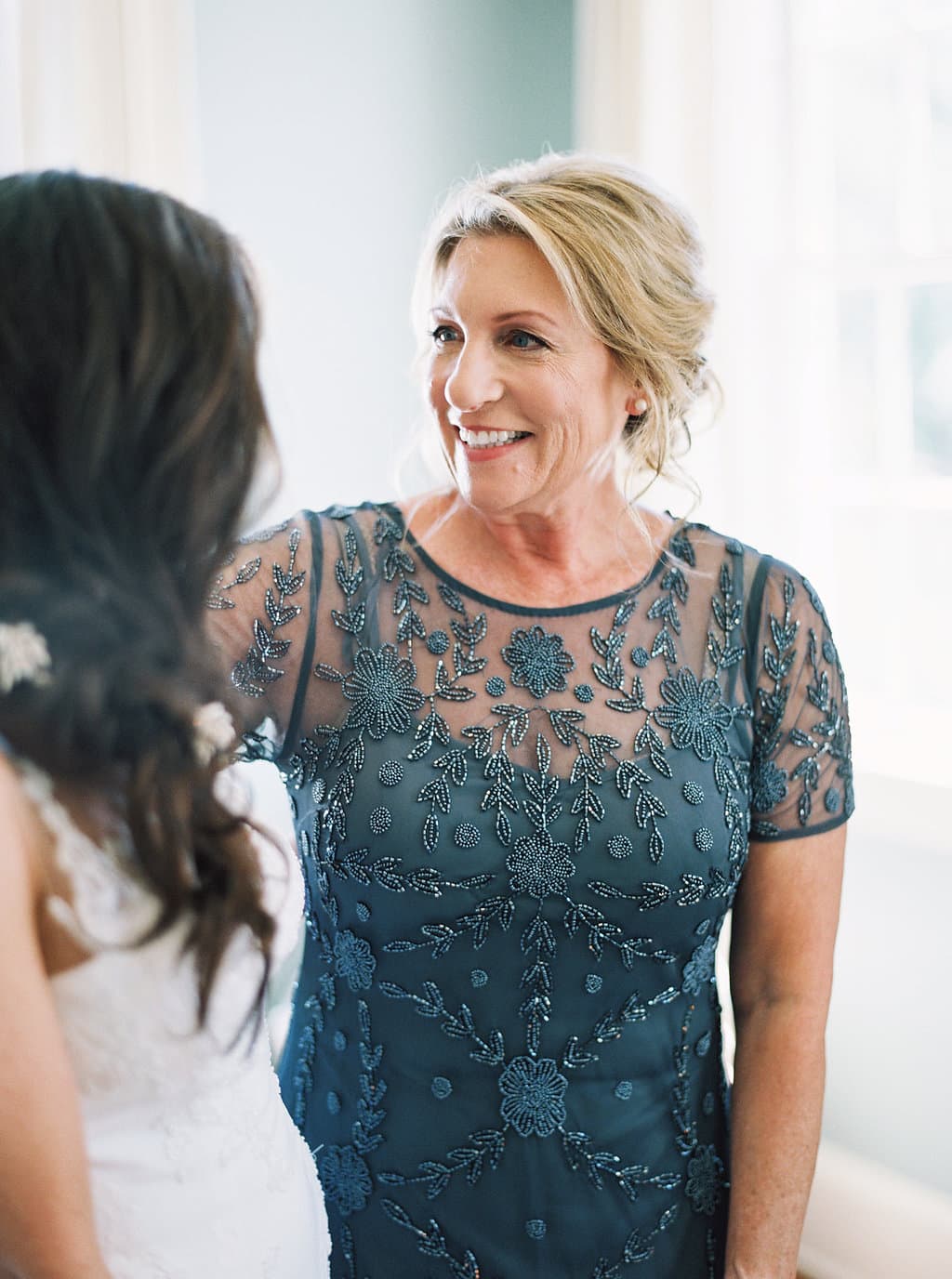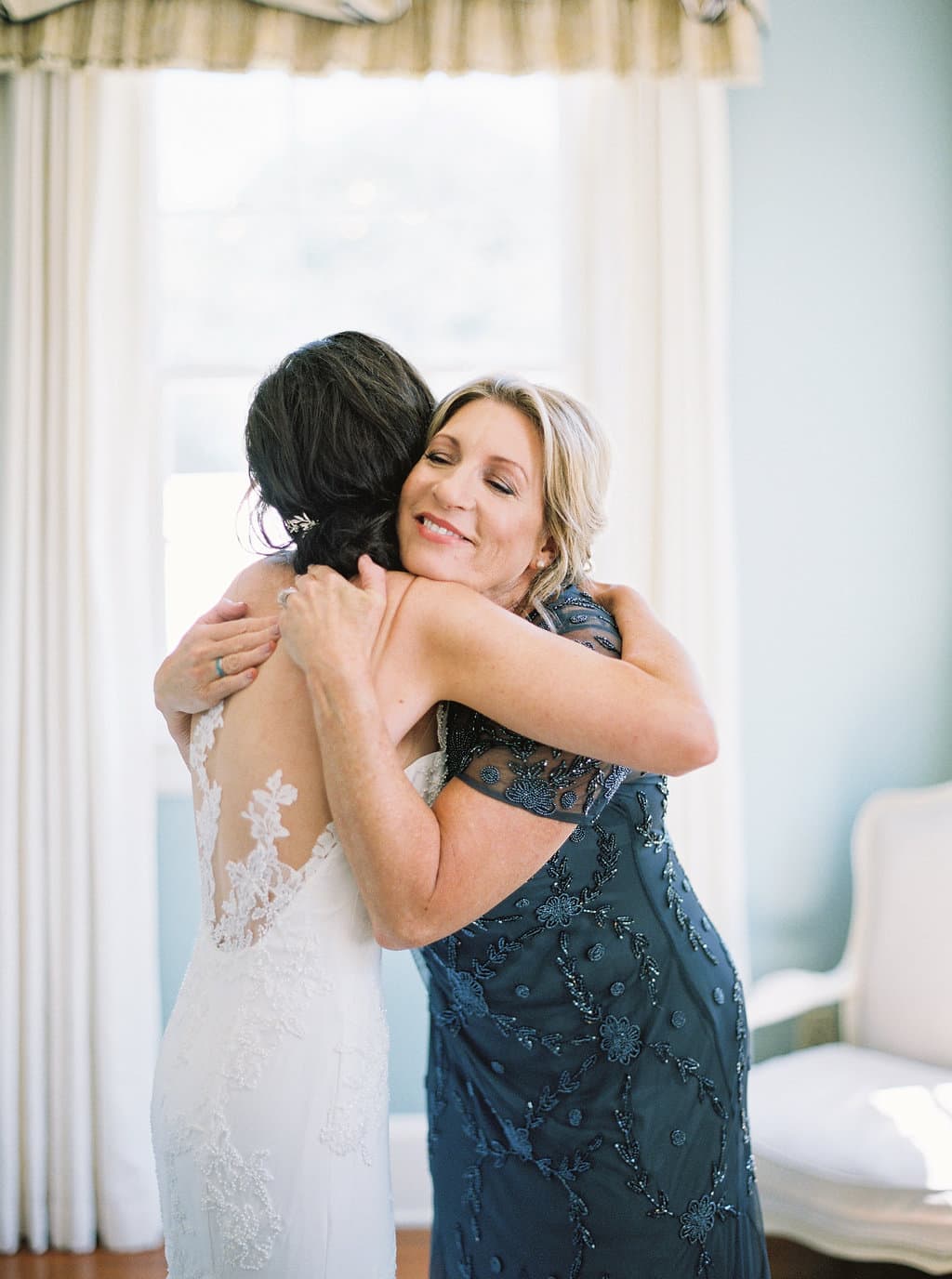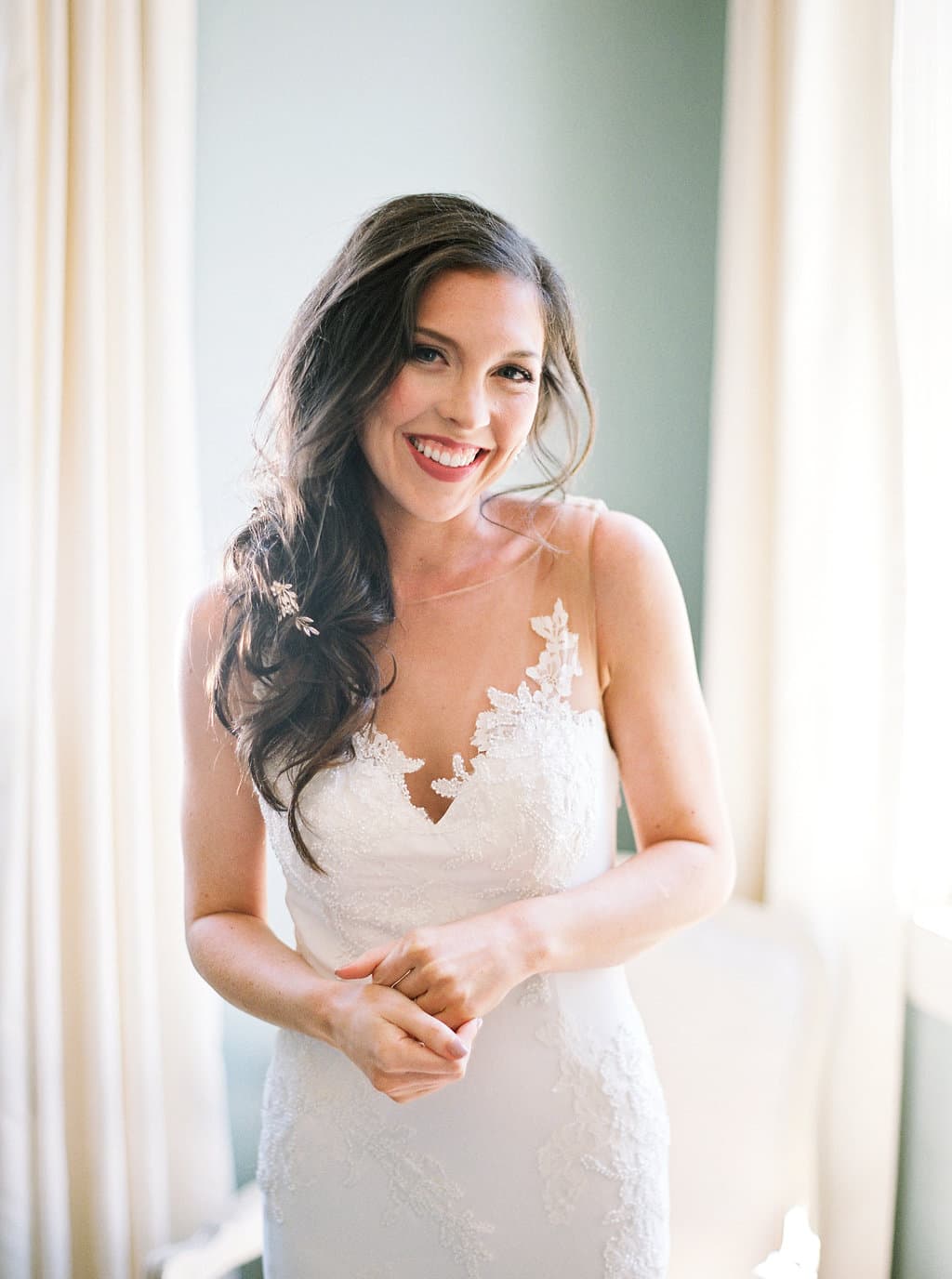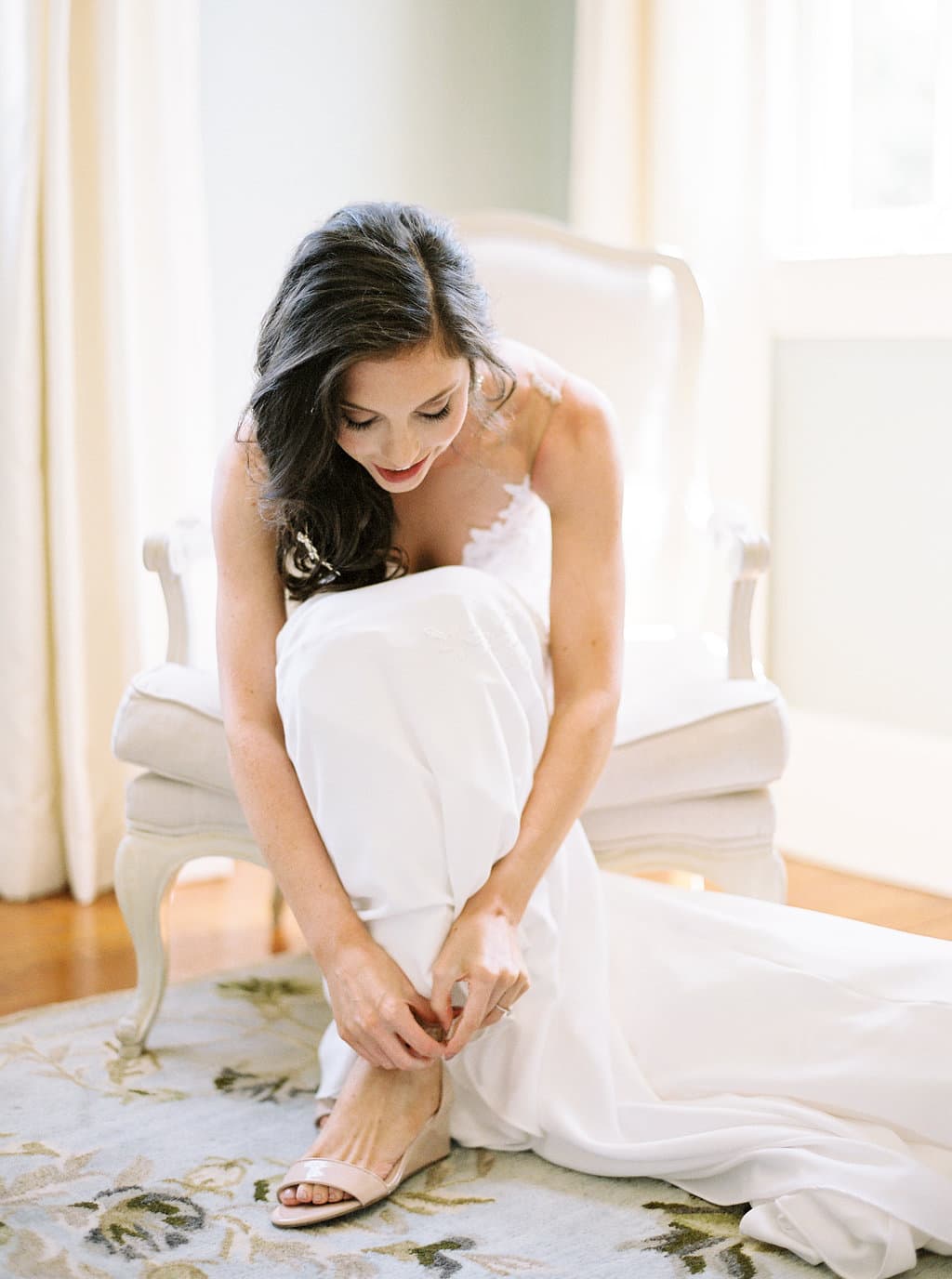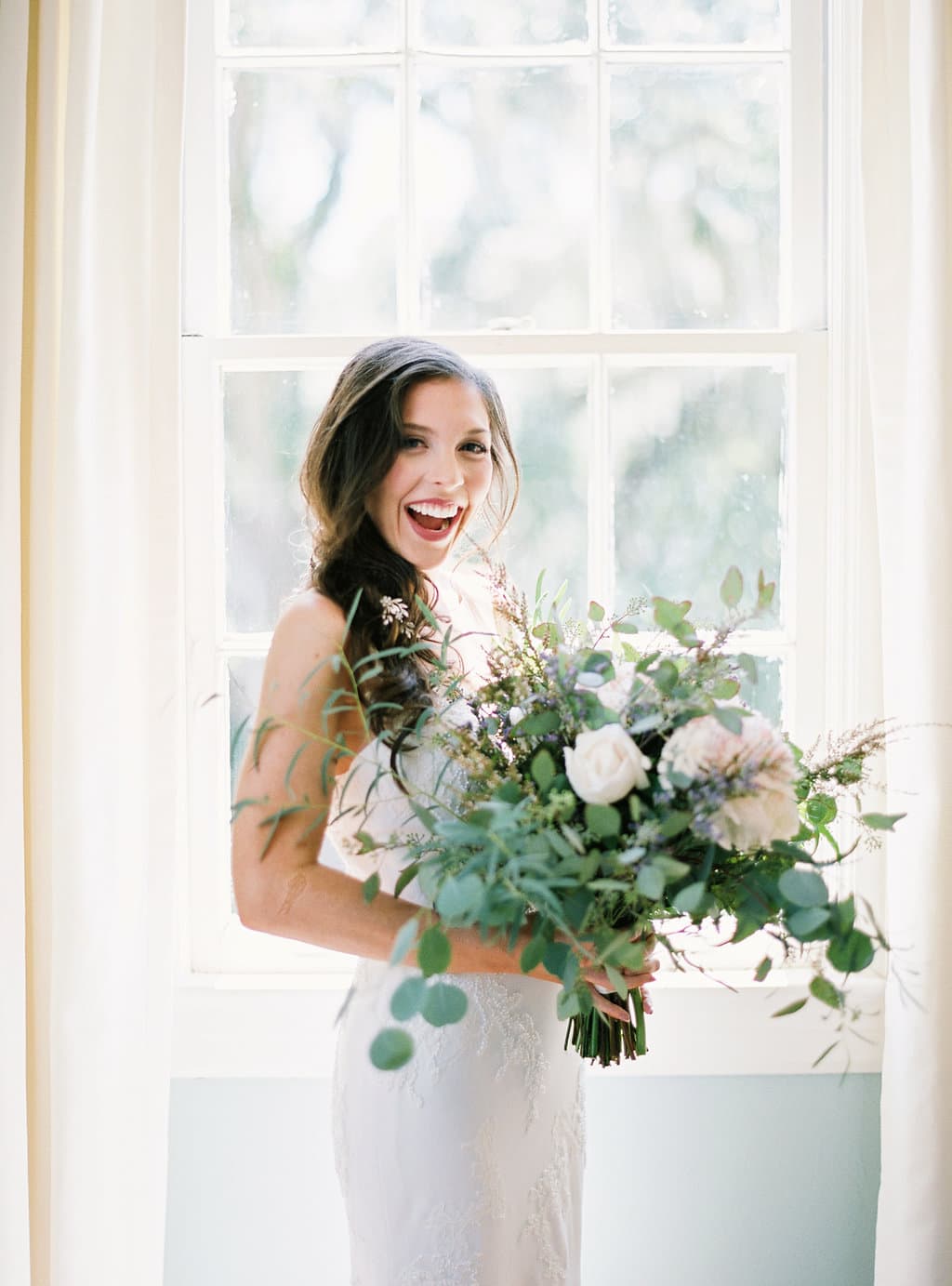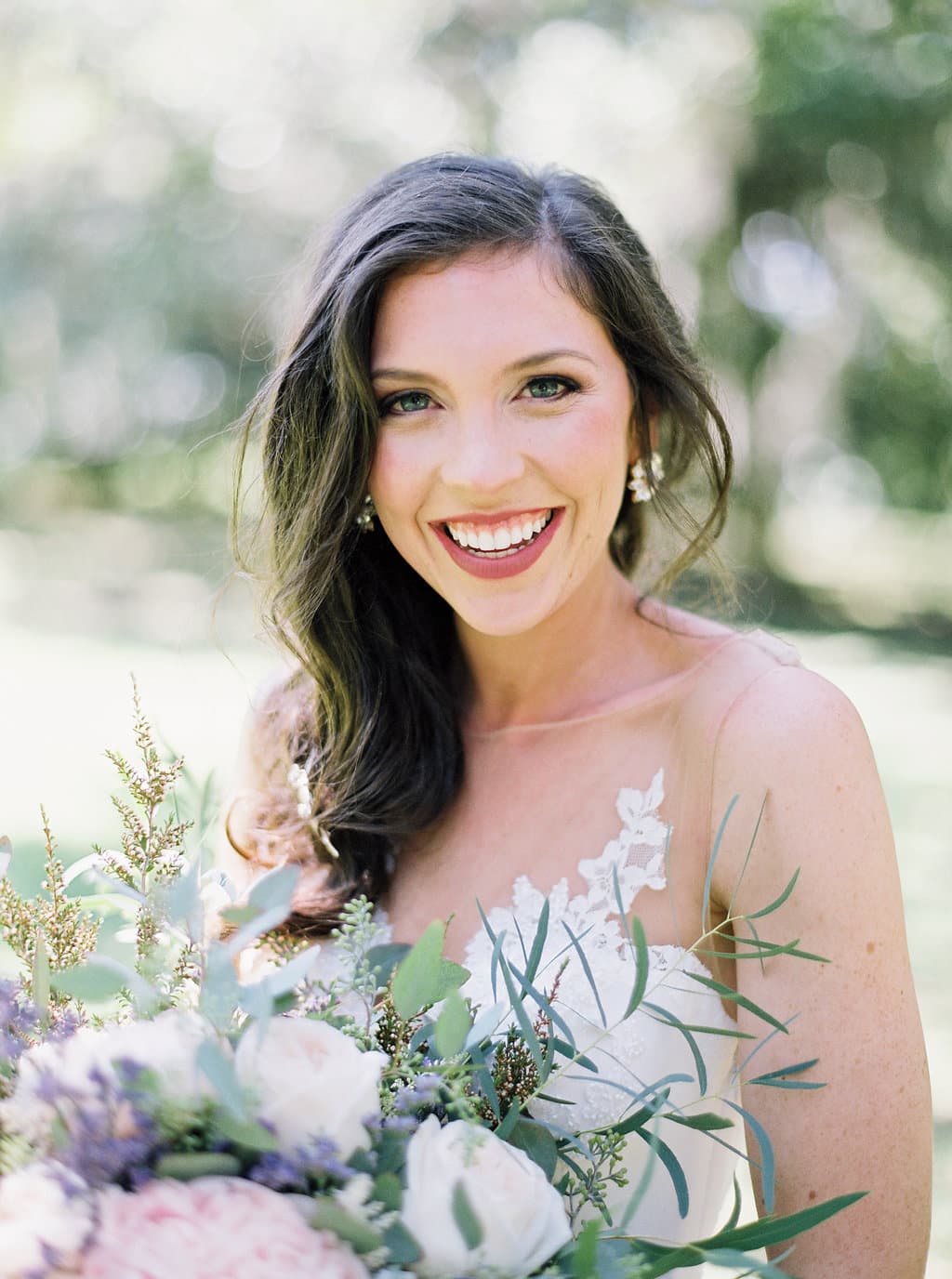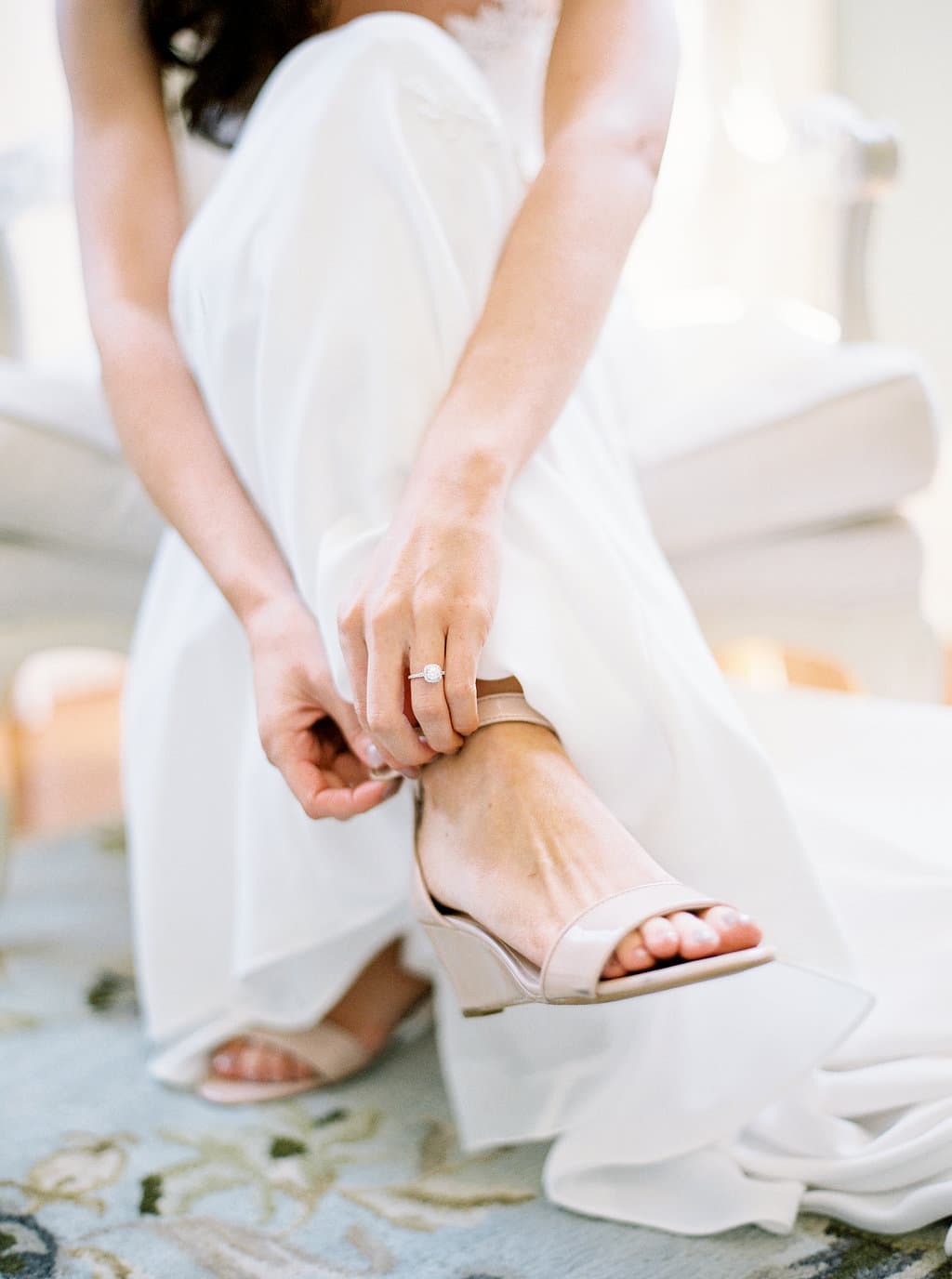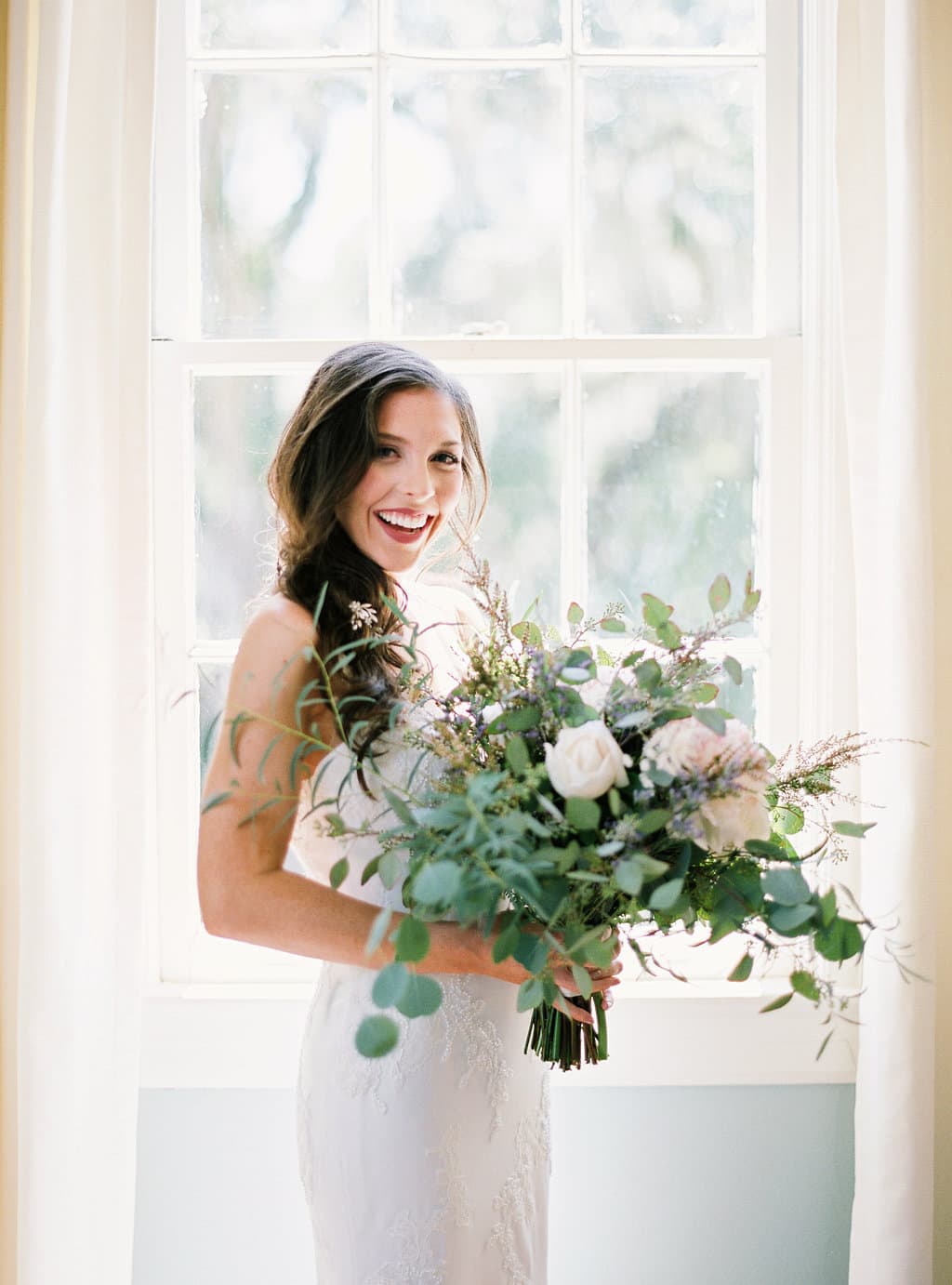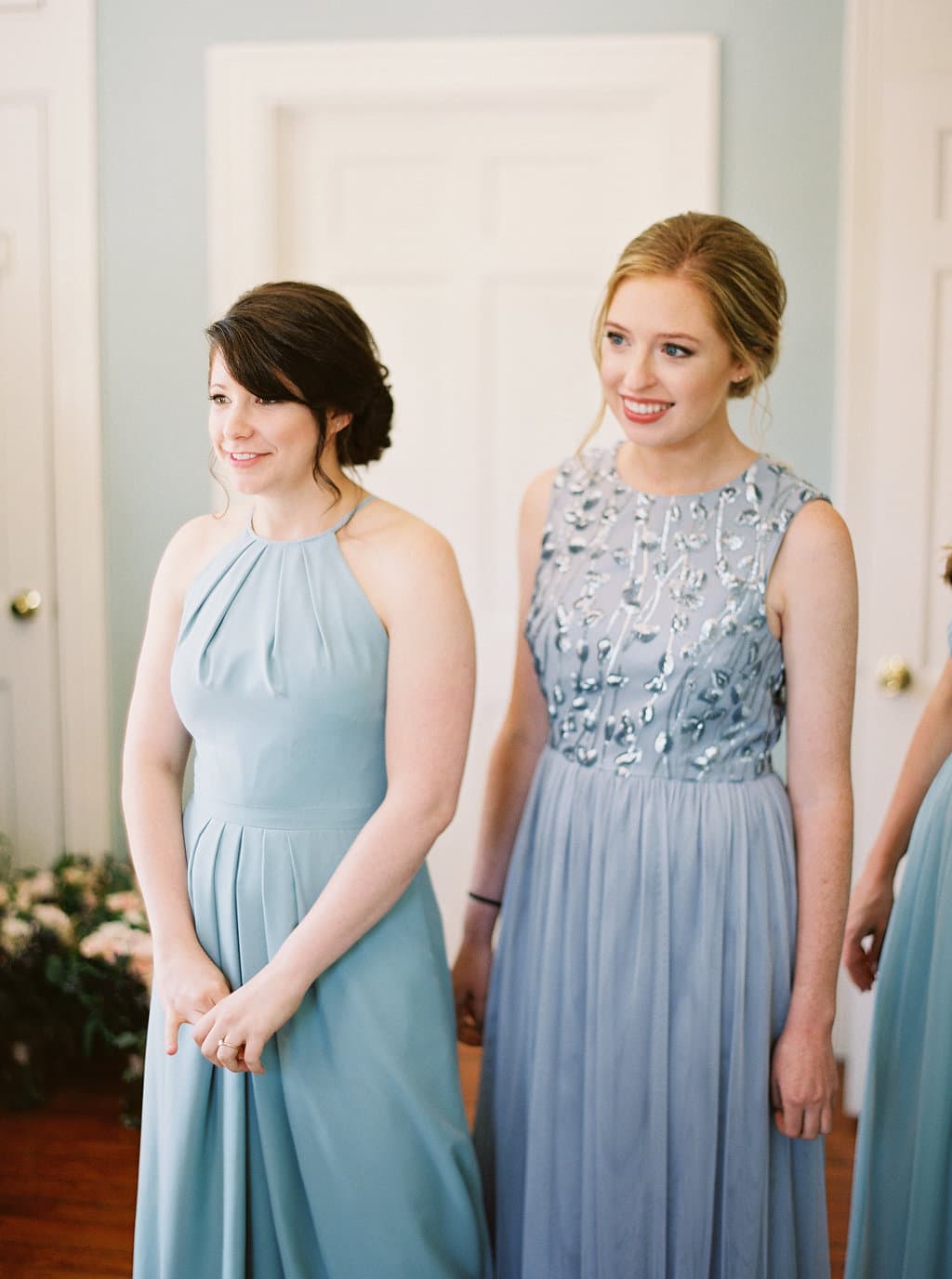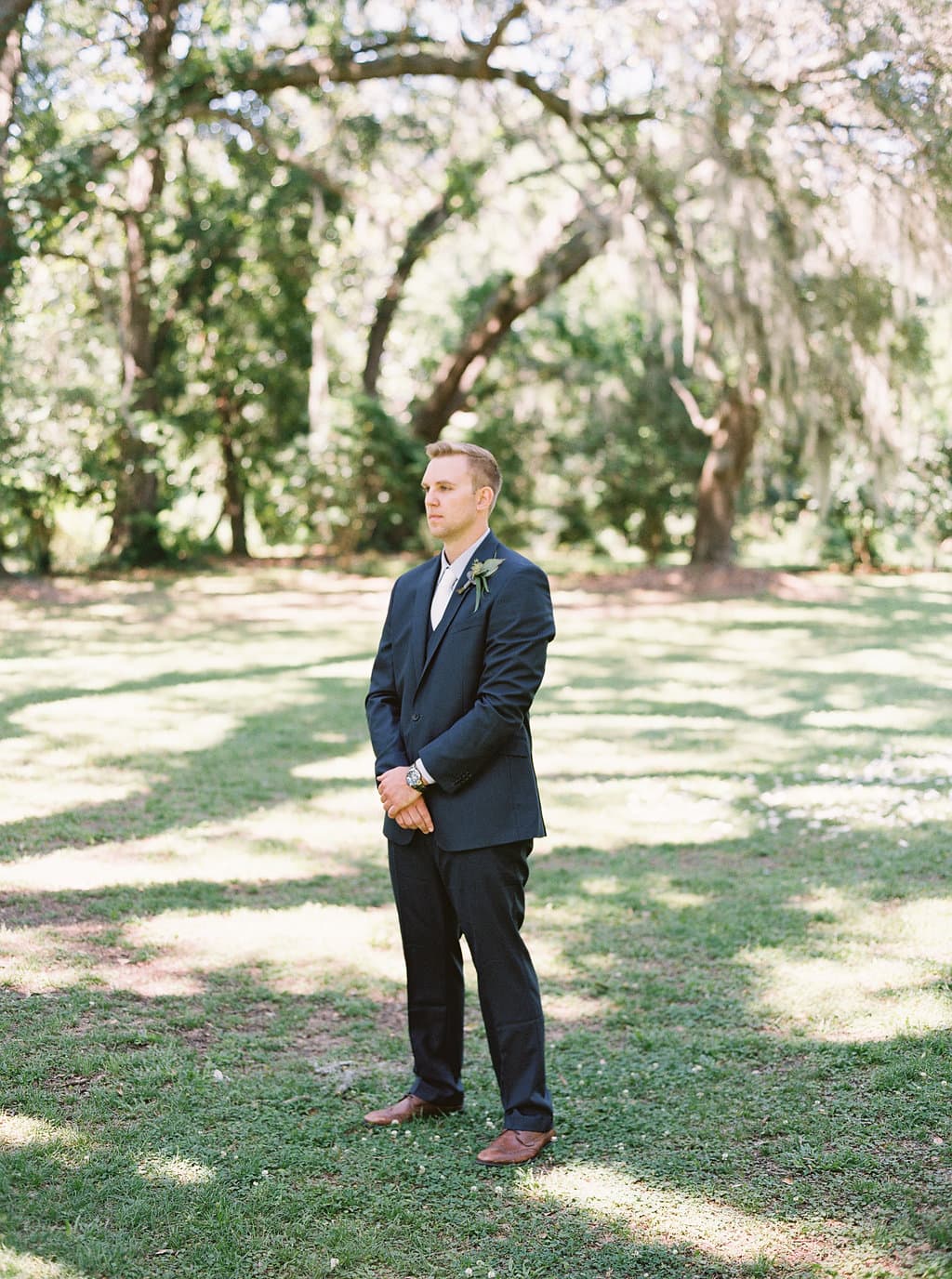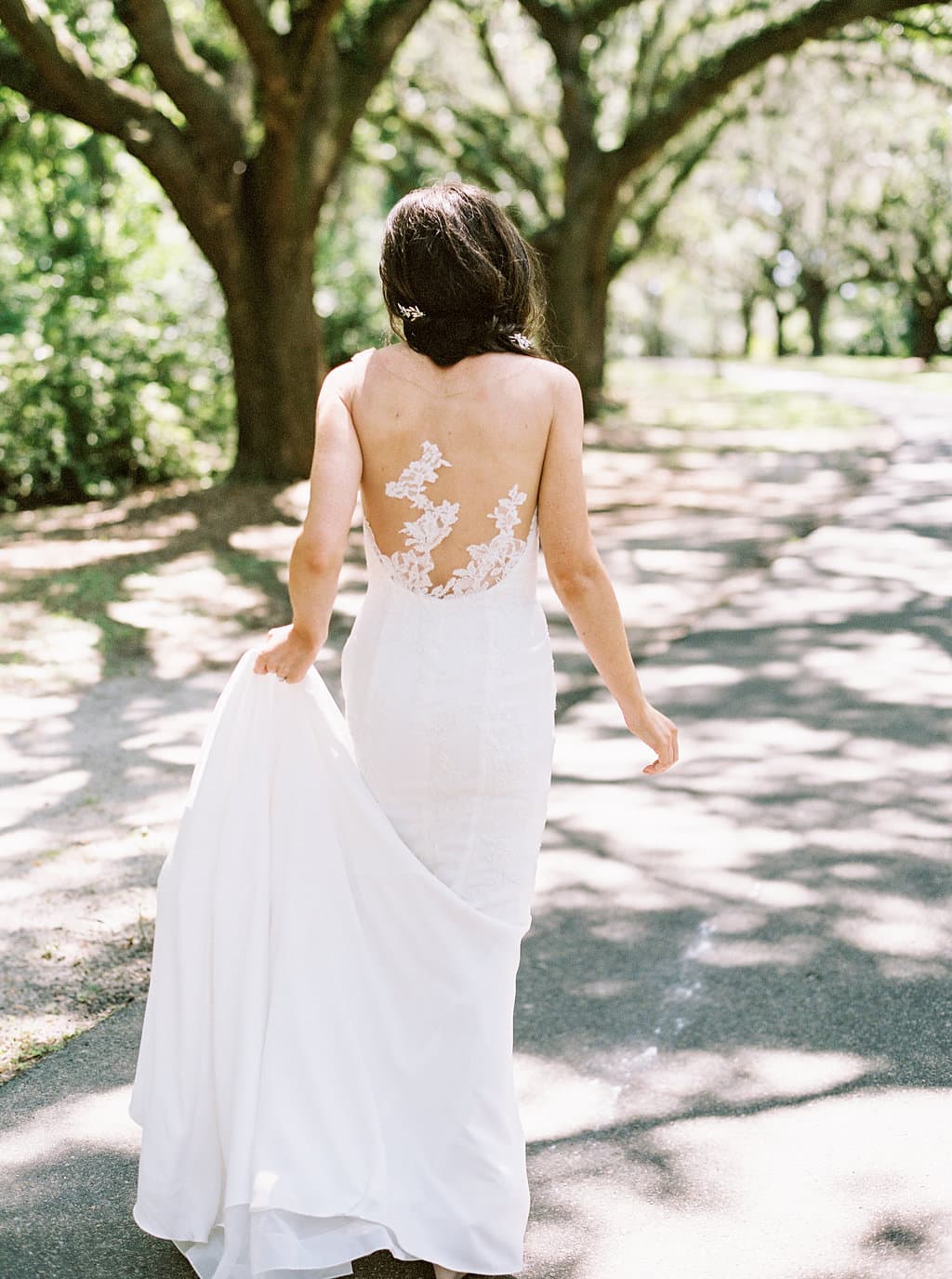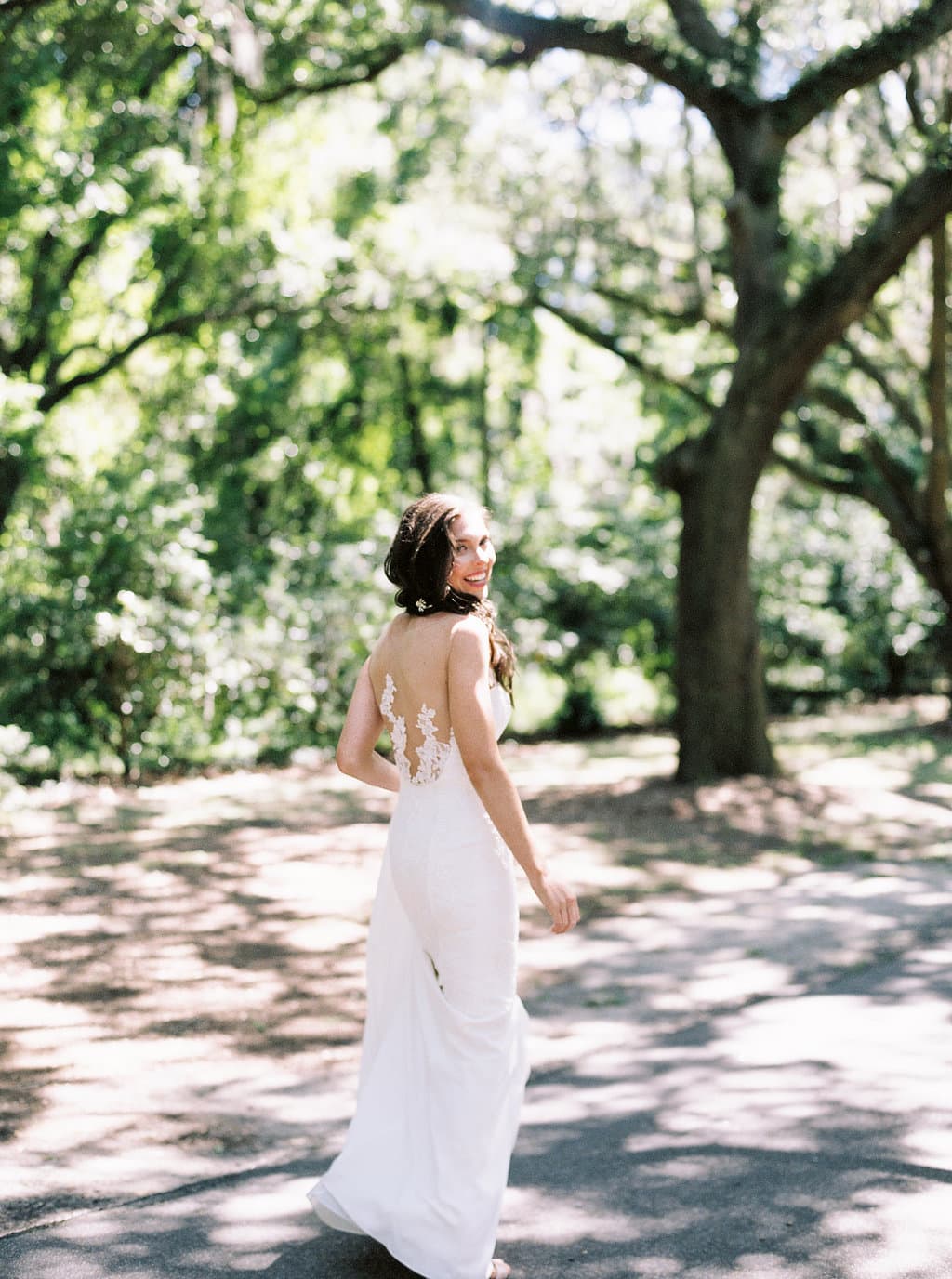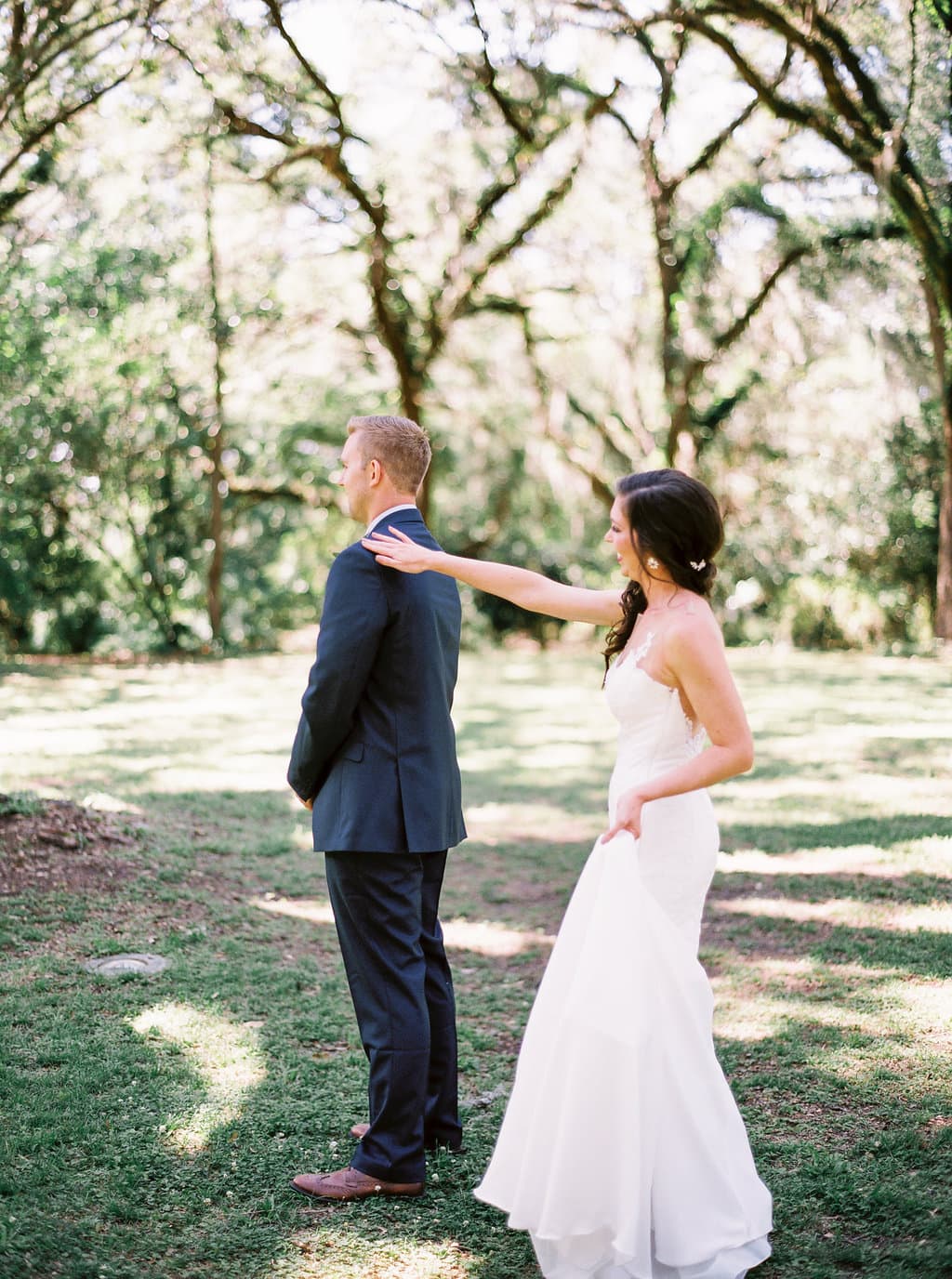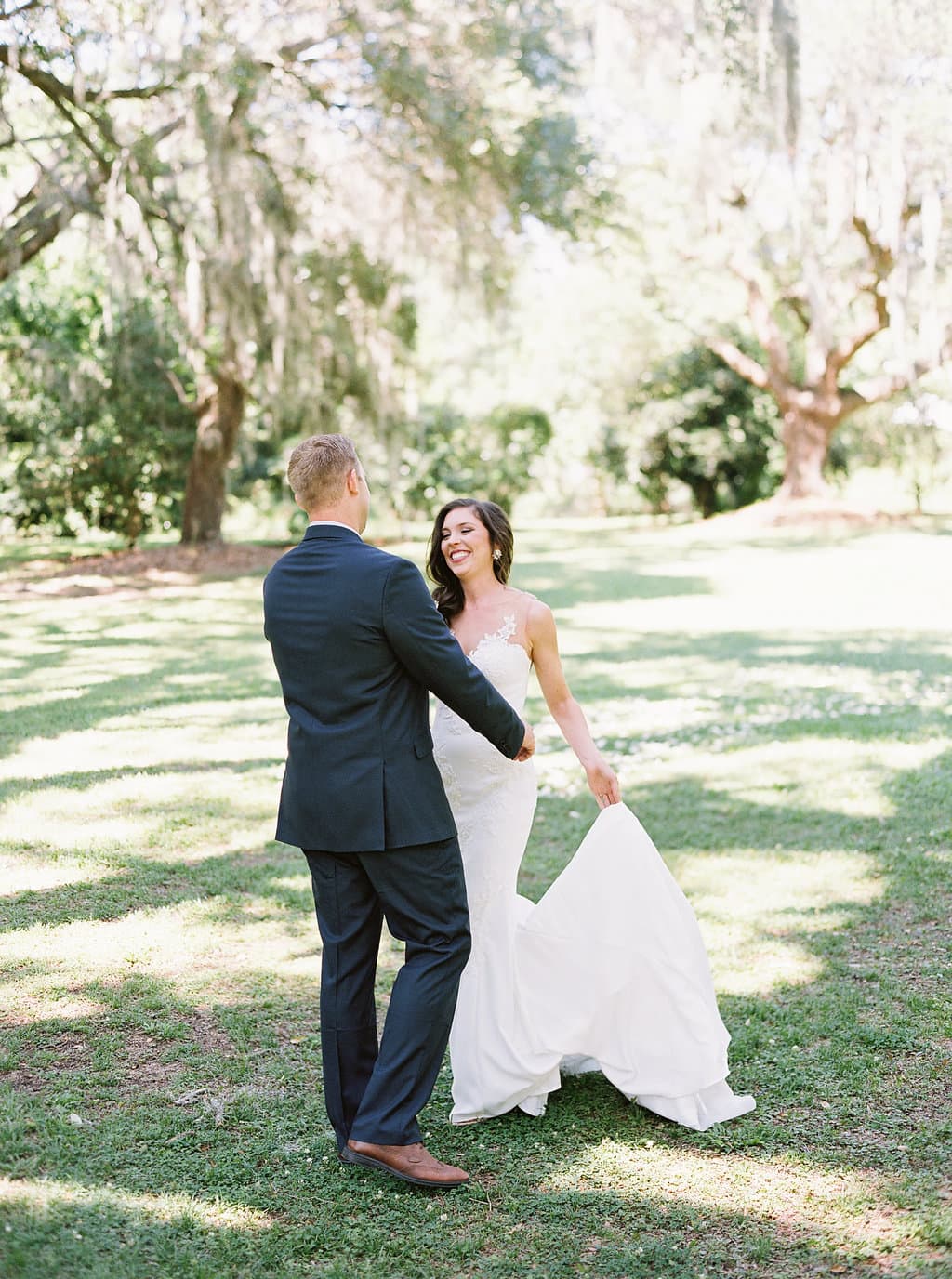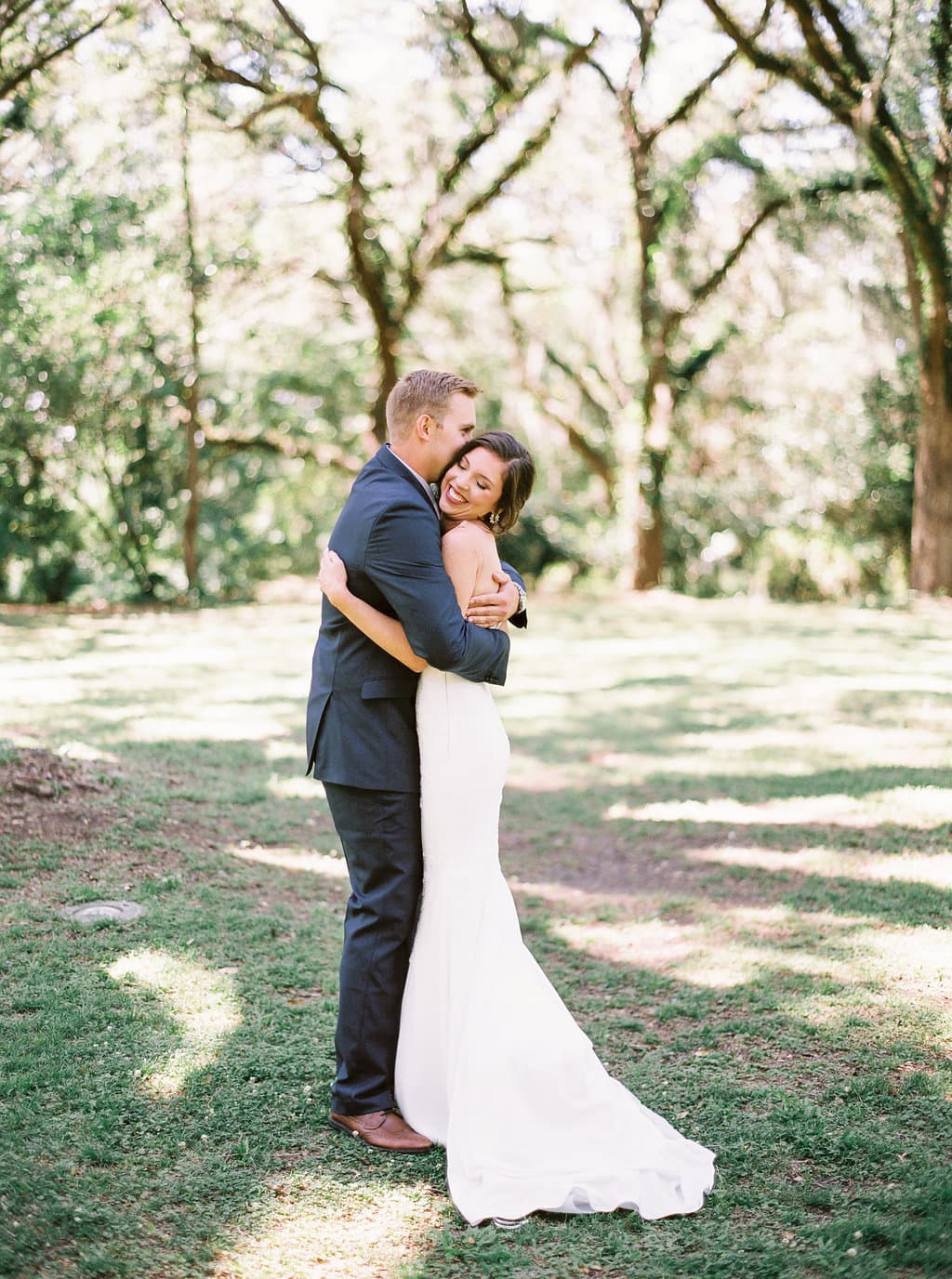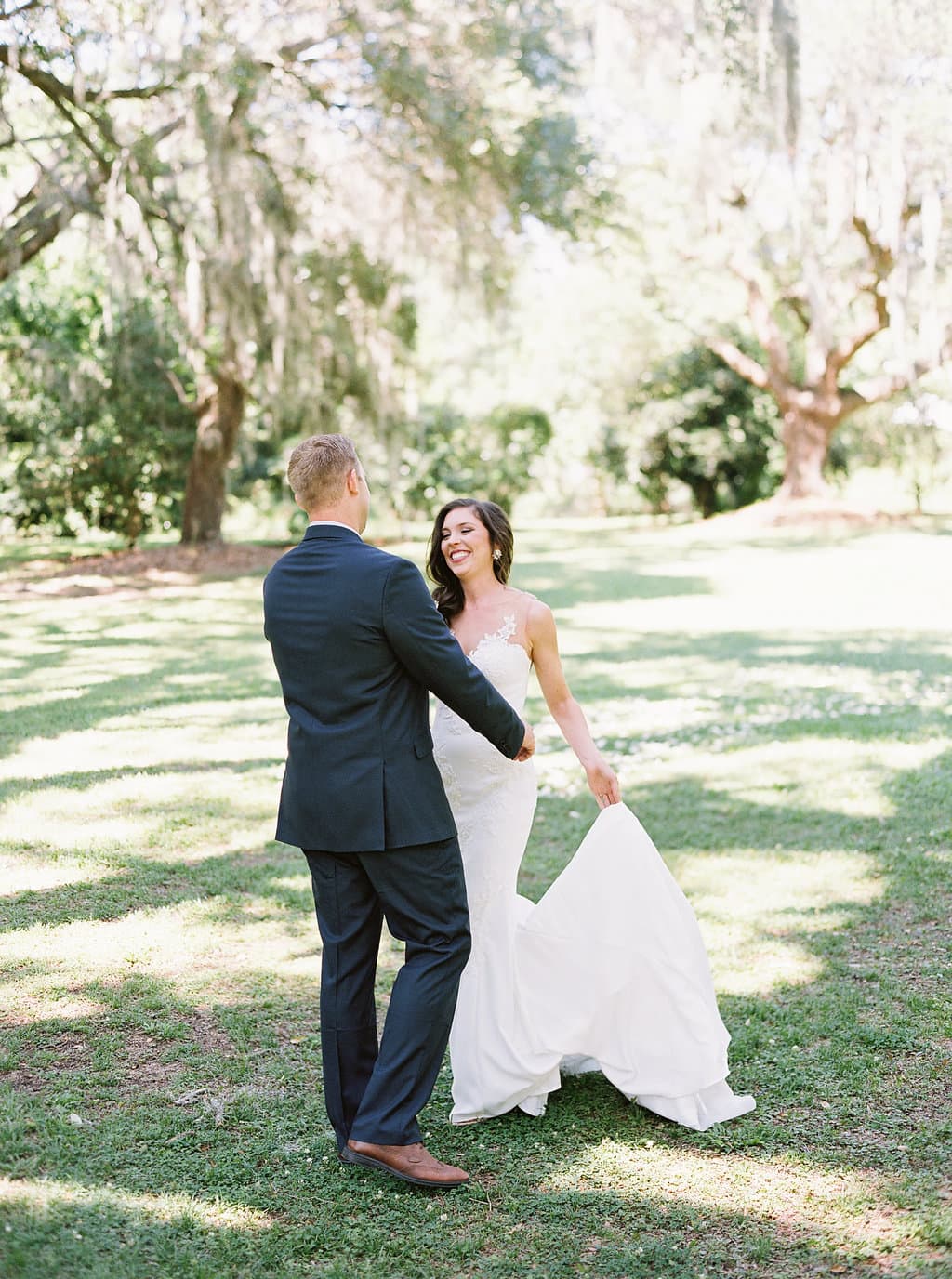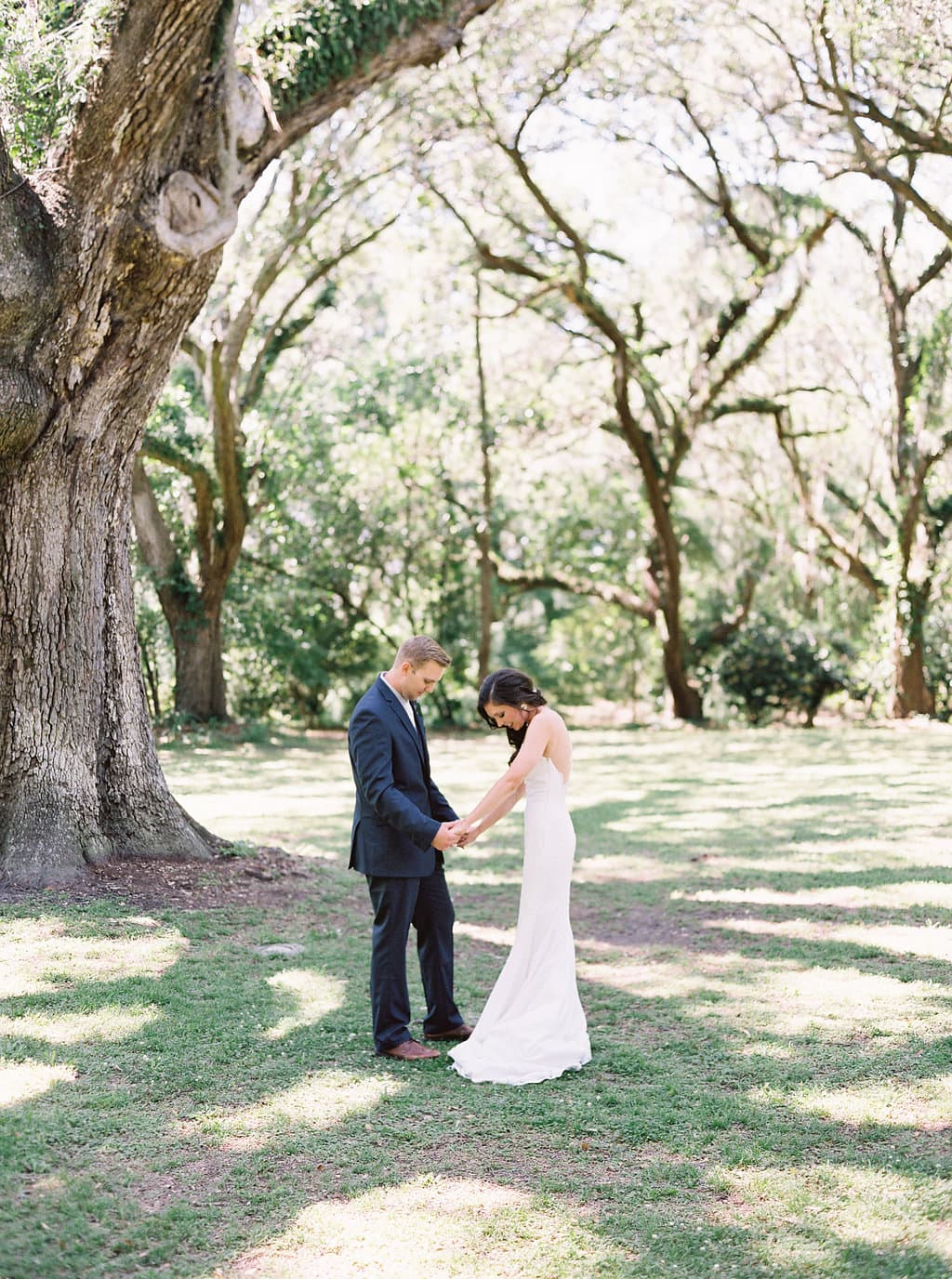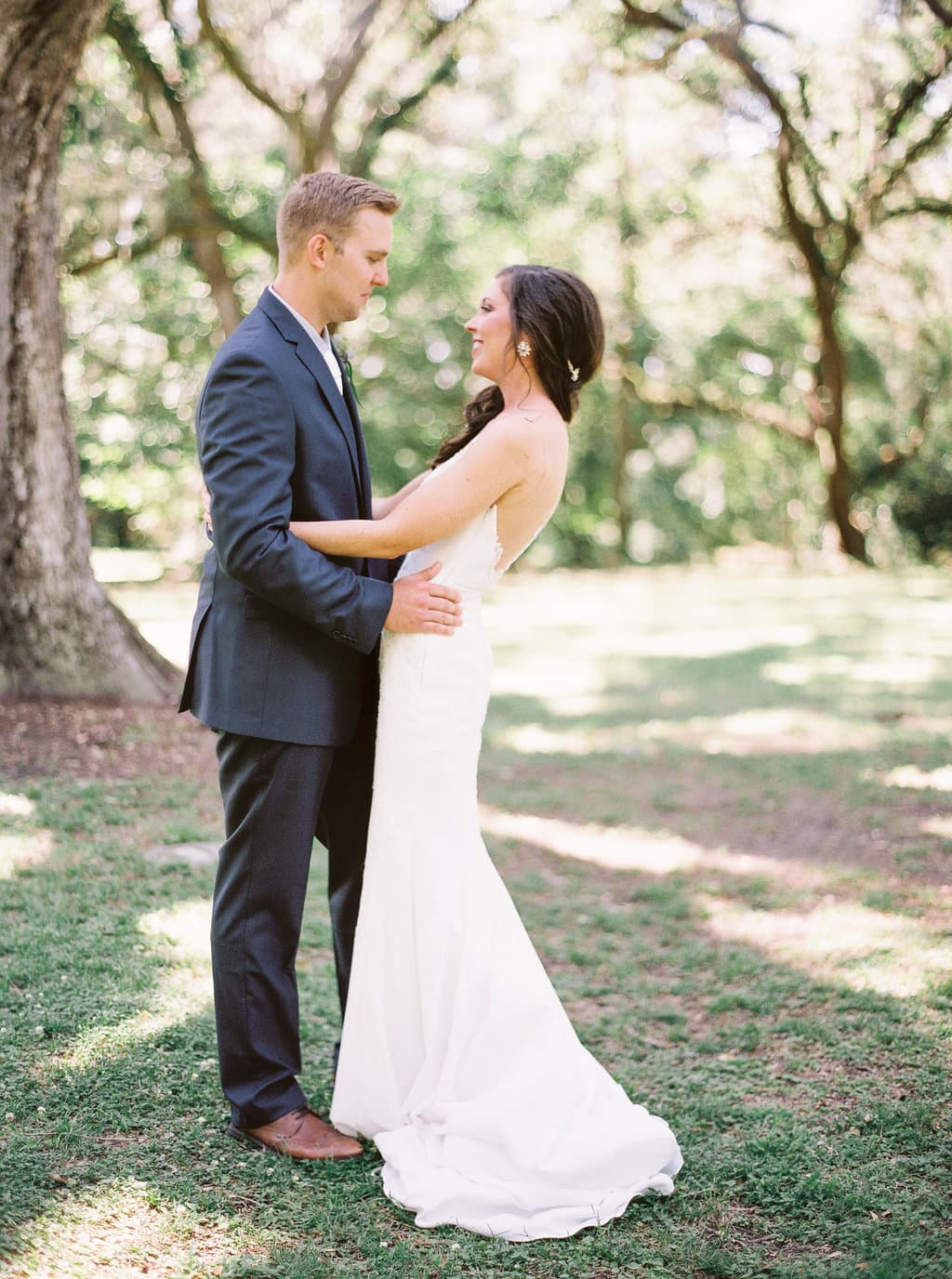 TJ and I decided to have a first look for several reasons but mainly so that we would be able to spend more quality time with our guests during cocktail hour instead of taking photos. It was important for us to be able to say hi to everyone who traveled to be there with us and luckily our wedding had an intimate 115 guest count. Everyone always says this but it is true… your wedding day will fly by SO quickly. Before I knew it, I was in my dress and it was time to go see TJ for our first look. As I walked outside to find the guy I fell in love with over 7 years ago standing under a big beautiful oak tree waiting for me, I couldn't help but just cry tears of happiness. I couldn't believe how lucky I was, how beautiful it was outside, and seeing him felt like a dream. When I got to the oak tree, I tapped him on the shoulder, and gave him the biggest hug imaginable.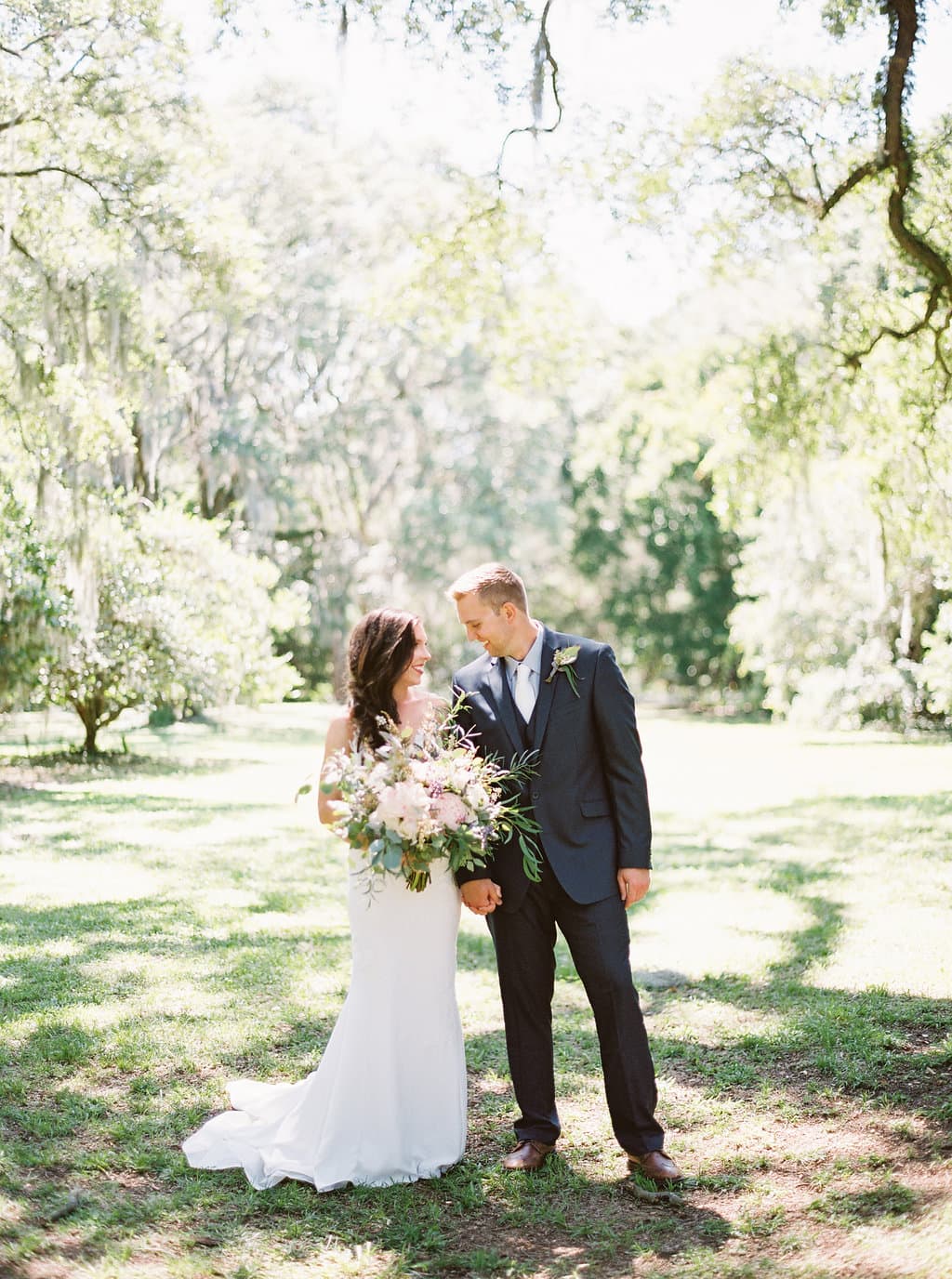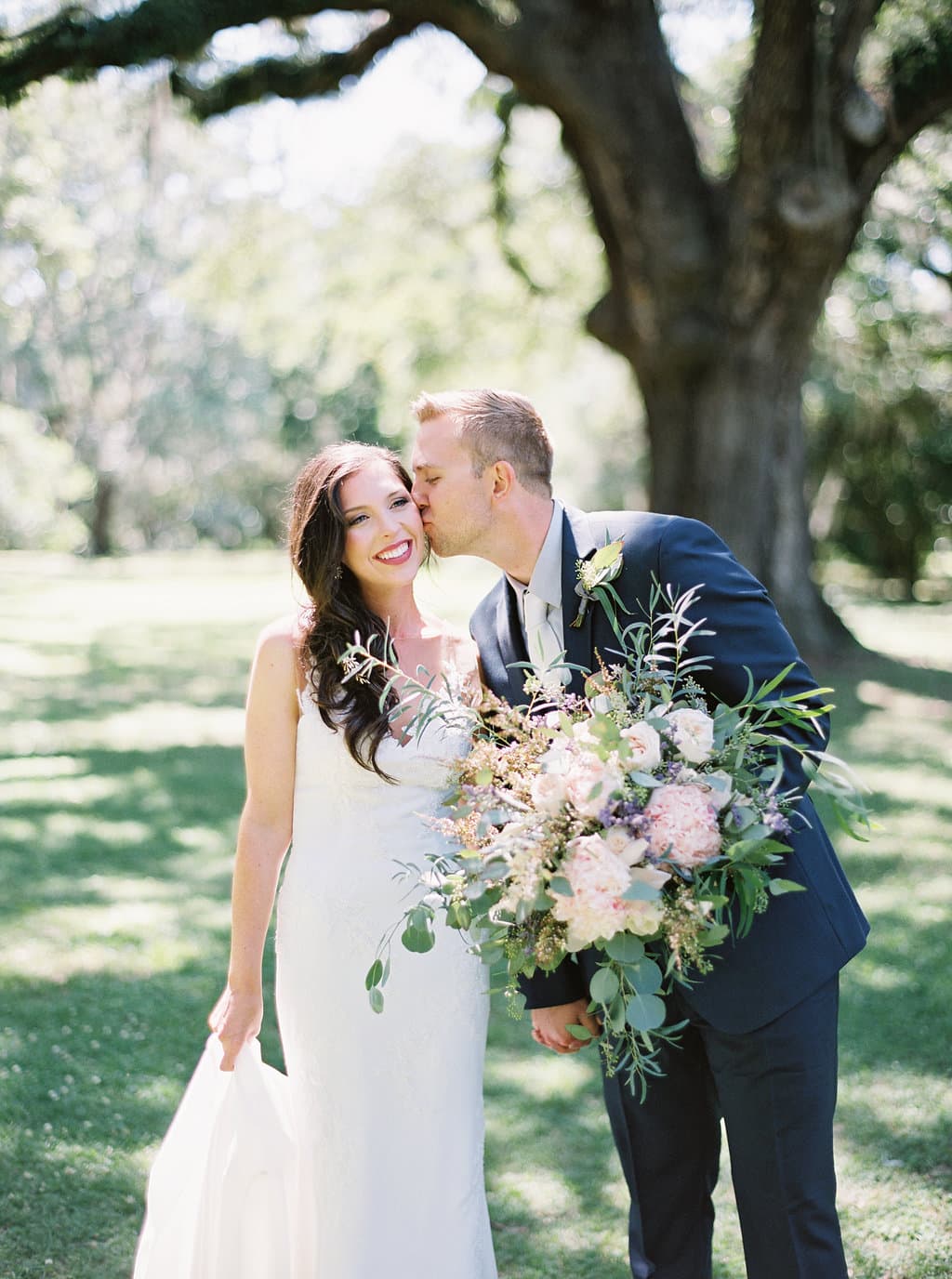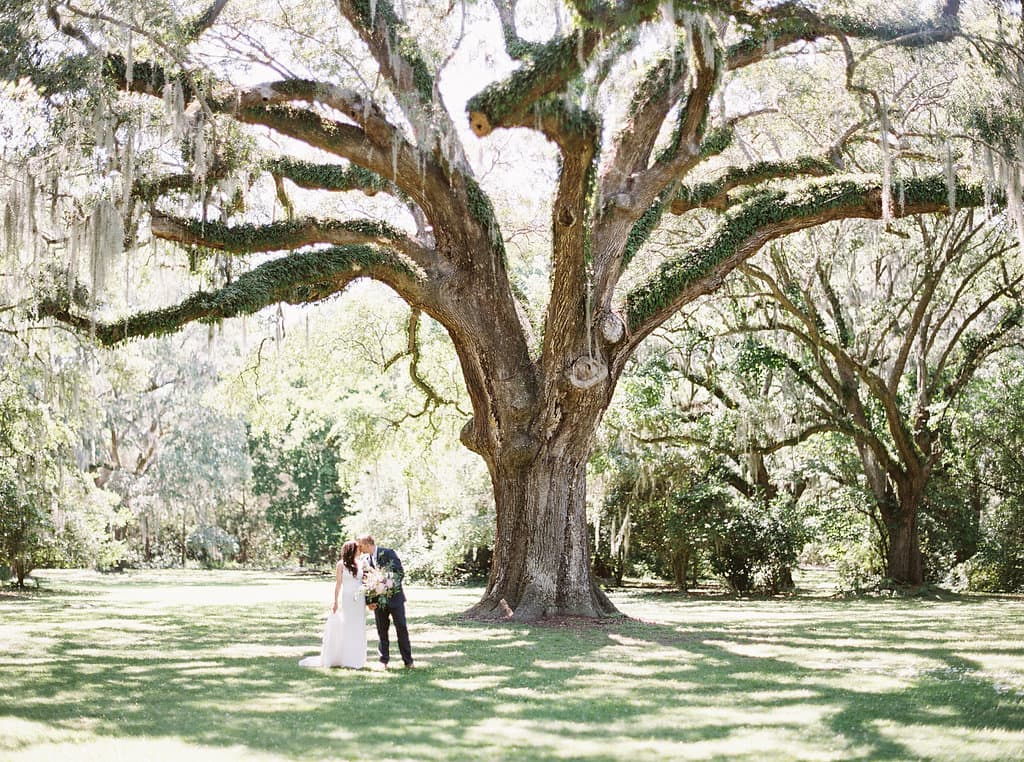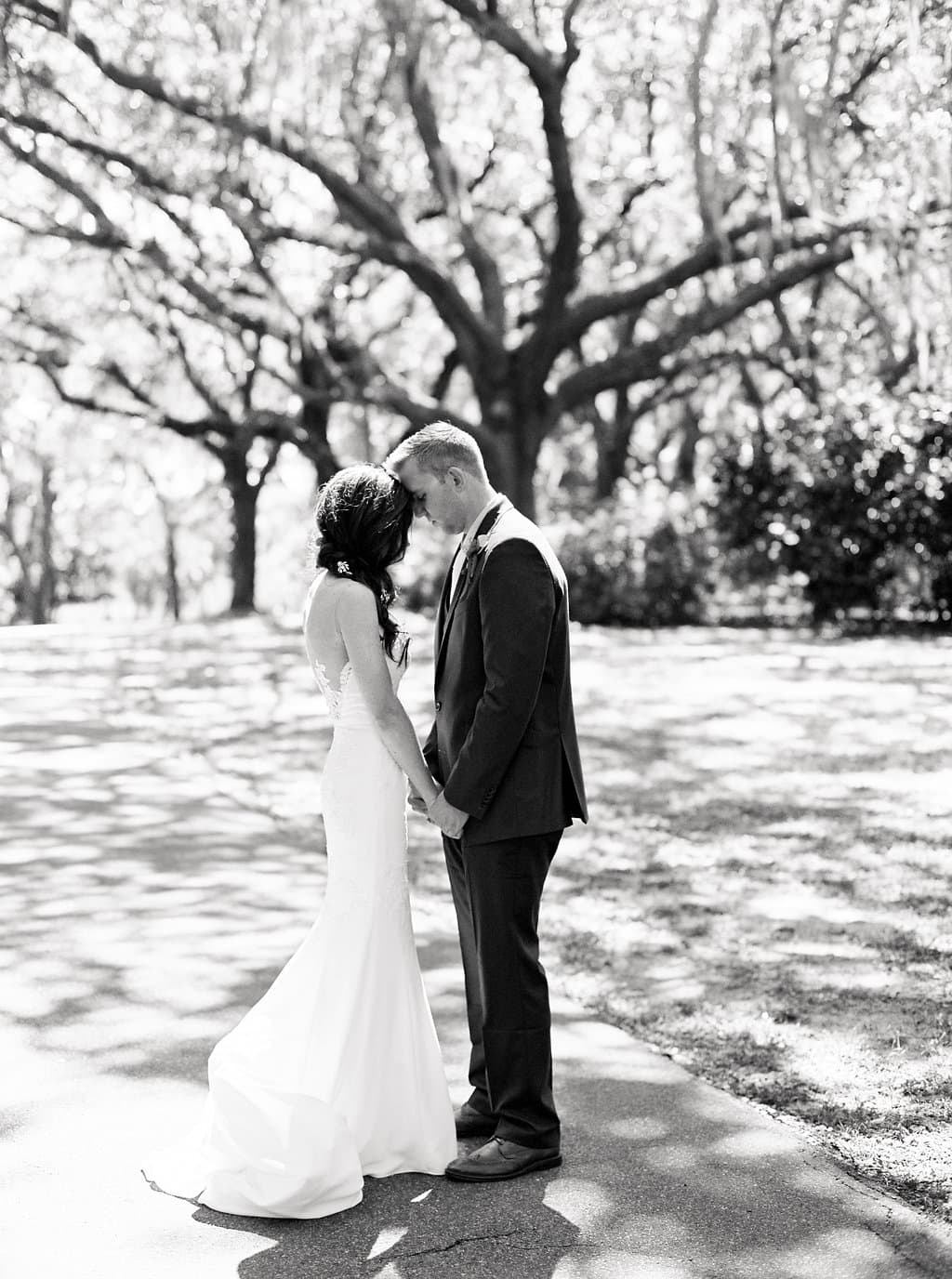 This is one of my most favorite images. Without the videographers watching (I get nervous), I just had to stop and pray. I had never felt so thankful in my life and my biggest hope was for us to remember to slow down, breathe, and soak in ALL of the joy and love that was present and for us to be guided into even greater love from that day forward.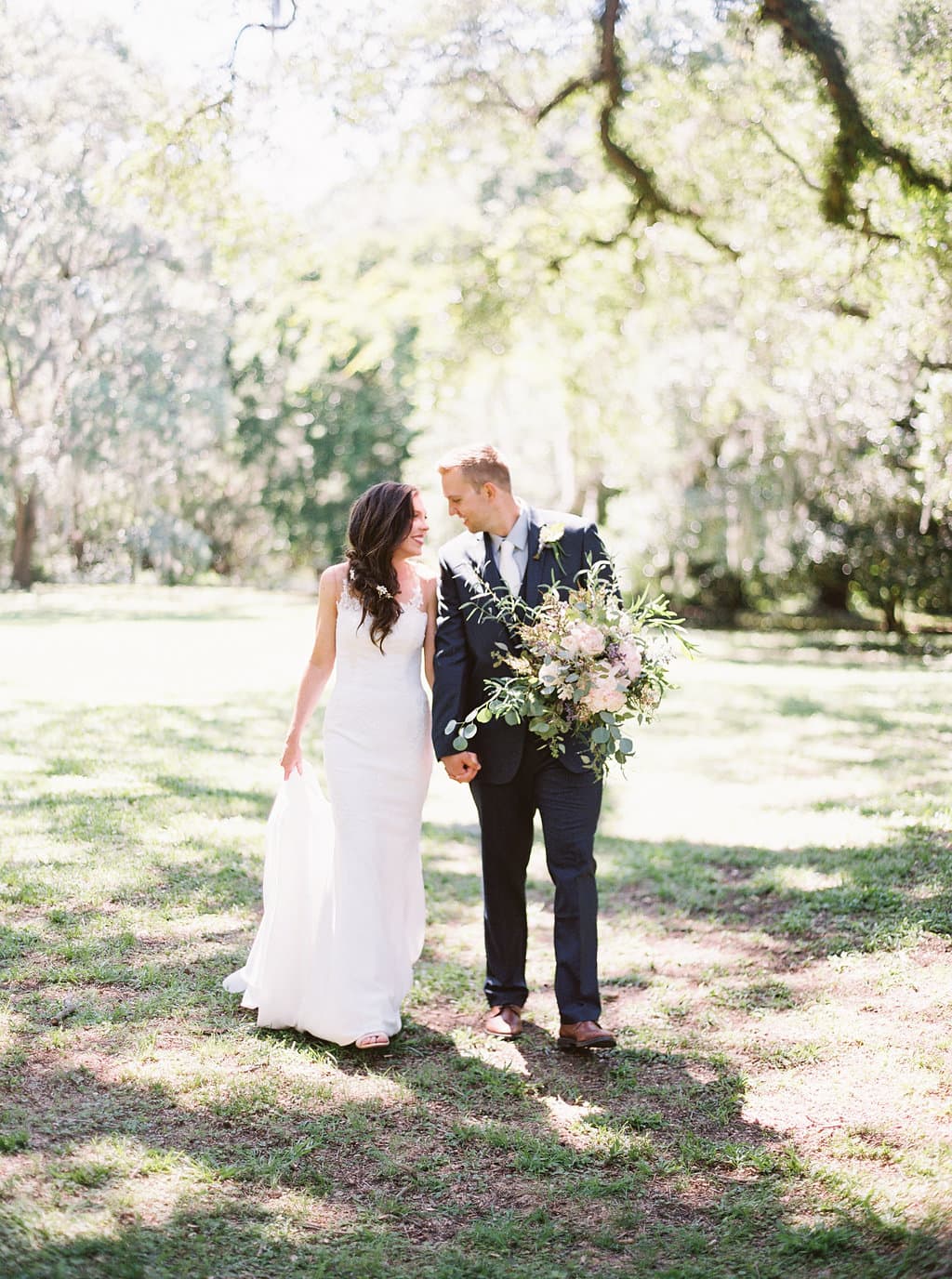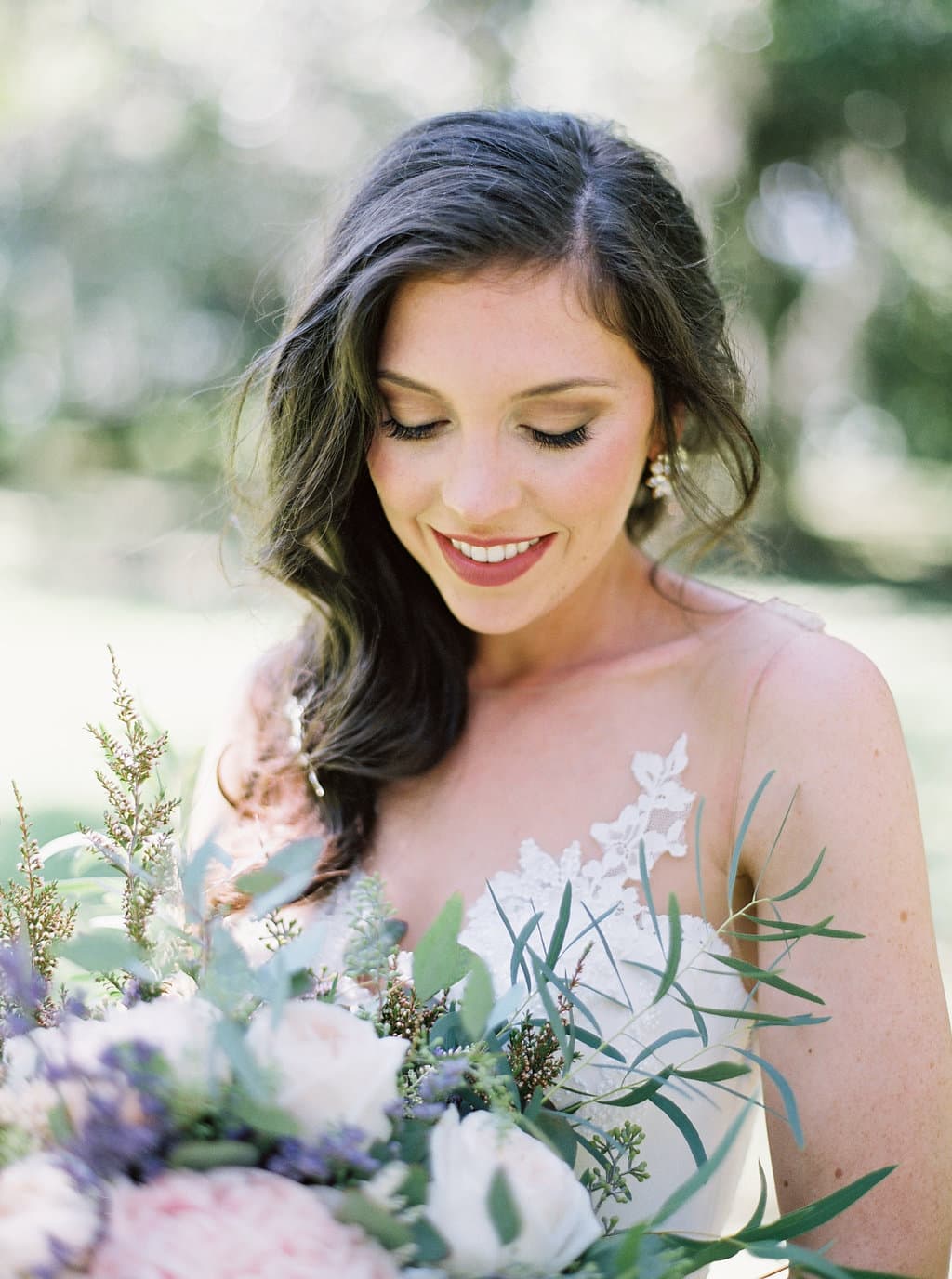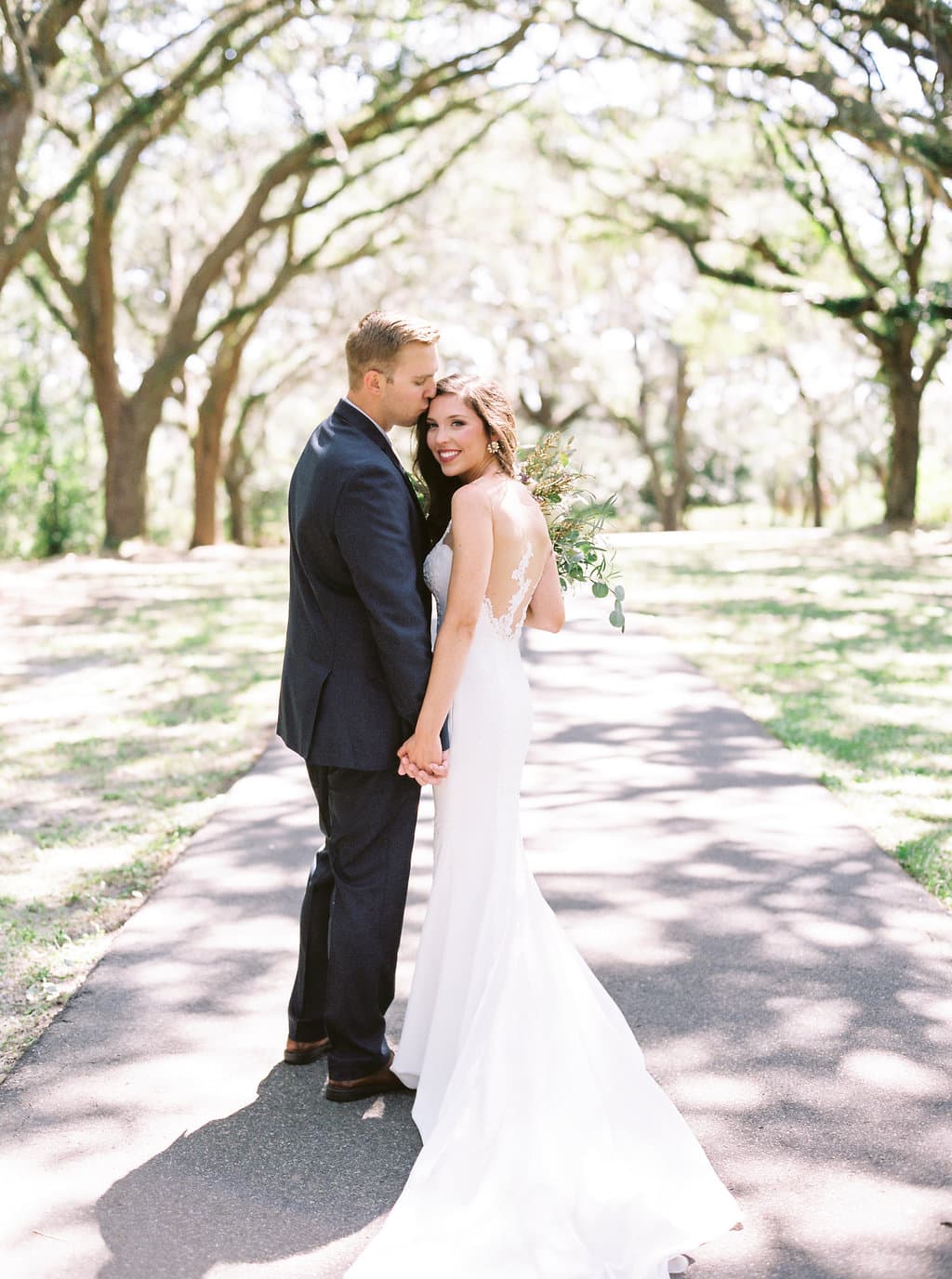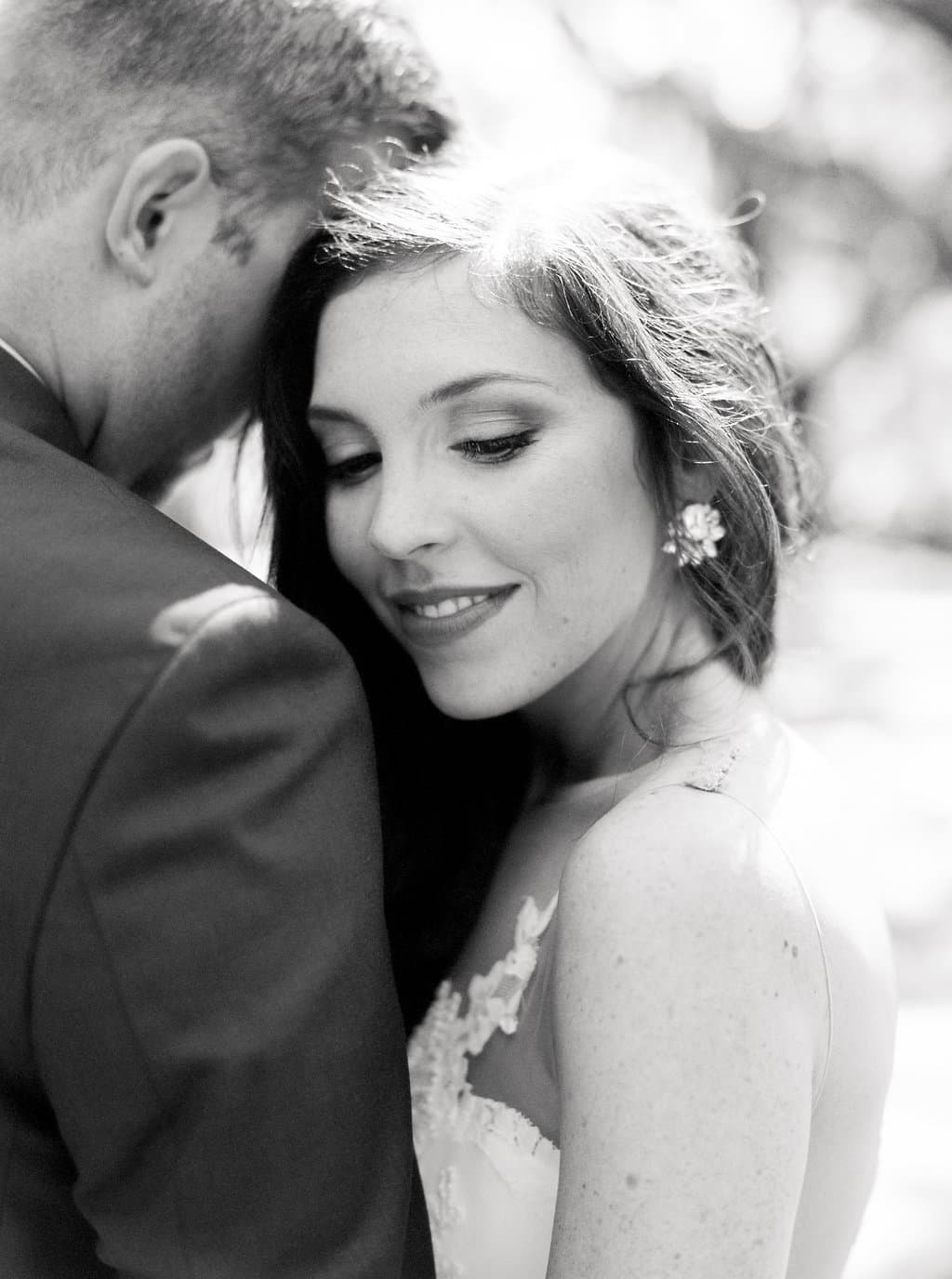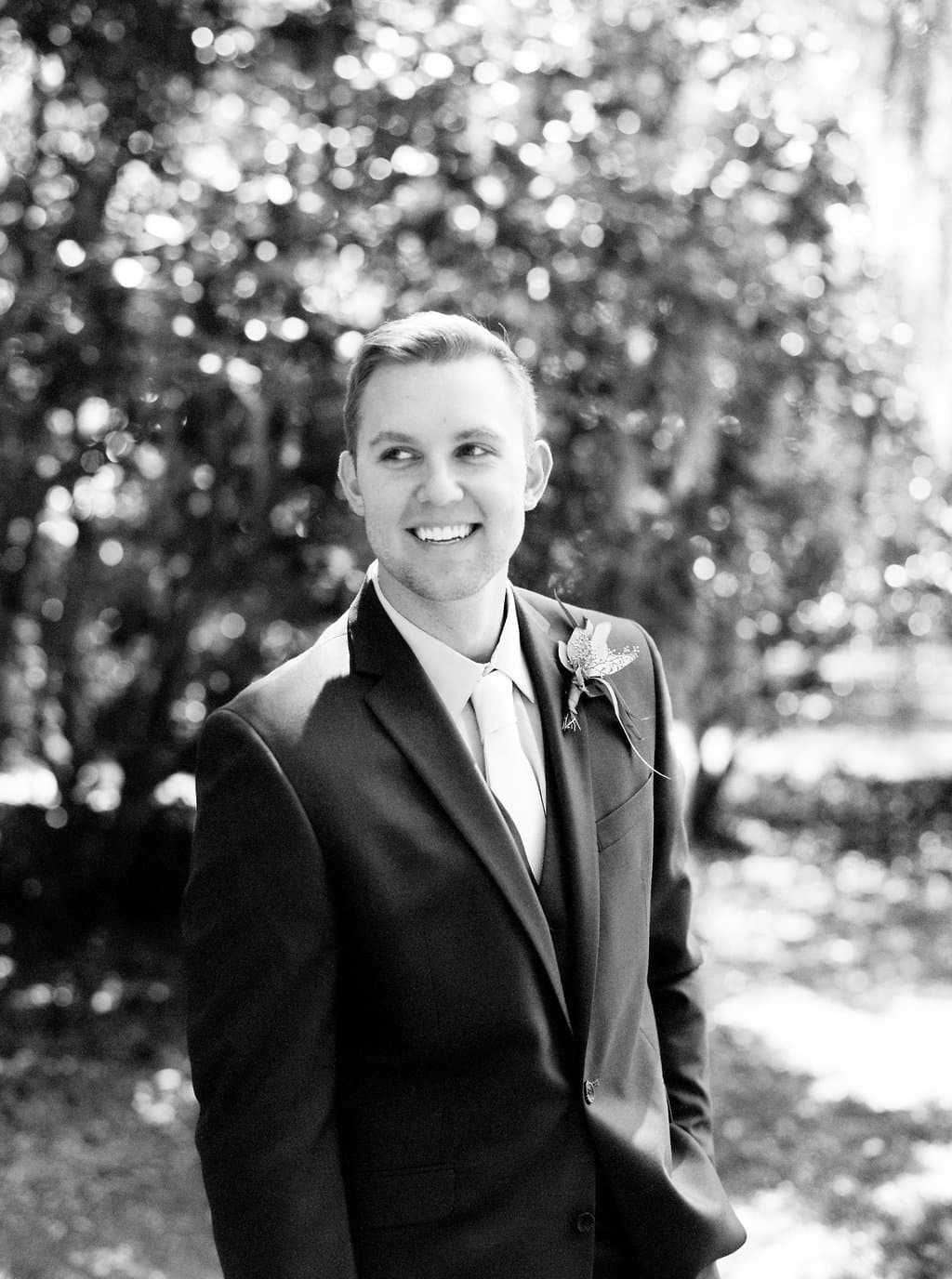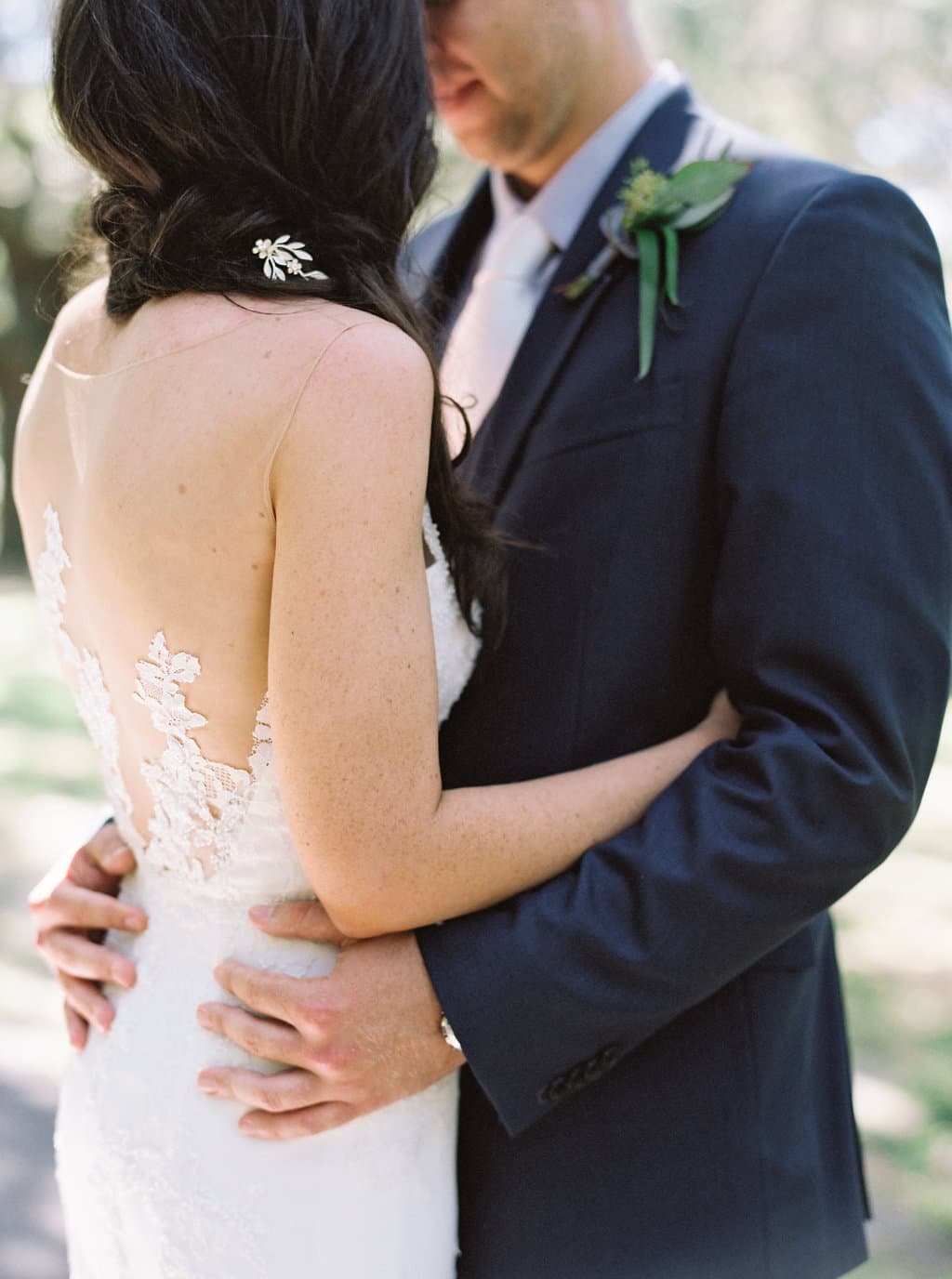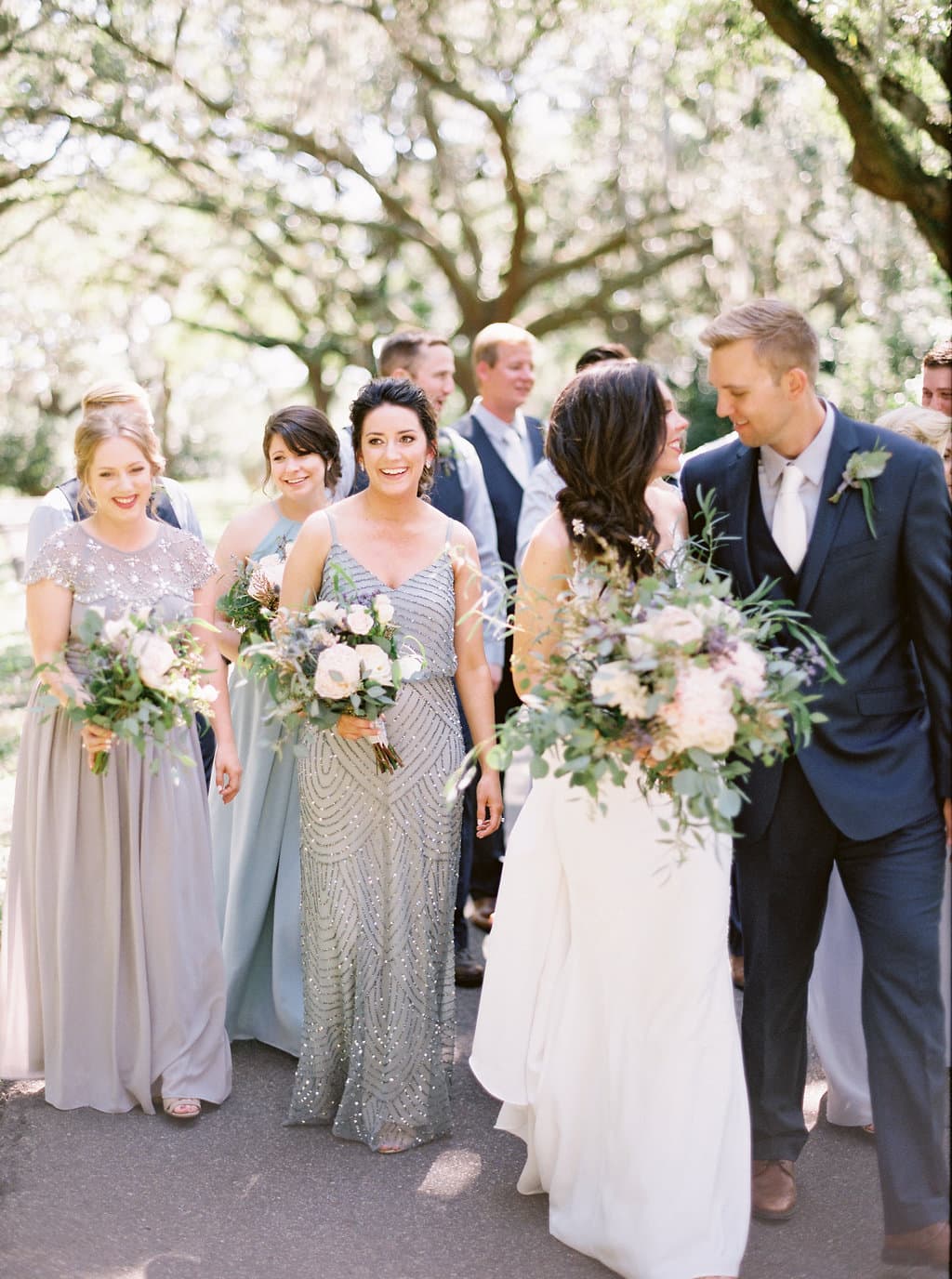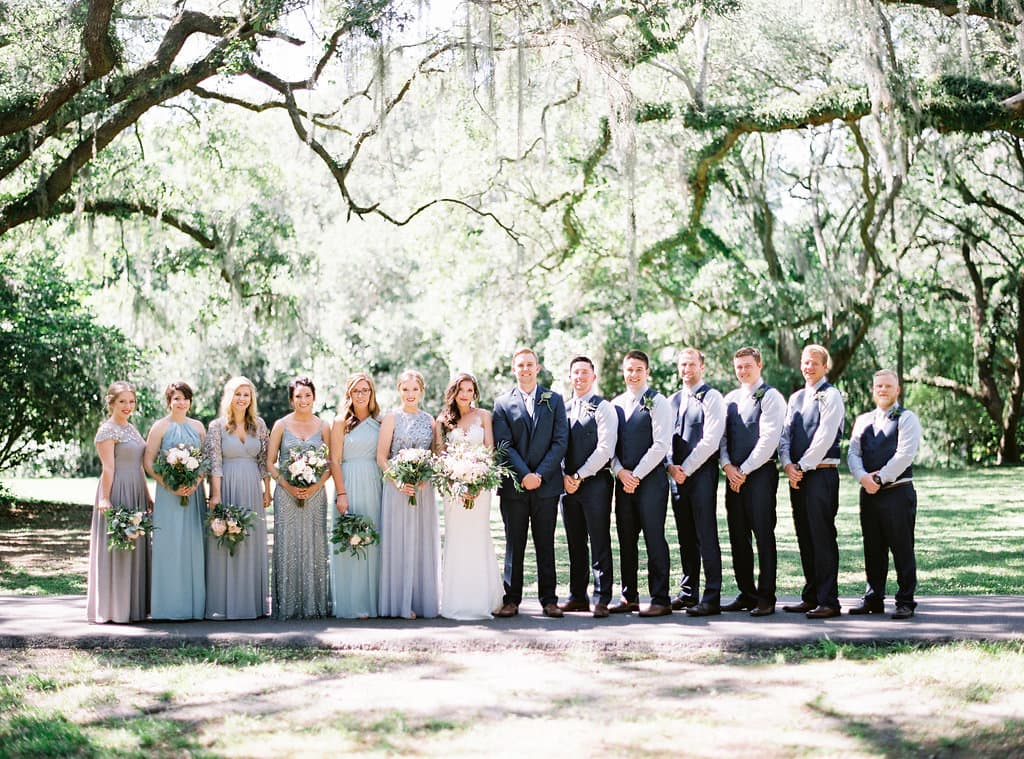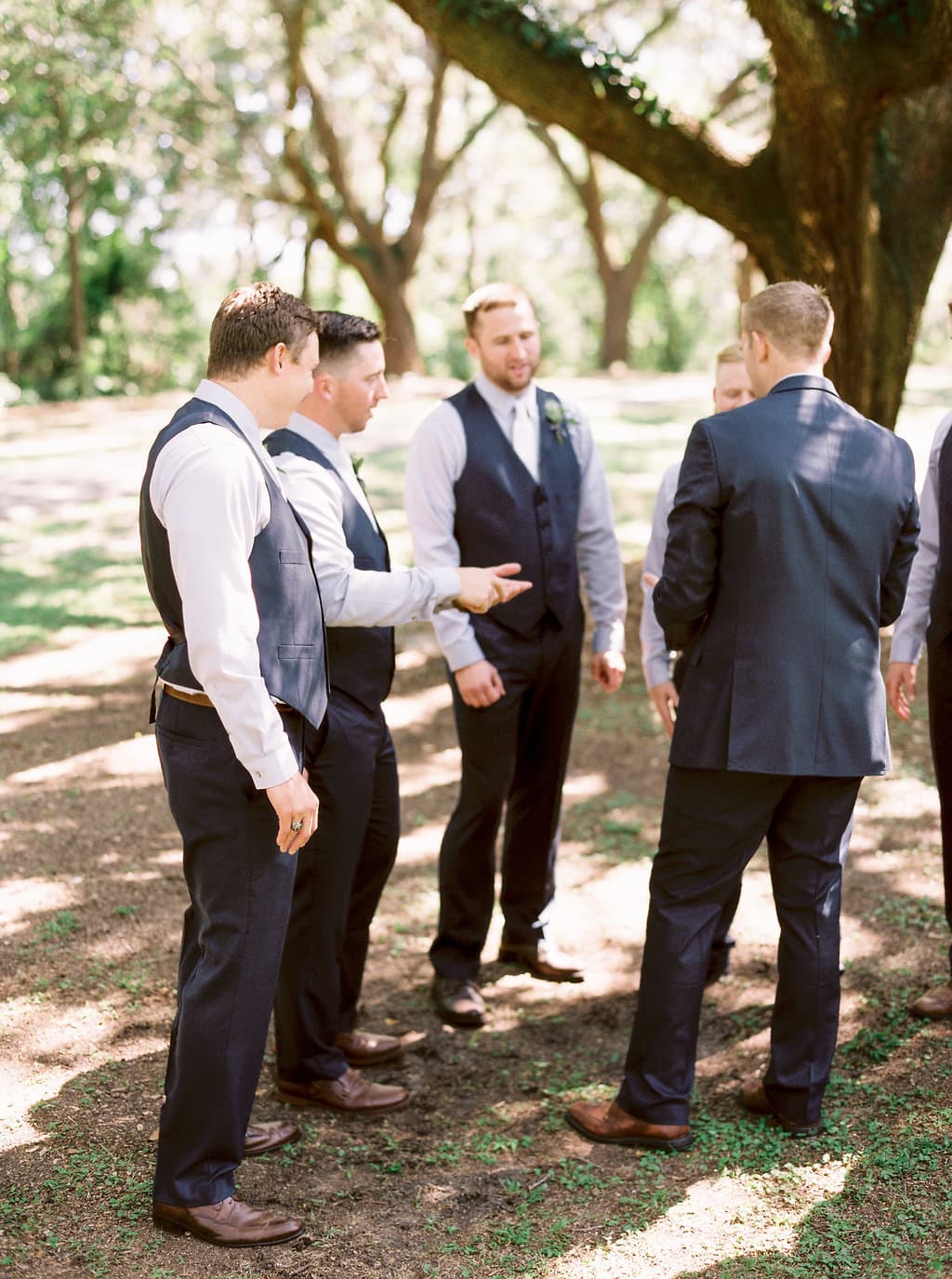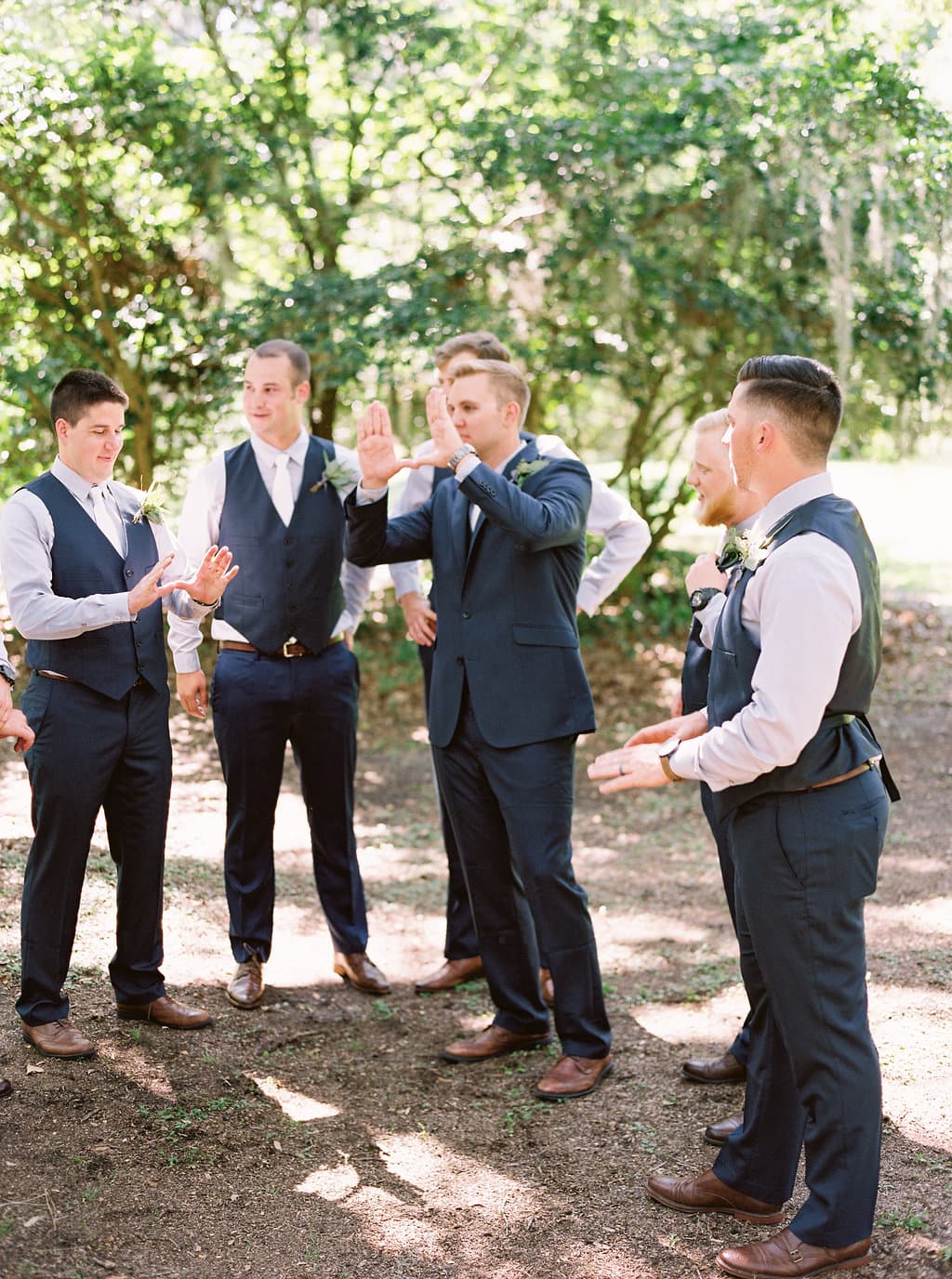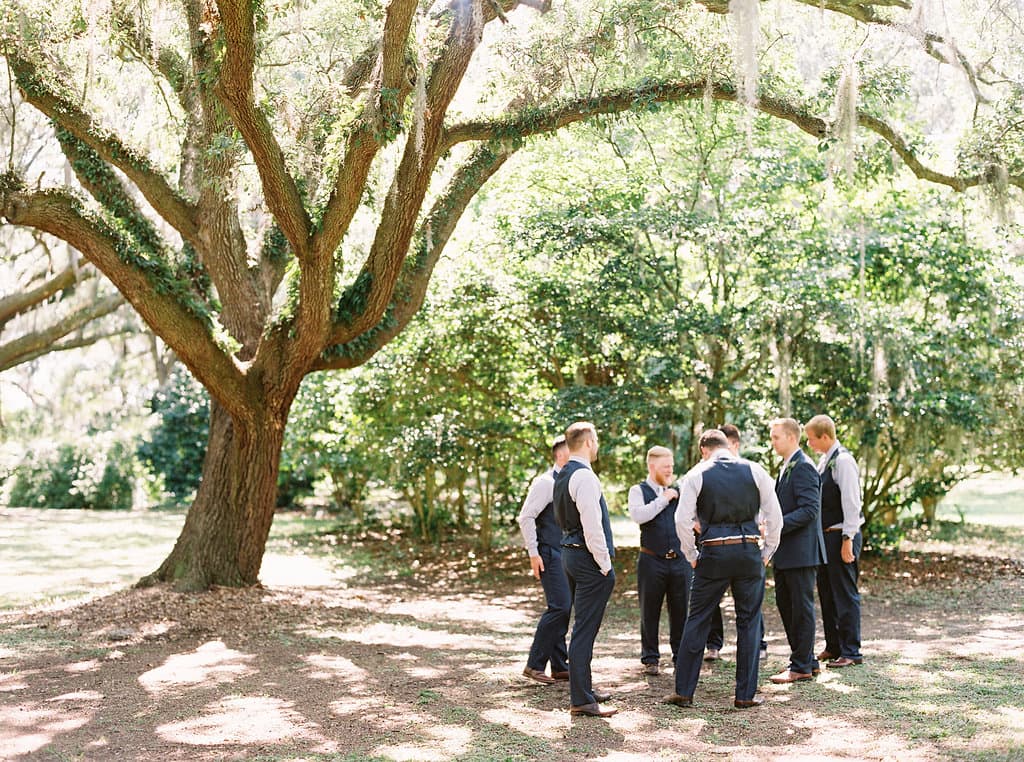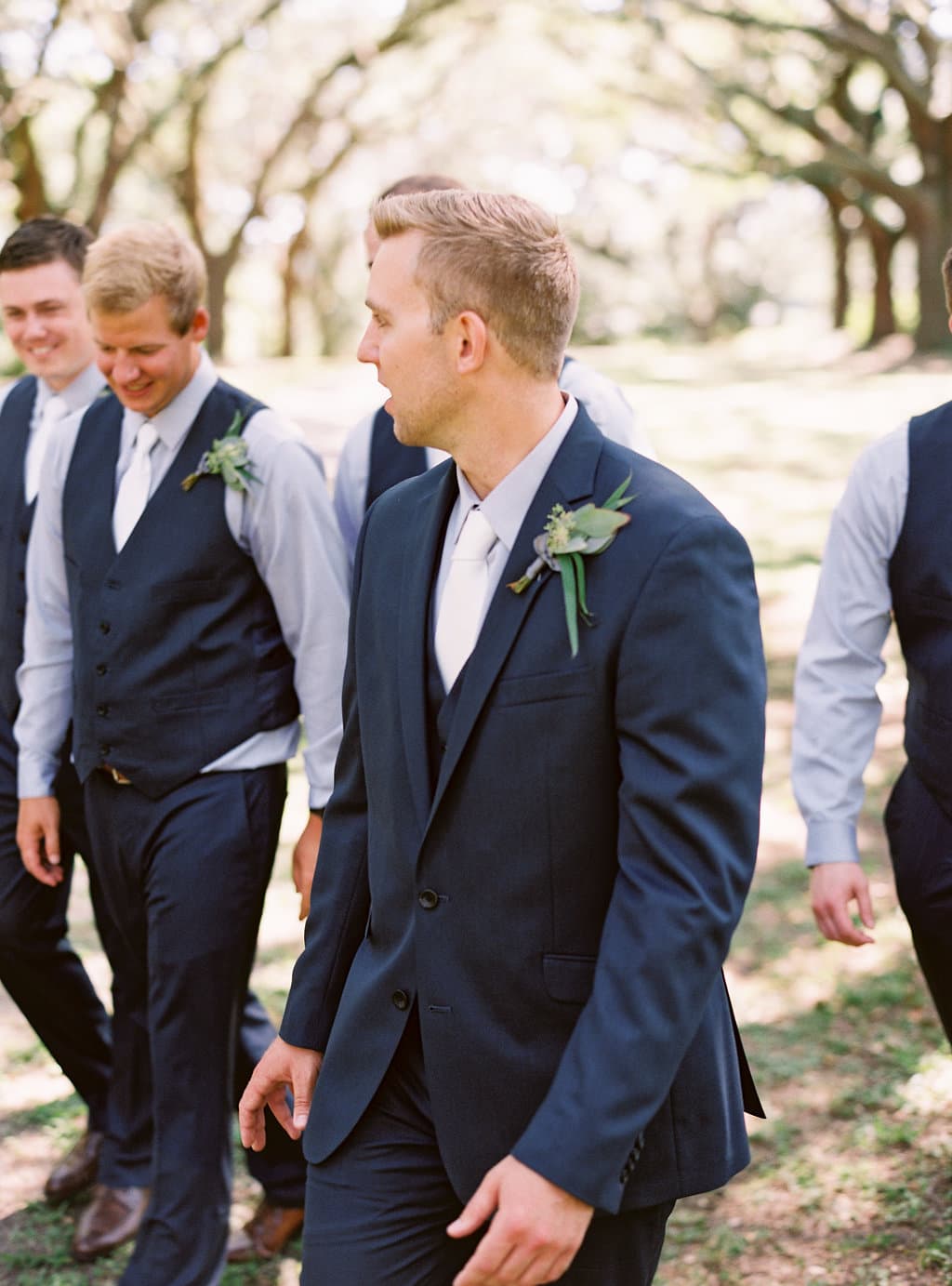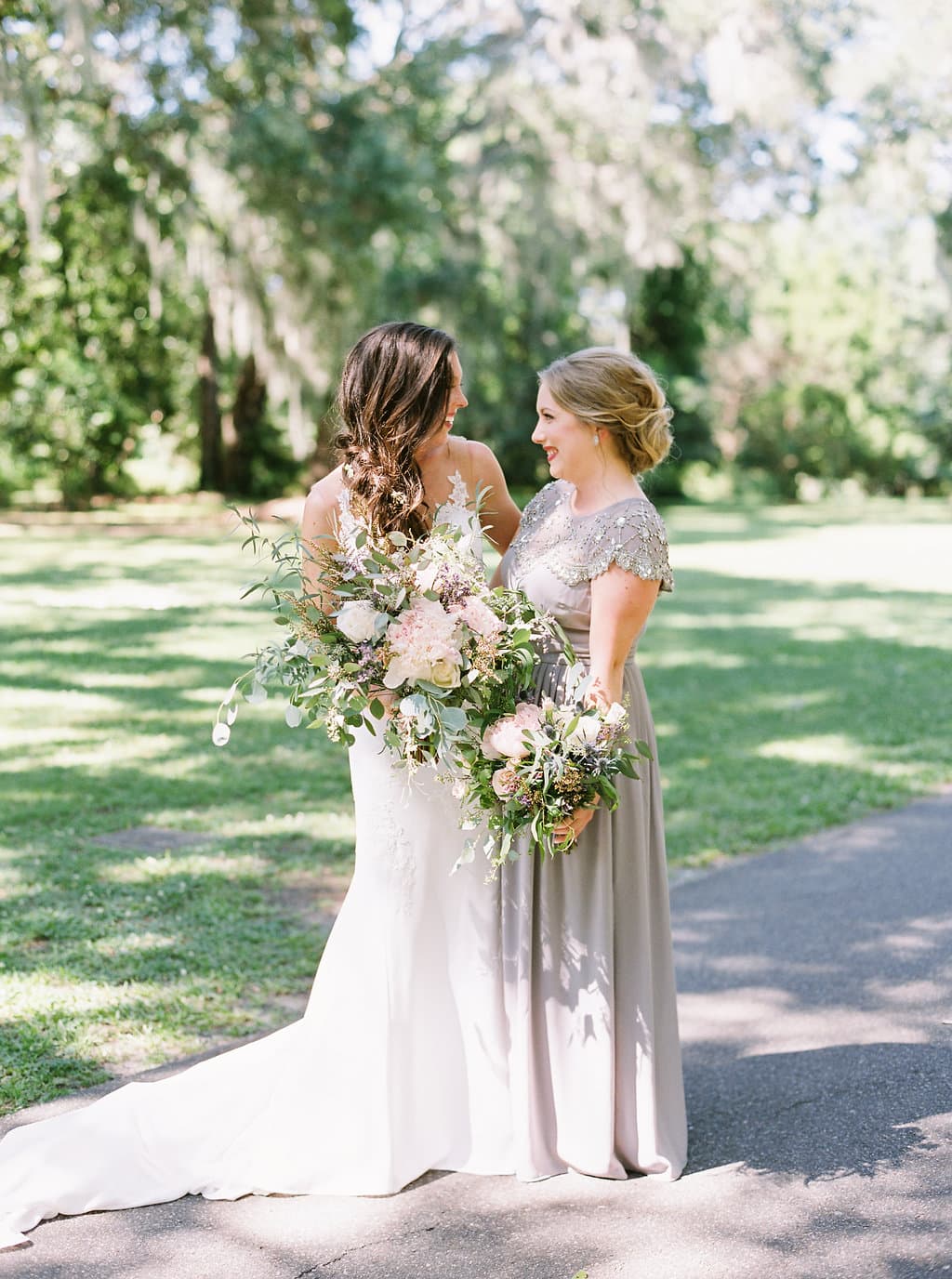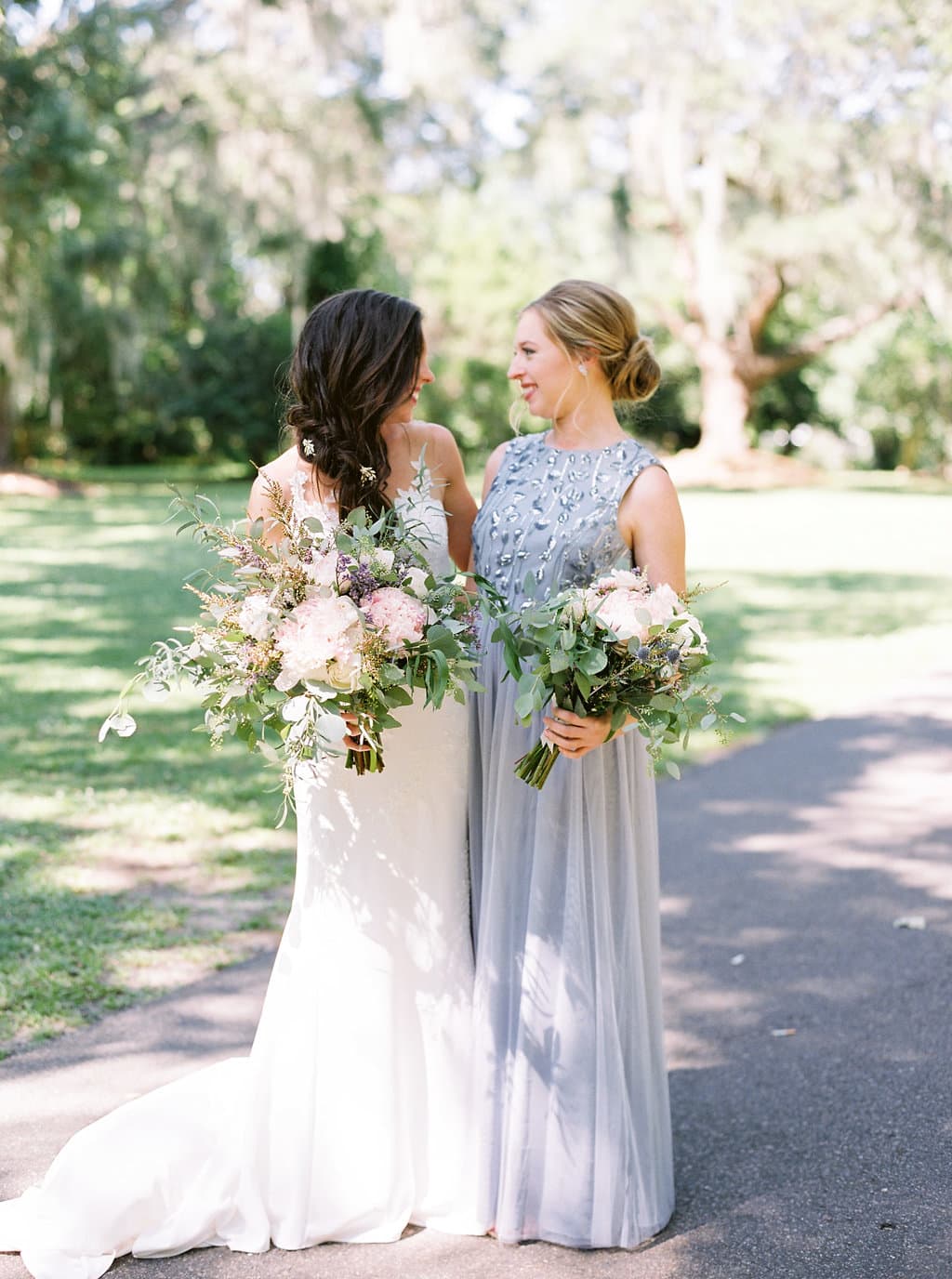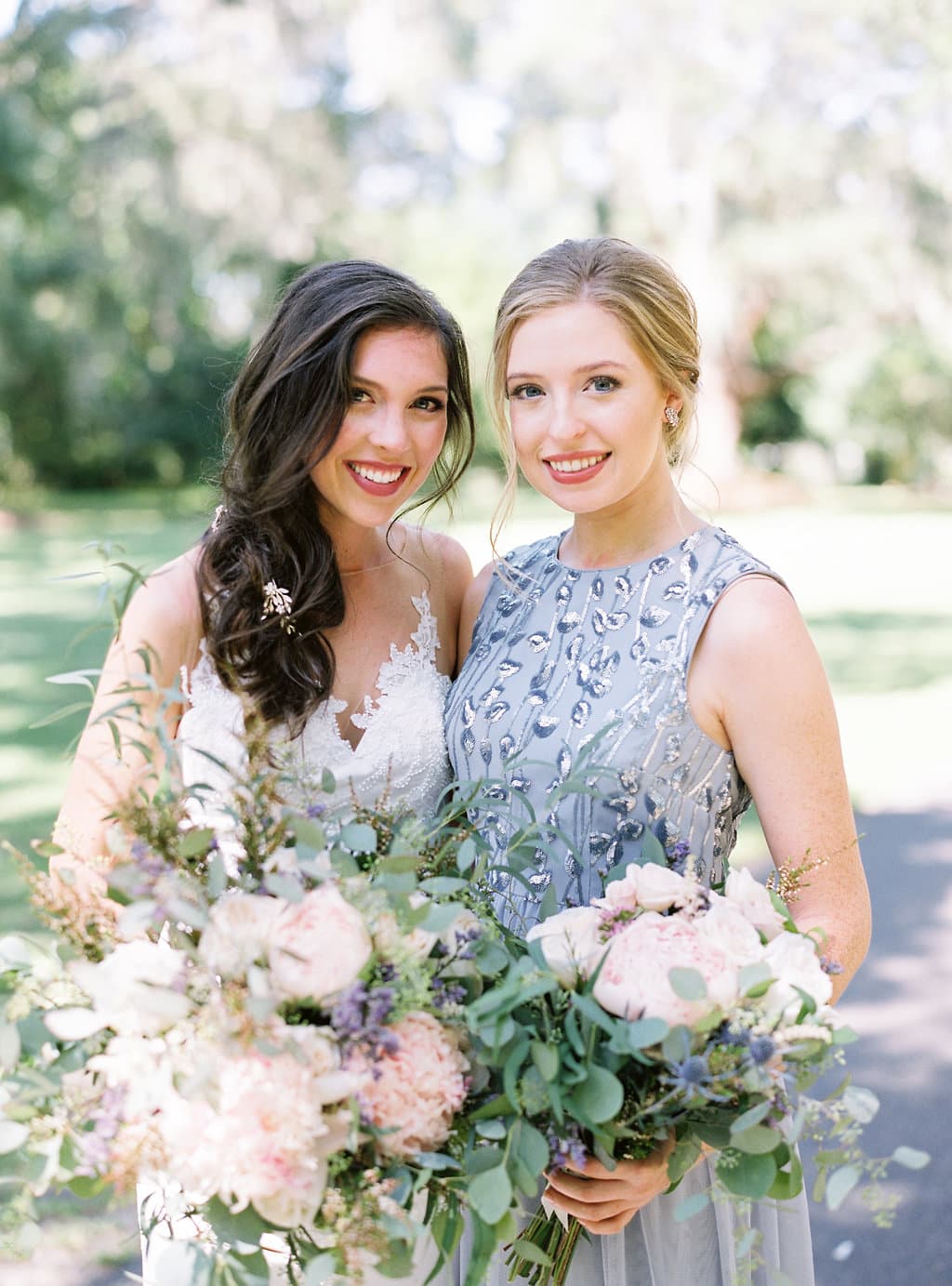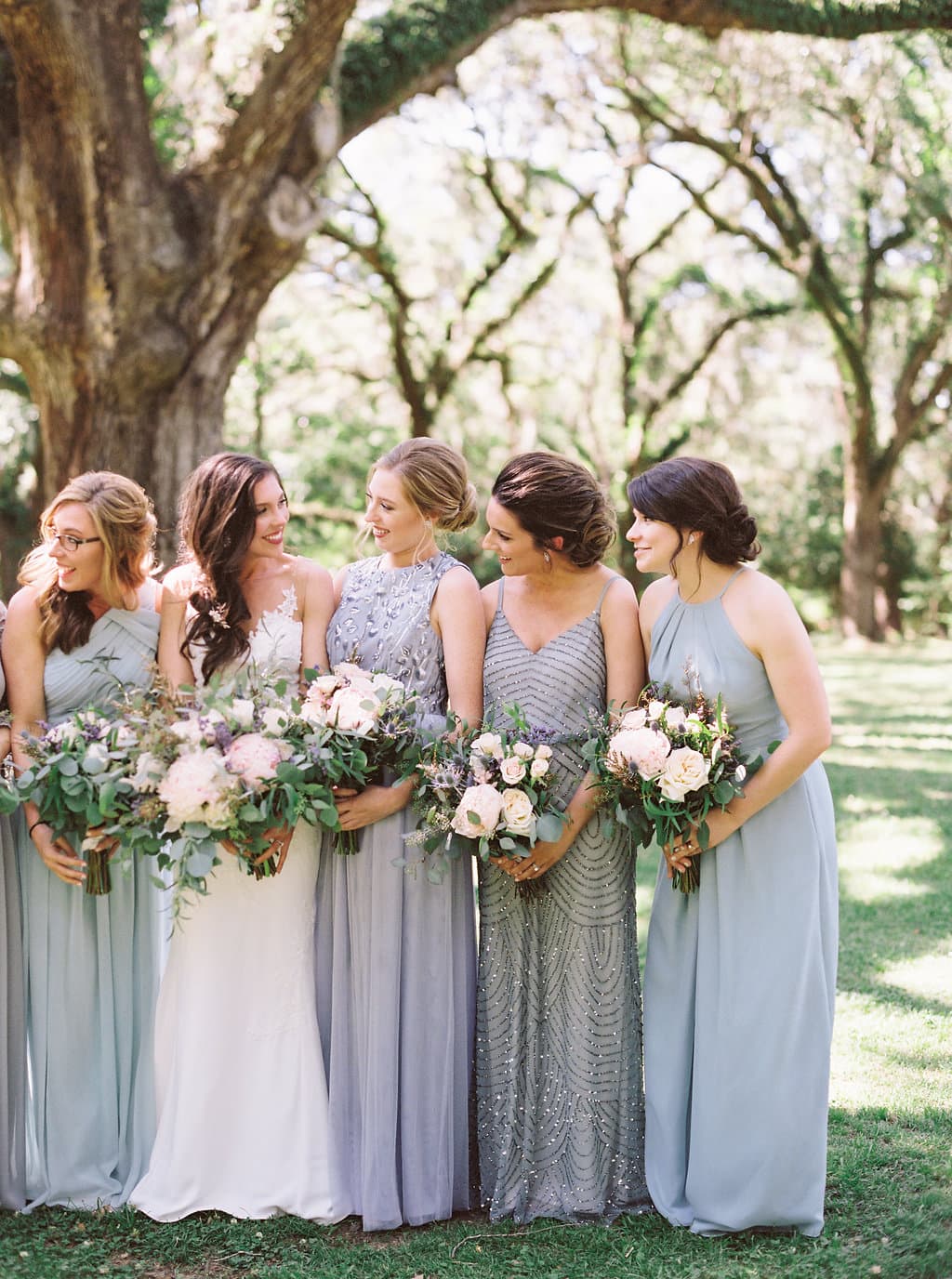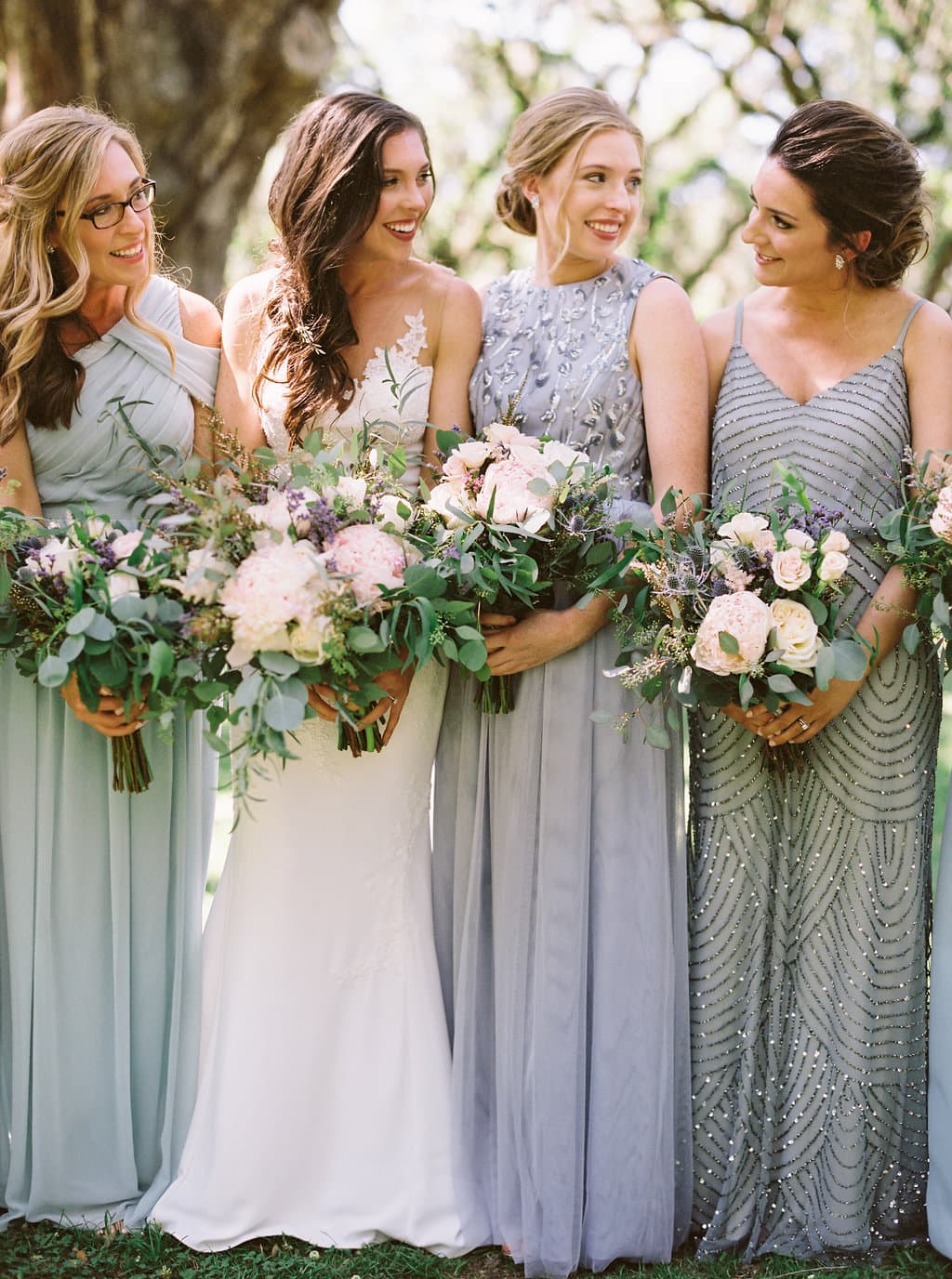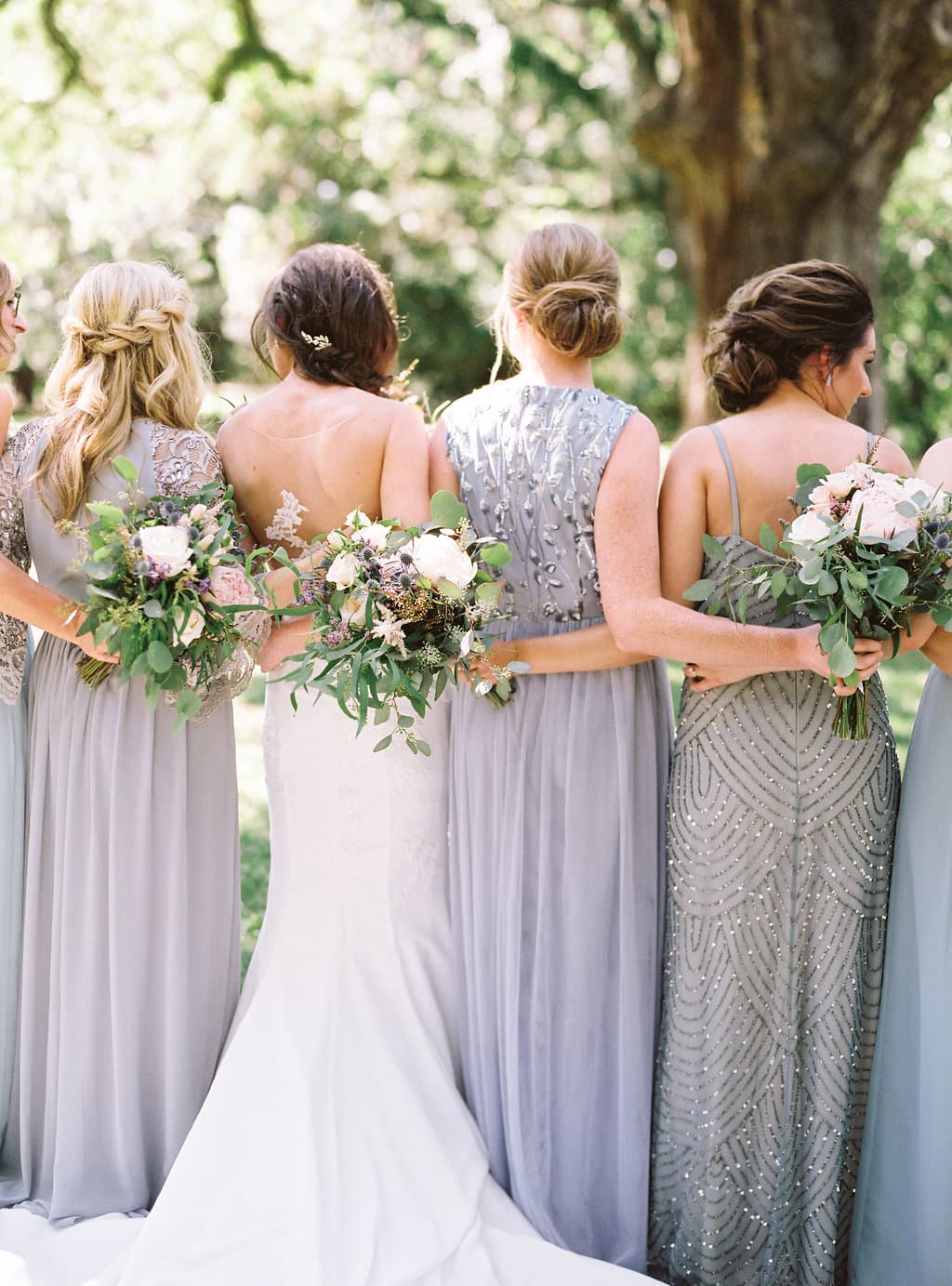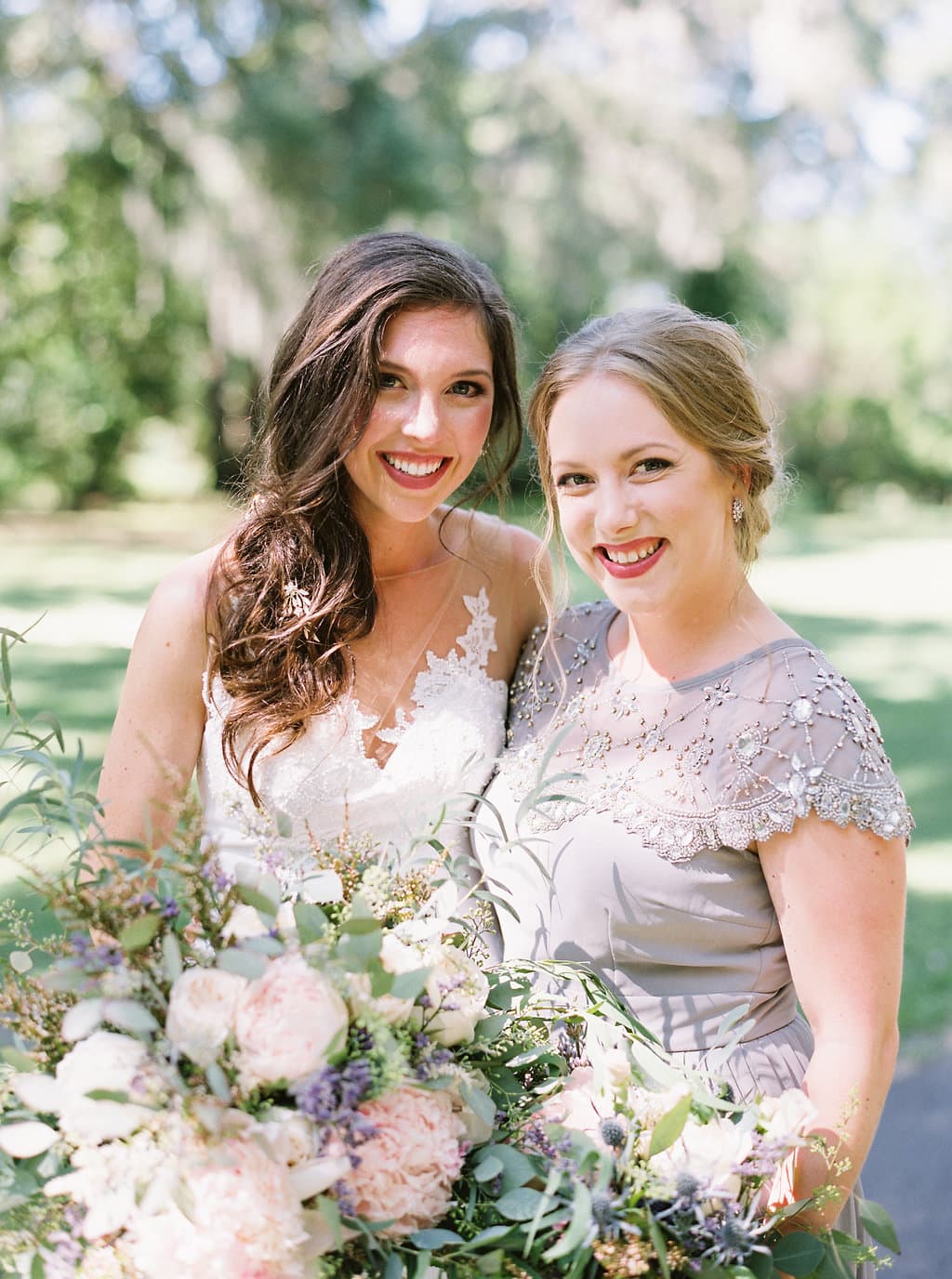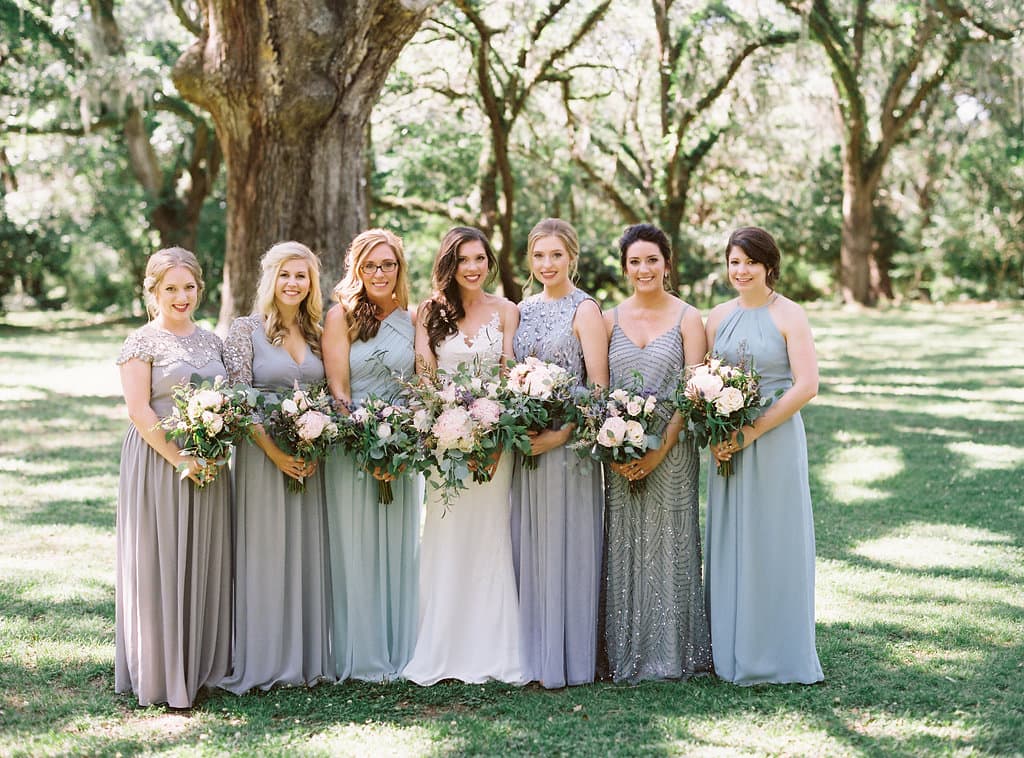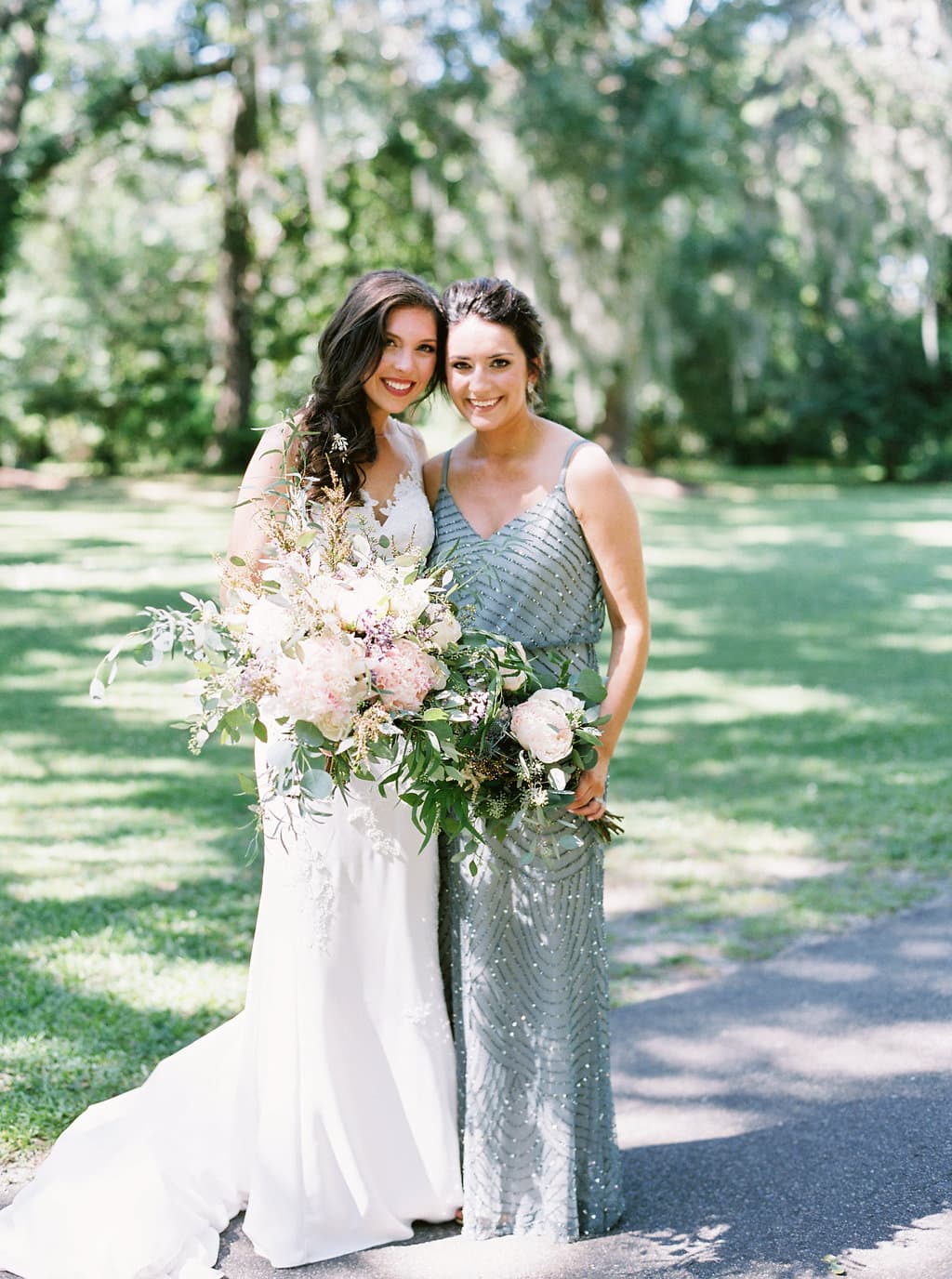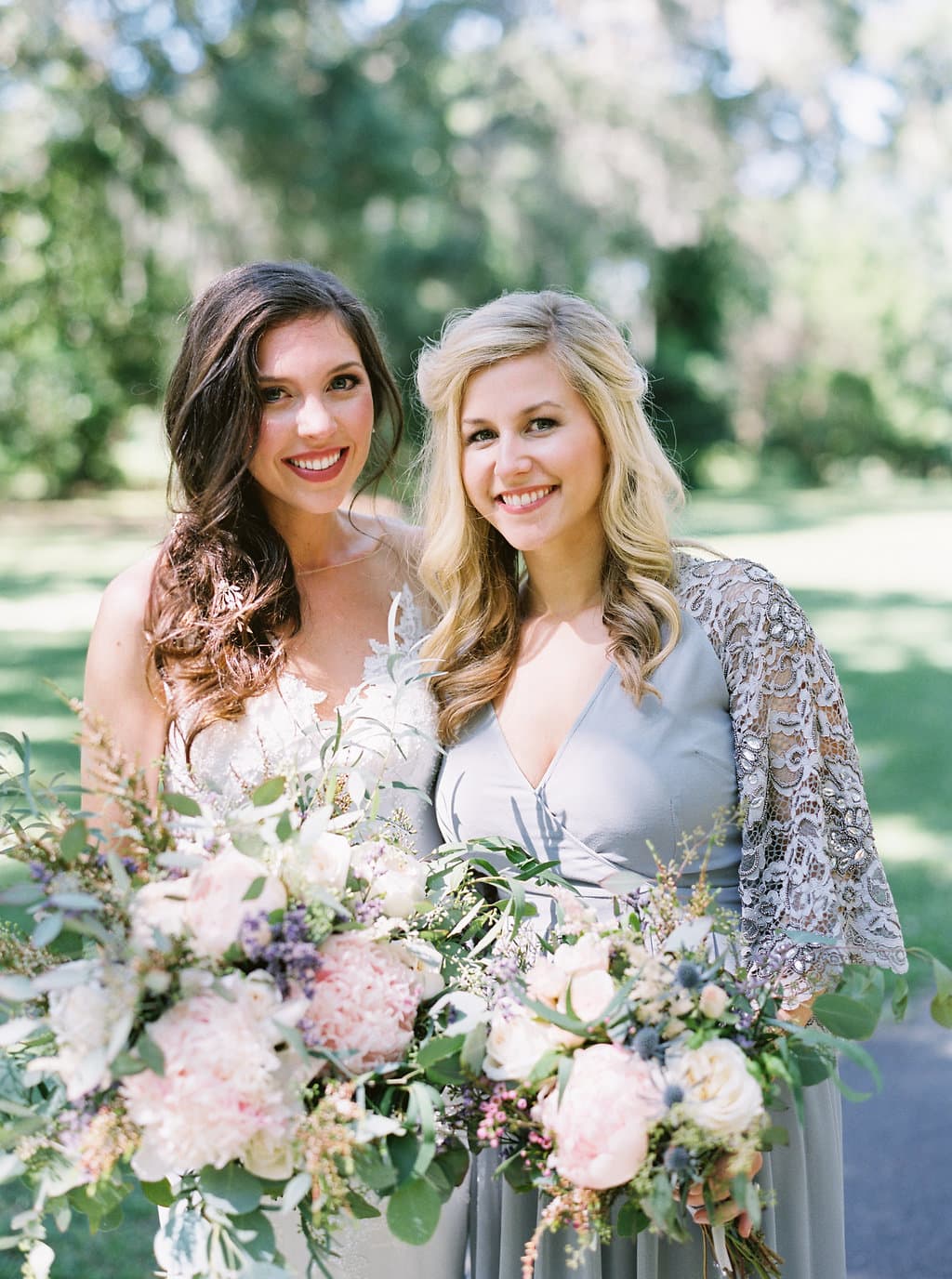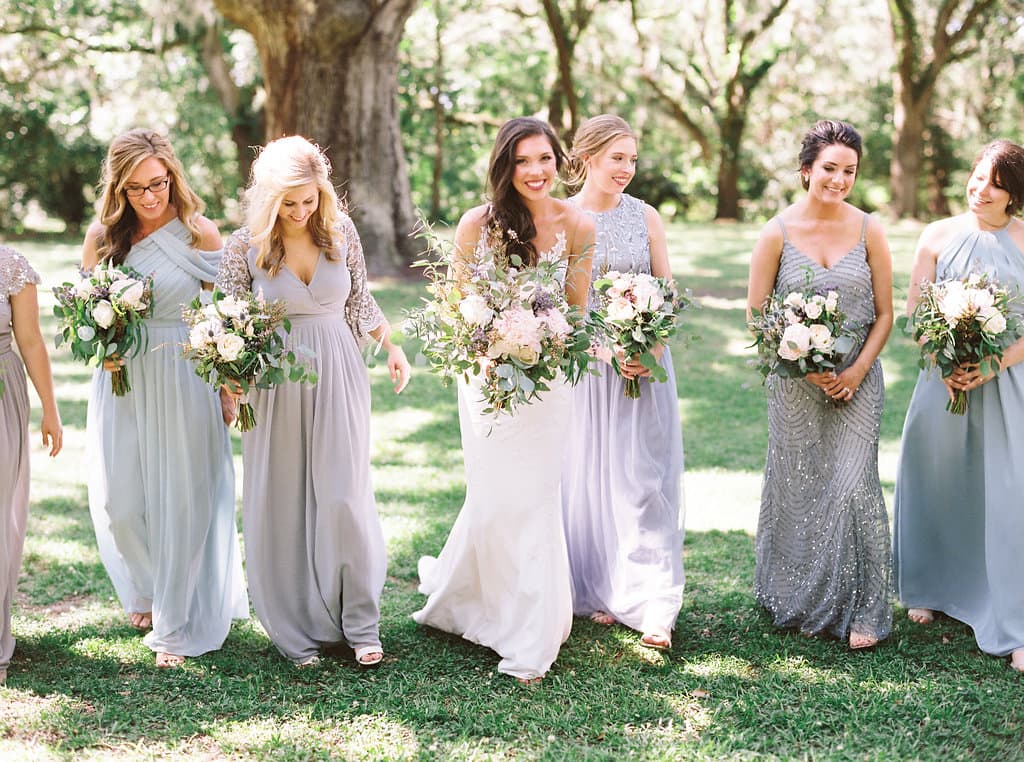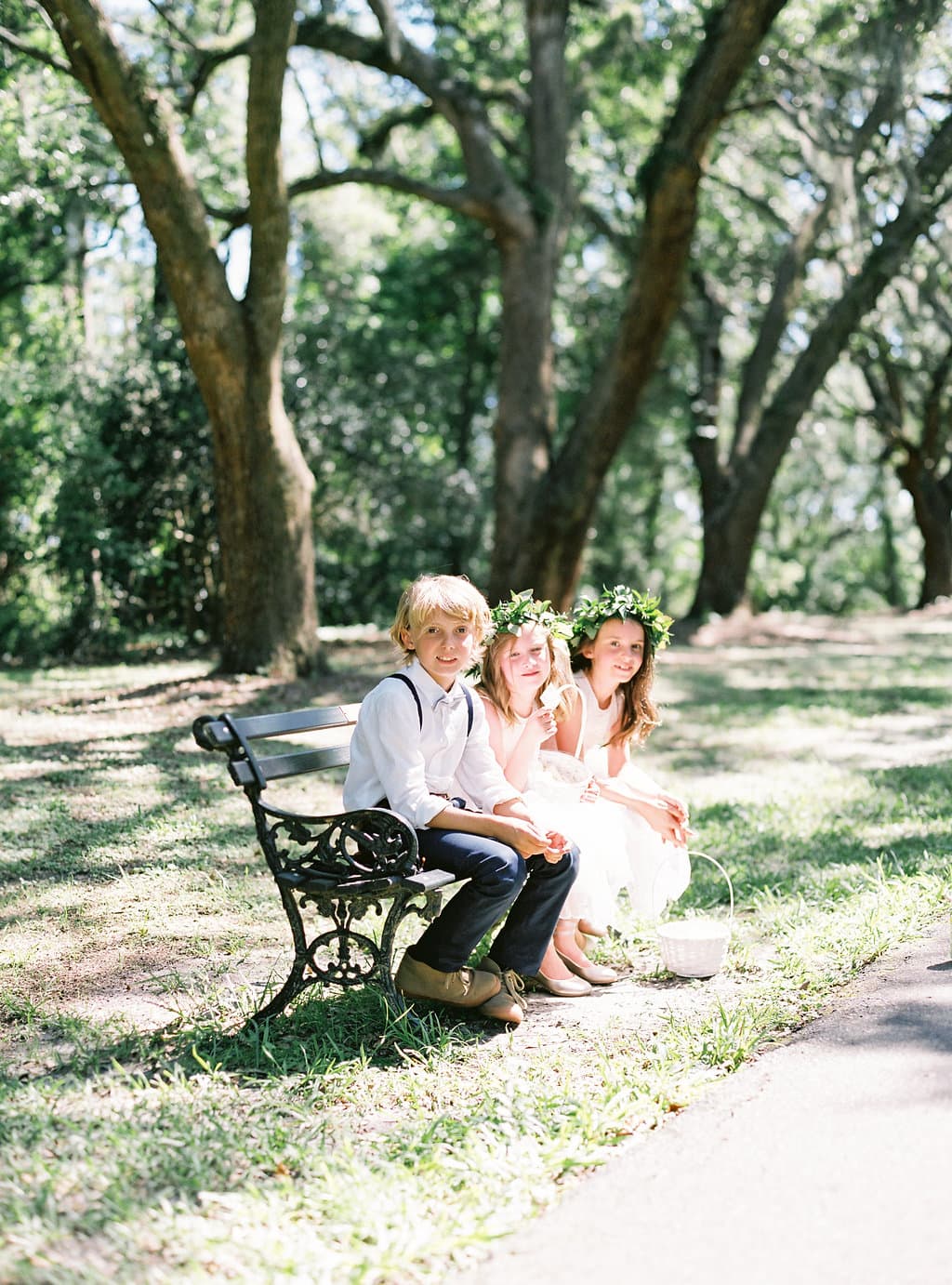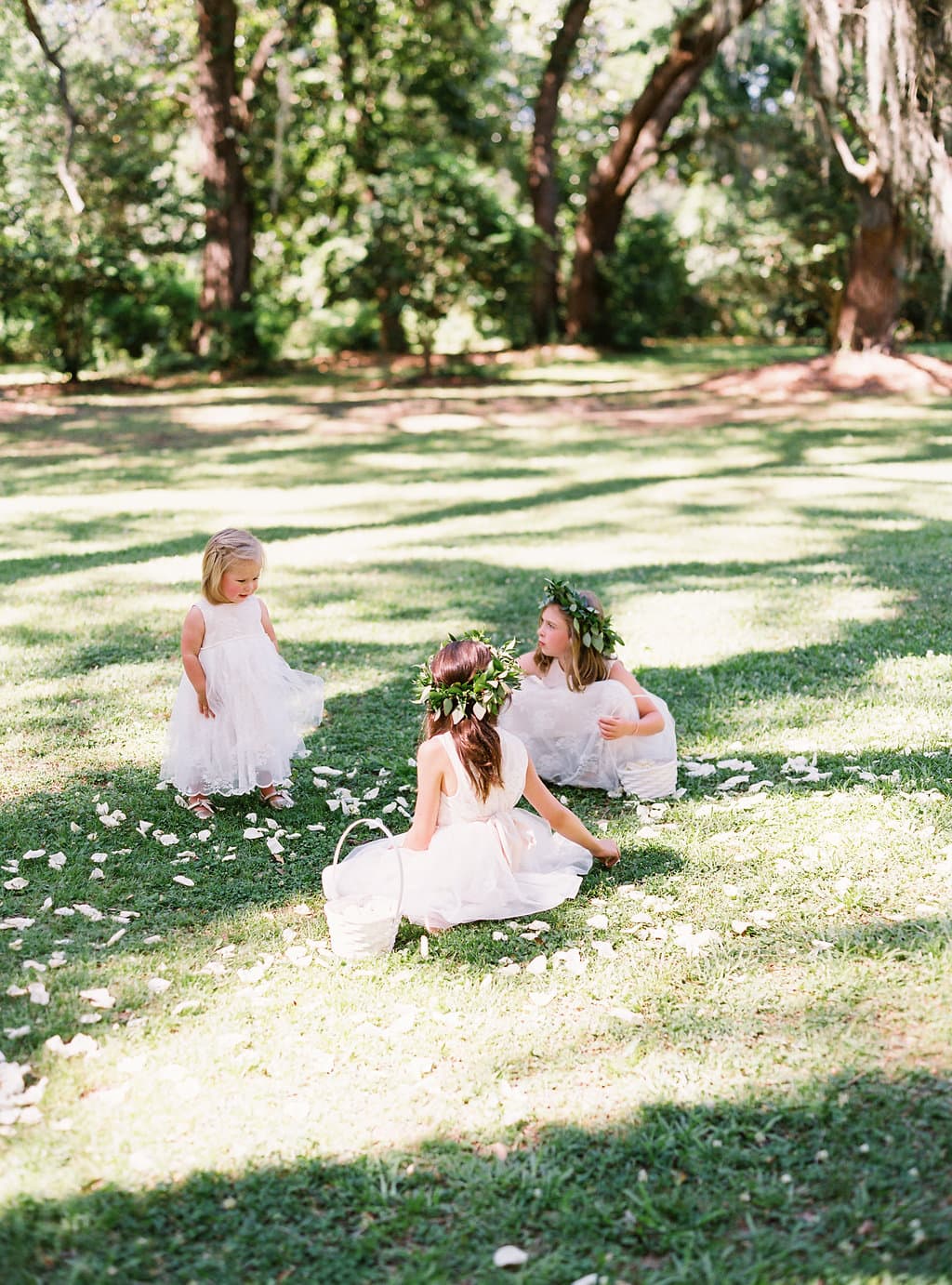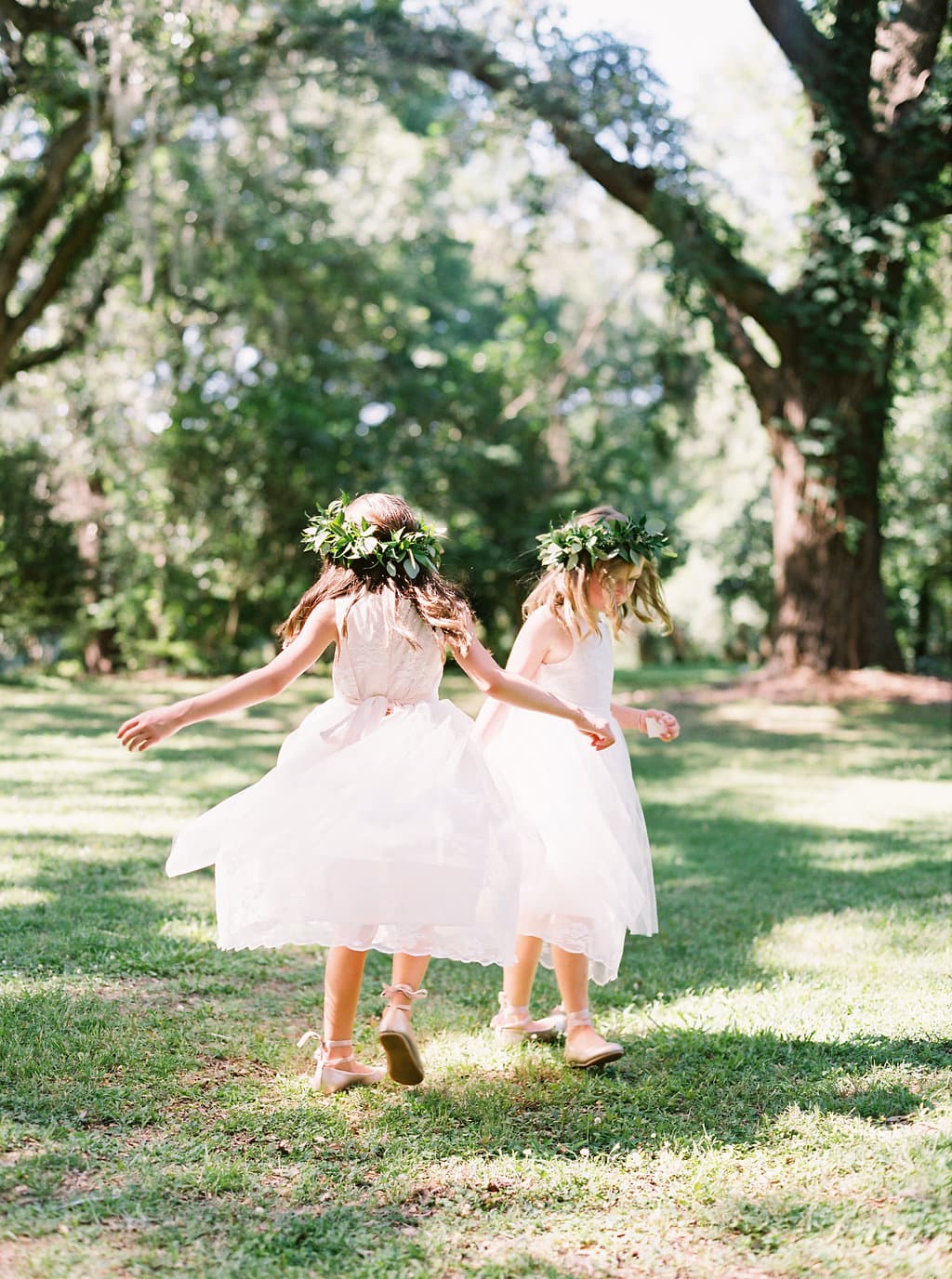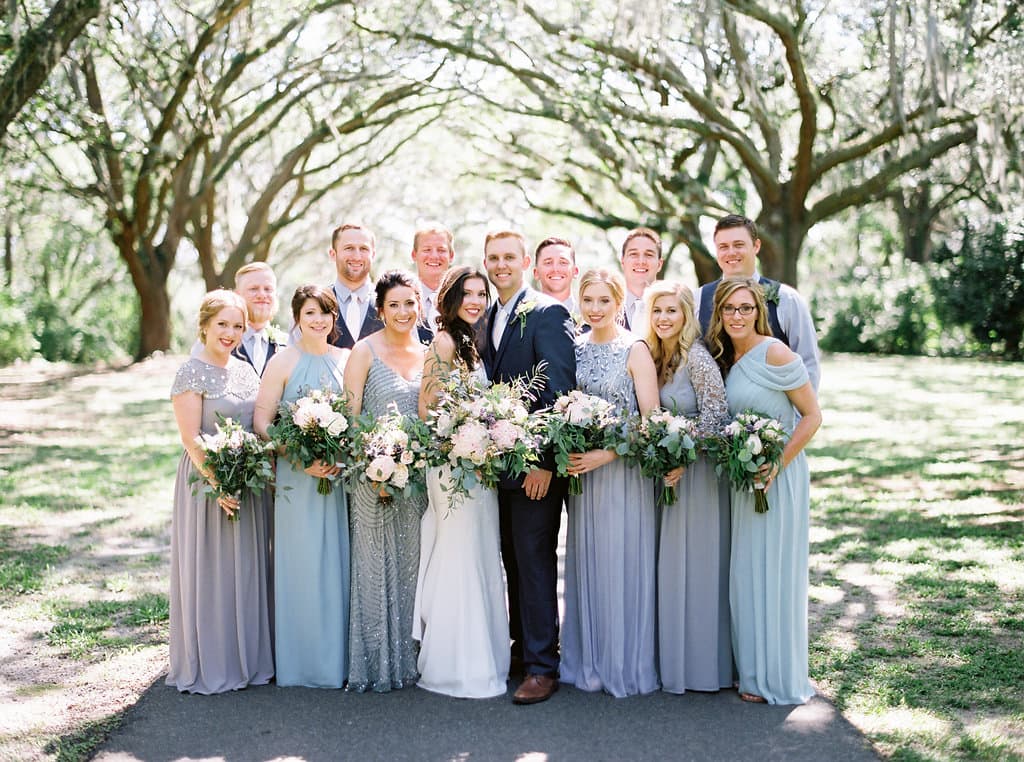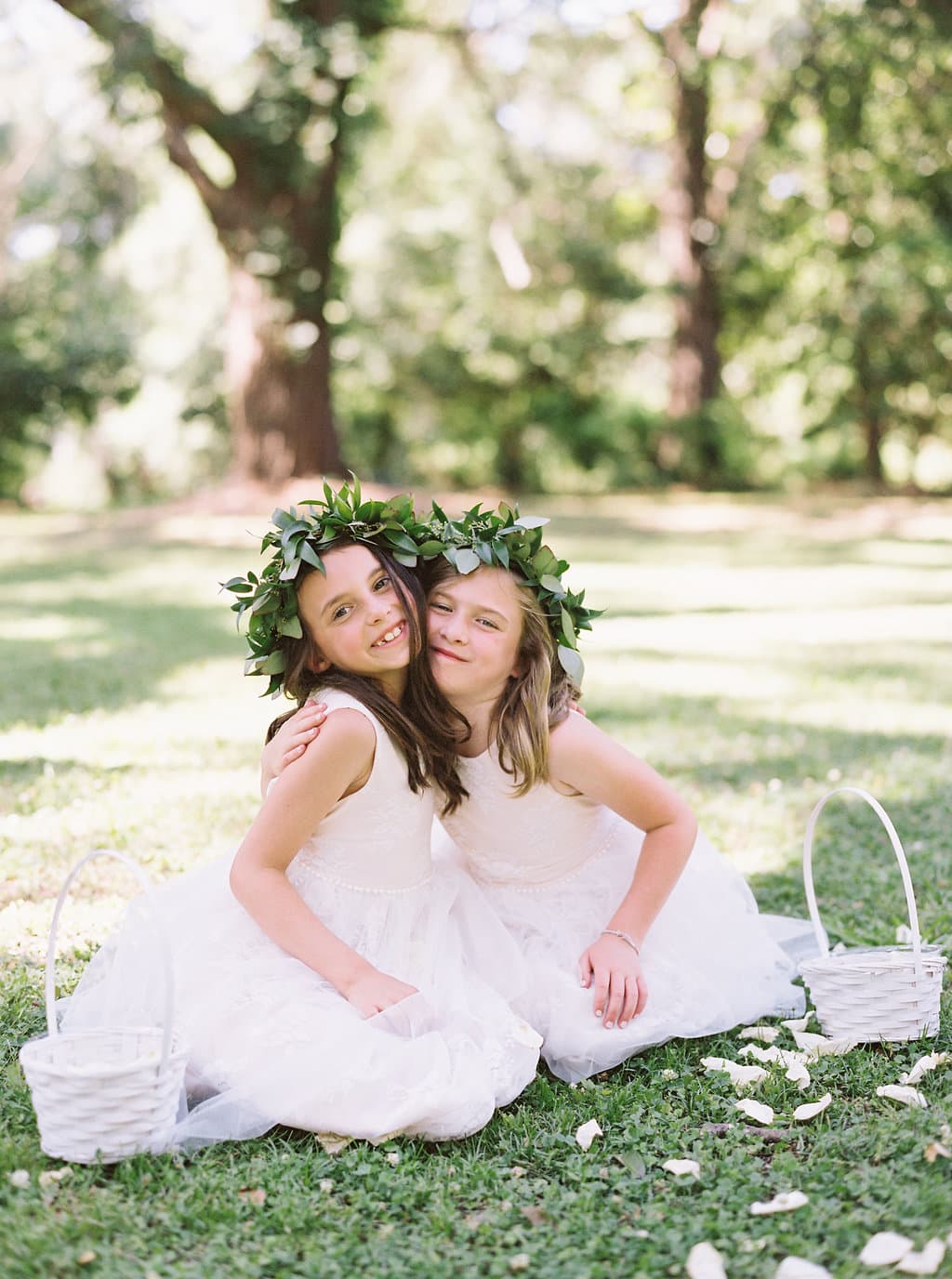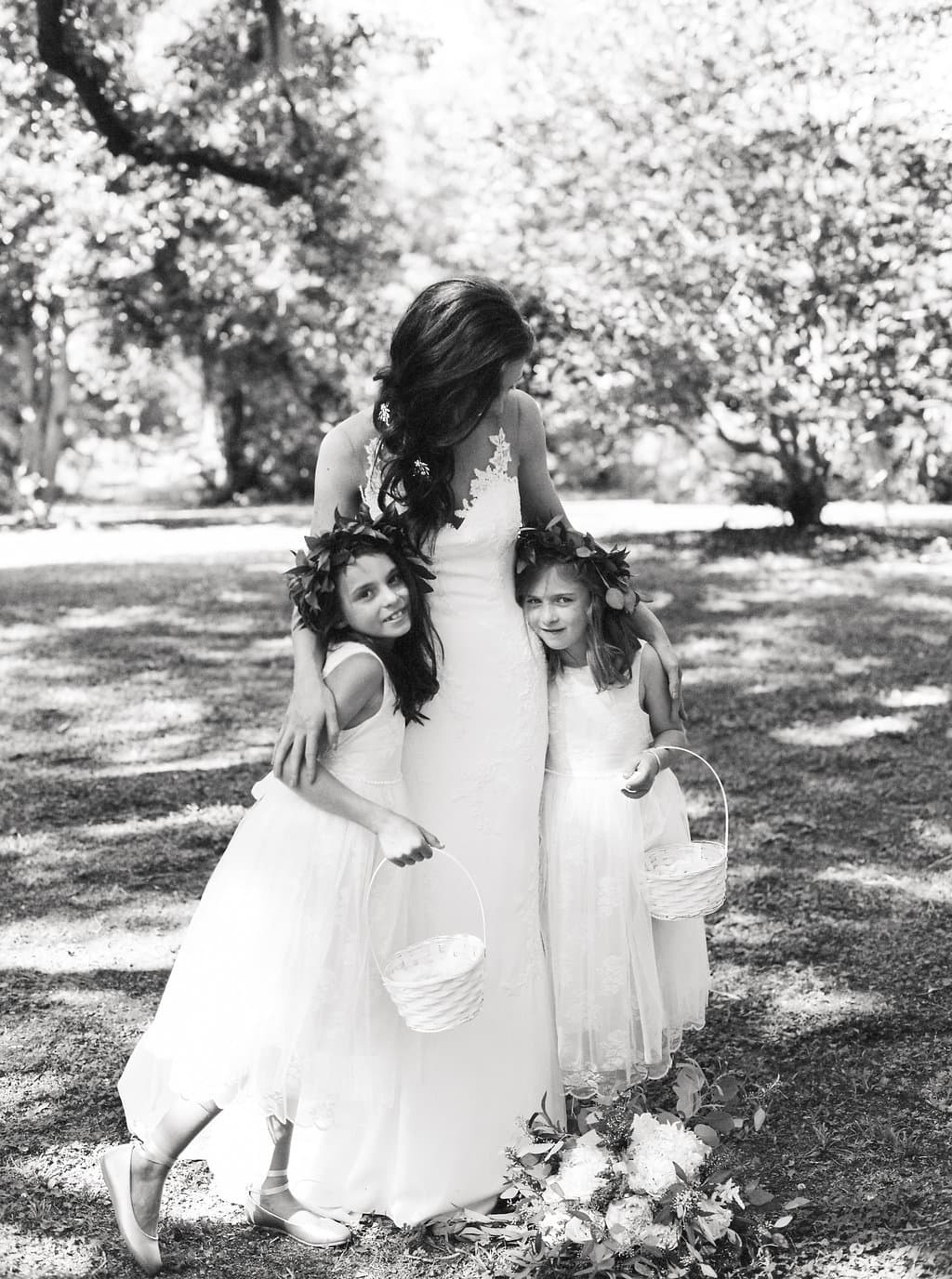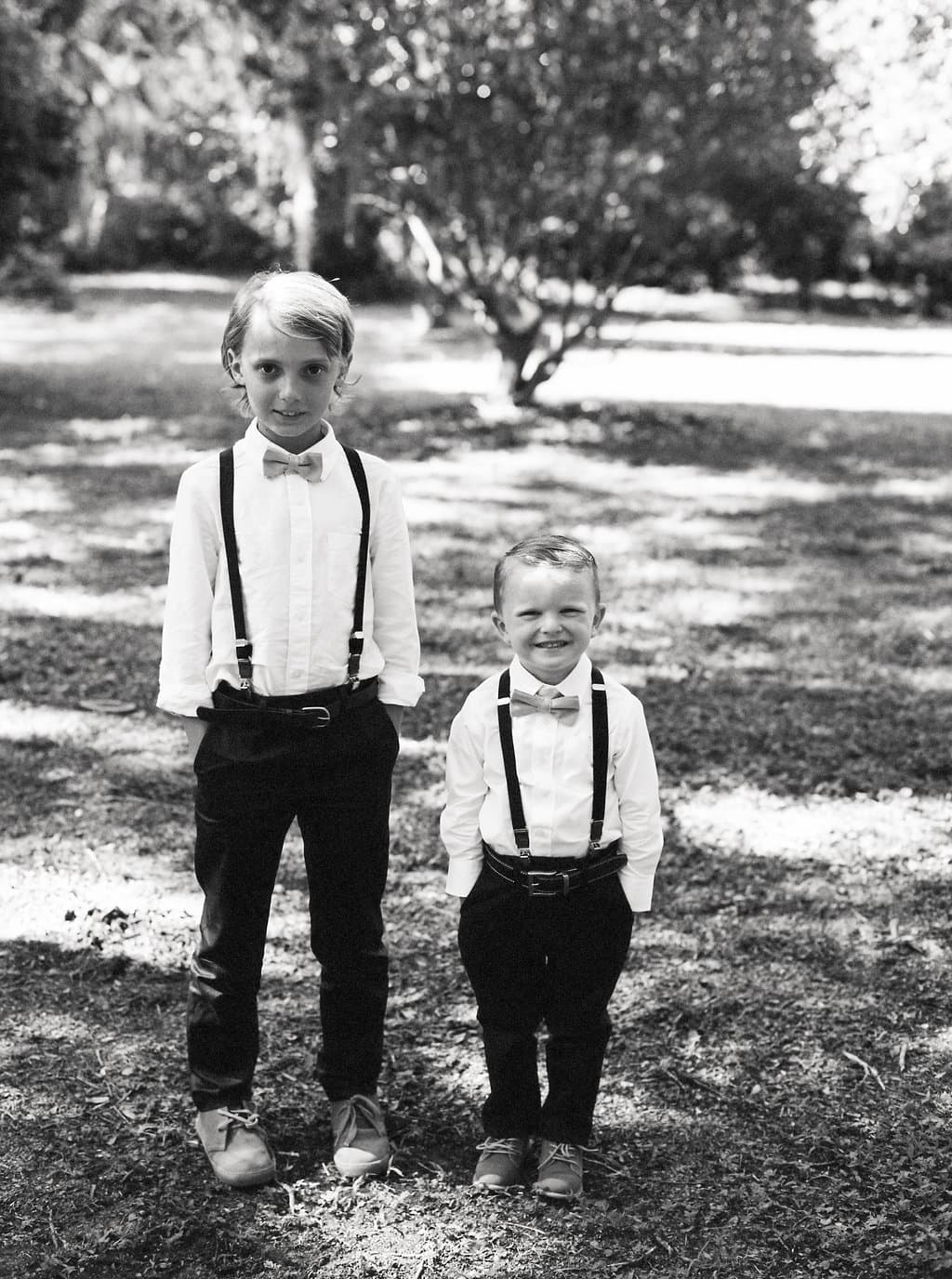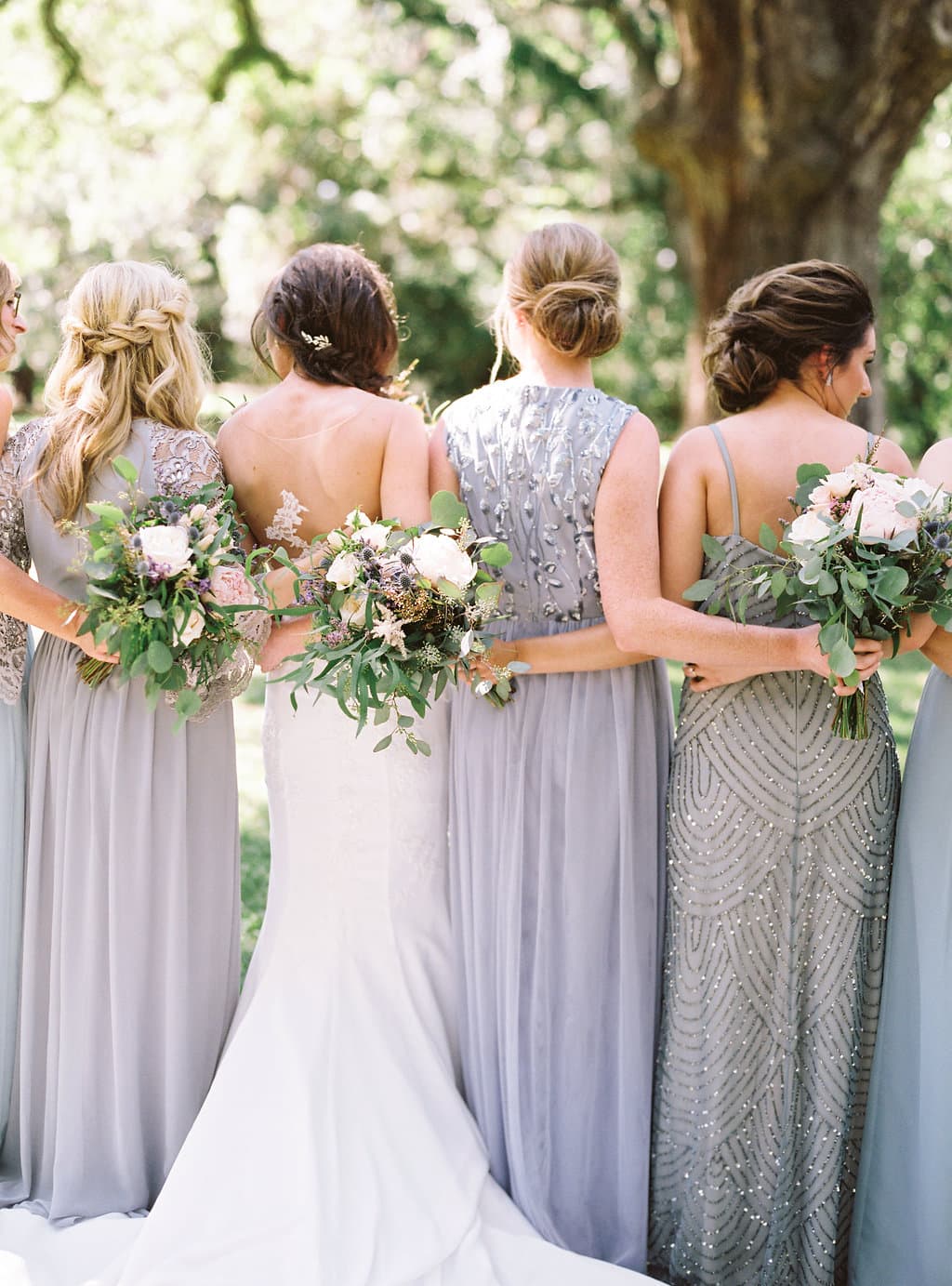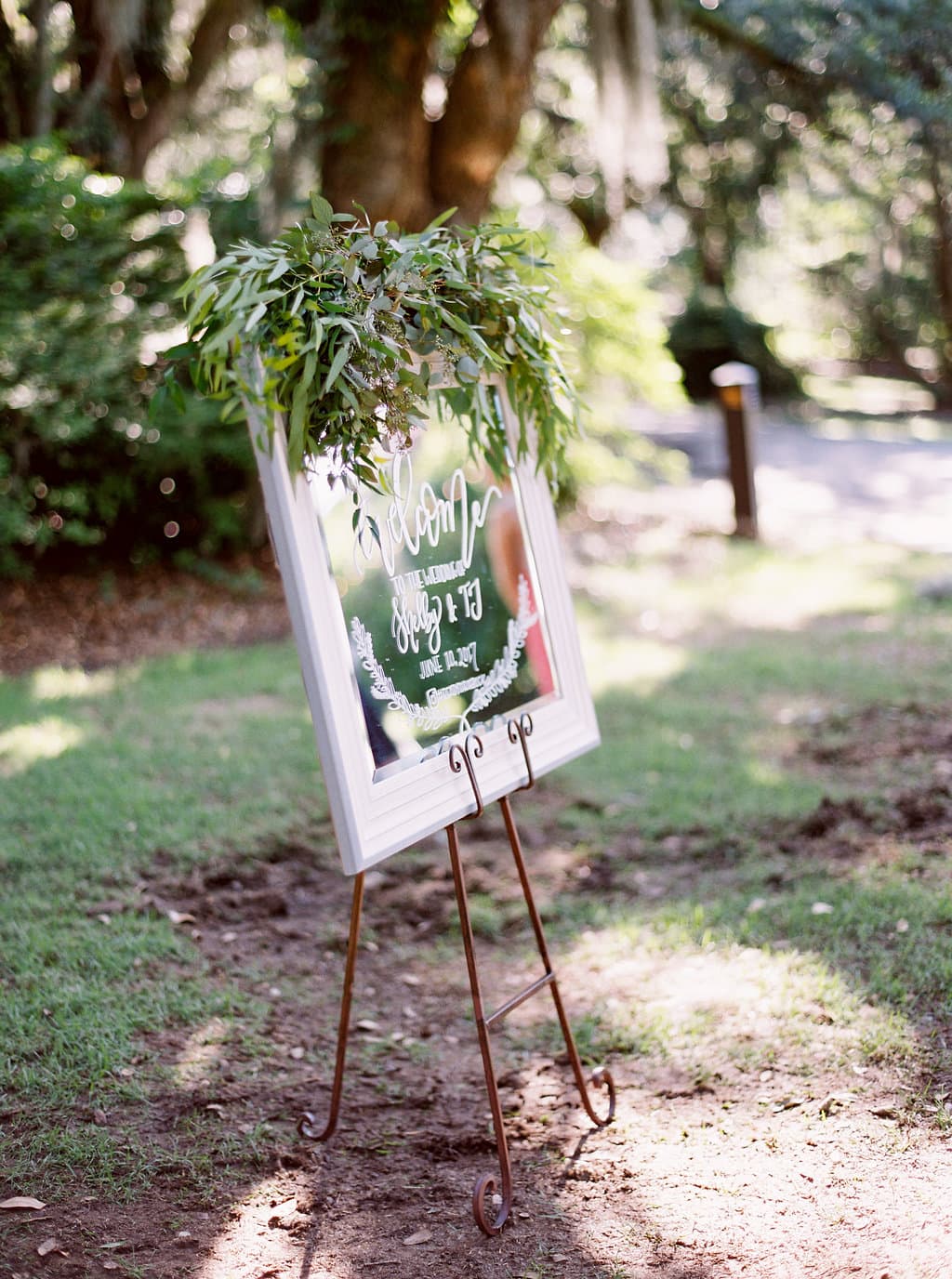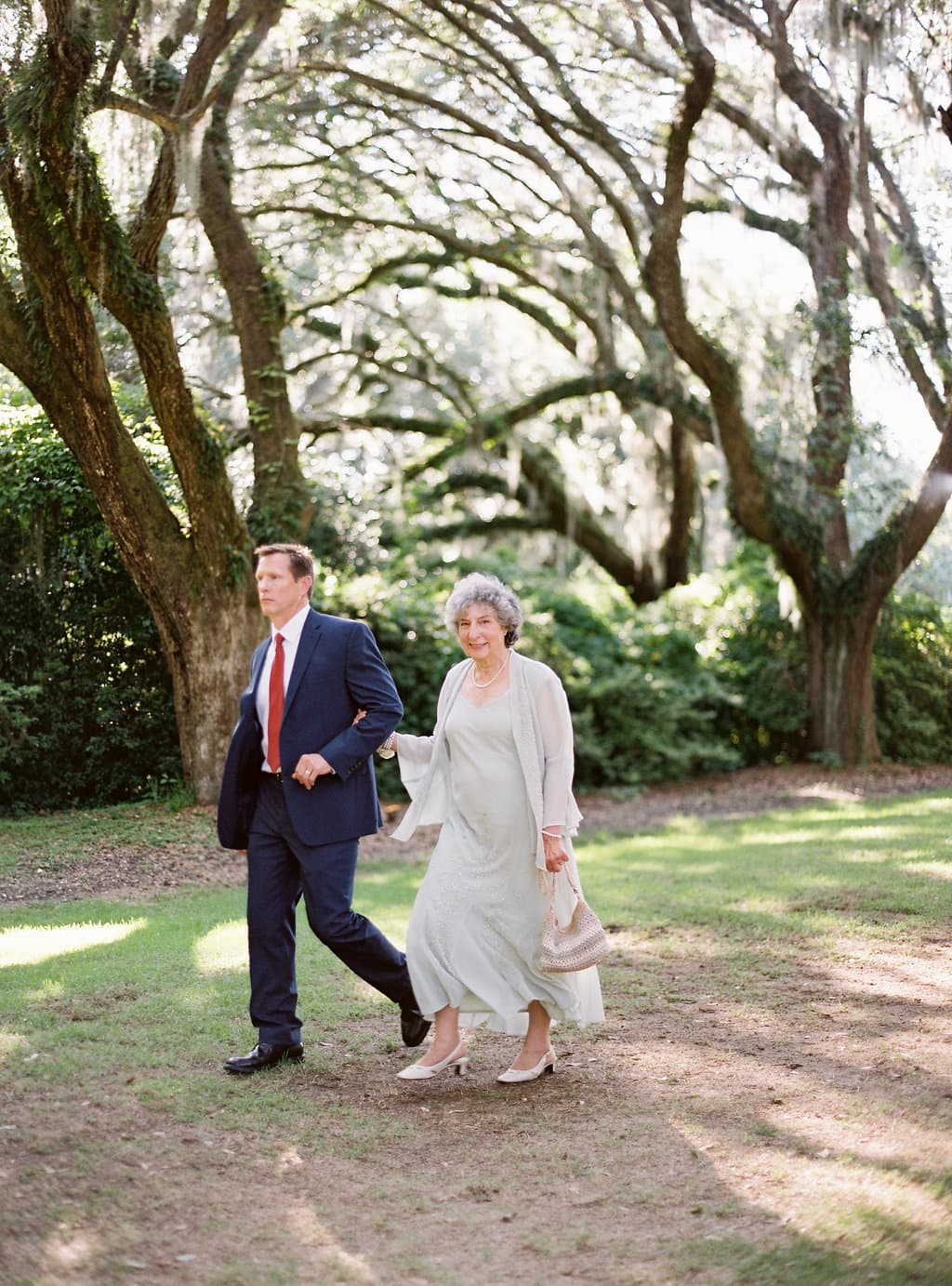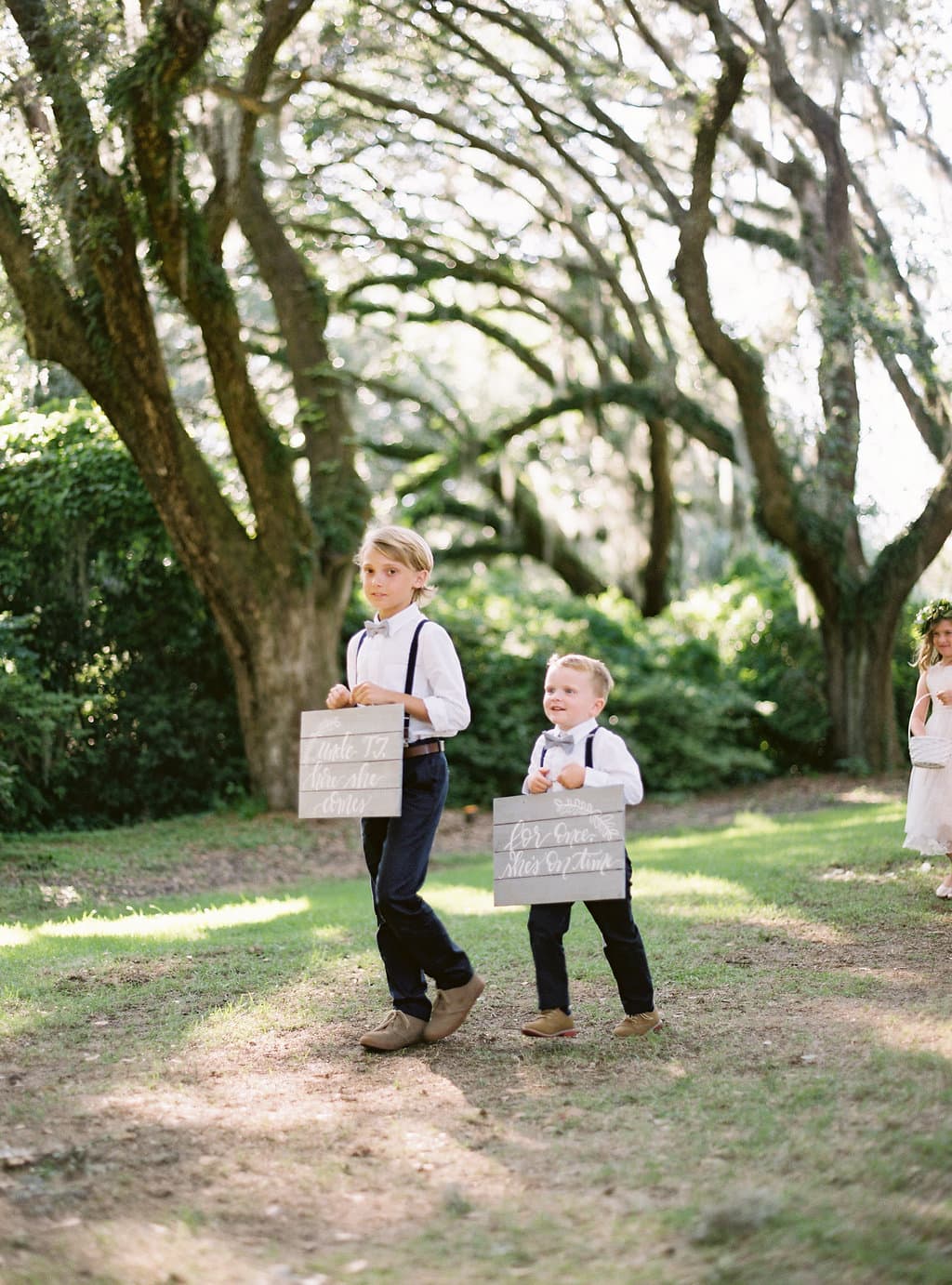 Our ceremony was set in between two long rows of huge oaks trees with long branches that met in the middle to create a canopy of shade for the guests. My bridesmaid, Meredith, who also happens to own Oaks and Gray Paper, designed a beautiful welcome sign for us garnished with greenery that guests were greeted with upon arrival. TJ and I chose a few of our most special songs for the ceremony (we especially love Ed Sheeran's 'Tenerife Sea') and we made sure the ceremony was very "us", complete with a couple of our favorite readings and our handwritten vows we had written to each other in the days leading up to the wedding. Our guests enjoyed cocktails and appetizers after the ceremony overlooking a beautiful lagoon. TJ and I had to somehow include our dog in the wedding so we named our signature cocktail after her… which was a huge hit! We had our guests take mini polaroid photos to insert into our guestbook but ultimately it ended up with our flower girls and ring bearers going around and taking photos of everyone… it was adorable!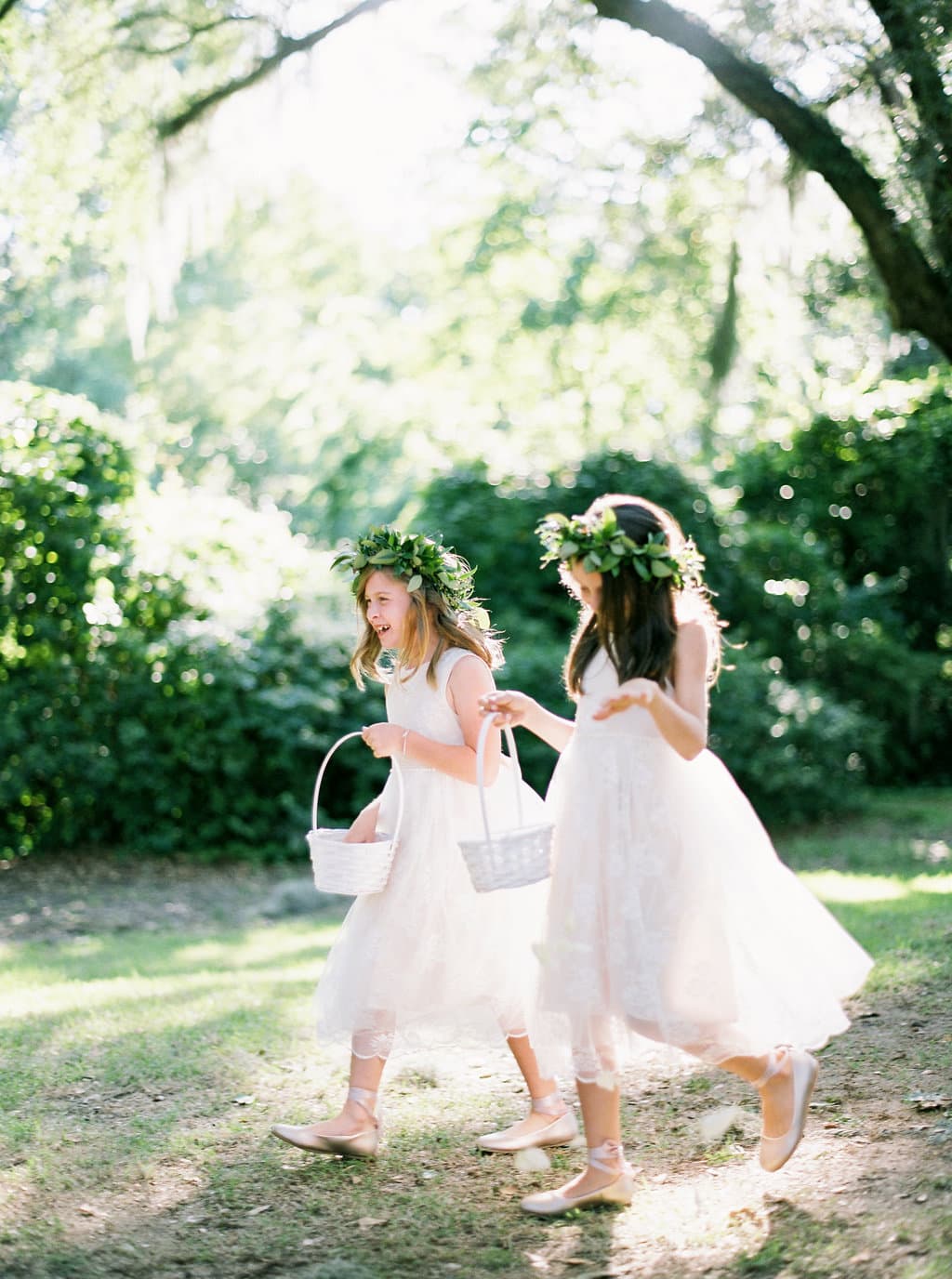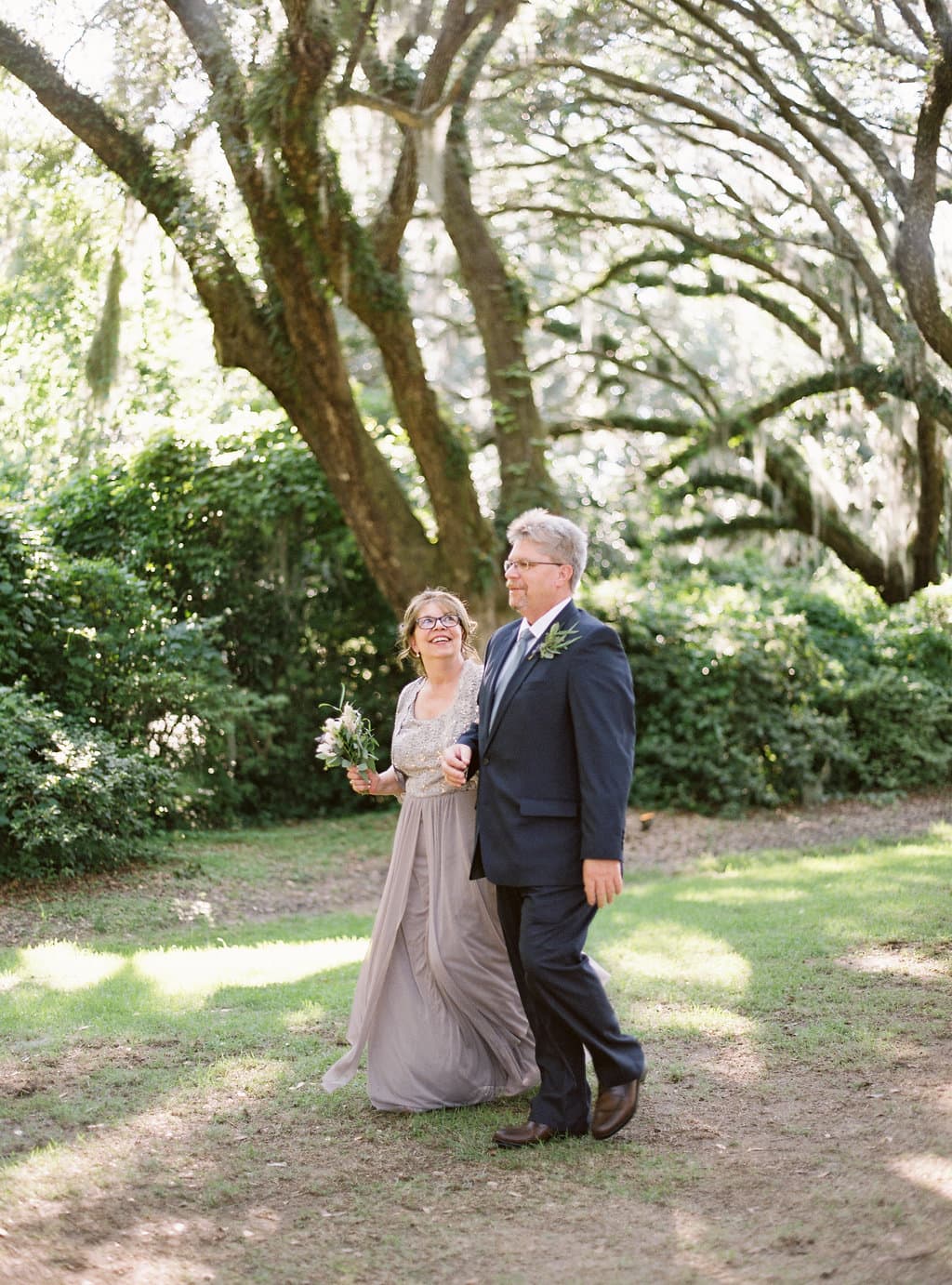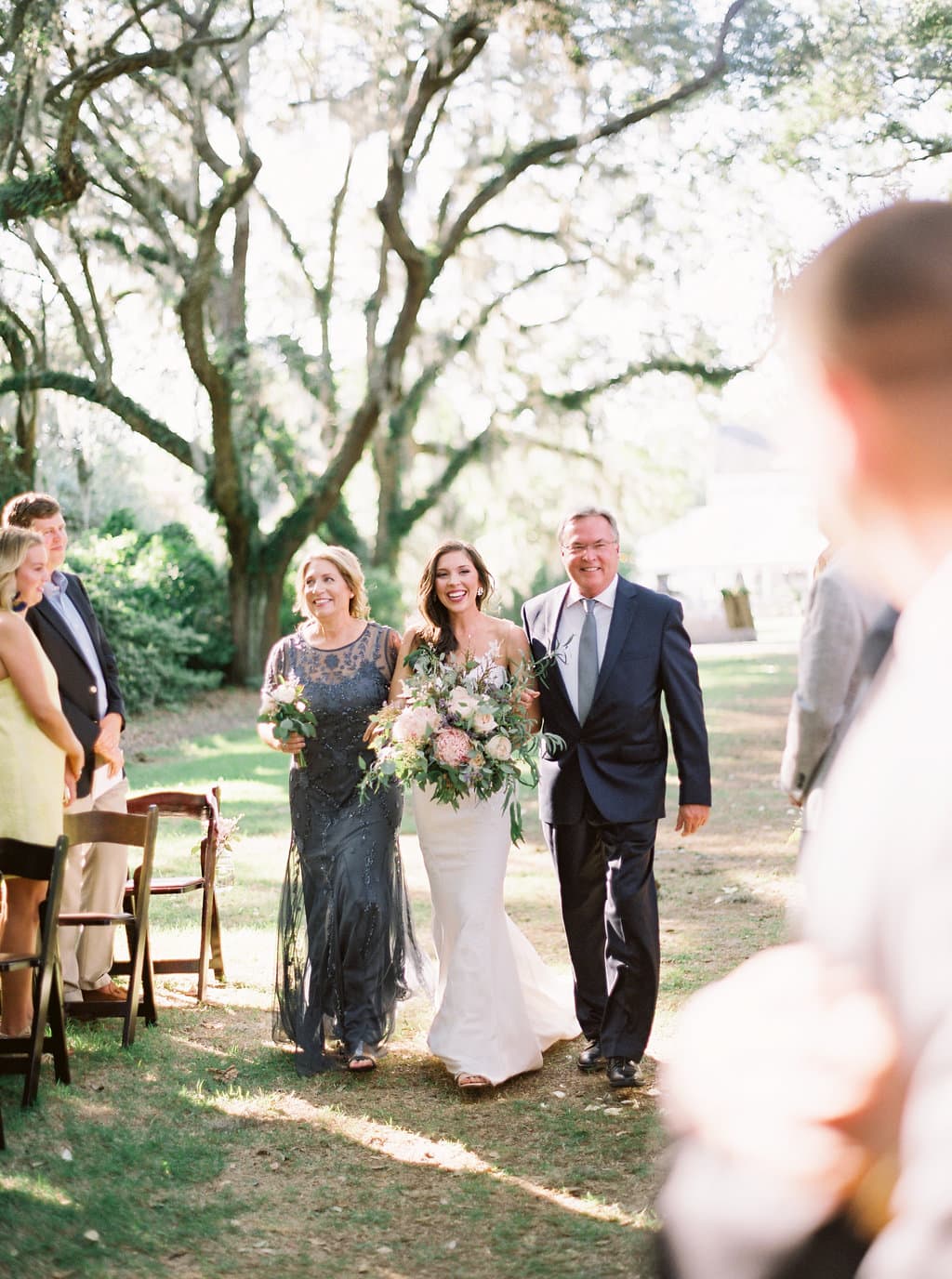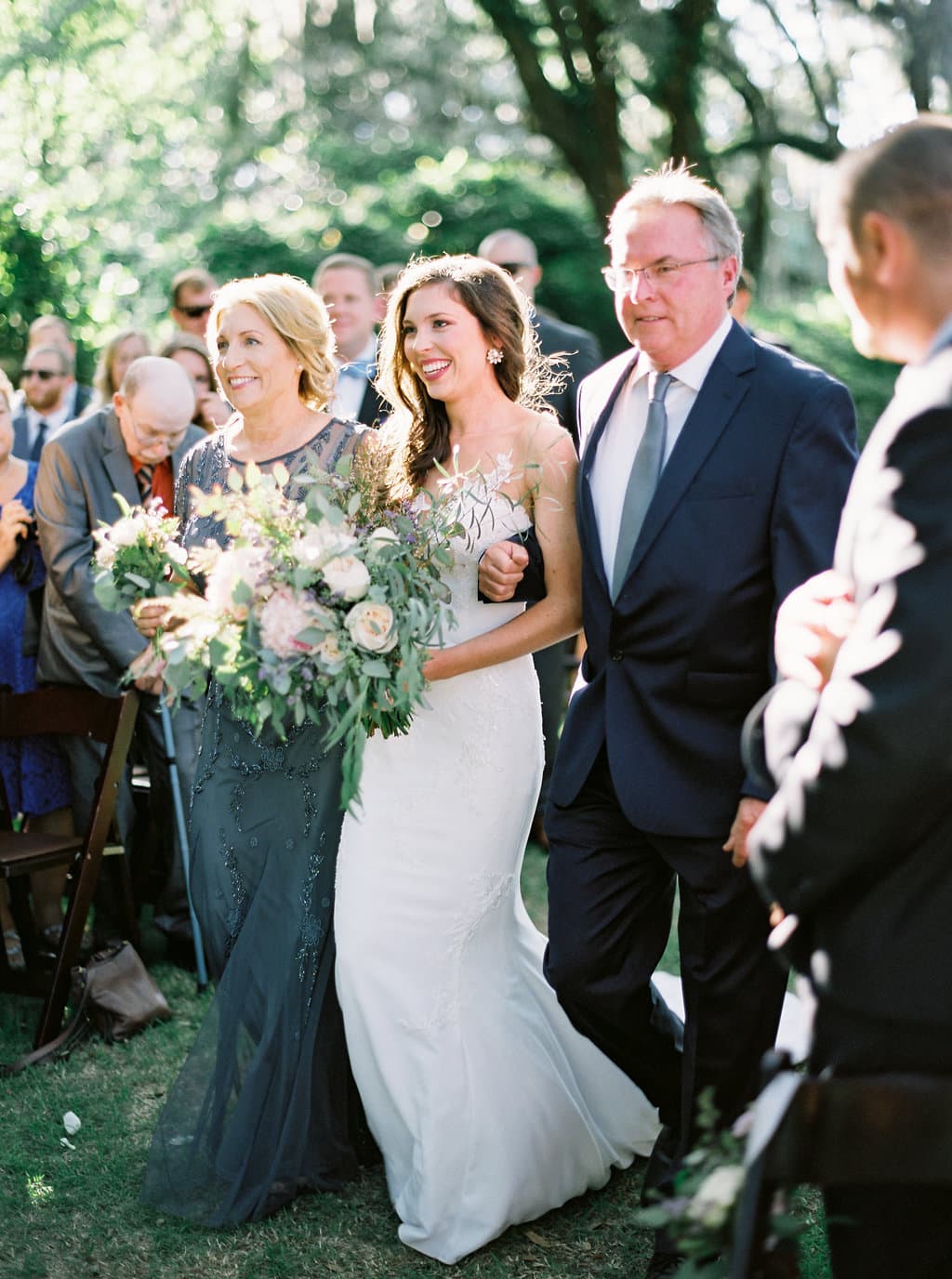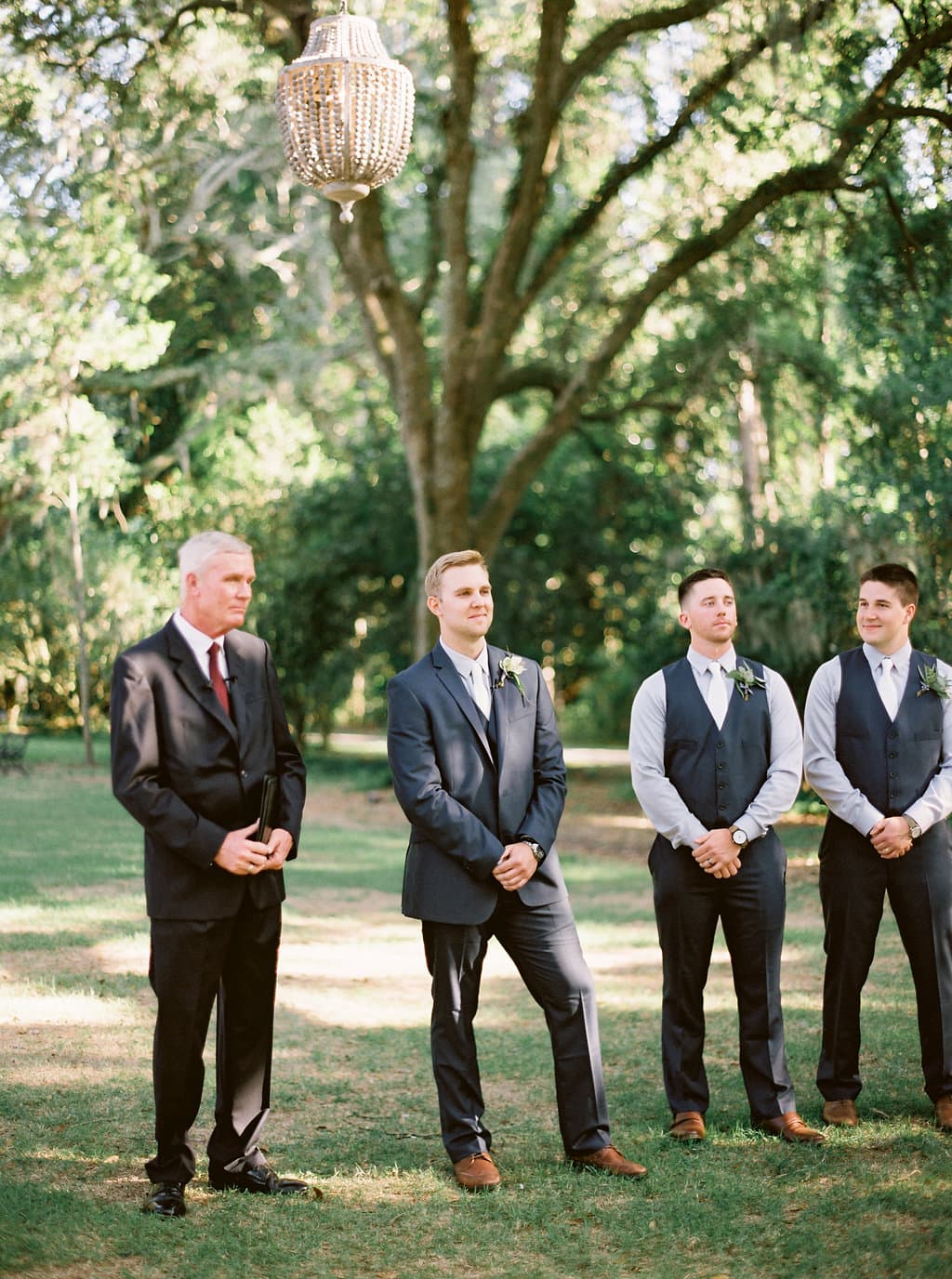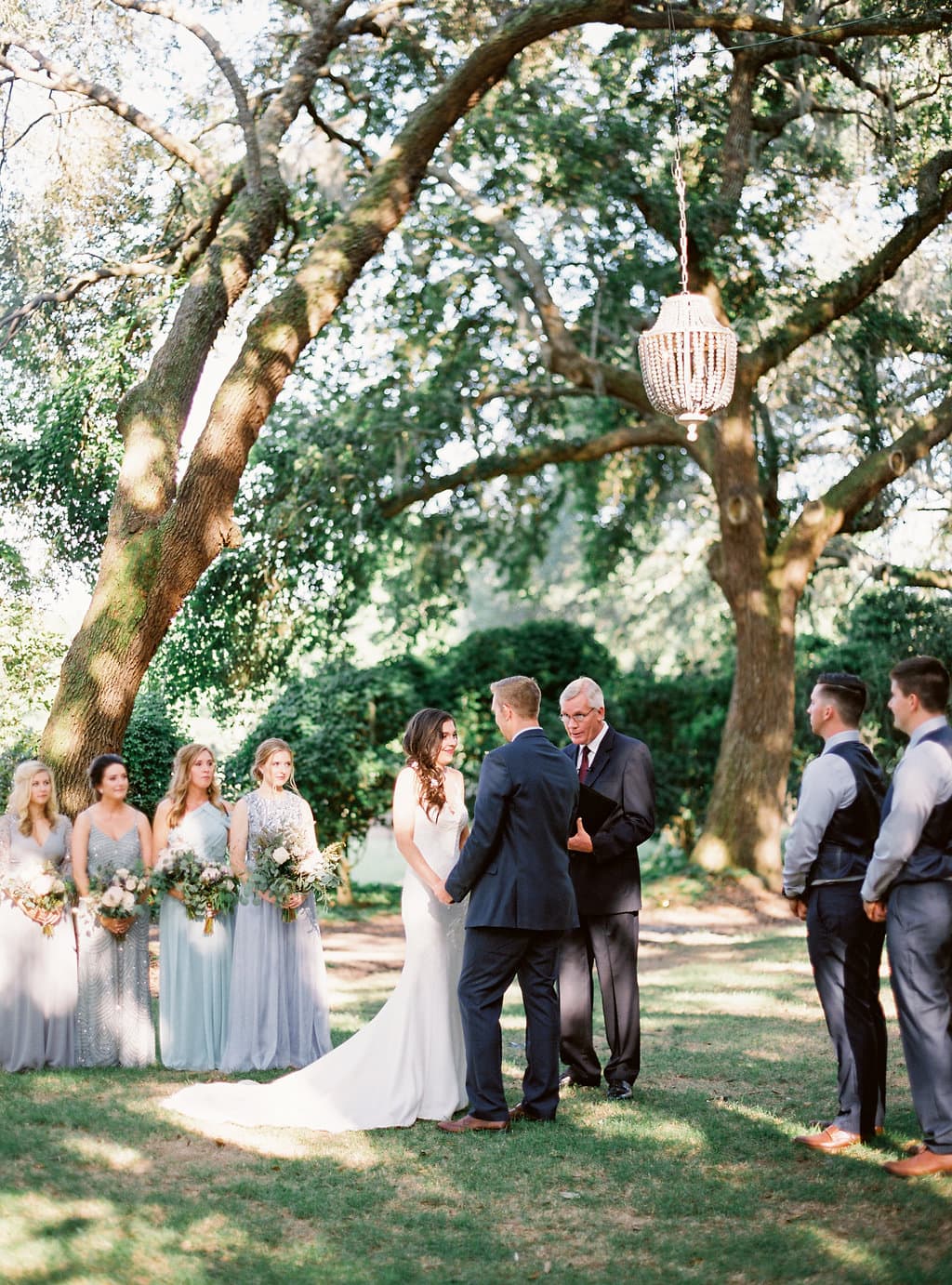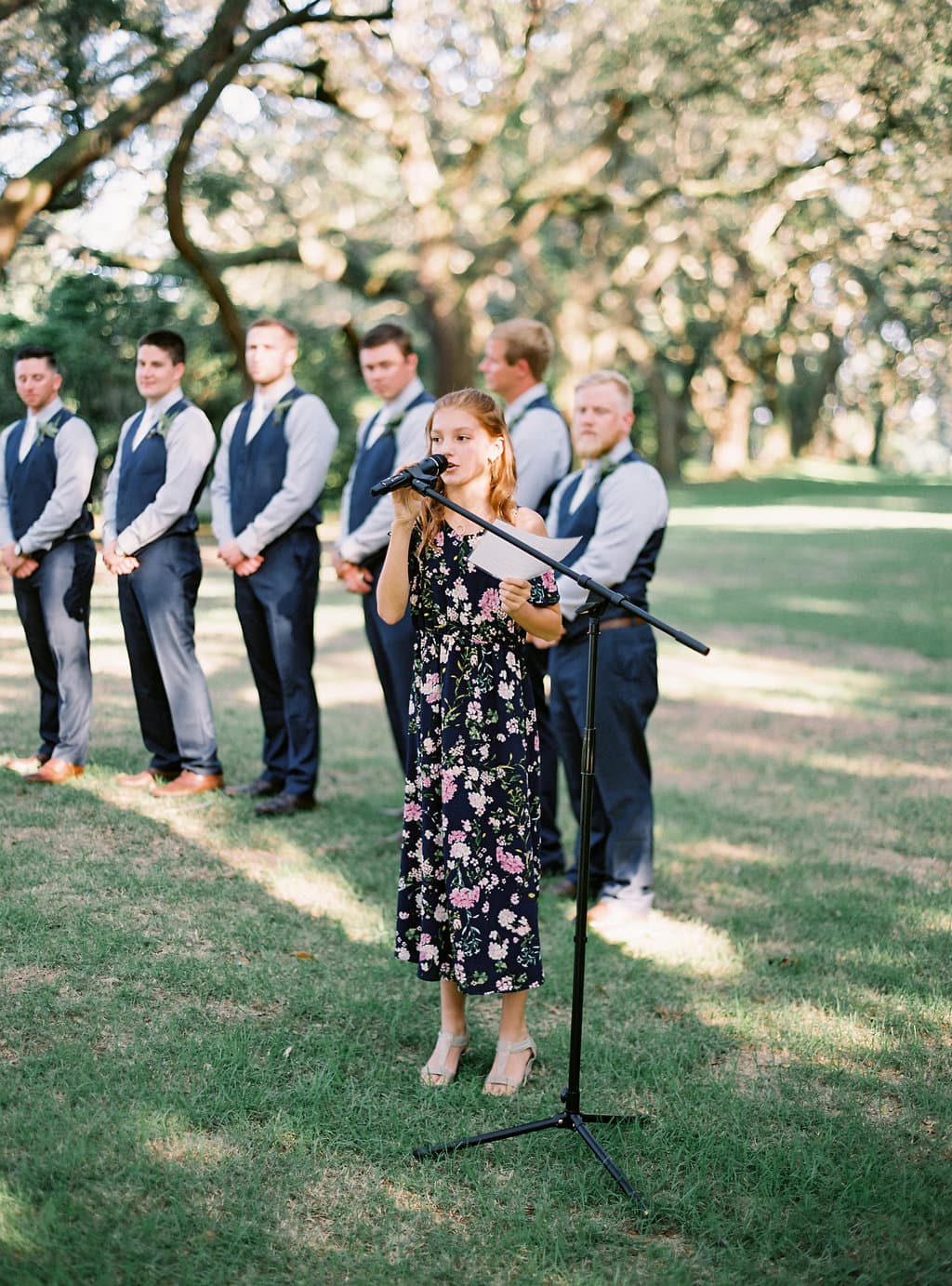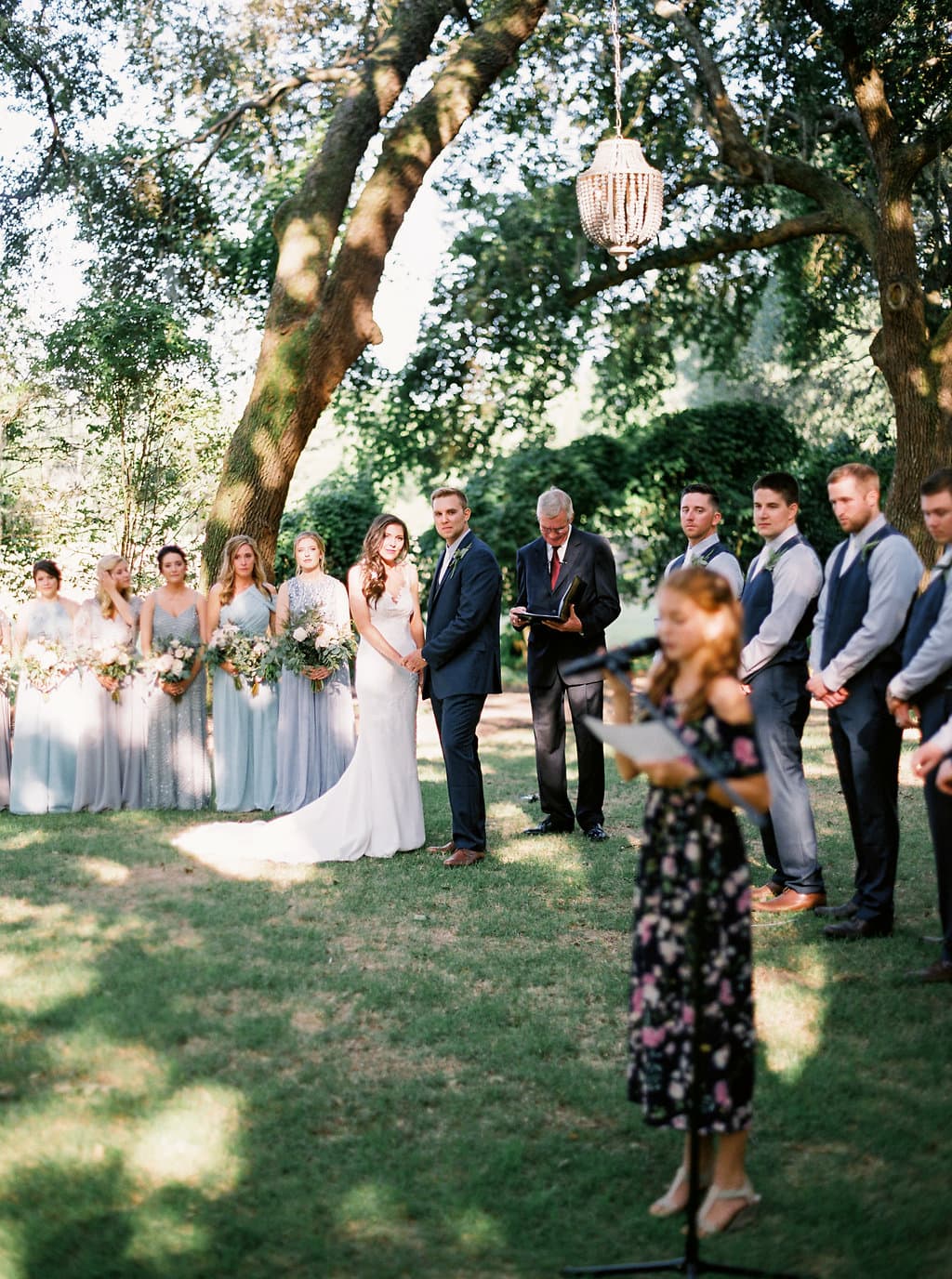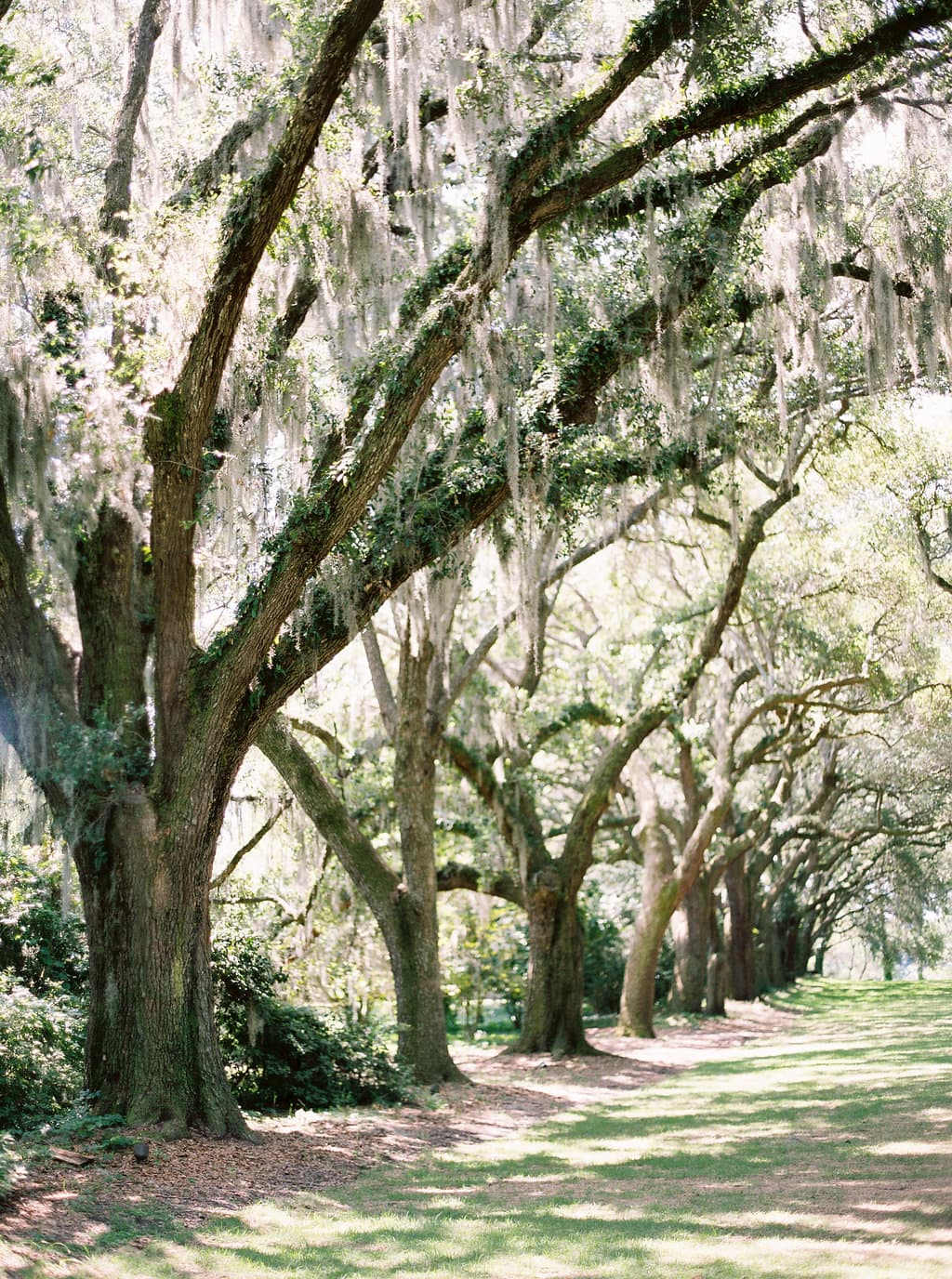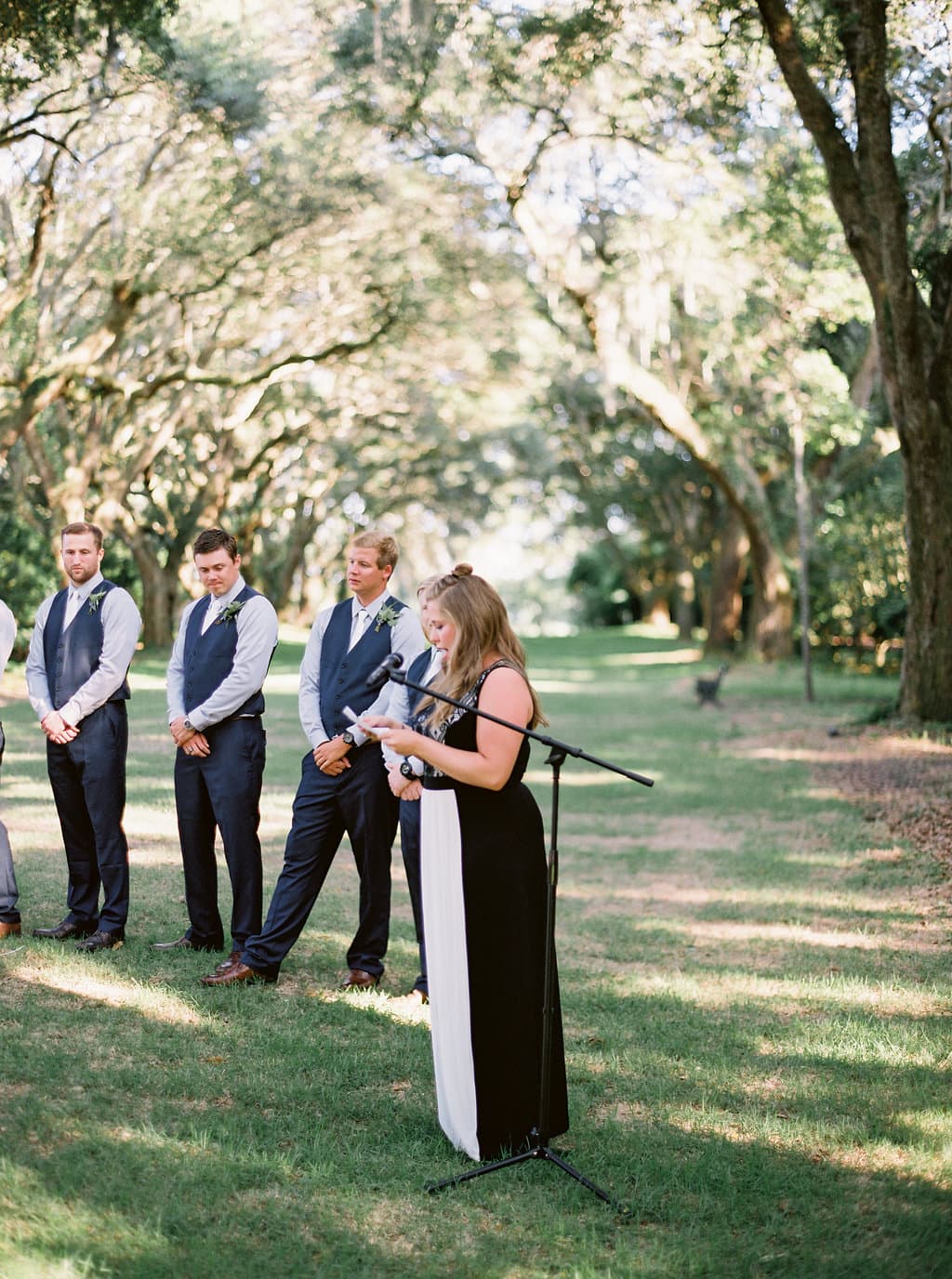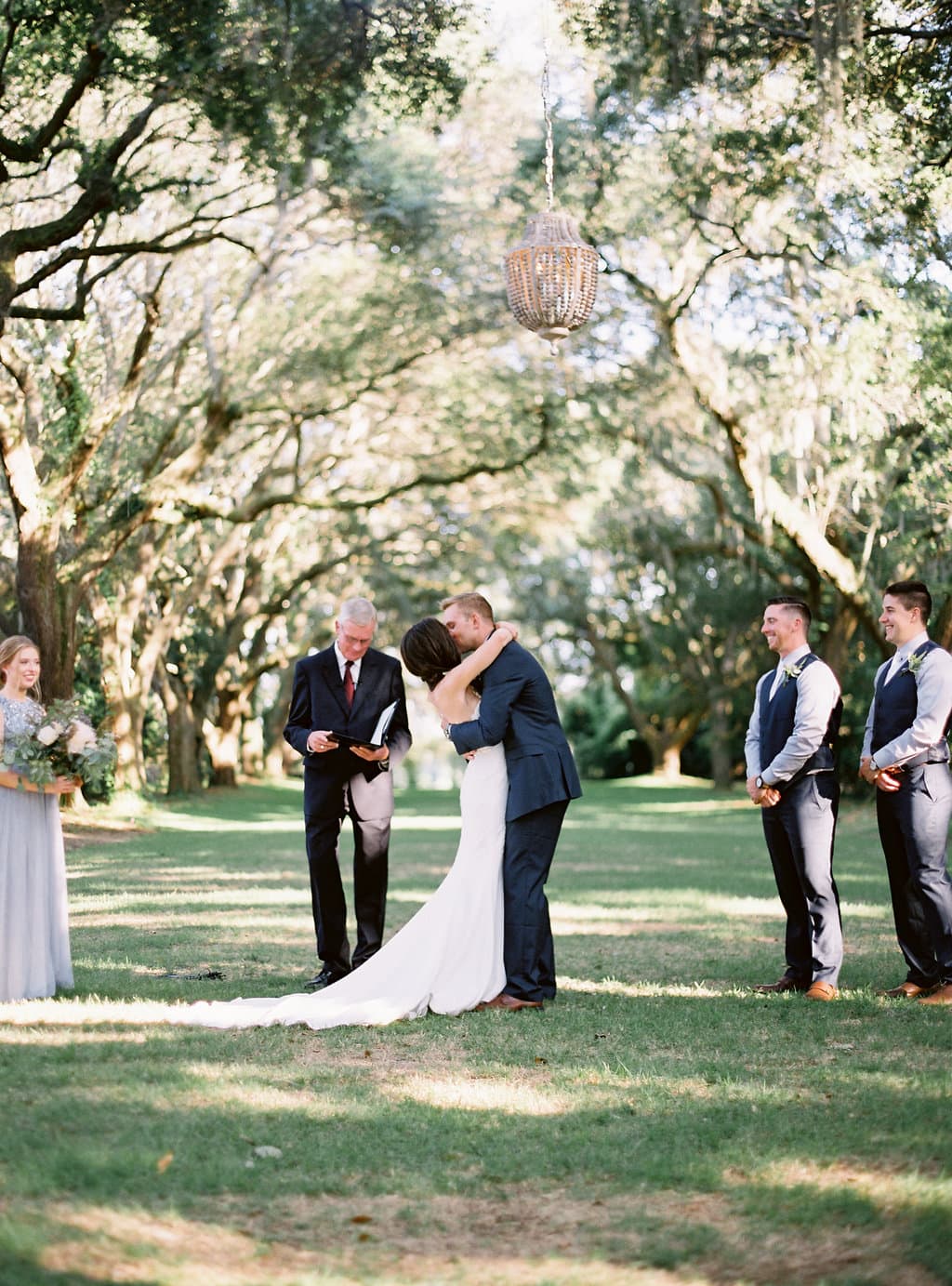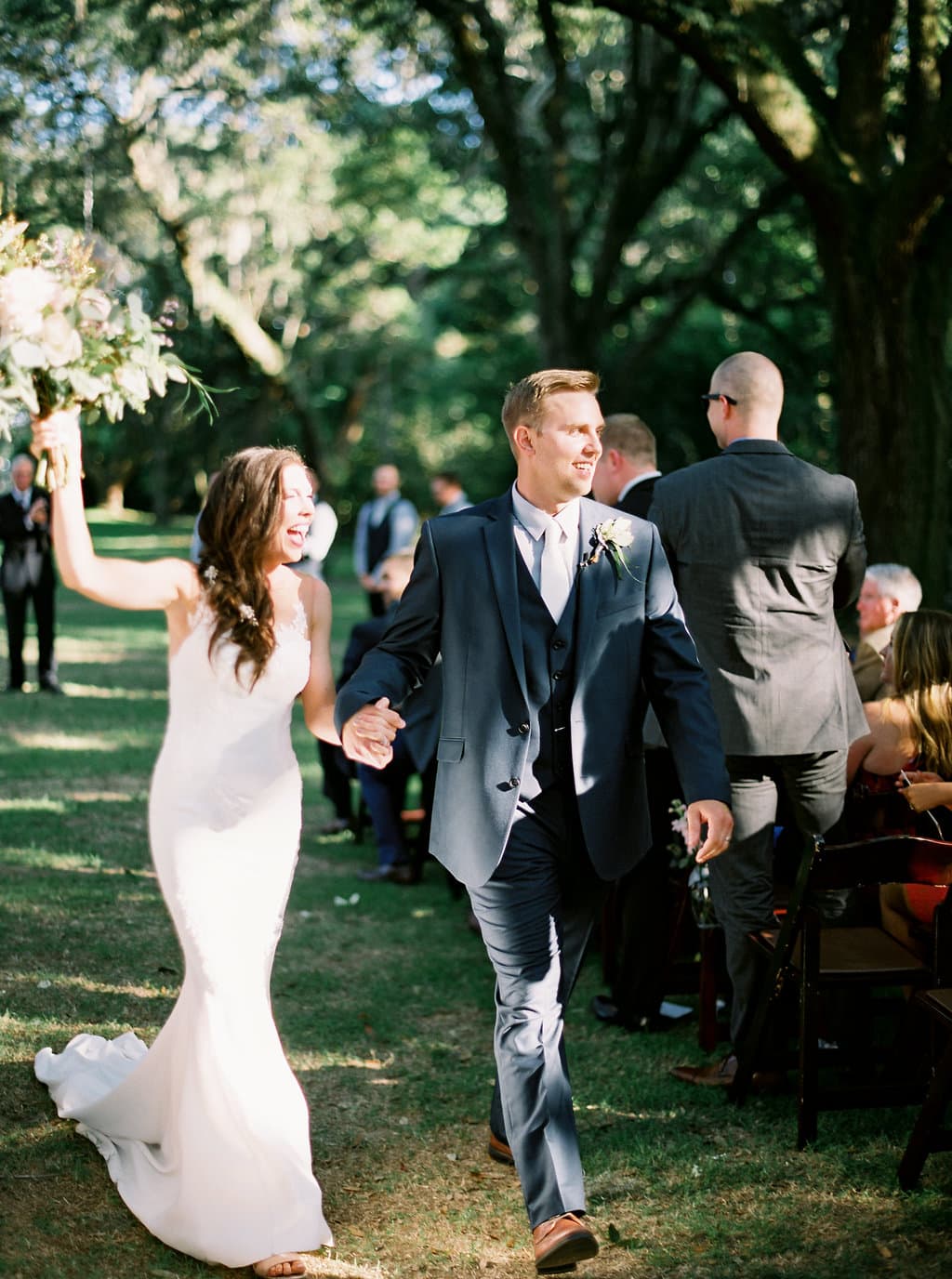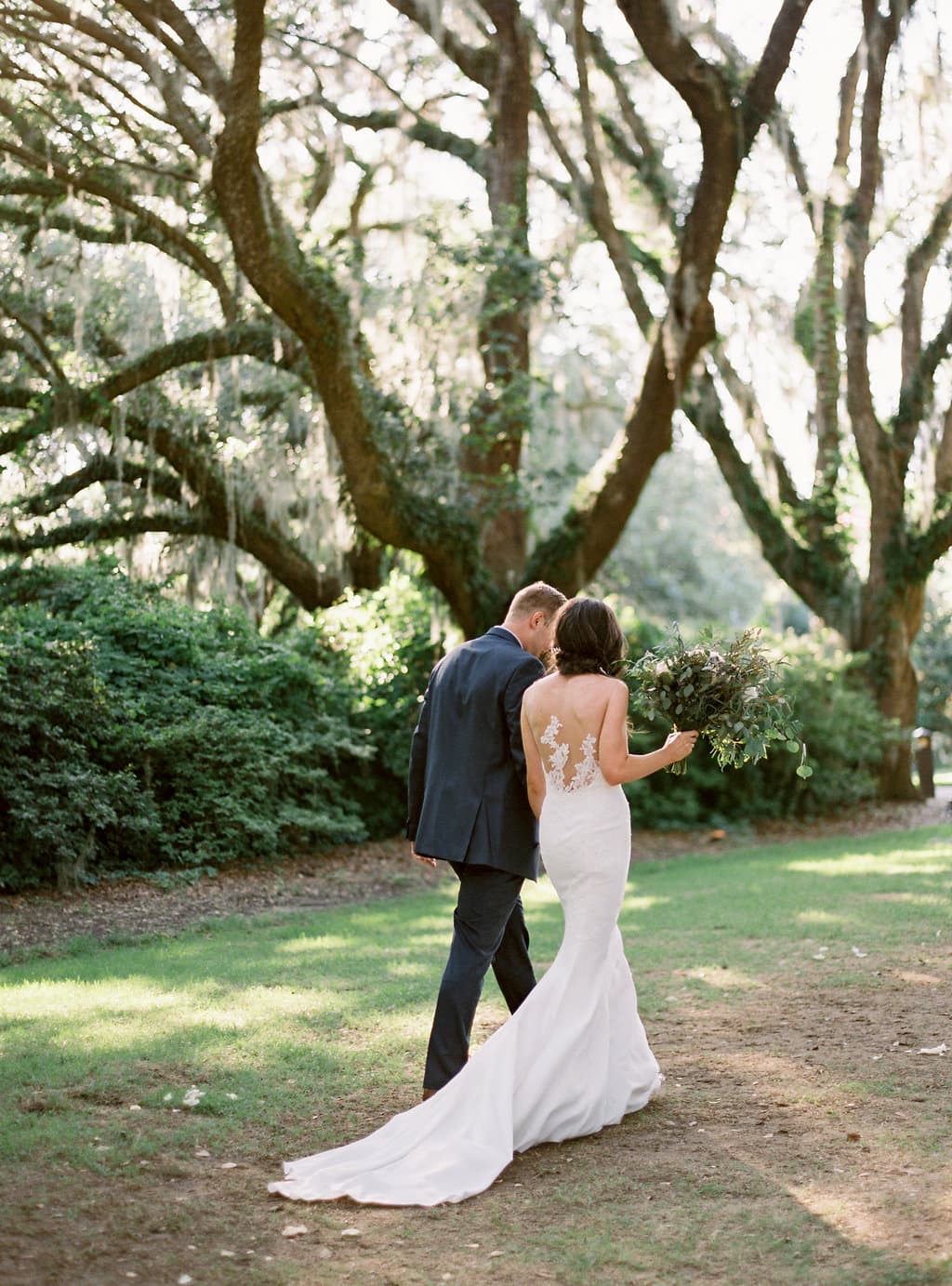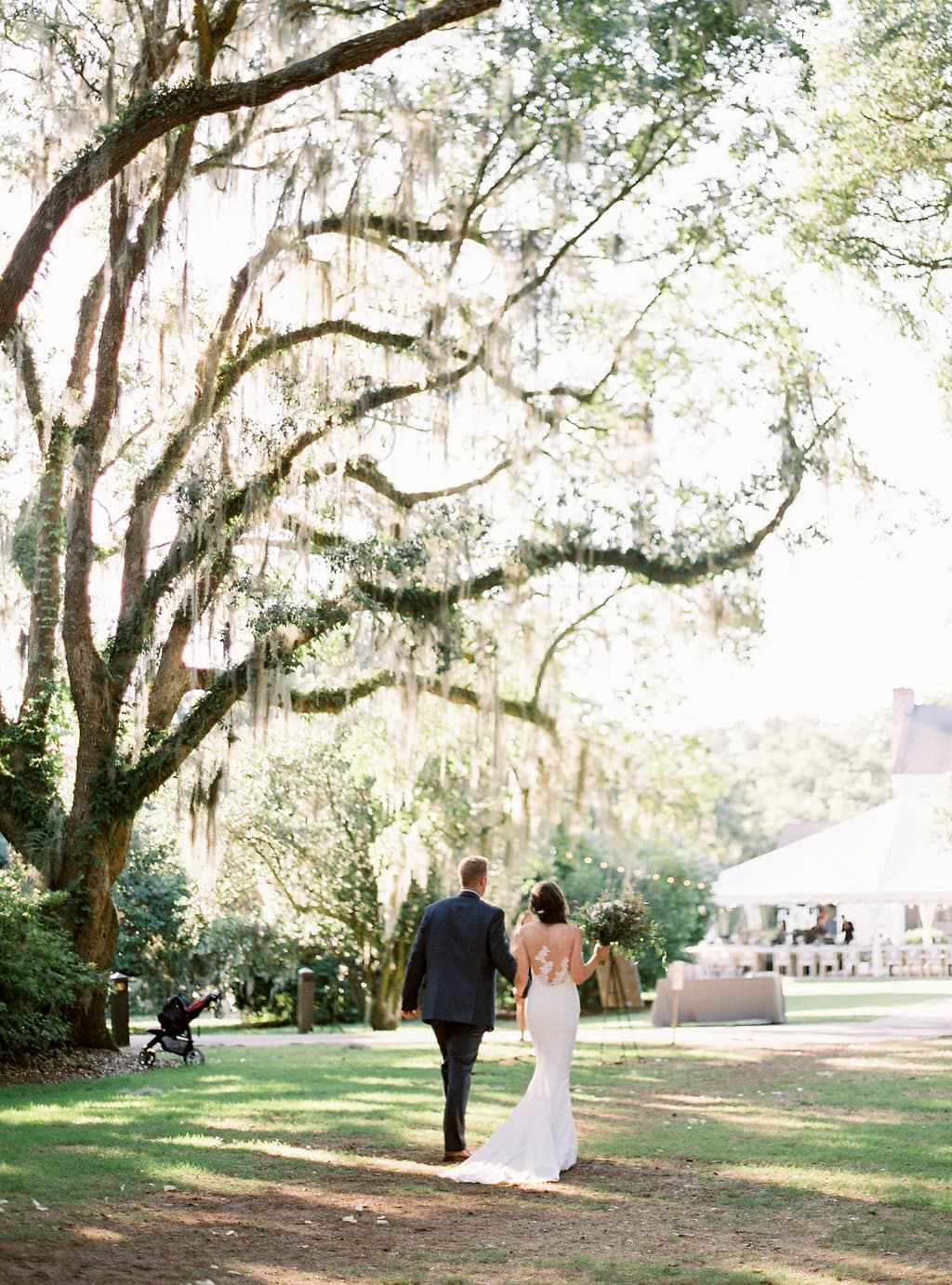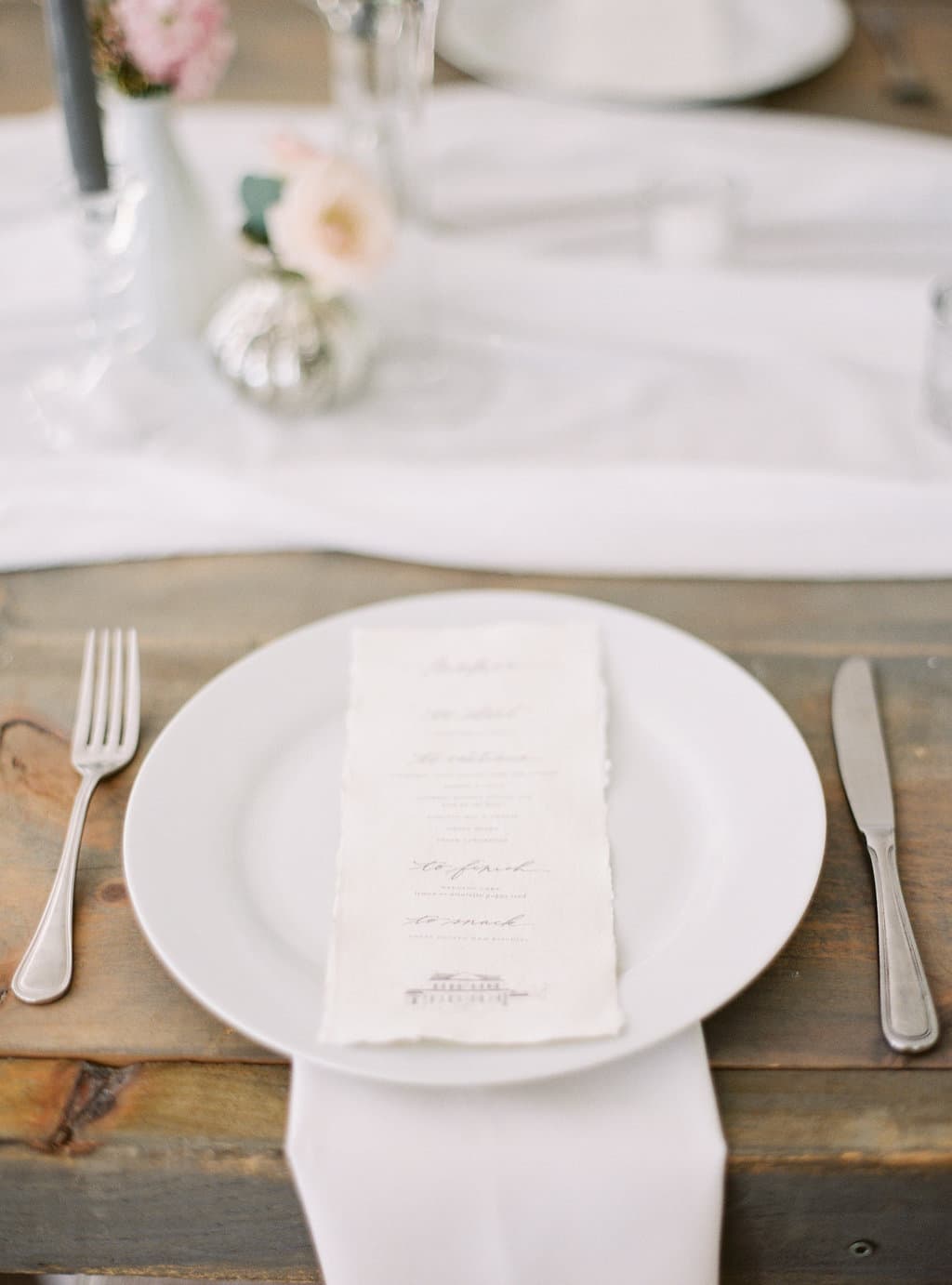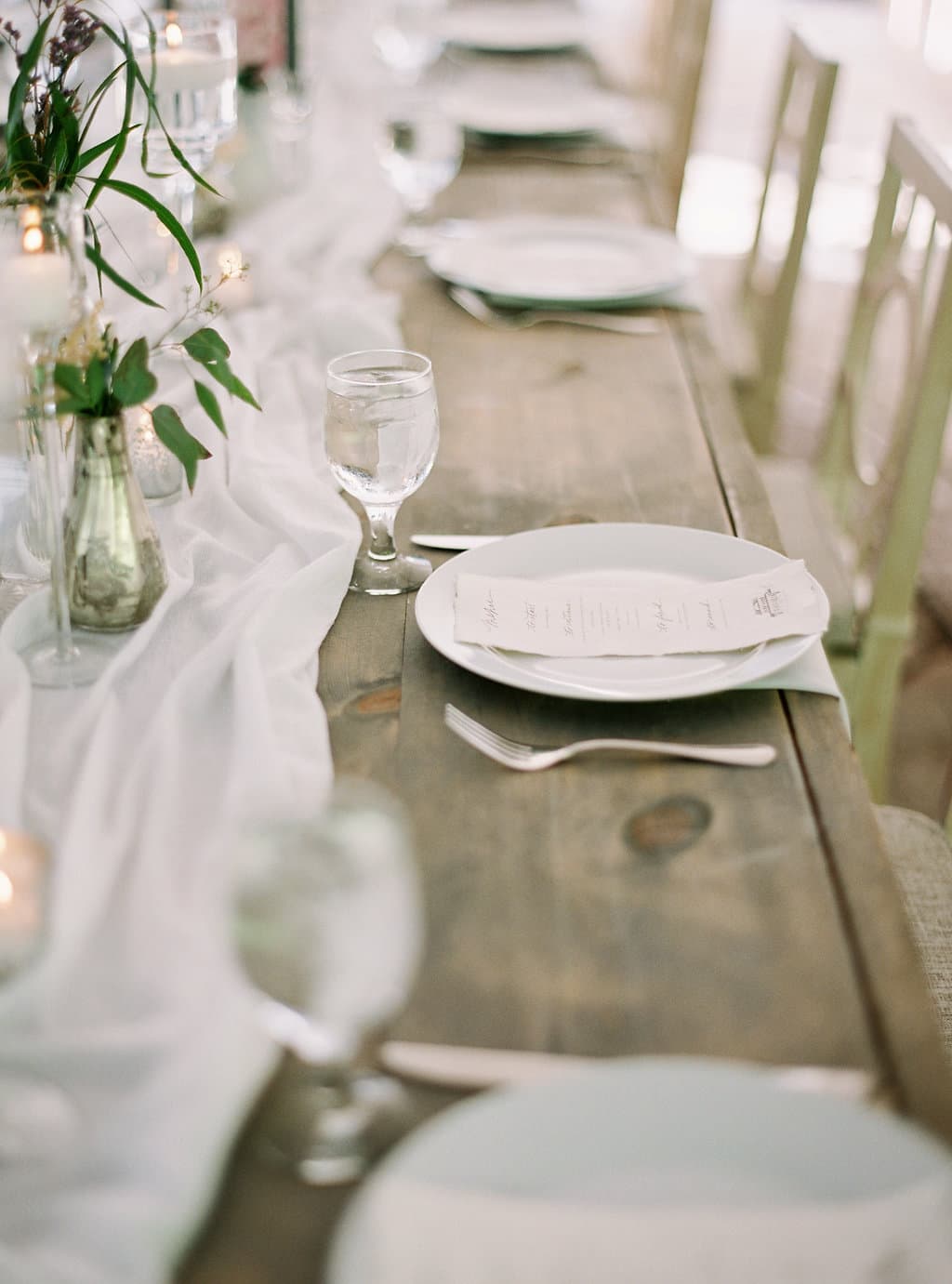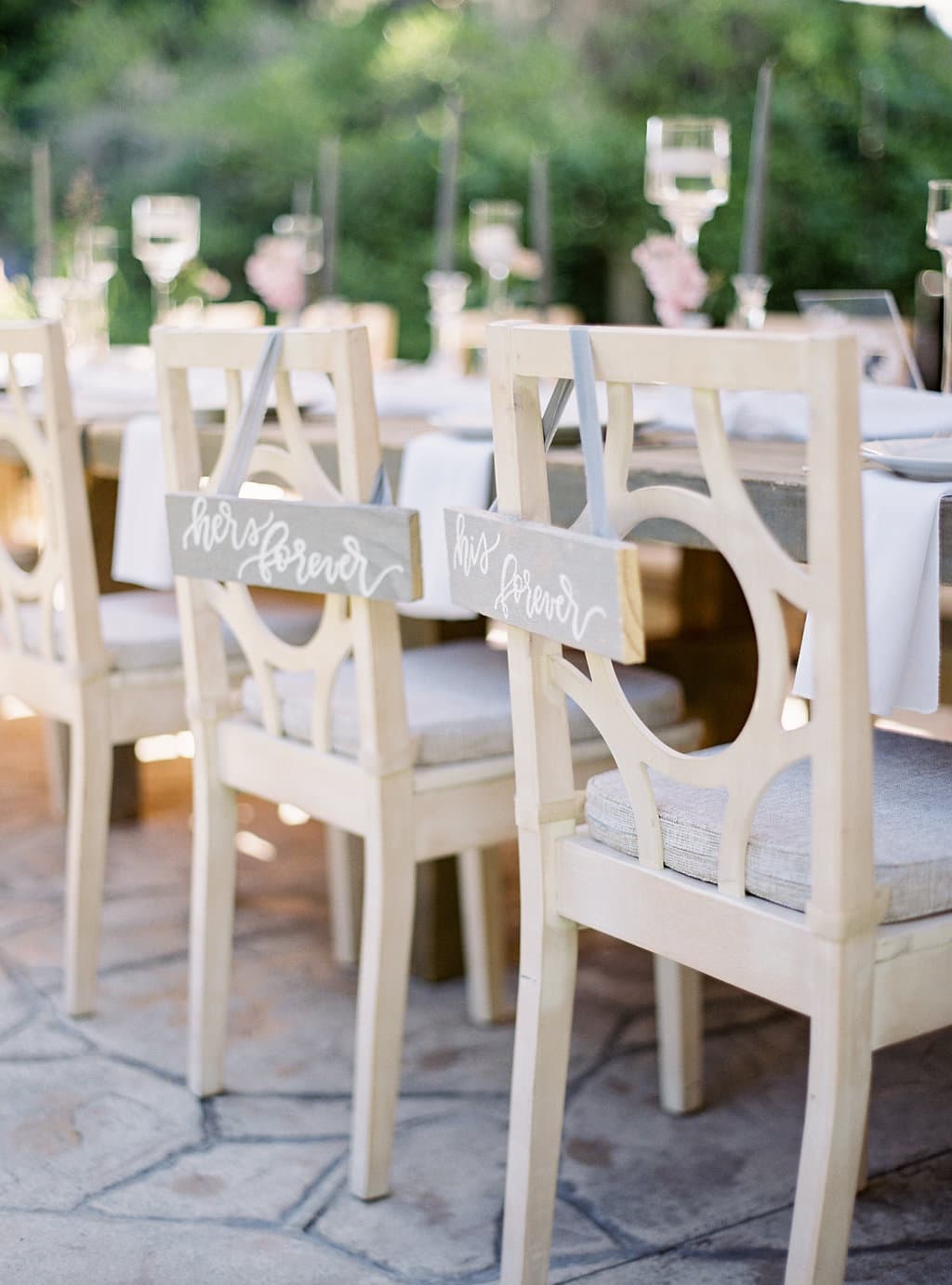 Our reception was held on a large patio behind the house underneath a huge white tent. We loved that our venue was basically a blank slate which left us a lot of room for creativity when choosing the design behind it all. Grey-washed long farm tables, soft pink flowers and greenery, a grey wooden dance floor, and white beaded chandeliers filled the space. We went for casual yet classic style with a hint of boho incorporating soft shades of grey and white. We did our first dance to 'True' by George Strait, ate the best southern dinner complete with pimento mac and cheese, shrimp and grits, amaretto poppy seed cake, and danced the night away while our phenomenal band, Steel Toe Stiletto, kept the party going.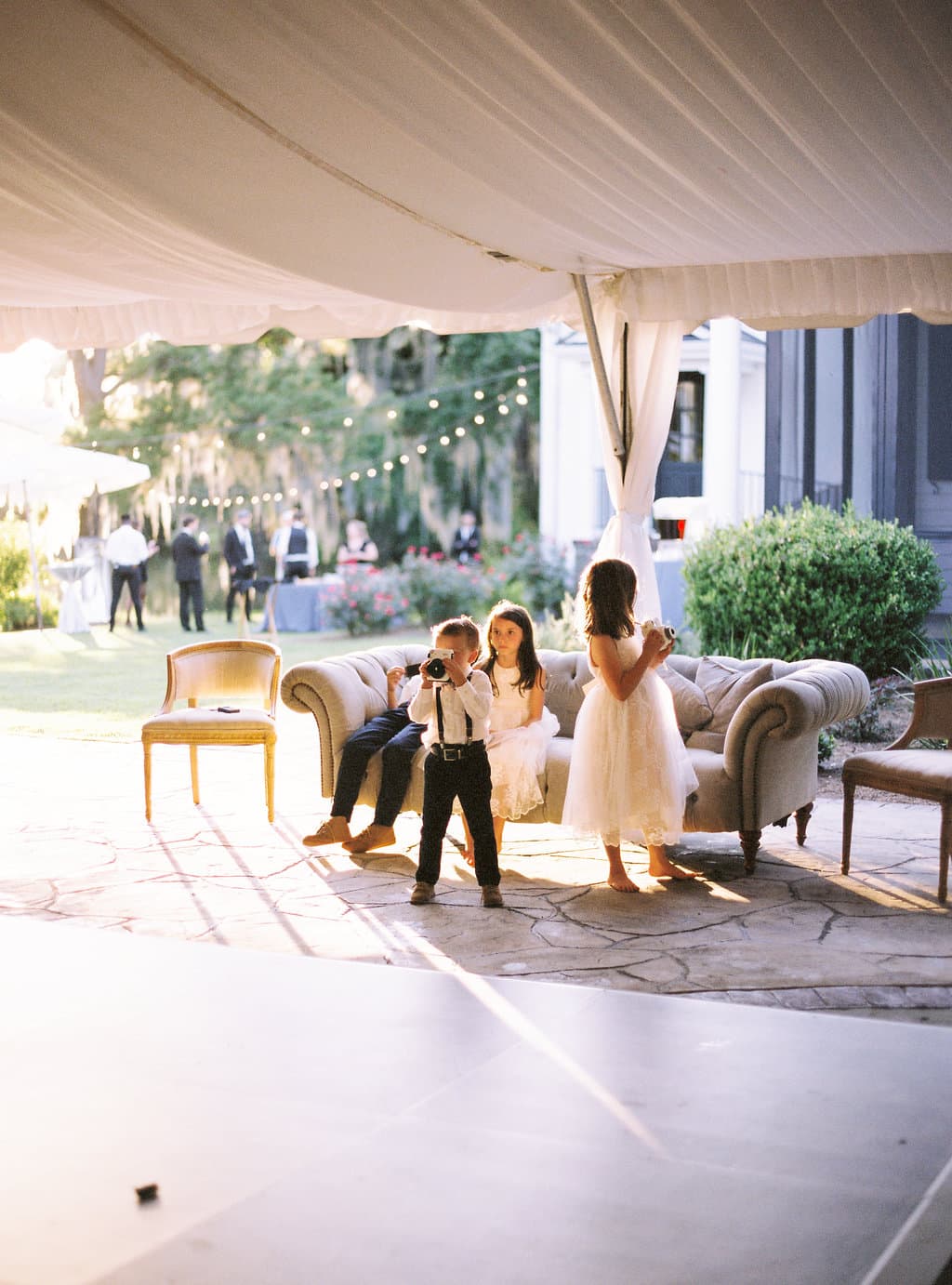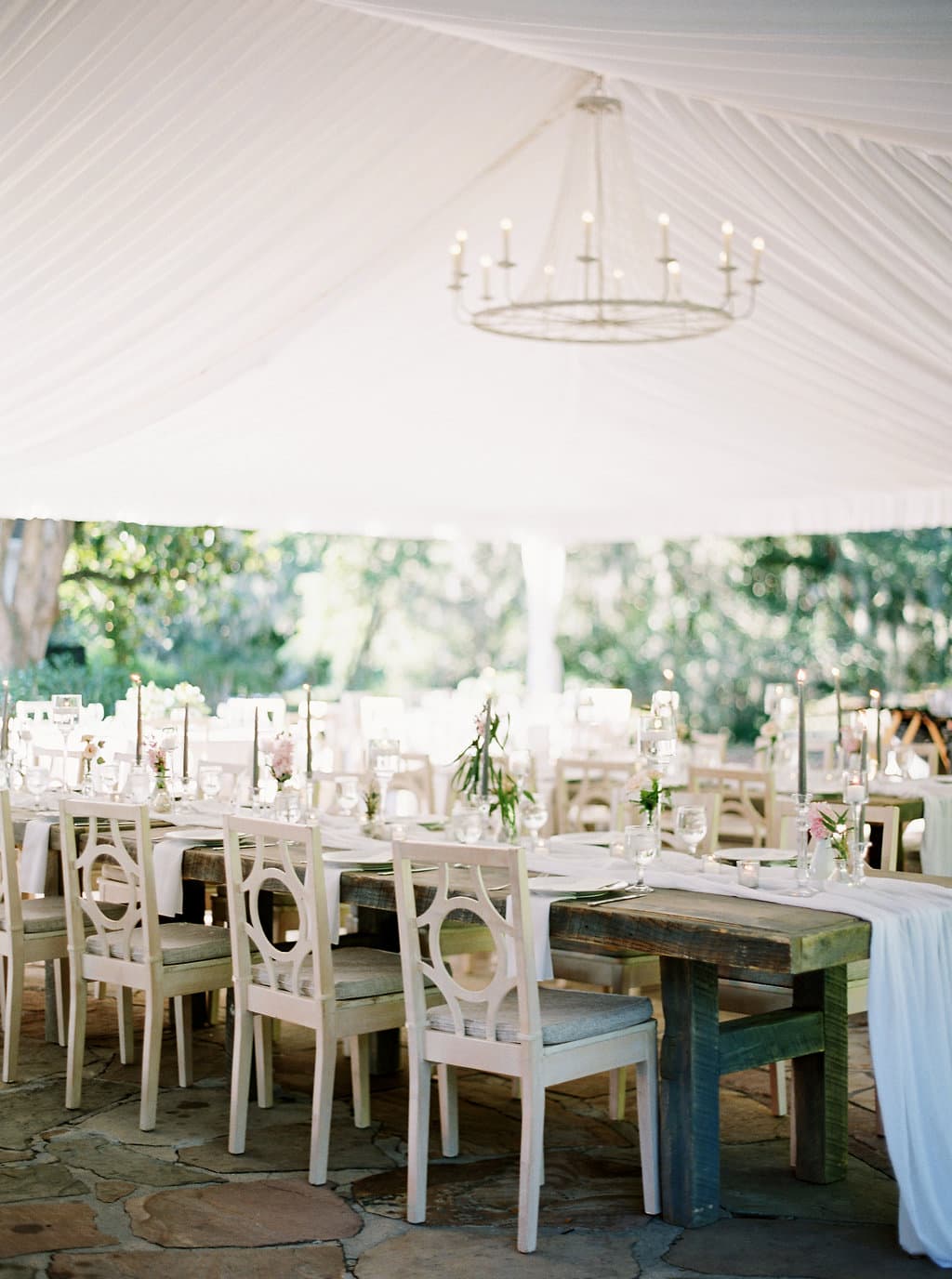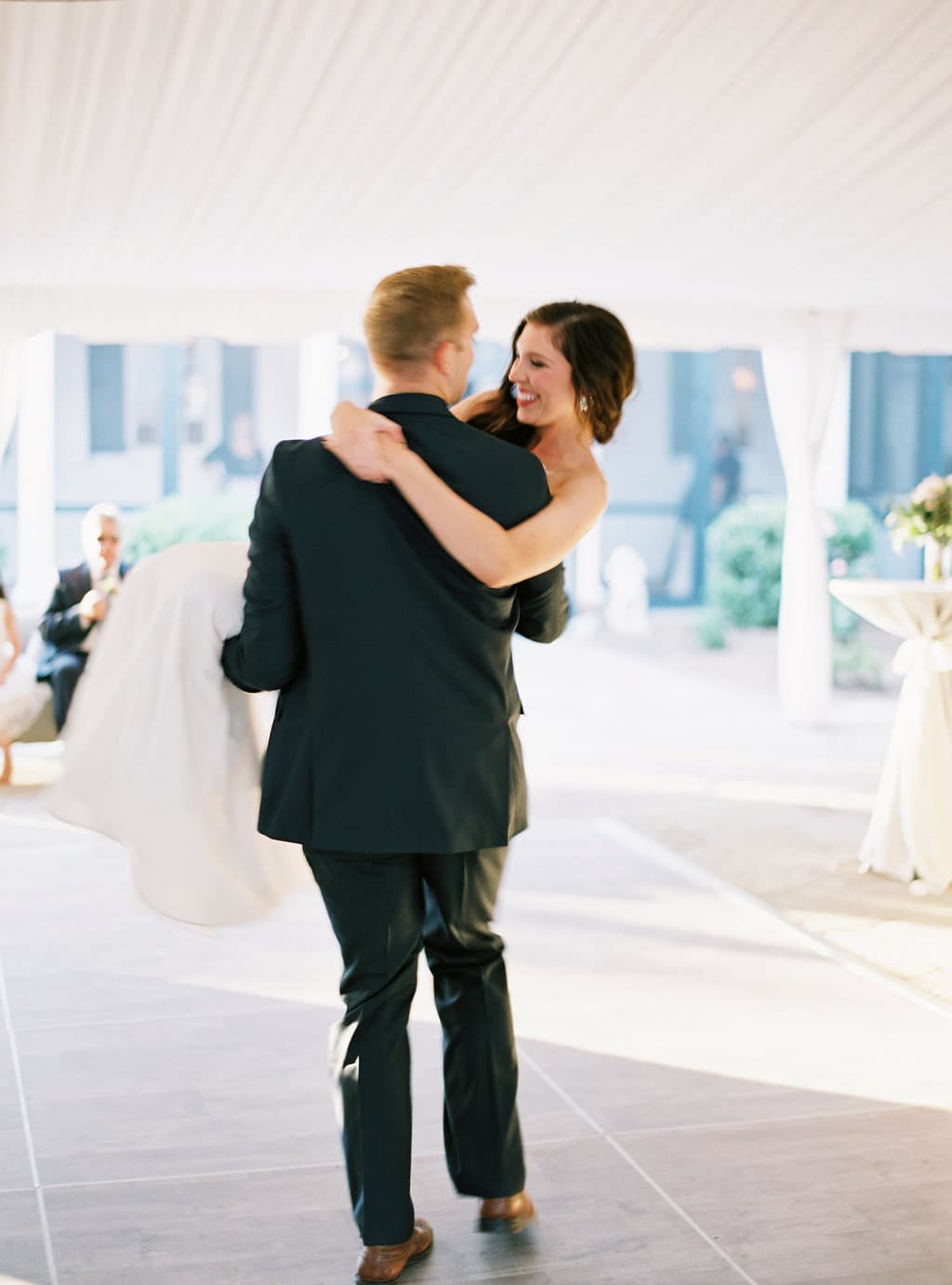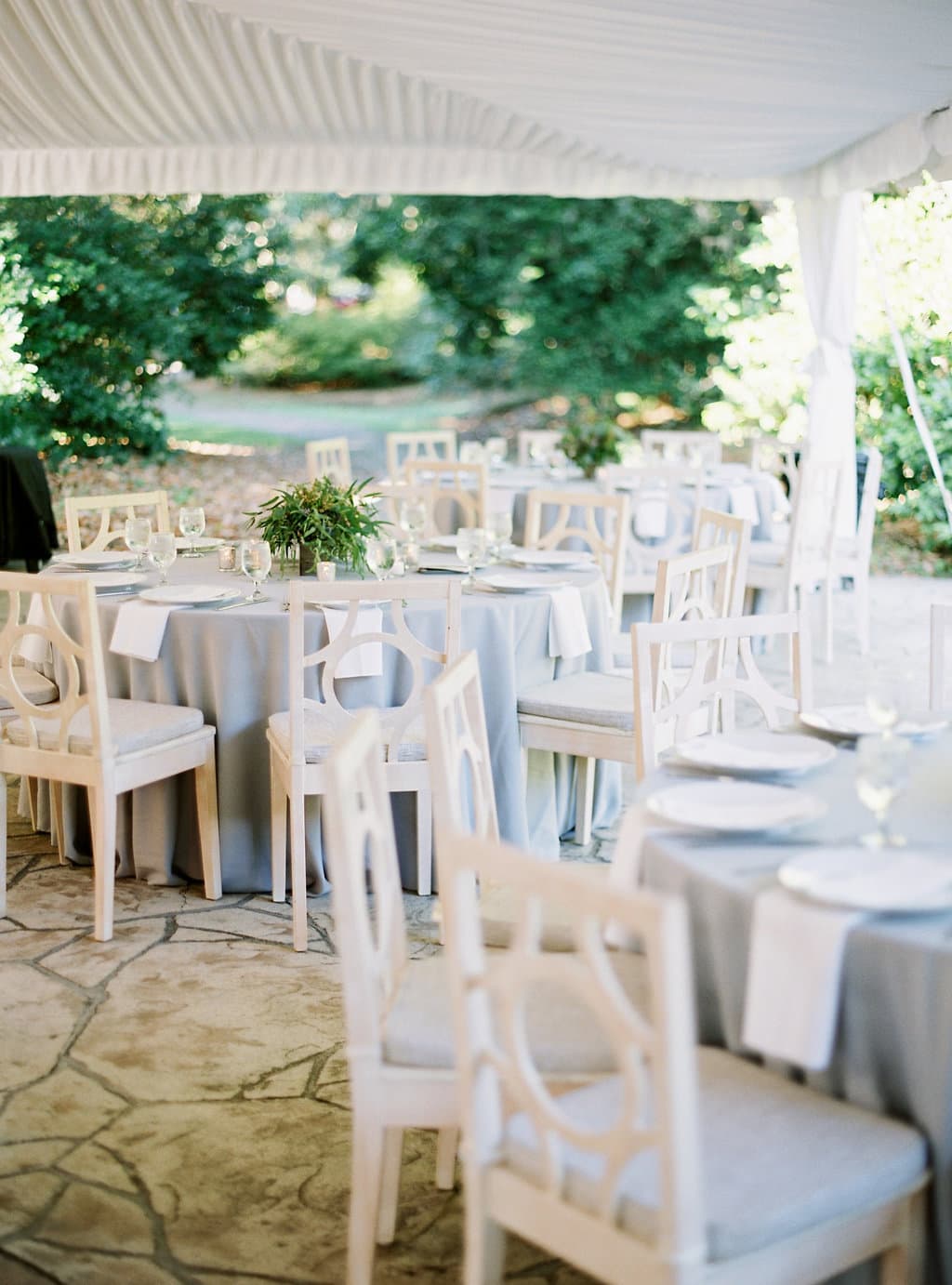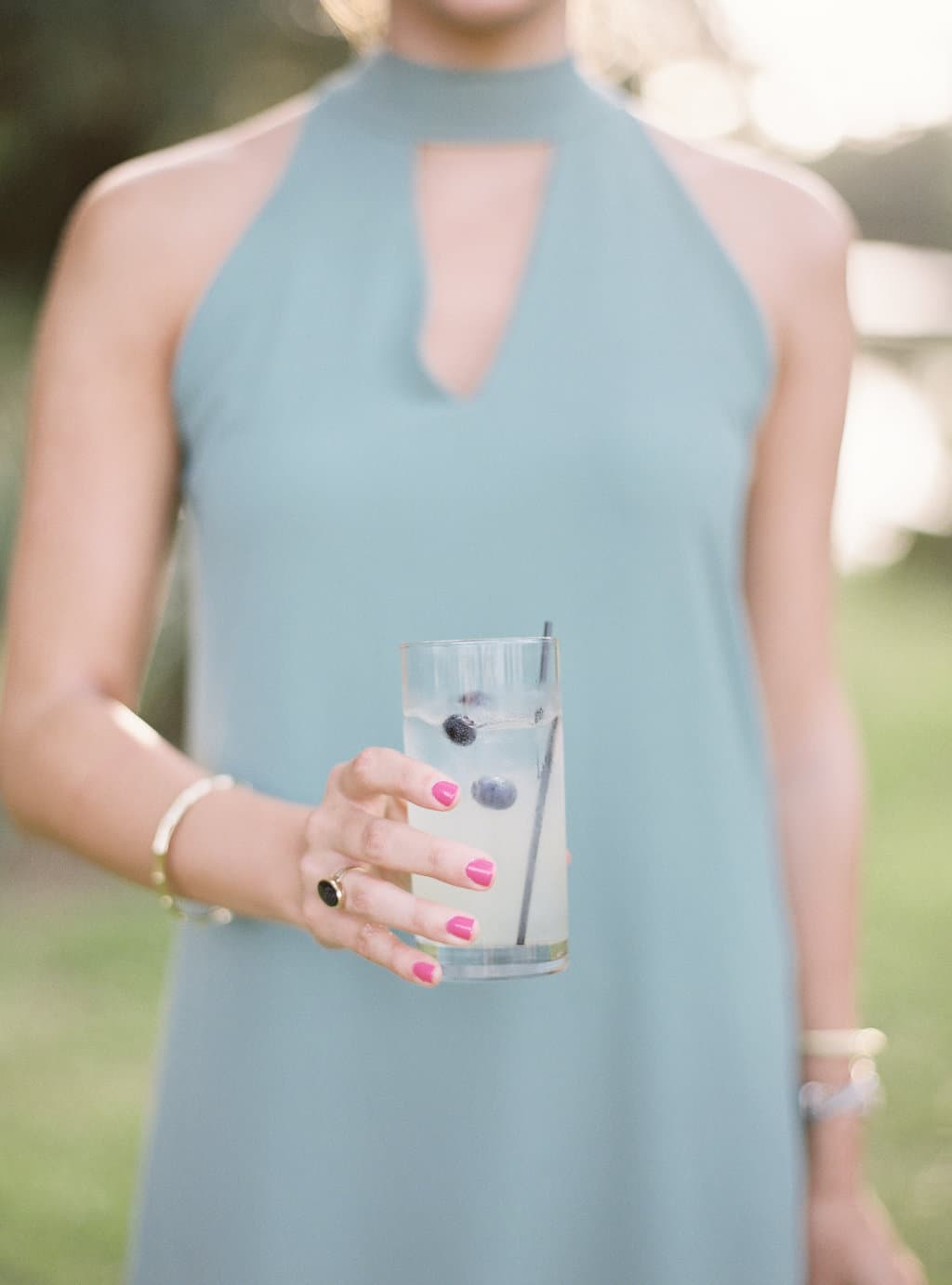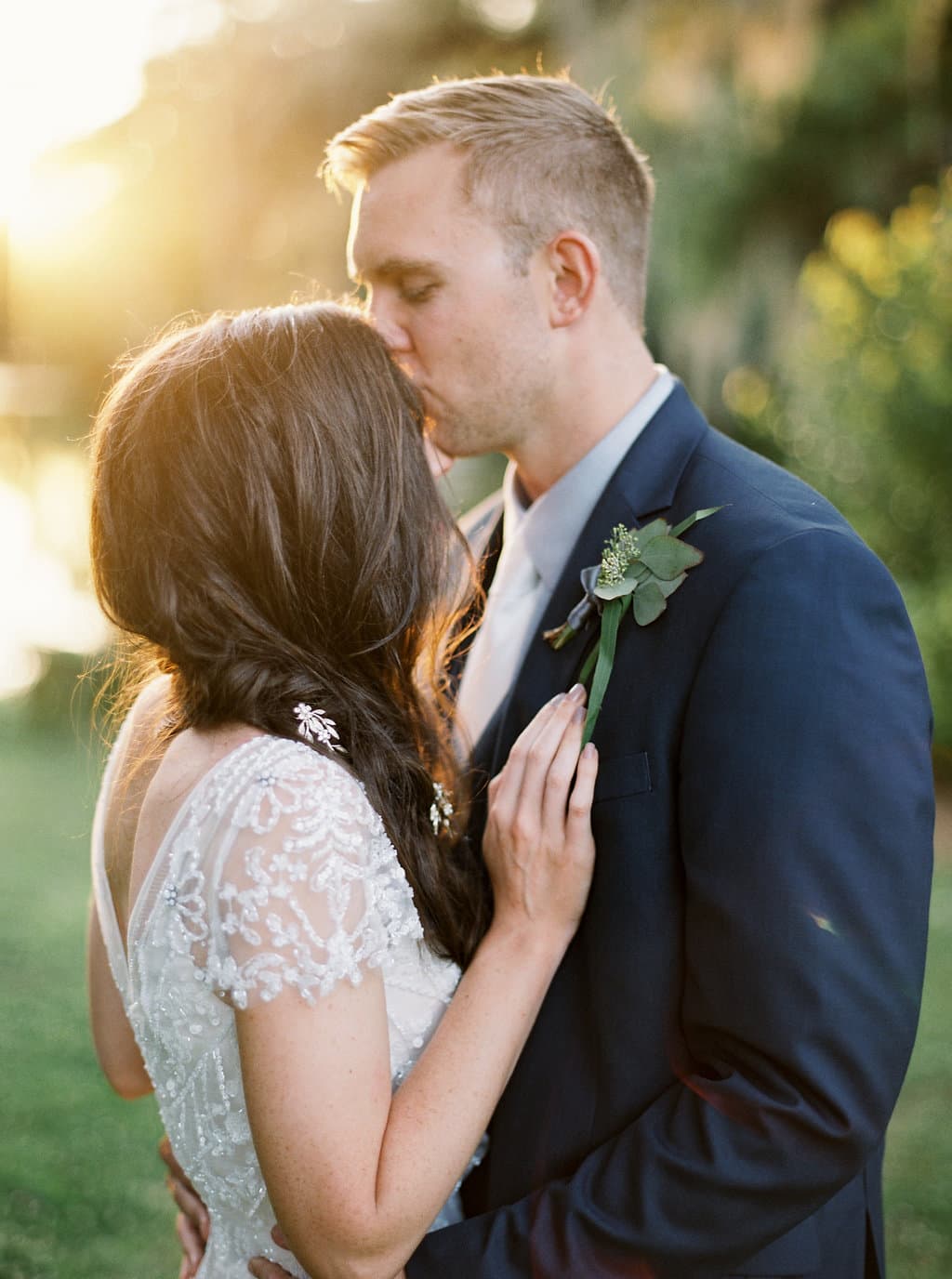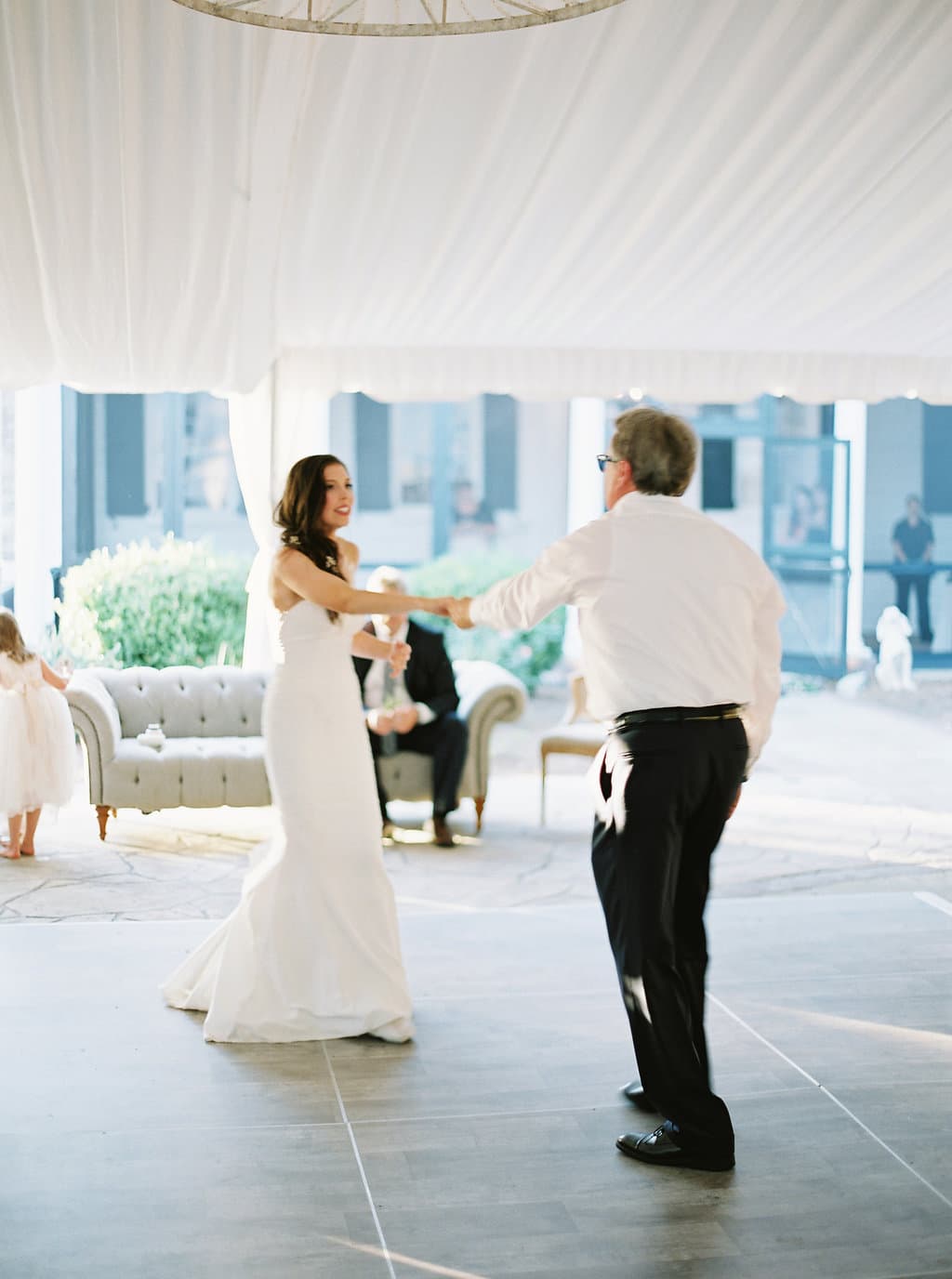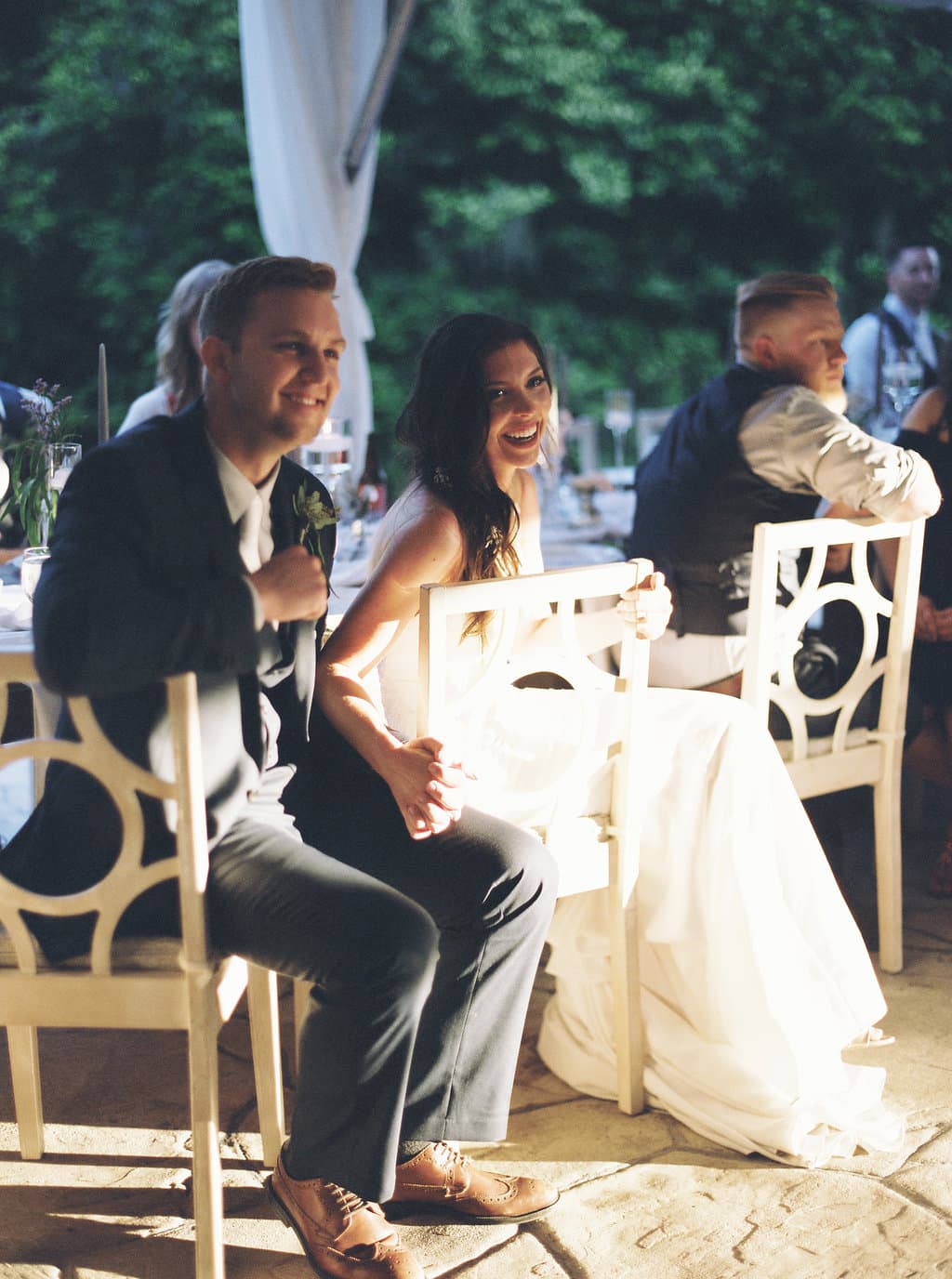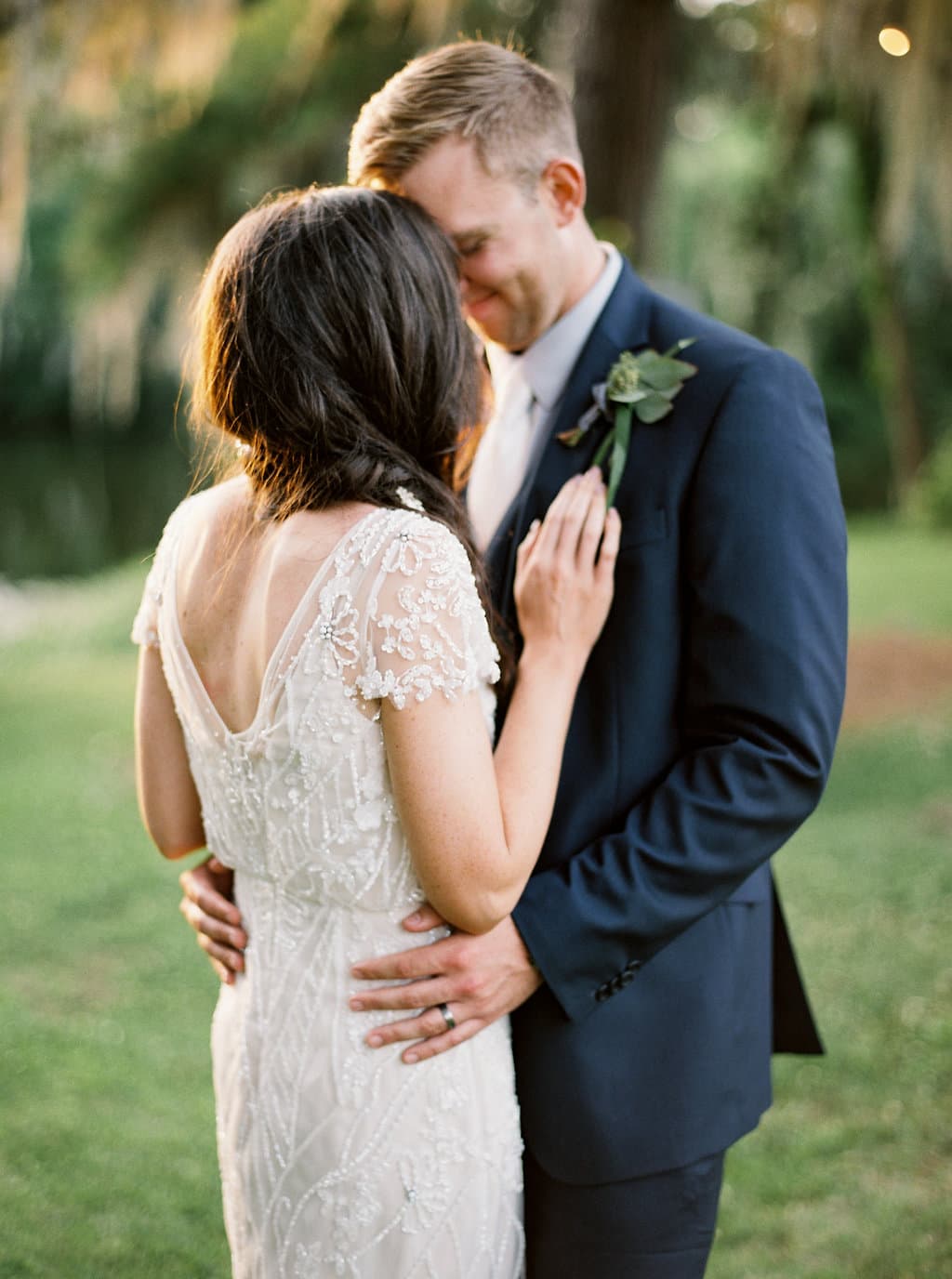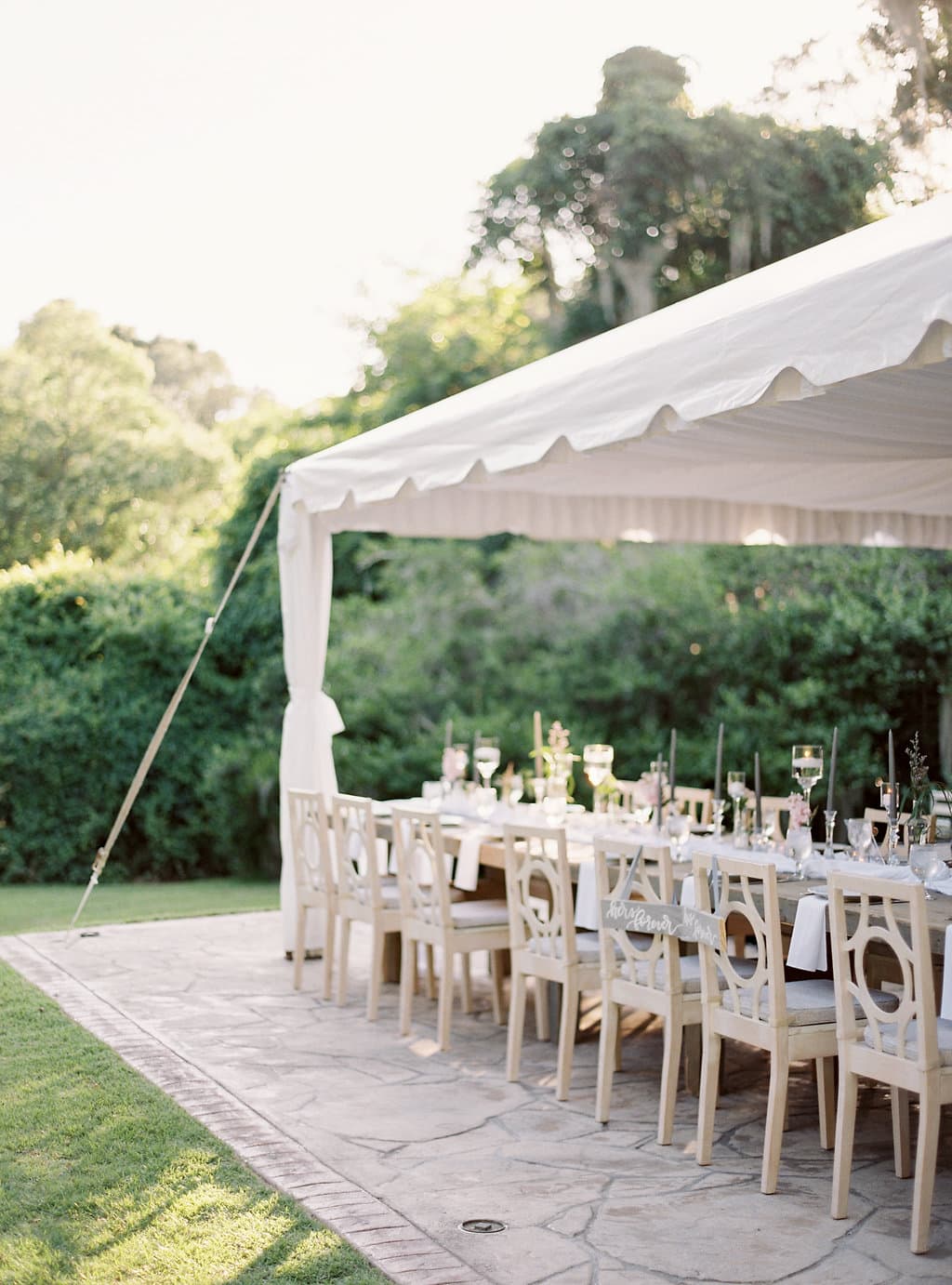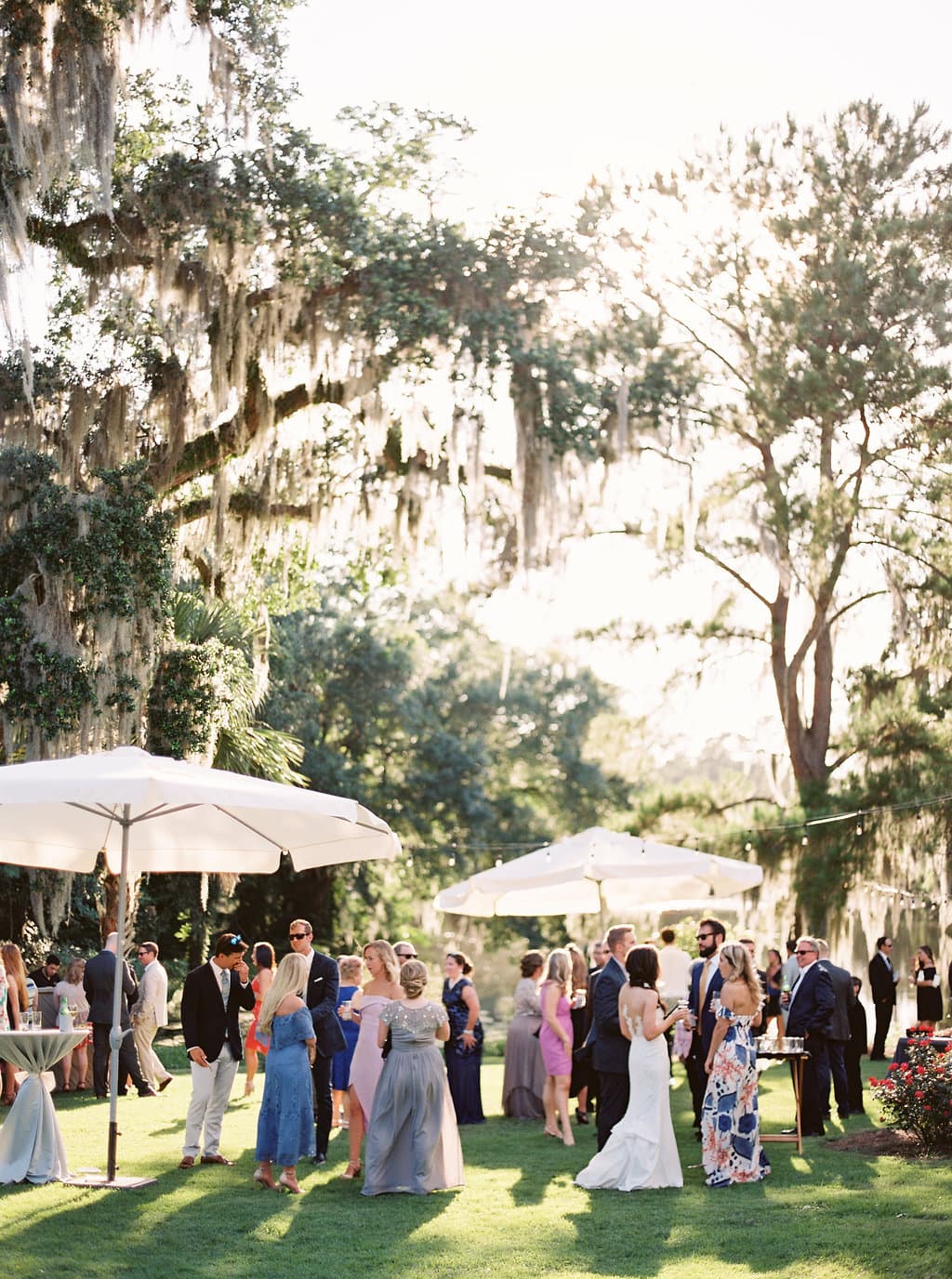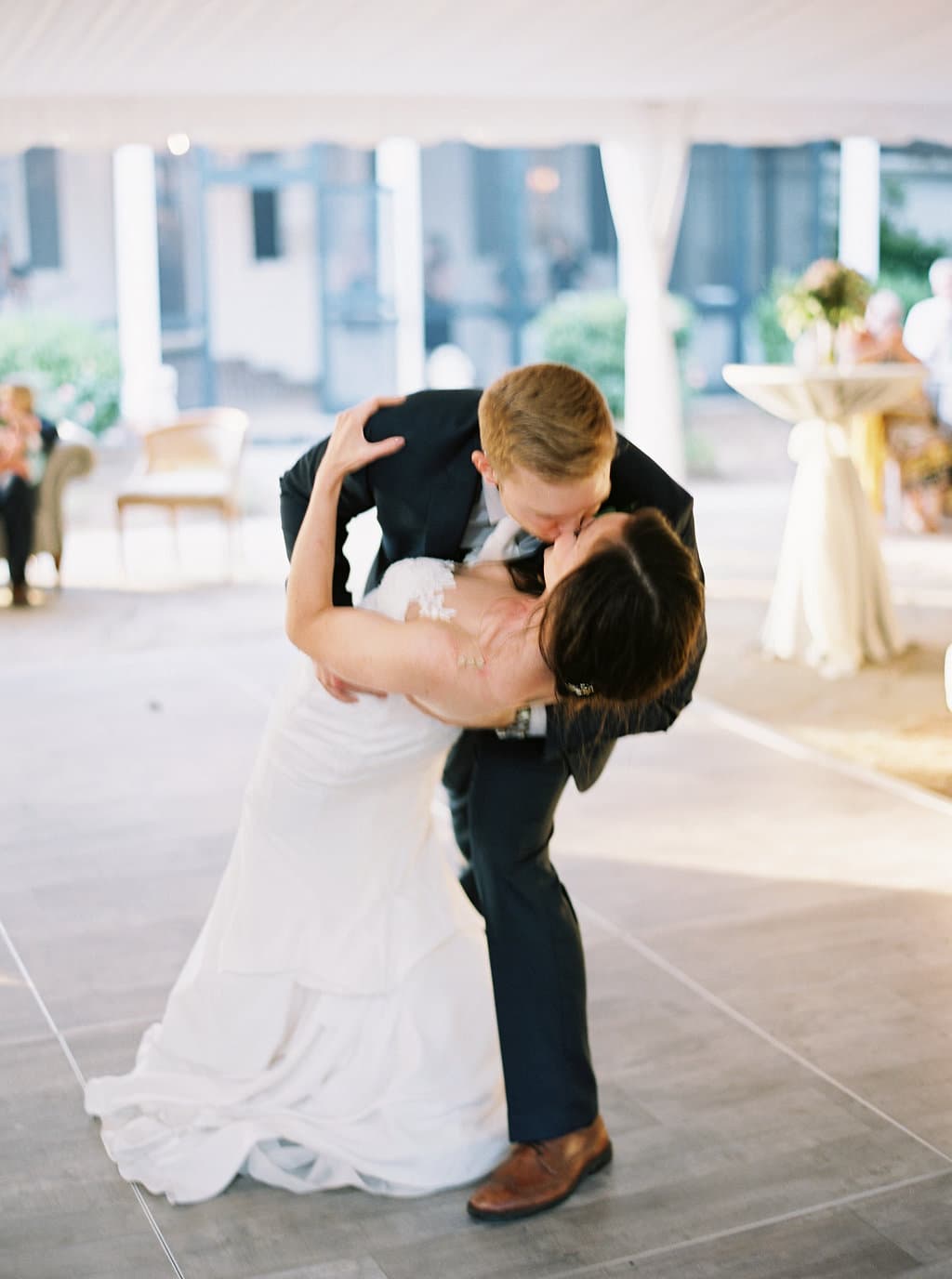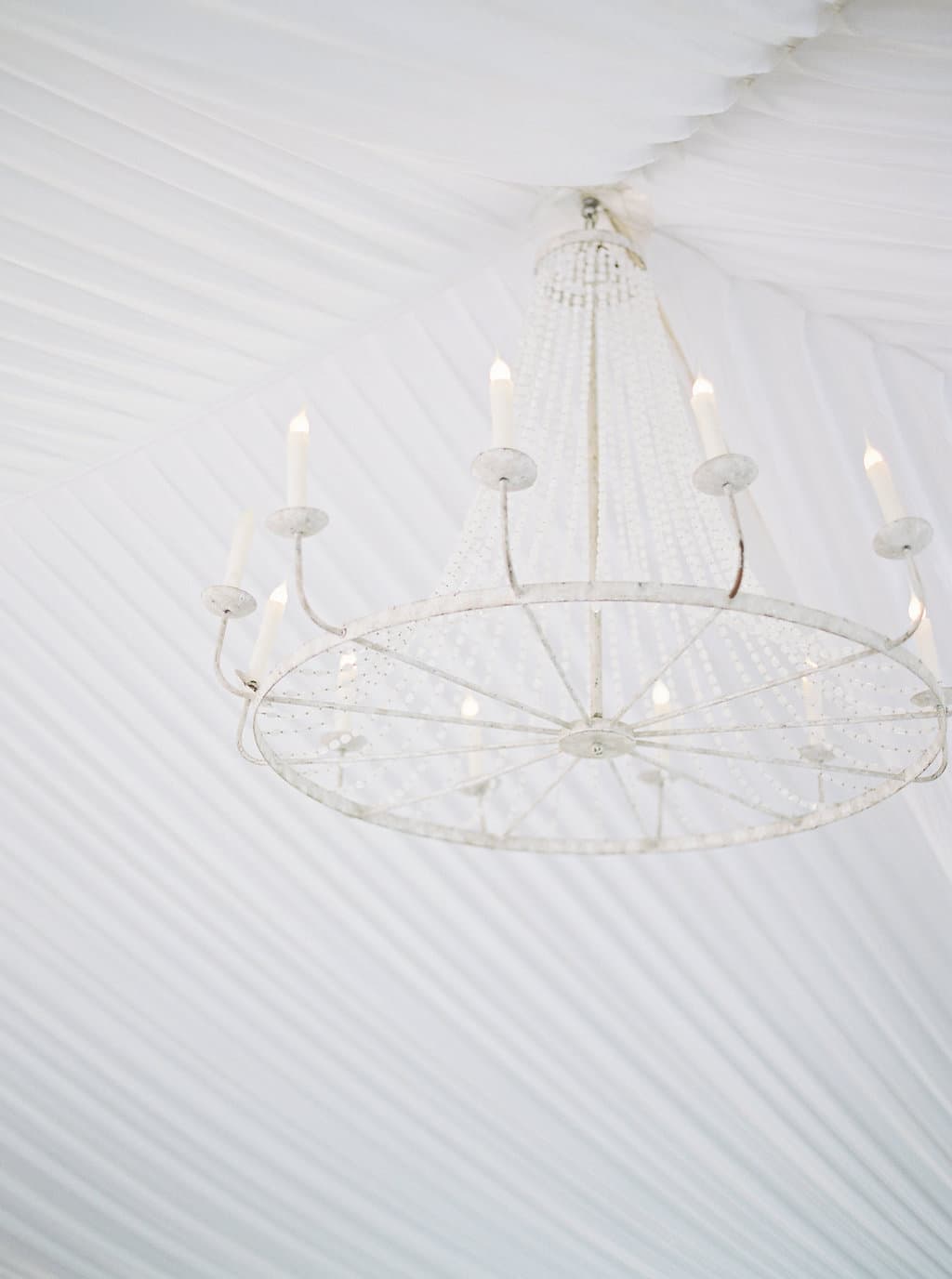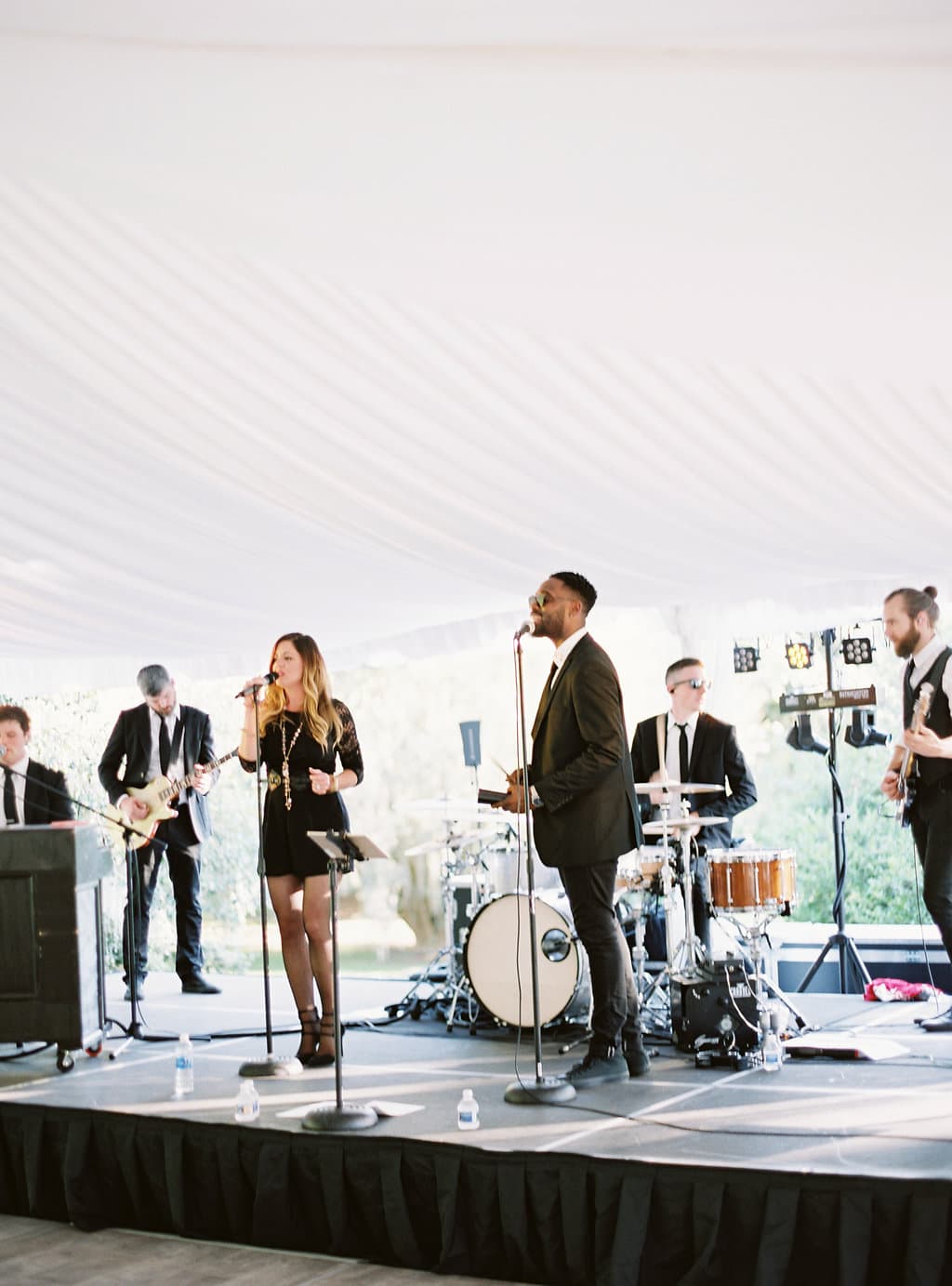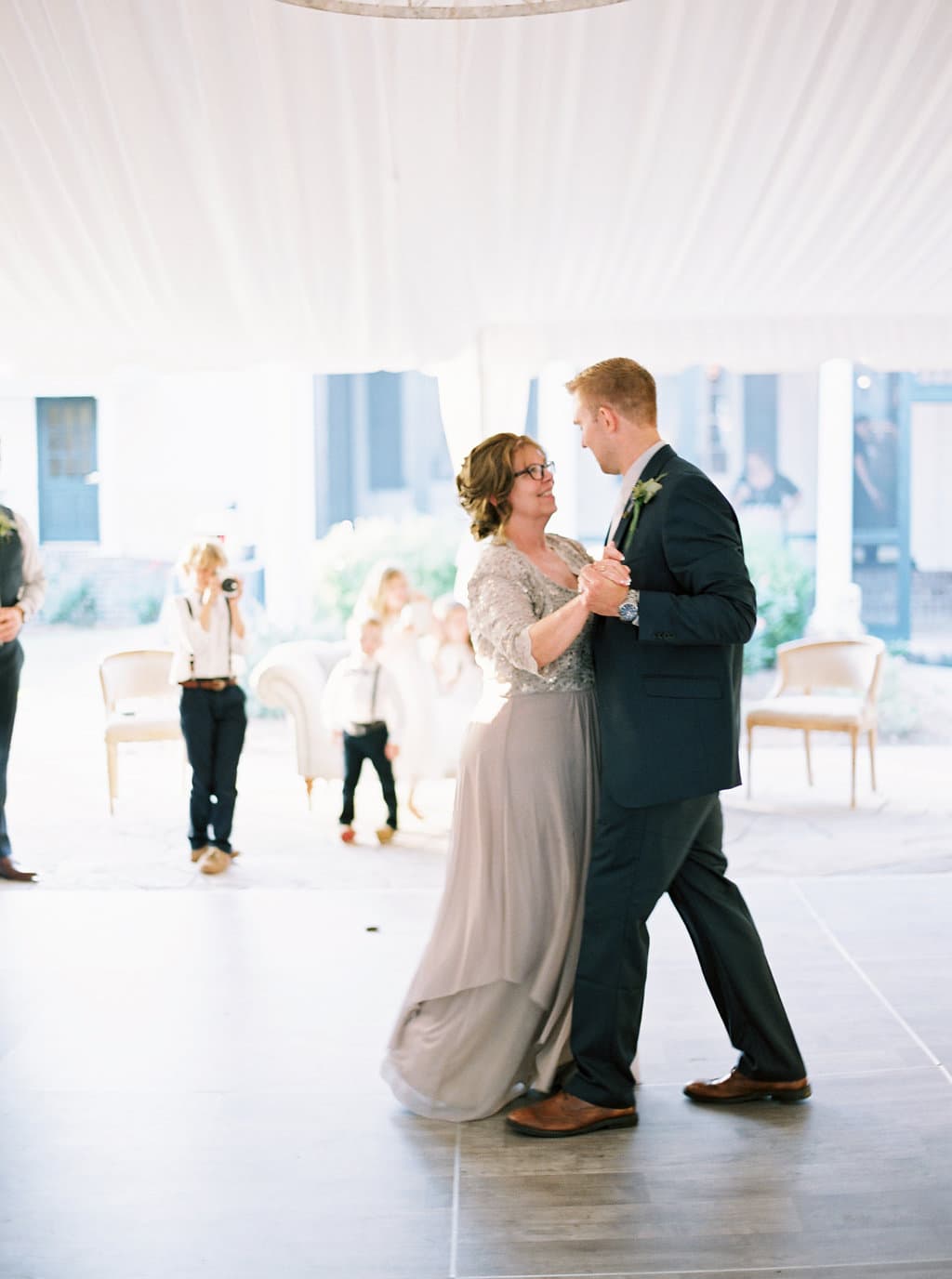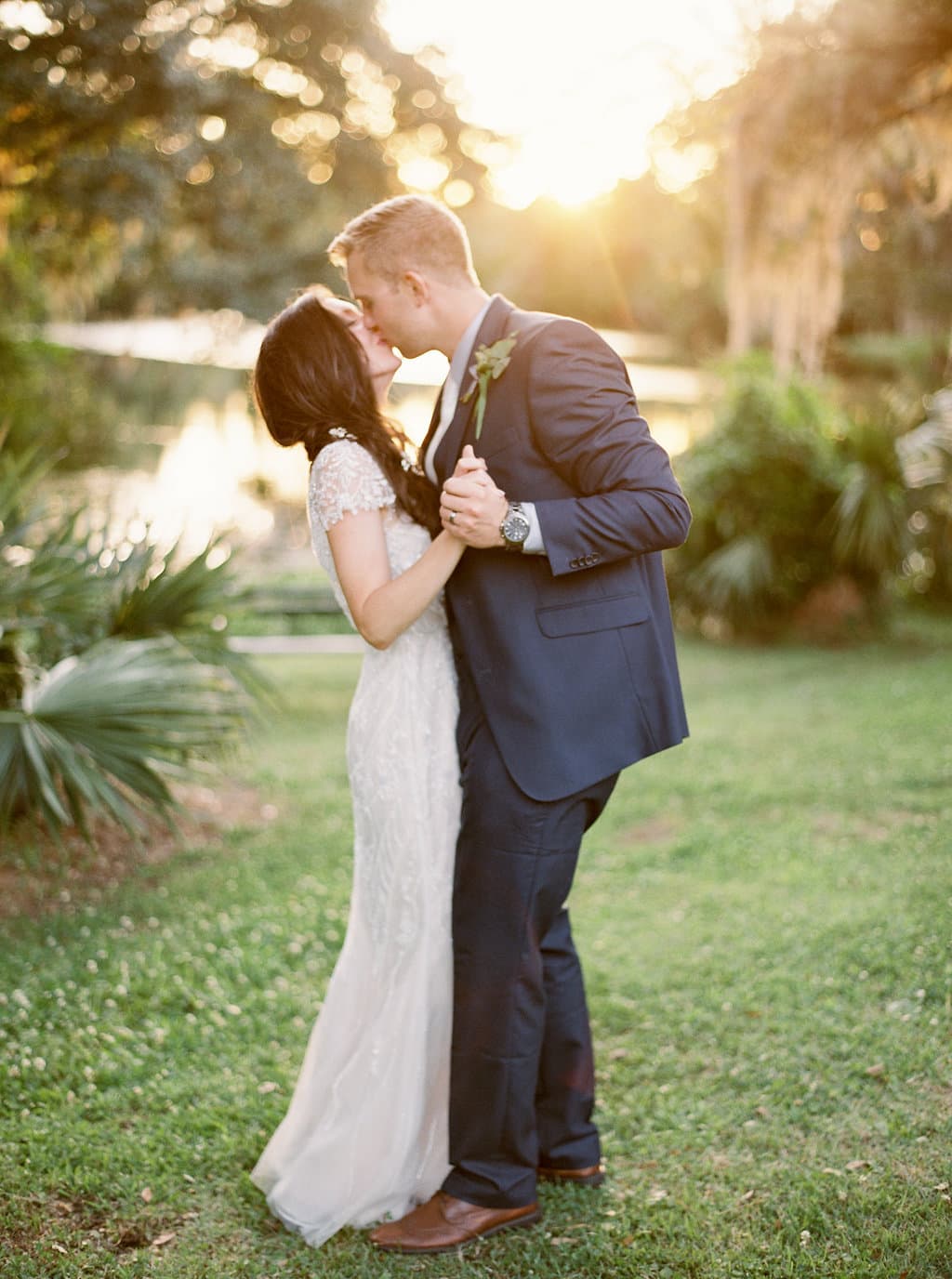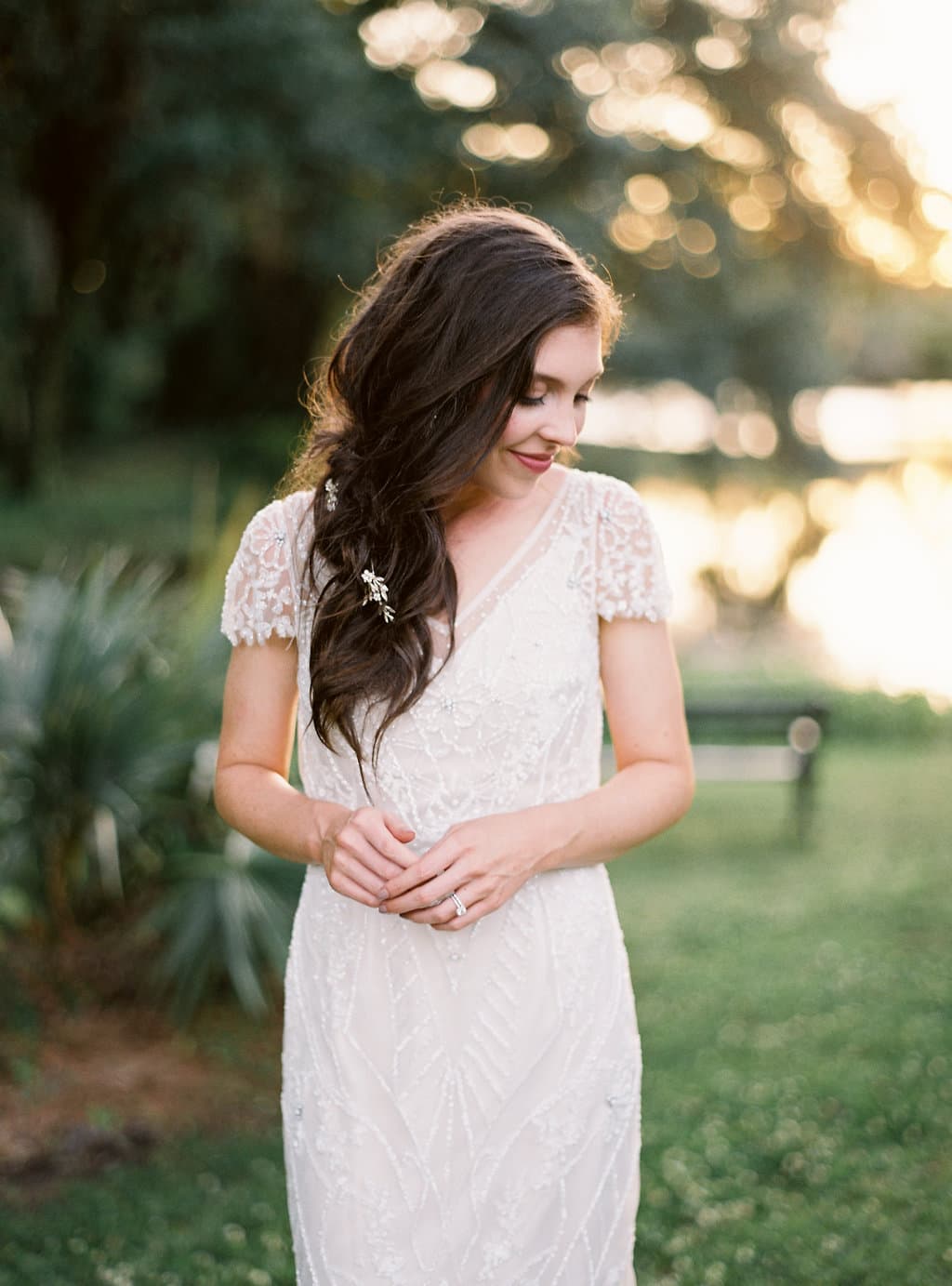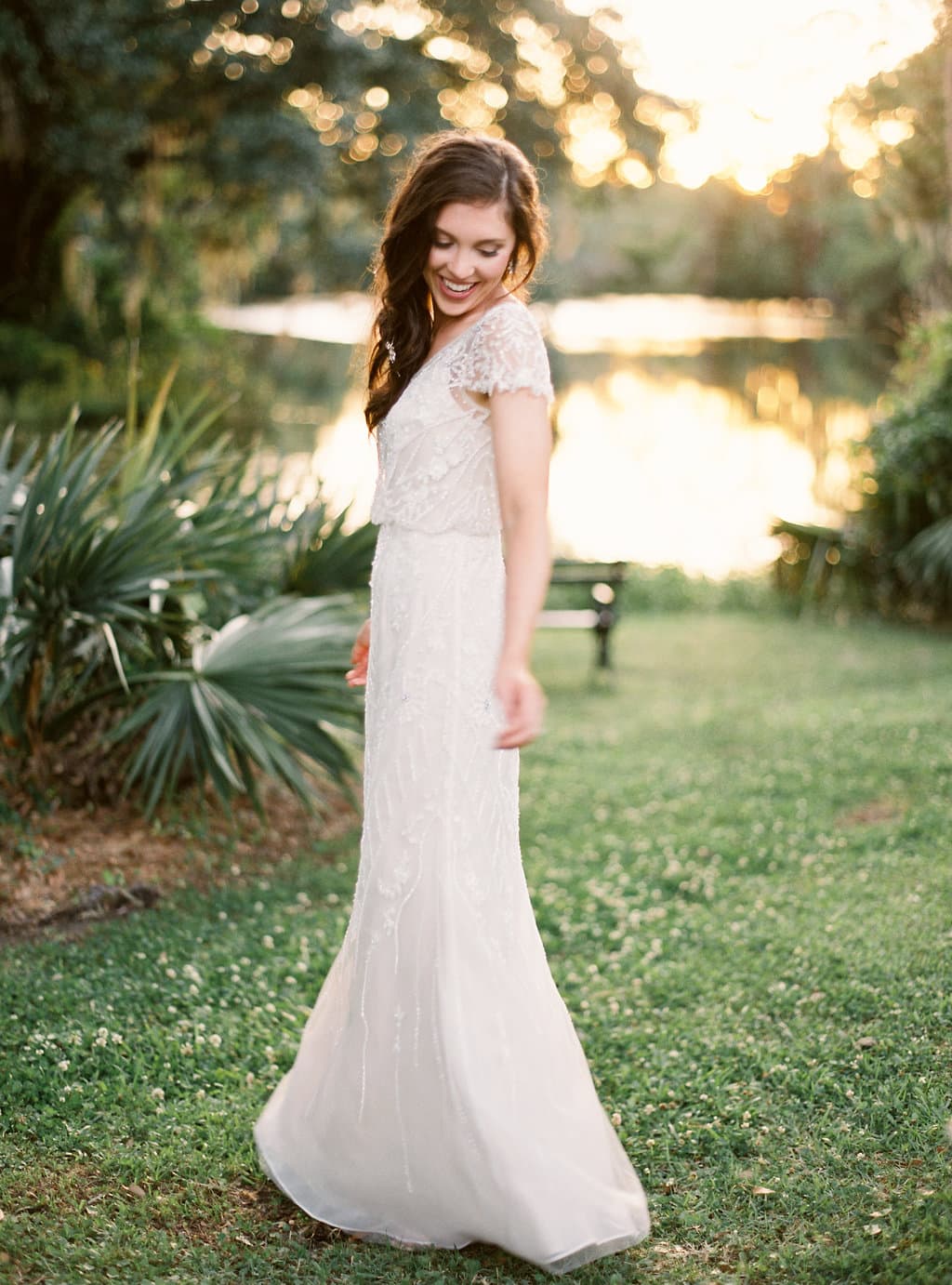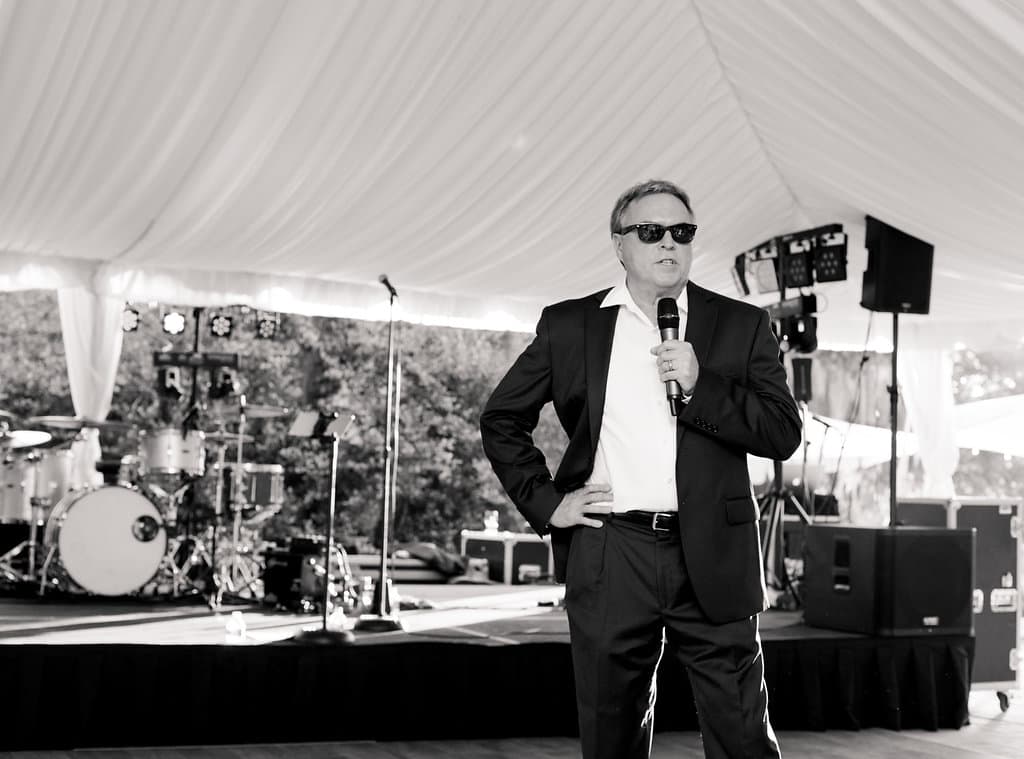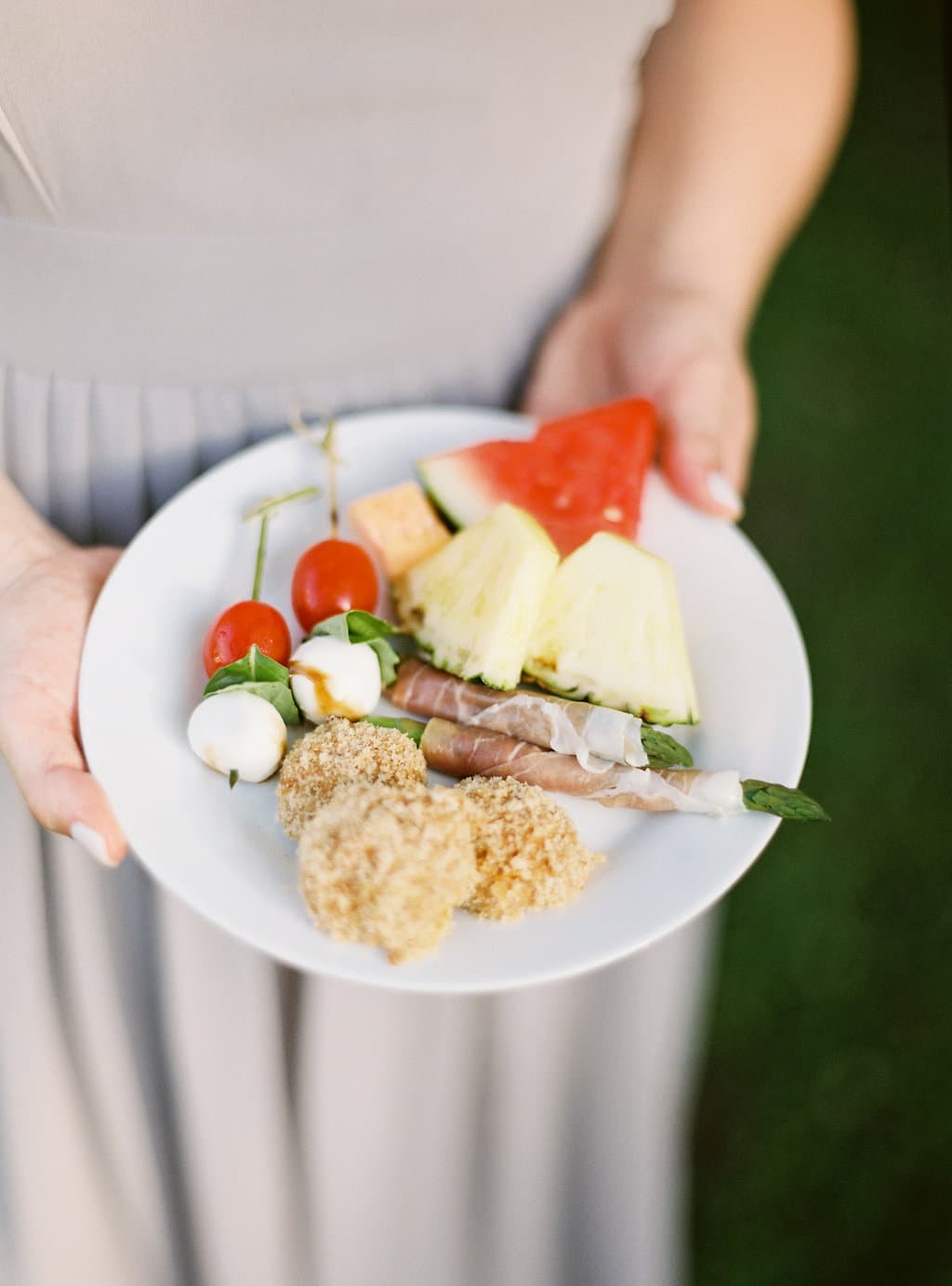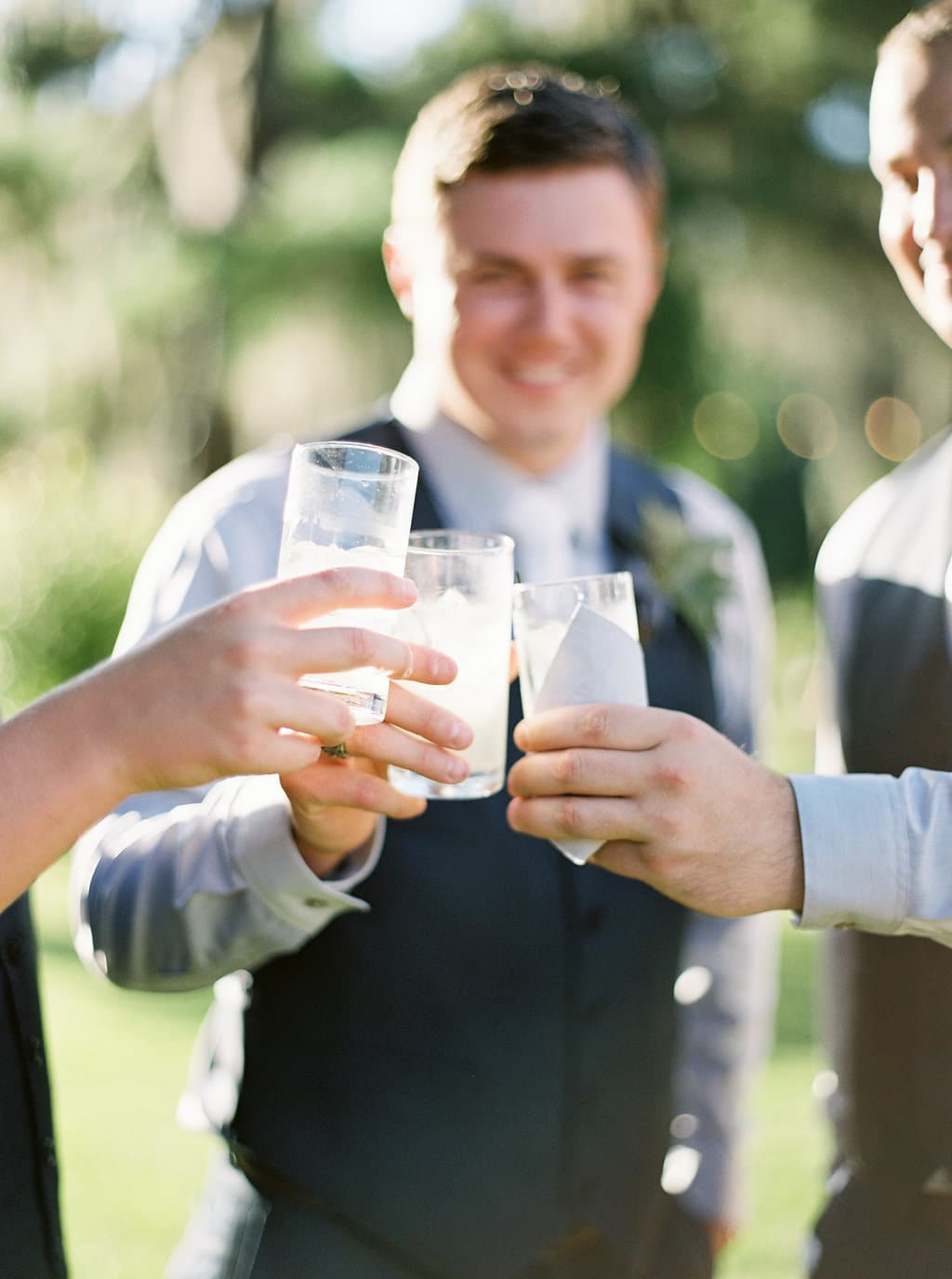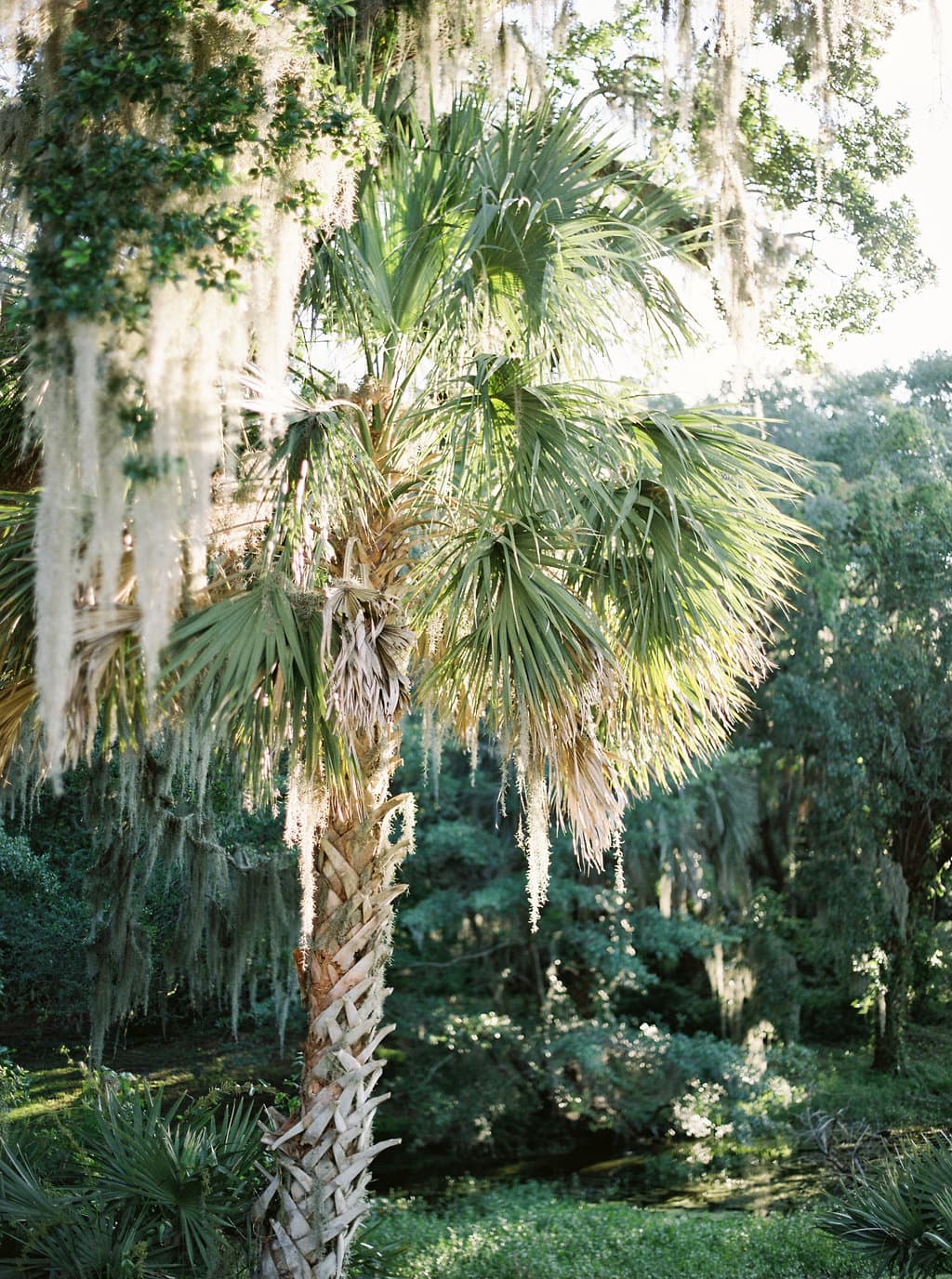 Advice I would give for anyone else planning their wedding? Invest in what will make your day memorable and enjoyable, not just beautiful on the outside. Don't stress about the small stuff. Our guests still talk about the band, the food, the unique details like our "Colberson cocktail" named after our dog, the beautiful outdoor setting, and our vows. The chevron wooden bars or chandeliers? Not so much, although, they sure were pretty. We were also so thankful we had Stephanie Shaul Events there to help make the day run smoothly. Having an experienced planner allowed us to really soak in each moment with each other and with our family/friends! Words can't even begin to describe how special that weekend was and how loved our family and friends made us feel. Promising your love to your best friend for forever is a feeling that is so surreal… it is simply the best!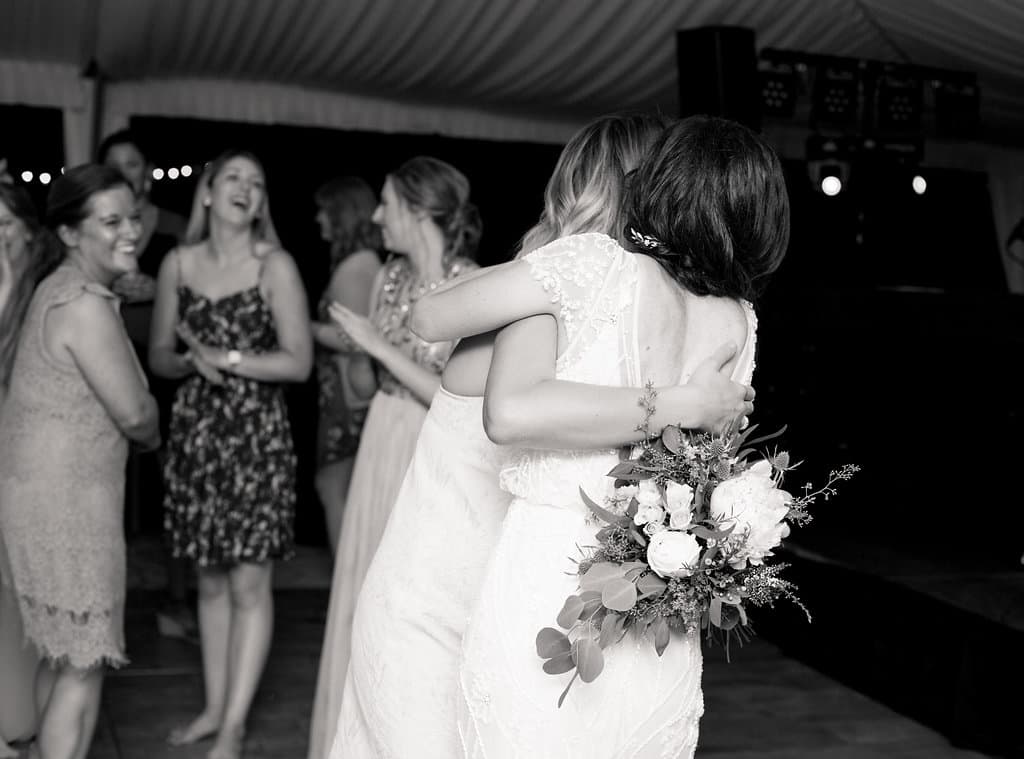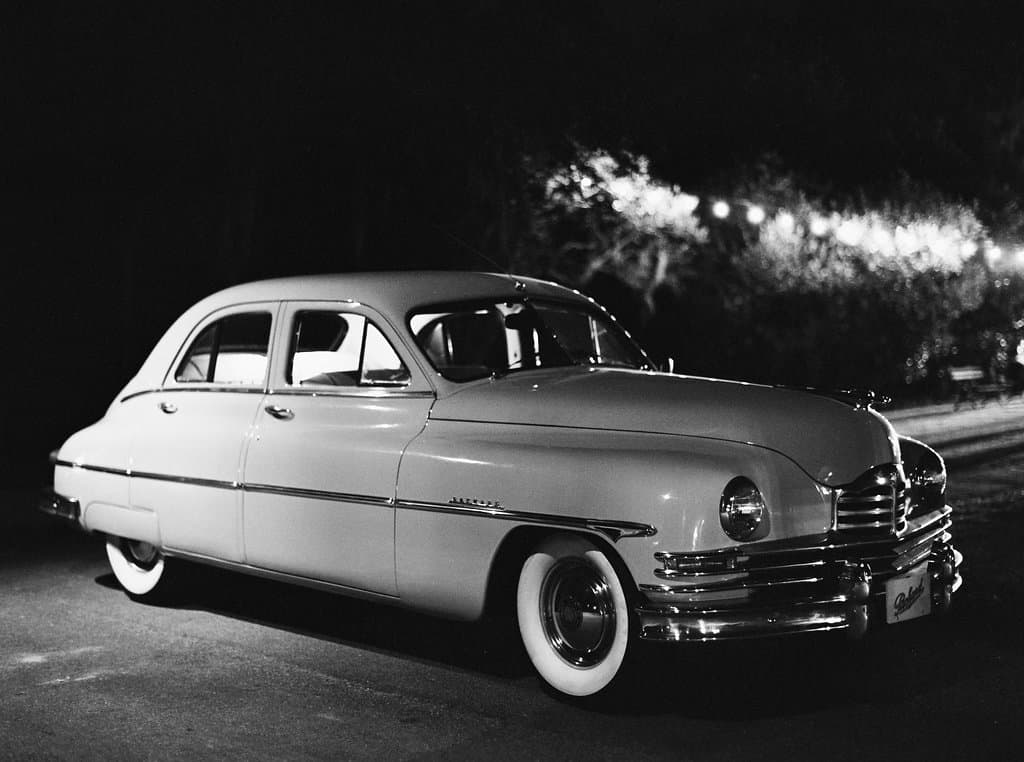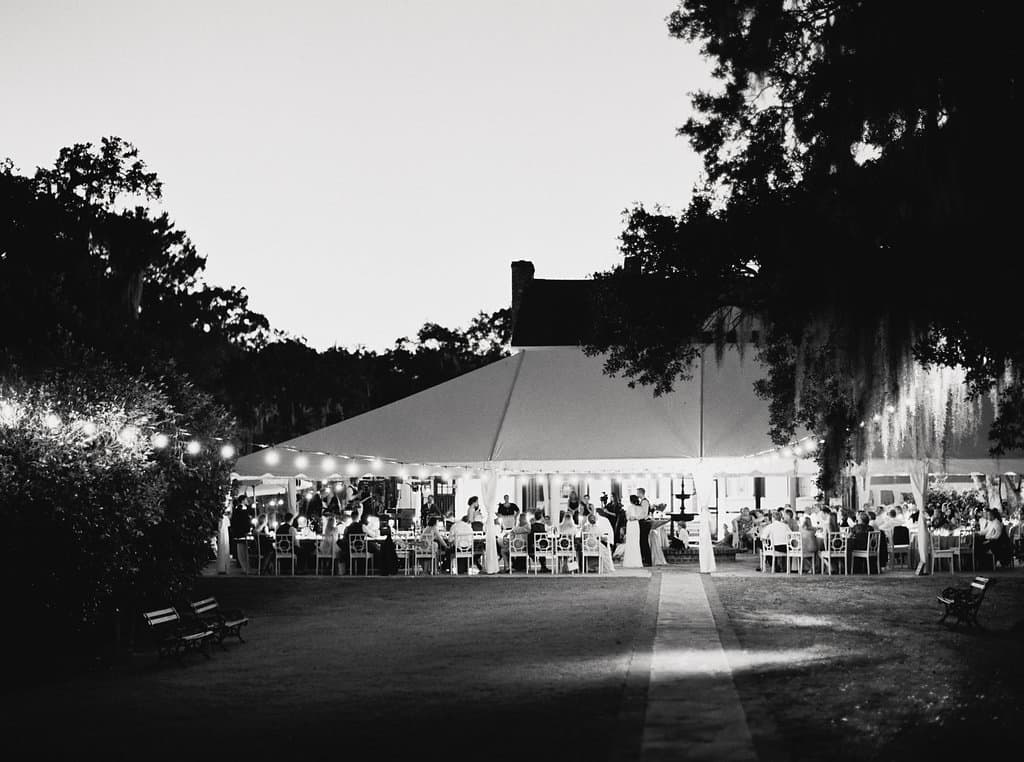 a few more from the reception…