TJ and I have been in the Bahamas since Saturday night and I plan to post a review of the resort we're staying at next week! However, since Memorial Day sales are coming up and I'd be sad if everything sold out before I could share it, I wanted to post what I packed for our trip. While almost everything I packed is striped, I think each piece is different in it's own way and most of it is under $100. I do have to say that the one item that has come most in handy here has been this headband. My hair has been so frizzy and windblown so adding one of these has helped me not look like a total mess.

Anyways, I packed a few different swimsuits: a teal plunge neckline one-piece with ruffle cap sleeves, a super affordable halter one-piece, this ruffle high-waisted bikini, and a striped one-piece from a boutique back home. I found this under $50 cover-up from Free People and it's been probably the other item that has come most in handy (also comes in three colors). When I was searching for sarongs, I had a hard time finding decent ones that weren't outrageously expensive so I picked up this wrap/scarf last minute to use as a sarong or lightweight wrap. I've been wearing this sunscreen non-stop since I accidentally got sunburned in the Outer Banks last week and I've been staying make-up free for most of the time except for this mineral foundation.
<center>

</center>
<center>

</center>
<center>

</center>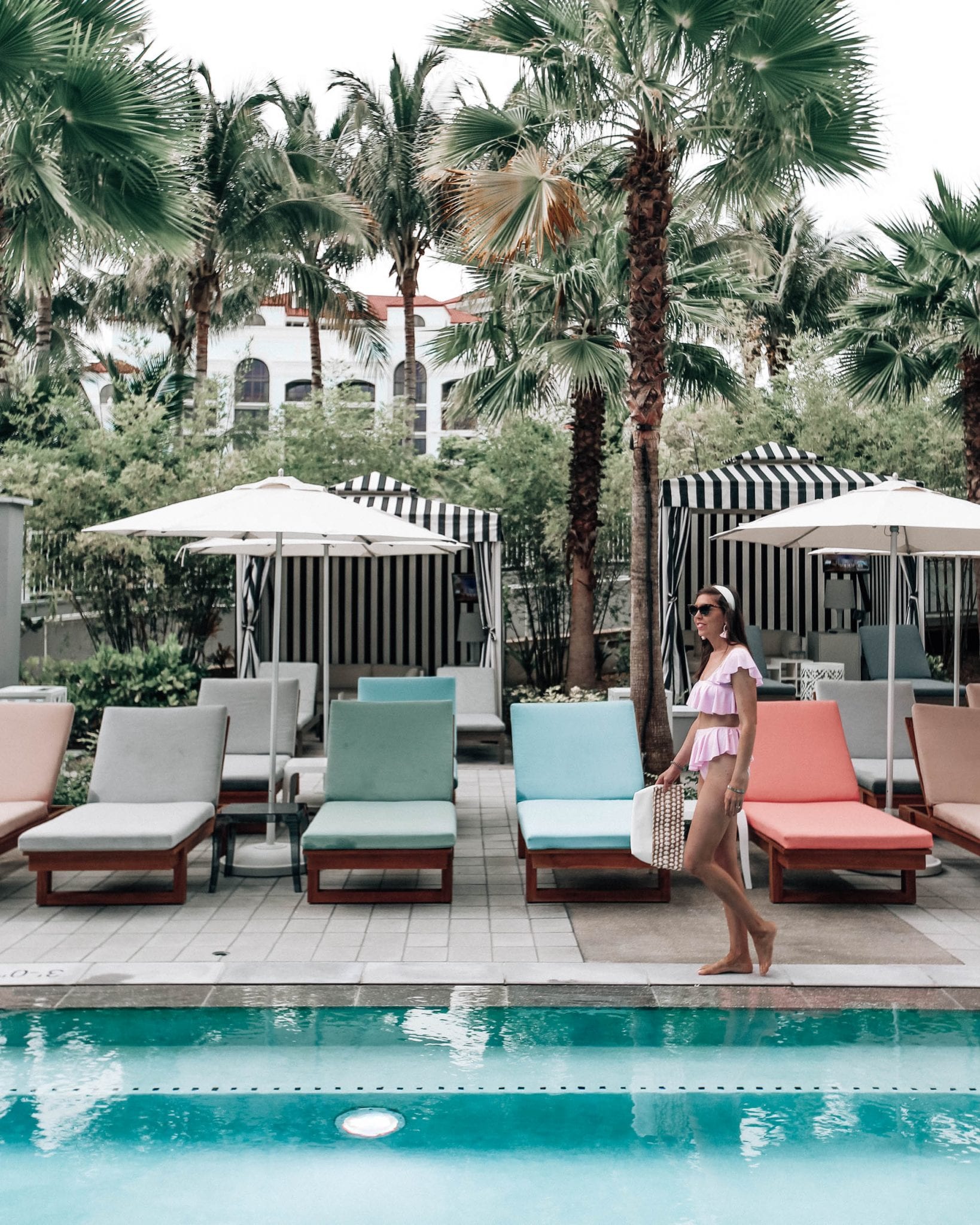 I also found a beautiful maxi skirt from Anthropologie but, unfortunately, I can't seem to find it online yet. As soon as it's up though, I'll post it because it is so unique and perfect for summer.
Earlier today, we found a guy with a boat who is going to take us out on an morning adventure tomorrow. We basically wanted to see more of the Bahamas and fly the drone on a deserted island, so, when we saw a random man on the beach with a boat, we had to ask! It should be interesting. I also had the best foot massage (well, actually the only foot massage now that I think about it) of my life today at the resort spa. I was so relaxed afterwards I could barely function. It was a spa success! Tomorrow (after our boat ride) we're probably going to spend most of the day on our computers in the cafe catching up on work.

I hope you all have a good week! I'm excited for the Bachelorette to start back in a week!

xo, Shelby

<center>

</center>