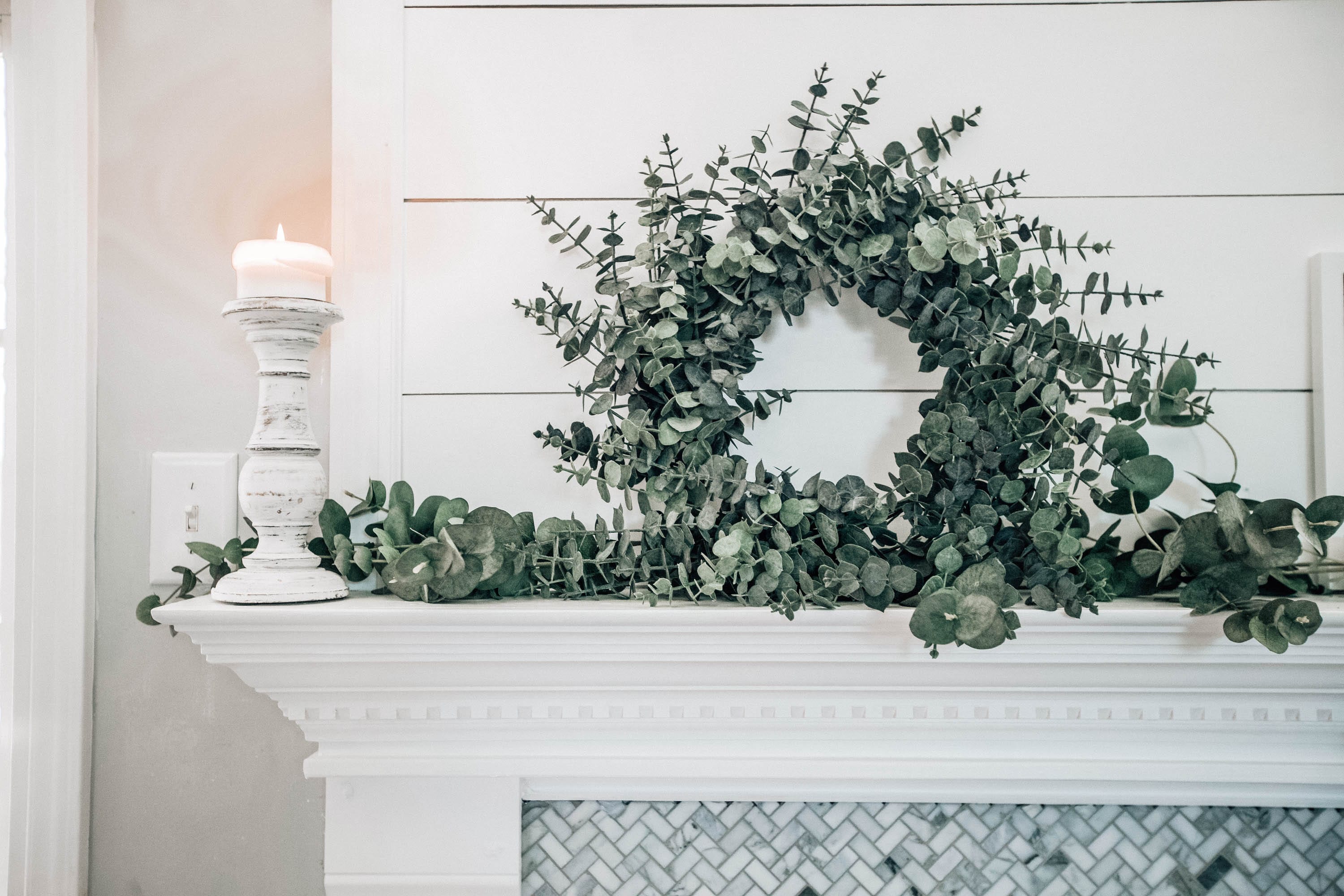 Taking down the Christmas tree and all of the other holiday decorations at the beginning of January can feel so good, almost like you and your home have a clean fresh start for the year and your mind feels less cluttered. Your mind starts drifting off to warm beaches and pretty blooms until you realize, "wait… we are only a couple of weeks into winter! We still have 2.5 months!". We usually have a few snows by March so I like to spend January and February soaking in the coziness of winter and making my home feel like a winter escape… complete with thick blankets, a warm fire, and winter candles. Today I'm teaming up with At Home to share a few ways I keep that post-Christmas glow strong in the home…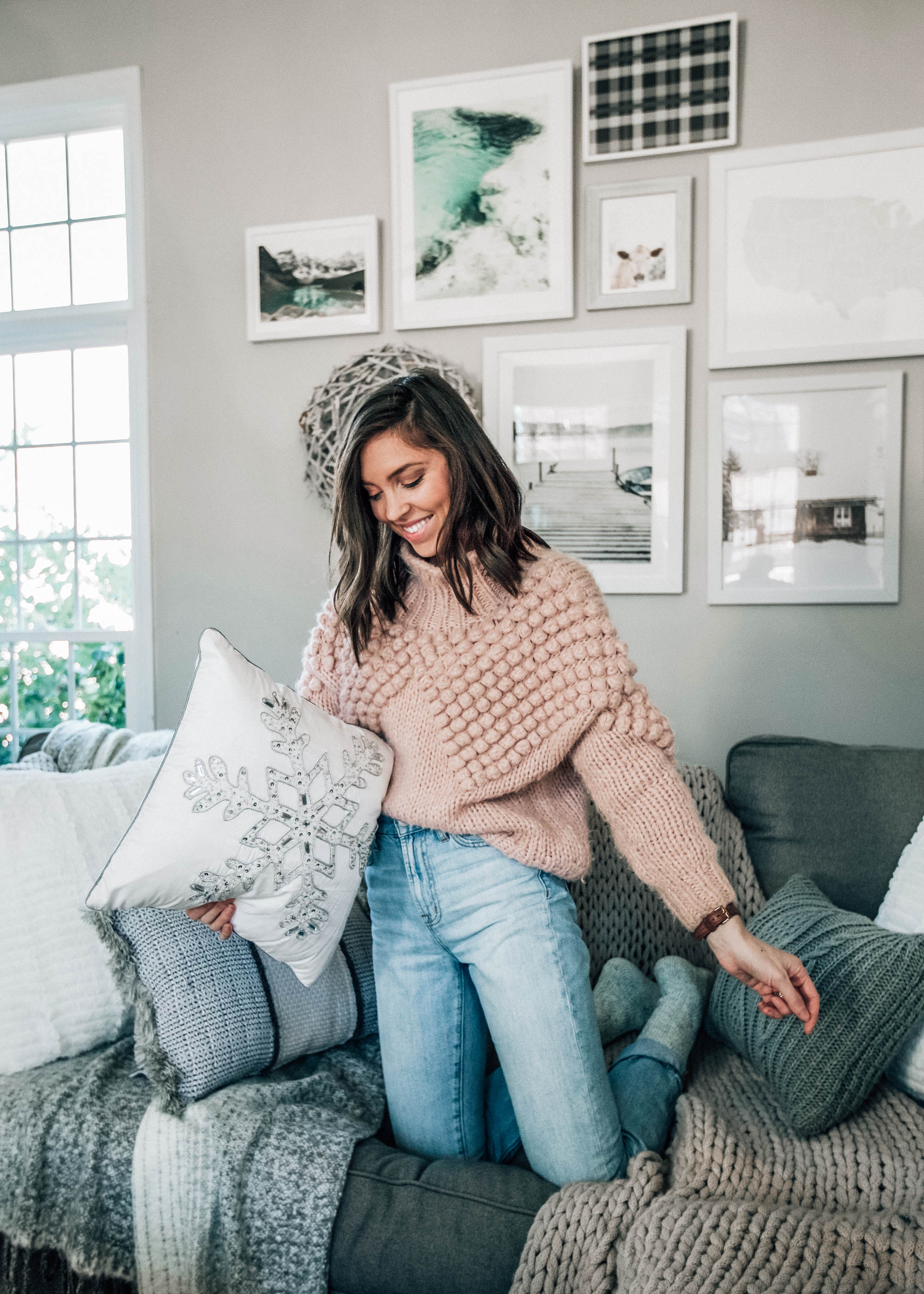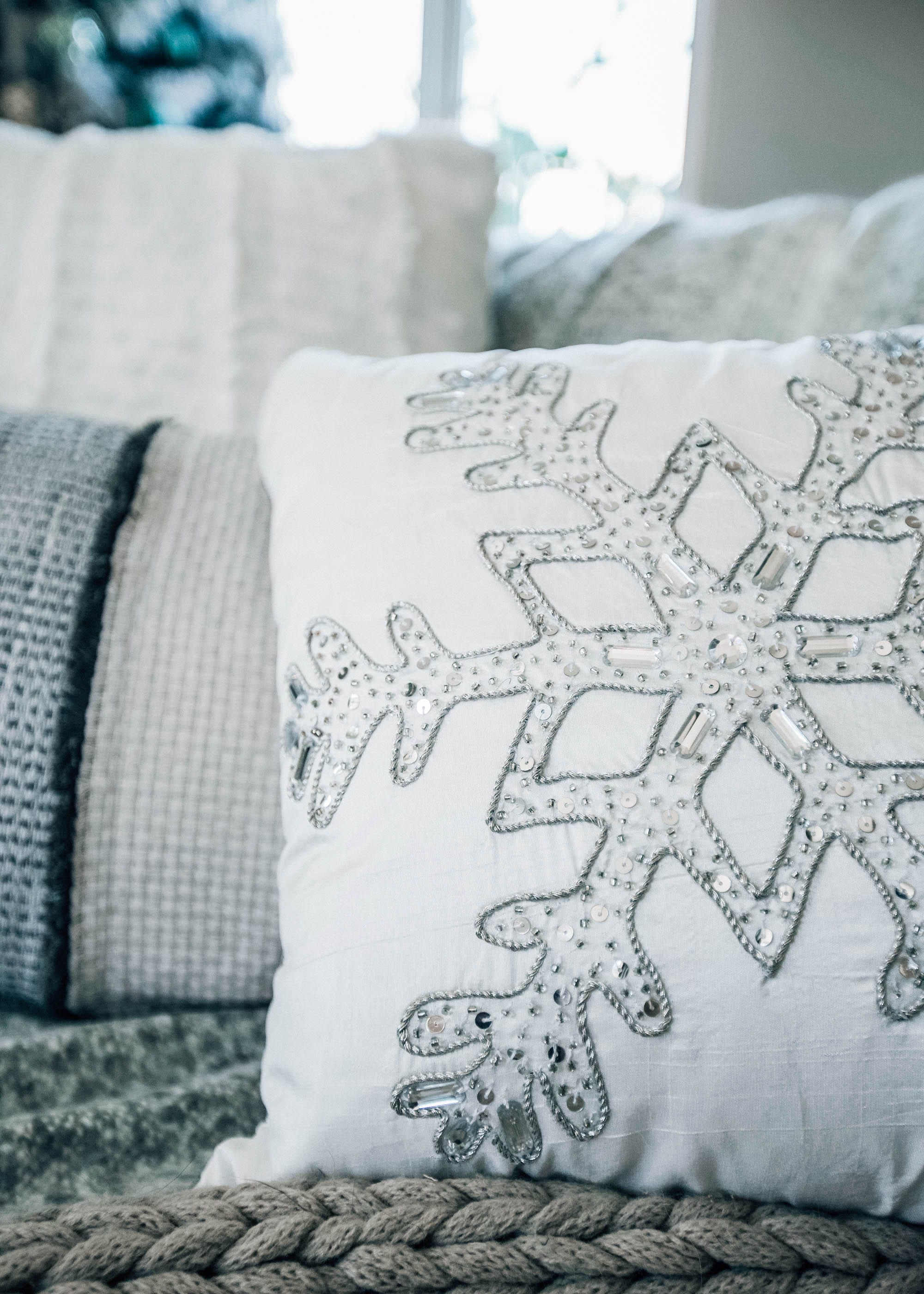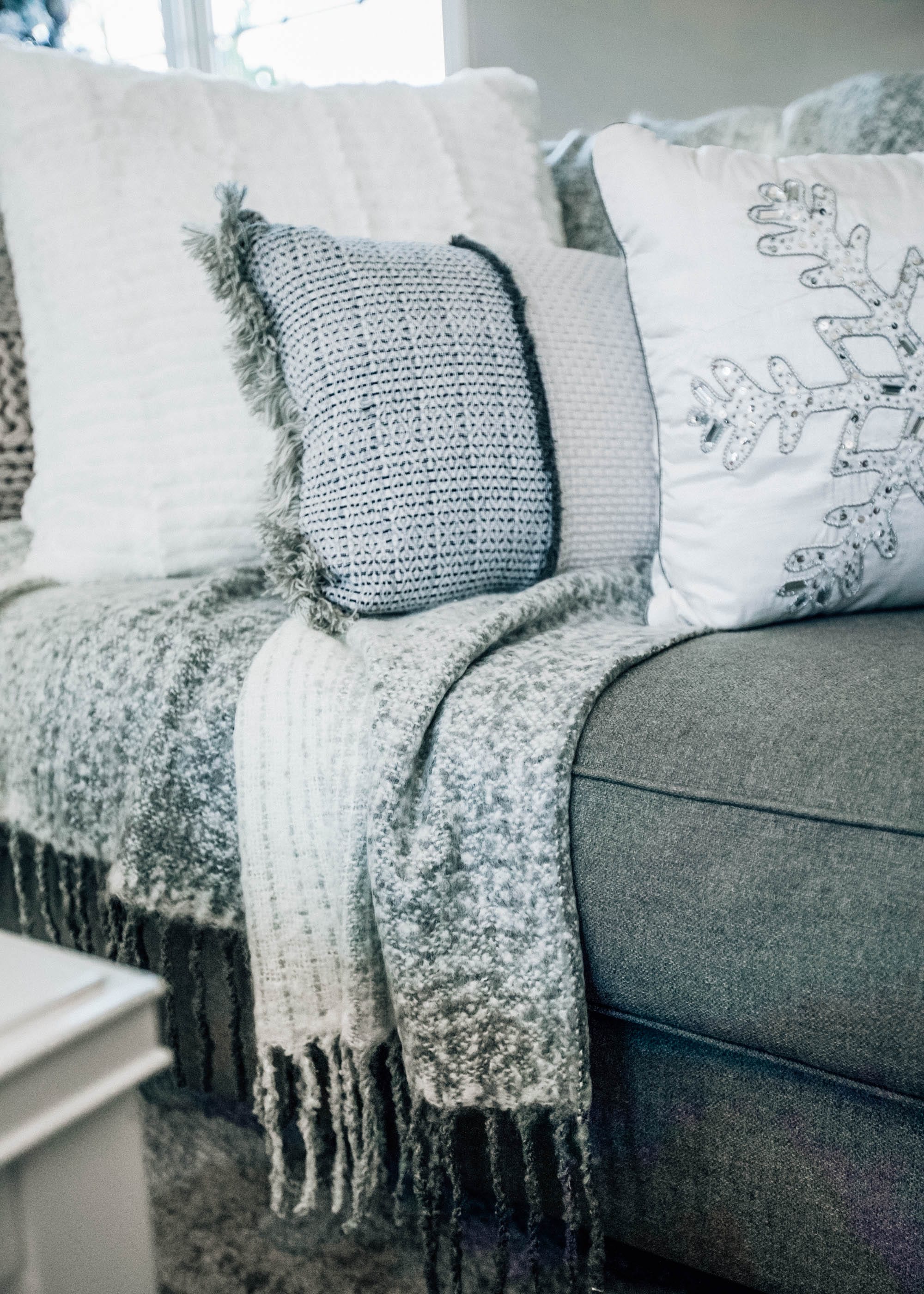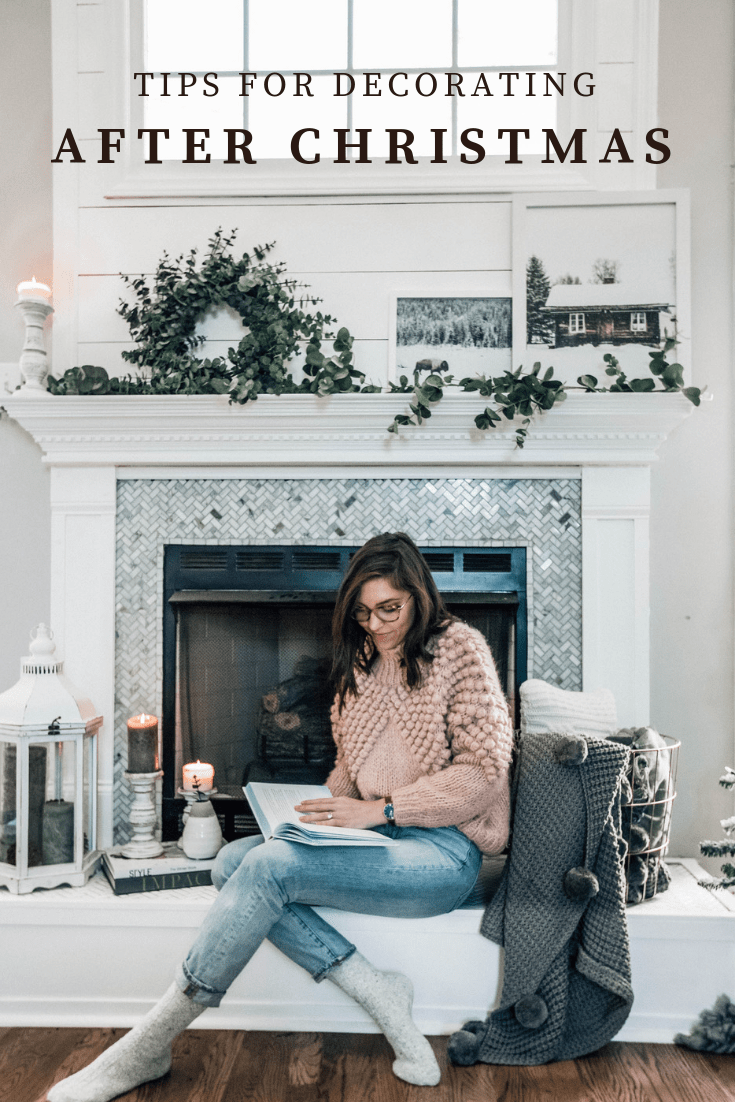 WINTER WHITE.
I always love decorating with white but especially during these post-holiday winter months! There is something about decorating with neutrals that make you feel clear-minded, cozy, and clean! I picked up a few throw pillows and swapped out my plaid/holiday pillows with some cable-knit and faux fur all-white pillows and it instantly made the living room feel more clean. White candles, white lanterns, candle holders, white pillows…. It all just feels so fresh and reminds me of the snow!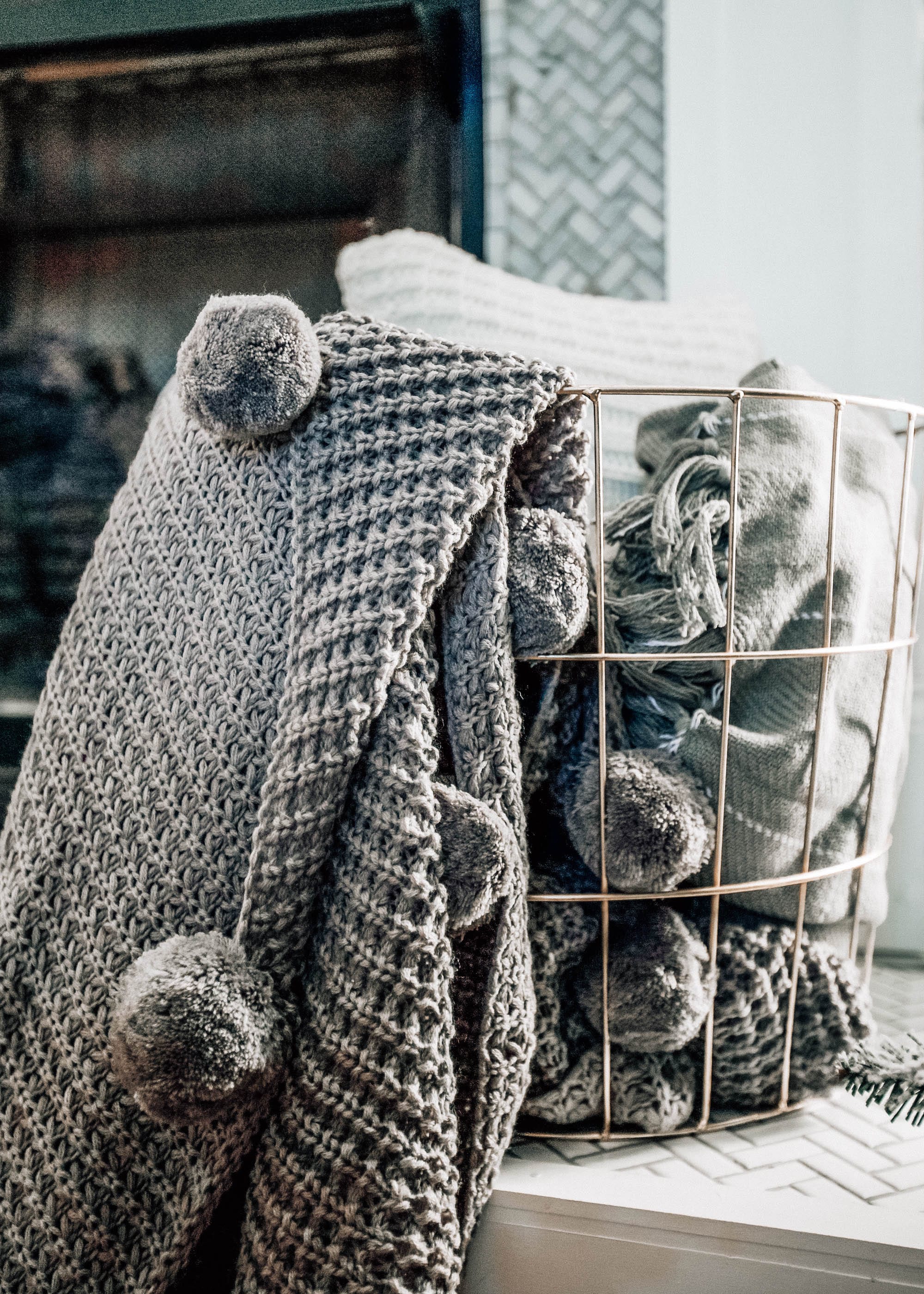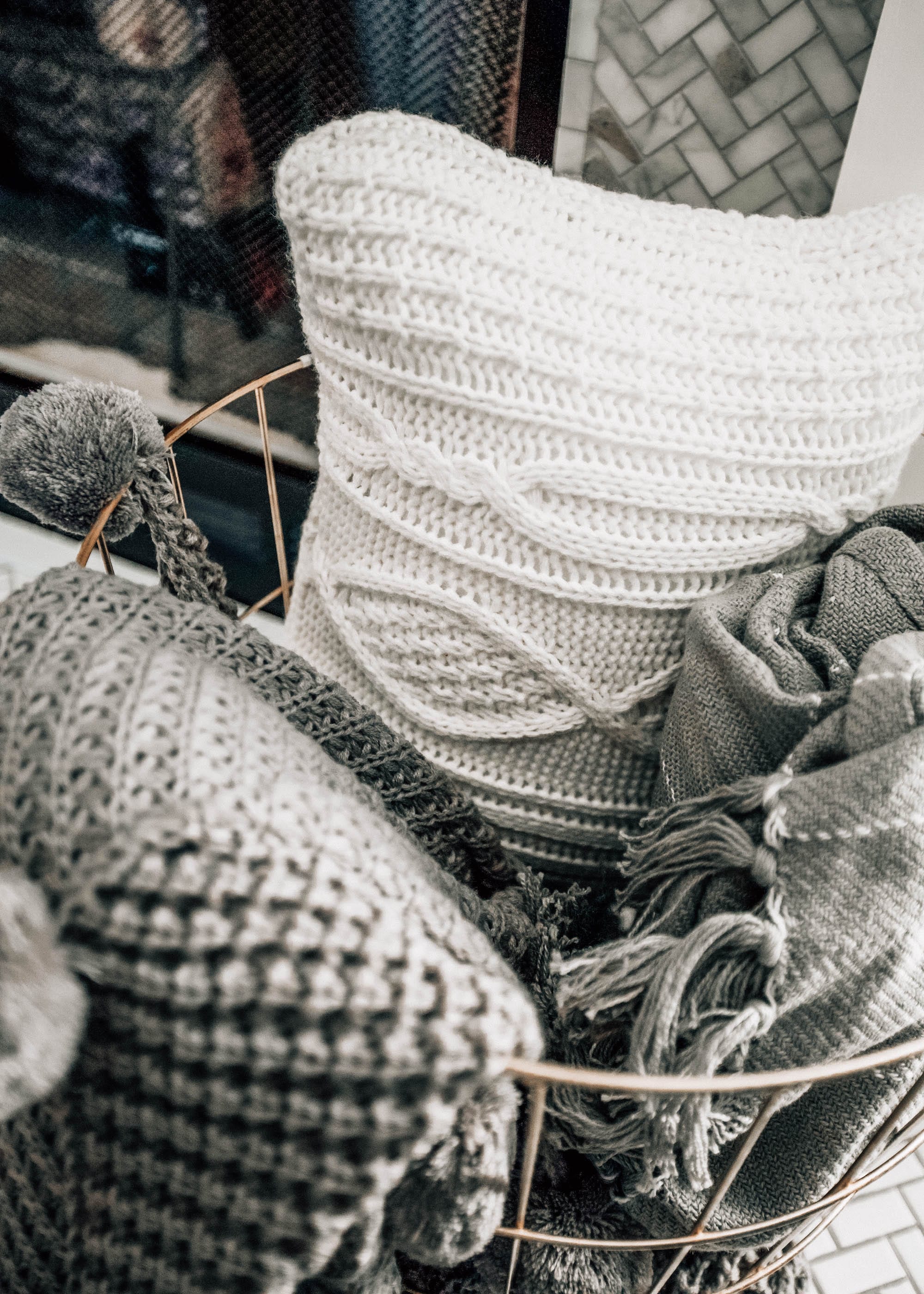 TEXTURES.
If there is any time of the year to add in some texture in your home, it's winter! Thick knit blankets, faux fur details, embellished snowflakes, and cable-knit everything gives the home an inviting and comfortable touch for those days when you come home from work and just want to warm up in a blanket and watch The Bachelor (anyone else watching tonight?!). Having a dedicated "blanket basket" set by the fireplace is always nice for when guests are over and also makes your living room feel much more organized.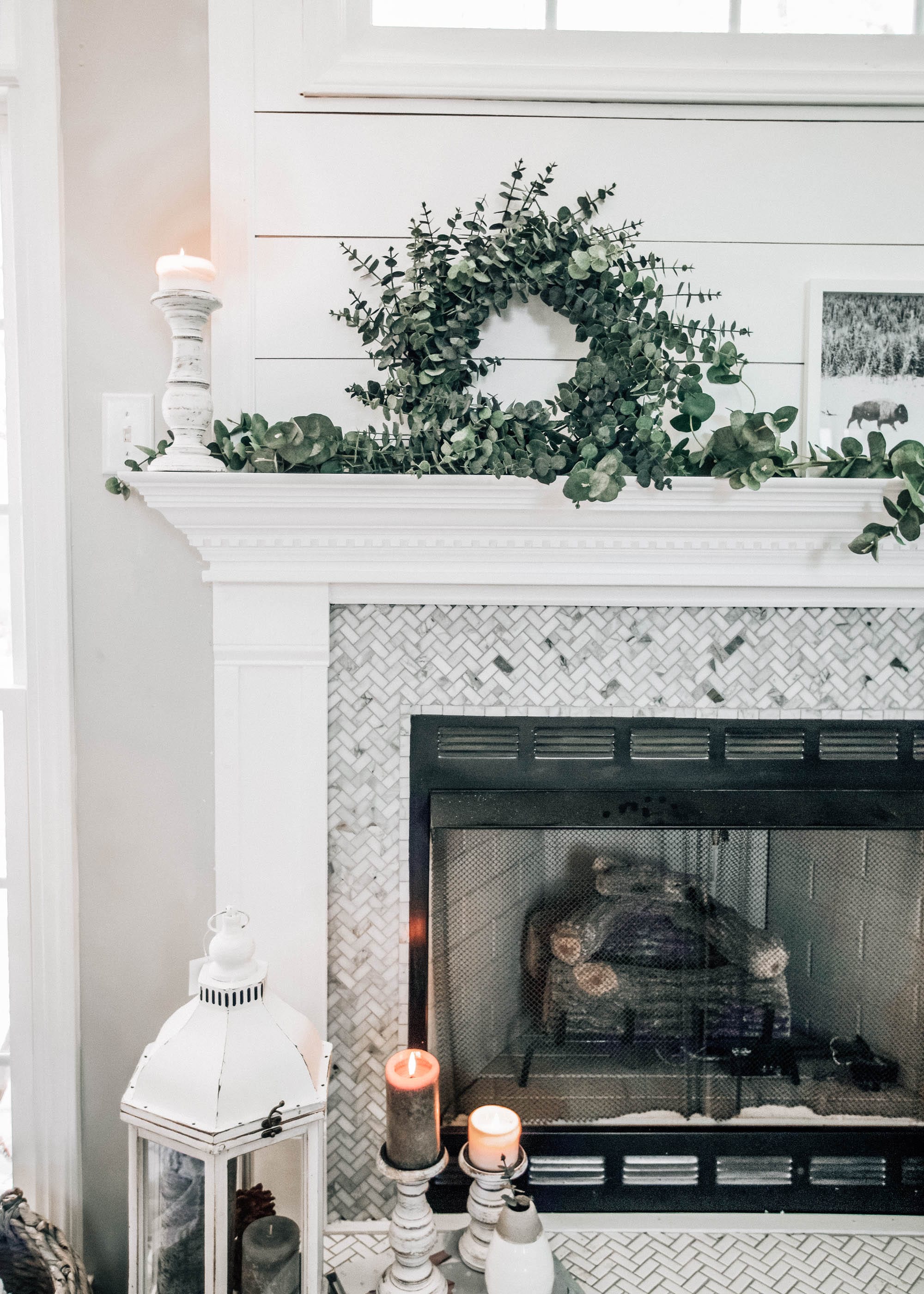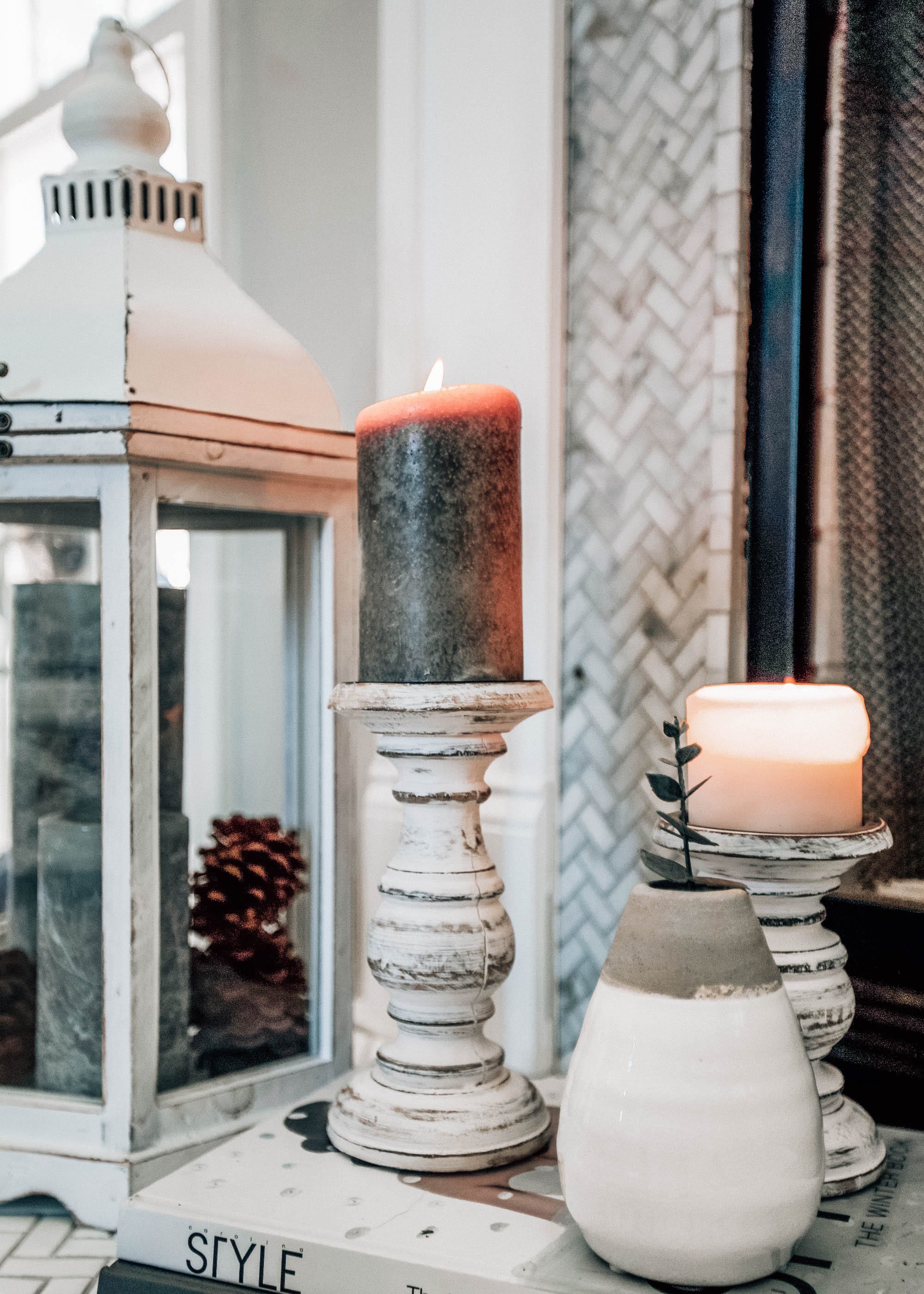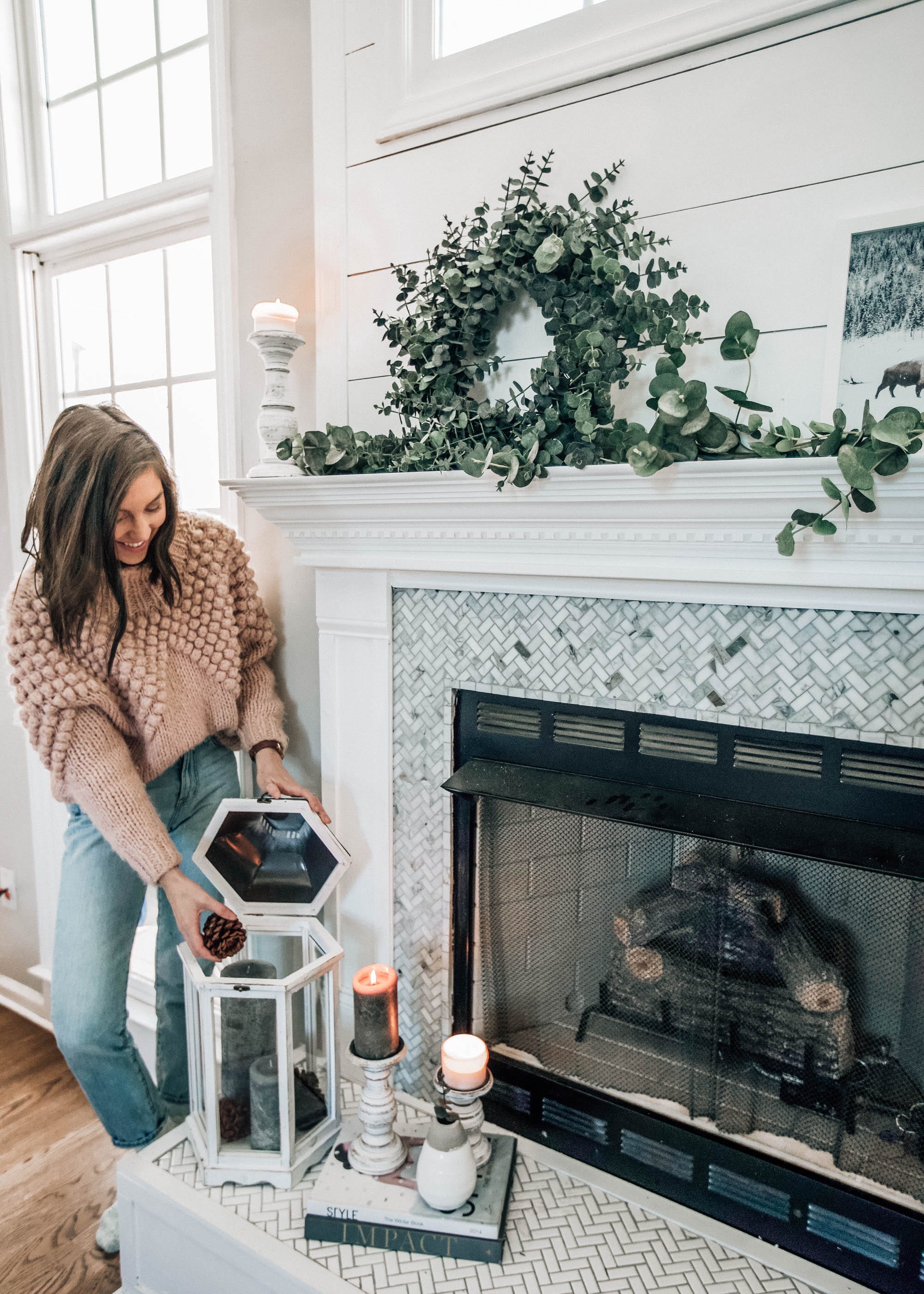 LANTERNS & CANDLES.
I always like decorating our fireplace with a lantern or two on the hearth and adding different items to the inside whether that be pine branches, pumpkins, candles, or pinecones depending on the time of year. By the way, if you're on the hunt for lanterns, there is almost an entire aisle dedicated to them at At Home – every shape, size, and color you can think of! Going back to the winter whites theme, I couldn't pass up on this big white lantern which will also transition into spring time perfectly. As for candles, I like the wintery fresh, creamy or woodsy scents. One of my current ones we're burning is by Farmhouse Delights (also available at At Home) and is called Fresh Made Cream. It smells heavenly.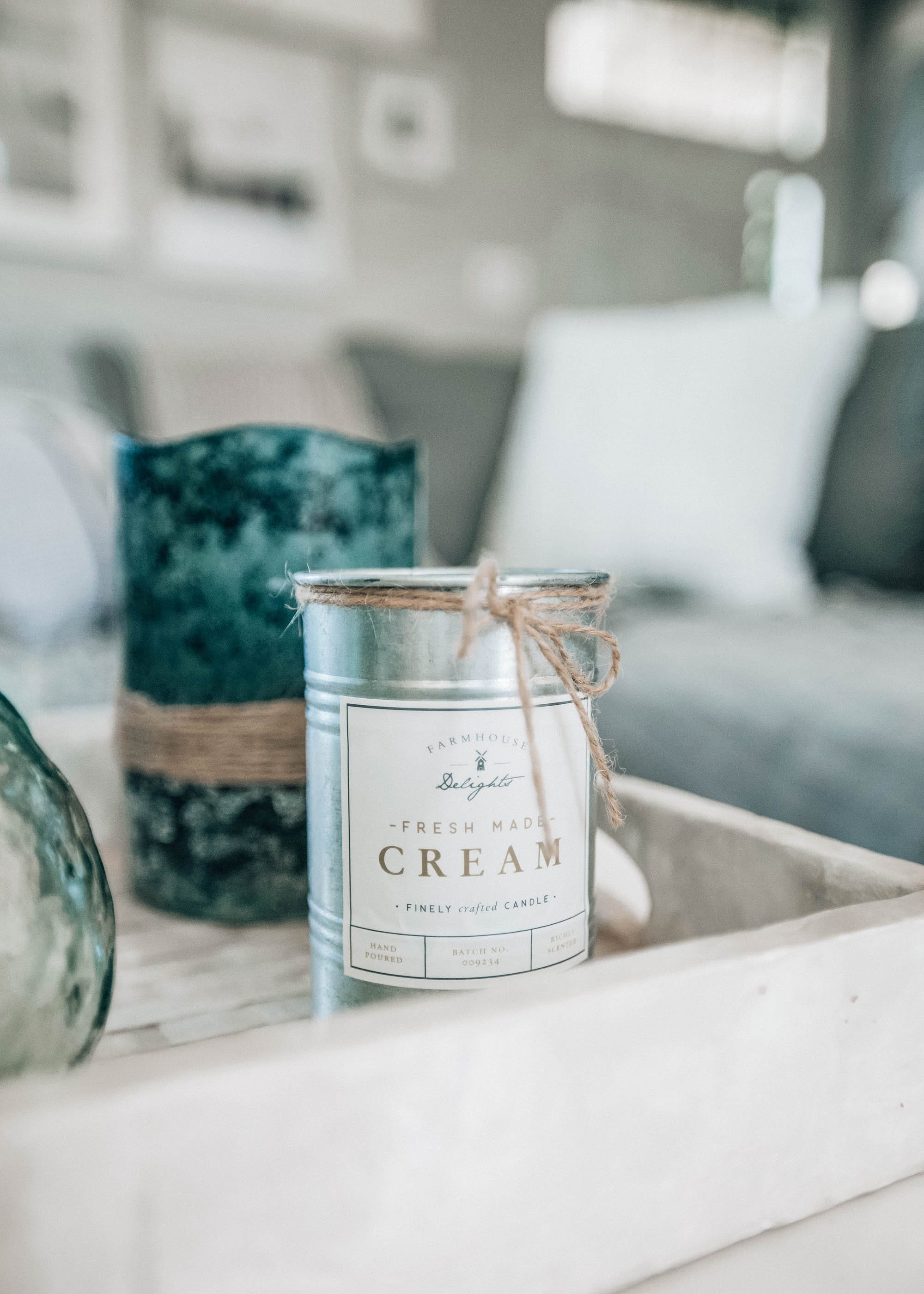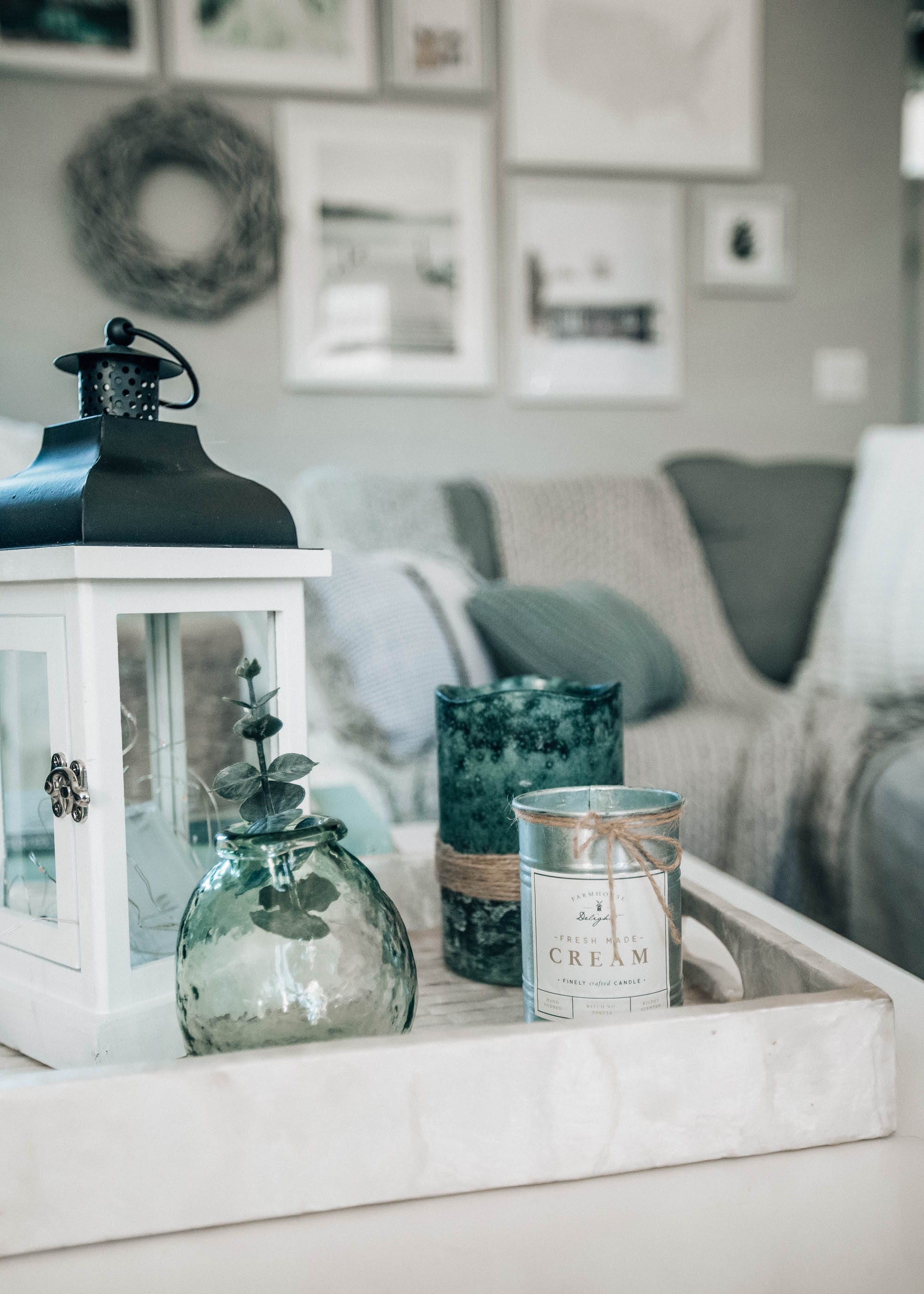 LESS IS MORE.
With the fresh year just starting, clutter is the last thing you want in your house, or at least that is how I feel. Anybody else watch Marie Kondo show on Netflix? When it comes to winter décor, less is more. I made sure to keep my coffee table décor to a minimum… just a candle or two, a book, a small vase with eucalyptus and not much else.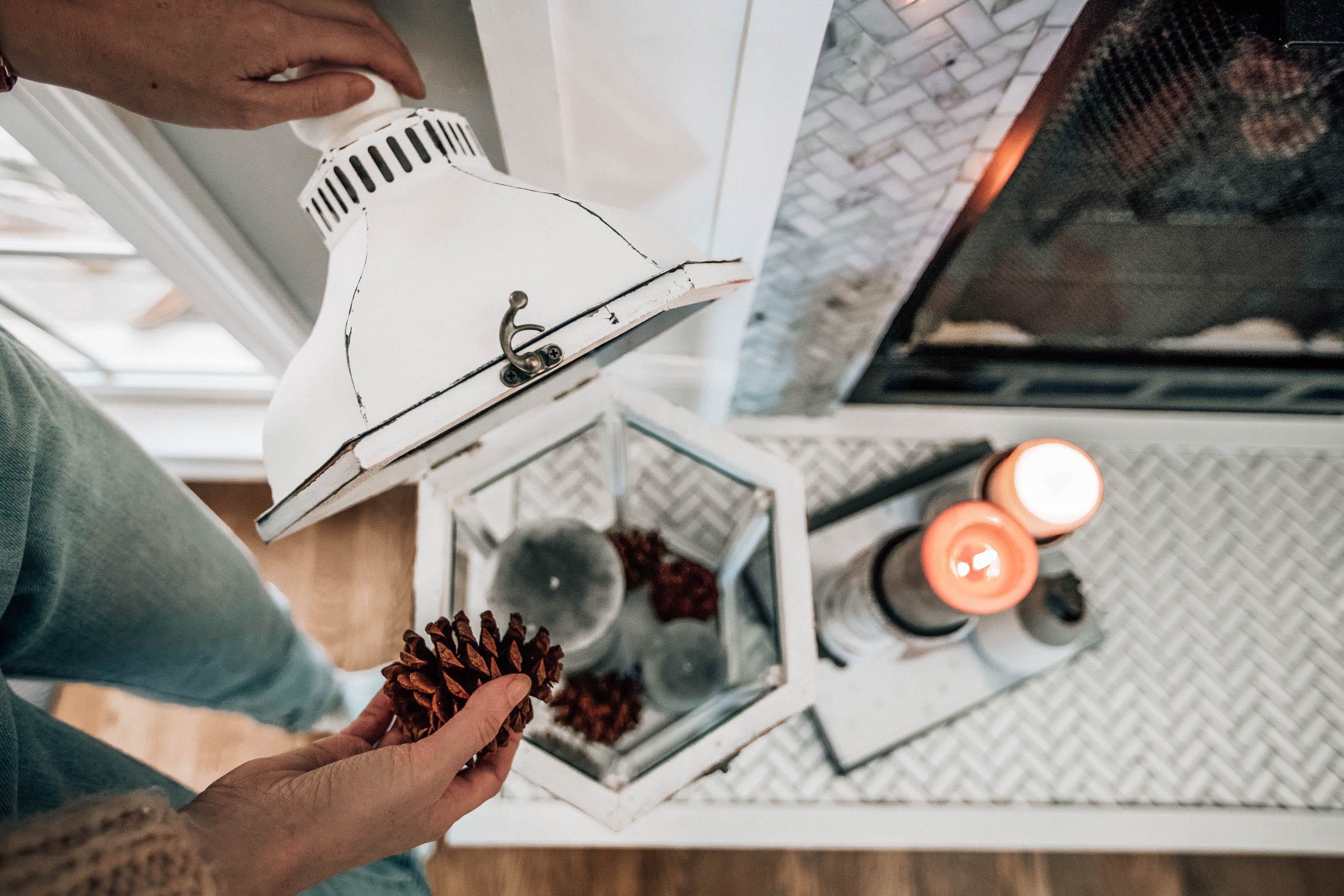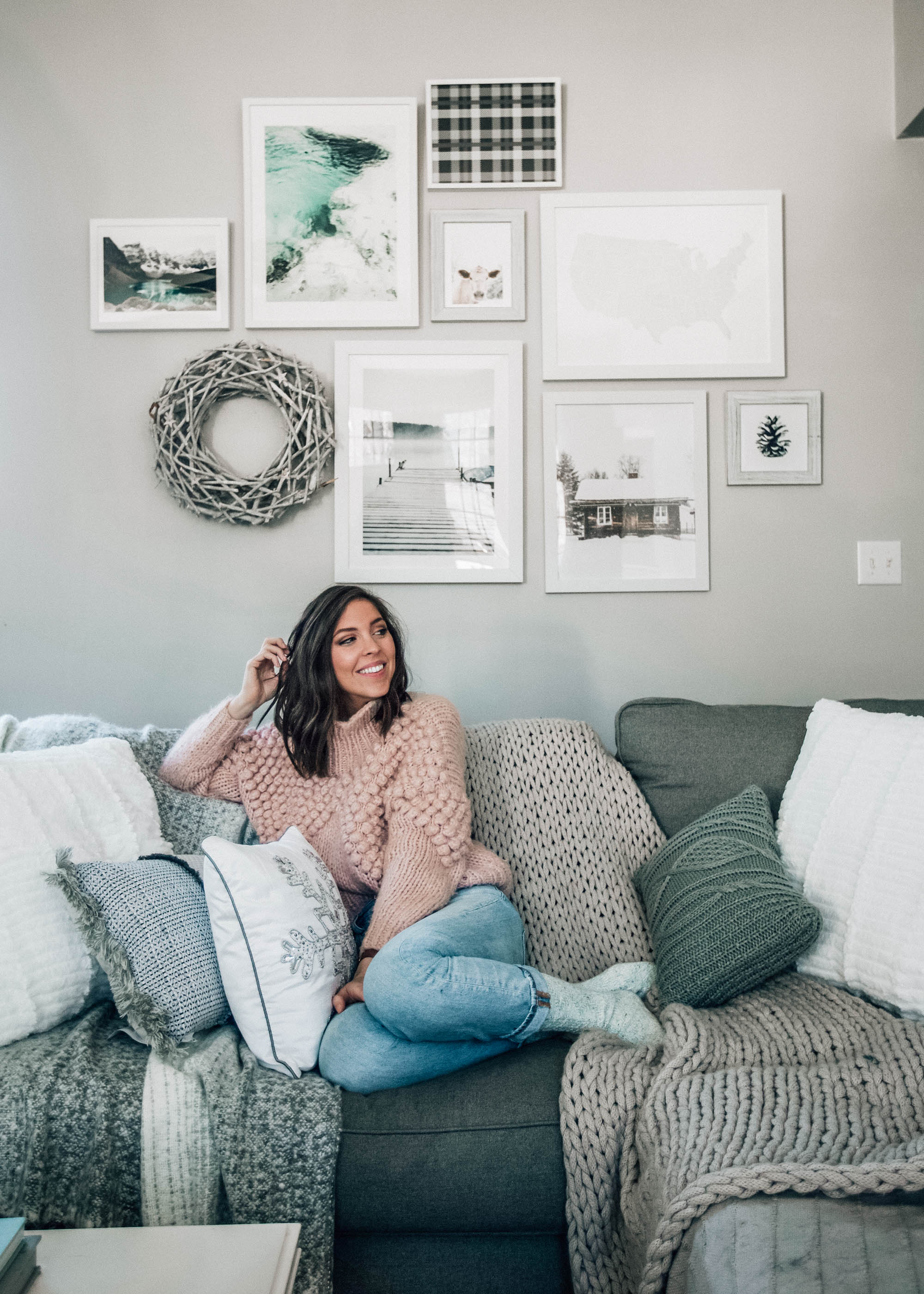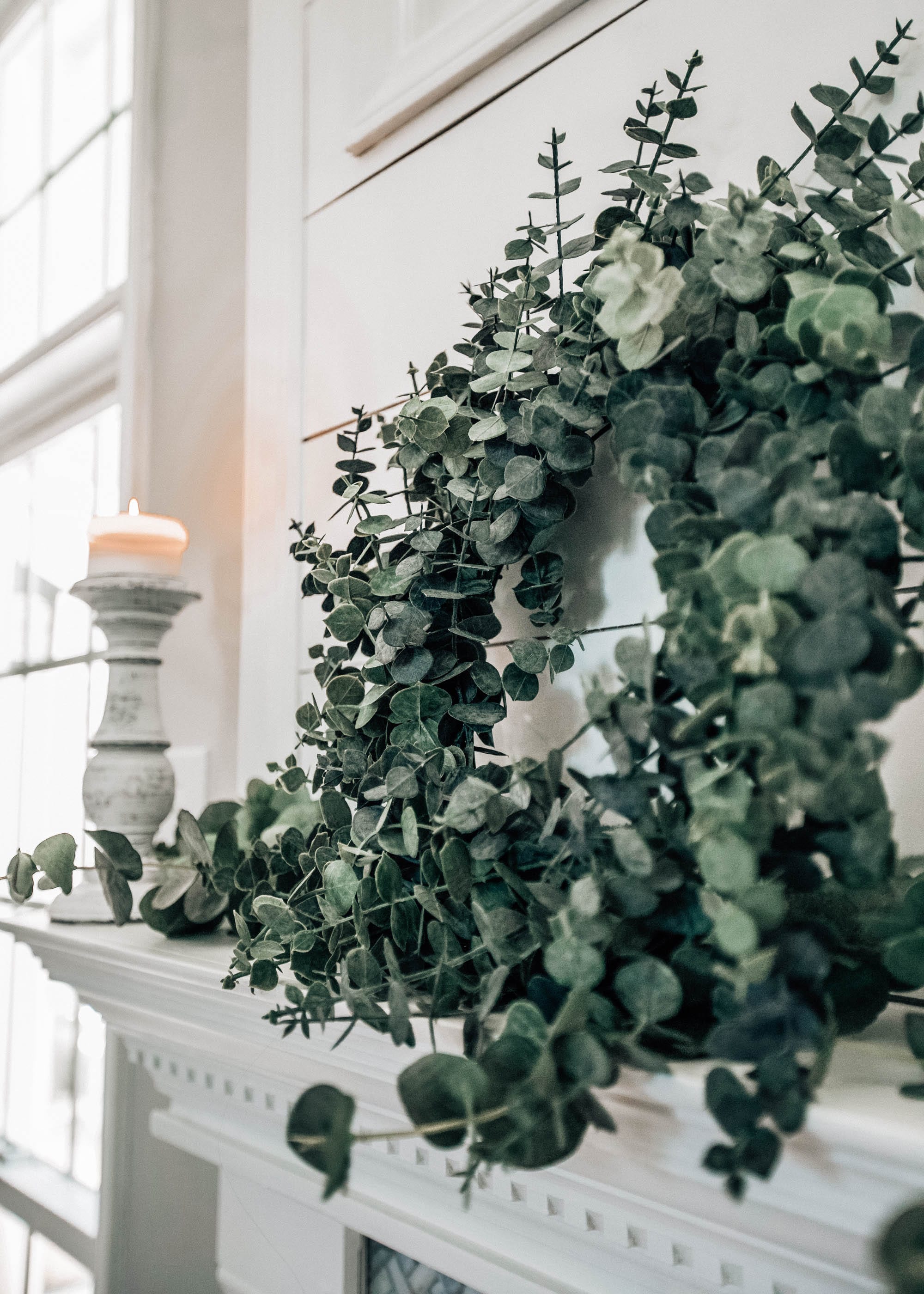 WINTER ELEMENTS OF NATURE.
I've talked about this one before but I just LOVE bringing little bits of the outdoors in whether that be through art prints of landscapes/animals or greenery & florals! For the months between the holidays and springtime, I like to stick to eucalyptus but I also love adding in some pinecones and birch logs where possible. I have a few little vases that I will stick a eucalyptus branch in but I also love my eucalyptus garland, and one other item which brings me to my last tip…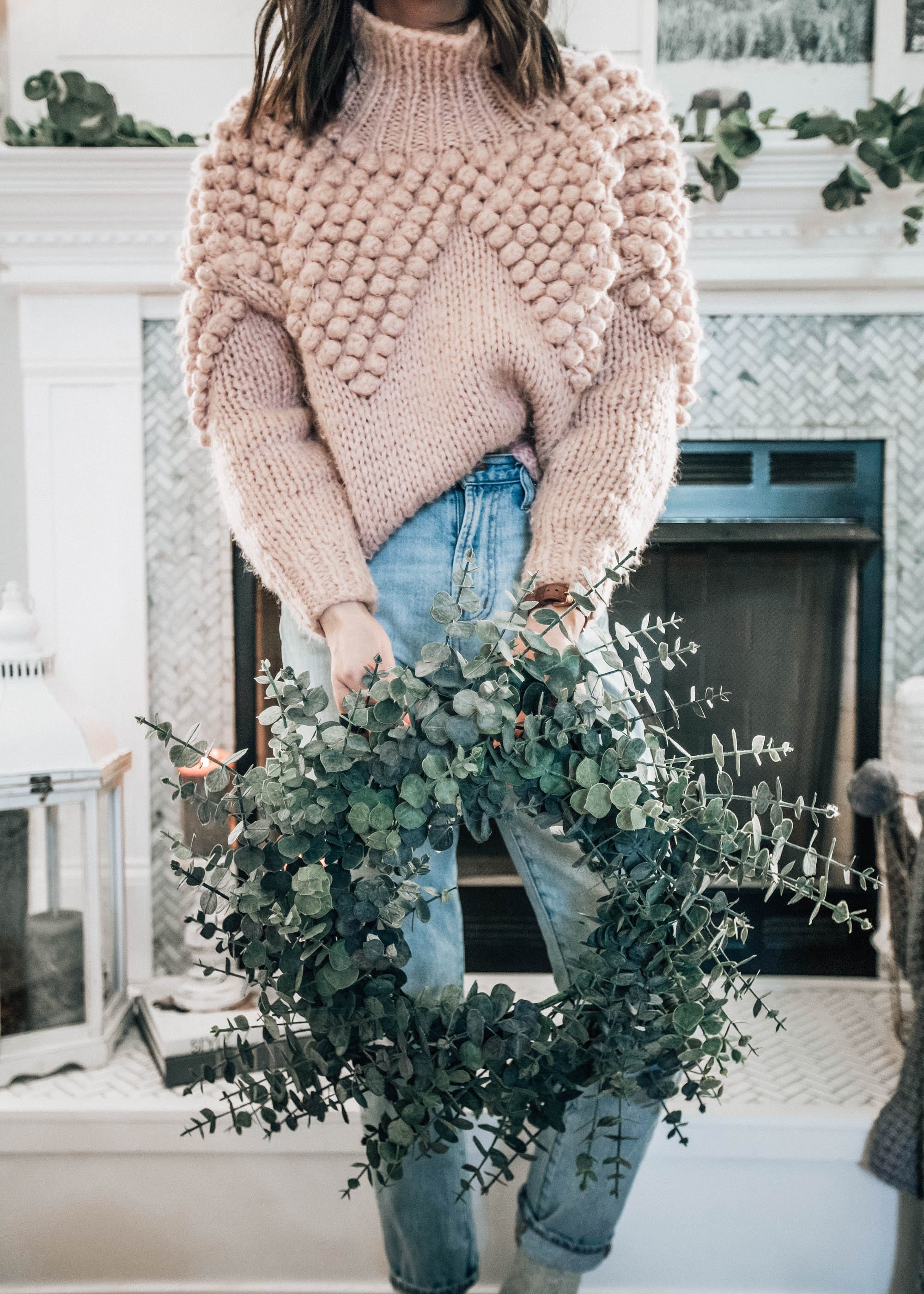 SIMPLE WINTERY WREATH.
I'm a year-round wreath kind of person. Even in the spring, I decorate with soft pink wreaths. After the holidays though, I put away the more holiday festive ones and bring out a simple wintery wreath made of faux eucalyptus. I actually love this one for year-round but it's especially perfect for this post-holiday time.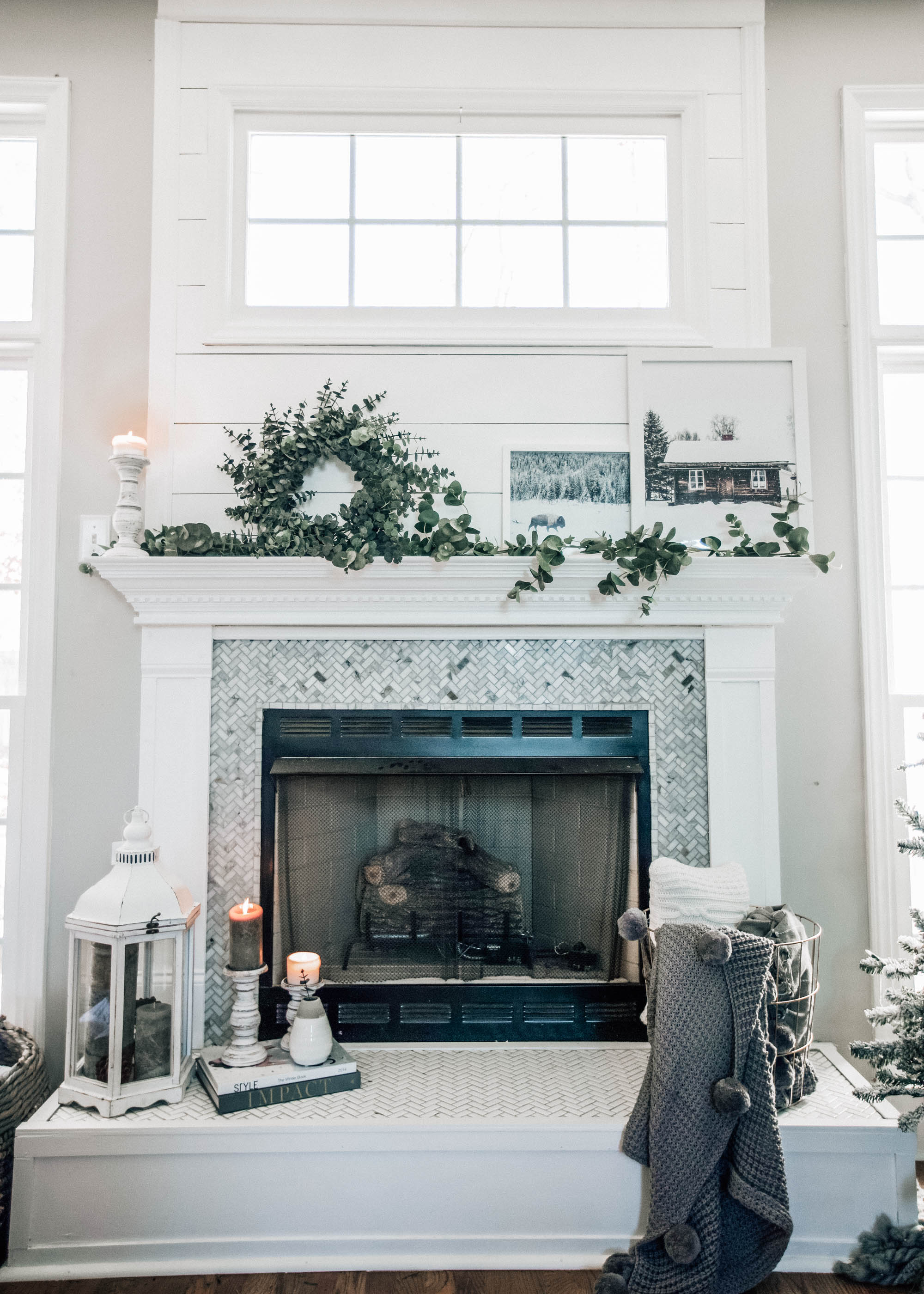 I love this time of year so much and hope these tips helped give some inspiration for decorating this winter. After all, we still have a little bit to go until spring so we might as well embrace it!