It's still shocking to me how we are almost through 2020. The holidays are right around the corner and soon enough it'll be New Year's Eve! We decided that we'll be staying in New York for the holidays this year and I'm determined to stay cozy and stylish inside. Over the last few months, I've challenged myself to elevate even my dressed-down looks because… well, why not?! If I'm going to be spending more time indoors this season, I might as well be wearing the softest and most luxurious fabrics I have. I've added a few cashmere pieces to my closet lately and it's all I want to wear these days. I love how lightweight and soft the cashmere is because, if you've ever lived in a 100 yr old apartment building, you know how hot/cold it can get and it's nice to have easy layers. Today I'm partnering with Garnet Hill and sharing a few of my favorite cozy pieces to wear at home but still feel my best in! 
Simple Style Tips for a Cozy Holiday At Home
Elevate your favorite black leggings.
If you're wanting to stay comfortable, active, and casual but dress it up just a bit, try adding an oversized knit sweater with a cashmere scarf and some statement earrings. There is nothing that keeps you as comfortable as leggings but just because you're home, doesn't mean you can't dress them up a bit. You could even really go all out with some cashmere slippers! I paired this Oversized Cabled Turtleneck Sweater with my Seam-Detail Leggings and it's absolutely beautiful in person with its rich color and cable-knit detail. You'll feel so luxurious you won't even remember you're actually just wearing leggings, especially if you pair it with taller boots.
A cashmere wrap makes the perfect winter accessory.

I haven't created a winter capsule wardrobe yet but, if I did, this oatmeal cashmere wrap would definitely be included as a staple. Not only can it be worn as a regular scarf in numerous ways, but there are truly so many other non-scarf ways to wear/use it while staying cozy at home. You could drape it over your shoulders so that it looks like a poncho-type layer or you could even pair it with one of your holiday dresses as a shawl. After a long day, you could turn on a movie and even use it as a blanket. It's the most versatile accessory but also feels very luxurious and holiday-appropriate.
Add some sequins… even at home.
If this year has taught me anything, it's that you don't have to wait for a special occasion to celebrate. You can always find something to celebrate and you can do it in sequins, even at home! There is something about wearing sequins going into the new year that just sets the tone for the rest of the year. I love this Shawl Collared Sequined Duster from Garnet Hill because you can pair it with leggings, joggers, jeans, or even over a dress. The options are endless with this and it's so festive and fun.
Dress up your living room.

Sometimes all a space needs is a pillow/throw swap to get it in the festive mood. I added some new pillow covers to a few pillows in our home and it's amazing how such a small switch can give a space a whole new cozy feel for the holidays. I LOVE these matching Wool & Cashmere Pillow Covers and Throw Blankets, especially the deep Mahogany color which is so perfect for the winter season. The color really makes any corner of the home feel warmer.

You can find all of these looks at Garnet Hill who also happens to have the most stunning bedding and home decor. I recently decided to add their Signature Toile Floral Flannel bedding to our guest room and I'm almost wishing I had ordered it for our master.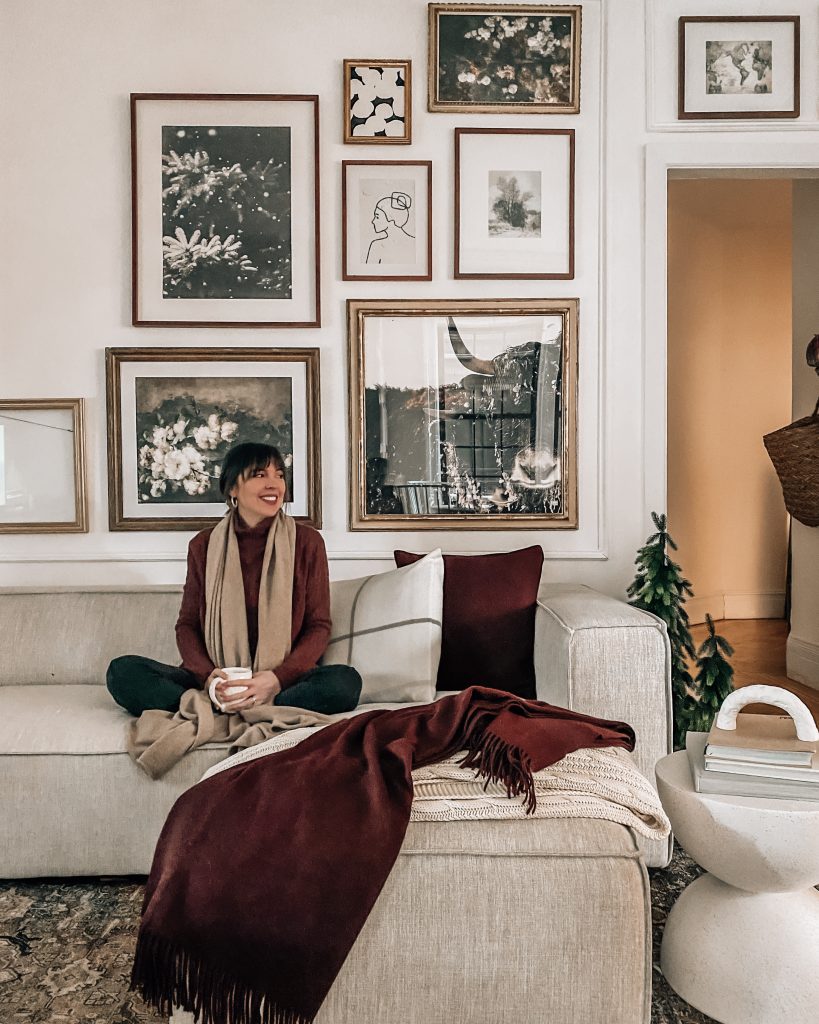 Hope you all have a happy holiday season!