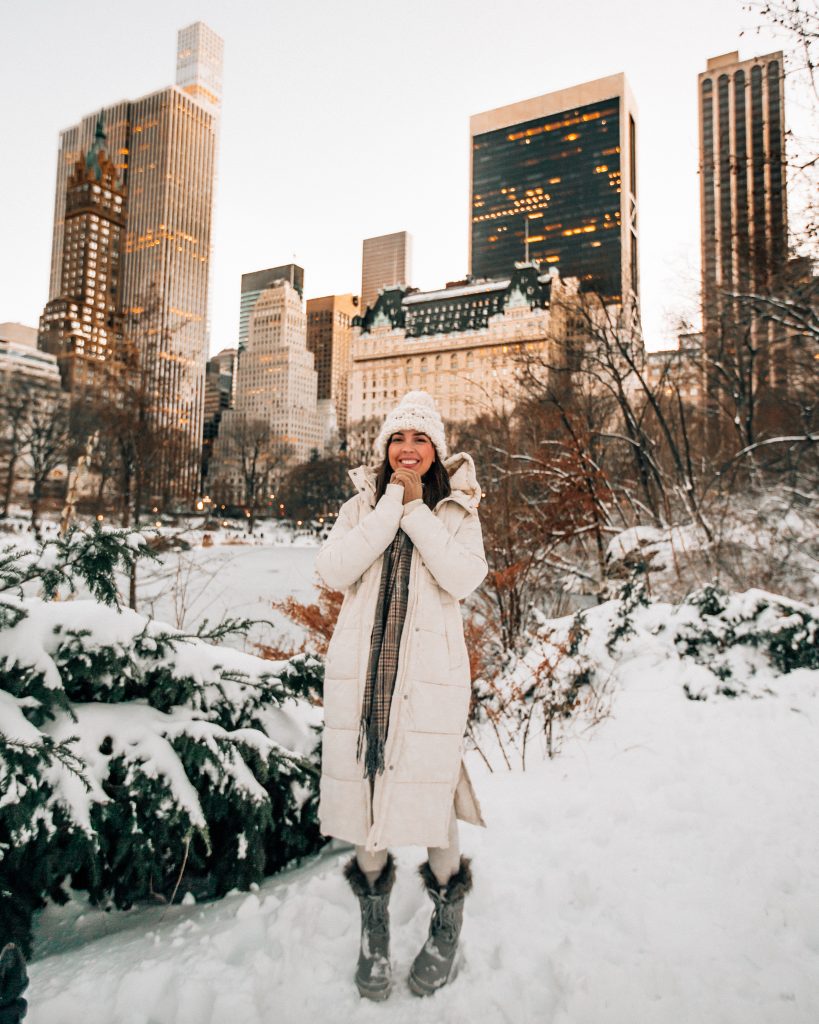 Don't get me wrong… I'm all for appreciating every moment and making the most of every season but this winter in NY has felt long. I've loved all of the snow this year and we've made the most of it for sure but I'd be lying if I said I wasn't ready for spring. I've now officially lived through every season in New York and I have to say… spring was my absolute favorite so I am SO excited to experience one where more businesses are open and life is a little more normal (last March-May was definitely the furthest from normal). Spring in NYC, especially near Central Park, is just a total dream. But before we move on to warmer times, I wanted to take a moment to look back on winter, share some of my winter staples that I'd use over again, favorite local restaurants we discovered, memories and more.
BEST of WINTER: CLOTHING STAPLES
Ribbed Turtleneck Tops: These are how I got through the coldest days for sure. No matter what I was wearing that day, I'd layer these underneath everything and it kept me warm and cozy. They're on sale now too so I'm wondering if I should stock up for next winter.

Quilted Bouclé Shirt Jacket: This one was a splurge but worth every penny. I wore it almost every day and because it's quilted but not TOO thick, it was the perfect layering jacket for winter. It's so well made and if they made it in other colors, I'd buy those too. It'll also be a nice transitional jacket going into spring. 

7-Pack Crew Socks: These definitely aren't the thickest socks but they were the ones I reached for day after day to keep my feet warm plus they're all neutral everyday colors with cute "days of the week" on them. They're a great year-round sock.
Mens Puffer Coats: I have compiled quite the collection of coats but I still reached for TJ's puffer coat almost every day. His is this exact one but they come in endless styles/colors.
Tall Alpine Waterproof Boots: These are a hybrid between a sneaker and snow boot and incredibly comfortable. The velcro makes them my go-to for when I need to quickly take Colbie outside.
Ivy Chelsea Boot: These also are top of my "most worn boots" list, especially for the non-snowy winter days.
Ultra Long Puffer: These coats are the best and that's all I have to say about that. They release new colors each year so I can't wait to see what they do next year!
Spacedye High Waist Leggings: These leggings continuously (for the past 4 years or so) are my favorite leggings for winter. Something about the material makes them very warm and perfect for winter months. I even layer a couple of them when it's a true snow day.
BEST of WINTER: LOCAL BUSINESSES
Sala Thai: Their vegetable pad thai delivered on a freezing cold day is pure happiness. Located in the Upper West Side in the 70's.
Butterfly Studio Salon: Back in early winter, I discovered Butterfly Studio Salon where I eventually scheduled an appointment with Julianna. It's SUCH a great salon and they offer complimentary bang trims too after your initial appointment.
Browtiste: Tammy was recommended by a close friend and, ever since, I've used her as my go-to brow gal. She knows how to get your brows looking their best  and comes to you so you don't even have to leave your home. You can book the at-home services here and use PINES15 for 15% off any service! I do the wax and tint when she does mine. 

Housing Works and Unique Boutique: These two thrift stores (both UWS locations) have become my favorite stores to browse (and donate to!). I've found such great items at both of these including picture frames, a coat rack, lamps, boots, and so much more. Plus, they came in SO handy when we were moving and had items that needed new homes.
Kings Carriage House: Discovering new spots to get tea with a friend is one of my favorite things to do in NY. The latest afternoon tea find is Kings Carriage House which has the most charming English country house feel and is perfect for getting a bite to eat and catching up with a friend. This specific location has limited outdoor dining, just FYI. If you're comfortable dining indoors, it's such nice place. Plus, they offer to-go tea parties.
Pekarna: Pekarna is a brand new (well, as of December but then they had to temporarily close for COVID) Slovenian American restaurant/bar. We met the owner recently and he gave us a tour of the entire place (it's HUGE) and showed us all of the event spaces that you can reserve. It underwent a 2 year renovation and is now officially open. It's a great place to simply get a drink with a friend or for a full dinner.
Zucker's: Zucker's is my newest bagel find since we have had to say bye to our old one that we lived next to. Our old one (Lenny's) doesn't deliver, sadly. Their everything bagels are so good toasted with their scallion cream cheese and I also love their "Classic" which is just bacon/egg/cheese.
BEST of WINTER: WELLNESS
The newest flavors of Equilibria CBD, the Indulgence Collection and Cranberry Elderflower. If you've been feeling anxious, stressed, or trouble focusing… I'd recommend trying out CBD if you haven't yet. Equilibria launched new flavors this winter and they are SO good. You can also always use my code prettyinthepines for a discount at checkout.

Light Therapy Lamp: After hearing from so many people who use these daily in the winter, I decided to give it a try and it instantly boosted my mood on mornings where I'd use it for 15-20 minutes. Our new apartment thankfully doesn't have a problem with natural light but our old one was d a r k and it became a necessity to turn this thing on.

Sweet Potato and Wild Rice Hash Bowl: my go-to quick at-home lunch that I've come to crave this winter.
This alarm clock: I decided to start using a regular alarm clock this winter and have really enjoyed the sunset/sunrise feature of this one along with so many therapeutic nature sounds as opposed to using my phone each morning. Something about NOT using the phone just makes life seem a lot less chaotic and more soothing.
Less screen time: Speaking of less phone usage, this winter has been a season where I have made some big changes in my screen time. I've found that I am much happier when I get off of social media by 7pm each night and I've gotten to the point where I dislike posting anything on social media at night… it's kindof weird for someone who uses social media as a business but I love how it makes me feel not ending my nights on my phone and don't see that changing anytime soon. I do need to work on finding a balance though because I have gotten very behind on messages.
SmartSweets: Putting this candy into the wellness category BECAUSE it actually has way, way less sugar and this has been my favorite dessert lately. They also do not contain any artificial sweeteners.
This cookbook. SO many good recipes that are simple and absolutely delicious. The lemon/basil pasta with balsamic brussel sprouts is my new favorite pasta dish. This whole book has made me excited to order takeout less often which was honestly becoming a problem there for a minute.
From our first time experiencing snow in the city, to walking around and seeing all of the Christmas decorations around the different neighborhoods, to us unexpectedly finding our new apartment… it's been an unforgettable season. There are a few times I'd like to forget (like spending 2 straight weeks on the couch sick) but overall, I think we'll look back on this winter and remember all of the "firsts".