TJ and I agreed that this was our favorite part of our recent trip… it was our first time ever visiting Italy but it was also the most relaxing part of our entire trip. After driving 2.5 hours from Nice, we parked our car for 3 days at Imperiale Palace Hotel in Santa Margherita. This town is about 8-10 minutes down the road from Portofino and our hotel was a quick 5 minute walk to all of the restaurants and shops Santa Margherita had to offer. We were both really sad when the day came to leave but we were so happy to spend 3 full days exploring this area on the northern Italian Riviera.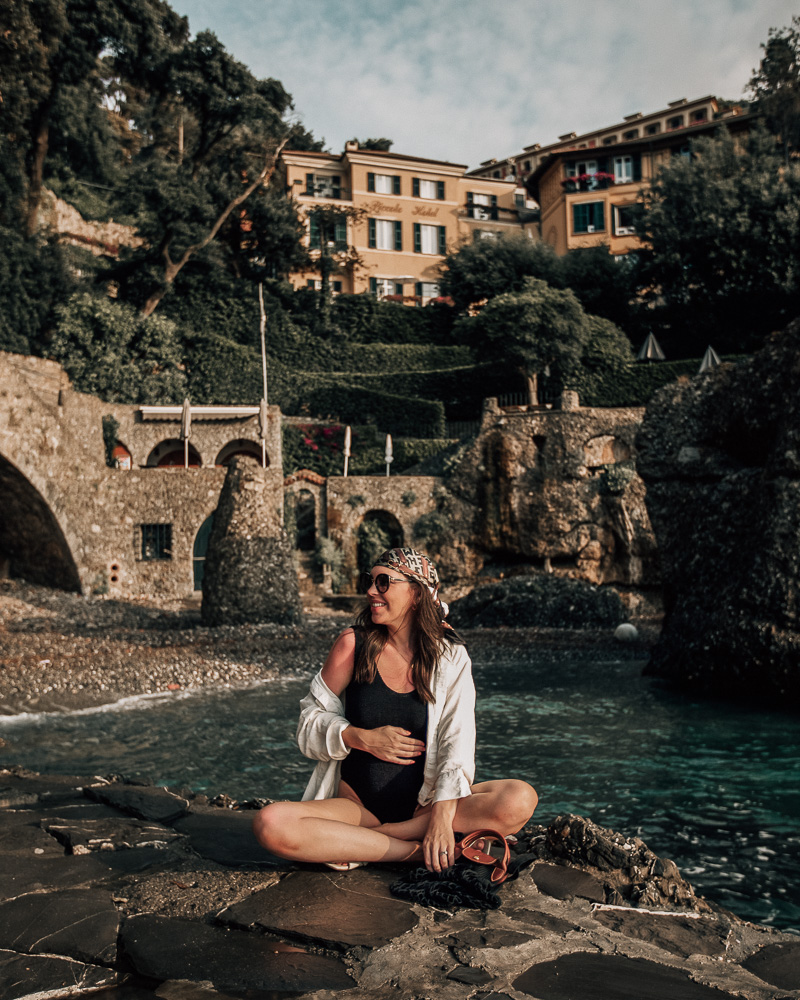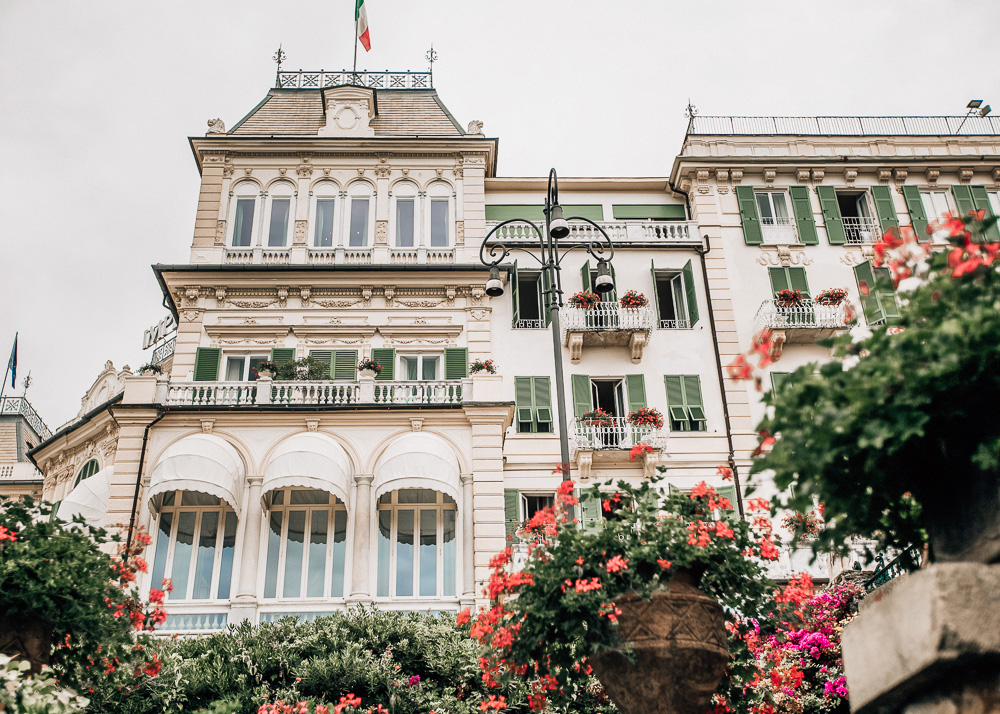 WHERE IS SANTA MARGHERITA?
Santa Margherita is located on the north-west coast of Italy outside of the city of Genoa. It is a coastal town that has a lot to do, great restaurants, beautiful seaside views, and is a great place to stay if you are looking to visit Portofino. Hotels in Portofino can be a lot more expensive than in Santa Margherita, but we found that we enjoyed being outside of Portofino and were able to take a taxi/boat taxi over there one morning very easily. Our hotel had us never wanting to leave the property except for dinner (where we had some of the best meals of our lives!). Since it was our first time in Italy, the town reminded us a little of many of the French coastal towns we saw with long winding roads, a lot of hills until you are down on the beach, and most people drove Vespas to get around. If you've seen the Disney movie, Luca, it looks identical to that. When planning our trip, we wanted a small portion of our trip to be as relaxing as our honeymoon (less exploring, more slow mornings and time sitting by the water) and turned out being exactly that! We kept going back and forth between which we loved more… this 3 day stay or our honeymoon in St. Lucia and it was hard to decide.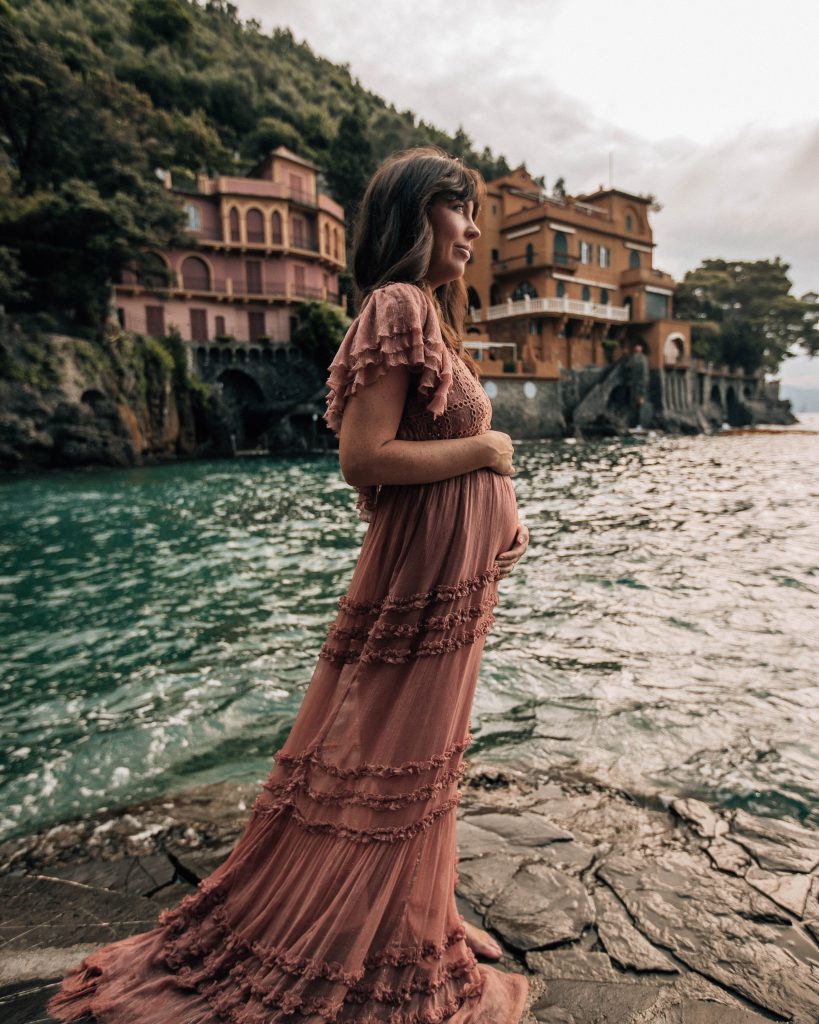 THE HOTEL
When searching for a place to stay, this hotel kept popping up as one of the most recommended when visiting this area. We decided to book a 3 night stay at Imperial Palace Hotel and it ended up being one of our favorite hotels (and by far the most luxurious) that we've ever been to. It was also the biggest splurge on a hotel we've ever done, but so worth it. As soon as we arrived, I knew that this would be a once in a lifetime experience. Because this trip was booked with only 3 weeks notice, most of the more standard rooms (which are equally as beautiful) were all booked up so we decided to book one of the suites. It was the most elegant room I've ever seen… complete with a sea view terrace, a glass chandelier the size of our entire kitchen at home, the most spacious marble bathroom, and the most stunning antique decor… I felt like I was dreaming the entire time. One of the best features was the ceiling fresco that was something out of the Sistine Chapel. It felt like we were in a Michaelangelo painting and stretched across the entire room with ornate moulding accents. 
The hotel also offered complimentary breakfast, a private seaside beach area, pool, and was in such a great location making it easy to walk everywhere. For both of the full days we stayed here, our day looked like this: wake up and eat breakfast downstairs on the terrace, come back to our room to get ready for a beach day, sit on the beach (order lunch at the cafe) until time to go to dinner, walk to dinner, sit out on the terrace at night, repeat. We enjoyed it SO much and it was really nice to have some slower days sprinkled into our trip. The private beach area (not really a beach, more like rocky terrain that had a cut out for swimmers to venture out into the Mediterranean) was only for hotel guests and had some of the comfiest beach chairs where you could order food from a cafe. Before breakfast, we usually went down and set up our towels on the front row and then went to eat. The breakfast had a wide variety of food – scrambled eggs, bacon, omelette bar, pastries, fruit, and cereal. I loved sitting on the terrace eating fruit while looking out over Santa Margherita below.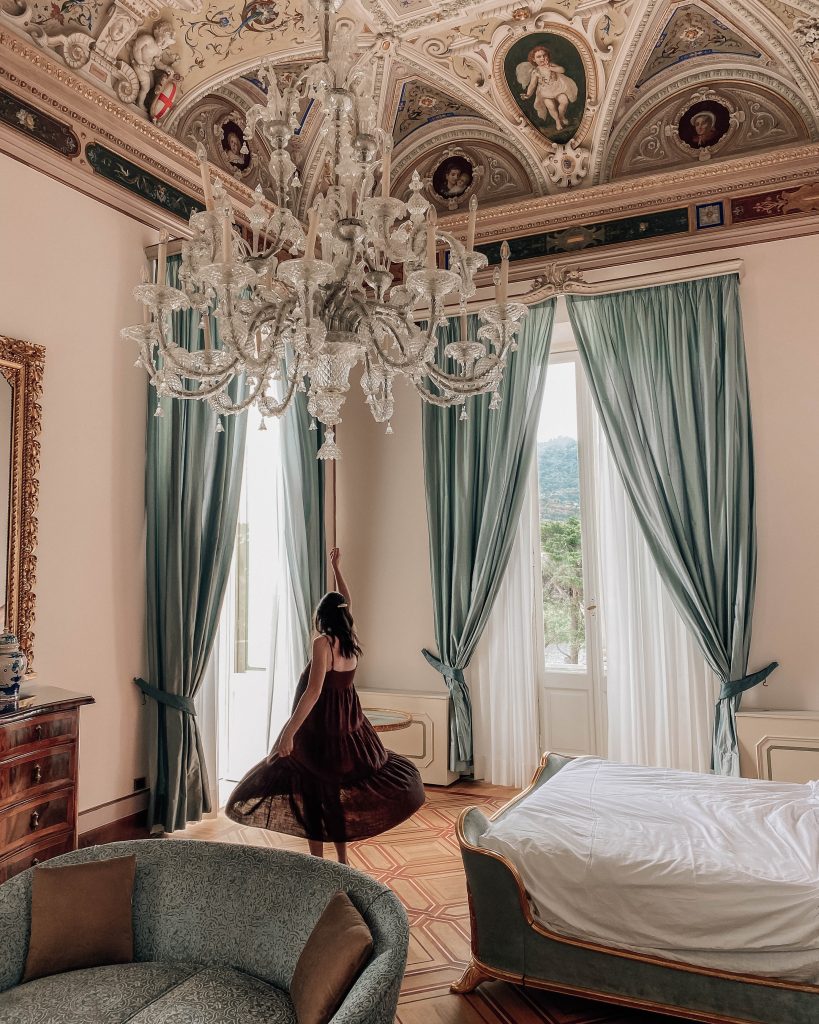 The hotel also has a spa and TJ and I booked a couples facial/foot massage one afternoon after a long day of sitting by the water. The spa area seemed to be under a little bit of a renovation, so they set up the rooms in actual vacant guest rooms. TJ really enjoyed the foot massage and the facial was one of the best I have ever had. It was quick but the perfect way to end a beach day.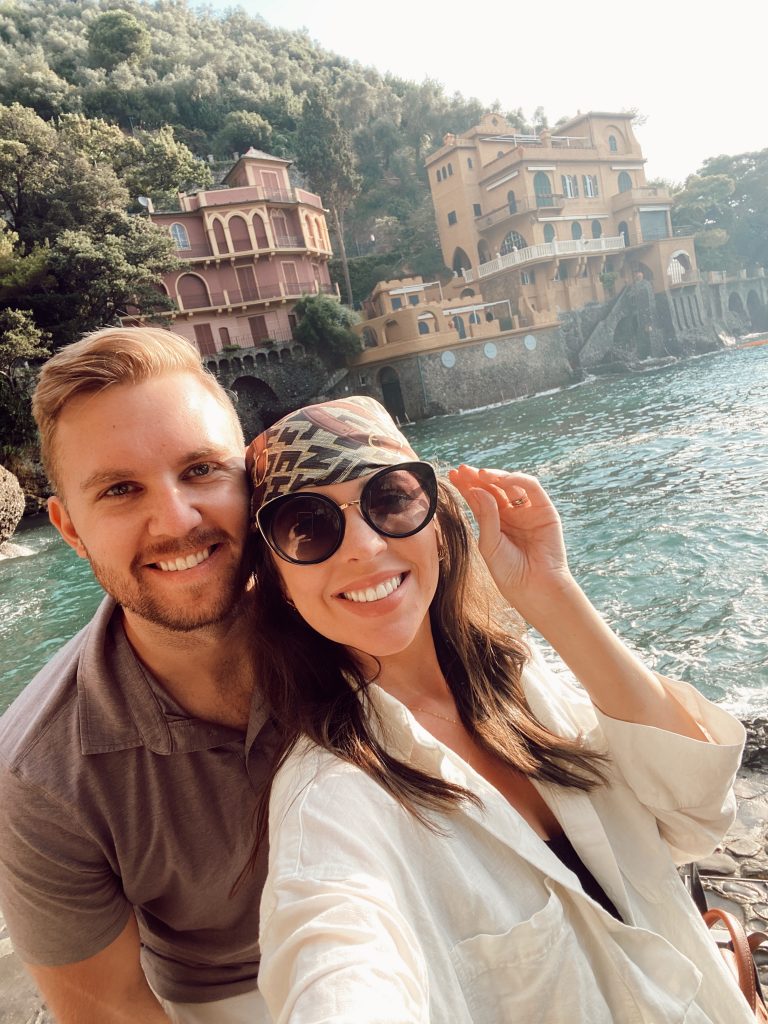 OUR FAVORITE RESTAURANTS
Our first encounter with Italian food was even better than we imagined it would be. We learned our lesson in France and made sure to do our restaurant research ahead of time and book reservations at Ristorante Antonio (it was so outstanding that we booked two dinners there during our stay) and Angolo 48. We loved the Italian/seafood type food this region had to offer. One of my favorite dishes was a lightly seared calamari at Antonio's that we ordered both nights we went. Pesto pasta was another common menu item in this region. Being in one of the regions of Italy known for great vineyards, TJ ordered some local wine at each meal and said they were all amazing. I'll definitely have to revisit Italy post-pregnancy. Another restaurant we read a lot of great reviews about was Il Patio but did not get a chance to try it. There was a small bakery right across the street from Antonio's and we would stop inside right before dinner to get an almond croissant before they closed for the night. It would be our "second dessert" for when we got back to our hotel after dinner.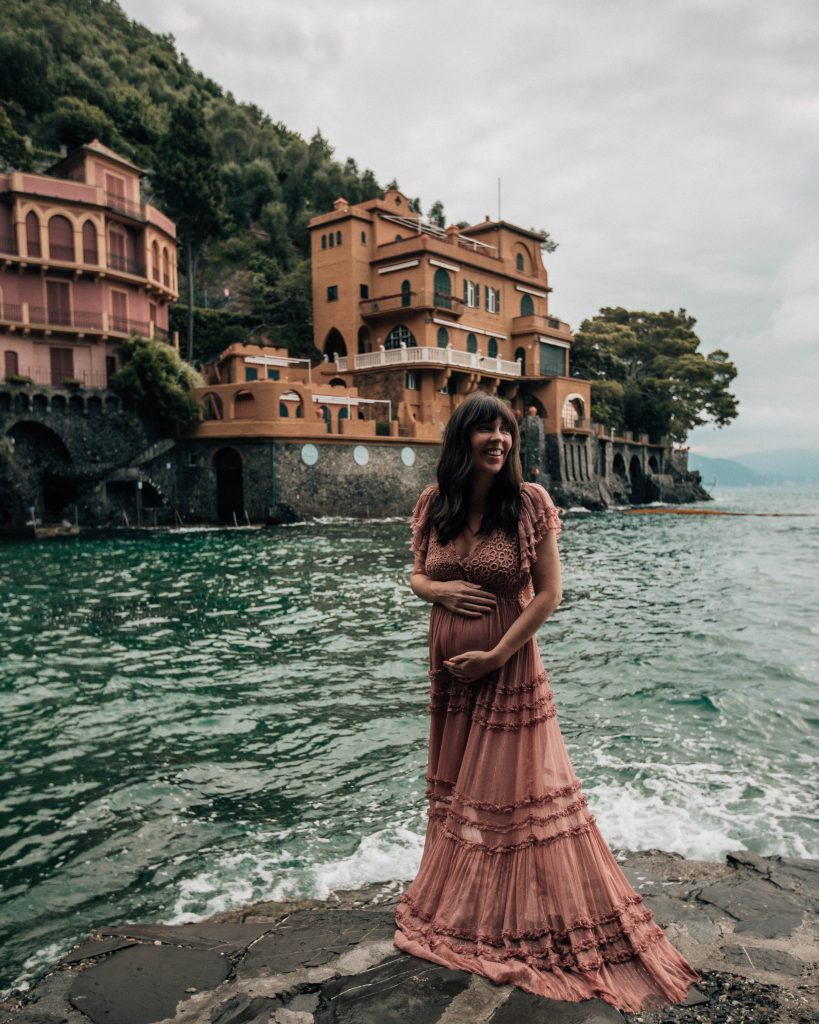 OTHER TIPS AND ANYTHING WE'D DO DIFFERENTLY?
This area isn't the most car-friendly so I'd go into it knowing that you will likely park your car the entire time and walk/use a taxi/boat/ferry to get places. To get into Portofino, we took a taxi there and a boat taxi back. The taxi from the hotel was pricey but worth it for the early morning out there.
We really wouldn't change a single thing about this part of the trip. We really loved the hotel, the location, the specific suite we booked, and everything about our time there. There are definitely other nearby towns that we would have loved to see but we also really enjoyed and needed some down time after our busy week exploring France.

Covid Note: We had to show our "health pass" or vaccination card to dine indoors. These rules could be changing at any moment so be sure to check beforehand!