[show_shopthepost_widget id="4536312"]
With a baby on the way this December and the recent loss of our sweet lab Colbie, we've somewhat last-minute decided to squeeze in some travel to a couple of places as a family of two. TJ and I have been together for almost 12 years and traveling together has always been one of our favorite things to do but, like most people in the world, we haven't left our home too much in the last 1.5 years. Since I won't be able to travel internationally for a while starting this fall when I'll hit my last couple of pregnancy months (and now that other countries are opened… for now), we decided to plan a babymoon to one of our favorite destinations, the South of France. We'll also plan on visiting parts of the Italian Riviera (our first time ever in Italy) which I am very excited for. We visited the French Riviera and Provence a few years ago and fell in love with everything about it. When planning these trips, it can be challenging to narrow down your stops and figure out what all to pack while all keeping it somewhat organized and minimal so you're not lugging around multiple bags. The prepping can be stressful but, in the end, is well worth it.
I'm partnering with Walmart today to share a few packing and travel essentials to make the packing process a little less stressful.
Step 1: After creating a loose itinerary of our trip, I like to walk through each day of the trip and start writing down (very specifically) what I'll wear. The more repeat outfits or mix-and-matching, the better, and the more dresses, the better! Dresses = no pants = less clothing = more space in your suitcase. The fact that I'm pregnant also makes dress packing extra easy! If you are in need of an affordable luggage set (with a TON of reviews), we have this set and it's just as sturdy as it is beautiful. The green color is especially pretty if you can catch it while it's in stock! Since this will be our second time to the South of France, I know the importance of mindfully packing only comfortable shoes. I'll probably bring a couple of different sneakers, some comfortable slide sandals, and maybe one pair of nicer yet still comfortable shoes.
[show_shopthepost_widget id="4536313"]
Step 2: Once you have a list down of what you'll wear each day (including pajamas at night, comfy clothes, specific undergarments if needed, hats), start making a pile of them on the bed! Include any devices you might need each day as well such as a steamer or curling iron. Once you have this clothing planning and gathering step out of the way, you can focus on the super important carry on and tech items (including an outlet converter). I highly recommend packing this exact actual outfit list with you too so you remember and save time when getting dressed on your trip and have more time for exploring.
Step 3: By now, your big checked luggage should be all planned out. Grab your carry-on suitcase and add in a few of your outfits you just planned. It could be helpful to use packing cubes such as these. This is also when I add in all of my travel essentials that must be with me at all times. (Passport (and passport case), ID, chargers, travel-sized toiletries, vaccination card if you have one, medications/vitamins, headphones, laptop, camera gear, contact lenses and glasses, converter, umbrella, wallet). Some of these items will be placed in my "personal item" which is usually a larger tote bag or backpack. I try to make the most of that personal item so the larger, the better.
PS: Don't forget to check your passport expiration date! Some countries will require it to remain active for at least 6 months after you land. Plus, the turnaround times for passport renewals are quite a drastic change from the norm these days… it's been extremely time consuming for us trying to ensure we will have ours renewed in time. If you are struggling to get yours back in time, I highly suggest searching FB groups using keywords like "passport service"… so many helpful people in those groups which ultimately helped us with our quick turnaround.
[show_shopthepost_widget id="4536312"]
Step 4: Airport Outfit and Airplane Comfort
I like to layer up and layer up wisely while keeping comfort in mind. If I plan to bring a sweatshirt on my trip, I just wear it to the airport to save extra space. I'll also wear my chunkiest (but comfiest) shoes. I'll also be sure to pack a travel pillow (and eye mask) for the plane and anything else that will help me get some extra sleep on the long journey.
I'll usually print out a generic "International Travel Checklist" right after I've completed packing just to double check and make sure I didn't leave anything important out.
One other thing I like to be prepared for is keeping my toiletries in the proper sized containers in a clear zip-loc bag. If you're wanting your usual full-size products, I'd recommend finding some toiletry containers.
I've rounded up a few travel essentials to make your trip a little less stressful below all available at Walmart and with great shipping turnaround and prices so you can save your $ for your experiences! They even have a new Wow and Now section broken down into easy to shop categories and their travel section is GOOD.
[show_ms_widget id="36066872" image_id="41939993" width="575" height="1022"]
[show_shopthepost_widget id="4536312"]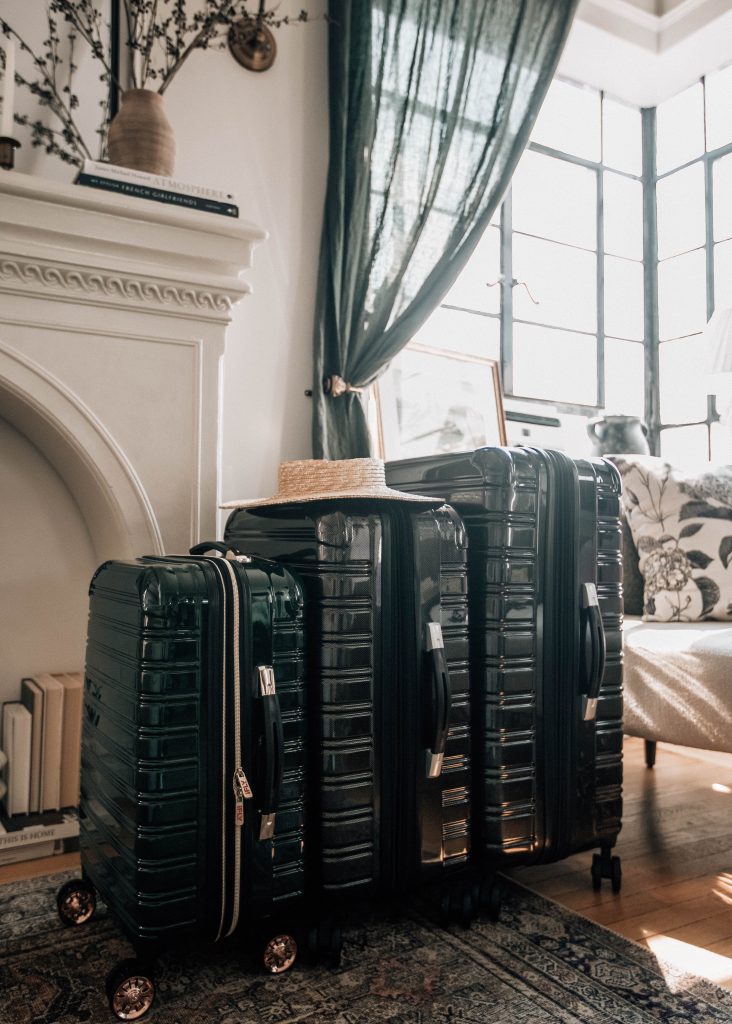 Most importantly, be sure to stay updated with the country you are visiting and their latest restrictions and what you'll need to prove that you are healthy. It's changing every day so you'll definitely want to keep checking daily for updates. 
Thank you to Walmart for sponsoring this post.