[show_shopthepost_widget id="4550318"]
We recently returned from our second visit to France and we loved it just as much as we remembered. We traveled there two years ago and it was one of our favorite trips we've gone on so we knew we had to return one day. I think it'll be a place I'll want to continue visiting every couple of years or so… it gives me so much inspiration in so many areas of life. Both trips have included a little bit of the French Riviera as well as Provence. Both areas are located within the region known as Provence-Alpes-Côte d'Azur. I have a hard time visiting this region and narrowing down all of the villages I want to see because they're all SO beautiful and full of charm and history. It gives me fomo to think of not seeing them all which I know is impossible but that is a personal problem that I am working on with each visit :). While some may feel slightly more touristy than others, some you'll definitely want to nail down your French phrases before visiting because it will be challenging to communicate if not. I'd recommend listening to podcasts ahead of time for French lessons!
[show_shopthepost_widget id="4550322"]

Whenever we've planned either of our trips here, we've always flown into Nice and rented a car for at least a week. This time around, we chose to stay at an Airbnb about 40 minutes outside of Nice. This allowed us to have a homebase while spending most of the daytime driving to various spots to explore. If you're wanting to spend a lot of time exploring the countryside in Provence, I would split your time up between 1) finding an Airbnb close to Nice and 2) finding an Airbnb in Provence. St. Tropez is another area we LOVE but is about 1.5 hours away from Nice. Here are a list of villages/towns/cities that we've visited either this time around or last time that we really enjoyed:
Provence
Aix En Provence:
(1.5 hours from Nice) – this is one of the larger cities in Provence and has a lot of things to do and explore. The city is made up of older sections with smaller streets and cute cafes, along with a more modern section with shops and sights. We stopped by on Thursday where we found a large market that stretched along a boulevard called Cours Mirabeau. This market supposedly happens three times a week on Tuesdays, Thursdays, and Saturdays but ends around 1pm. The stands are a mix of clothing, antiques, jewelry, handmade soaps and gifts, art, and so much more. We naturally gravitated to the older, more vintage home decor items. I found a vintage toy Mercedes car that inspired me to begin a collection for the baby right next to a stand where we bought a piece of fine art. We ended up having to ship the painting back home but it still was way less expensive than something I'd find at a market in NYC. It literally arrived in New York two days later for $100. We had lunch afterwards at a little cafe that was located on a busy street of pedestrians. If you find yourself in Aix and want to grab something to eat, I'd recommend strolling through the quieter streets because there are some adorable sandwich shops where you can sit under a large umbrella and order some coffee while planning the rest of your day. I also did some shopping at stores like Longchamp and came home with the most perfect personal item/carry-on bag ever that I will use for years and years!
Gordes:
Gordes was one of the coolest places we went on our first trip to France. It sits up on a hill overlooking farmland and vineyards. The view of Gordes from down the hill might even be better than the view from the village itself. On our first trip we stopped in a little market and picked up some pasta, fruit, cheese, and veggies to make dinner at our Airbnb. There is also a very nice hotel located in Gordes, but we didn't have a chance to check it out. During our recent trip, we were not able to drive up this far since we were not actually staying in Provence this time around but, if you are, this is a must stop. The weekly market in Gordes happens every Tuesday morning.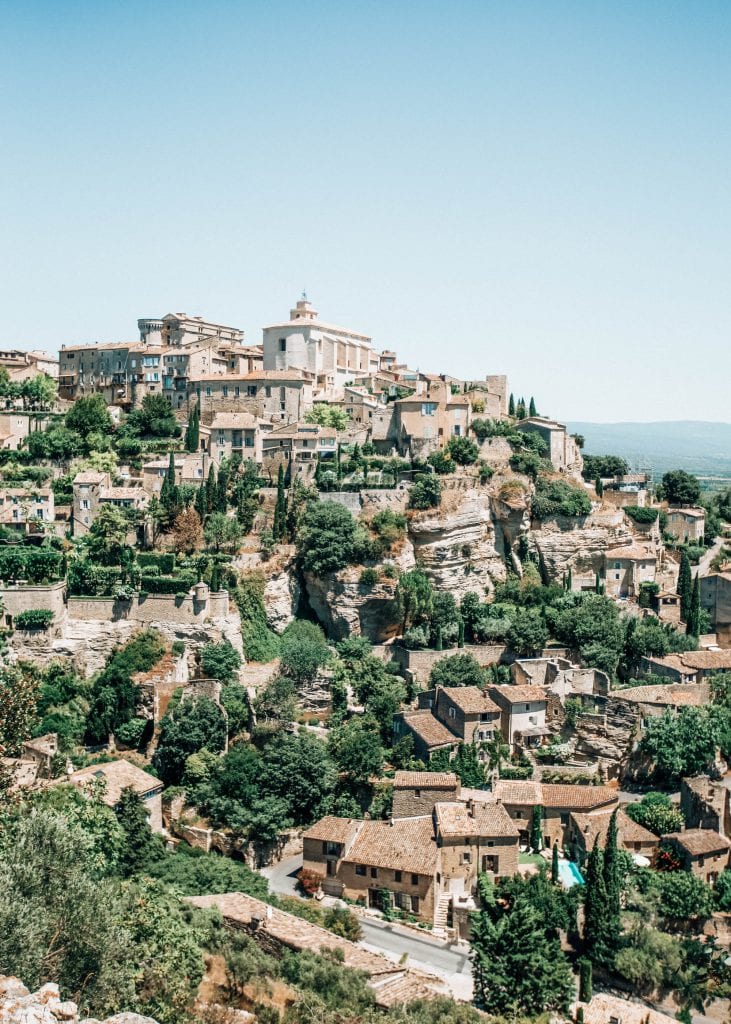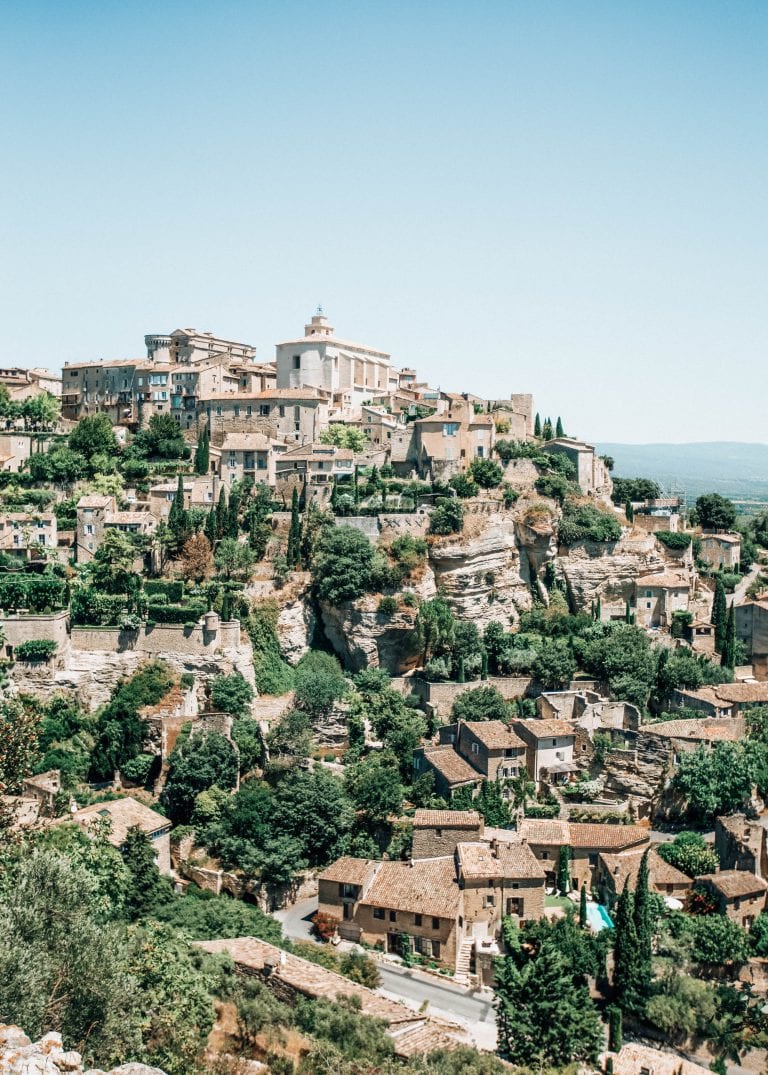 St. Remy:
This was another spot we visited during our first trip. I wish we could have spent a little more time in St. Remy, but we only had a couple hours to explore. Unfortunately, when we went it was in the middle of the afternoon and a lot of the cafes had closed before reopening for dinner. We found a great little shaded courtyard where we saw a street performer playing a winding music box and it was very relaxing. The St. Remy market happens on Wednesdays and, for any of these, be prepared to show up early if you are driving or else parking might be a nightmare. 
Menerbes:
We stopped in this town that was known for being in the heart of French wine country. This town was also up on a hill and had great views down onto the vineyards. Luckily we were able to walk into a restaurant with no reservation (not recommended!) that had amazing scenery and amazing wine. No matter where you are visiting in France, I'd strongly recommend making dinner reservations ahead of time. Most restaurants in France (and Italy) book each table once per night and dinners are a much longer experience than in the US where they often have 1.5 hour time limits (at least here in NYC). It's the complete opposite over there so be sure to book ahead if you want the best restaurant experiences!
Apt:
The city was about an hour and a half away from our Airbnb during our first trip to Provence. We traveled there to visit a large market – one of the biggest that we had ever been to in either France or the U.S. It was a little difficult finding parking, especially if you have a larger rental car. Apt's Saturday market is known to be one of the best food markets in all of France. This was the town that we found those little girls dresses that I thought I'd use one day until I found out we're having a boy. 🙂 Still keeping them just in case because they were the cutest ever.  
Nice/French Riviera
Nice:
We didn't spend too much time in the city of Nice, but we did explore for a bit on one night of our most recent trip. It is very much a coastal city that has a lot to do and see, especially walking along the beach. The architecture is beautiful… reminds of me a pastel Paris. A lot of the restaurants have a seating area that is right along the water. As you move a little farther away from the water, there are large openings and courtyards that have street performers and dancers that entertain people eating dinner or walking through the streets. We also had some of the gelato of our lives here after dinner one night. I loved Nice but I think because we're so used to a big city, we opted for more quieter towns most days. But Nice was poppin', especially after 8/9pm. 
Villefranche-sur-Mer:
We stopped by Villefranche-sur-Mer both times in France mainly because it has some family history on my mom's side – my grandmother and grandfather lived here for a couple of years when my mom and uncle were babies. On our recent trip, we actually parked our car right in front of the house that they lived in without even knowing it! One downer was that each time we came to the town it was pouring rain. We were able to find a little cafe to have a quick bite to eat down by the water, and luckily they had an awning we were able to sit under while it rained. One thing we love about Villefranche is how colorful the town is. Some of our favorite pictures are looking down on the town where you can see all the buildings, the beach, and boats. This town is small, charming, and very colorful but it definitely feels more quiet than others we've been to. 
St. Tropez (+ Grimaud and Gassin):
On our first trip to the south of France, we stayed in a boutique hotel right outside of St. Tropez. Since we rented a car we were able to go into center village of St. Tropez and some of the surrounding villages. St. Tropez reminded us a lot of Nice, except smaller and not as many new structures or architecture. It was very colorful and there were so many cute alleyways to explore in Old Town. We got turned around quite a few times in our journey there, but somehow always ended up in front of an ice cream or 'glacé' stand. Grimaud and Gassin are two villages that are not too far away from St. Tropez. I almost prefer Grimaud and Gassin over exploring St. Tropez but maybe that's because I like the quieter, less "glamorous" spots. These were some of the first villages we went to and where we instantly fell in love with the South of France. It felt like we were really in Beauty and the Beast. Grimaud does have a market as well (Thursdays), but during our first trip there we were not planning on going and just missed it. St. Tropez has a large market located in Place des Lices on Tuesday and Saturday mornings. Gassin is a much smaller town that, like many other towns, sits up on a hill. This was where we had one of our first dinners in France and it did not disappoint. Warning: it is a work out walking up the steep slopes of Gassin! A lot of these towns are actually a workout now that I think about it. 
Saint Paul de Vence:
This village was on our list the first time we traveled to France, but for some reason mapquest couldn't quite get us there. It took us this long ending road that actually ended in someone's backyard, yet said we were there? Don't be alarmed if your map takes you crazy places… Anyway, we were determined to find it on our second trip, and it did not disappoint. The town does feel a little bit touristy, but it has great cafes, art galleries, and an abundance of wine and cheese shops. I really loved the gift shops here because they were so art-focused. I found mini paintings to bring home to friends. We stopped in a few of the art galleries and in many of them you can actually meet the artist. We didn't have a dinner reservation the day we went, so unfortunately we had to leave hungry, but if you plan a trip there I am sure it has wonderful food.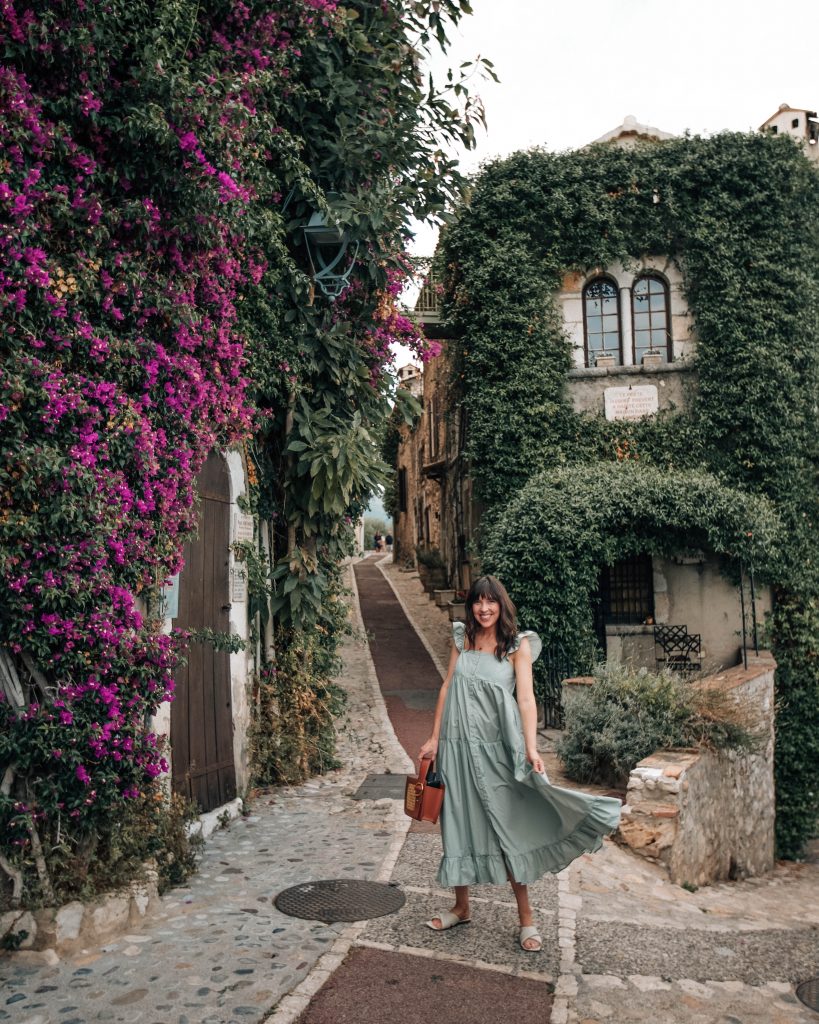 Vence:
If you are looking for a village similar to St. Paul de Vence with not as many tourists, we would recommend Vence! We stopped in on Wednesday when they had a flea market in the center of the village. It was a little rainy, but it did not stop the vendors from setting up the stands and haggling with the locals and passerbys. I ended up getting a very cool vintage event flyer that we are planning to put in the baby's room, and a vintage dustpan and broom set. After doing a little shopping we sat down at a cafe to have a coffee and a quick bite to eat. The cafe didn't technically open until 12pm, but they graciously sat us down about half an hour before and supplied us with delicious espresso. One note: there is also a museum of art in Vence that definitely looked worth exploring, we just didn't have enough time. Vence felt very much like a local's spot and barely anyone spoke English, just FYI! I don't know if this town is on many "travel guides" but, for that reason, I wanted to check it out.
Cagnes sur Mer:
We stayed here our very last night on our trip mainly because it was so close to the airport and would make things a bit more convenient. It's much smaller than the surrounding towns but was very quaint and cute! We stayed at a hotel that I found on Airbnb called Chateau Le Cagnard and it was a very relaxing last night. We ate dinner at the hotel's restaurant (so delicious) and mainly just had a low key evening strolling around the cobblestone streets. You can't really drive up directly to the top of the village (way too narrow for cars) but there are parking decks half-way up that you can use if you do need to park. We had just dropped off our rental car at the airport so we took an uber here and back to the airport the next day.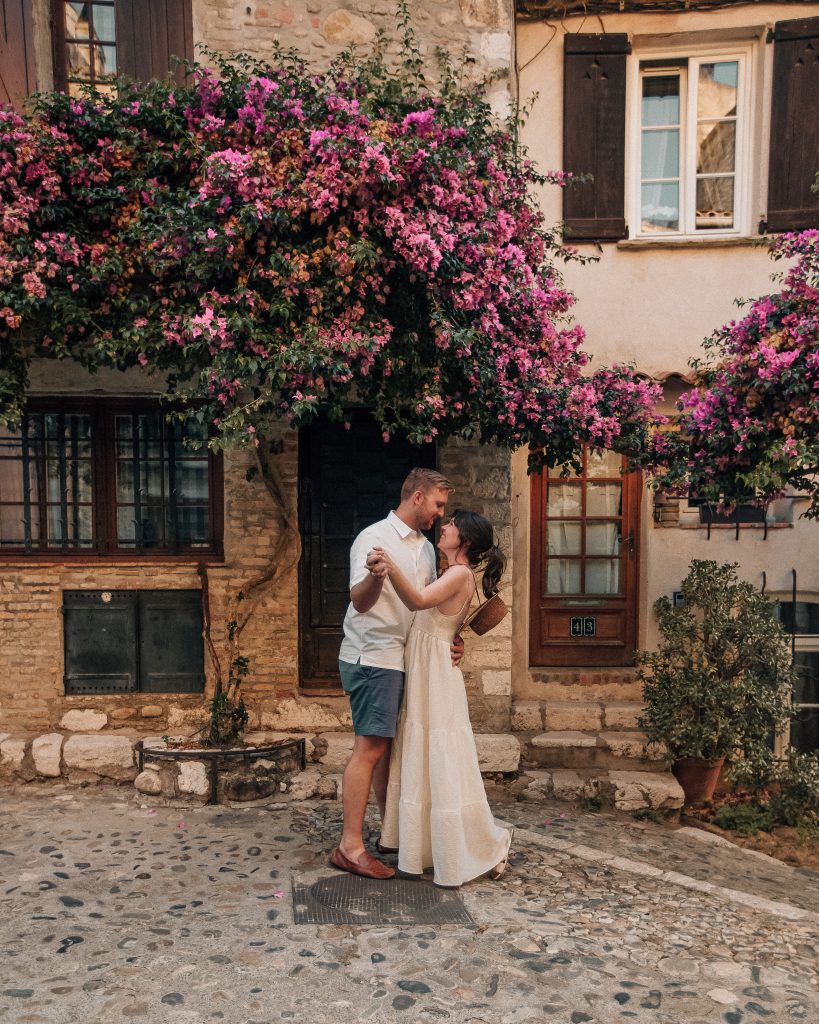 Menton:
Menton is the last big town in France before crossing the border over into Italy. We stopped by Menton and had lunch on our first trip to France. It gets crowded on the weekends so just a warning for parking… the earlier you get there, the better! The beaches were packed and there was a lot of celebrating going on along the seaside. On our most recent excursion to Menton it was a little more quiet, but still definitely a place for tourists to stop in. Like Villefranche, Menton is full of colorful old buildings that are very picturesque. We went on a Friday when they had their market going on. It was a relatively small market, but had a lot of cool vintage items. There weren't as many clothing stands like in Aix, Apt, and Vence. We ended up having lunch before traveling through to Italy. Being so close to the border the town has a great selection of French/Italian restaurants. We actually talked about how this town would be a great place to stay for a couple of nights. It's large enough to where I'd feel like there would be enough to see and do over the course of a couple of days. Plus, it would be way more fun without having to worry about car parking. 
There are seriously so many towns and villages that are still on my list that we ran out of time to see. If you happen to visit in July, I'd definitely recommend visiting and staying somewhere in Provence so you can experience the lavender fields too. Sault and Valensole are the places to go for that!
WHERE TO STAY:

Because there is so much to do and see, I don't know that it would be worth it staying in a luxurious hotel, necessarily. Maybe for a couple of nights… but we found that we were rarely at our Airbnb (other than breakfast and dinner one night) and most of our time was spent exploring. We've always just found really nice Airbnbs to stay in that have breakfast options, a kitchen in case you just want to cook fresh food from the markets, and just serve as a nice place to sleep. When we drove over to Italy (which I will elaborate on in my next post) though, we did splurge on a very luxurious hotel and it was well worth. every. penny. However, France had us in an exploring mood and therefore an Airbnb was the perfect way to save money. I'd feel guilty leaving a splurge-worthy hotel all day long, ya know? However, just wait until this Italy hotel I tell you about. 
SHOPPING AT LOCAL MARKETS:

I tried to list as many local market days of the week above when mentioning each of our favorite towns; however, there are a few things to note! Markets in France or 'le marché' are a way of life and basically every town has one at some point throughout the week. First of all, weekend days tend to be the best days for the larger markets so keep that in mind when planning your trip but we were not even in France over a weekend and visited plenty of weekday ones. There are also different types of markets you might want to look for. Some focus on food and clothing, flowers, some focus on antiques, and some focus on second-hand items that are less $ than an actual antique market. I found that my personal favorite type of market to find was frequently called a 'brocante'. They are easy to find online when searching by each town but just know that most of them end by 12 or 1pm. There is just something about sifting through vintage French home pieces and I was particularly on the hunt for some items to decorate our future nursery with. I came back with quite a few finds that I can't wait to one day share stories to my 'lil babe about. When searching for markets to visit in France, you'll likely see the term 'Provencal Market' and those are usually larger than a farmer's market or a flea market – but rather a mix of the two! Fresh produce, cheese, bread, with the addition of clothing, leather goods, etc. 
BEACHES TO VISIT:
We mainly saved our "beach/relaxing time" for our Italy portion of our trip; however, there are beach clubs everywhere along the French Riviera… everywhere. Nice has numerous but even smaller towns like Villefrance-sur-Mer had some. Menton is also a big beach town! One memorable beach we visited during our first trip to France was Cap D'Ail. It was surrounded by mountains and just so stunning. We really wanted to revisit it this time around but ran out of time and knew we'd get plenty of beach time in Italy. But, Cap D'Ail is definitely one that I would suggest looking into! 
OTHER TIPS:
The smaller the rental car, the better. Underground parking decks are tiny.
Enjoy your trip and accept the fact that you might not be able to visit every single place on your list within one visit.
Dinner reservations are a must if you want to dine at really good restaurants.
There usually are public bathrooms in the bigger cities and villages, but they cost .50 euros.
Don't be afraid to haggle and negotiate with the vendors at the markets.
Most restaurants in the smaller villages do not have all day services, so you will need to strategically time out when you try to grab something to eat. There were a few times we were turned away or told to come back.
We found that large breakfasts were not really a thing in most areas… more like a croissant and coffee, unless your Airbnb has a breakfast option which came in very handy for us before our long days of exploring.
Order dessert whenever possible.
WHAT WE WOULD DO DIFFERENTLY:

– Both times we've visited France, we almost felt like it wasn't long enough. Make sure you book enough days to really get to explore while also squeezing in some relaxation/refuel time. 
– Dinner reservations! We were good about this in Italy but not at all in France so we felt like we didn't get the best restaurant experiences until we got to Italy where we were more on top of our reservation booking skills.
WHAT TO PACK:
If visiting in the summertime, I'd recommend packing dresses and comfy shoes. I wore these sandals nearly every day but some days called for sneakers. Don't forget to bring sunscreen, outlet converters, maybe a backpack for the daytime (to carry around a camera), swimsuits, sunglasses, and a good hat! TJ brought a mix of shorts, long pants, polos, t-shirts, and a couple button downs for nice dinners. He did walk around in loafers all day in France and got a few blisters – so maybe bring a pack of bandaids as well! I linked all of my travel outfits here.
[show_shopthepost_widget id="4550316"]
COVID NOTES:
This could very well change at anytime but, when we went, we needed to show our vaccination proof or a negative test to get on our plane in the US. To enter indoor dining in France, we needed to show the same thing but any negative test would need to be within the last 48 hours. They were much more strict about this in airport restaurants as opposed to restaurants in Nice but this was also the same week this was just set in place so I'm sure by now it's much more enforced. Basically, at this time, if you are vaccinated and show your CDC card, you do not need to get tested every 48 hours making it pretty seamless. Masks were required at public indoor places and no matter what your vaccination status is, you have to show a negative test to get back into the US. Again, this could change at any time so, before you plan your trip, make sure you are updated with the newest guidelines! For us, we still enjoyed our trip to the fullest and are so thankful we were able to make it happen, safely. 
If you have any other questions, let me know! Or if you have any towns/villages I didn't mention, I'd love to add them to my neverending list of places to see one day. I tried to save videos/photos in an Instagram highlight too.
I'll be sure to share our Italy portion of the trip next.
[show_shopthepost_widget id="4550273"]