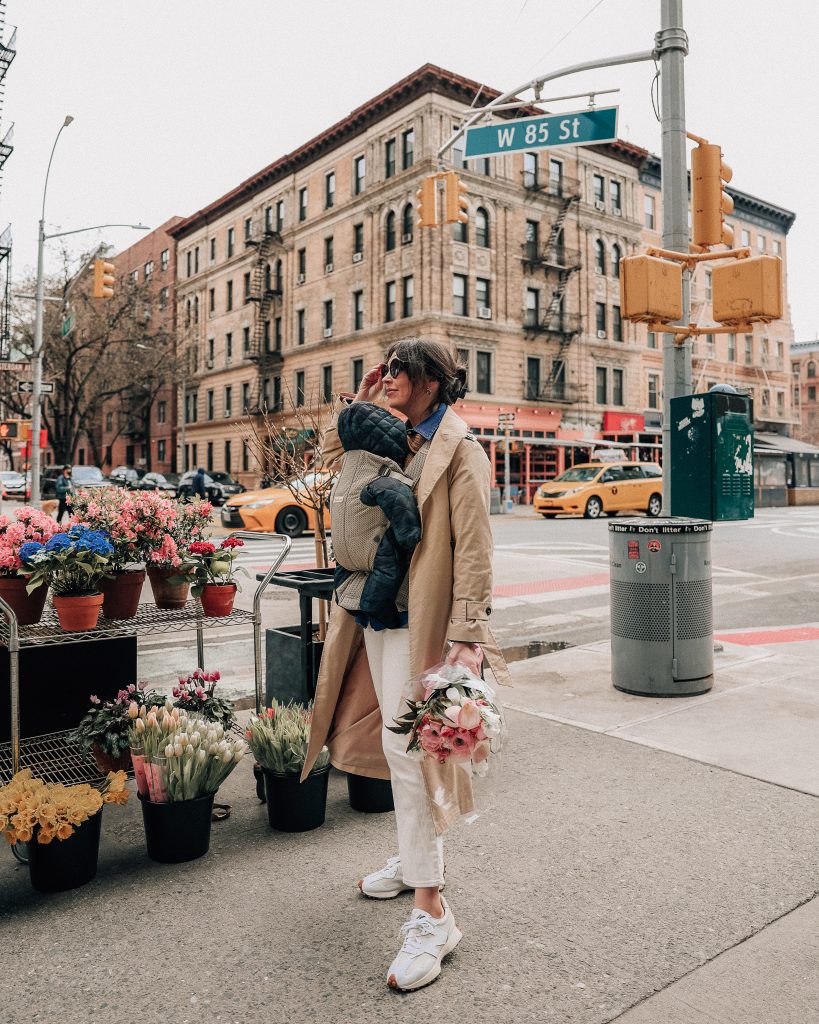 I can't believe we've been parents for over 3 months now. I thought time flew by when I was pregnant but now it's flying by at a whole other speed… and it makes me highly emotional but also really excited because even seeing just a glimpse of a baby laugh makes my heart burst. It's the best feeling ever seeing him grow into his personality and his smiles take me OUT.
Throughout my pregnancy, I resisted sharing many baby-related items we purchased because I wanted to have a good amount of time to try them out and figure out what worked and didn't work. It's easy to panic and overbuy when it comes to babies and the last thing I would want is to share something I hadn't used yet that I would later end up not liking… and trust me, there were a few buying regrets. I really had no idea what to expect as a new mom and there has been a lot of trial and error. It is a constant learning process although I do feel like I'm getting the hang of things, especially now that we're getting out of the house more! Now that we've been using these products for a few months, I wanted to share our most used baby items, the ones we love and would recommend in case you are looking to add items to a registry or doing research on what to buy in preparation for a little one! Truth be told, babies don't really need a lot so, if you're pregnant, do not stress! Our nursery still isn't complete and we're 3 months in. I categorized the items below and while a lot of these can be found in my Amazon Storefront, not everything can so I just decided to make a complete list with details about why I love each.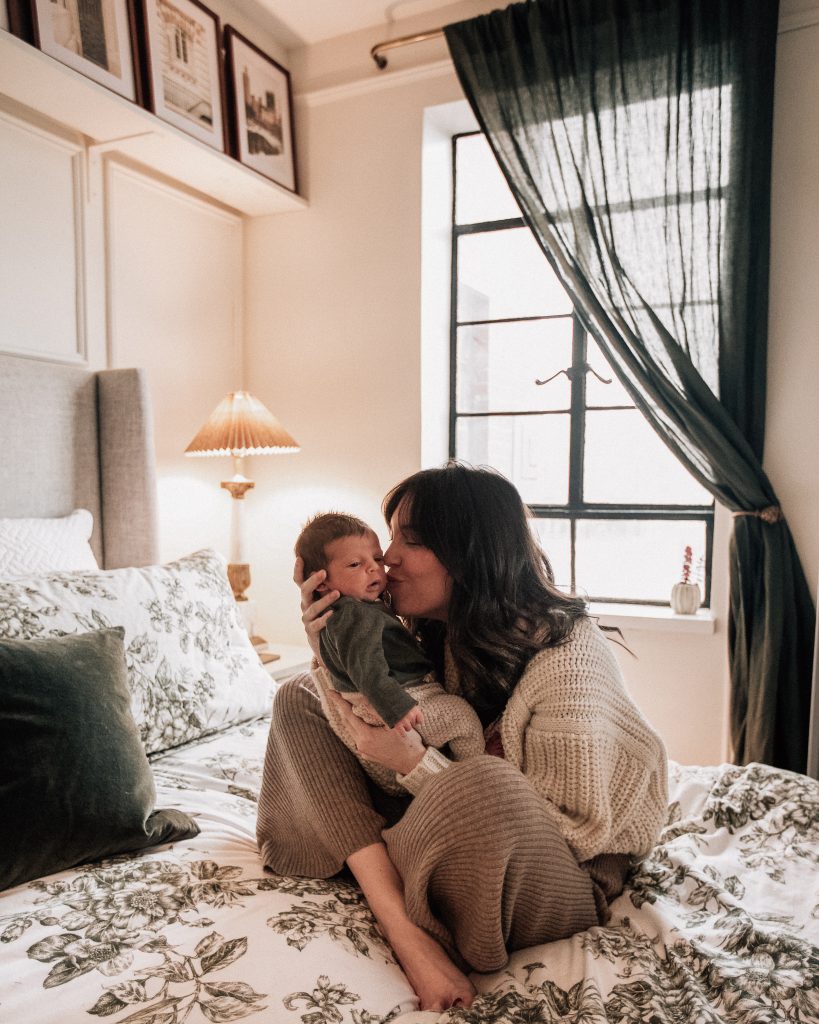 DIAPER CHANGING
Coterie Diapers, Waterwipes, and Keekaroo Peanut Changer

Starting the list off with the most frequently used items… diapers, wipes, and a changing pad. After testing out a few different diapers and wipes once we got back from the hospital, we quickly figured out what we loved the most. Coterie diapers can be ordered directly through their website (and Whole Foods now!) and their shipping is super quick plus I love getting email reminders when it's about time to re-order. We were already on the 3rd size at 8 weeks just as a reference for other soon-to-be moms so don't order too many of the newborn sizes like I did! As far as wipes, Waterwipes are my favorite and they have the fewest ingredients compared to other brands. The only big brand of diaper I haven't tried yet is Huggies but as long as I am happy with Coterie, I will probably stick to those. I'll let you know if anything changes or I find something better!
While we're on the diaper topic, my favorite diaper balm is by Earth Mama and having one of these Bum Brushes makes it an even quicker application for when your little one has diaper rashes. But we actually haven't dealt with many diaper rashes at all… just something nice to have on hand.
The Keekaroo changing pad is so great to have to and would make a great baby registry gift. The surface can get cold though so I like to keep some of these changing pad covers close by too (which would also make a great gift!).
[show_shopthepost_widget id="4728779"]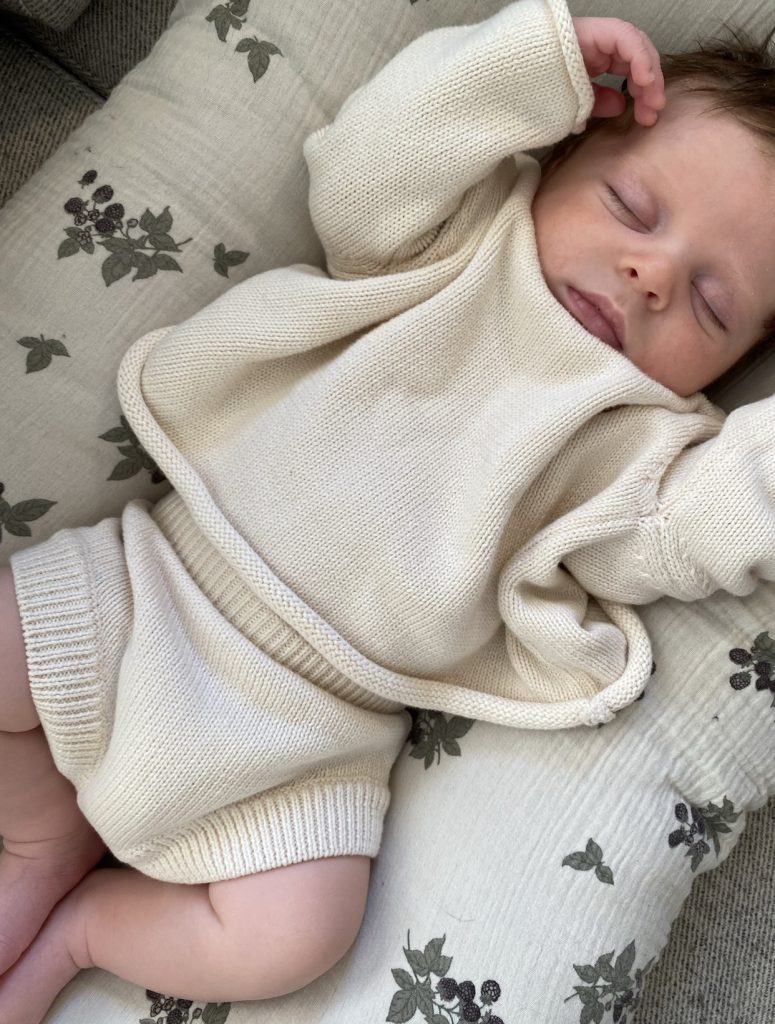 SWING, BOUNCER, LOUNGER
Munchkin Lightweight Baby Swing
*Update: Used only until about month 3* – After doing research on the best baby swings for small spaces, I decided to order this one. It's SO lightweight compared to another swing that we originally started with and I love how simple it is with basically 5 settings and a few sounds/music options. It's lightweight enough to move from room to room if needed and Brooks seems to love it, especially in the mornings after his first feeding. Is it absolutely necessary? No! But it is really nice to have some sort of something for him to sit up in and start the day in while I'm getting ready or doing computer work. The only downside from what I've seen is no activity/mobile hanging options over top to keep him more interested. 
Snuggle Me Organic Bare Baby Lounger
This is probably one of the MOST most used items by far, especially in that first month. We keep it on the sectional part of our sofa in the living room and use these changing pad covers to cover it with to help keep it clean. It's nice to have a safe and cozy spot to lay him down and this lounging pad is just that. *Update: After about month 3, we never used this again.

BabyBjörn Bouncer Bliss
We love this bouncer and it's nice to bring out when we want him to sit up and be engaged with what we're doing OR if we want to get work done. For example, if we're eating dinner, loading the dishwasher, making coffee, or cleaning and he's awake, this is nice to have so that he can sit up and simply just watch the world and be content. He recently started bouncing himself in it (under his control) so now it is extra stimulating for him. I also LOVE how easy it is to fold up and store in our storage ottoman. It takes up really minimal space which I appreciate and requires no power or plugging in! We recently traveled to my grandma's house with it and it didn't take up much space at all. *Update: Still using this daily at month 6*
[show_shopthepost_widget id="4728783"]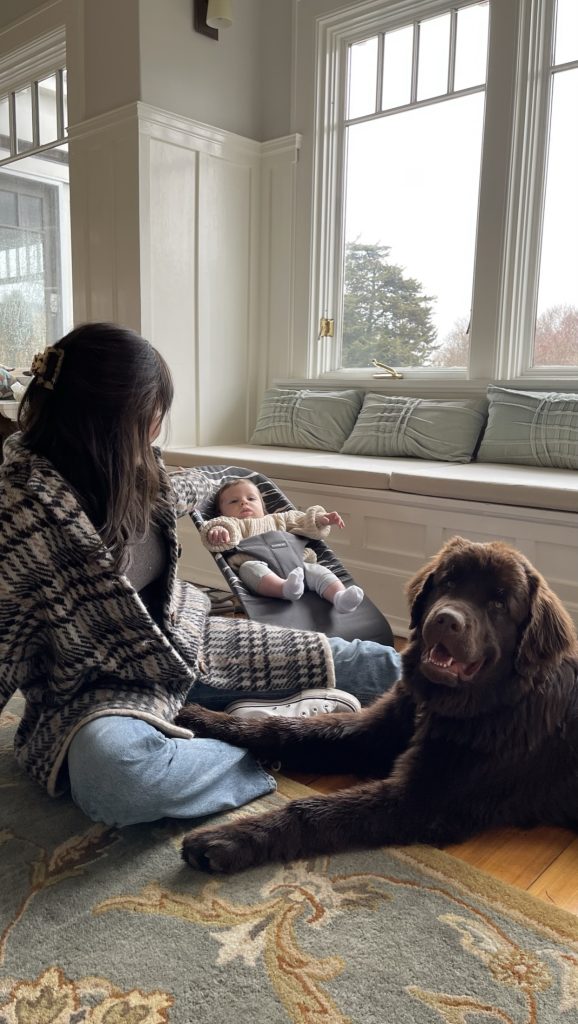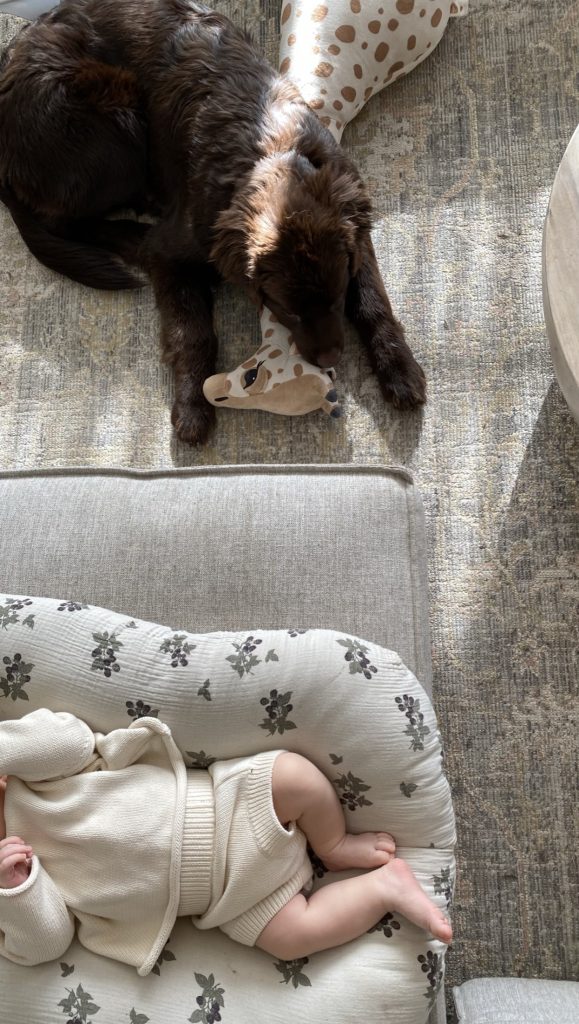 FOR SLEEPING
Dreamland Baby Sleep Swaddle
We recently started using this every night and it's weighted so it is supposed to help calm and keep a baby sleeping for longer. So far, we've had many 8 hour straight nights of sleep so I can't say for sure if this is the reason but I do think it helps a lot! *Update: Never used again after month 3.
Organic Muslin Swaddle Blankets
We're already out of the swaddle phase (HOW?!) but these blankets are the best for so many other uses too. We used these for swaddling the first 7-ish weeks when he slept and now we use them as a car seat blanket when we're going places, burp cloths, and really anytime we need a blanket to warm him up. We like to keep one in the diaper bag too. *Update: Still using through month 7 when we go to restaurants or indoor places that tend to be cold.

HALO BassiNest Swivel Sleeper
I had the hardest time deciding on a bassinet and, ultimately, I wish I had gotten an even simpler one. HALO has a few different types and I went with the one with all the extra bells and whistles… I never ended up using them though. I never used the sound feature, the vibrating/movement feature, the light feature… I used none of it except for the swivel feature. I do however still recommend this bassinet (the most simple version of it) because it is a safe place for him to sleep and I do love the swivel feature. I also want to note that I know all babies are different so maybe the extra features would be more beneficial to others but, in our case, I wish I had kept it more simple. *Update: Used up until month 3.5/4 and then he transitioned to his crib so we never used it after that.
Hatch Baby Rest Sound Machine
We've used this sound machine every single night since the night he was born. I even brought it to the hospital. Not only does it provide many different sound settings but the light is also helpful to have when you're waking up at night. *Update: still using daily at month 7.
Magnetic and/or Zipper Sleepers/Footies
You've probably heard parents mention that zipper pajamas are key… and they weren't lying. When it comes time to pajamas, we exclusively use zipper and magnetic ones because they're just that much easier to handle when changing diapers at night. A couple of favorite brands are Magnetic Me and Kyte Baby which both are on the pricey side but are worth it in my opinion! I've also found some of my favorite ones at Baby Gap. The stretchier, the better and longer lasting because those babies grow FAST. *Update: still using at month 7 (just larger sizes). Our favorite currently is Kyte Baby.
Baby Mobile
While we haven't used our crib as much as we thought we would yet (we've been trying to do crib naps but he prefers his stroller…), when we DO use the crib, the baby mobile is the most fascinating thing for him. Ours came with a spinner and music device and it definitely keeps his attention for a very long time. *Update: No longer using past month 4.
[show_shopthepost_widget id="4728785"]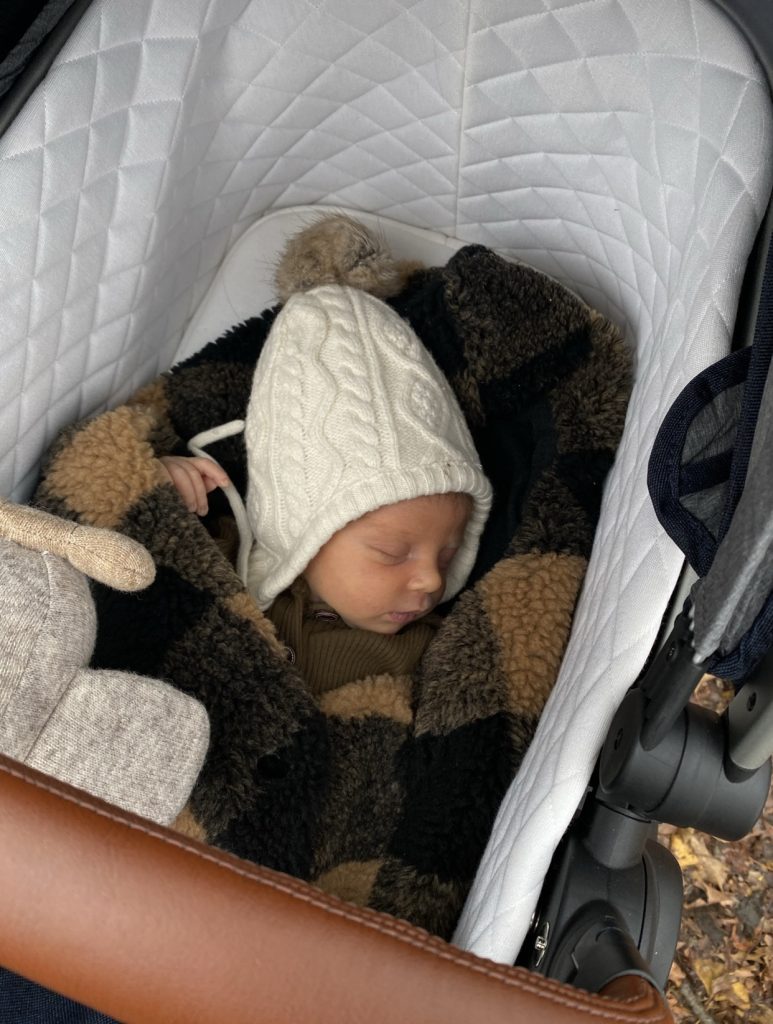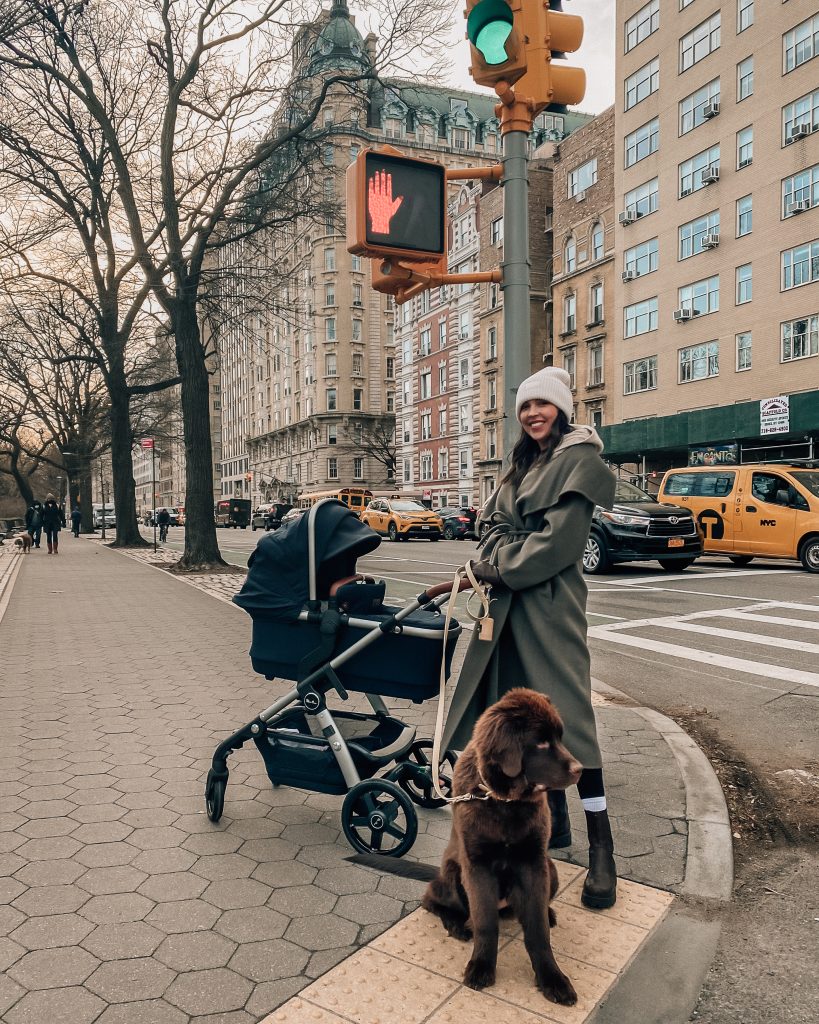 BATHTIME & SKINCARE/HEALTH

Skip Hop Smart Sling 3-Stage Bath Tub and Hooded Towel
I like this bathtub because it has a mesh sling that is comfy for babies to sit on but the tub also is built to last through multiple stages of growth. We also have a couple of hooded towels to wrap him up in post-bath time… one is from Pottery Barn Kids and the other is from H&M Home (The PB one is a bit softer and thicker and would make a great gift). *Update: Still using at month 7!
Baby Shampoo and Body Wash
The first baby shampoo we ever used was Babyganics and loved it! Then I did some more research on best shampoo for Cradle Cap specifically and found this one. We love both! Speaking of Cradle Cap, these fine-toothed baby combs are the best for getting those flakes out. *Update: Switched to Tubby Todd!
Tubby Todd All Over Ointment
I am convinced this is a miracle skincare product for babies. We dealt with a lot of baby acne around week 2-3 and, after using this for a couple of days, the acne was nearly gone. It's also great for getting rid of cradle cap. I lather this on after bath times too and it keeps his skin so moisturized. Just an all-around great product to have. *Update: Still using at month 7!
Nail Trimmer
Nail files and nail trimmers worked well for us the first couple of months but then his nail growth got out of control and I had to just go straight for the adult nail clippers and be extra careful.
Nasal Spray and Snot Sucker
This kit comes with both the snot sucker and the saline nasal spray. Trust me, you will be so happy to have both!
Vitamin D
Our pediatrician recommended using this daily!
[show_shopthepost_widget id="4728786"]
ON THE GO/TRANSPORTATION

Nuna Pipa Lite RX Carseat
This car seat jumped out at us when shopping because it is ideal for city living – can be installed in an Uber withOUT the base and just using the seatbelt. It also fits into our travel stroller with no adapter. *Update: Still using at month 7!
Nuna TRVL Stroller
This is a fairly recent purchase but we absolutely LOVE how small and easily this travel stroller folds up, especially living in the city. It's definitely not as smooth-rolling compared to our larger stroller but we use this just as much, if not more. Sometimes I question why we even have a second stroller but then I think about how eventually you can add on to the second one (plus more space for groceries/things with the larger one). It also holds our carseat perfectly which can come in handy in certain situations. *Update: We've really grown to love this stroller (maybe our favorite one) and are still using daily at month 7.
Silver Cross Wave Stroller
This stroller was given to us as a gift after I had already purchased the Uppababy Vista. I ended up keeping this one and selling the Vista but both were very, very similar. Here is a good comparison article on the two. I will say… this one feels very luxurious. I feel like I'm pushing around a luxury baby vehicle. I also like how it can be converted to hold a newborn AND a toddler for when the time comes (the Vista does too). The only downside is that it is pretty big and doesn't fit super well in smaller spaces. It's basically always out in the open and living in a NYC apartment can feel crowded.

Footmuff for Stroller
We used this daily on our winter walks. Just wrapped him up like a cocoon!

Baby Bjorn Baby Carrier Mini
I've used a couple of baby carriers and this one has been the quickest and easiest for me to put on over the last few months! It feels supportive enough for walks around the neighborhood too.
Solly Baby Wrap
This was the first baby carrier/wrap I tried using and I love wearing it around the house. It took me a few tries before memorizing how to wrap it but now it's built into my brain without even thinking about it. Ah, I get nostalgic thinking about those first few weeks home with him and his cozy little body snuggled up into this!
Tommee Tippee Ultra-Light Silicone Pacifier 
After trying at least 5 different pacifiers, these are the ones that stay in his mouth the longest! I don't even know why I continued to search for new ones after trying these because none of them really kept his interest. Whenever we go to a restaurant, a friend's house, or even just on a walk… we always remember to bring one of these. *Update: Still love these at month 7.
Diaper Bag
We quickly learned that we needed a backpack diaper bag with all of the walking we do around the city and we have really loved this one these last 3 months! It holds everything we need and doesn't look overly feminine for TJ, not that he cares. *Update: Switched to this one because the zipper on our old one broke and this new one is much more spacious.
[show_shopthepost_widget id="4728789"]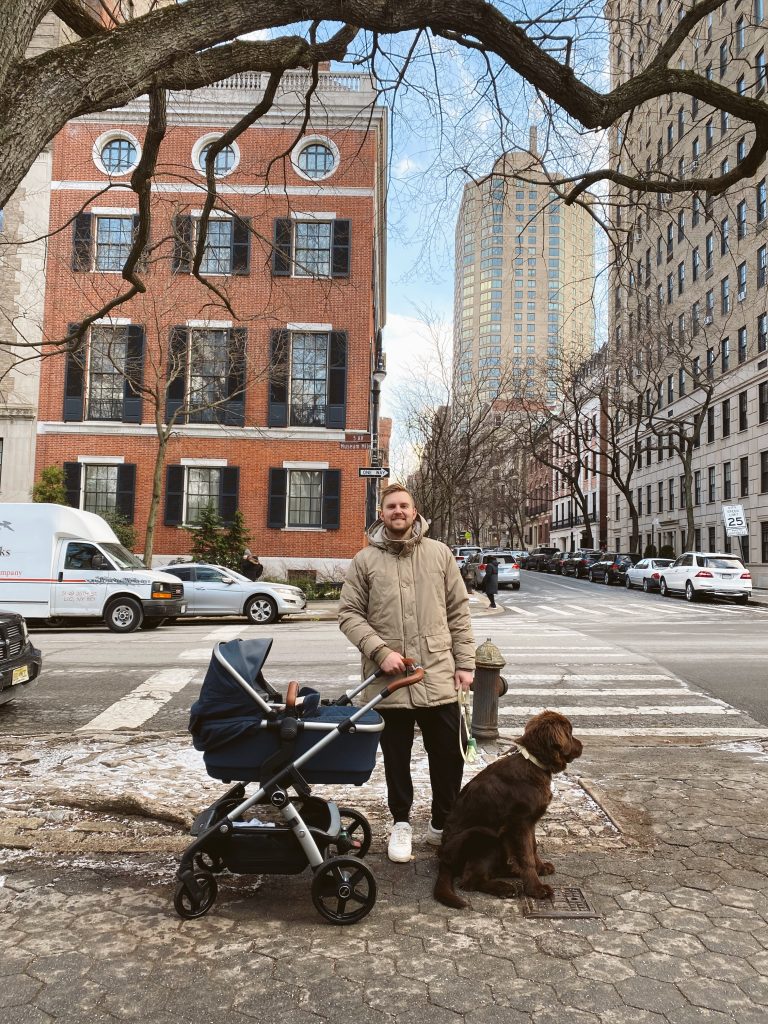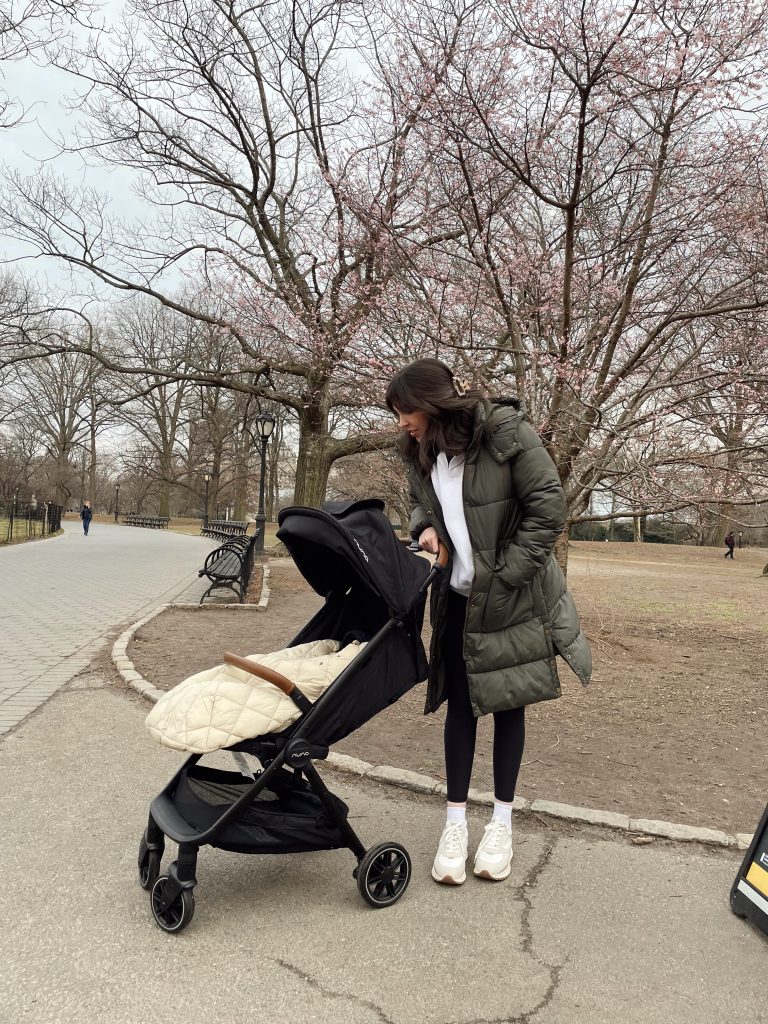 ORGANIZATION & CLEANING
Standing Drying Rack
Diaper Pail
Drawer Organizers
[show_shopthepost_widget id="4728791"]
AWAKE ACTIVITIES

Baby Einstein Sensory Play Space Newborn-to-Toddler Discovery Gym 
It's definitely not necessary to have multiple play mats and gyms but this one was a gift from my mom and I love how it lights up and plays music. It's also really easy to break down and store away in our storage ottoman! *Update: At month 7, we're not really using this anymore.
Lovevery Play Gym  
I'm a big fan of all things Lovevery and this play gym is no exception. It's designed beautifully but also incredibly stimulating and has so many different activities… mirrors to look at, contrasting cards, a rattle, and so much more. It's also easy to break down when needed and doesn't require much storage space at all. *Update: At month 7, we are more into Lovevery's play kits and other activities. Have not pulled this out since probably month 5.
Kick and Play Piano Gym
This is one of the most popular baby toys on Amazon and you'll 100% get the songs stuck in your head but it's basically a small playmat with a foot piano at the end that plays songs when the baby kicks it. Also easy to break down and store away! *Update: Still using at month 7 but more so while he sits up as opposed to feet playing the piano.
Lovevery Play Kits
These play kits are my newest favorite delivery every couple of months or so! It's a kit containing different developmental activities depending on how many months of age your child is. We just got our second kit (for 3-4 month olds) and it has so many great activities inside! I will definitely be a customer for as long as they make these kits. *Update: still using this service at month 7.
Books
I figured the easiest way to organize my favorite children's books would be Amazon Storefront. It's an ever-growing list!
[show_shopthepost_widget id="4728792"]
BREASTFEEDING/PUMPING
My Brest Friend Nursing Pillow
This nursing pillow changed the game for me and made breastfeeding 10x easier. It's the perfect amount of firmness so that you don't feel hunched over and it has incredible back support too. It was not the first one I tried (tried the Boppy and it just did not work well for me) but I'd definitely recommend packing this one with you when going to the hospital. *Update: stopped using this around month 4/5. He just got too big!
Motif Luna Pump
This is a fairly standard breast pump (also should be covered under your insurance!) but I've really liked the simplicity of it! I did end up ordering extra parts just so I don't have to constantly be washing the parts after each use and I carry it around the apartment inside of this caddy along with my favorite Milk Storage Bags (love these because of how stiff they are so that I can open it one-handed without it spilling). *Update: still using at month 7.
Favorite Bottles: Tommee Tippee Silicone Bottles, Boon Silicone Bottles, Philips Avent Bottles (I use the base of these when pumping too). *Update: still using at month 7.
Ladybug Silicone Breast Milk Collector
These fit inside of a bra seamlessly and collect breast milk while you are feeding with the other so that no milk is wasted.
[show_shopthepost_widget id="4728794"]
I think that covers all of our most used items for months 1-3. I cannot believe how quickly those last 3 months have flown by. The growth and development we've seen in such a short amount of time just blows my mind and they really have been my favorite months of my life. I hope this list helps you if you're having a baby soon or maybe even just stuck on gift ideas.