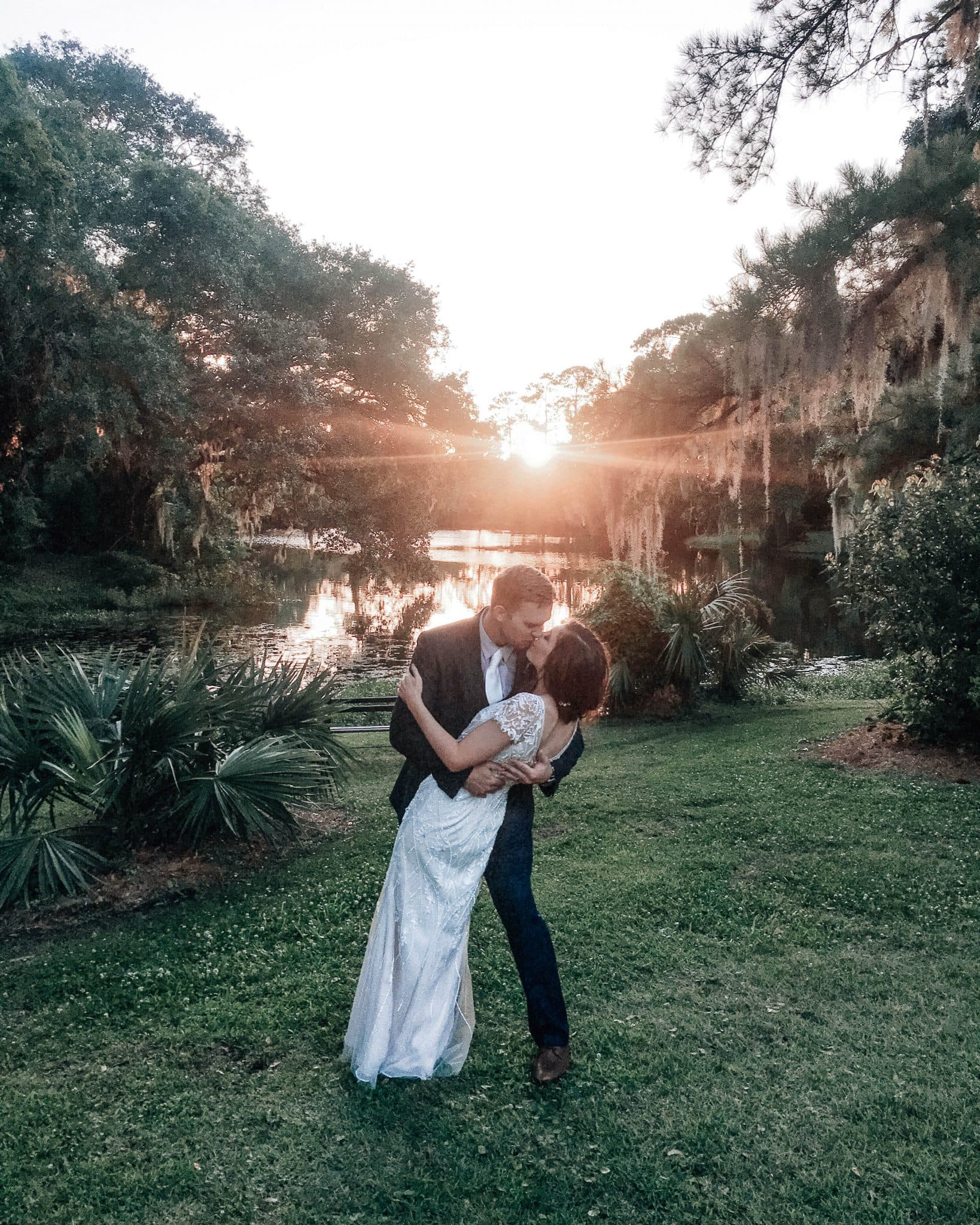 Wow. A lot has happened in the last two weeks and I'm so excited to give y'all an update on where I've been and what's happened since I've last posted on here. I'm also very excited to get back into the swing of things and post more regularly now that I'll have more free time! Where do I even begin? I'll start with June 8th since that is when most of the festivities began!
The week leading up to our wedding was filled with several last minute errands and small DIY tasks, finalizing calligraphy details with one of my bridesmaids (and calligraphers… y'all should check out Oaks and Gray Paper! Thank God for good friends that are talented at painting/writing anything and everything and could create even my very last minute ideas!), making sure we packed everything for Charleston, coordinating plans with family and friends, picking up my dresses, strategically packing up the cars with boxes, bags, dresses, mirrors, frames, our dog. The week flew by but it was one of the best weeks ever. On my last day at work before we left, my friends surprised me with gifts, cupcakes, snacks, a veil for my work chair… it was so sweet. It was a short work week for both TJ and myself and on Thursday morning we both drove down to Charleston! My whole family stayed in the Courtyard Marriott Waterfront and it couldn't have been better. The pool area overlooking the water coupled with the live music every night really set the mood for what was to come!
I'll wait to share the details of the wedding day for when we get back photos but for now, some of these iPhone pics should do.
Our rehearsal dinner was on Friday night (June 9th) and we invited even more family to the brewery for a 'welcome party' afterwards! It was so much fun seeing everyone beforehand (it also really calmed my nerves… I was a little anxious earlier this day being the center of attention) and we absolutely loved having the event at Lagunitas although I am pretty sure we were the last private event there due to a change in ownership.
For the rehearsal dinner, I wore this matching set and it was perfect for the occasion! Next thing I knew, it was already the morning of our wedding day!!!! It was a surreal feeling arriving to our venue that morning, seeing the tent and all of the rentals we selected being set-up, seeing our vision come to life, ah! It gets me so excited again just thinking about that morning. That entire day flew by way too quickly and the time spent getting ready with my bridesmaids and mom will always be some of my best memories…. the anticipation, the excitement and joy, the 2000's rap playlist by Ash & Co (shout out to Ashley for being freaking amazing at hair/make-up!) I never knew Pop, Lock, & Drop it could be so calming.
TJ and I had our "first look" at 3pm and the rest of the day/night just flew by. The whole day was so surreal.
The weather AND our vendors both need a paragraph of their own. We knew going into our wedding that having it outside would be risky but I couldn't envision our wedding not outside. It could have easily been 100 degrees, or rainy, but it was in the 80's and not a drop of rain in sight during our wedding day and the few surrounding days. We also couldn't have been happier with each and every vendor we hired to help make the day perfect for us! I'll get into details another day but wow- our team of vendors was absolutely amazing.
Flash forward to 4am this morning and we just got back from our honeymoon in St. Lucia! Our flight kept getting delayed so we got home a lot later than expected. I made sure to bring my camera to document our stay as much as possible while still feeling relaxed and not like I was working too much. This trip needs an entire post of its own… the place we stayed was quite the resort and was definitely the most relaxing place I've ever been in my whole life. I felt like I was in Jurassic Park or the tv show Lost but, instead of dinosaurs, there were pina coladas, tropical, lush flowers, tree frogs, and butlers at your service!
Anyways, there are more photos to come of both the wedding and the trip to St. Lucia but I just wanted to give you all an update for now since it has been so quiet around here the past few weeks. Today is my first day back at work in almost 2 weeks and I'm semi-terrified to look at my inbox. I'm just SO excited to be married to my soulmate and be back home… these past two weeks have been too good to us.
Thanks for stopping by!
Shelby