I remember living in my first apartment after college and watching this tv show on Bravo called "Toned Up". It was a tv show showing the behind the scenes of the new business of Katrina and Karena, the creators of Tone it Up, a fitness program and community based in CA. Back then, I purchased their nutrition guide and fitness videos, but, a few years passed and my interests in fitness programs changed a bit. I started taking classes in a local studio and, once I moved from that apartment, I became more of a work-out-at-the-apartment-gym-by-myself type of person and that's what I did for the next year or so!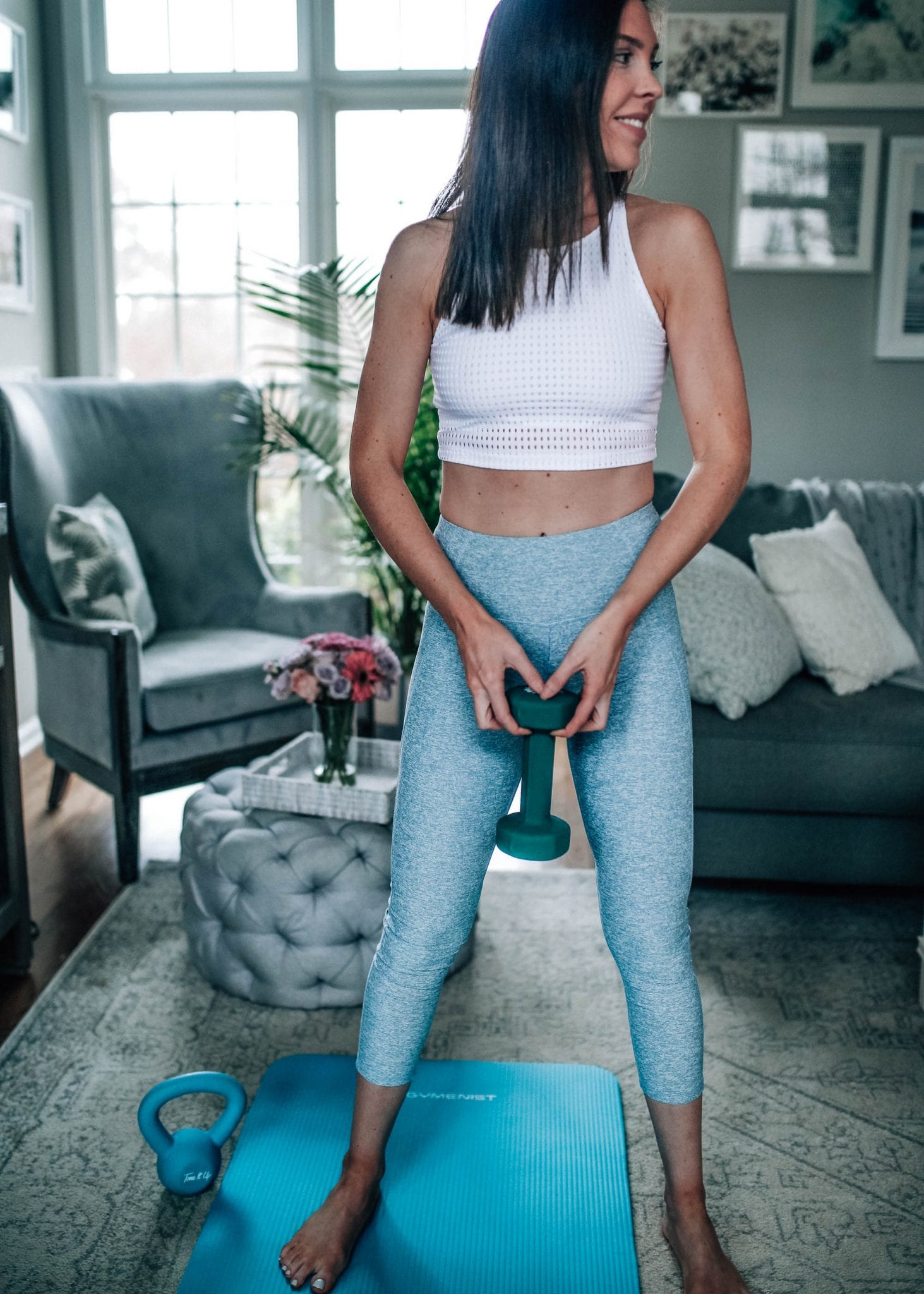 <center>

</center>
Since January 1st this year, I've been pretty good about putting my health at the top of my list most days. I've gone through phases of going to the gym in the mornings, taking classes, going on daily long walks, trying to stick to BBG, and more, although I haven't stuck with any of those (except walks in our neighborhood!) for the full three months into the year. I felt like something was lacking or if I did one type of workout, I was missing out on something else, or I was sacrificing more of my time doing one or the other. I know driving to the gym 15 minutes down the road doesn't take too much time but it started to add up (our gym is near Marshall's… enough said) and I felt like I could get a similar workout in at home. I also have tried the BBG workouts over and over again and I can never seem to get through the full 12-week program because it just wasn't fun for me.

Anyways, about a month ago, I decided to re-download the Tone it Up app and see what those girls have been up to lately. The program has come a LONG way in the past few years and I've absolutely loved starting my mornings with these workouts. I know there are so many fitness options out there and so many factors that come in to choosing the best one for you so I wanted to put together a Q&A style post to answer questions all about Tone it Up and what I think of it.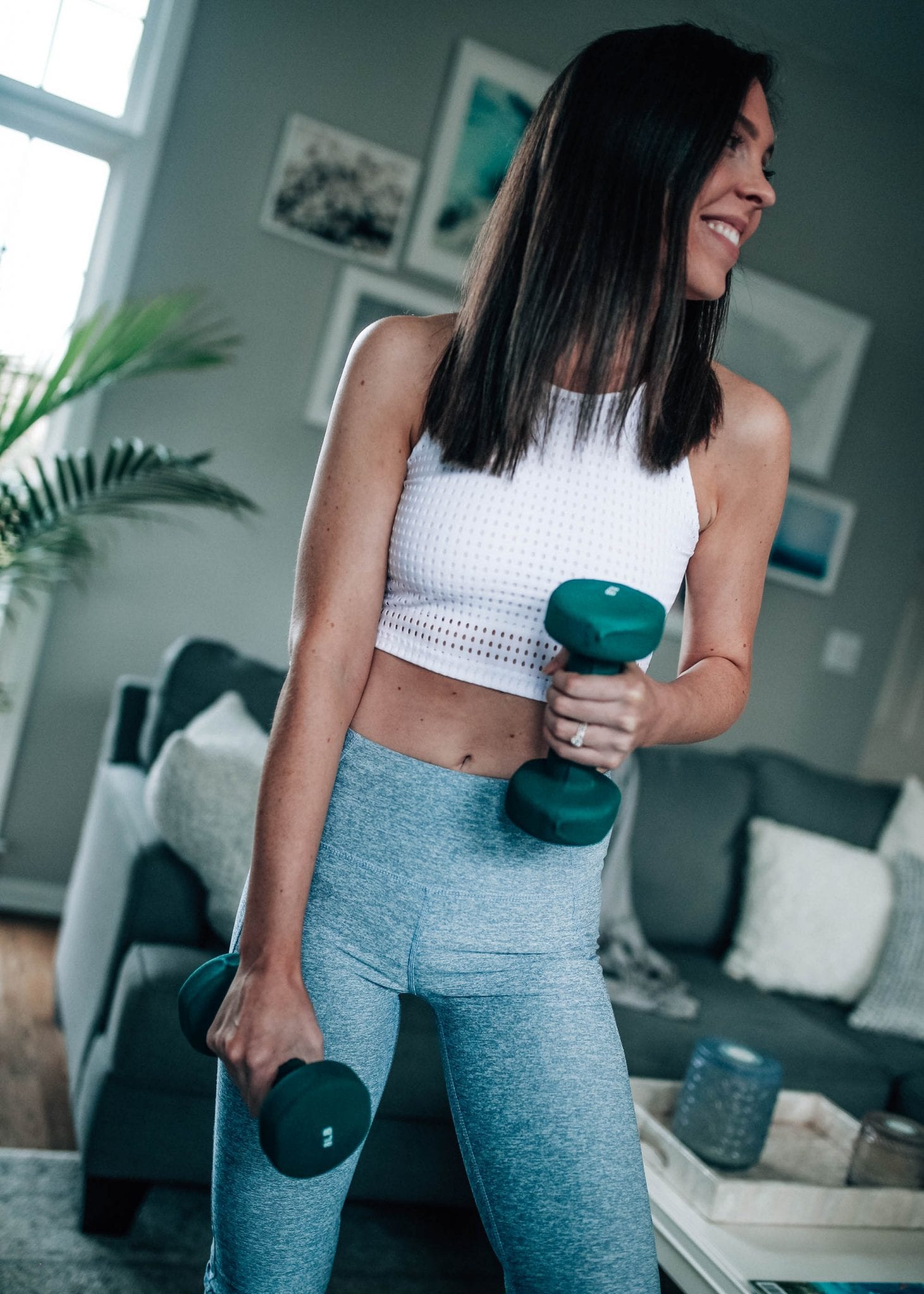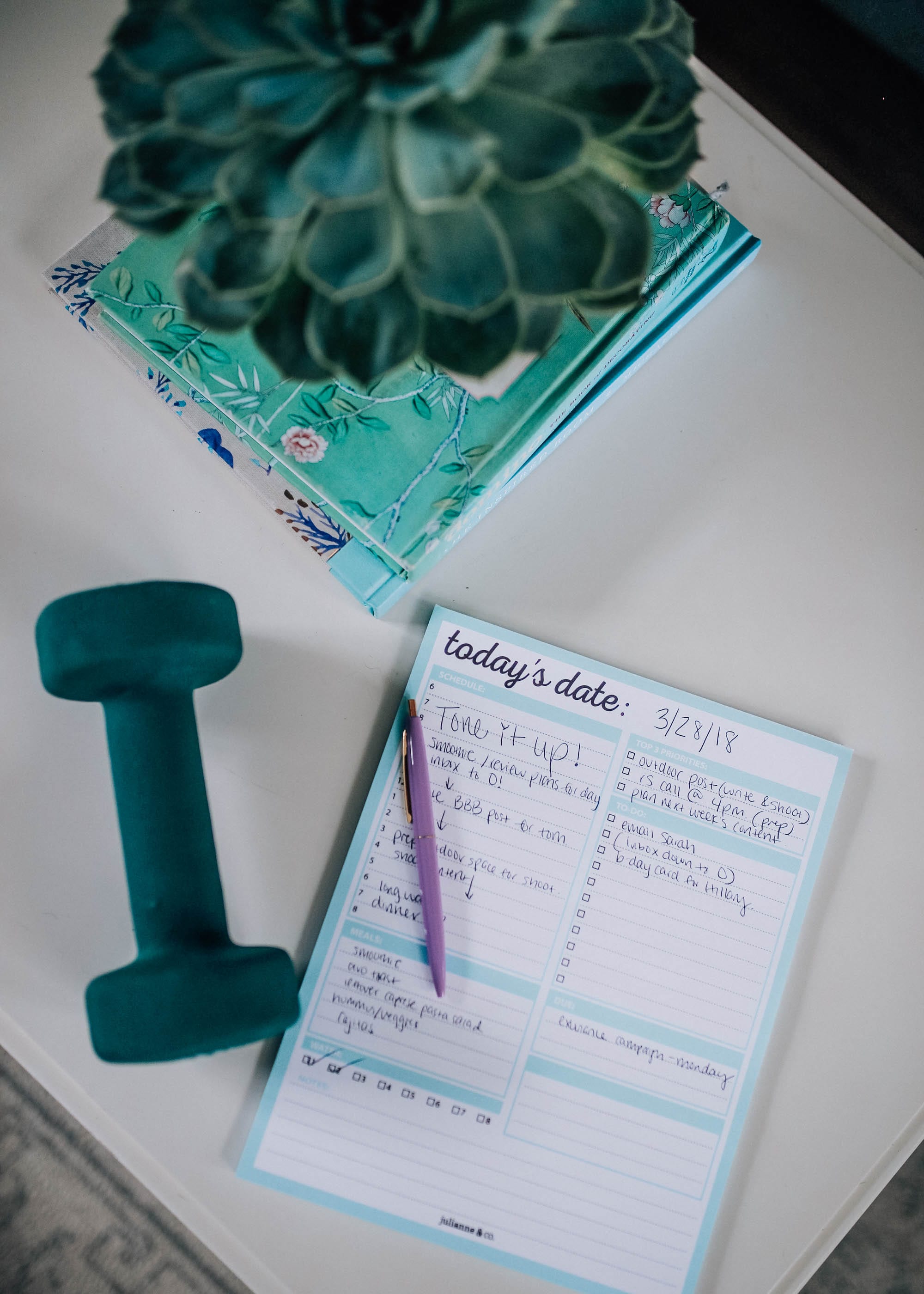 Tone it Up Q&A

Q: Why did you change from BBG?

A: BBG (or Bikini Body Guide created by Kayla Itsines) is an incredible workout program. The workouts are so challenging but they get to be somewhat repetitive, in my opinion. They work! But, for me, it was very hard to stick with something solely because of how good it makes your body look. It wasn't the most fun thing for me to do. You also have to be incredibly dedicated and disciplined because, with BBG, it's you, the workout moves, and your willpower to keep going. With the Tone it Up workouts, it feels like I am actually with the trainers. I see them, hear them encouraging me throughout each move, and it just feels more community-focused. If I had some big event coming up where I wanted to look really fit in a short amount of time, BBG is a great resource for that. If you are extremely disciplined, BBG is an amazing workout plan. If all you need is music and all you want is a rocking bod, go with BBG. With where I am in my life right now, I needed something more for my mind AND body, something I could see myself incorporating into my lifestyle for a very long time, not just for 12 intense weeks. I might even go back to using the SWEAT/BBG app in the future but, for now, I'm loving the change.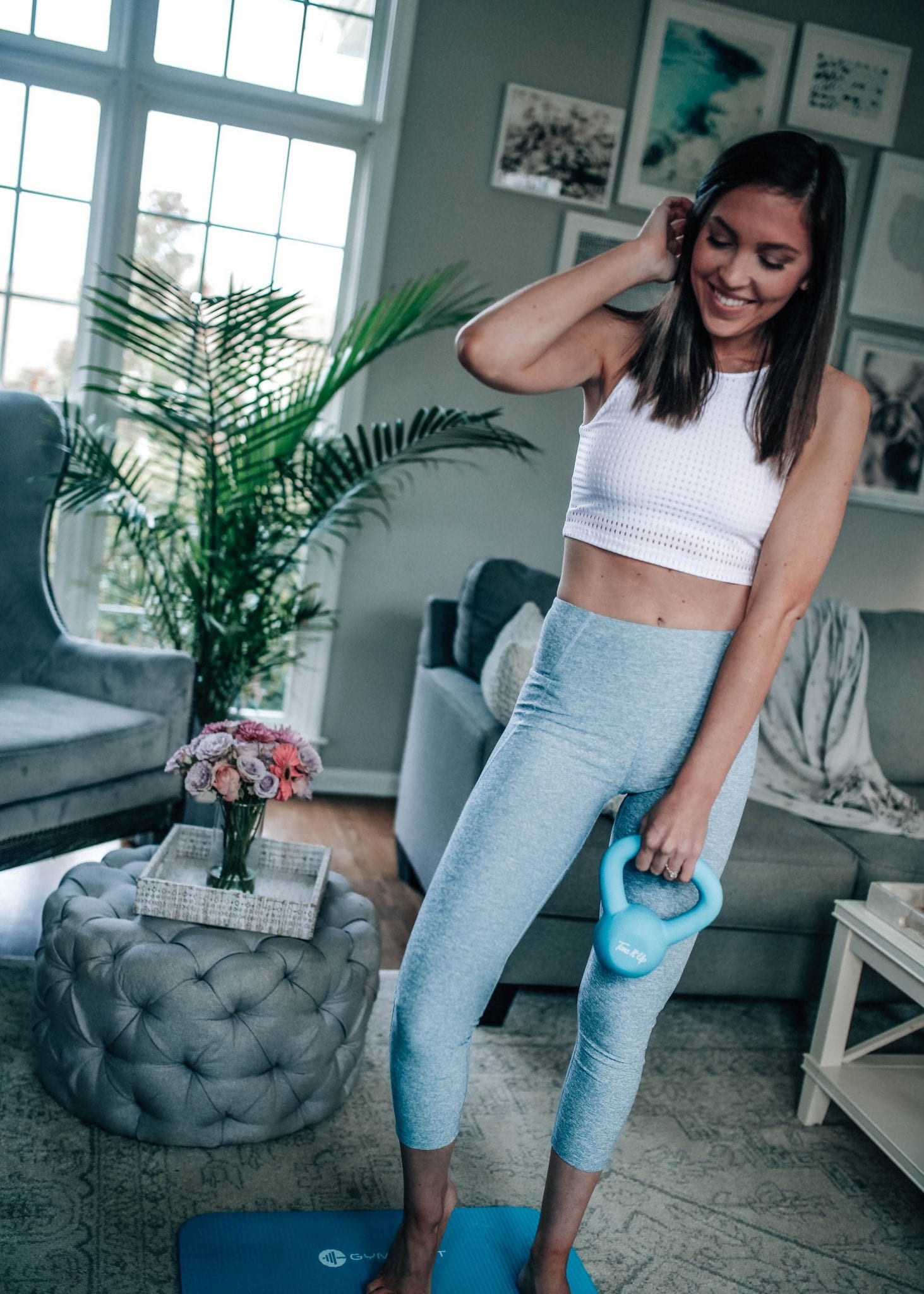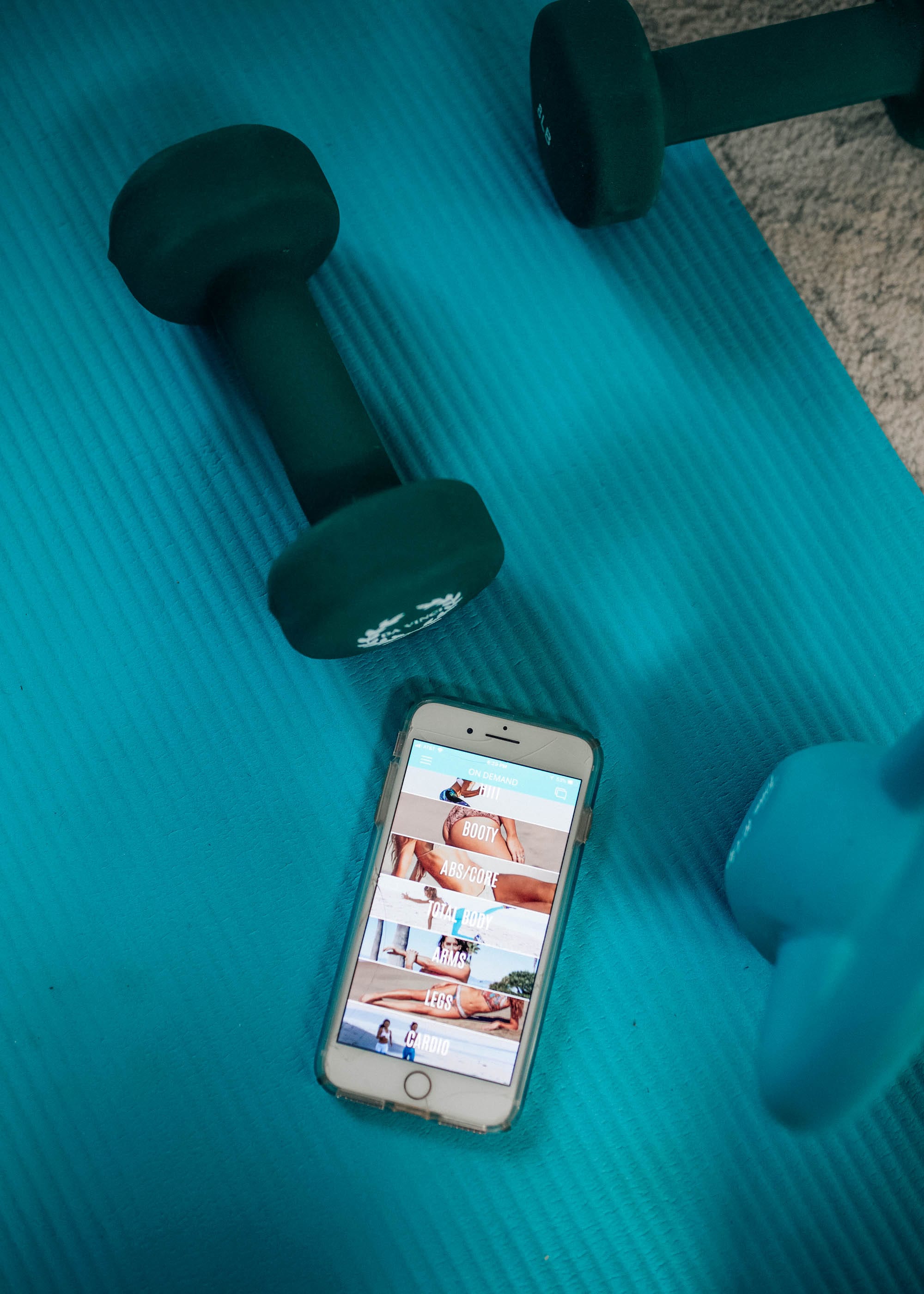 Q: Do the TIU workouts require a lot of equipment?

A: No! I was a little hesitant about not having enough equipment but, for the most part, you only need dumbbells and a mat. I recently ordered this mat and these dumbbells. I've been using the 8lb ones but sometimes I wish I also had a 3lb or 5lb pair. Just be prepared that some moves are tougher than others! There have been a few workouts where the trainers recommended a resistance band and there are also workouts with a foam roller and ab ball. However, 90% of the workouts need only a mat and dumbbells. I also use my coffee table for tricep dips sometimes. When I'm doing the Tone it Up Studio classes and it's a class involving a foam roller or ab ball (I don't have those at the moment), I just switch to one of the on-demand classes or do the TIU daily moves.
<center>

</center>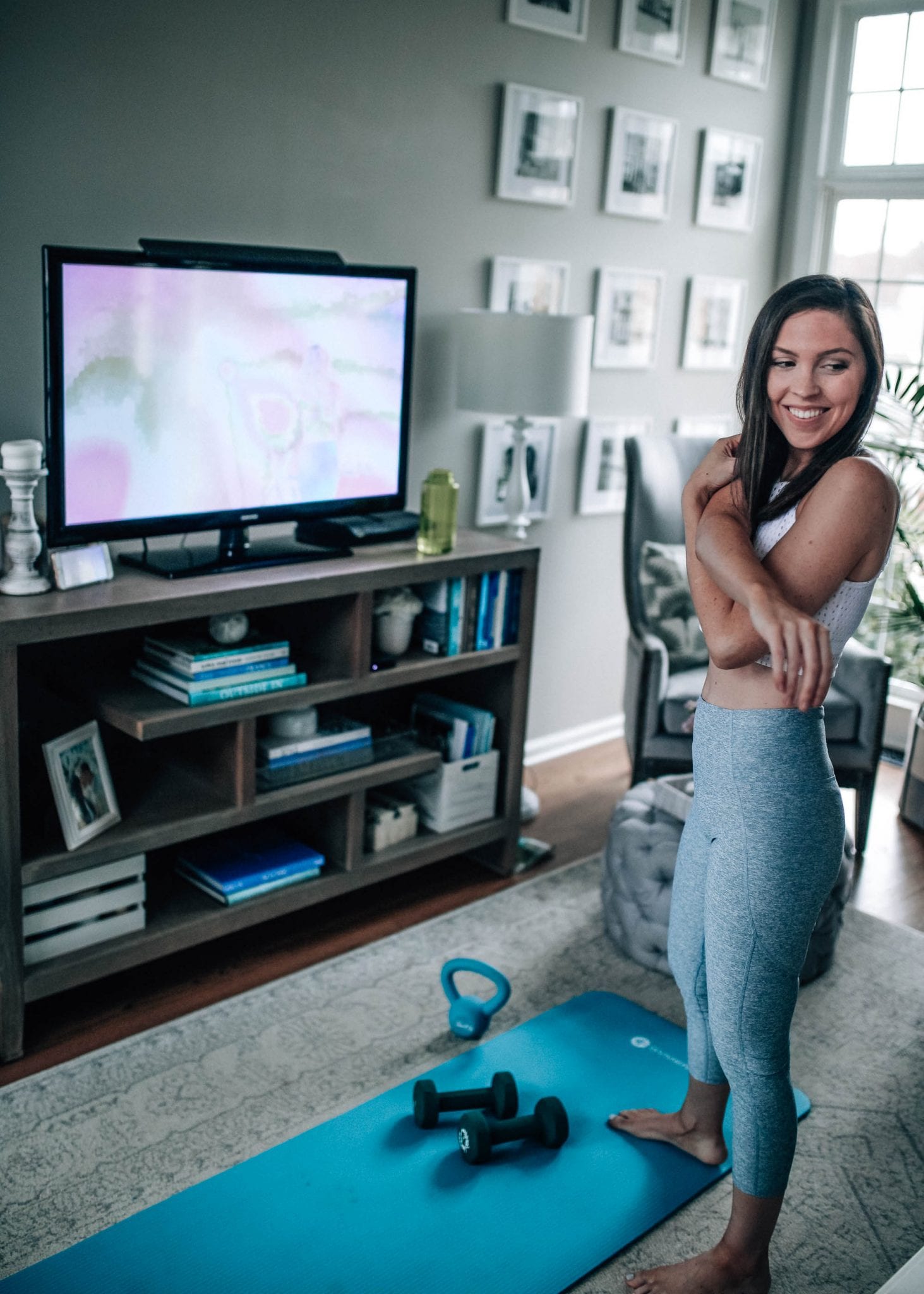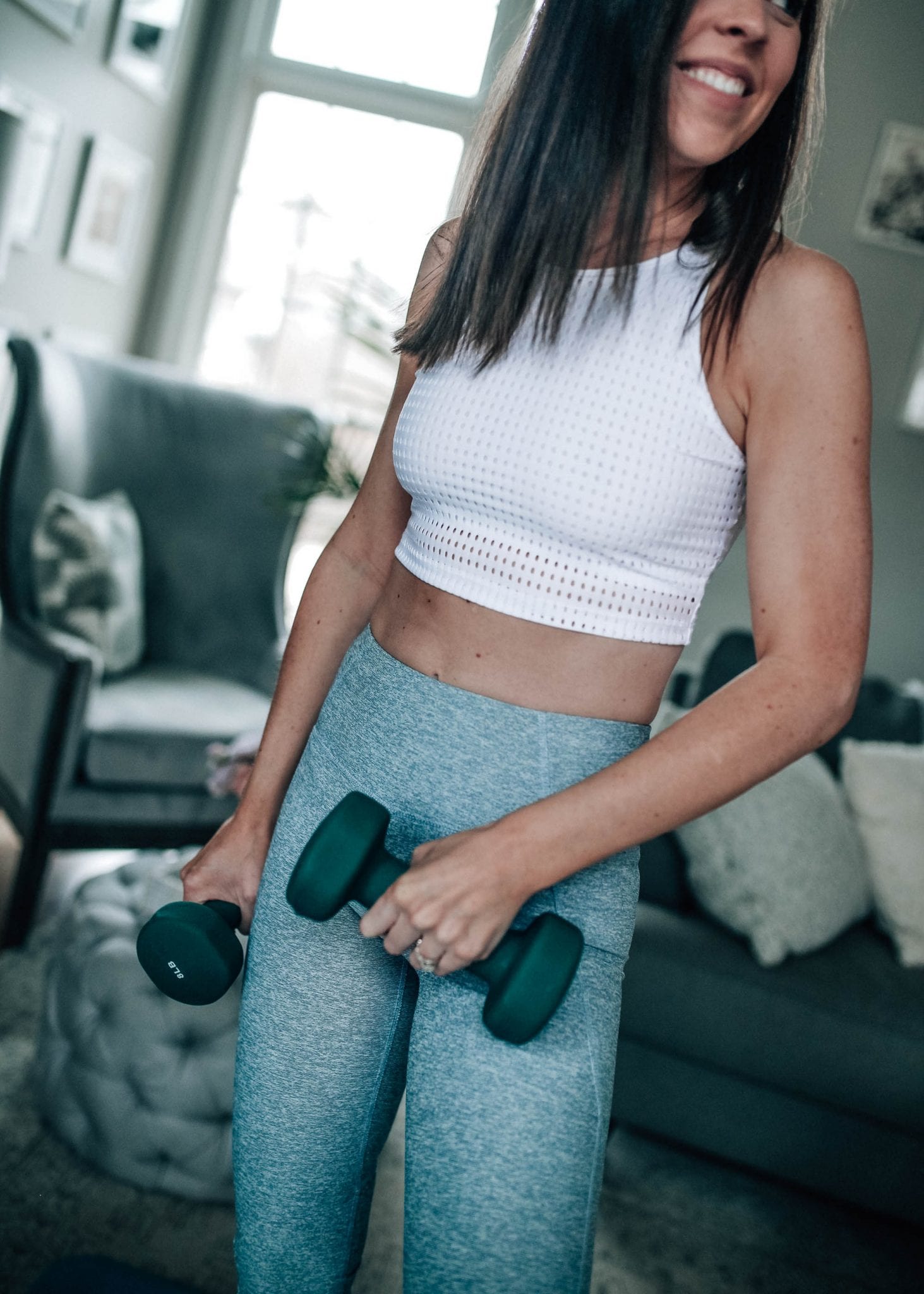 Q: How much does it cost?

A: There are parts of Tone it Up that are completely free but there are also premium features that cost 12.99/month through itunes! The free features are the Daily Toning Moves (really great workouts) and the premium features are the Daily Toning Moves, Studio Tone it Up classes, and On-Demand workouts. You can also try out the 12.99 USD plan for a trial period if you want to see the difference.
Q: How exactly does Tone it Up work?

A: There are many different directions you can take with TIU but, in my experience so far, I've sign up for a Studio Class (they run about every half hour) each morning, and that has been a good enough workout for me. If you wanted to work-out for closer to an hour v. 30 minutes, I'd add the 'Daily Moves' on top of the studio class. Each studio class usually lasts about 30 minutes. The on-demand library of classes is also amazing, categorized into HIIT, Booty, Abs, Yoga, Total Body, Arms, Legs, and so much more. You can also set up your profile depending on how many workouts each week you aim to complete, your tracked activity, interests, etc. You can really customize the workouts to fit your specific needs with all of the options they offer!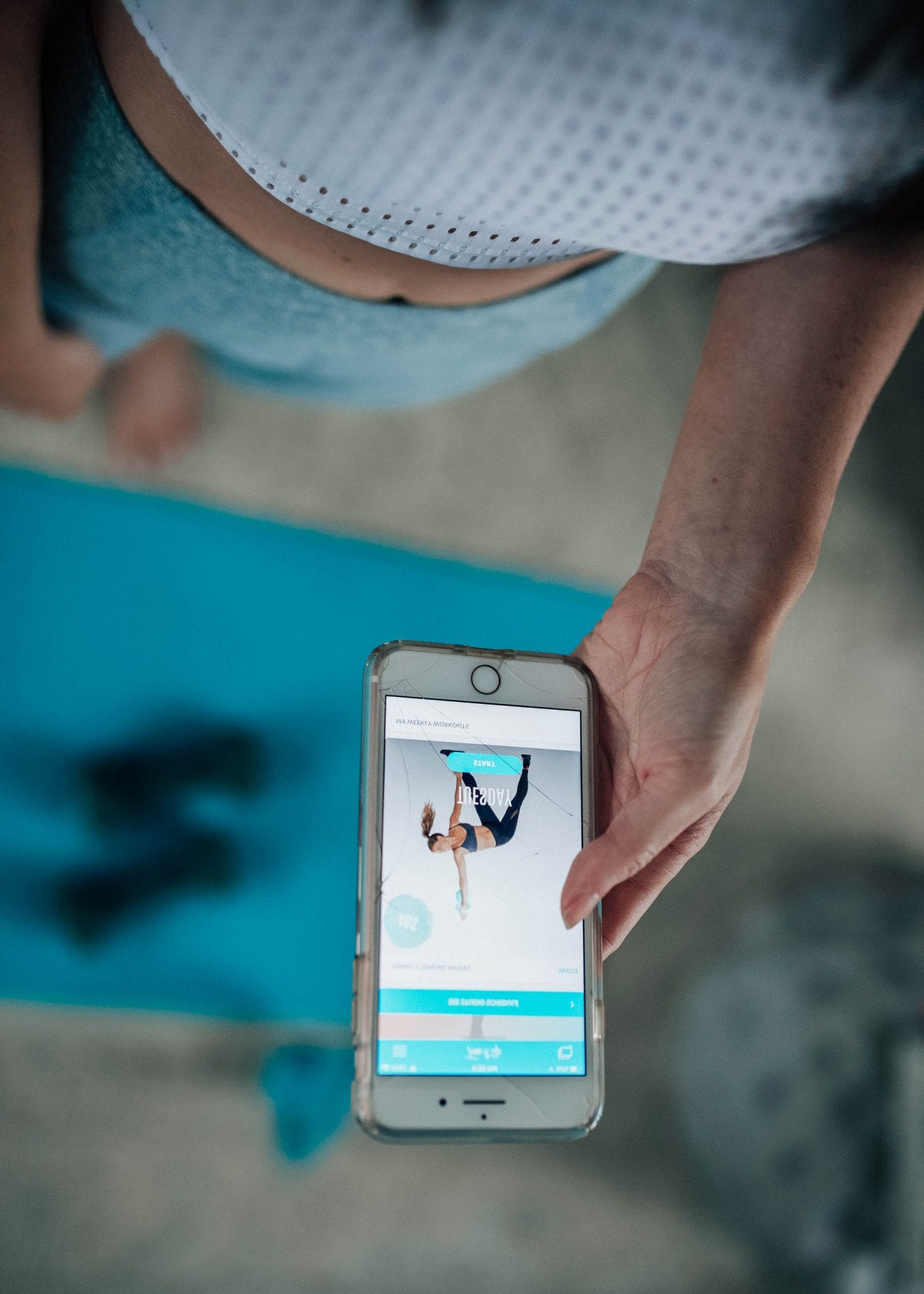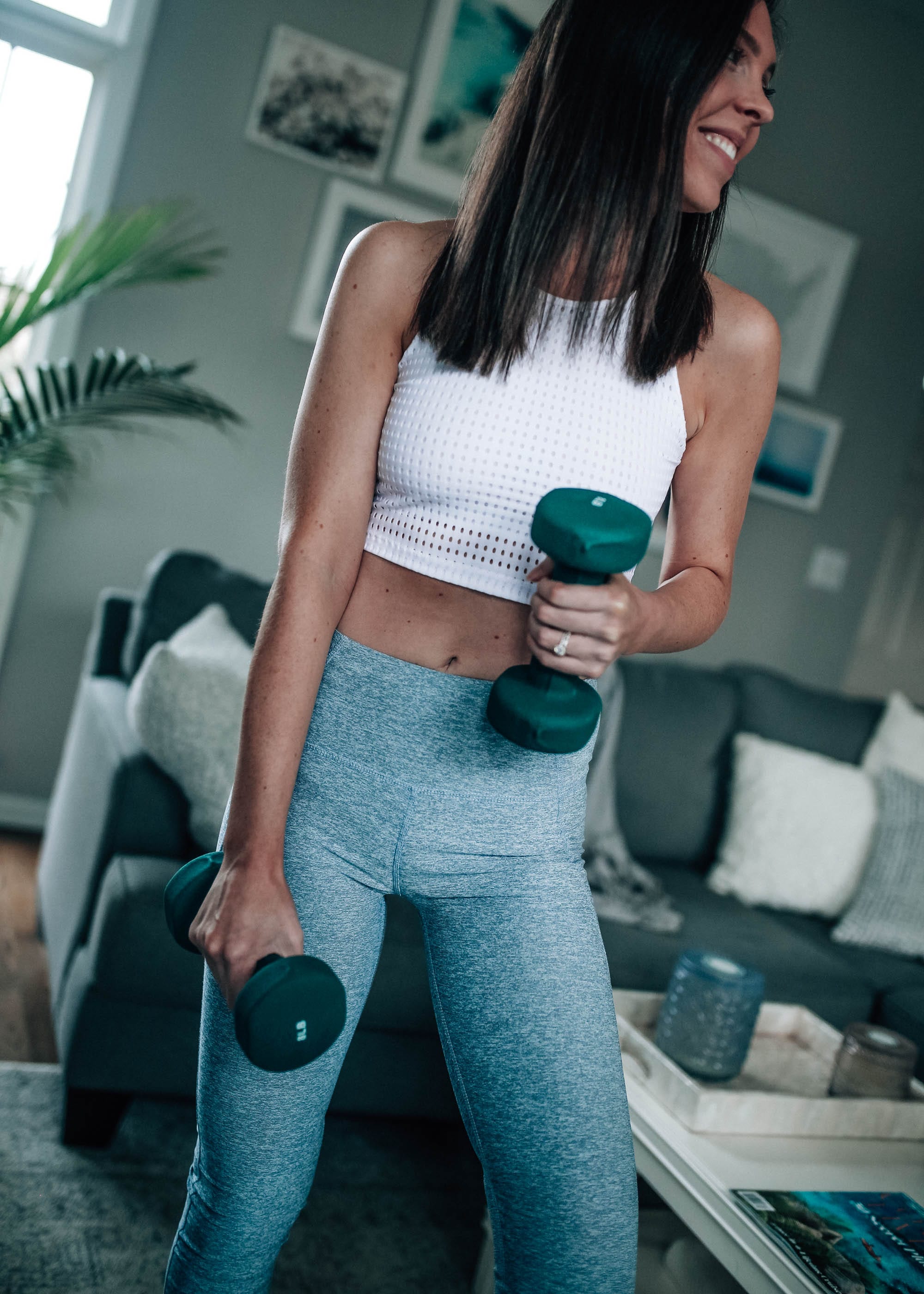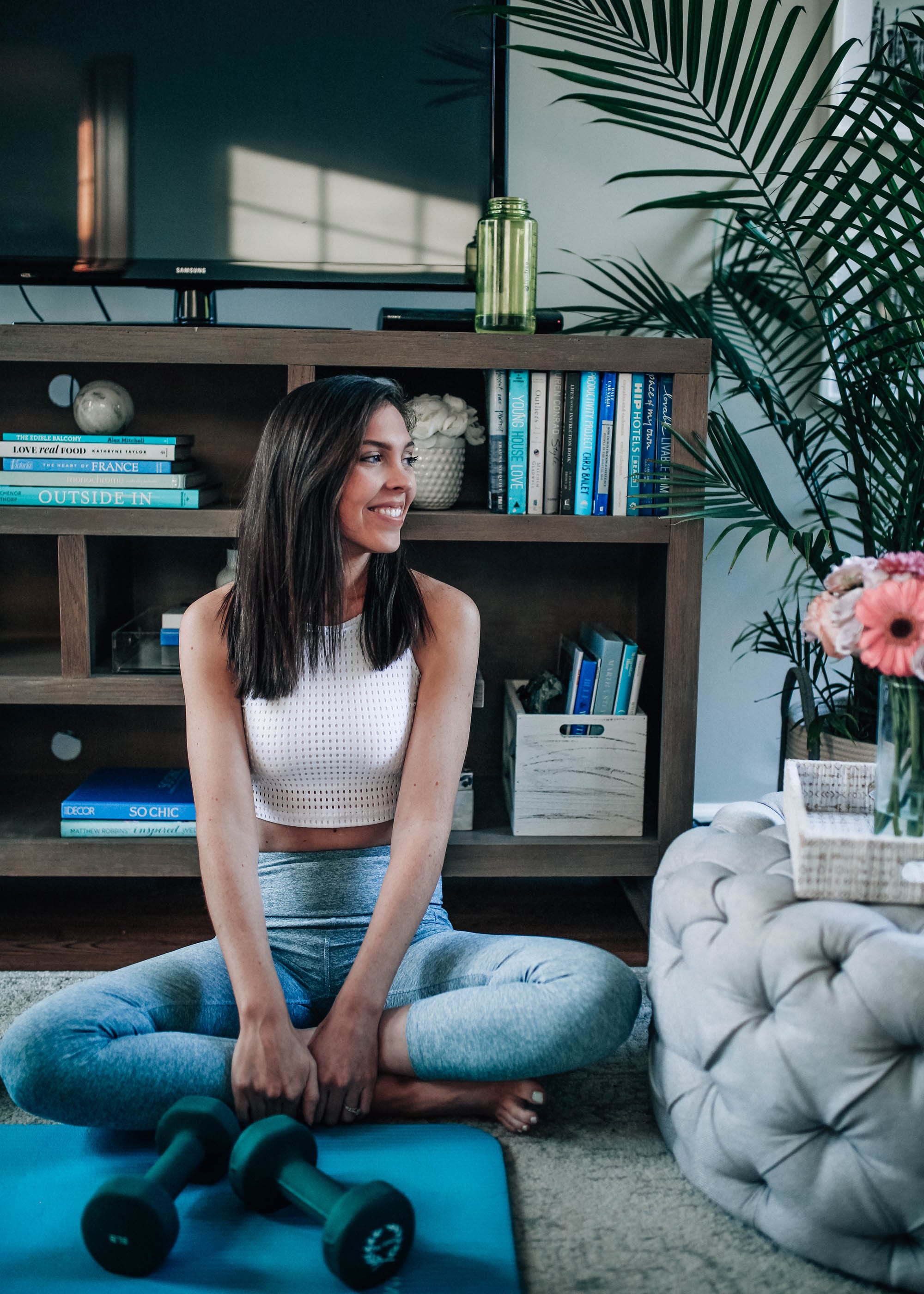 Q: What do you like most about it?

A: I like that each day is totally different and because you can see and hear the trainers, it's extremely encouraging and easy to come back to each day! Last week I worked out 5 days in a row and that has never happened for me before. I genuinely look forward to going downstairs to my living room, pulling out my mat, and showing up to the workouts each day. I also love all of the yoga moves that are incorporated into a majority of the workouts. I was never a huge yoga person until recently and I love how it helps add clarity before I start my day. I also LOVE the fact that you can attend these "classes" and do the workouts from anywhere. It helps me save time each day rather than driving to a gym and you get a great workout in with little to no equipment. One other thing I love is with the studio classes, while they can be done at home and at convenient times, once you join the class, you can't pause it… the class goes on! That was one thing that always got me about at-home workouts, the ability to pause and stop, but with these studio classes, it's really like you are in a class full of other people!
Q: What does TIU have that other programs did not have?
A: The encouragement and community-feel along with the convenience factor is a combination that can be hard to find. I feel like I get the best of both worlds with this app and you can make it as hard as you want to. If you feel like the daily moves aren't enough for you, you can add an on-demand class for whichever area you want to tone. A lot of girls create a specific Instagram account for Tone it Up which adds to the ever-growing #TIUteam community too. And, if all of that is not enough, try visiting their website for a daily blog posts full of smoothie recipes, fitness tips, nutrition plans, and more! I really sound like I'm being paid to say all of this and I'm definitely not, I just really love that I found a program that feels such a good fit for me!
Q: What has been your overall experience so far?
A: My overall experience so far has been really refreshing and hopeful. I actually look forward to working out every single day (well, M-F) and it never seems like something I "have" to do but more of something that I genuinely want to do to get my mind in the right place while also toning my entire body. I love how it saves me time because I don't have to leave my house but if I wanted to, it can easily be done at the gym too. I also love how each day is totally different and I feel like I'm being surprised with a fun and encouraging workout each day. Also, if you haven't tried their plant-based protein powder, I am seriously addicted to the vanilla flavor!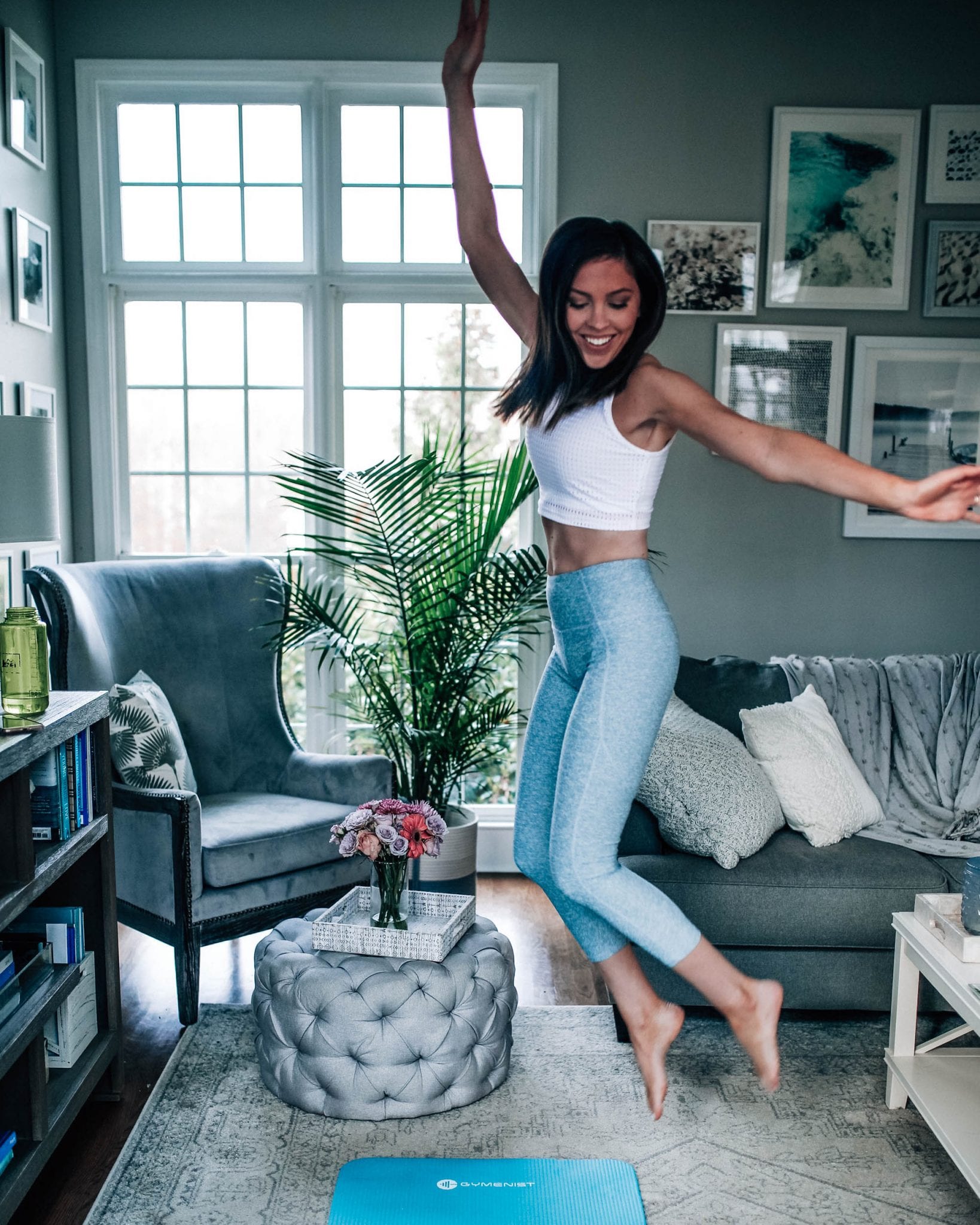 That's all the questions I received so far! If you still have any questions, feel free to email or leave a comment here. Hopefully this helps answer most of the questions you had about TIU and, if you've been in a workout rut, hopefully this encourages you to try it out! If you try it out and feel like it isn't hard enough, I'd recommend trying a few more, increasing your weights, or pick and choose from the on-demand gallery. It took me a few days to really start feeling the difference and sometimes I do feel like I need to add the 'daily moves' on top of everything, just FYI. Everyone's body is totally different and sometimes you just have to figure out what works best for yours!
Happy Wednesday! We're finally out of the 30 degree temps here in NC so I think spring is officially here! Visit back here tomorrow to get a glimpse of our outdoor space makeover!
xo, Shelby
<center>

</center>