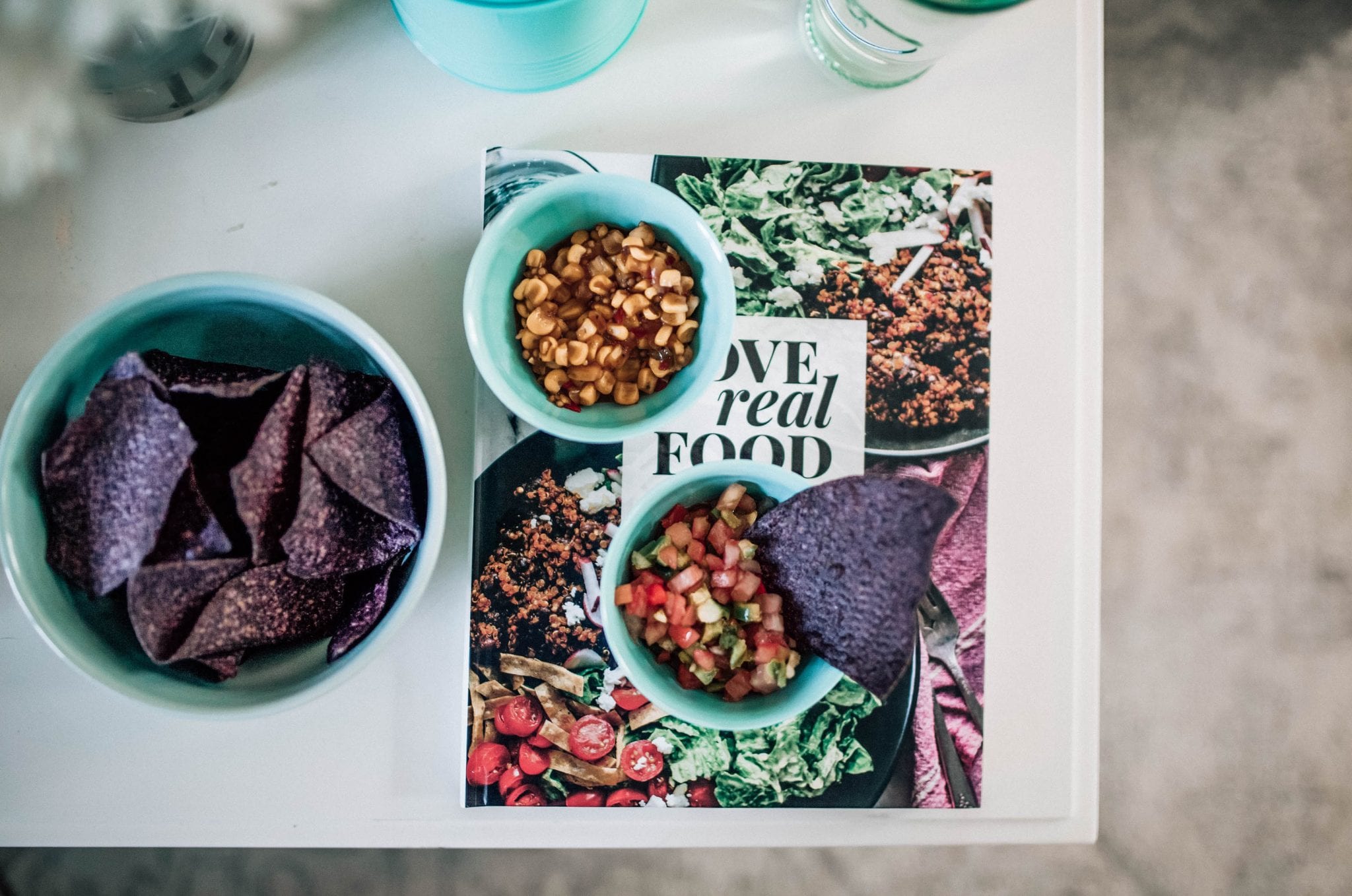 The other day I asked what type of posts you all liked to see on here due to the fact that I've been all over the place lately. The feedback I received was also all over the place 🙂 so that is what you'll be seeing more of on here! Home, style, snacks, and more. Today, I'm sharing my go-to snacks with all of them being vegetarian-friendly. When my kitchen is out of nutritious and delicious snacks, it affects my entire life. I get headaches, can't focus, and feel very blah. But when the kitchen is flowing with snacks, I'm more productive, have more energy, and am in a more positive mood. While I'm not entirely a vegetarian (I love seafood and chicken mini's way too much), my diet is probably 90% meatless. So, let's get into my 10+ go-to snacks…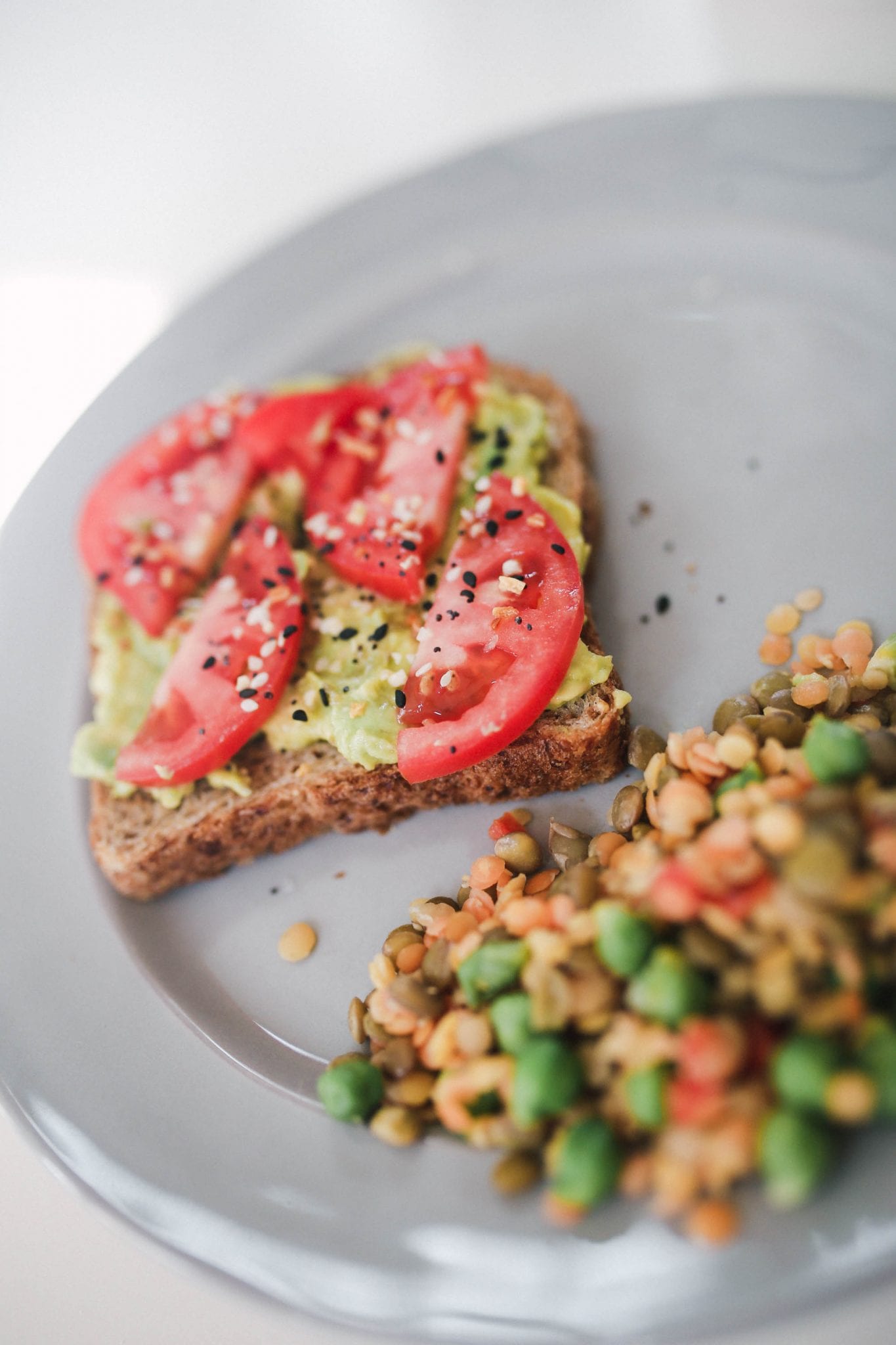 Avocado Toast.
Saving the best for first, avocado toast is a staple for me. I just toast some whole wheat bread, grab a bowl to mix in my avocado, lemon juice, extra virgin olive oil, salt, and pepper. I also always top it with 'Everything but the Bagel' seasoning of course but when I'm feeling extra fancy, I'll top it with fresh tomato slices and feta cheese. YES, so good!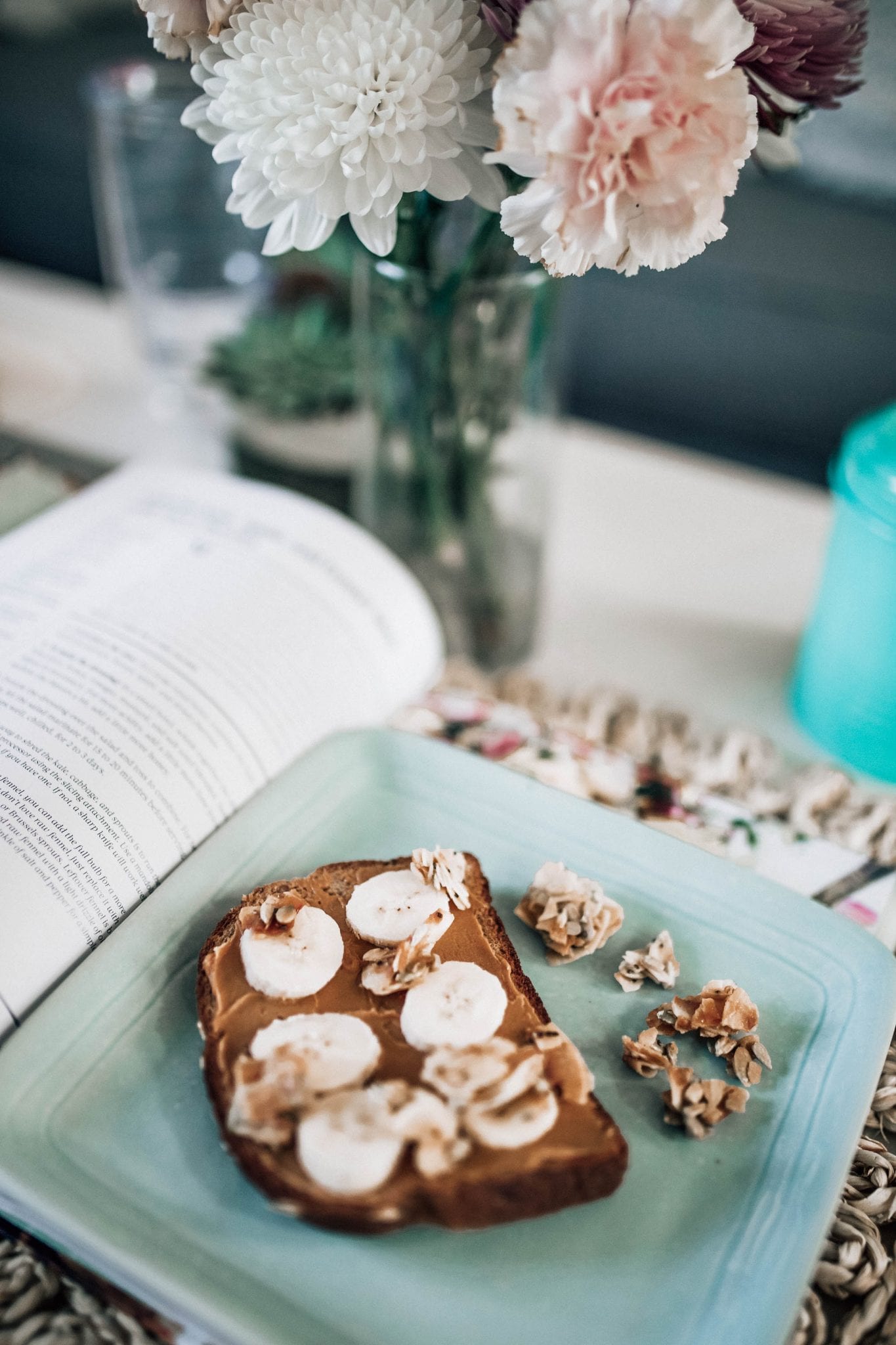 Peanut Butter Toast with Banana Slices.
This one is also a staple… The most simple snack but I grew to love peanut butter and bread in college because it was quick, inexpensive, and very filling! My most favorite type of peanut butter is the 'Smart Balance – Crunchy' which is very hard to find, unfortunately. Adding the banana slices on top with maybe some coconut chips makes it taste like a smoothie on toast.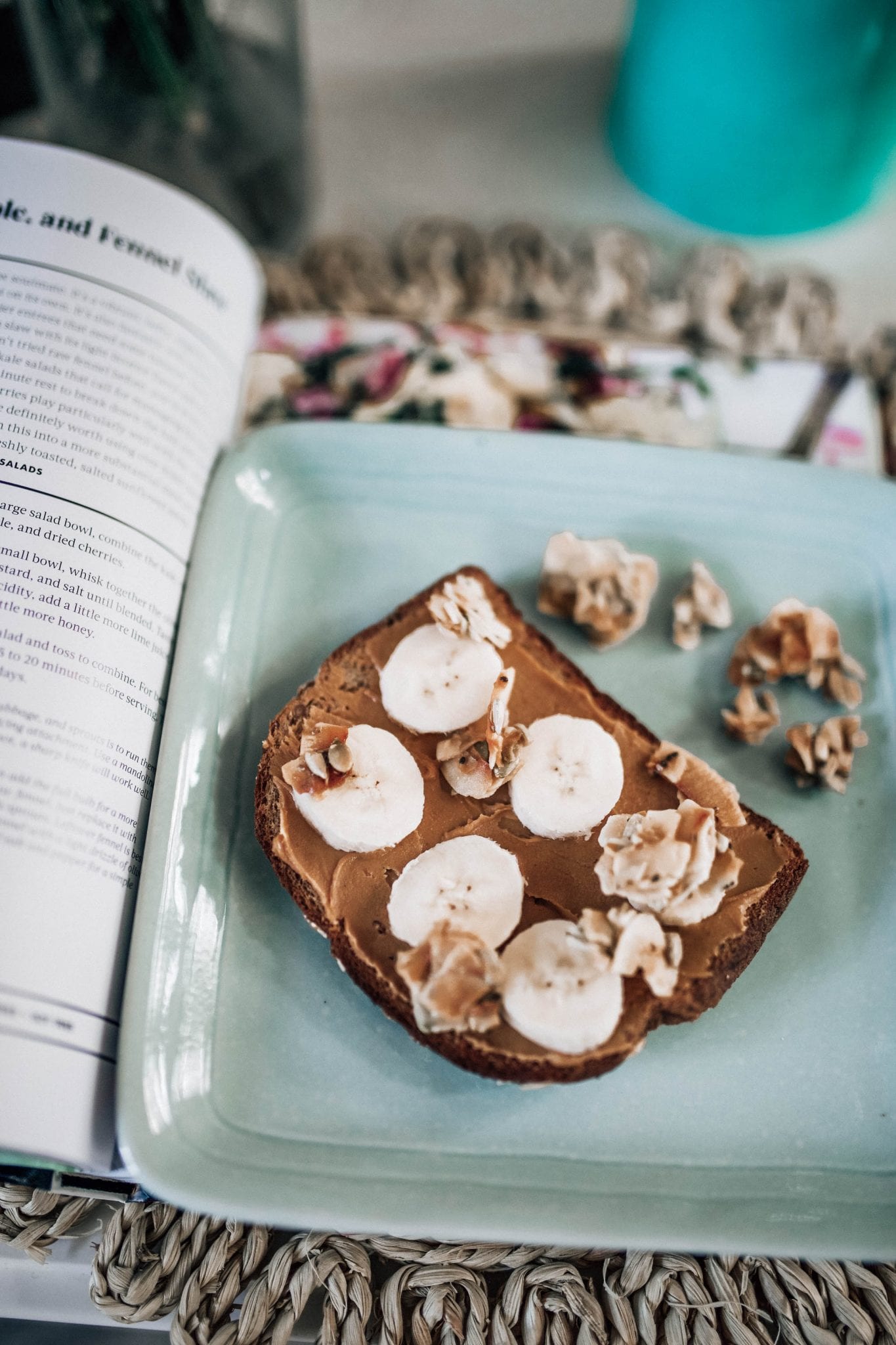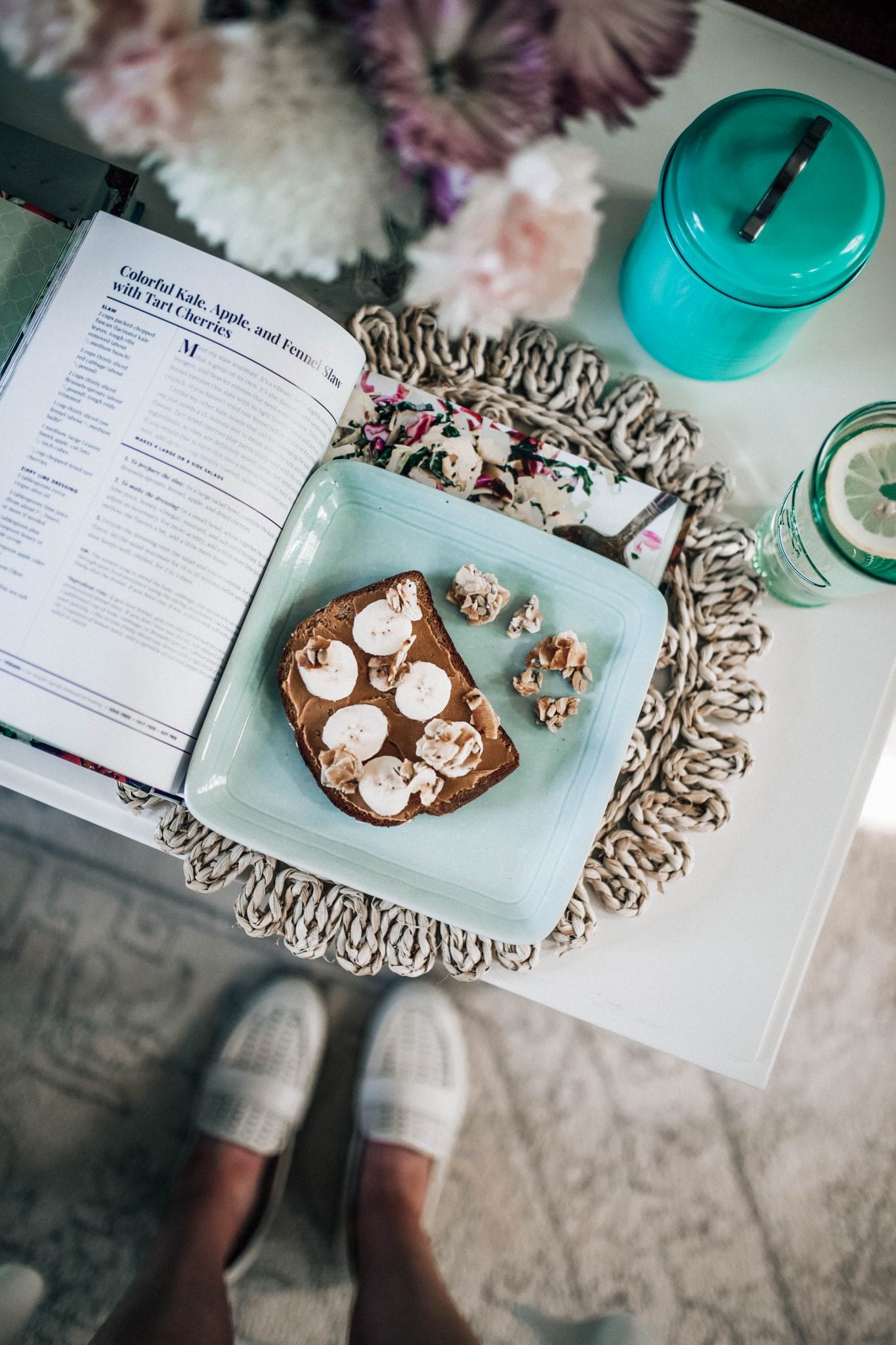 Melodious Blend (Trader Joe's).
This microwaveable or stove-top bag contains red lentils, green lentils, tomatoes, and green garbanzo beans with a little bit of olive oil! I usually just put a bag in the microwave, top with salt and pepper, and save the rest for a later day (it comes with a lot!). I like this because it's easy, fast, and I feel like I'm getting good nutrients.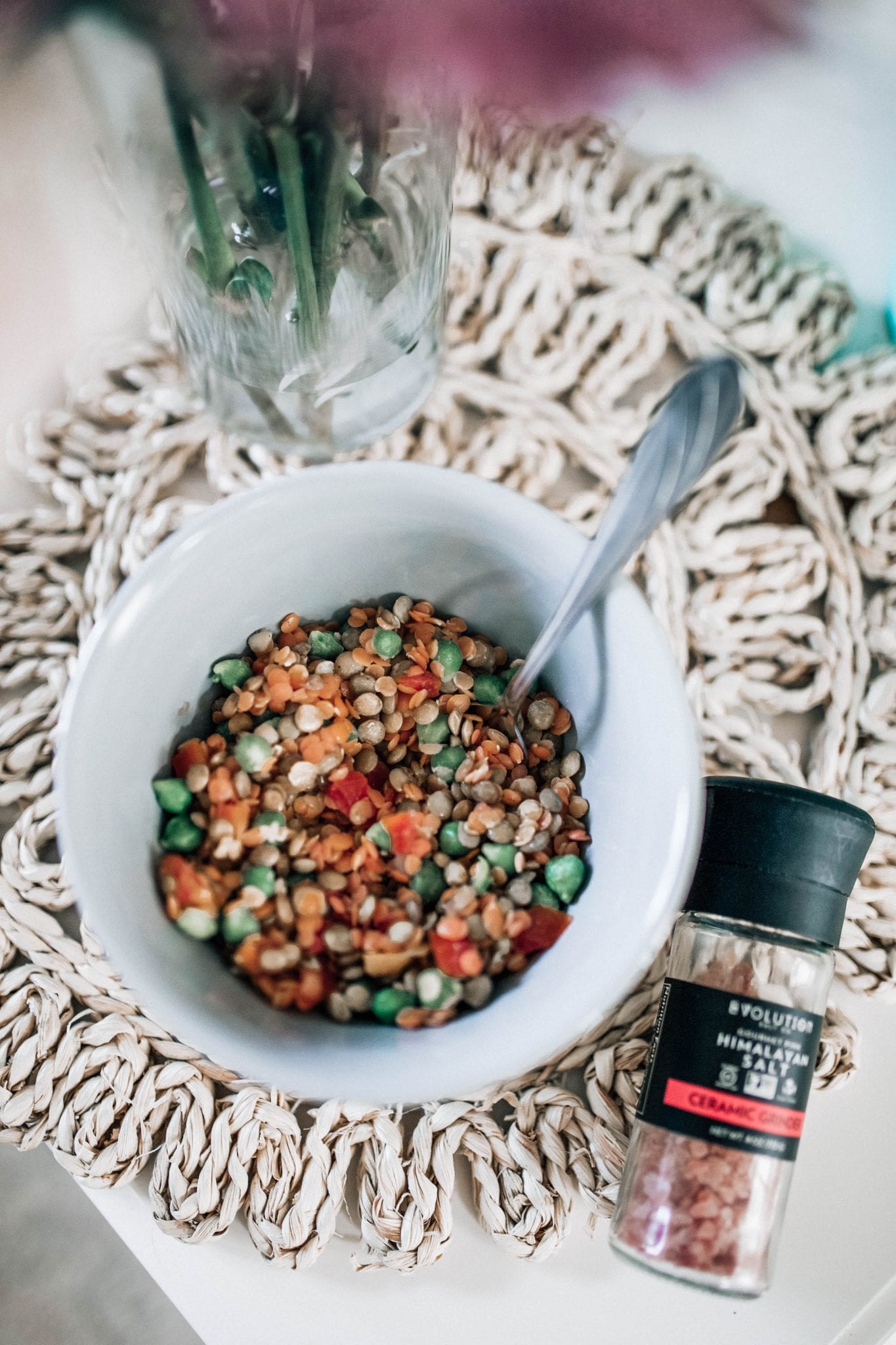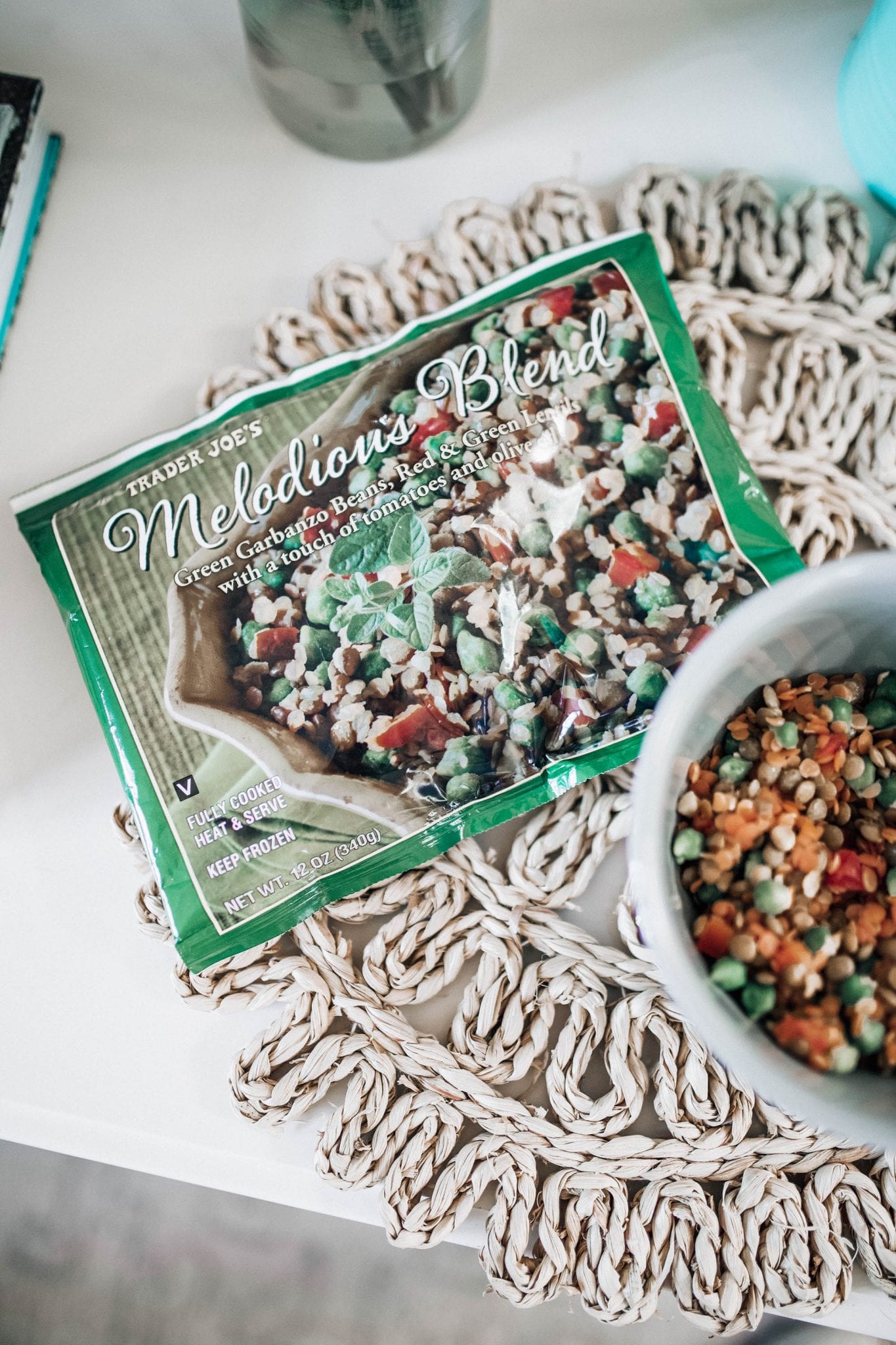 Tzatziki Dip or Hummus with Cucumbers, Peppers, or Carrots.
One of my favorite foods in the world is hummus. One of these days, I'm going to go to Greece but, for now, the grocery store hummus will do. I also love the Cucumber/Tzatziki dip from Trader Joe's to dip baby bell peppers, cucumber slices, and carrots in. When I'm out of the baby bell peppers, I slice up regular bell peppers and it's such a delicious snack.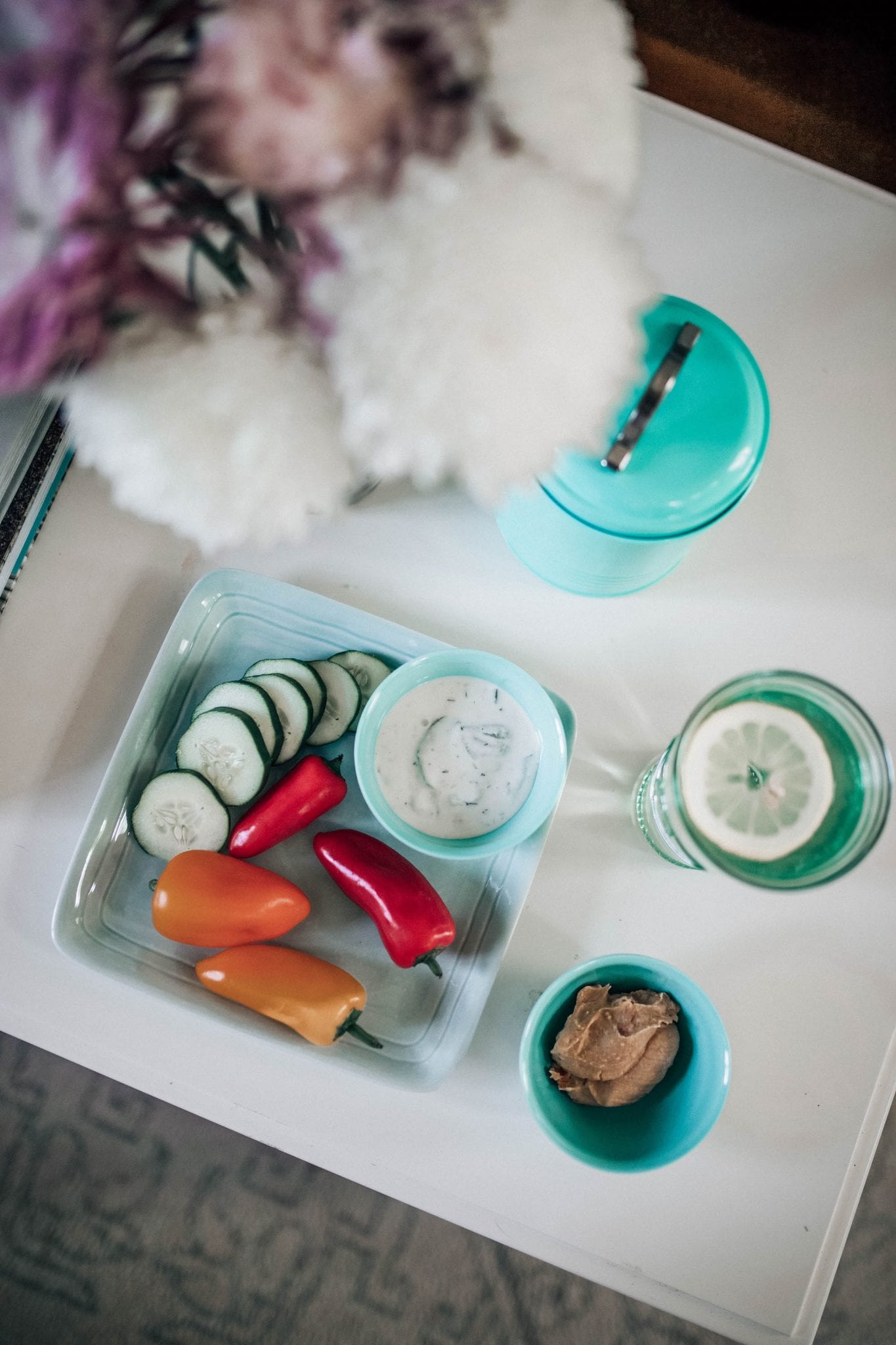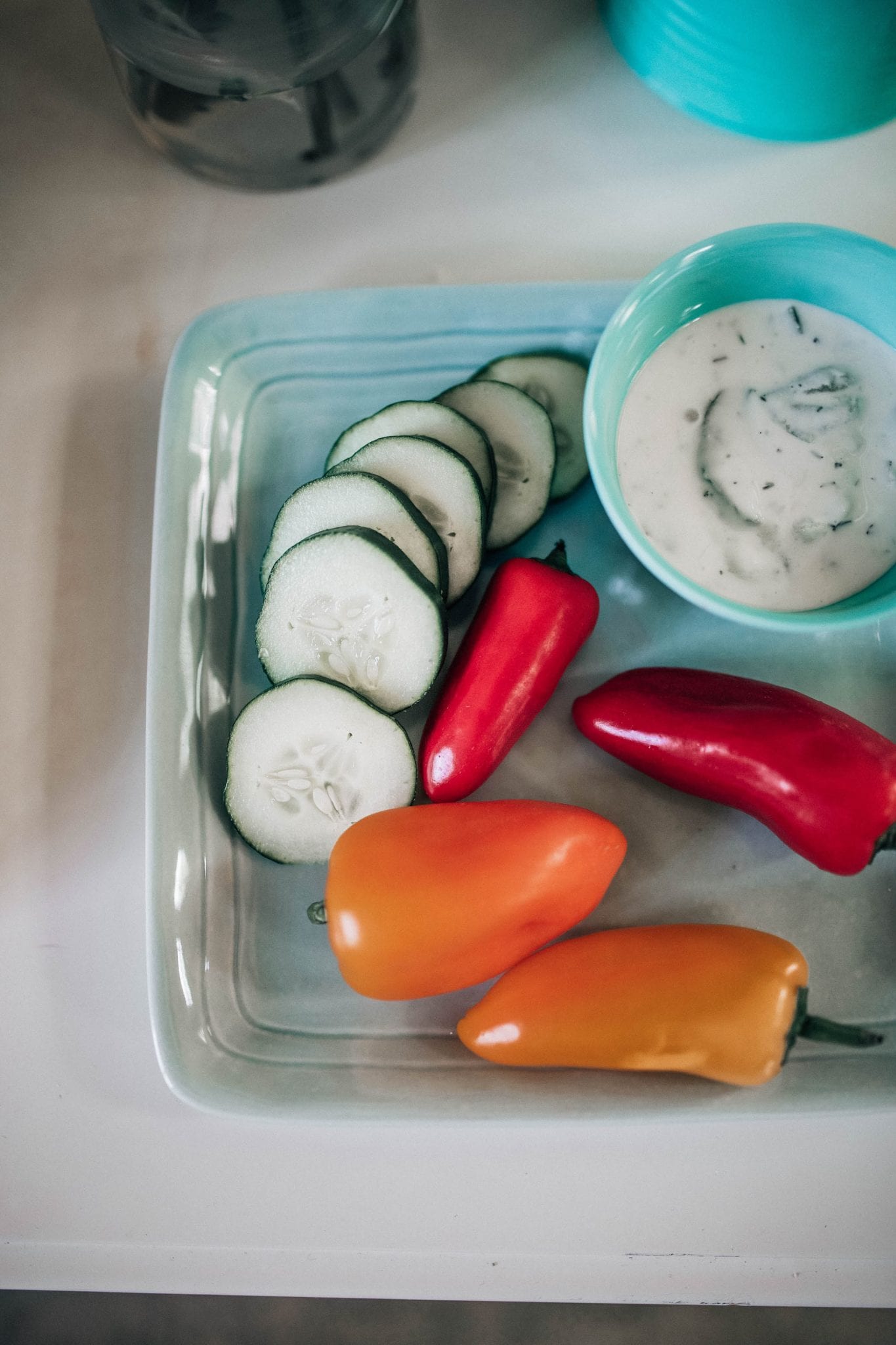 My Everyday Smoothie.
I usually have this as my first meal of the day but whenever I don't, I frequently find myself eating as a snack in the afternoon. I know this one is not realitistic as a snack if you're in an office all day but you've got to try it at least on the weekends! I've tried a lot of different recipes and have perfected my own recipe that I make over and over again. I add frozen mixed berries, frozen mango chunks, frozen (or fresh) slices of banana (usually half of one), Vanilla Tone it Up protein powder, unsweetened almond milk, and use this blender to mix it all. I always top it with this granola that I am so addicted to. I really need to start buying that in bulk.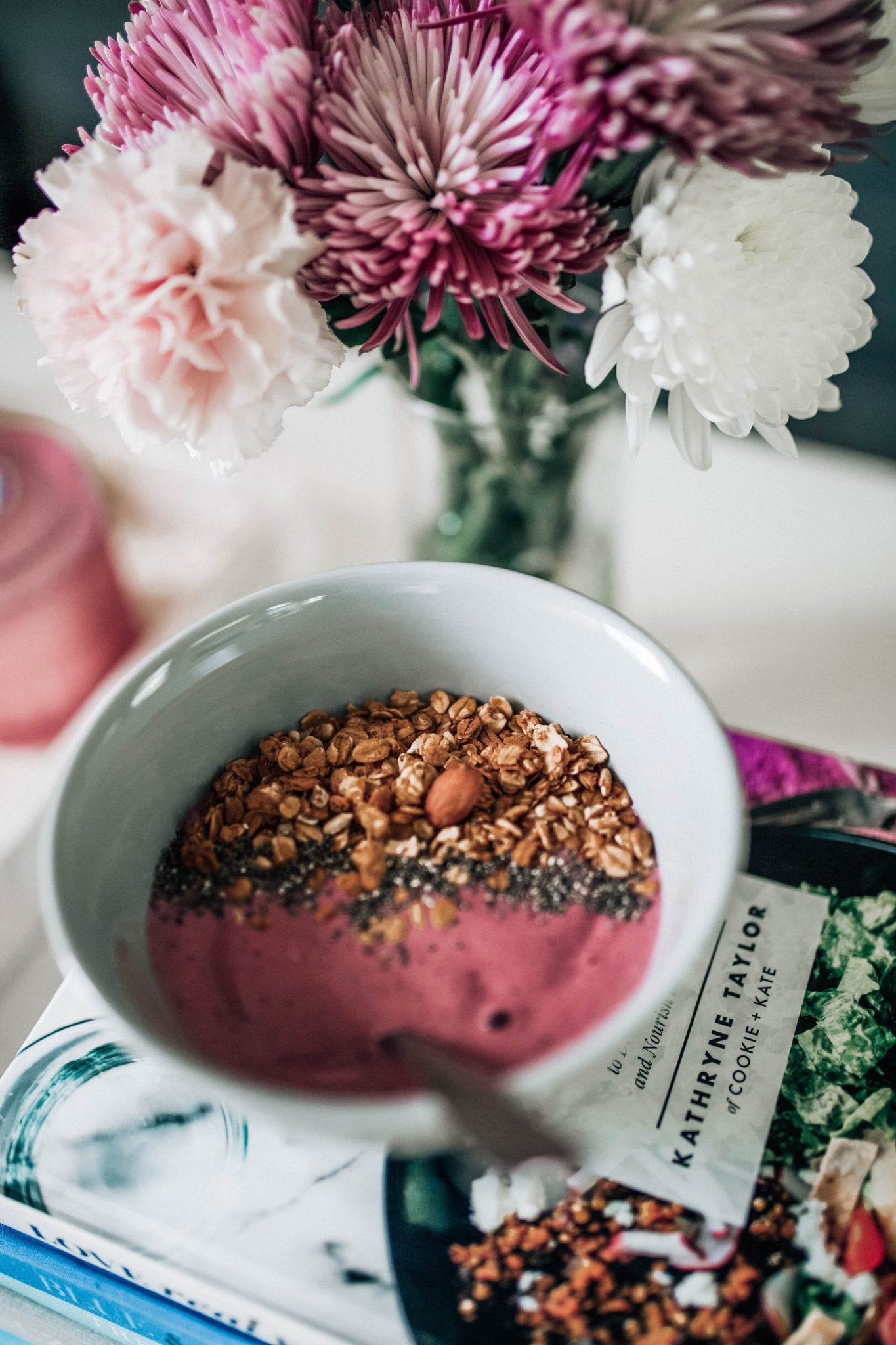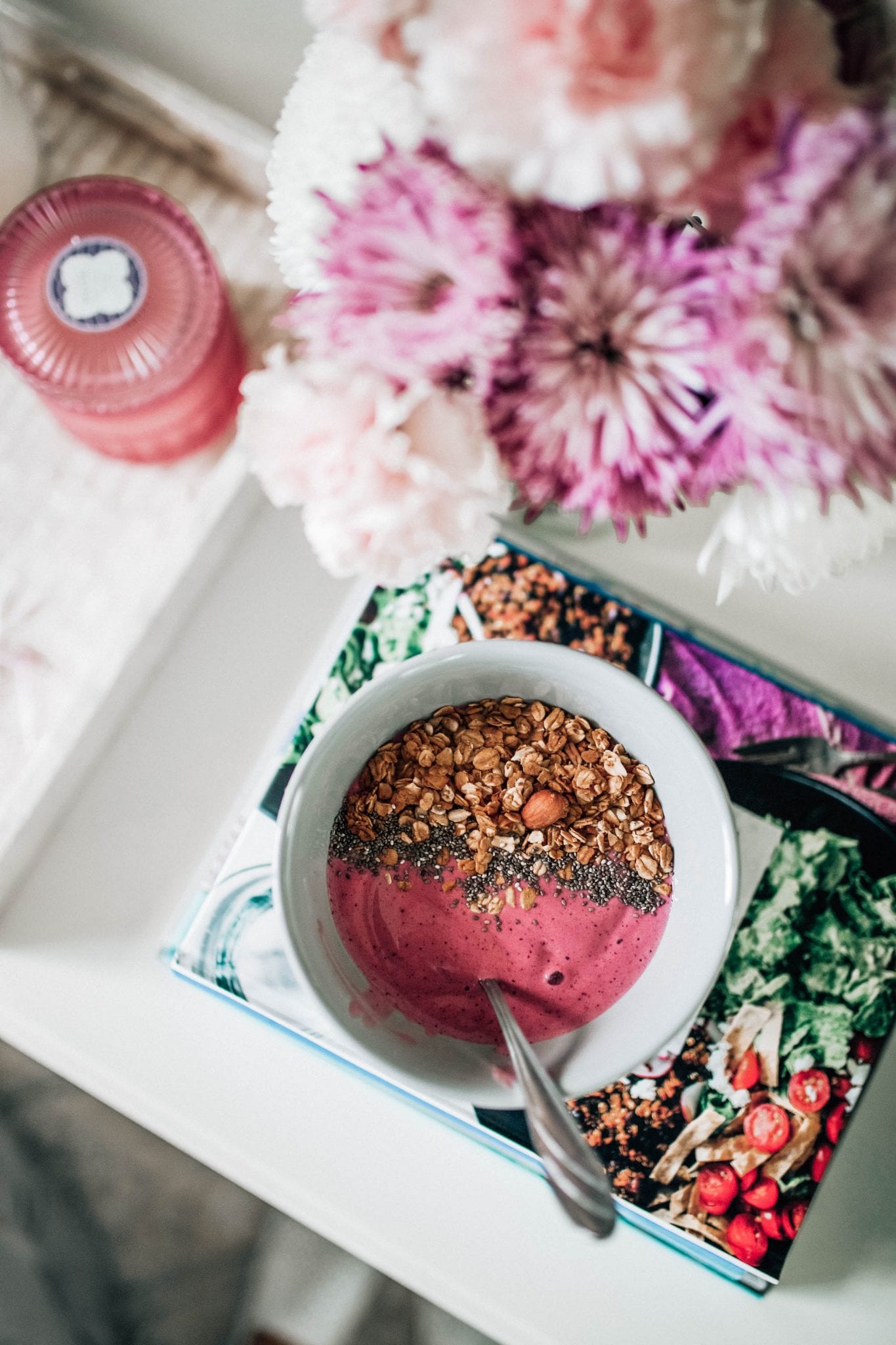 Greek Yogurt with Granola.
One of the most simple snacks I reach for is vanilla (or blueberry, or strawberry) greek yogurt with, again, the granola I'm addicted to. I recently tried Kite Hill's dairy free yogurt made with almond milk and, while it definitely has a slightly different taste, I really love it!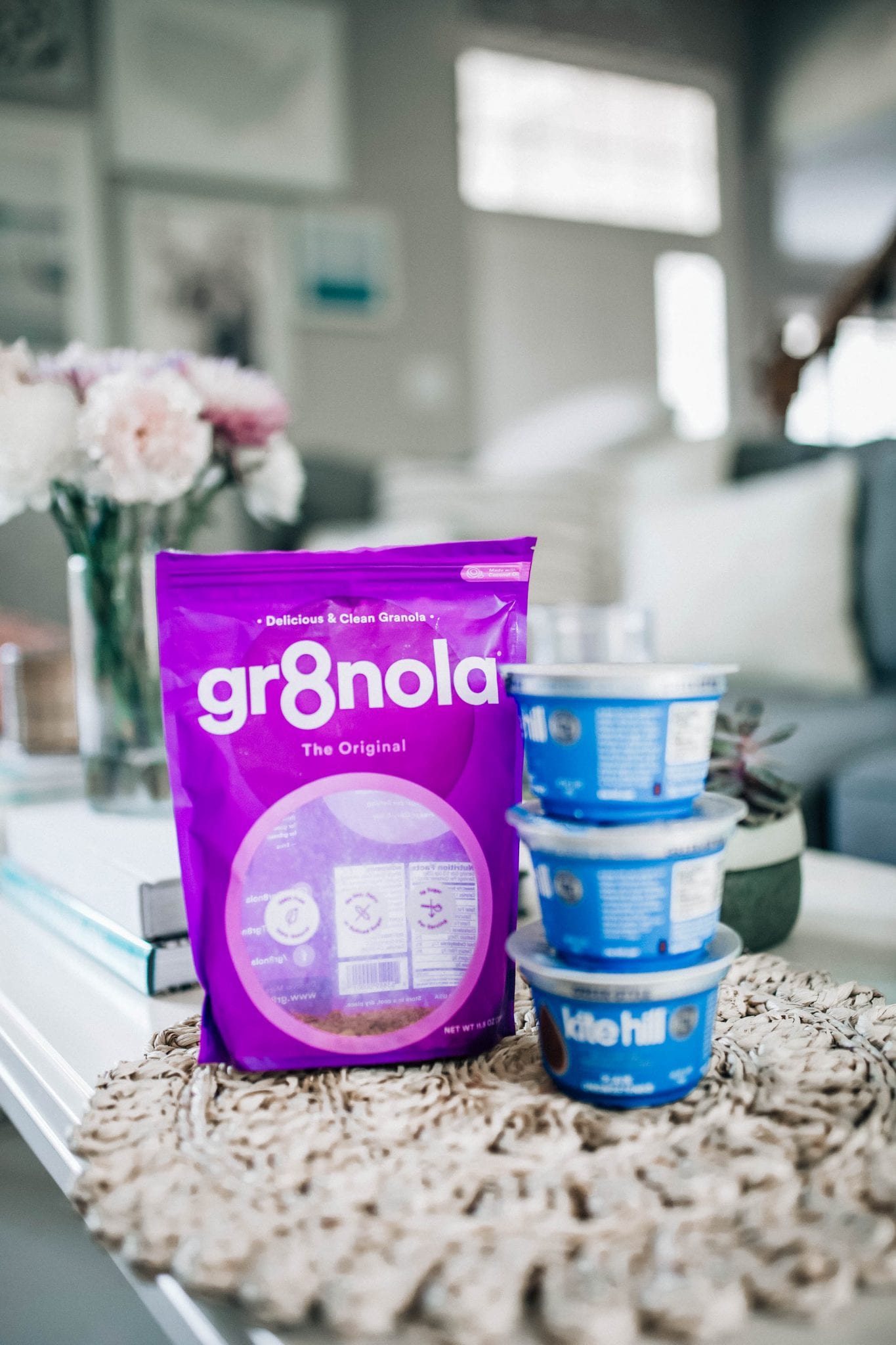 Israeli Couscous Salad.

(inspired by my grandma's recipe) This snack is good if you have some meal prep time. If you make a big batch of it, you'll have enough for the next several days. The ingredients? Israeli Couscous, red bell pepper, red onion (usually a little less than half), green bell pepper, pine nuts, cucumber, olive oil, red wine vinegar, salt/pepper. Sometimes I'll be in the mood to add feta cheese too but I love how refreshing and nutritious it tastes! It's really nice to have on a hot summer day.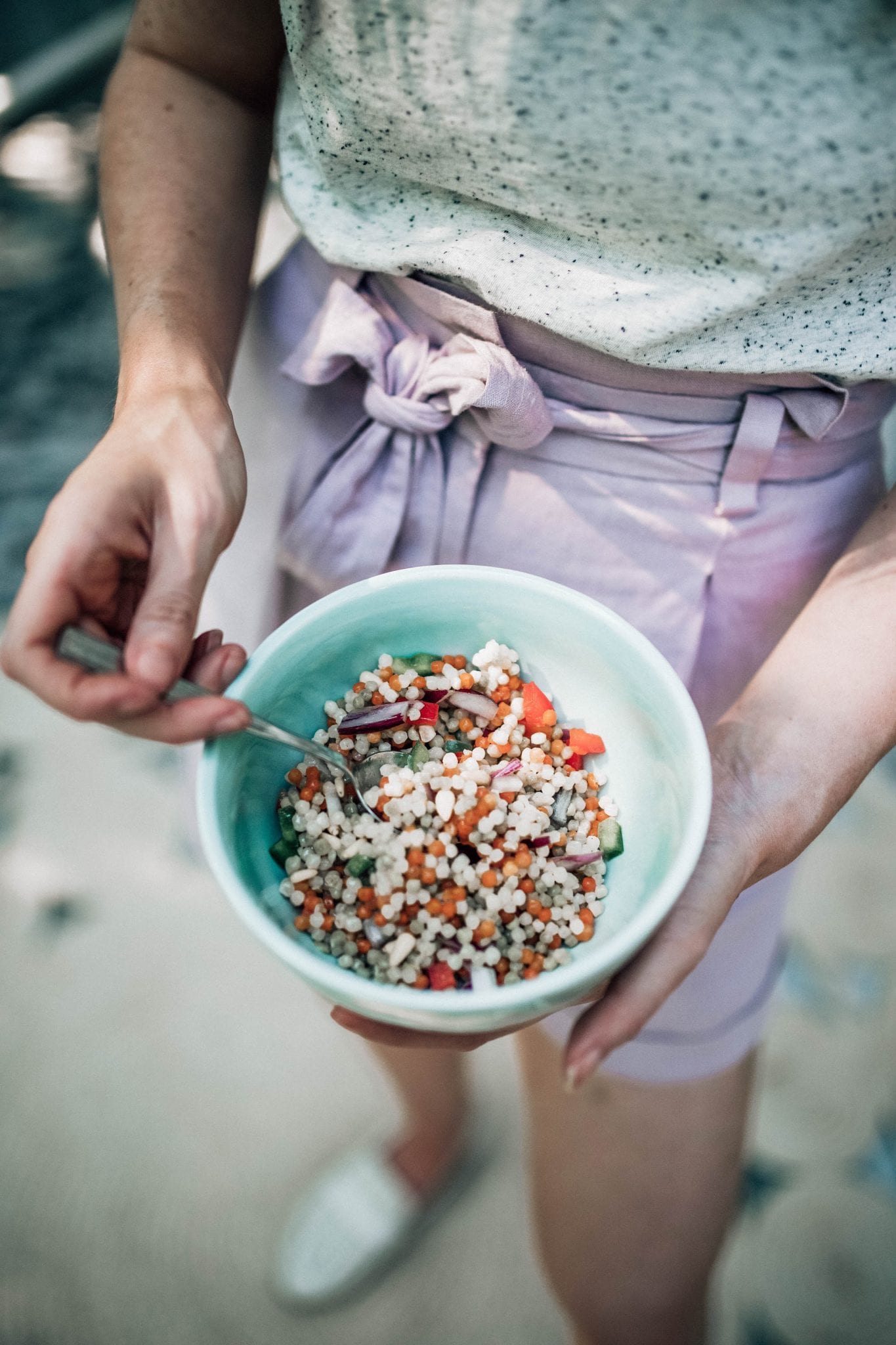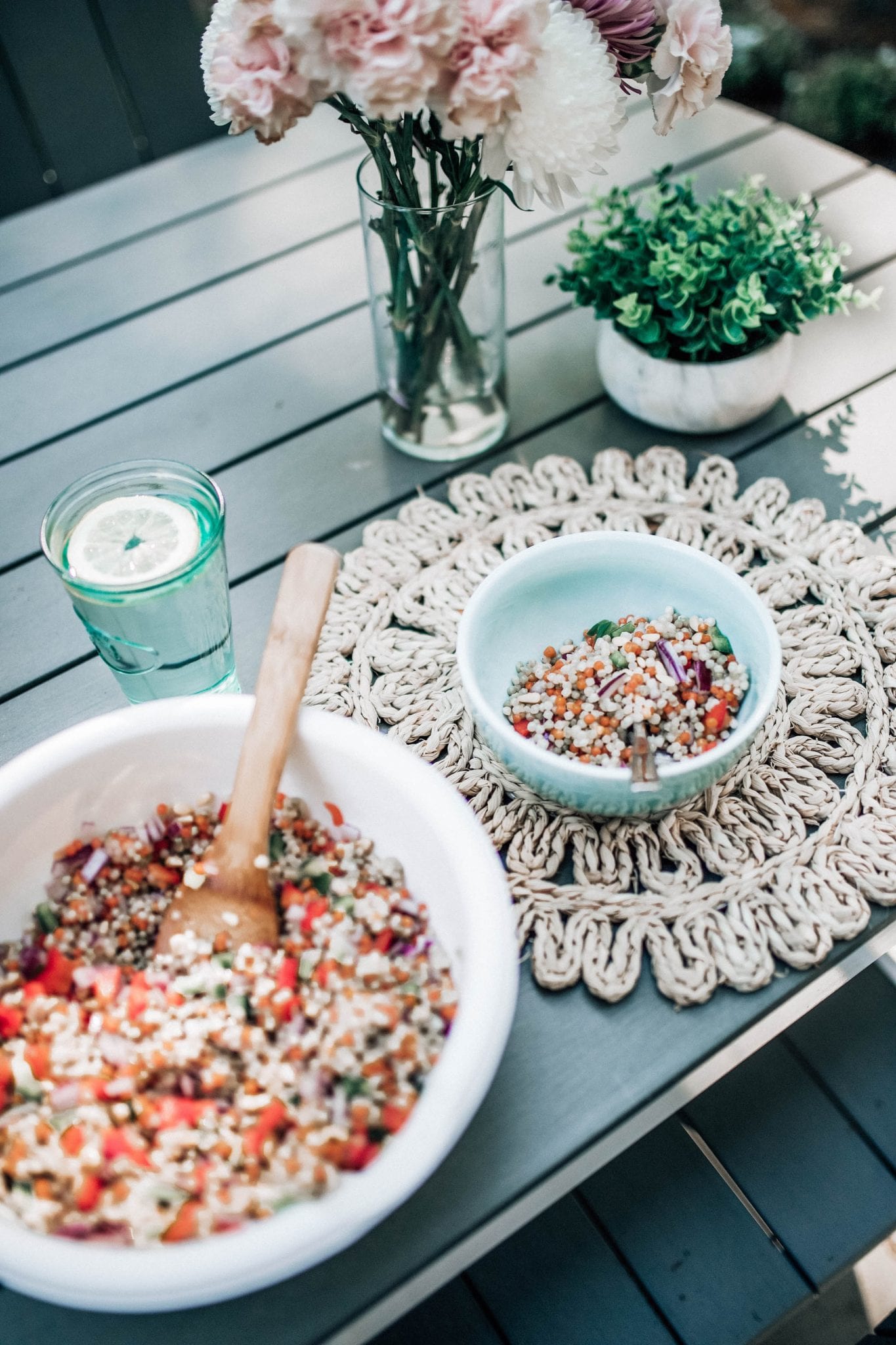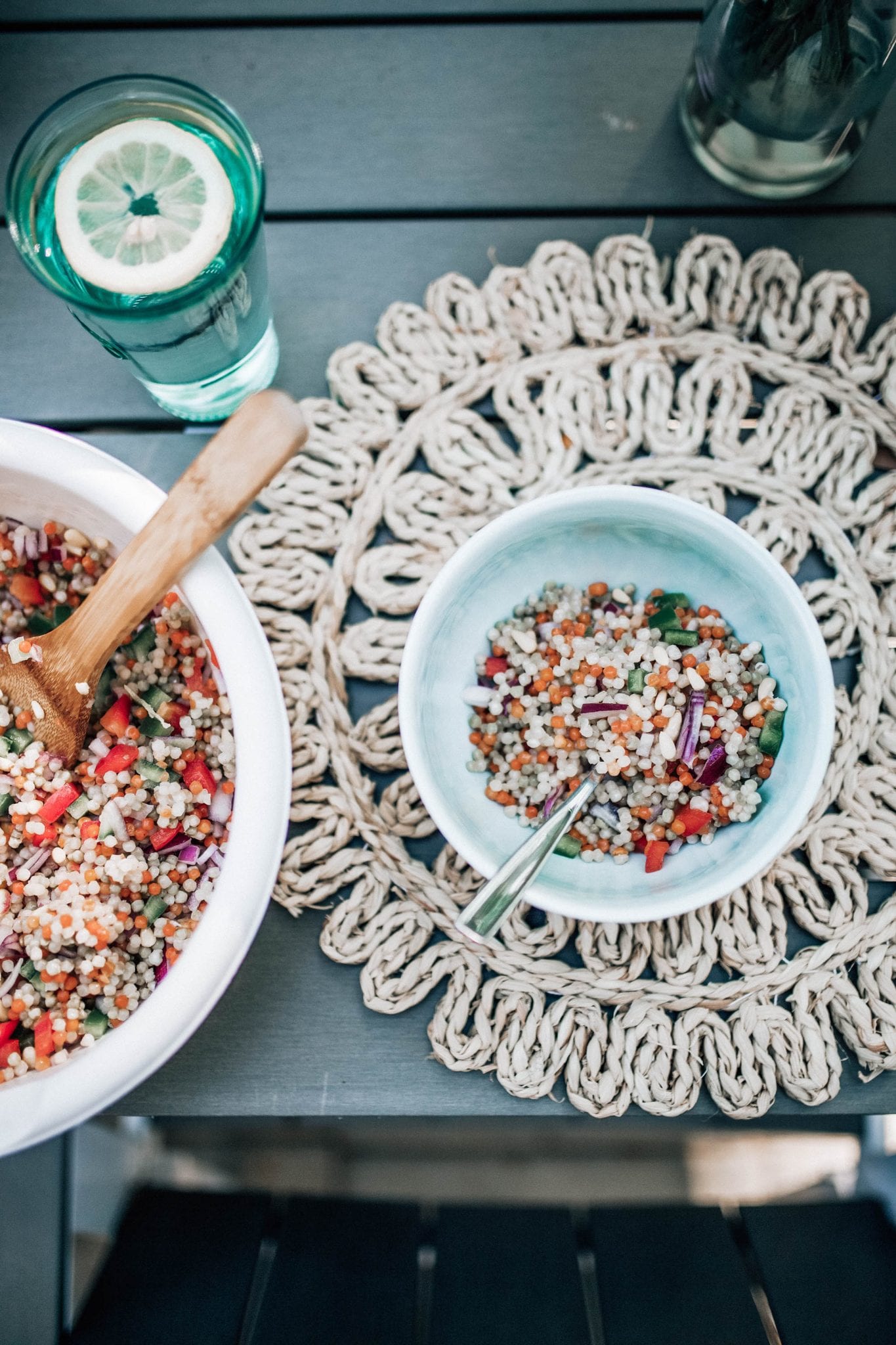 Mixed Nuts.
Another one of my quickest snacks is mixed nuts. Anything with pistachios, almonds, and pecans is my favorite combo. I really love the Omega Trek Mix from Trader Joe's but I'd be okay with a bag of pistachios too.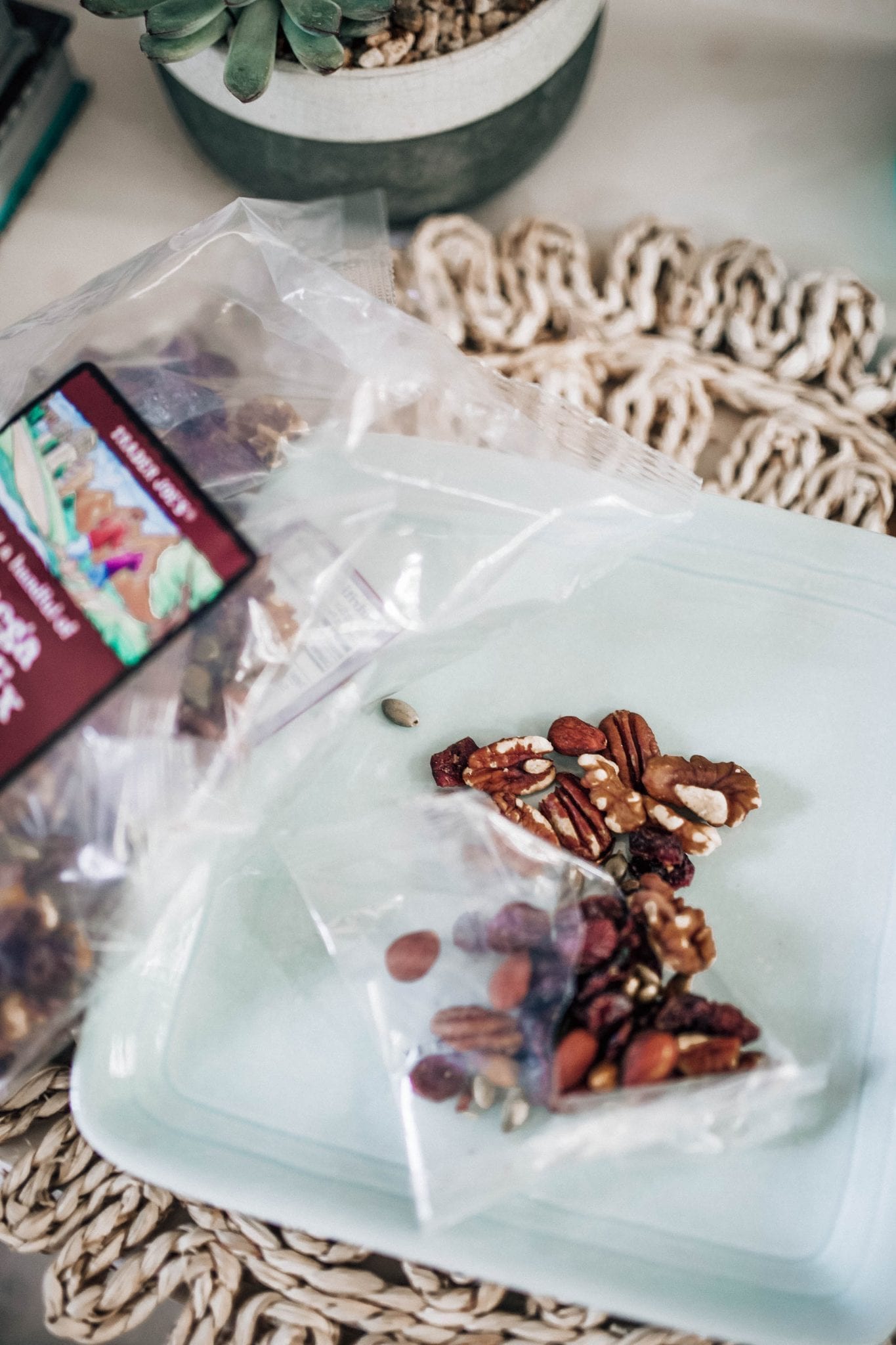 Salsa and Chips.
I can't believe I didn't have this one up at the top but, on most days, I'd say you find me eating chips and salsa in between meals. My favorite salsa is usually the freshest salsa (or corn salsa) at your regular grocery store (Harris Teeter or Lowe's Food for us), pico de gallo style with usually some sort of organic tortilla chips or even Trader Joe's black bean and quinoa infused tortilla chips.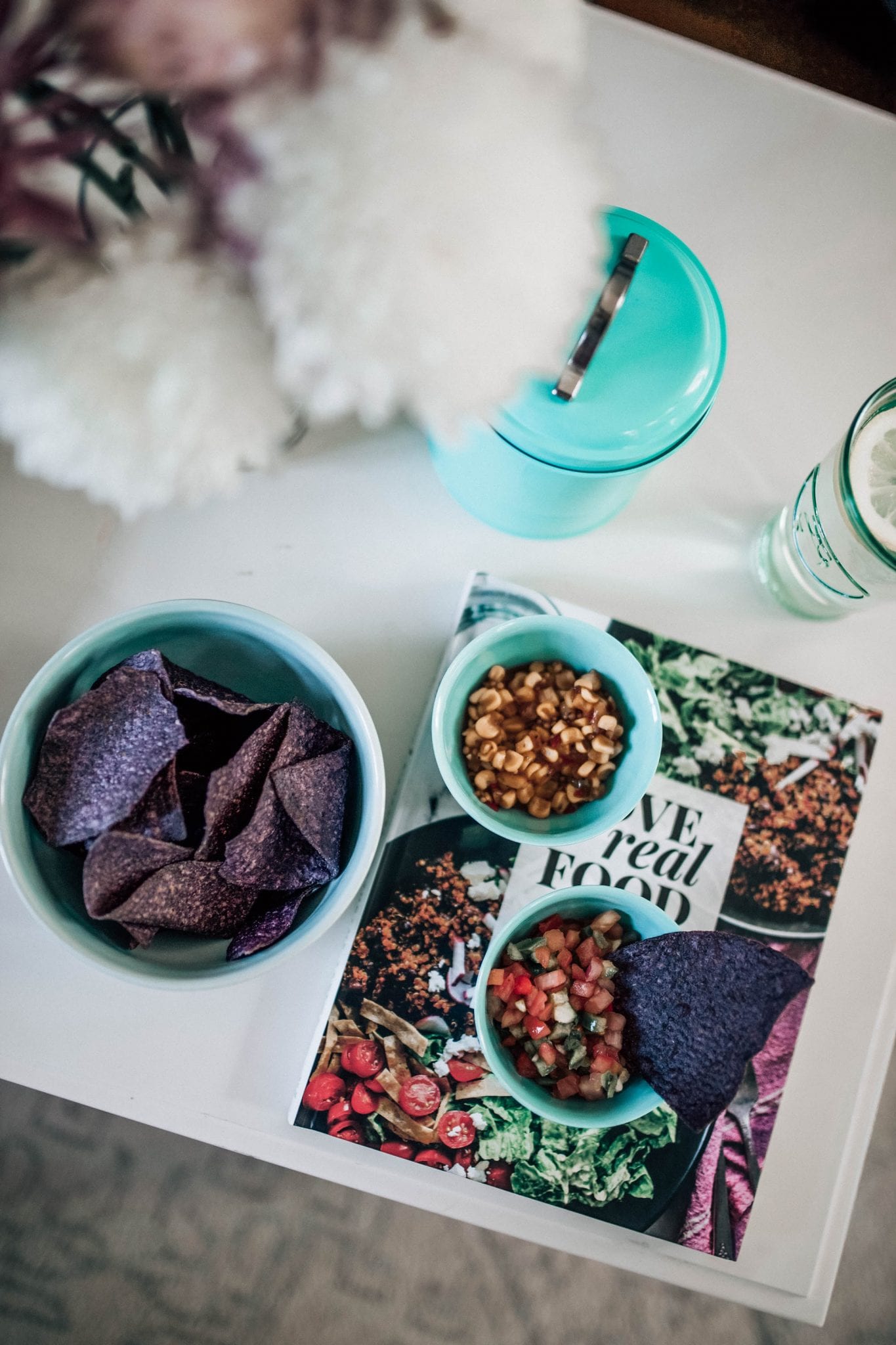 Hard Boiled Eggs with 'Everything but the Bagel' Seasoning.
Can't get much more simple than this duo. If I'm in a hurry and need something that will keep me feeling full for a while, I'll cut two hard boiled eggs and top with my favorite seasoning for a clean, quick snack.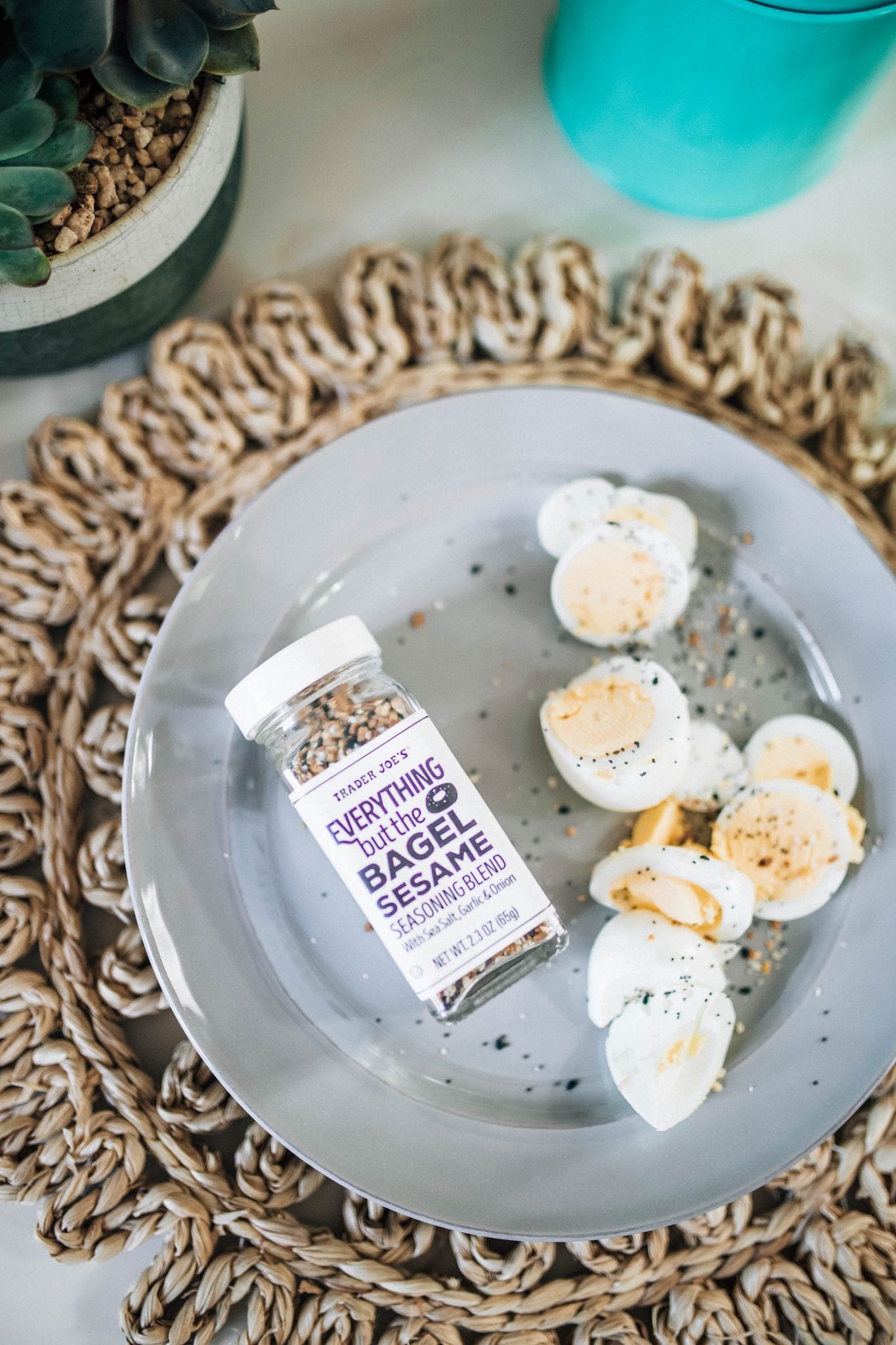 Protein Bars.
Olly recently came out with a new plant-based protein bar and, although there is some sugar in it, they are really good and keep me feeling full for a while! My favorite is the berry crunch flavor but I also love the lemon. I tasted the chocolate/coconut (TJ's favorite) and, while it was very good, it tasted too much like a dessert for me.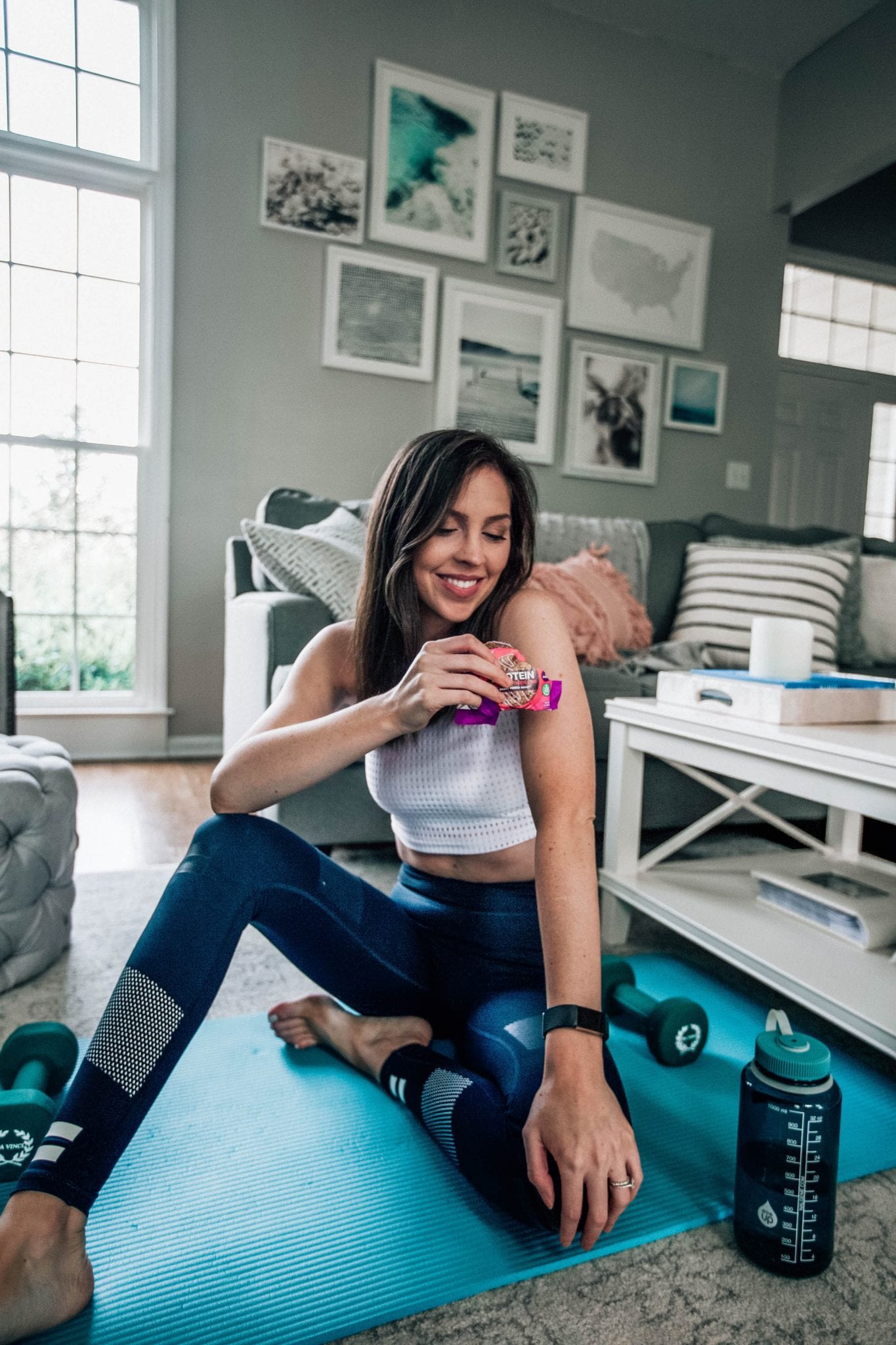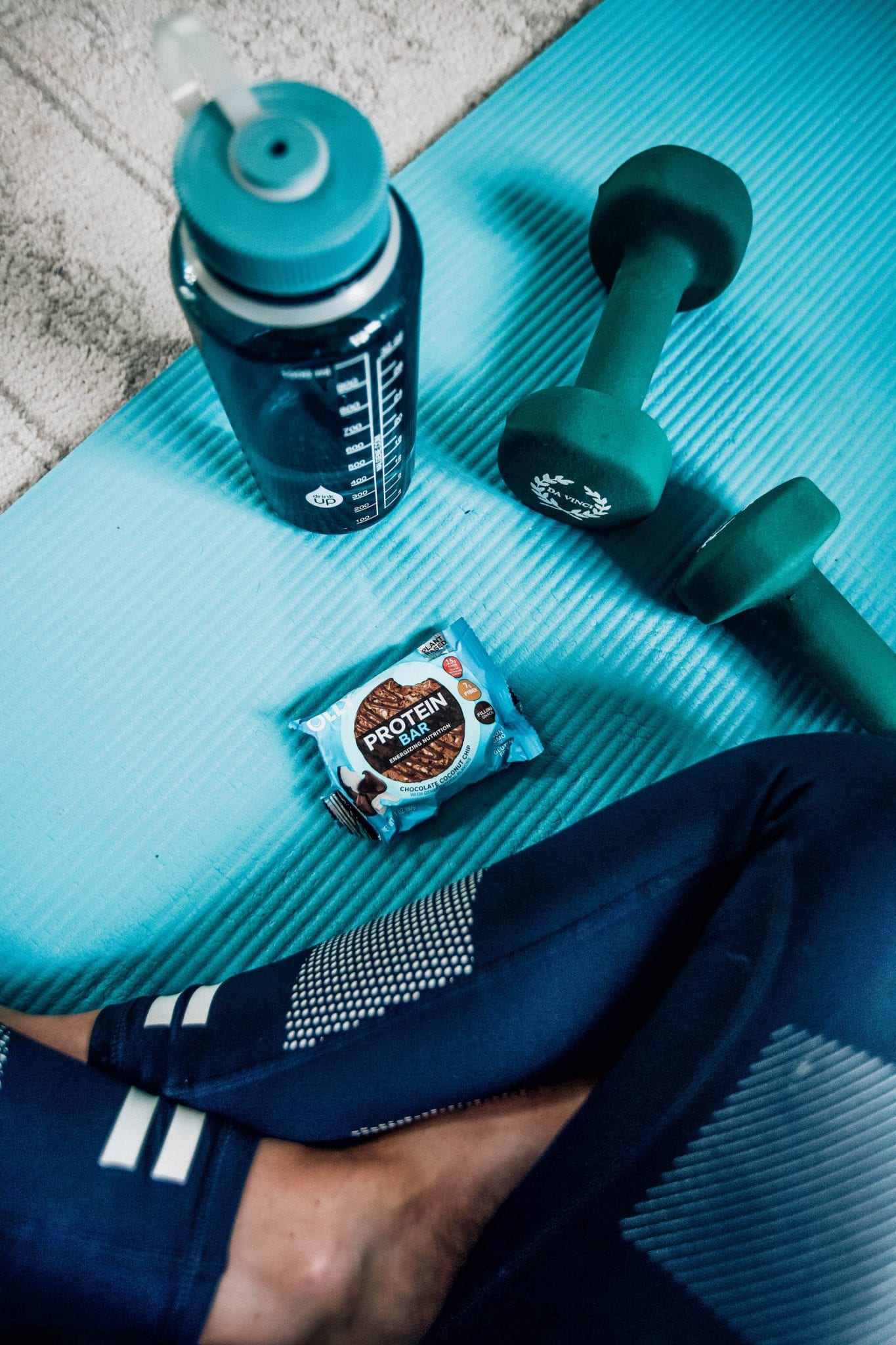 Caprese Salad.
Last but definitely not least, is caprese salad. Sometimes I'll make a batch of caprese pasta salad, but if I'm not in the mood for that, I'll cut slices of tomato, top with some basil, balsamic vinegar, mozzarella (I like the little ball shaped ones), salt and pepper. This is especially my favorite in the summer!
Yogurt Covered Pretzels.
Okay, this one is more of a treat but I had to include it because I'm constantly sneaking to the fridge to grab a few of these whenever we have them . I get the blueberry yogurt covered pretzels that are actually made by a company here in NC, Creative Snacks Co.! They are SO good, especially if you put them in the refrigerator.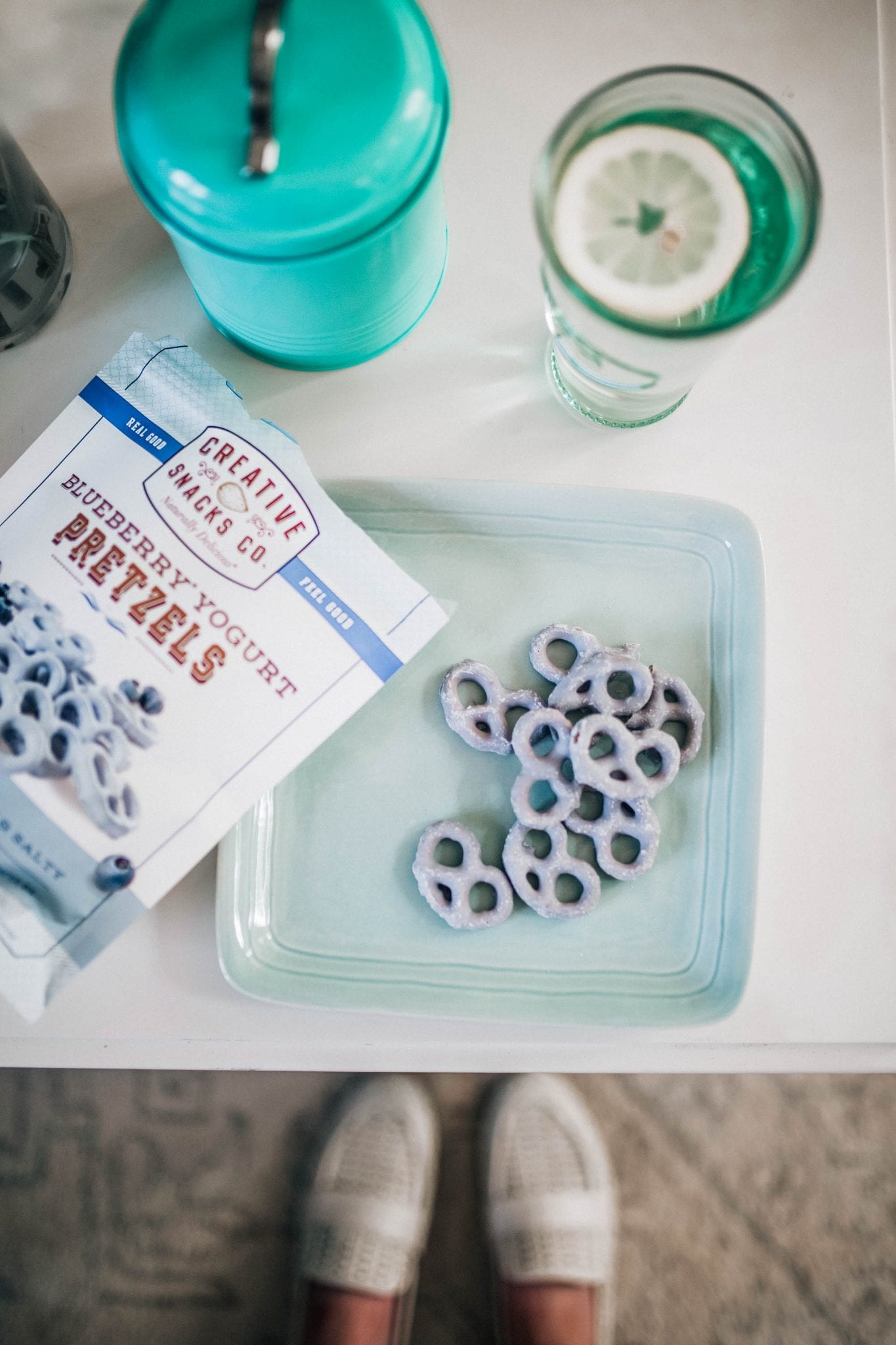 That's it! Hopefully this gives you some ideas of snacks to stock up on. As small as it sounds, snacks really do make a huge difference in my overall health, mood, and productivity. I'll keep you posted on new ones if I find anything good. If you have any of your own suggestions, I'd love to add them to my list!

xo, Shelby