Happy Friday! Today's originally planned Q&A turned into a novel about buying our first home. One of the questions asked last night was about our experience with buying a house for the first time, which is something that I've been meaning to share for a while, but knew it would be a lot of info and not relate to everyone. This post will probably only be interesting to those who have not purchased a house before but I think it will be helpful reading a first time home buyer's experience before you jump into the process.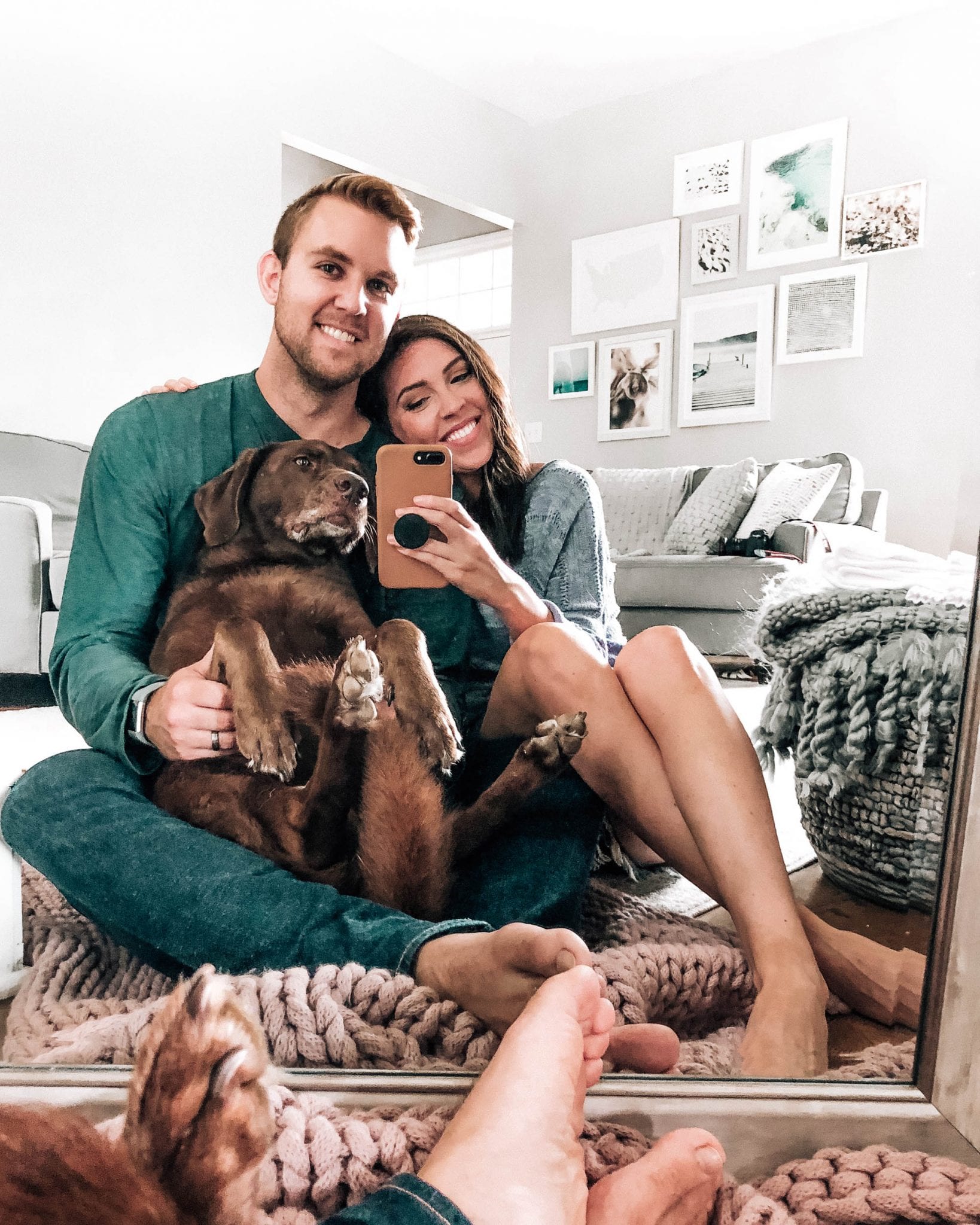 When We Decided We Were Ready To Buy

TJ and I had rented apartments for 5 years before deciding it was time to buy our house. We wanted to help pay for our wedding first and the time just felt right about 6 months after our wedding! I think TJ wanted it more than me at first, but once I saw how excited he was about the possibility of owning our own home it got me excited as well. Our monthly rent payments kept getting higher and higher each year and I started to notice that we could have monthly mortgage payments for even less. We knew we wanted to stay in this area for a while, we wanted more space (our apartment had no storage space), we wanted a yard, and we wanted to build equity. Before we started the process, we didn't know much about buying a house so this was all brand new to us.
We assessed any debt and our credit scores.
Before you even start the house hunting process, you need to have pretty decent credit and a low debt to income ratio. If you do not have a good credit score or if you have too much debt, you won't get approved for a loan. Even if you do get approved, it could potentially be lower than what most houses cost. To calculate the debt to income ratio, you take your revolving debt (credit cards, car loans, personal loans, etc.) as well as the potential mortgage payment you would obtain, and divide it by your monthly income. That will give you a percentage that lenders use to determine if you have enough income to pay your mortgage. Before we even looked at houses, TJ and I both had credit score goals. In fact, most first time home buyer loan programs have requirements for credit scores. For a few months, I put any extra money I had toward paying credit cards. A great tool we found was Credit Karma which gives you an updated score weekly. The score that they give you may not be used by all lenders, but it is a great tool to keep you on track. I checked Credit Karma religiously during this whole process.


We saved money.

We knew we did not have enough in savings for a conventional 20% down payment, but there are options for people in our shoes. We looked at FHA, USDA, and no down payment loans while searching for our lender. They all have different requirements, but the higher the down payment, the lower the monthly payment will be. We ultimately settled on getting our mortgage through Coastal Federal Credit Union's First Time Homebuyer Program (if you want the contact of who we used, email me!). This allowed us the option to put 0% down, if we wanted, and use our savings toward other aspects of the home buying process. Another reason we went with Coastal Federal was the rates always seem to be better with credit unions than conventional banks or prime lenders. FYI, even if you do a program where 0% down payment is an option, you will still need to have a significant amount of cash throughout the process. More on that later.

We found a lender and got a pre-approval letter.

I honestly think this choosing-a-lender step is as important of a decision as choosing a family doctor. You should feel comfortable talking to this person because they'll ask for your entire life story in documentation. They took 2 years of tax returns, pay stubs, 401k statements, rent payments, credit card statement, car loans, as well as any other income that was being brought in (thanks blog!). I know I am missing something, but be prepared to give your lender every personal financial document you own. Your lender will compile all this information, along with your credit score and debt to income ratio to determine if you meet all the requirements. Luckily we did!
At that point the lender will give you a Pre-Approval letter, which basically lets the sellers and real estate agent know that you are a serious buyer. It shows how much house you can afford and how much money the lender will approve to loan. At that point, I think TJ and I started to feel like the idea of owning a home was real! Definitely try to get pre-approved before looking at houses because the pre-approval letter is part of the offer to purchase contract, so not having that at the time could put you behind other buyers who do have their letter.

We did research and kept close watch of the areas we were interested in months ahead.

When you're actually ready to buy a house, the process will (sometimes) go really fast.. or it could go really slow. We originally were looking in the Cary, Apex, Morrisville area, which was in about a 5 mile radius of where we were already living. It was close to our jobs and is a consistent area that goes up in value, which would make it a good investment. Looking at the housing market ahead of time can really give you a sense of the prices for houses in the area, making you ready to make a competitive offer.

We only looked at 5 houses total and this house (our current home) was the first and only one we put an offer on. At first, TJ kept sending me houses out in Garner and Wake Forest but I didn't really look at those seriously. I was set on Cary or Apex for some reason and I occasionally thought about Holly Springs being an option. For some reason, I just never really had the desire to live in Raleigh (I know… so weird, but I really like feeling like I live in a small town and away from traffic/out in the suburbs). The first house we ever looked at was one TJ found on Realtor.com. It was in Cary and in a great location but honestly seemed really overpriced for something I would want to change so much. Realtor.com is great because it matches you up with a real estate agent who can show you the property if you haven't committed to anyone else yet (if you need a realtor rec, let me know!). I updated realtor.com every hour at least for days, which is what lead us to our home!

We put an offer on our home!

When I saw our house posted on a Friday afternoon in October, within the first hour of it being posted, I contacted our realtor to set up a showing for the following day (Saturday). We put an offer in later that day after seeing it, and found out on Sunday night that the sellers accepted our offer! I couldn't believe we went from seeing the house on Saturday morning to being under contract Sunday evening. It moved so quickly! We settled on a 30 day closing date, and believe me when I tell you, the next 30 days were the longest 30 days of our lives.

One thing to note is that we wrote the sellers a really nice letter, which we had heard was a good idea if it is a competitive market. I'll share the letter we wrote below: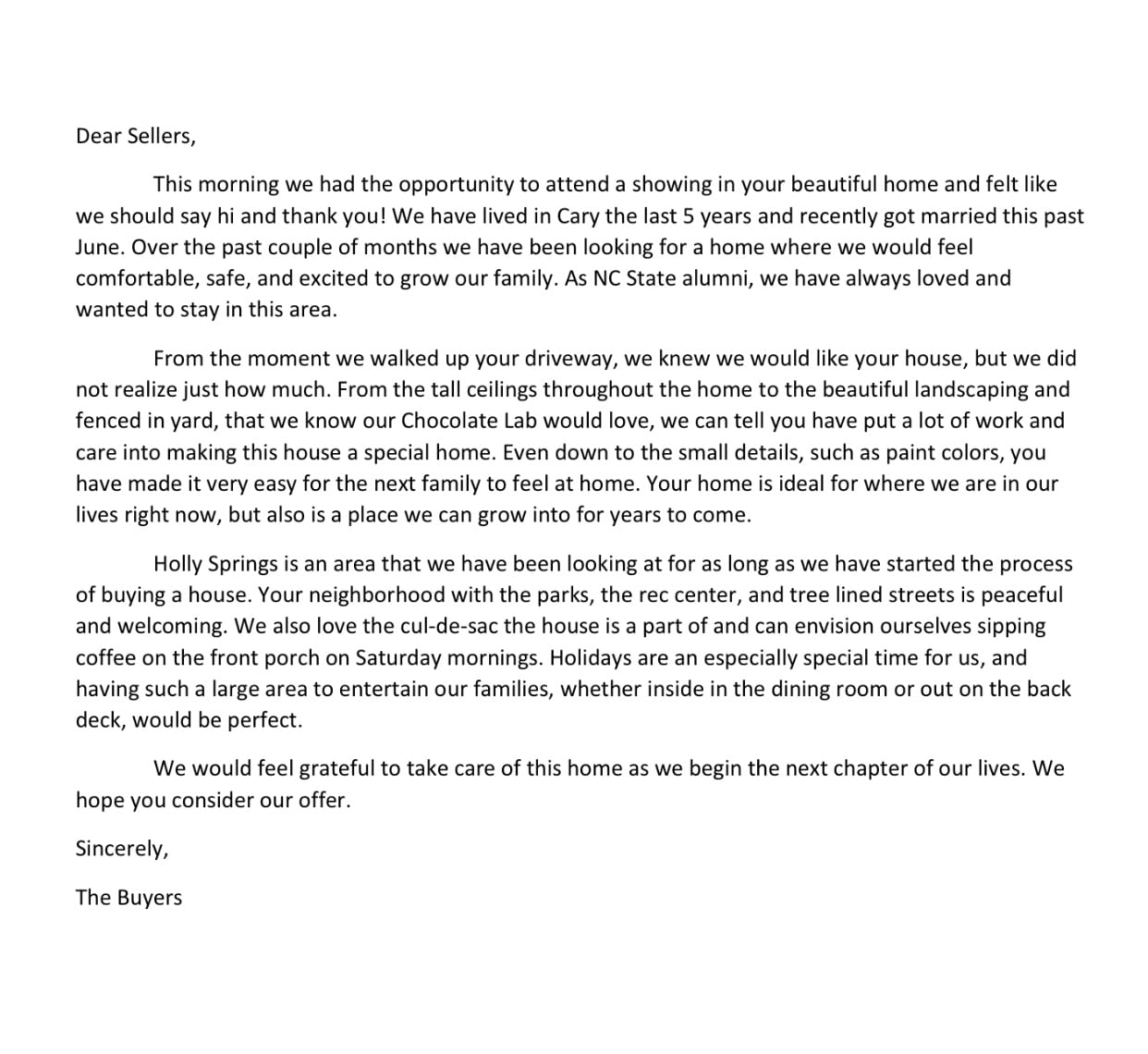 After our offer was accepted, we had 3 days to pay our due diligence and earnest money. These amounts were also part of our offer so our realtor helped guide us with how much we should include.

Due Diligence is essentially a fee you give to the sellers to take the house off the market. A good rule of thumb is a 1/10th of a percent of the sales price (e.g. $200,000 house would equate to $200 in due diligence money). This is money that goes directly to the seller and you will never see again, but it gives you time to investigate the property. The due diligence period usually lasts about 14-21 days, but can be negotiated in the contract. This is when your inspections, appraisal, and surveys of the property are done.

Earnest Money is a good faith payment that goes into an escrow (all escrow means is bank account or fund that sits and waits for a given period of time) account during the contract process. This is money to show the seller that you are committed to buying the house and getting to the closing table. Typically, a competitive earnest deposit is 1% of the sale price. A good thing about the earnest money is that you can potentially get it back if something comes up in the due diligence process and you decide to walk away from the home.

We scheduled an inspection and appraisal.

Once you go under contract your lender or real estate agent will help you have the property inspected. This includes having a general contractor come to the home and check out everything about it. A typical home inspection costs anywhere from $450-$550 in our area. This included a radon test and termite test. One reason you have this due diligence period is to make sure any major issues (foundation issues, wood rot internally, etc.) are known about before closing.
Your lender will usually have a company that comes out and performs an appraisal on the property. The appraisal is to ensure the sales price is consistent with what the house is worth. The lender doesn't want to give a loan that may be more than the value of the house. We paid $550 for our appraisal and, luckily, the house appraised for a little bit more than what we paid. One thing to note: if the house appraises below the sale price there are a couple options. You can renegotiate with the seller to lower the price or you can pay the difference at closing.
All in all, we paid about $4,000 for all of these things to get done (we haven't gotten to closing costs yet). Don't forget about movers too… which adds up quickly. One great thing about due diligence and earnest money is it gets credited to the buyer at closing! Which means you have to bring less money that day for closing costs. Speaking of closing costs… That is where things get expensive! Closing costs include loan origination fees, attorney fees, upfront payment of property taxes for the year, interim interest, a years worth of insurance, and whole lot of other things. Pro-tip: we were able to negotiate that the seller pay part of the closing costs. We went a little bit above asking price to make this option more appealing to the seller, and it worked! This could be a helpful tactic to those who may not have as much cash on hand. In our situation, closing costs were about $7,000 total for us, but will vary based on your lender. You should get an estimate as to how much all this will be from your lender as soon as you go under contract, which is helpful in knowing just how much money is needed. Our lender was seriously so helpful in informing us of every little piece of information.
Closing Day

Closing Day was THE most exciting and long-awaited day of our lives (besides the wedding!). You will typically spend 20-30 minutes just signing documents with your closing attorney and real estate agent. The hardest part about this whole process, especially on TJ, was waiting and counting down the days until closing. TJ was constantly checking in with our mortgage officer on how every little process was going, if they needed more information for the underwriters, or if we had to pay more money for something. Fortunately, with the money we got from the sellers and the credits from the due diligence and earnest deposits, we actually got money BACK at closing.

I hope this information was helpful to any future first time home buyers and if you are looking to buy or sell a home soon and need a realtor, I know a guy! His name is TJ :)…. he'll have his real estate license in a couple of weeks and would be more than happy to help you along in this process!

That was a lot but if you have any other questions let me know!