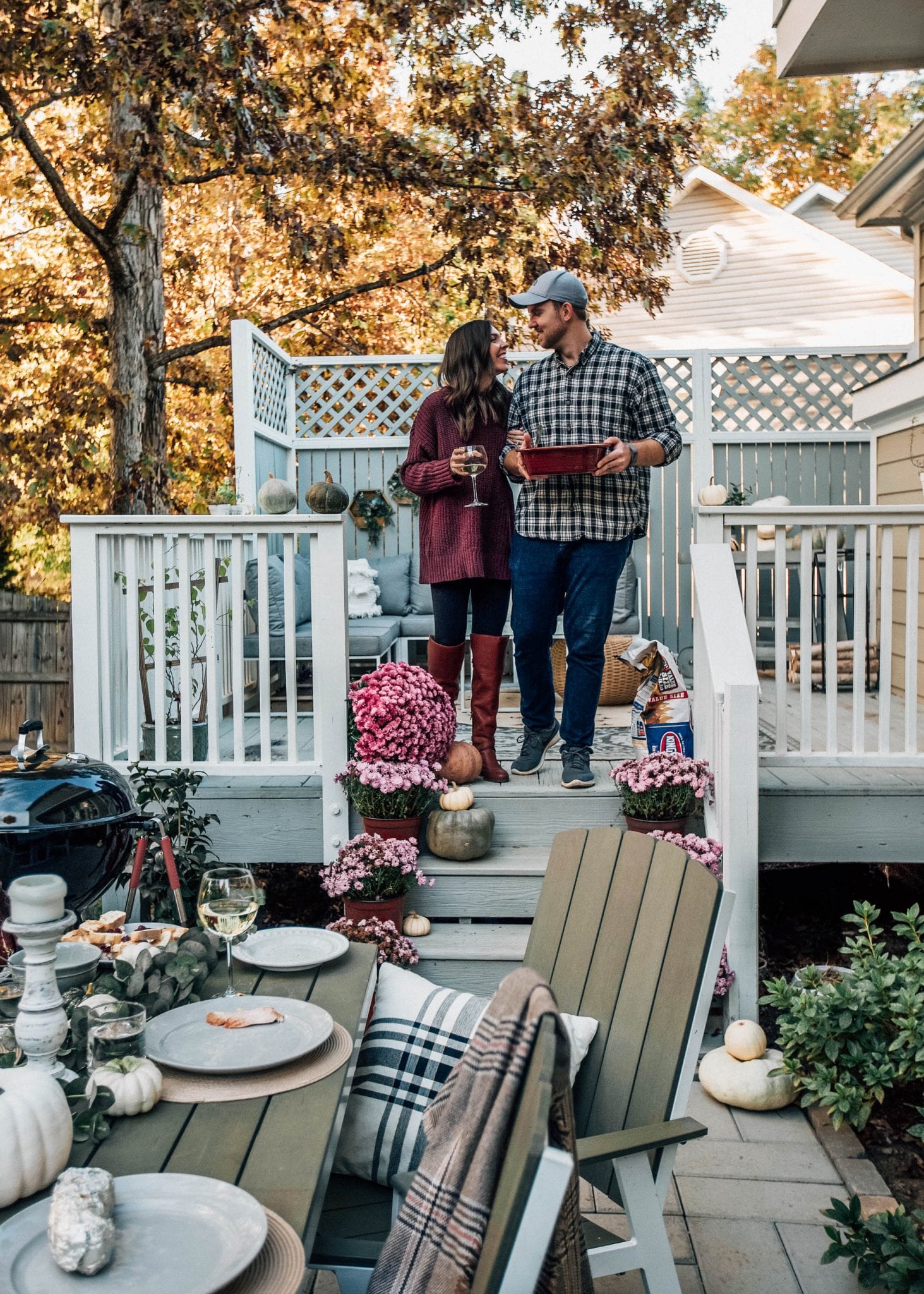 This post is sponsored by The Home Depot.
Can you believe Thanksgiving is in a week?! This past weekend TJ and I decided to try out a bunch of Thanksgiving recipes (after realizing we had never cooked our own turkey before), to invite some family over, and have a pre-Thanksgiving meal outdoors to enjoy our patio one last time before it gets too cold. Grilling and outdoor dining is usually seen as a summer activity but my family has always cooked turkey and other foods on the grill on Thanksgiving for as long as I can remember. There is something about being outside with family in the crisp fall air with yellow leaves everywhere and a bonfire that makes me so happy. We decided to take advantage of our charcoal grill and grill some of our favorite Thanksgiving staples along with our other classic go-to dishes.
If you're new to grilling or don't know where to start, we have a few recommended essentials. We've been using a Weber Charcoal Grill and always pick up Kingsford Original Charcoal Briquettes because it's easy, only takes 15 minutes to heat up, is made with natural ingredients, and gives the food the perfect amount of smoky flavor. We always stock up with the 2-pack when we're at The Home Depot because we never know when we'll want to grill dinner at the last minute!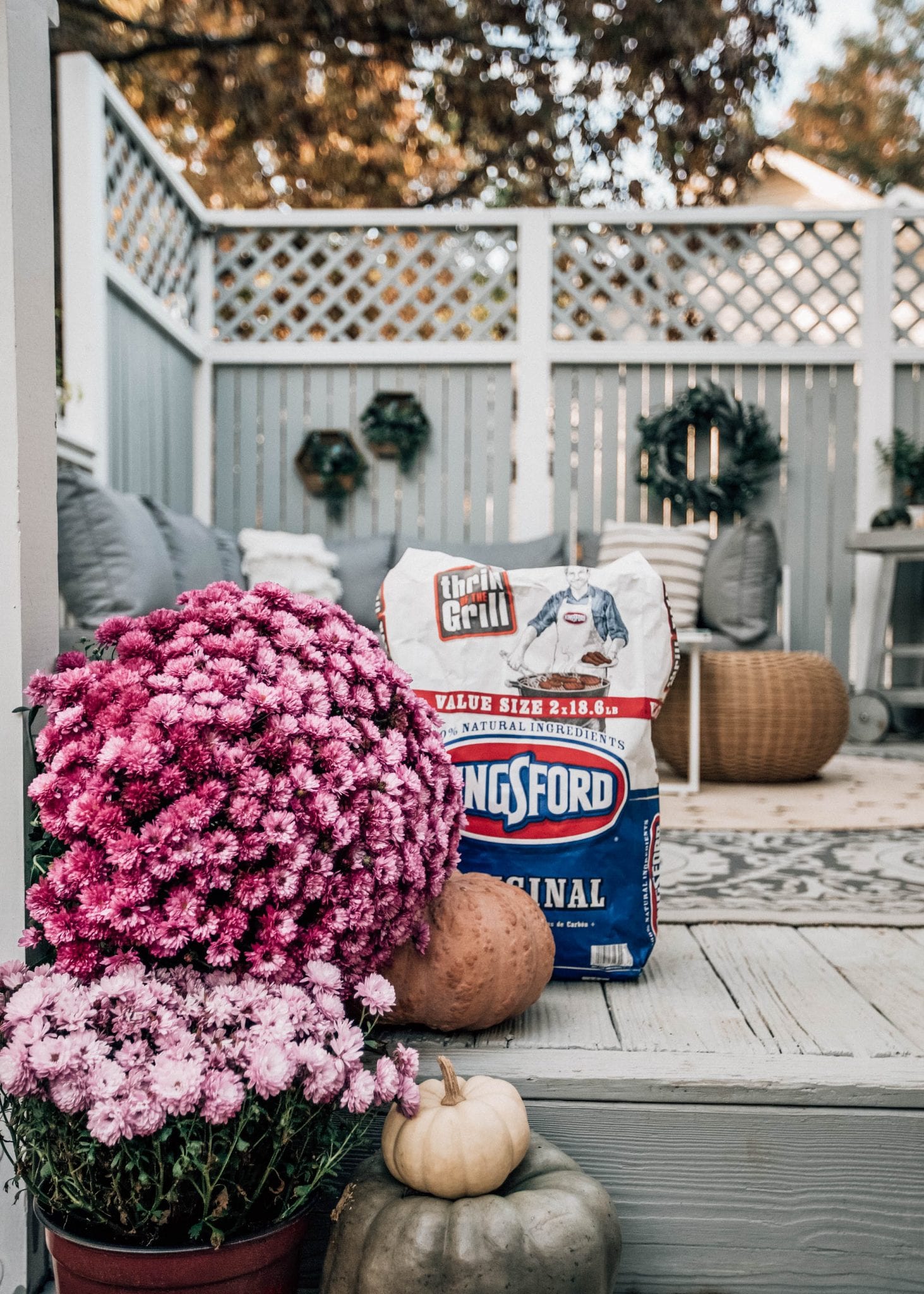 Our menu for the afternoon looked like this:

Smoked Turkey
Grilled Brie topped with Fresh Cranberry Sauce and Grilled French Bread (a great appetizer or dessert)
Grilled Sweet Potatoes
Mac & Cheese
Greenbean Casserole
Mashed Cauliflower
Cornbread Stuffing & Gravy
(We bought all of our food ingredients from Trader Joe's including my favorite mini brie bites. I'll share some of our recipes down below:)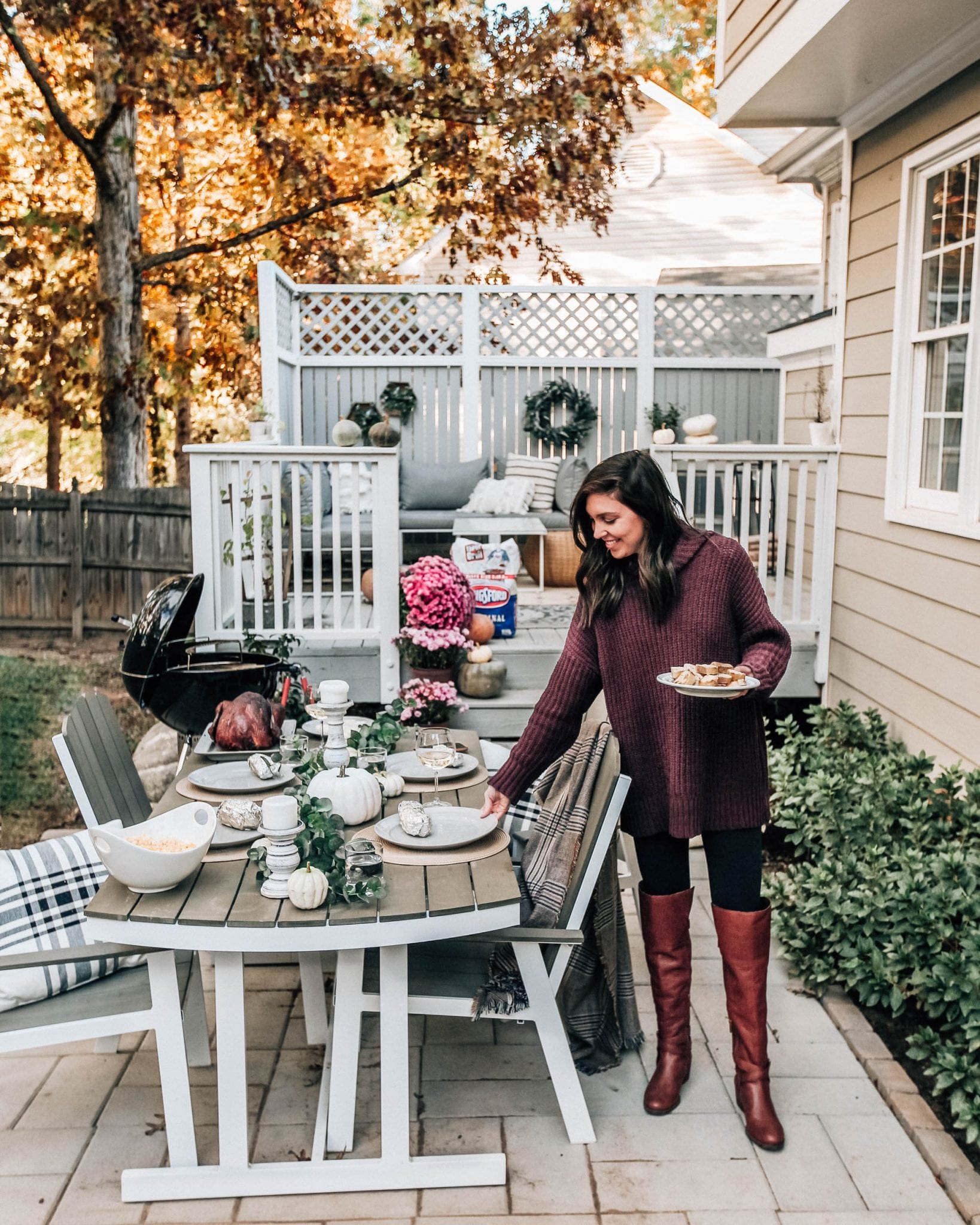 Smoked Turkey:
12 lb pre-brined turkey
½ cup of dry rub (we used the Weber Dry Rub)
Pecan wood chips
This recipe is fairly easy with the pre-brined turkey. Once thawed, pat dry and let sit for about an hour. While the turkey is sitting, you can prepare the Kingsford charcoal briquettes and begin to soak your wood chips. For this recipe we smoked the turkey using the Weber grill. If you don't have a traditional smoker, you can smoke meat by using indirect heat. When ready, place the briquettes along the sides of the grill, with a drip pan set in the middle. Pre-heat the grill to about 250-275 degrees for medium heat cooking.
Once the turkey has rested for an hour, begin adding the dry rub to the turkey. You may want to use canola oil or olive oil before applying the dry rub, but that is optional. Once the turkey is ready, set it on the grill. Add your wood chips on top of the charcoal briquettes and they will start to release the smoke to give an awesome flavor!
Keep an eye on the temperature of the grill and the turkey. You will want to use a meat thermometer and ensure the turkey gets to 165 degrees internally. The turkey took about 5.5 hours to cook fully, and we ended up adding charcoal about 6-7 times to maintain the heat levels.
Once the turkey reaches 165 degrees, remove from the grill and let rest for about 20 minutes. When all your other dishes are ready, cut and enjoy that good, smokey flavor! Serves 4-5.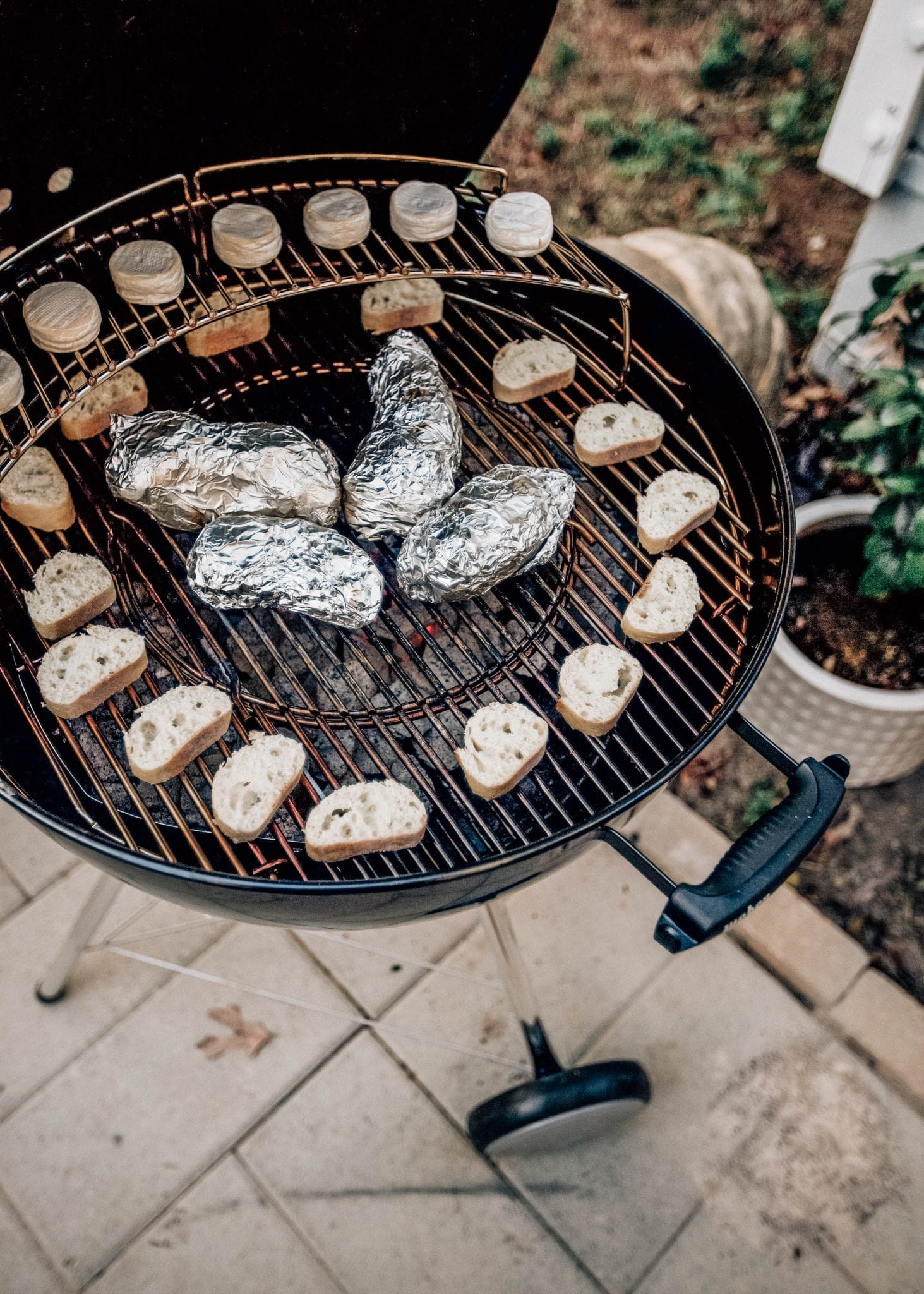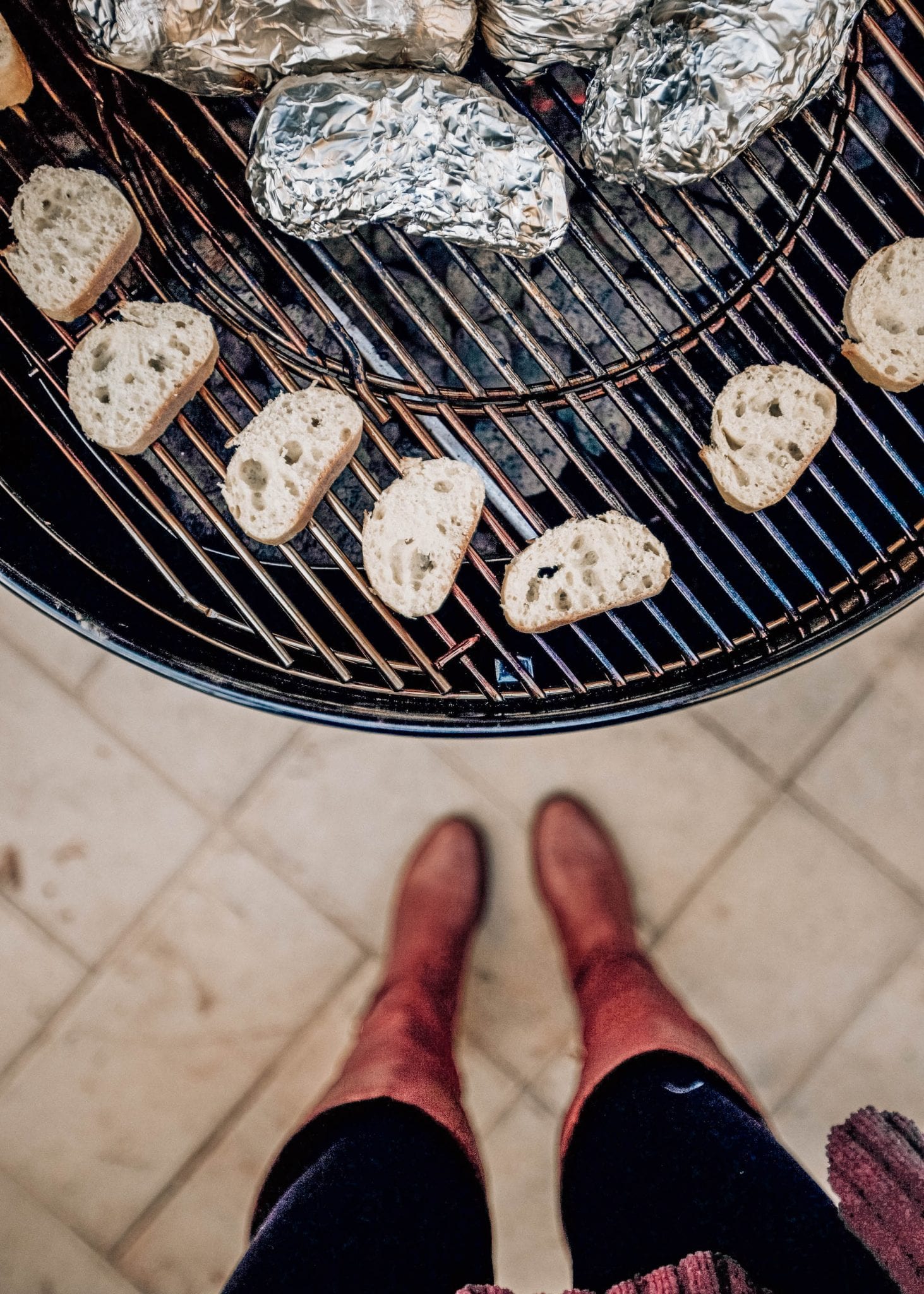 Grilled Brie:
Mini Brie cheese wheels
French bread baguette
Cranberry sauce
This was another fairly easy recipe, but so good! We got the idea from one of our favorite restaurants. After the turkey was removed from the grill we added a fresh pile of Kingsford charcoal and cleaned off the grates. Add 7-8 mini Brie cheese wheels along the outside of the grilling surface. Along with the Brie, we placed small slices of the french baguette to get them warm and toasty.
It does not take too long for the cheese and bread to get toasted, so keep an eye on them. Remove from the grill once there are defined grill lines on the outside of the cheese and on each side of the baguette.
The restaurant we frequent adds a raspberry sauce to their Brie, but the cranberry sauce we found at Trader Joe's was just as perfect. This is the perfect appetizer and can easily feed a crowd before dinner is served. Serves 3-4.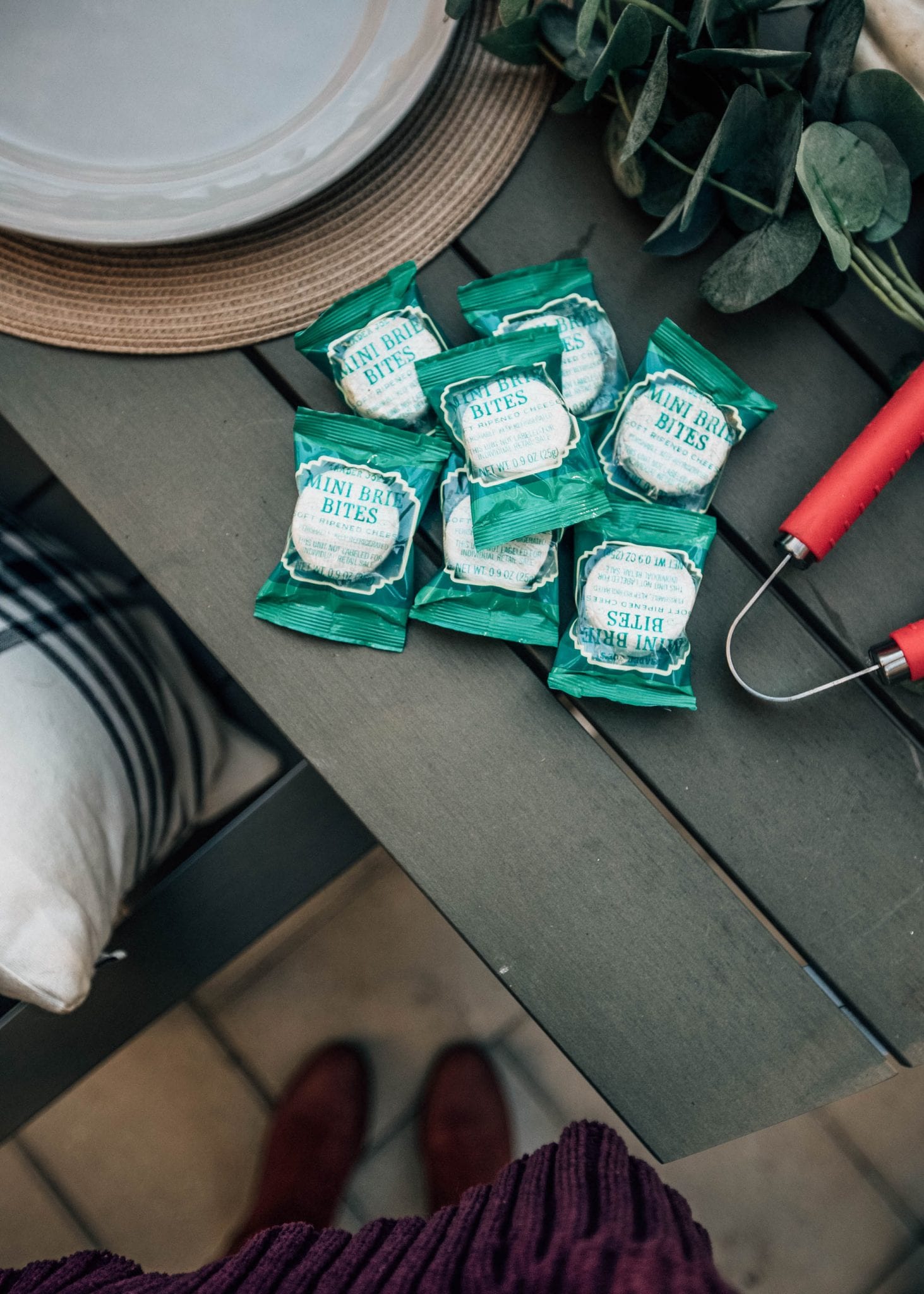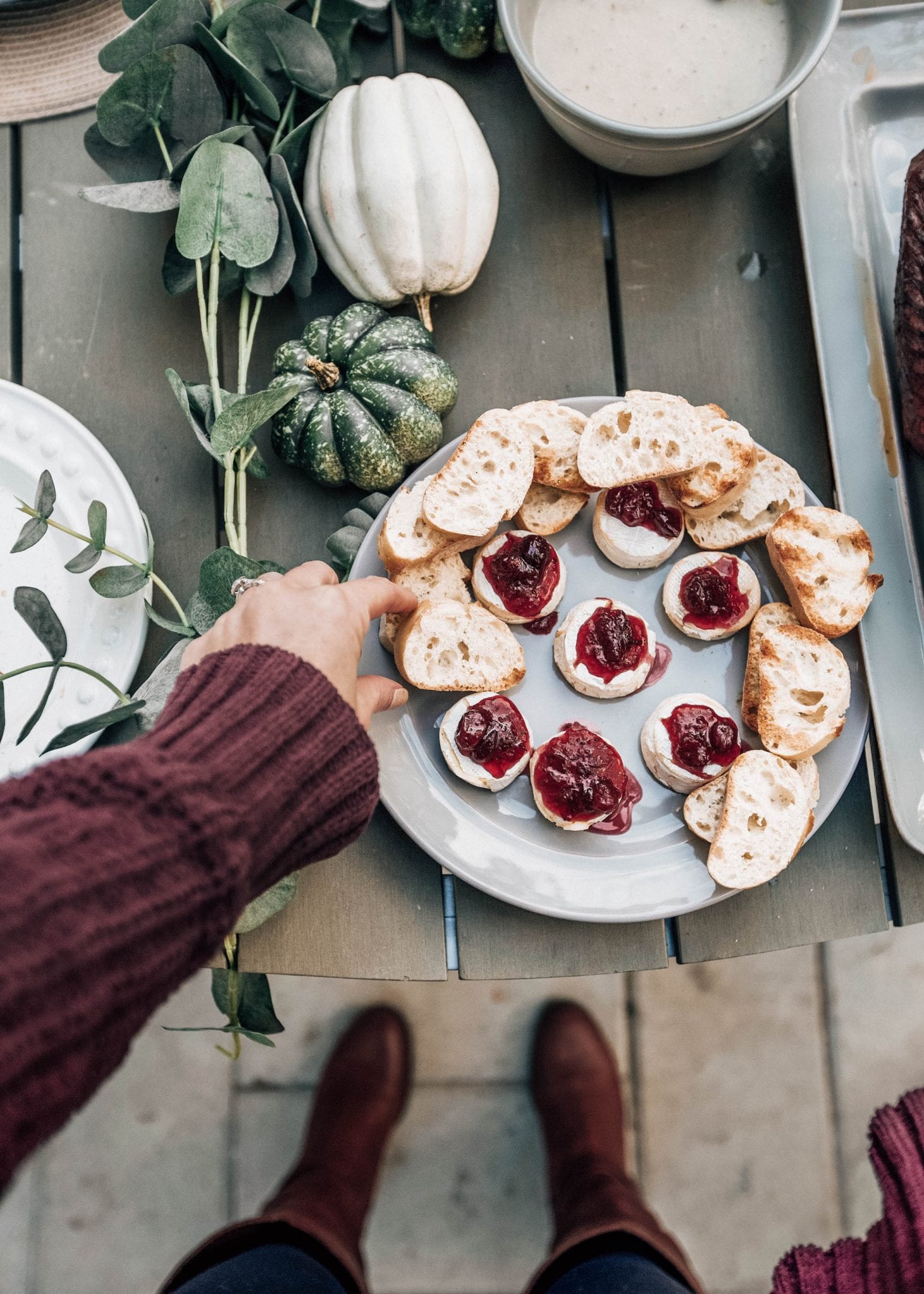 Green bean Casserole:
24 oz of pre-cut green beans
¼ cup sweet onion
½ cup portabello mushrooms (we skipped this ingredient, but I am sure it is good!)
2 tbsp of butter
1 box Trader Joes Cream of Mushroom soup
1 cup fried onion straws
1 handful Swiss cheese
⅓ cup water
This was another first for us in making Green Bean Casserole. Luckily, we found a good recipe on the back of the fried onion straw box.First, preheat the oven to 375 degrees.
Start by melting your butter in a large skillet. Once melted, add the portabello mushrooms and saute until they begin to lightly brown. Add the onion and saute along with the mushrooms. As onions begin to get soft, add the green beans and heat through.
Add cream of mushroom soup and water to the skillet with the green beans, onions, and mushrooms. Once heated transfer to a casserole dish. Top with the fried onion straws and Swiss cheese. Place in oven for 15 minutes or until the cheese has melted. Remove and serve promptly. Serves 4-5.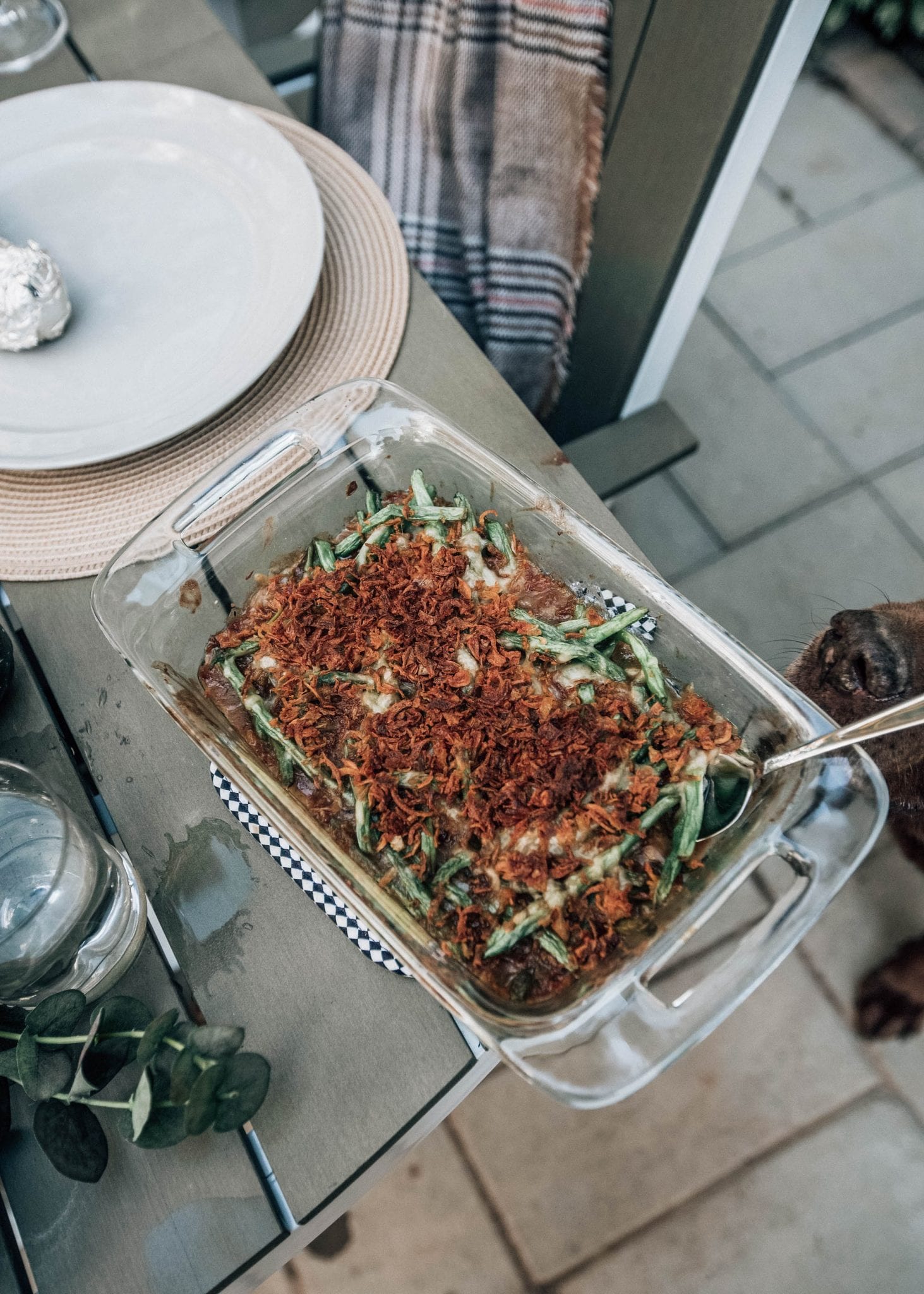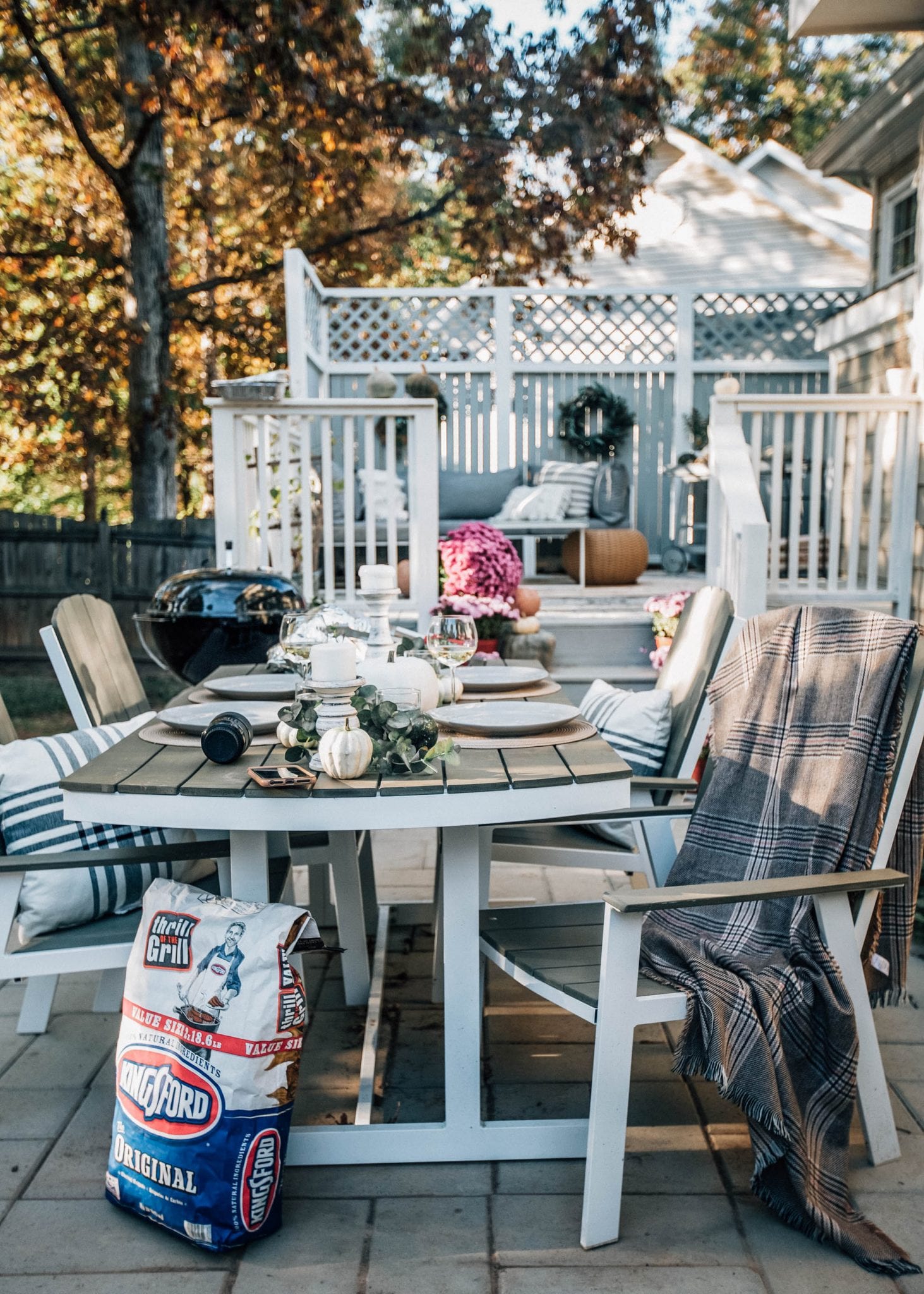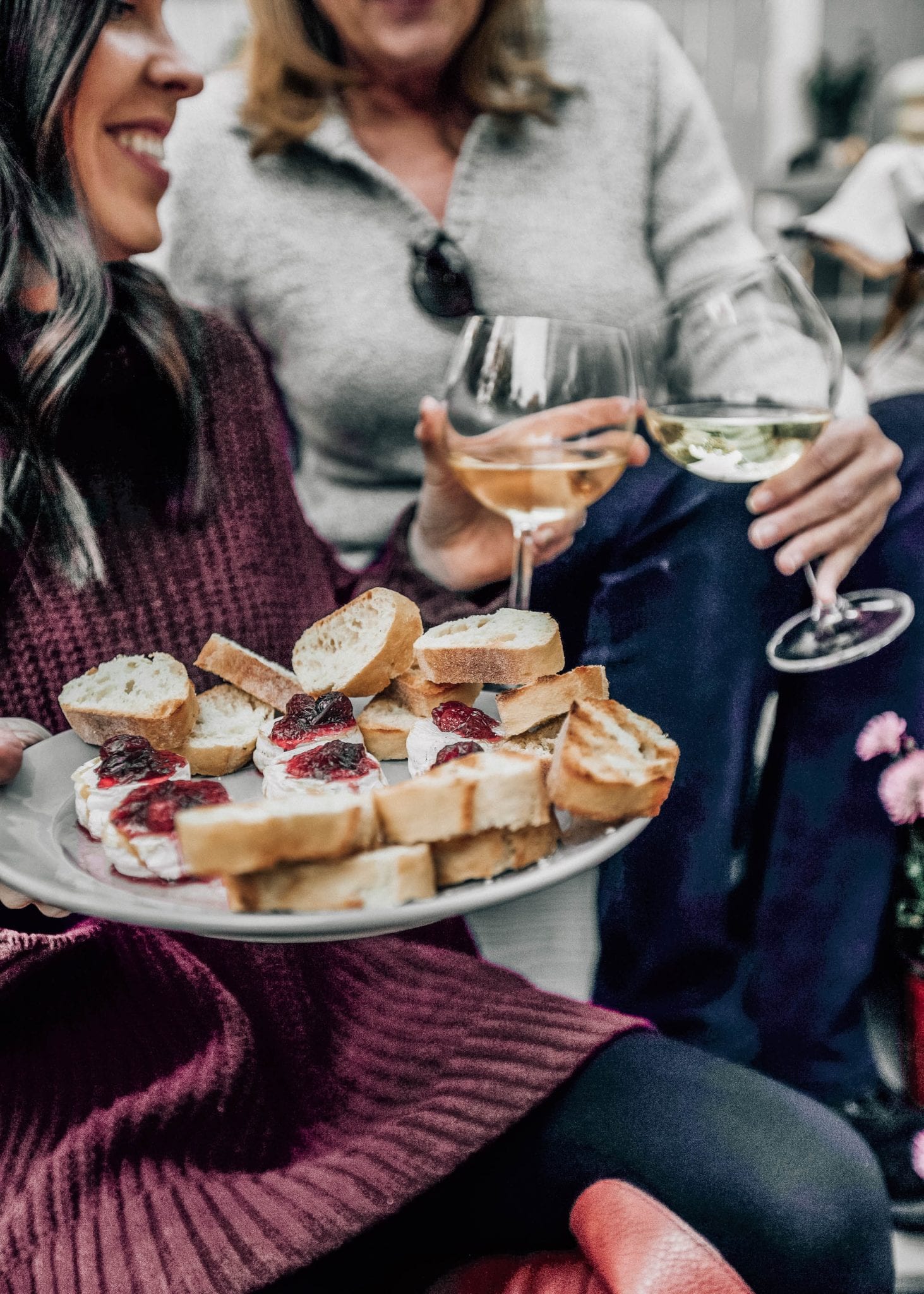 Mashed Cauliflower:
2 medium heads of cauliflower
6 oz. cream cheese
⅓ cup milk
Salt
Pepper
Chives to garnish
Add water to a large pot and bring to a boil. Remove cauliflower florets from stem and boil until florets are tender, about 10 minutes. Remove cauliflower from water and dry well, getting rid of excess water. Return cauliflower to pot and mash together with potato masher until there are no large clumps.
Add cream cheese and milk to pot and heat through, stirring frequently. Use salt and pepper to taste. Remove from heat and garnish with chives and/or butter. Serves 4-5.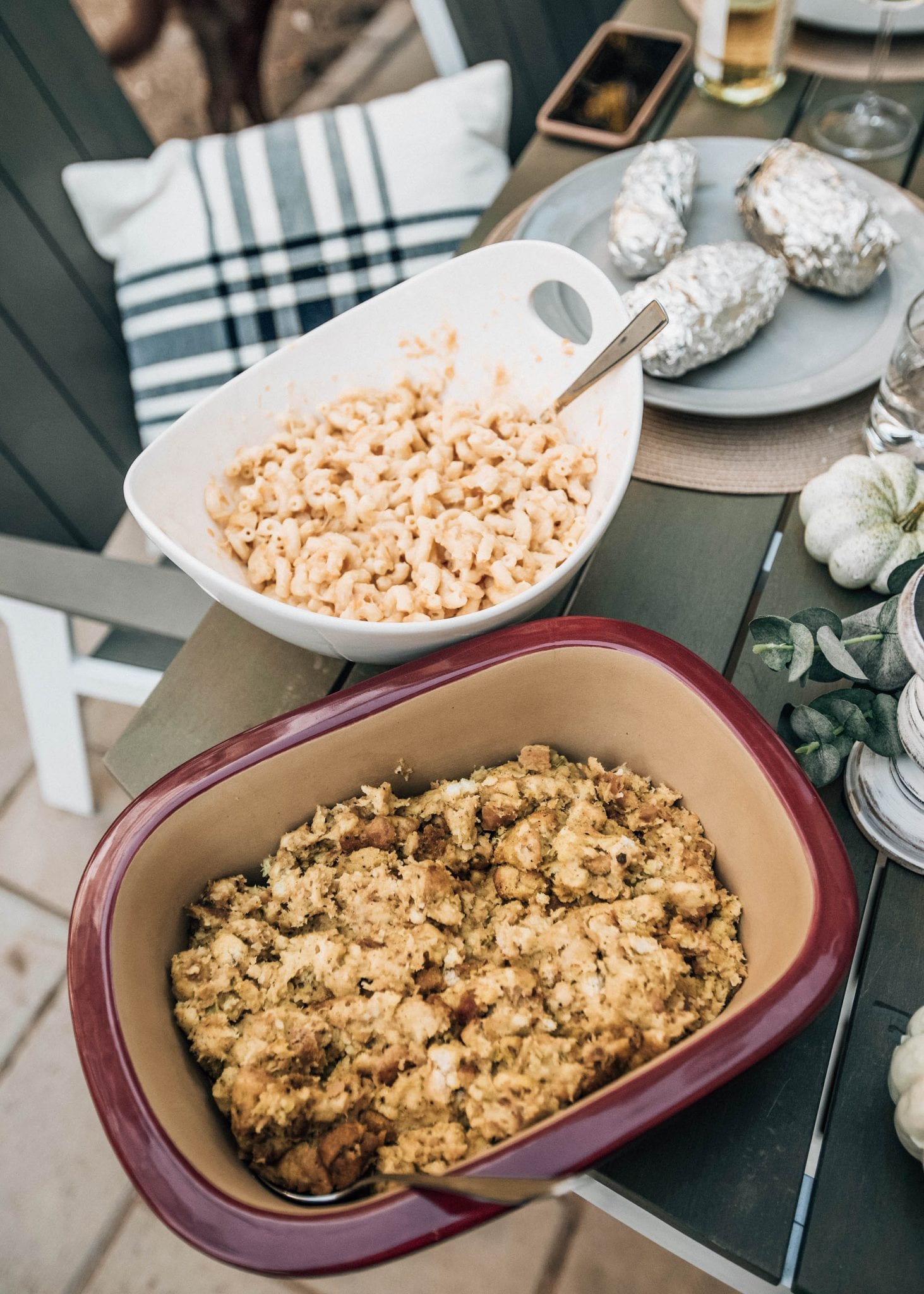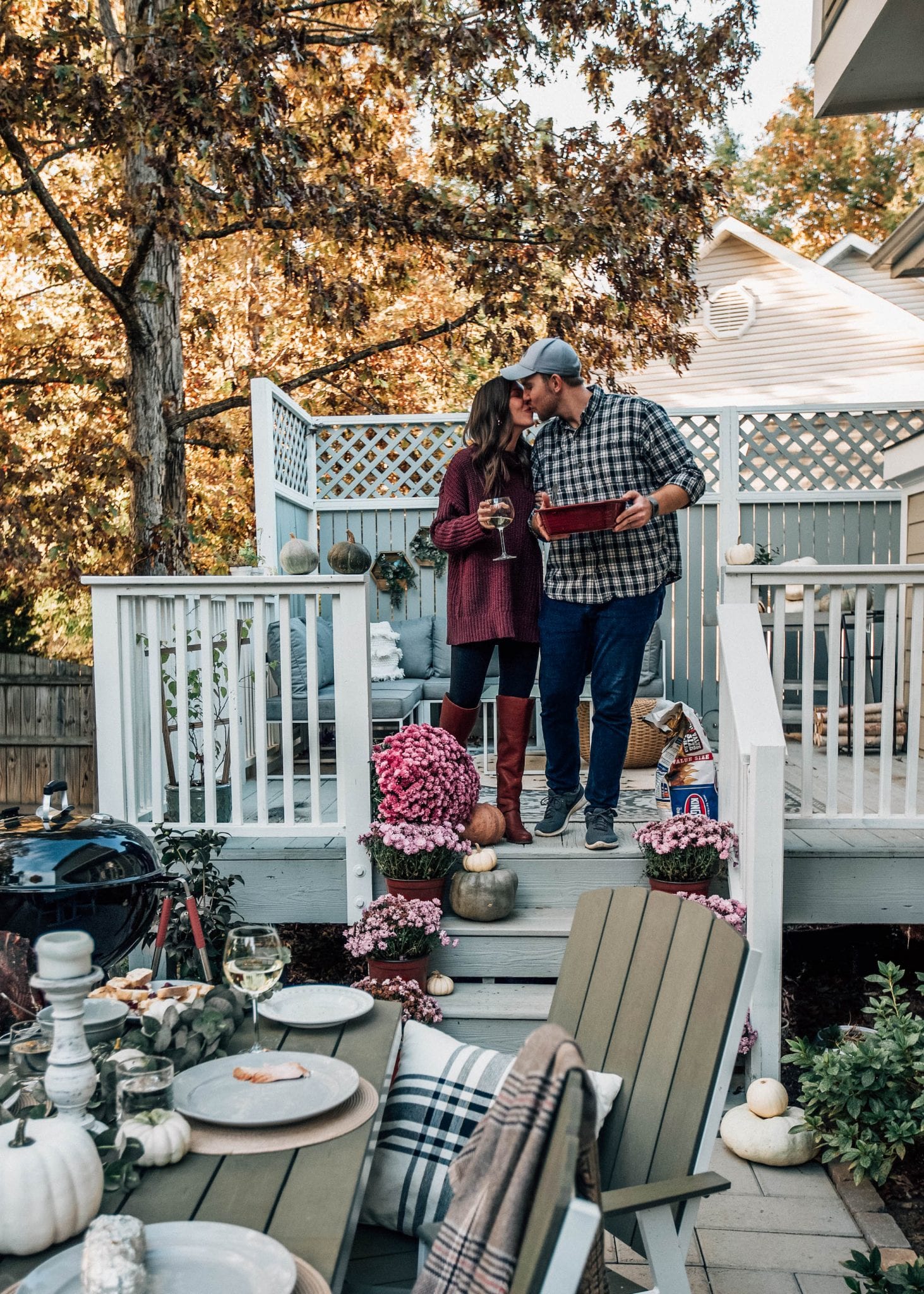 Cornbread Stuffing & Gravy and Mac and Cheese: For these, we went with the pre-made stuff at TJ's… when it's good, it's good and a great time-saving hack. Their regular frozen mac 'n cheese tastes almost identical to our homemade recipe… it's so good.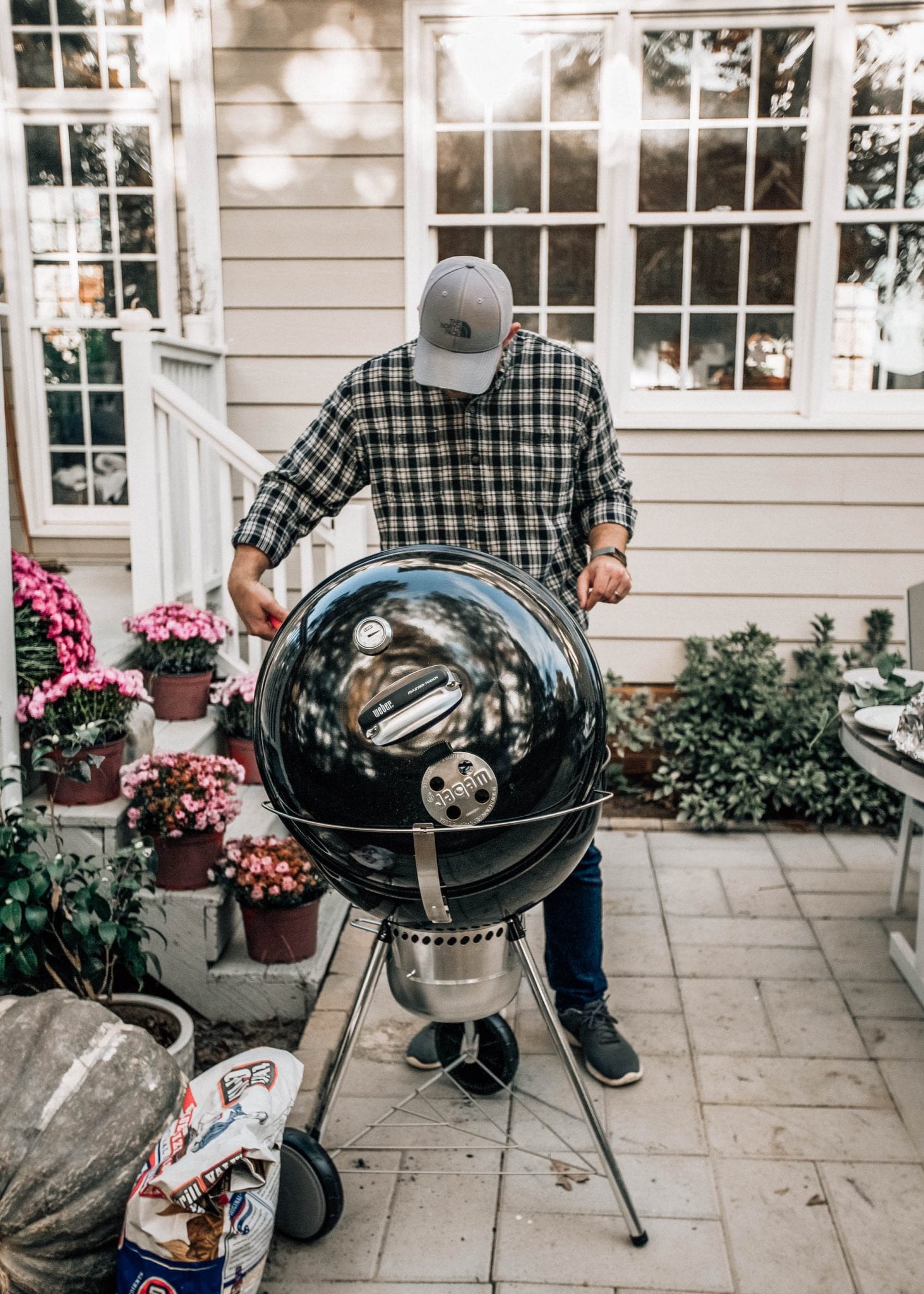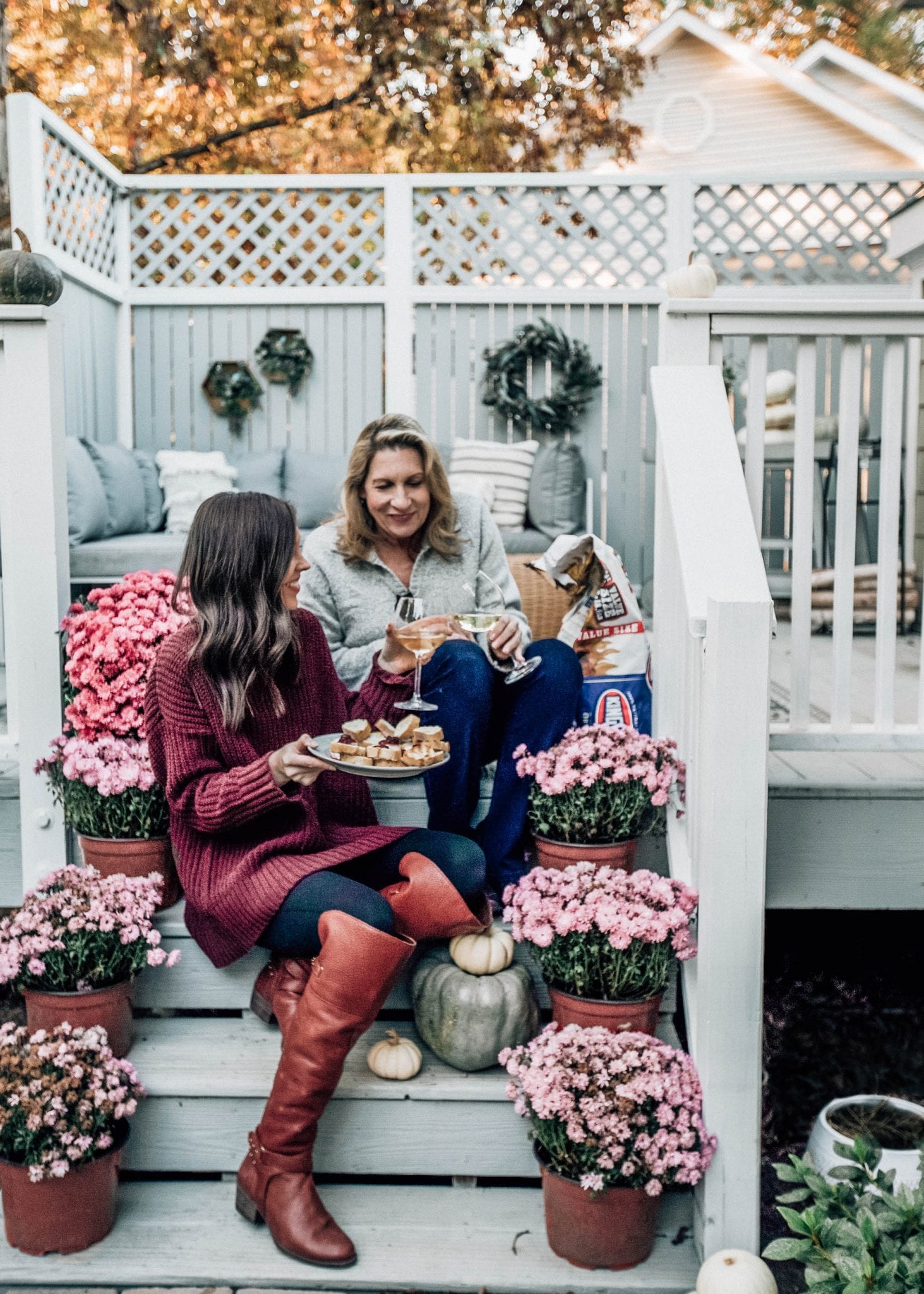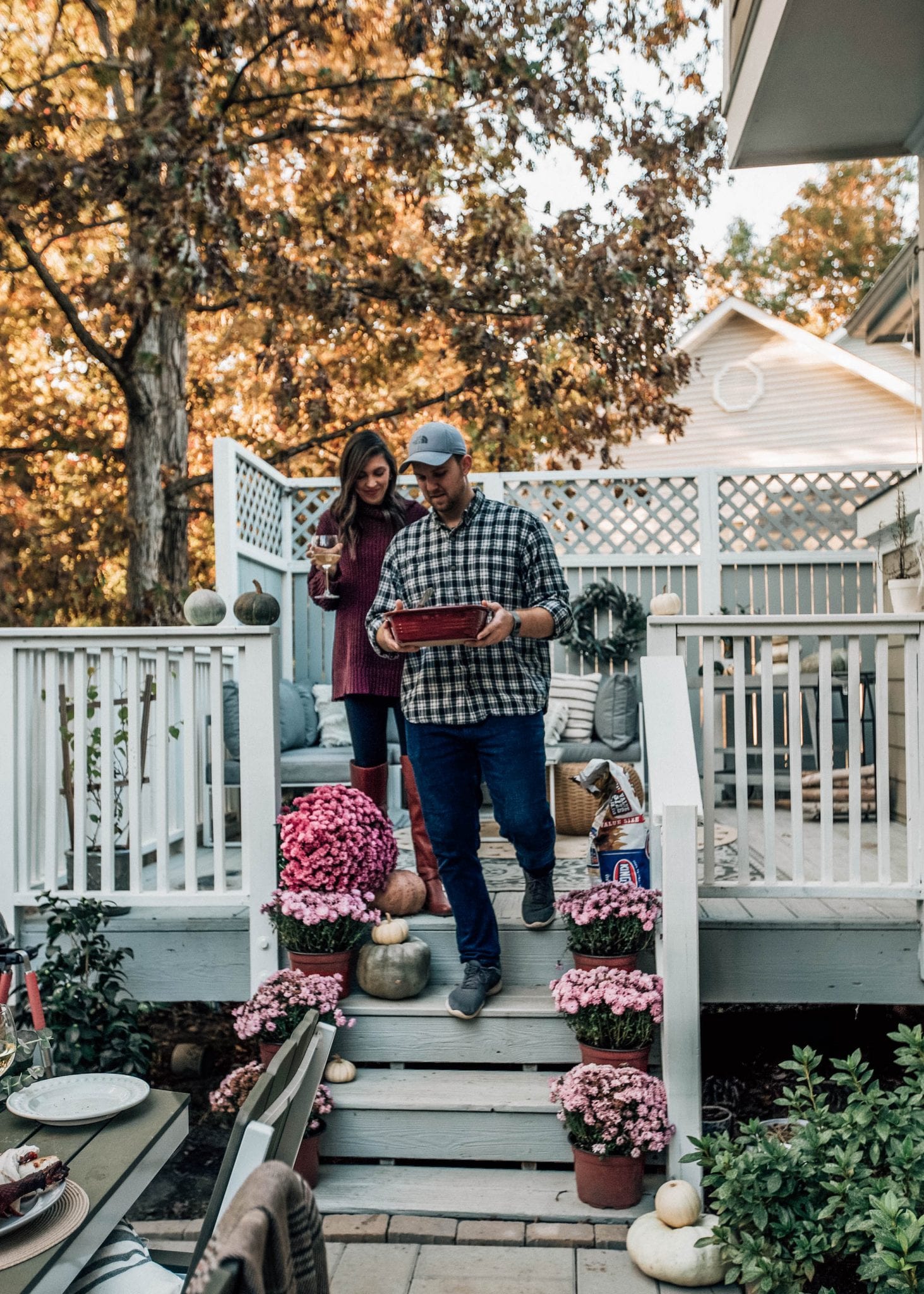 I kept the tablescape fairly simple with my eucalyptus garland and mini faux white and green pumpkins. This was the first time that TJ and I made this much food for one meal and it was great practice for the real deal next week! We'll for sure be re-making most of these for our extended family next Thursday. My sister & her family along with my grandma (and cousins) will be in town and I'm so excited! Thanksgiving is for sure one of my favorite holidays… it's also the busiest but I'm excited for the holidays to be here!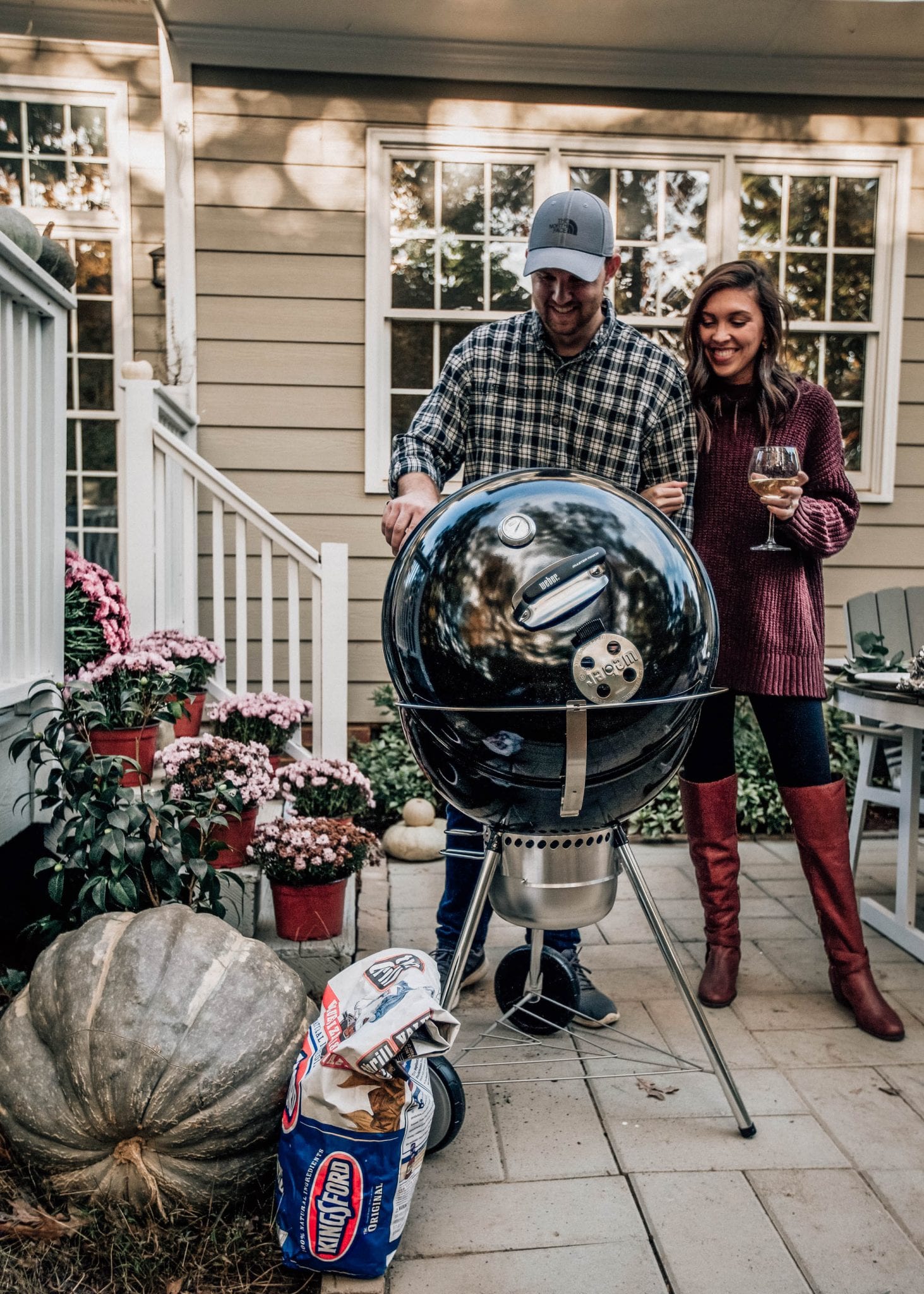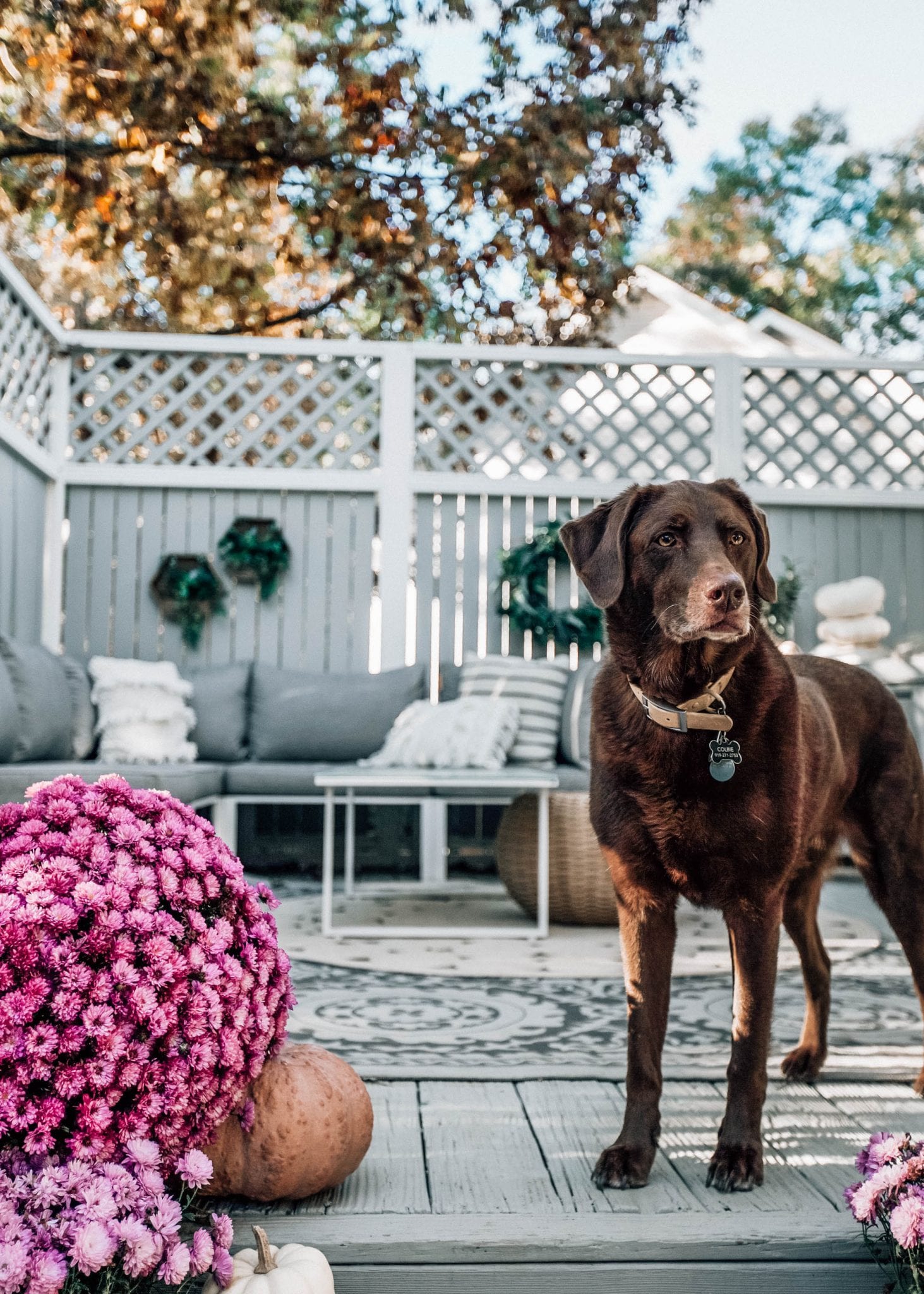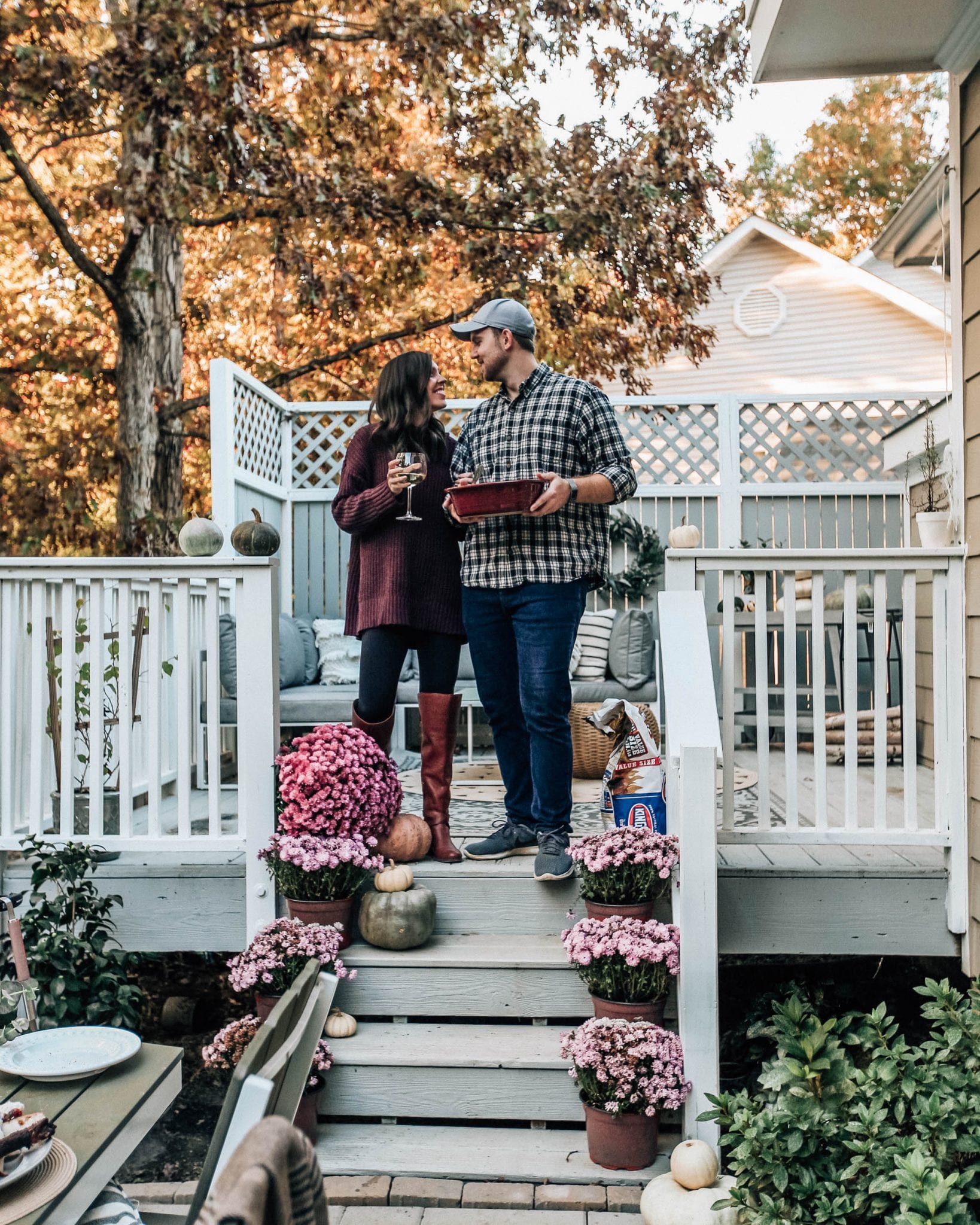 I acknowledge that The Home Depot is partnering with me to participate in the promotional program described above (the "Program"). As a part of the Program, I am receiving compensation in the form of products and services, for the purpose of promoting The Home Depot. All expressed opinions and experiences are my own words. My post complies with the Word Of Mouth Marketing Association (WOMMA) Ethics Code and applicable Federal Trade Commission guidelines.