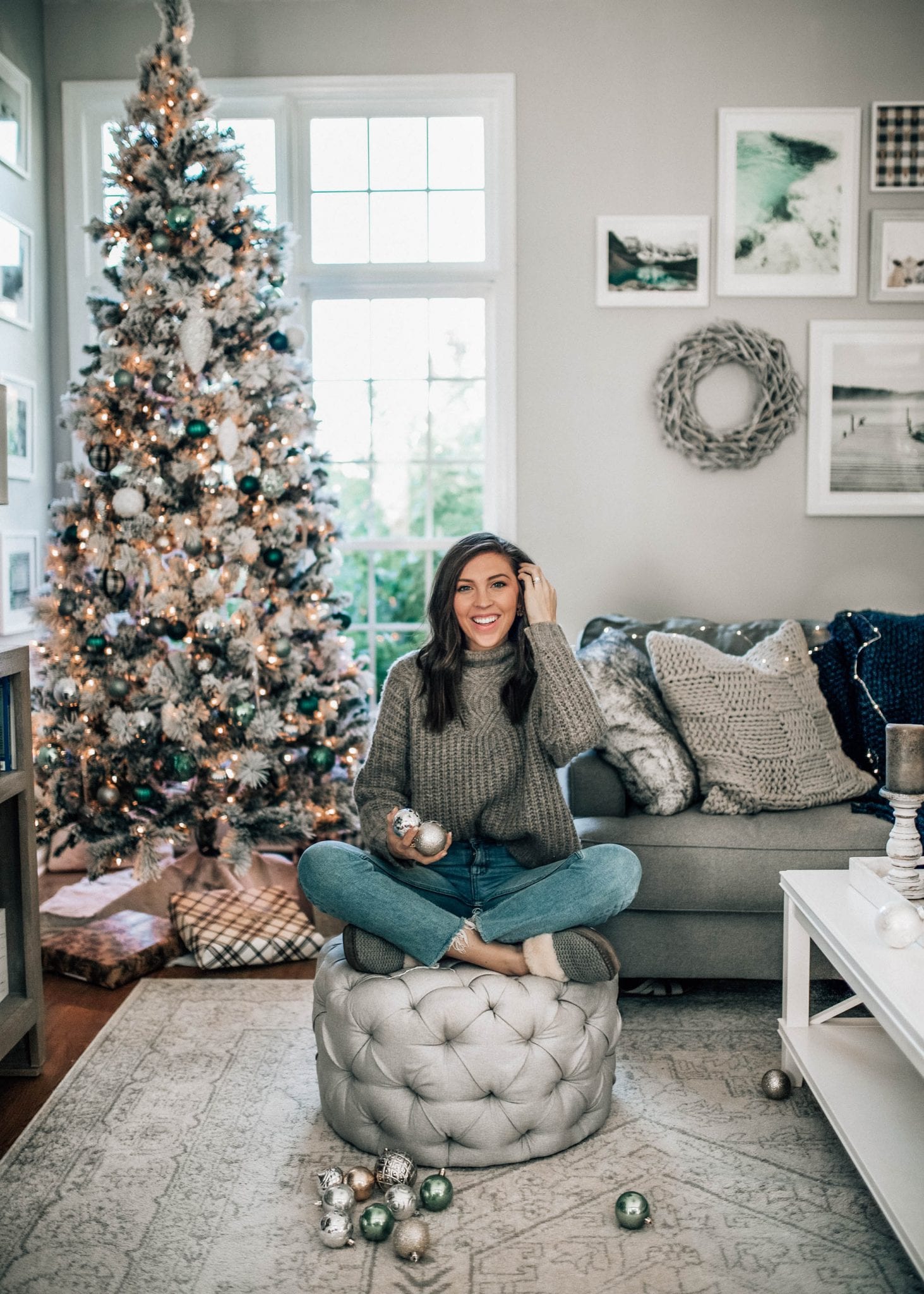 This time last year we were packing up our apartment, preparing to move into our house, knowing that we probably wouldn't have time to go crazy with the Christmas decorations. We only had our regular Christmas tree up in the living room and that was it… no wreaths, no garland, just our main tree. This year we decided to do things a little differently and add a few more trees to the house because… why not? They make everything so much happier and inviting! Today I'm excited to take you through each room and show you the trees that we found to fit each space so perfectly.
First up: the living room! We went from a 7.5 ft. flocked tree last year to a 9 ft. tree this year and love the difference it makes. Our living room is one of the few rooms in the house that have taller ceilings so I knew I wanted to take advantage of them this year. I love the look of a tree with a little bit of faux snow on it and makes me feel like we're bringing some of the outdoors in without having to get a real tree. I absolutely love real trees but I also love not having to clean up the needles or having to string lights. The 9ft Pre-Lit Haven Flocked Pine Christmas Tree from At Home fits perfectly in the corner beside our tv stand and I decided to decorate with all neutrals but add in some green ornaments since the branches were extra white. Plus, I just love green, especially the darker shades. At Home is a total Christmas decorating magical winter wonderland and has everything you could possibly need when it comes to Christmas decorations. No matter what color scheme you're looking for, theme you're wanting, they have it. They have color schemes I didn't even know were color schemes. I decorated with mainly white, silver, and green ornaments and added in a few pine cones and other "statement" ornaments like this one and this one.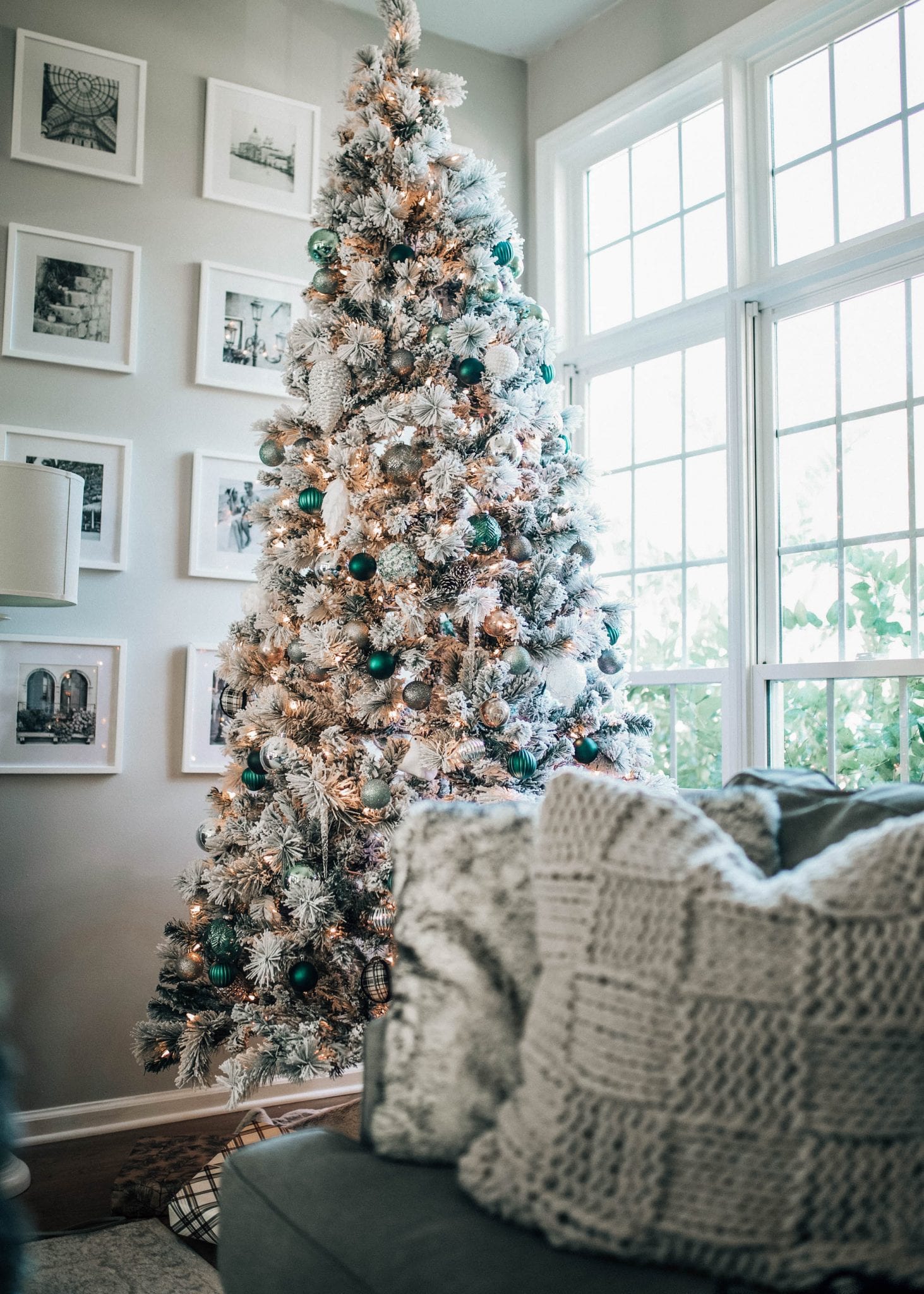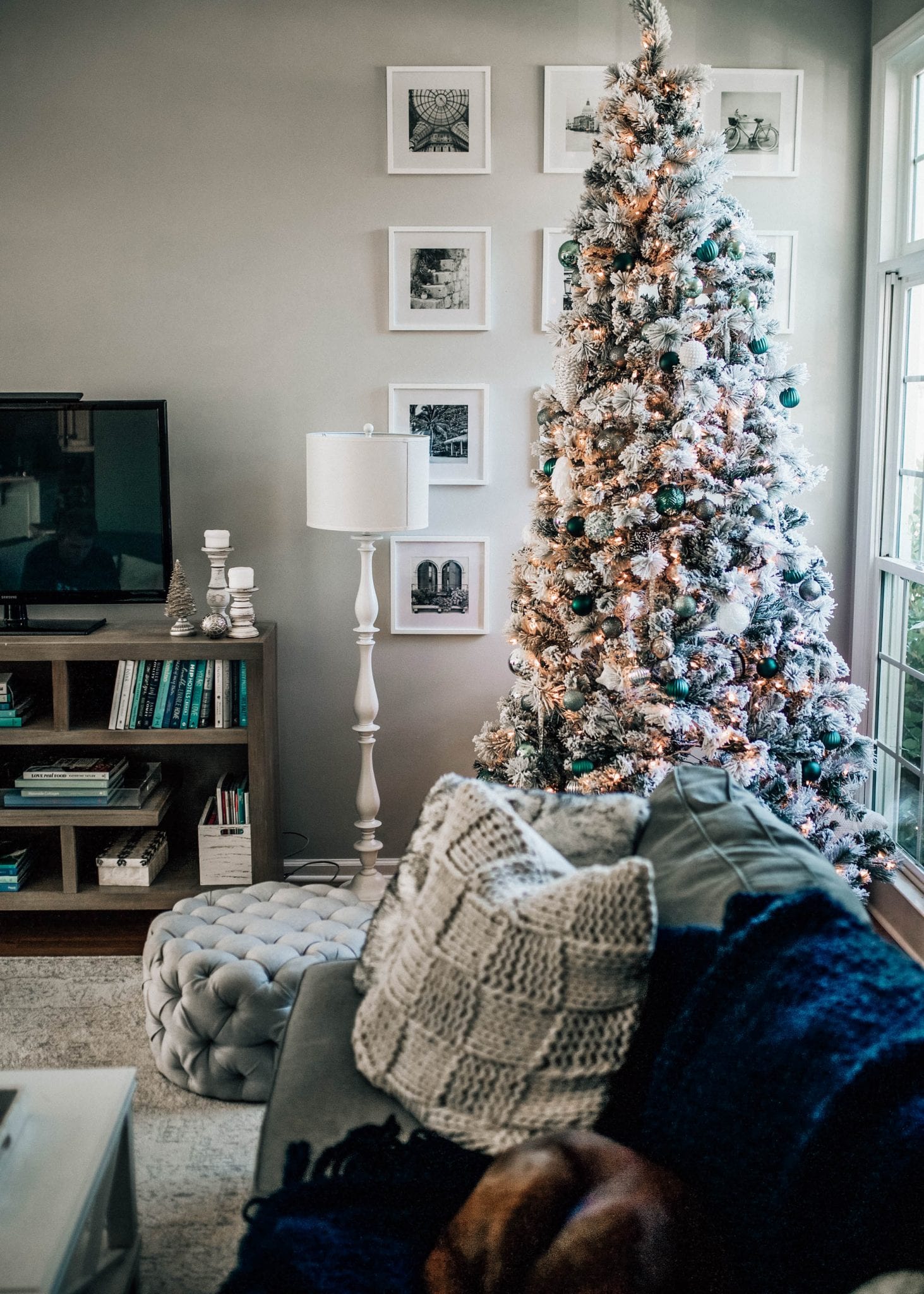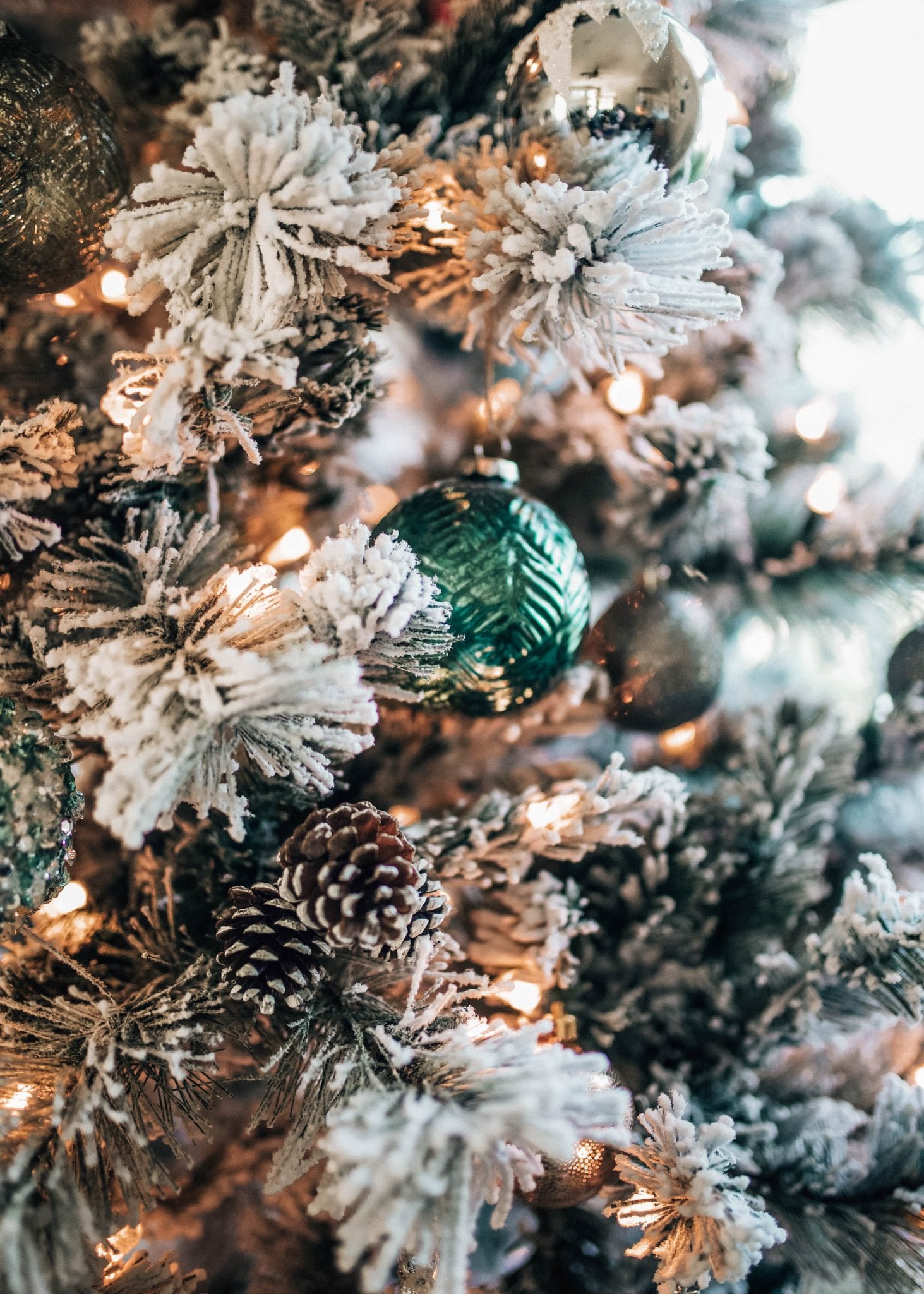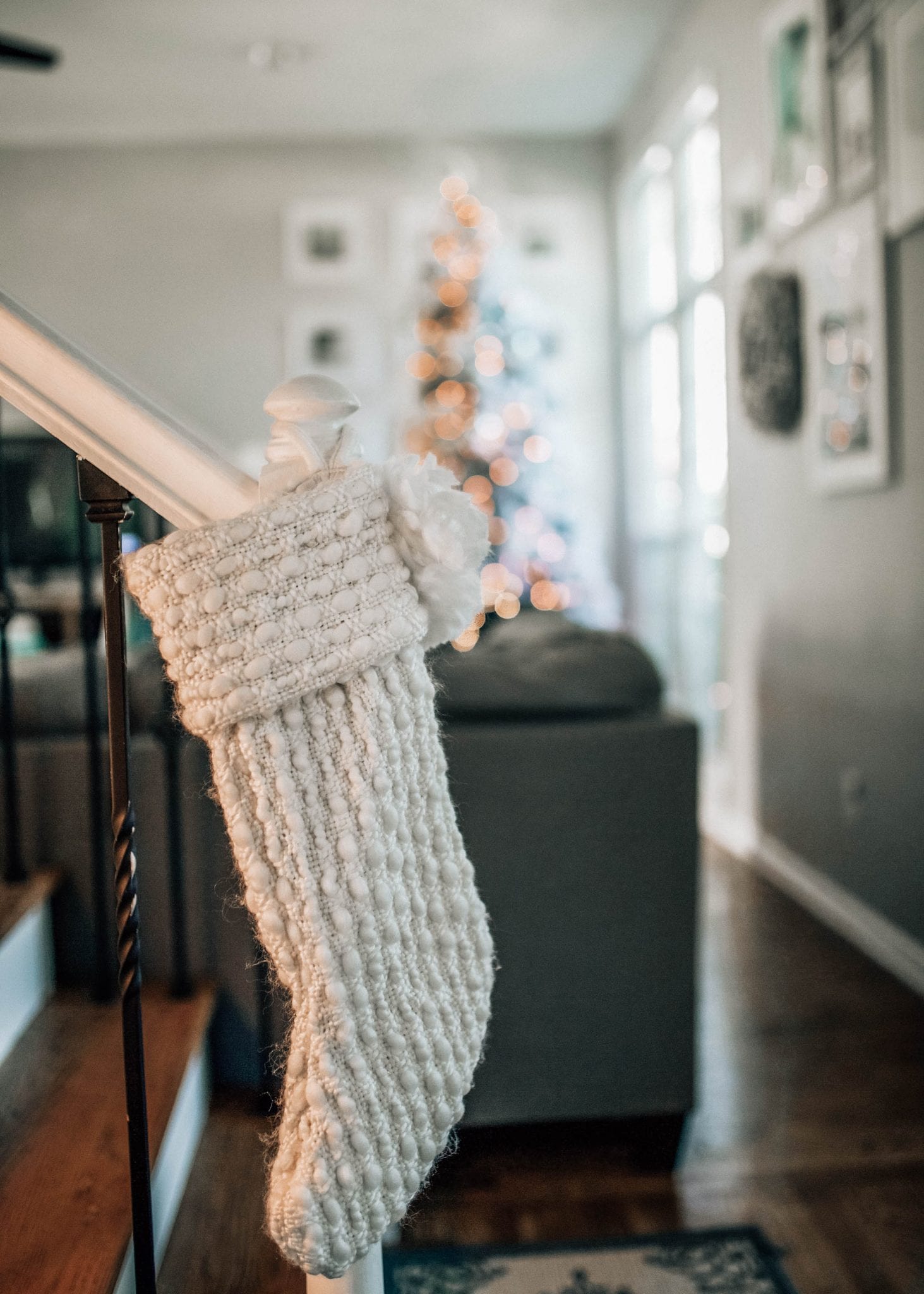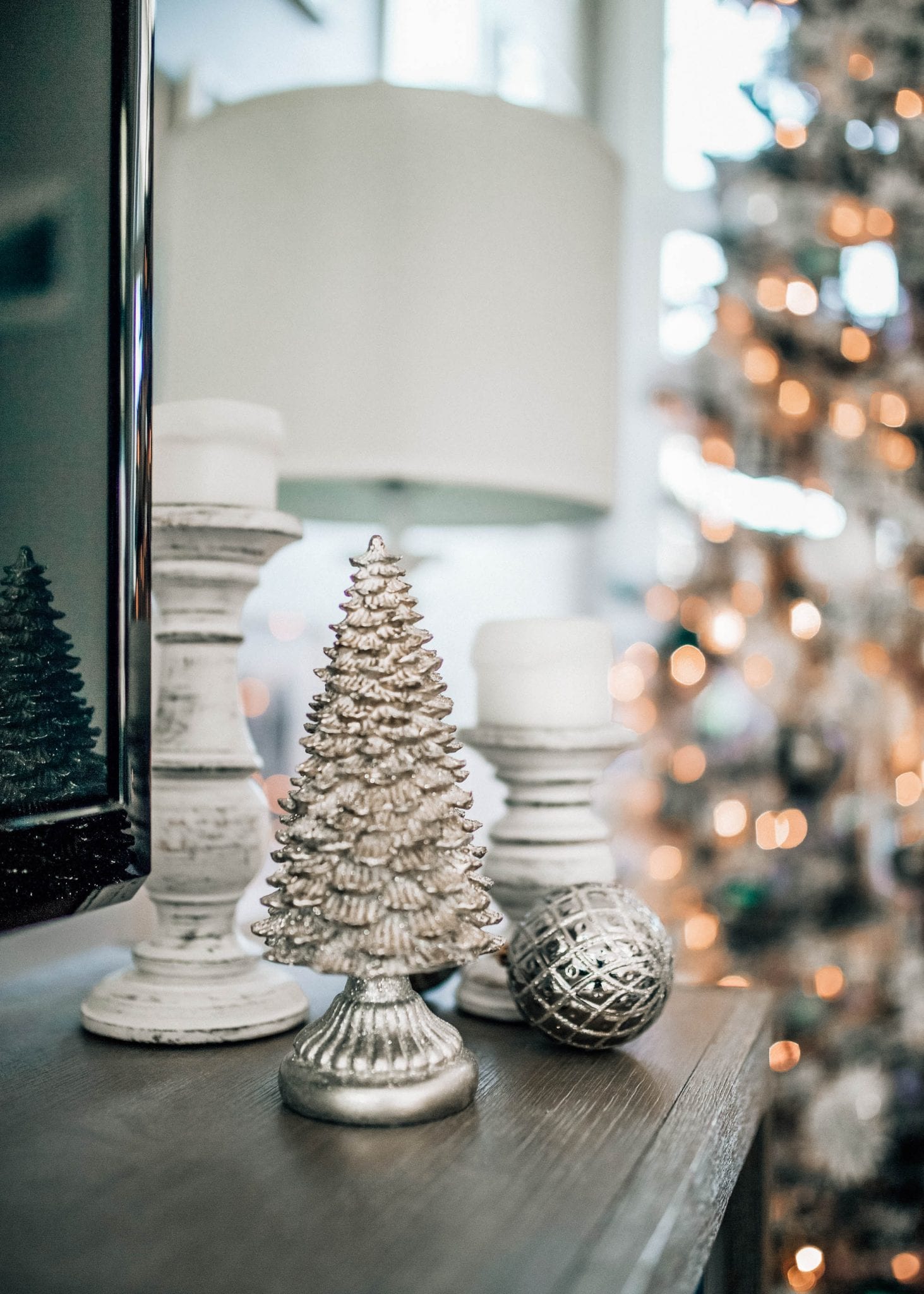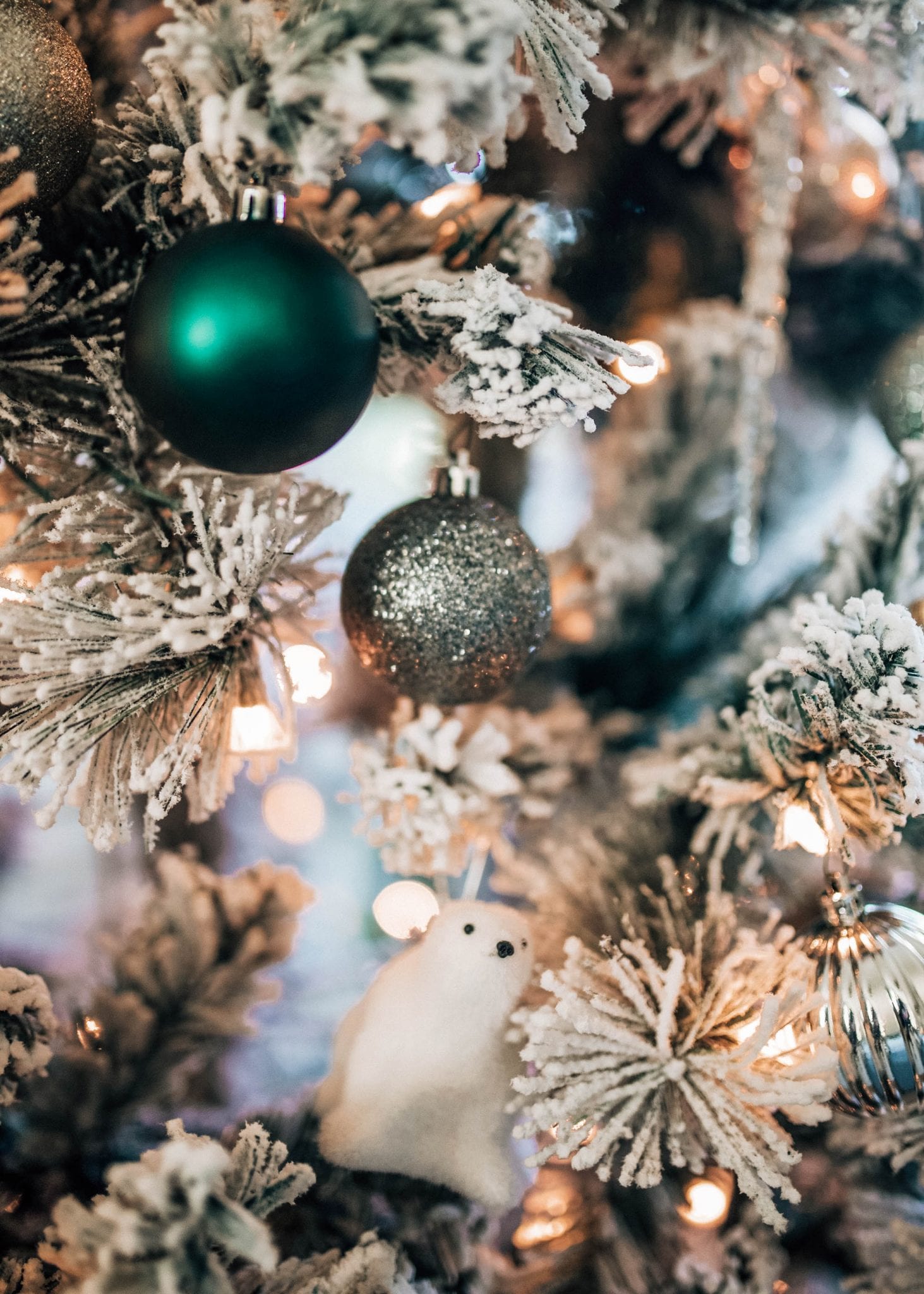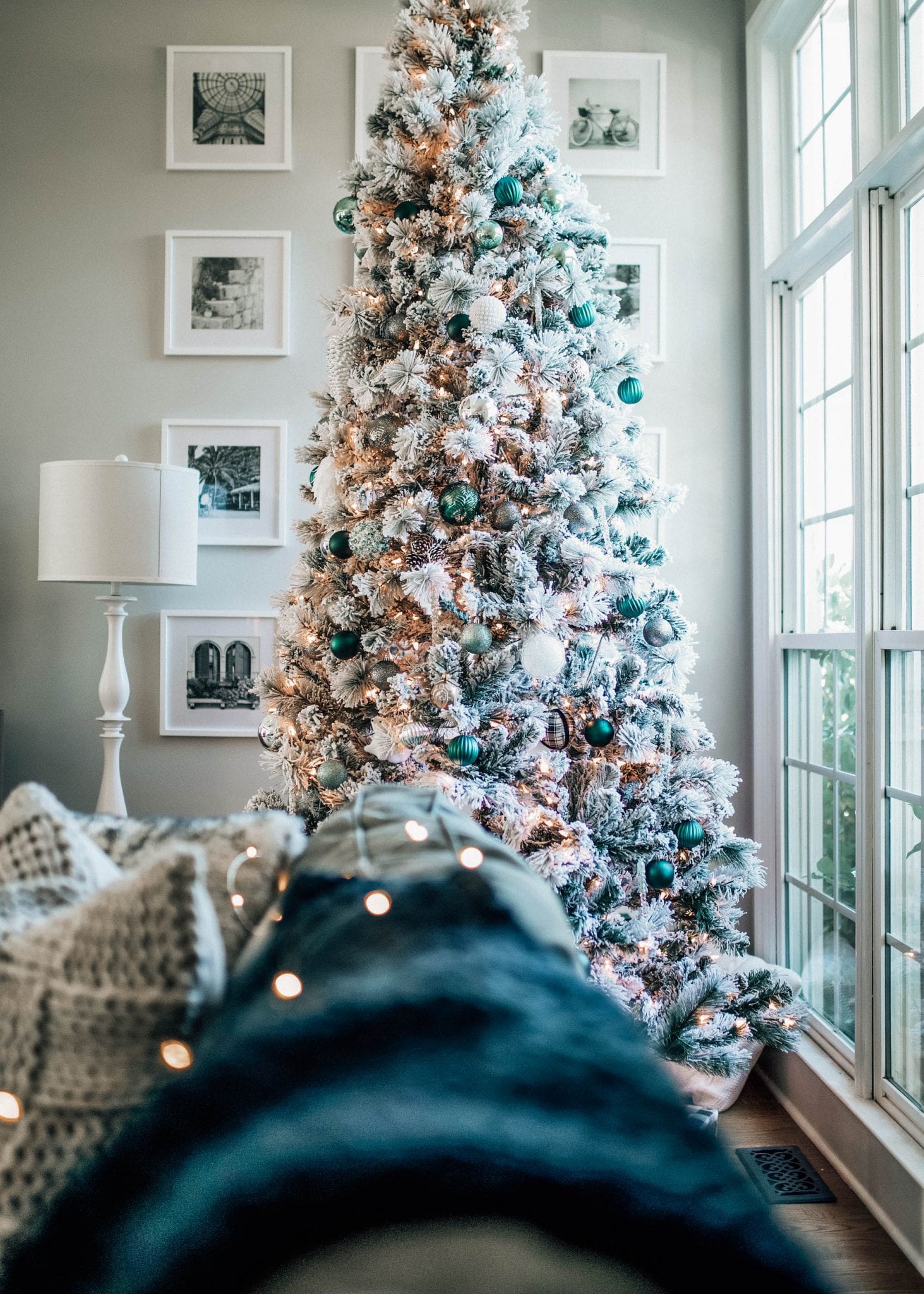 Moving on to my office space… I found this 3 Piece Unlit Greune Flocked Christmas Tree Set (which, by the way is about 60% off this weekend for Black Friday if you live near an At Home store. Regularly $69.99 but on sale for only $29.99!) Anyways, these guys are so perfect for any area where you don't want a full tree but want to fill the space with something festive. I have them right beside my desk underneath where my calendar is hung and they make my long workdays so much brighter! I love how simple they are and how they don't need any ornaments or lights to feel complete. Each tree is a different height too (3ft, 4ft, 5ft) so the variety adds so much dimension to a space but you can also place them in different spots around the house too. These would be great to bring to your office at work too or if you own a shop and want to decorate around a register area.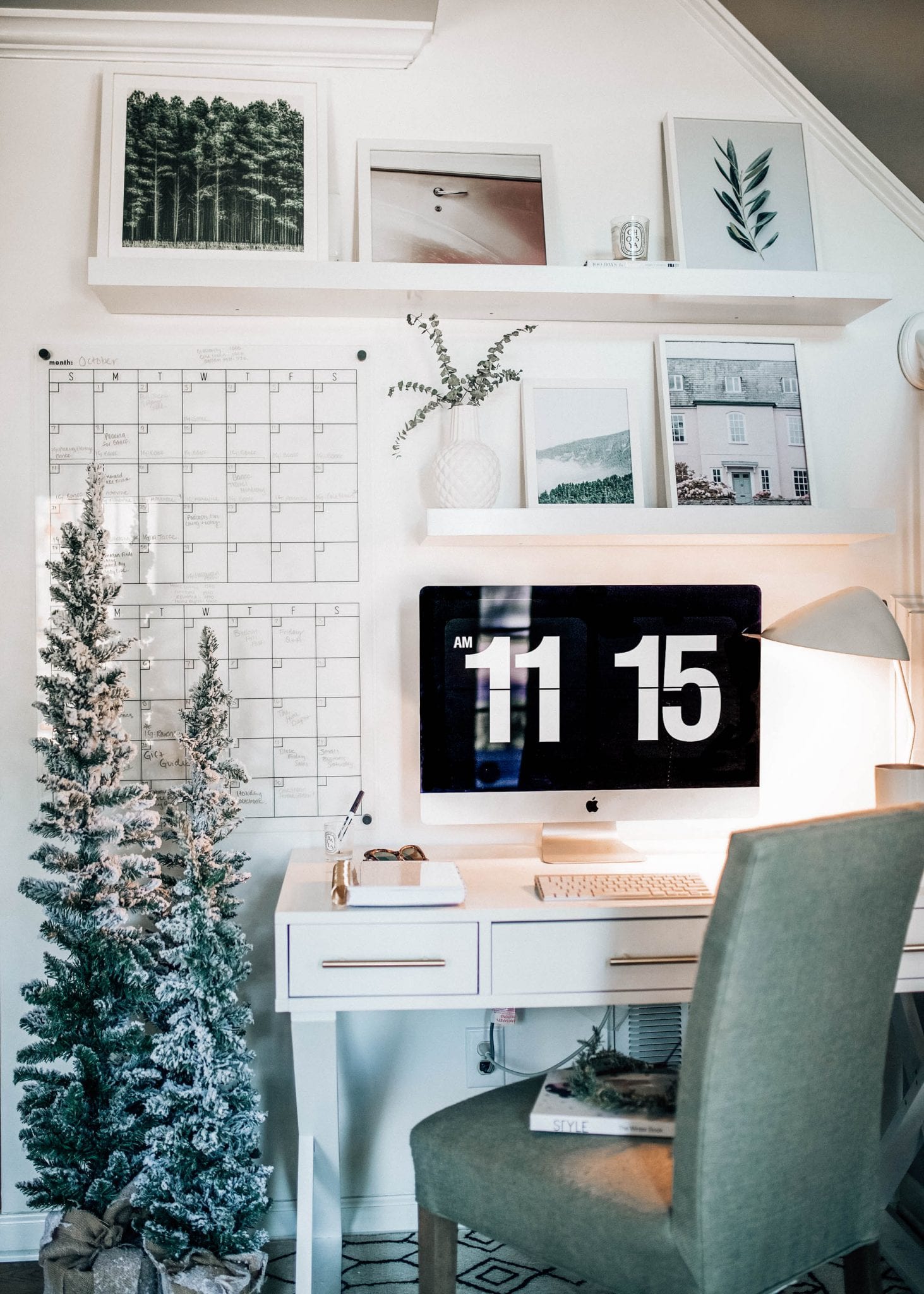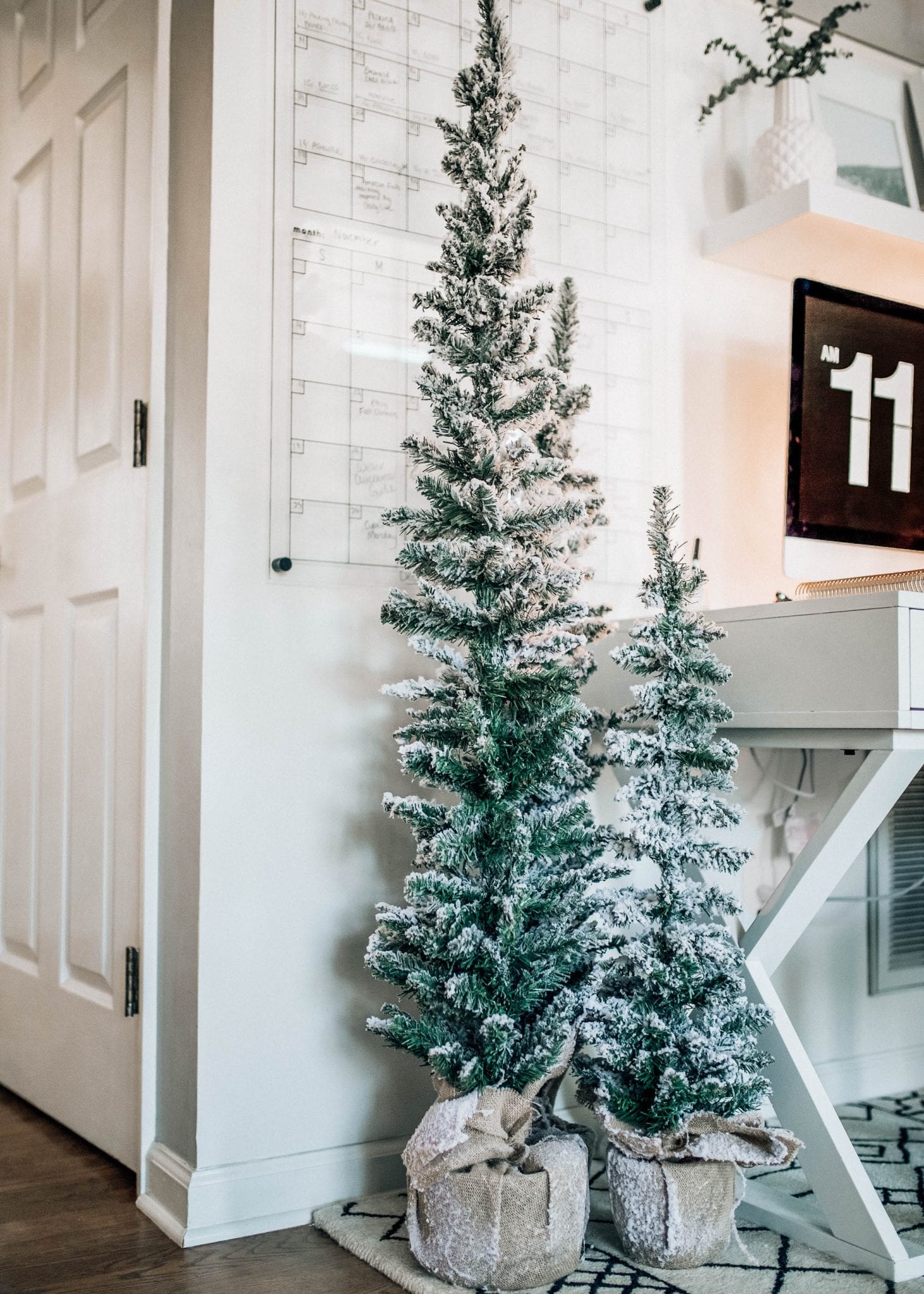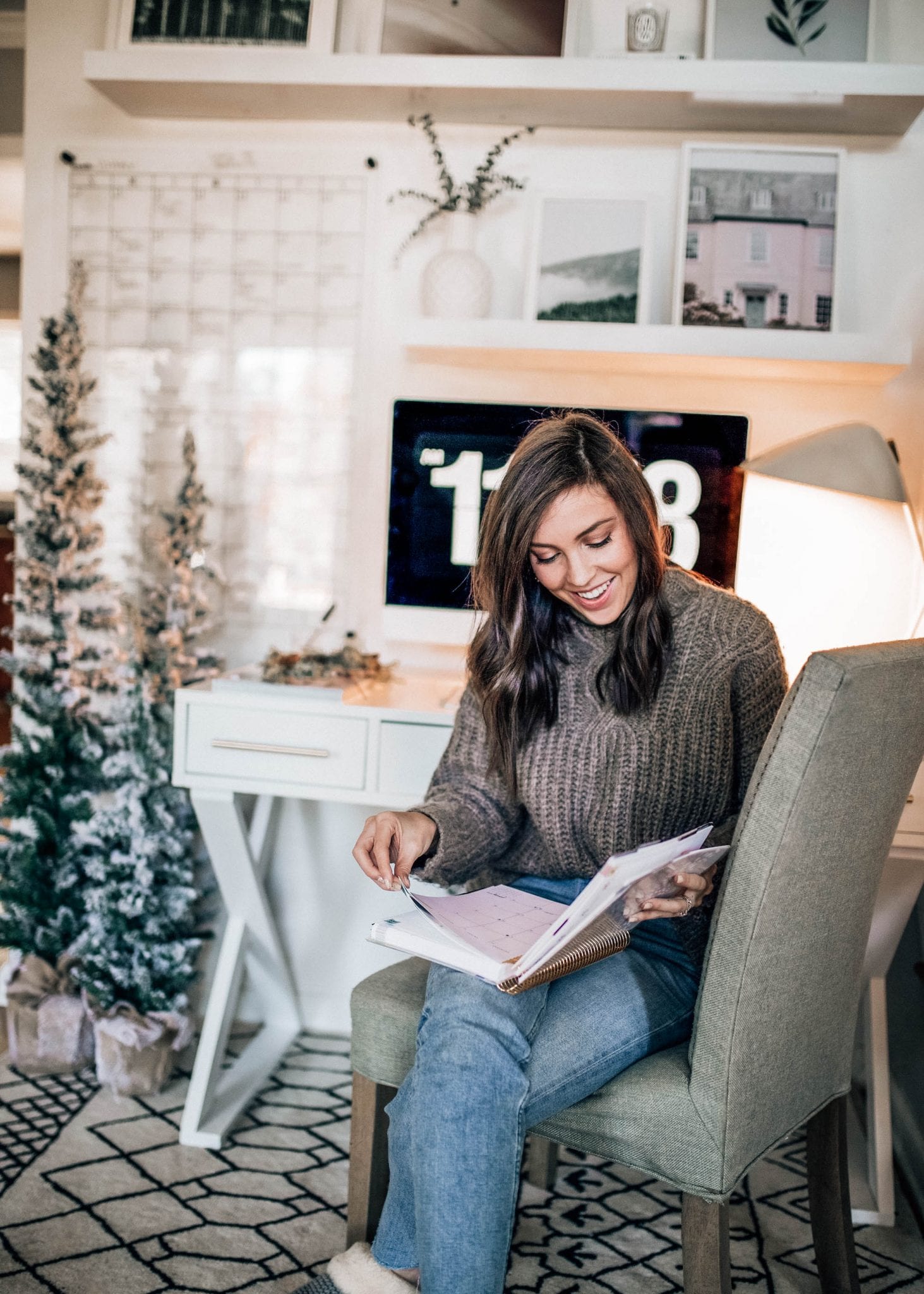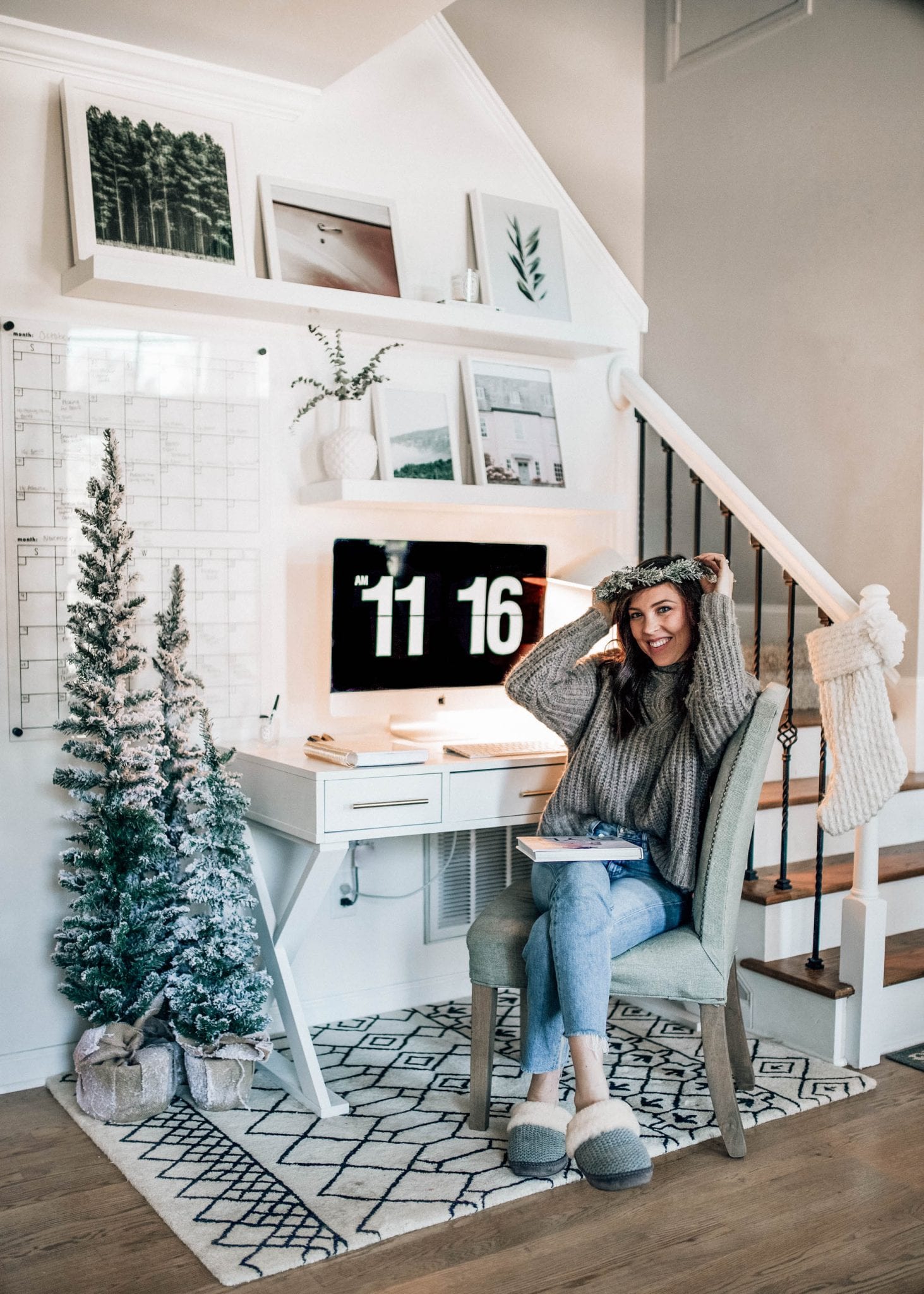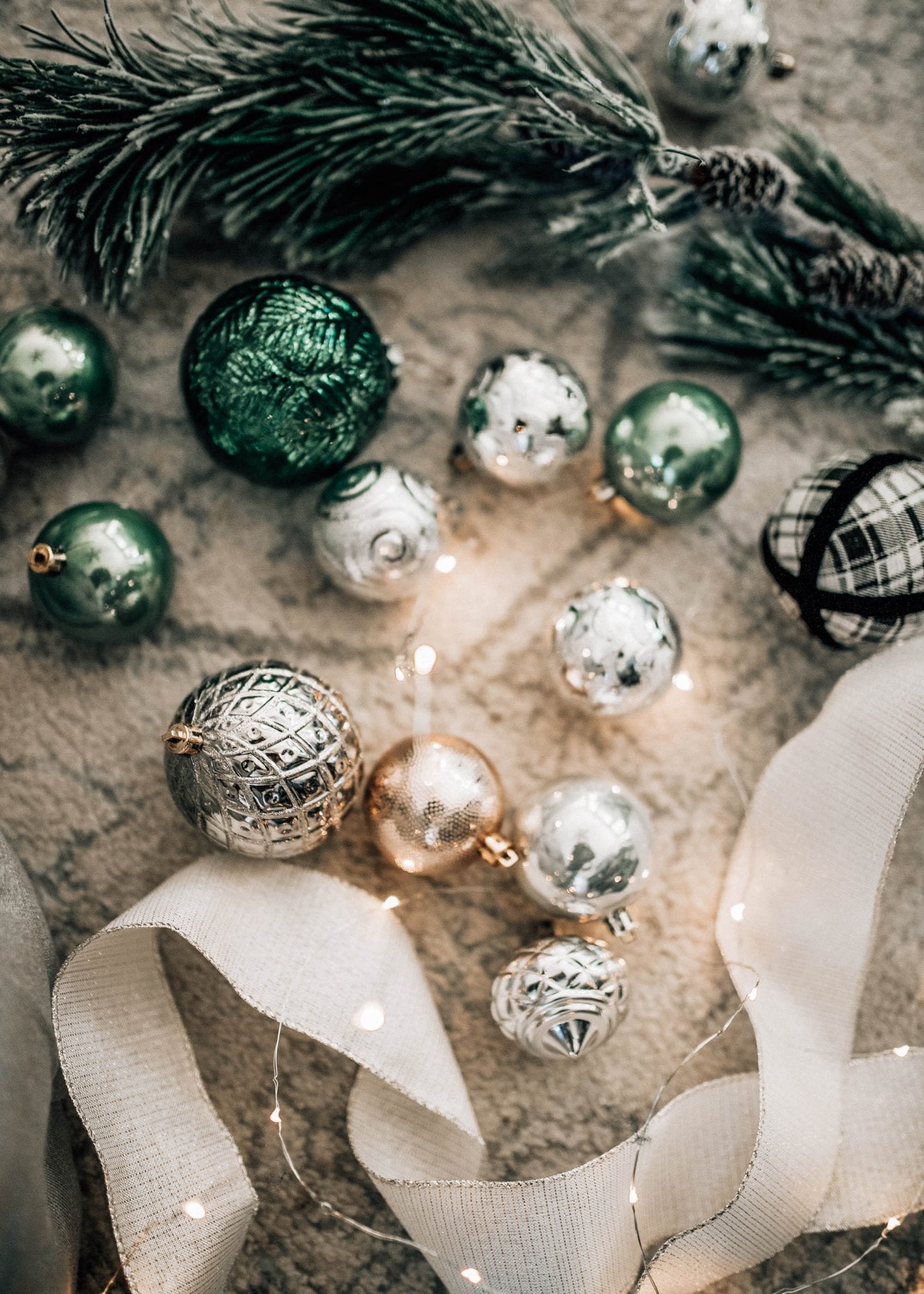 Last, but not least, is our bedroom tree. Adding a tree to the bedroom was probably one of the best decisions I've made all year. There is nothing like getting in bed early, turning off all of the lights, and reading a book or listening to calming music with the glow of Christmas lights. The tree we ended up getting for our bedroom is definitely unique though. It might look like your traditional artificial tree, but you can talk to this tree and tell it what type of lights you want meaning you can literally get in bed and not have to get up to turn it off… you just tell it "turn off". It's called the 7.5' Pre-Lit Light Command Christmas Tree. You can tell it to do "all white", "all-multi", "white fade" (my favorite), "white twinkle" and "multi twinkle", and a few others. For ornaments, we stuck to tans, browns, and other creamy neutrals. If you don't know what type of color scheme you want to use this year, take a look at At Home's Holiday HQ page here. The page includes different "Christmas Collections" depending on what your style is. You can go a colorful route with the Christmas Carnival collection, stick with whites with the Arctic Ice, do all blues with Winter Sky, and so many more. I picked ornaments from both the "Winter's Evergreen" collection and the "Holiday Glitz". You'll get SO inspired seeing all of the options and how everything is organized in the store.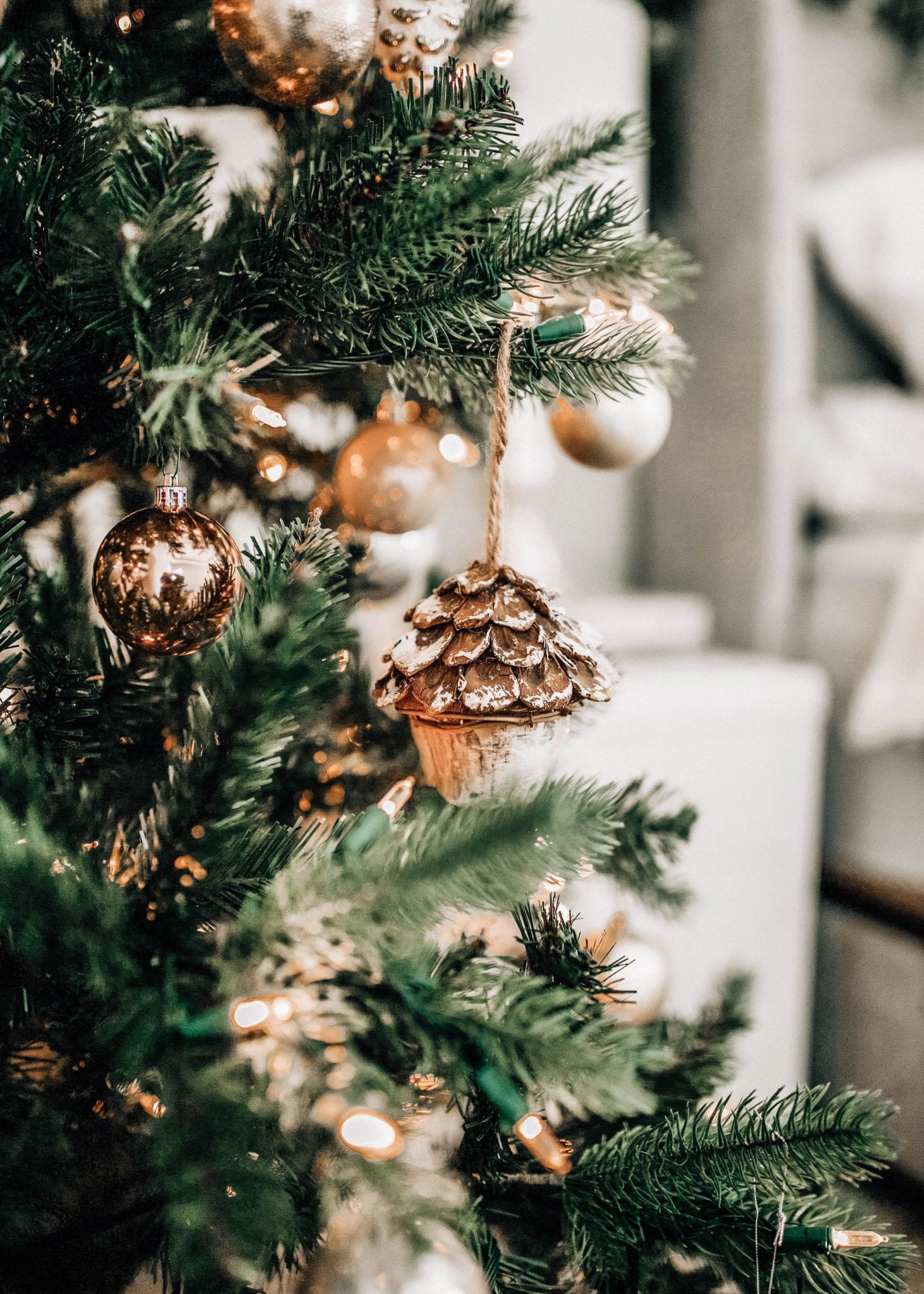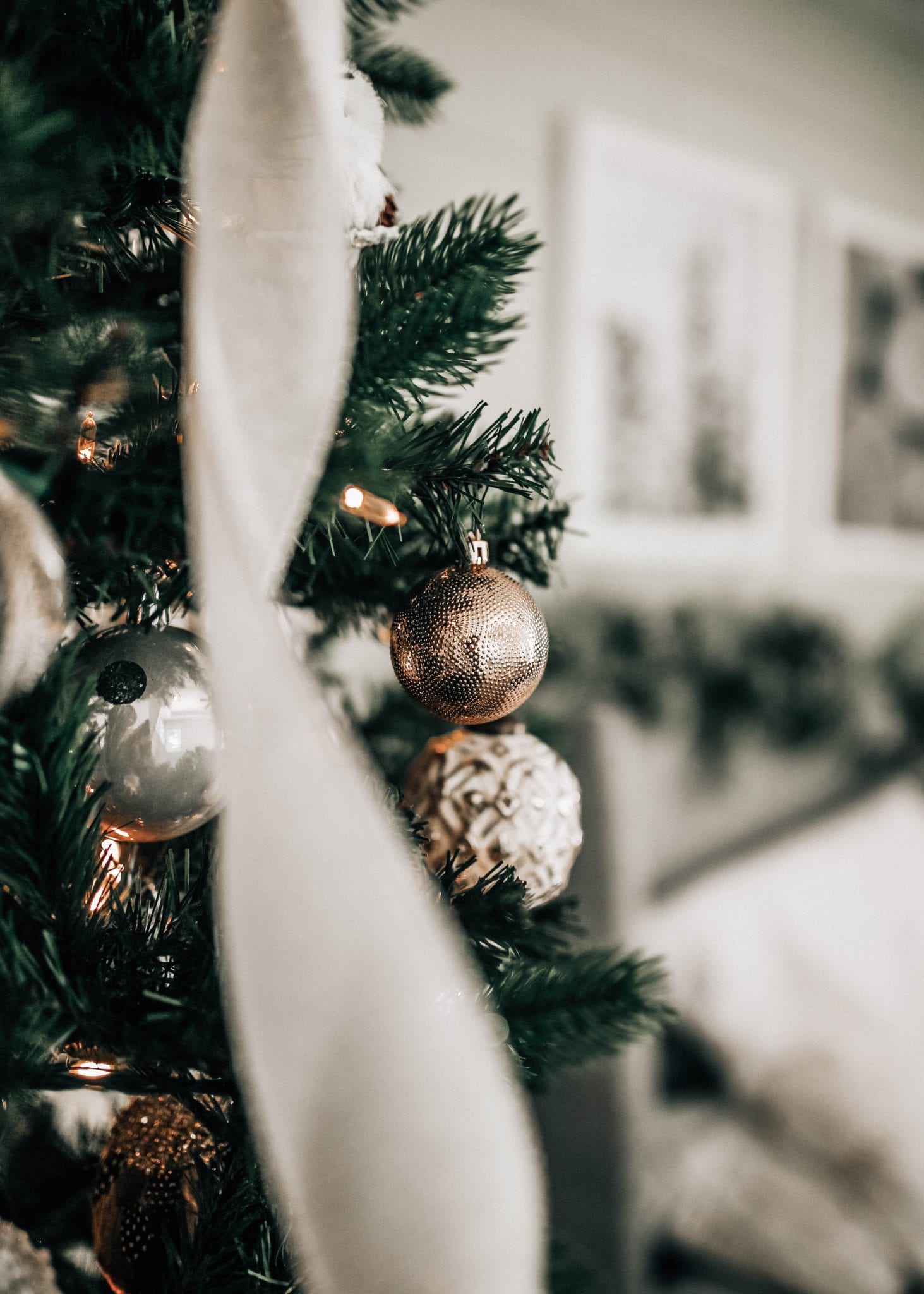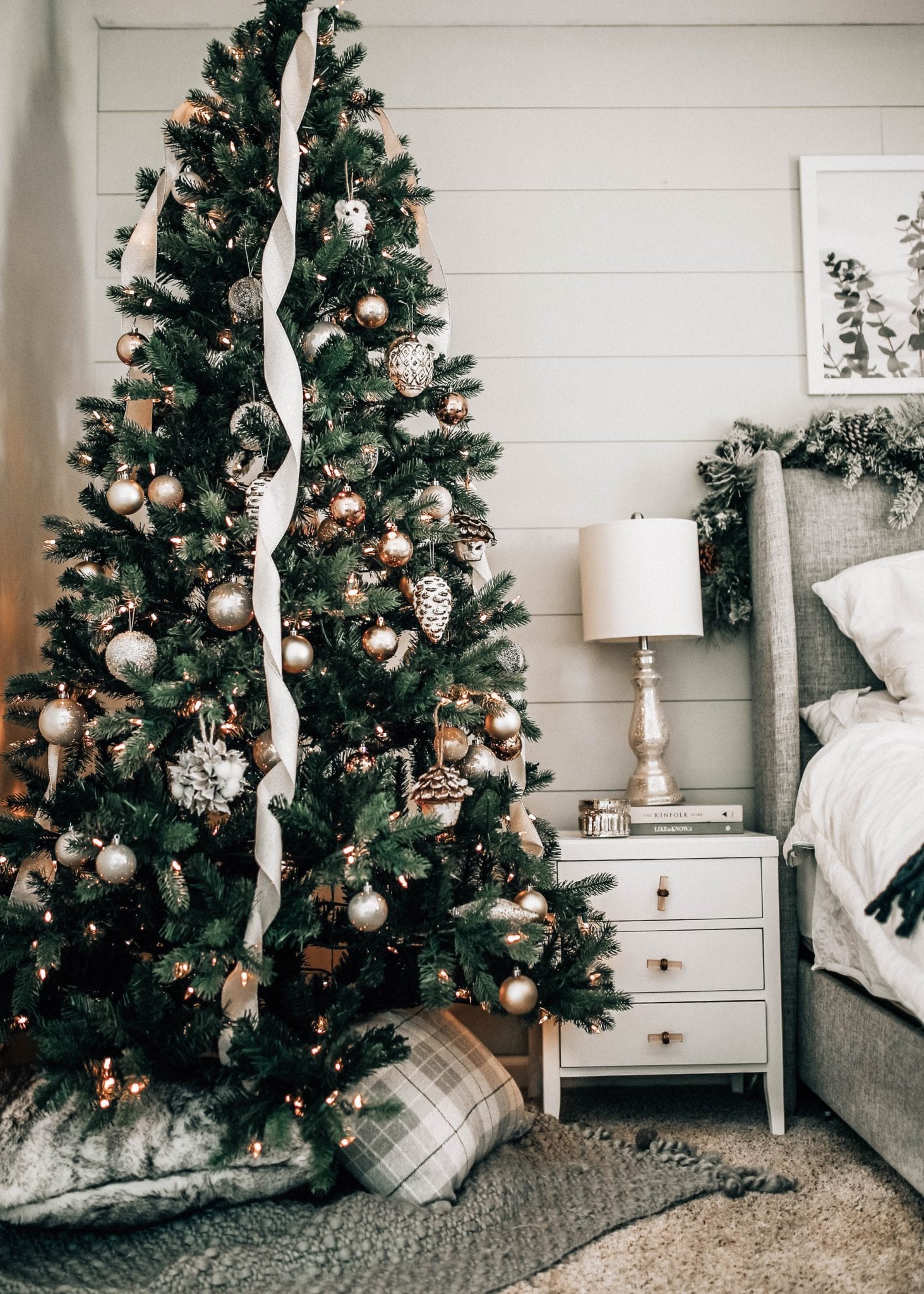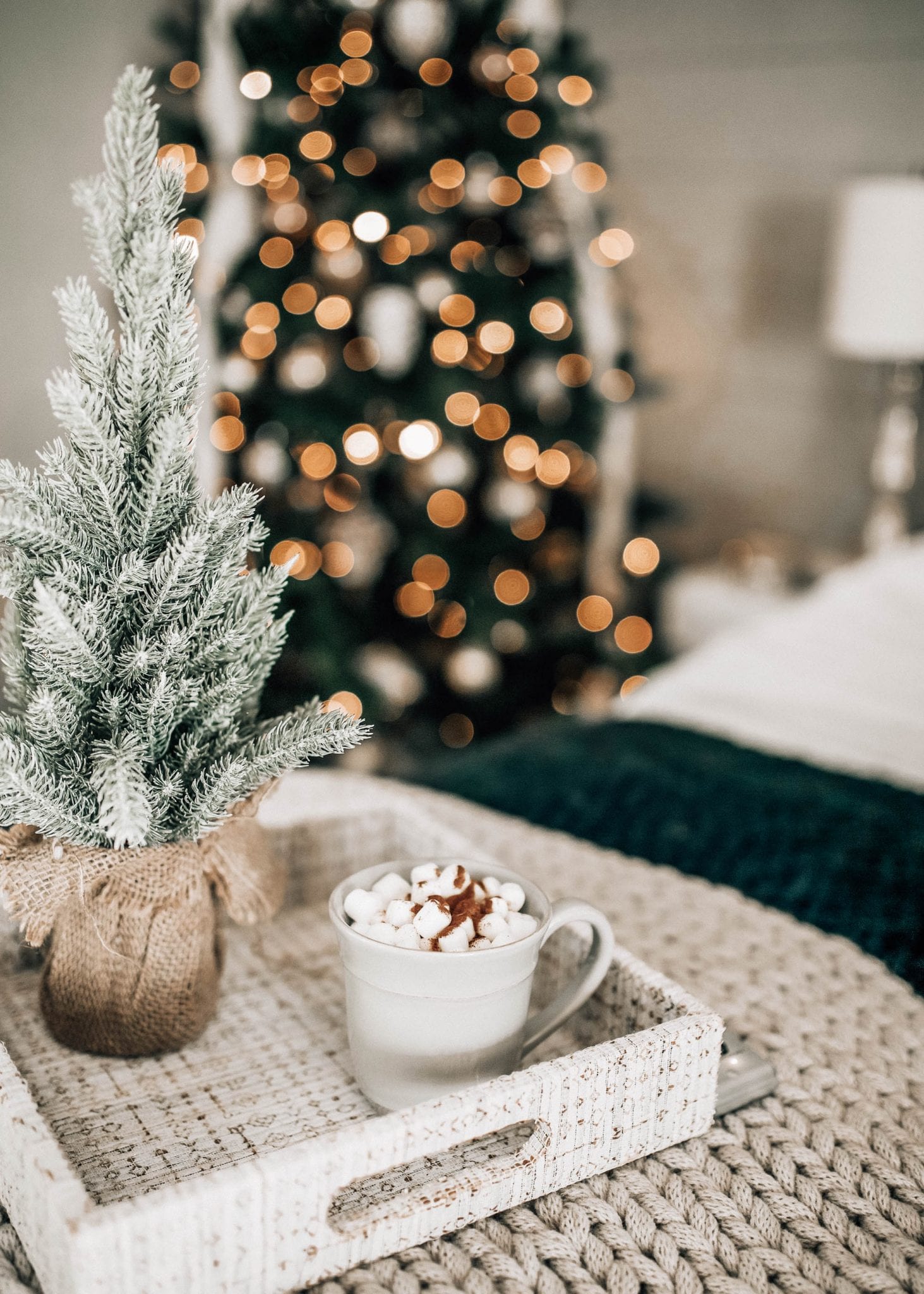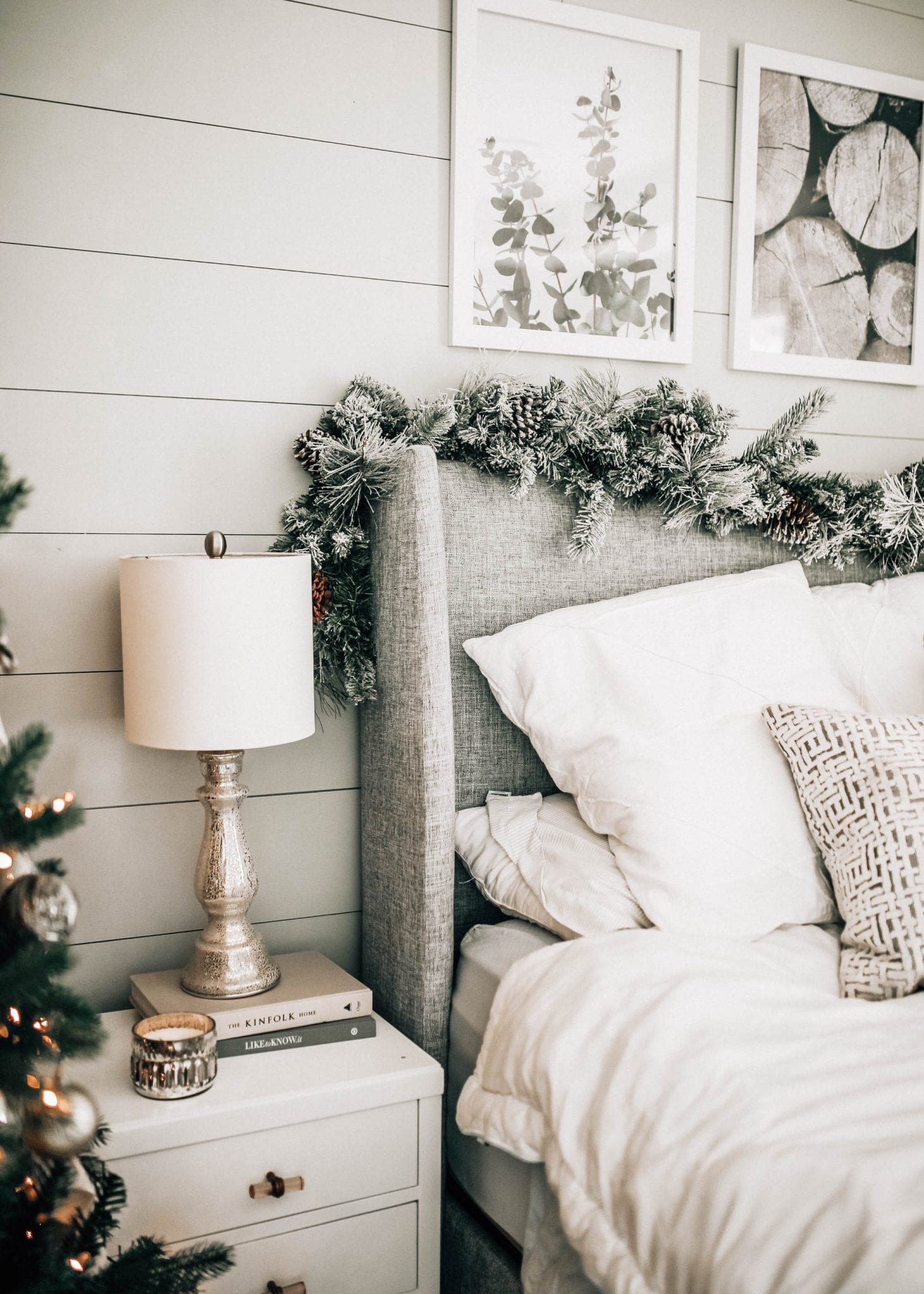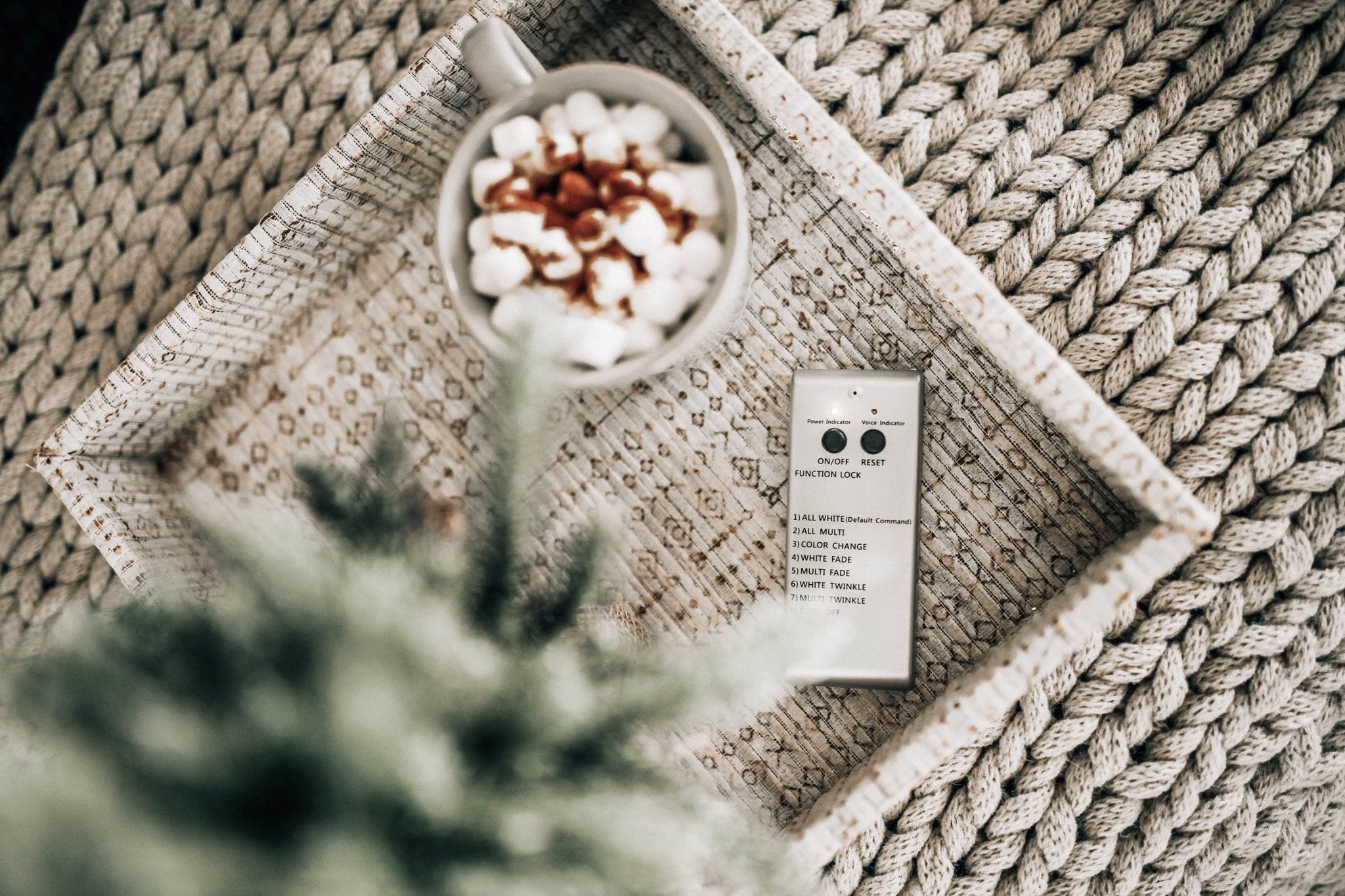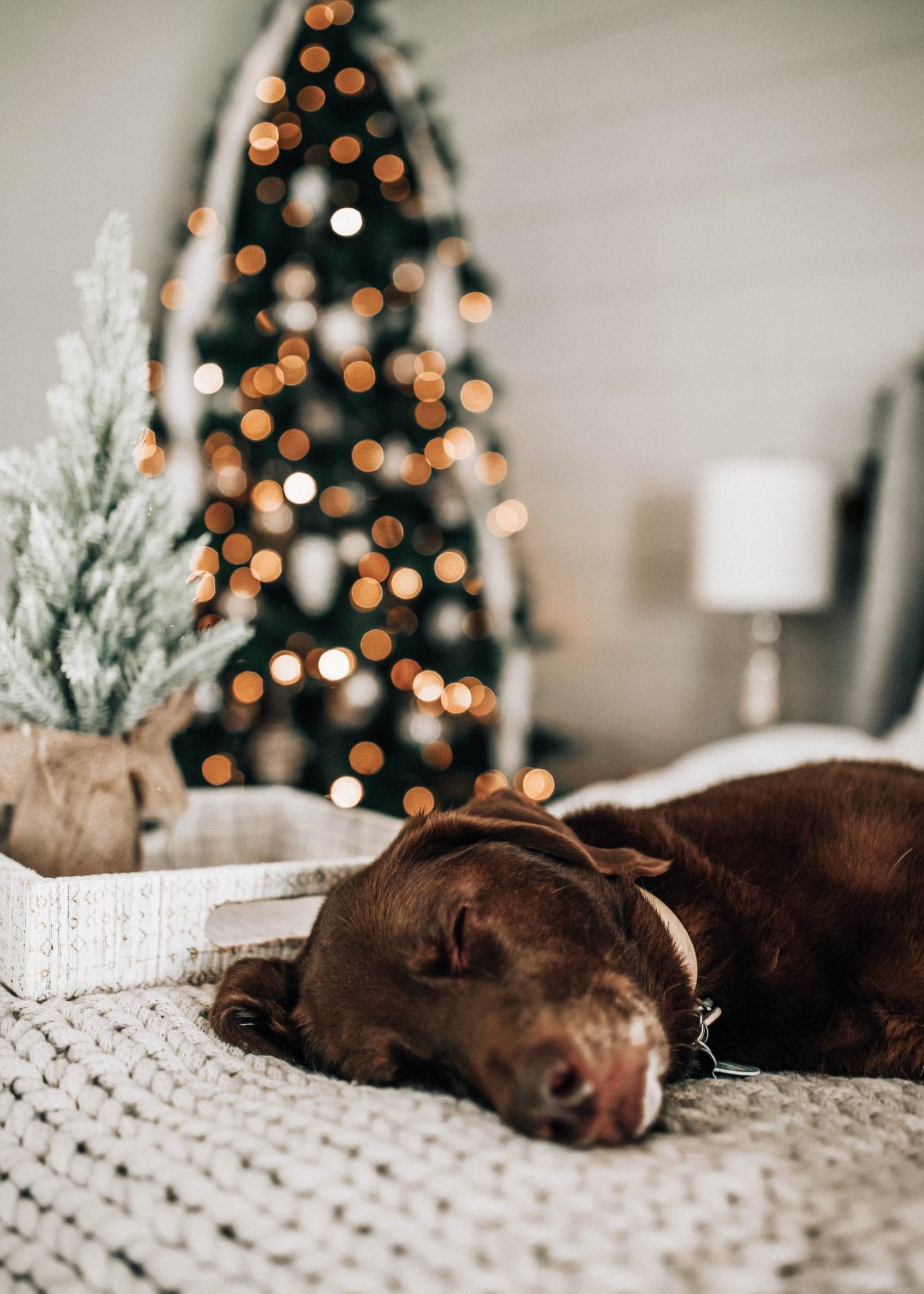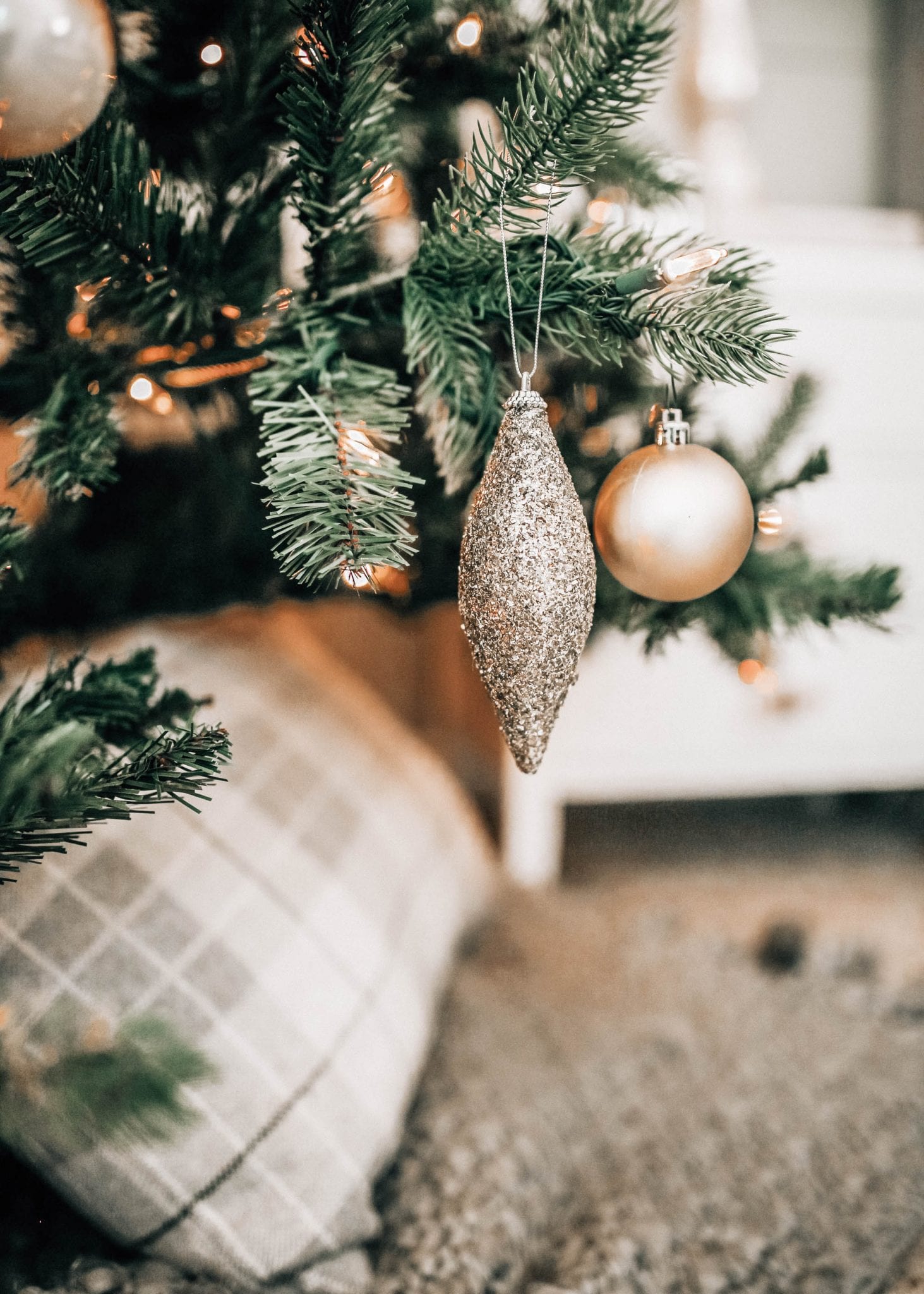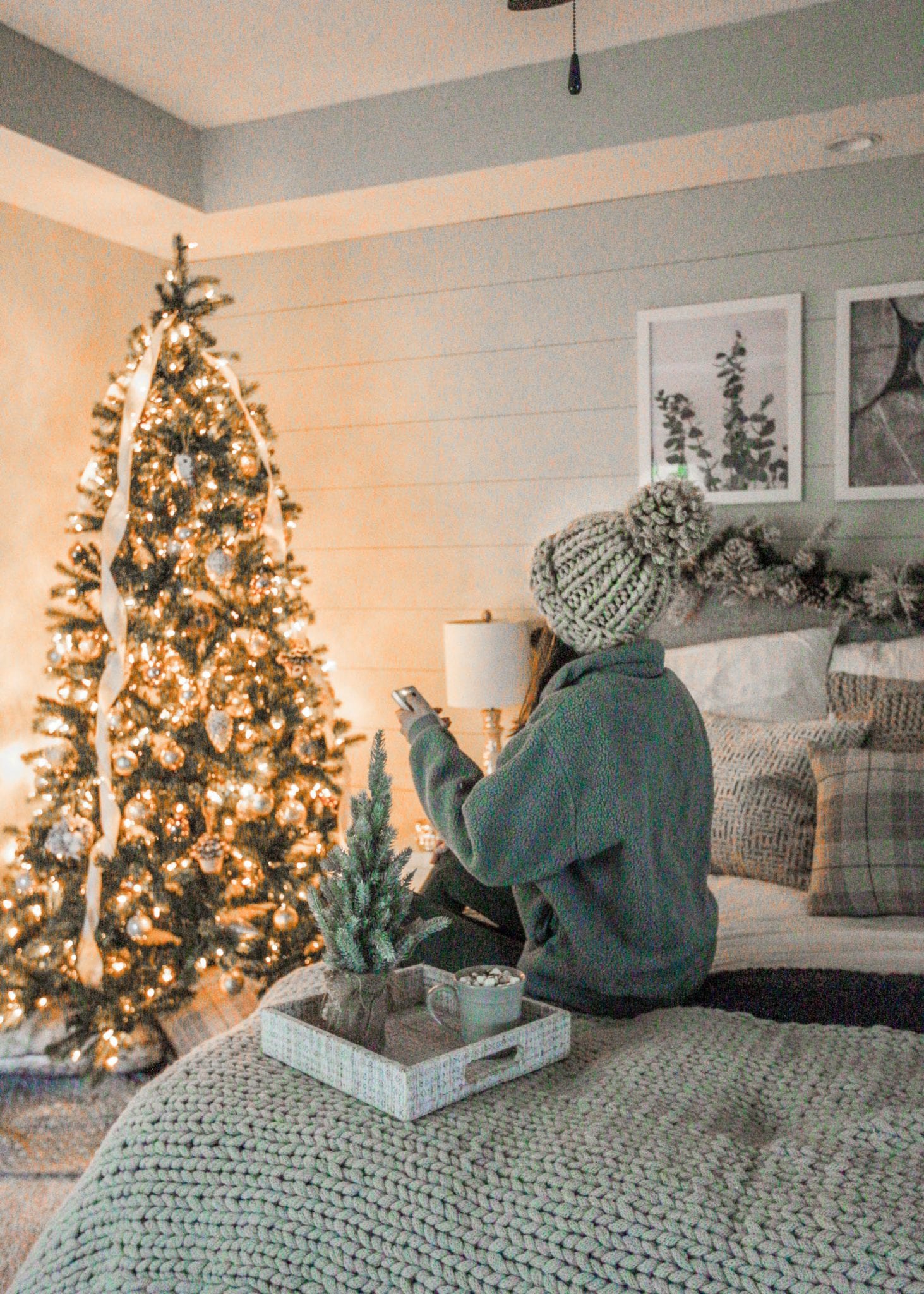 If you still have some decorating to do around the house, get inspired with all of the At Home Christmas Collections and, remember, there's no limit on how many trees can be in your home!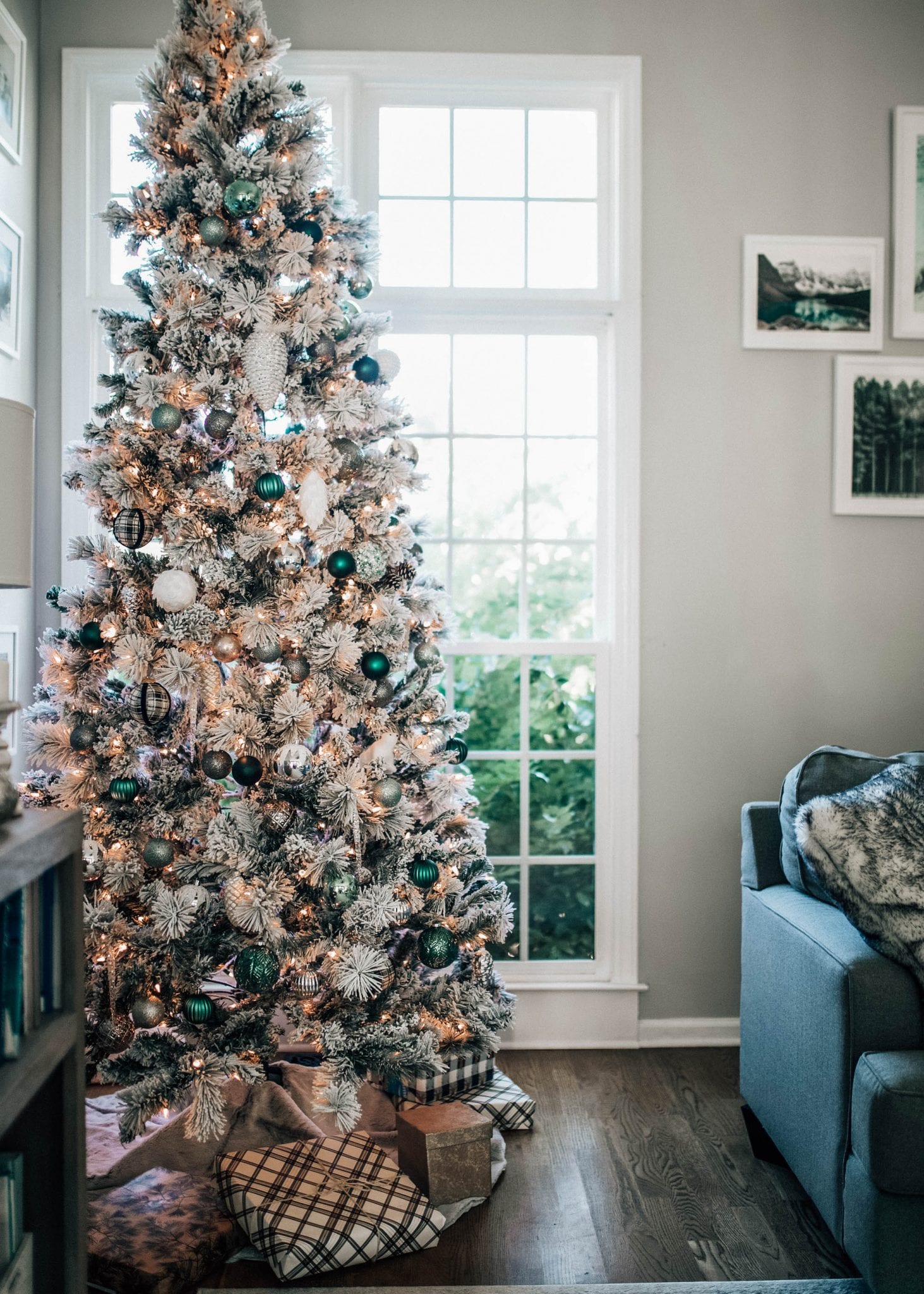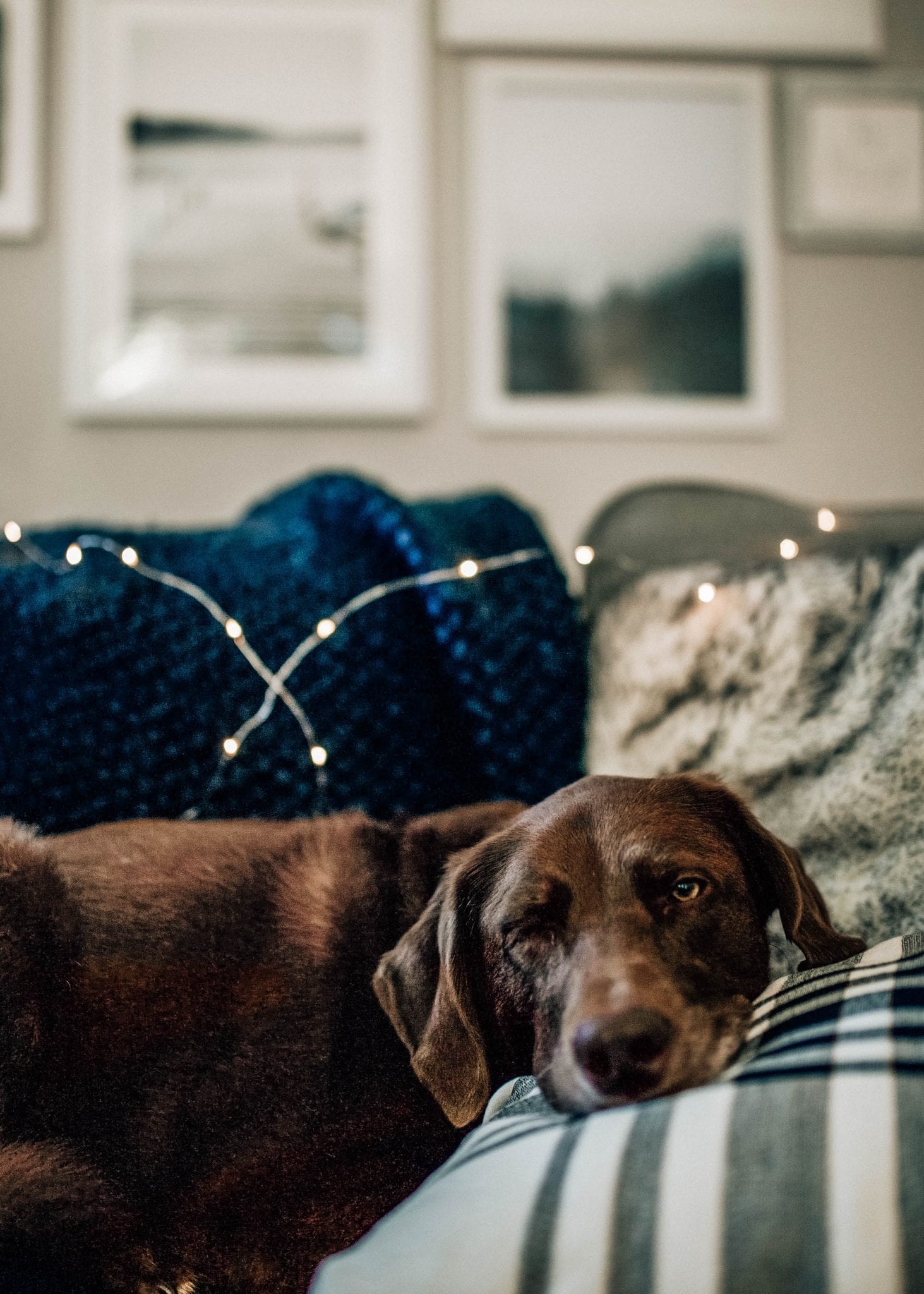 Thank you to At Home Stores for sponsoring this post.