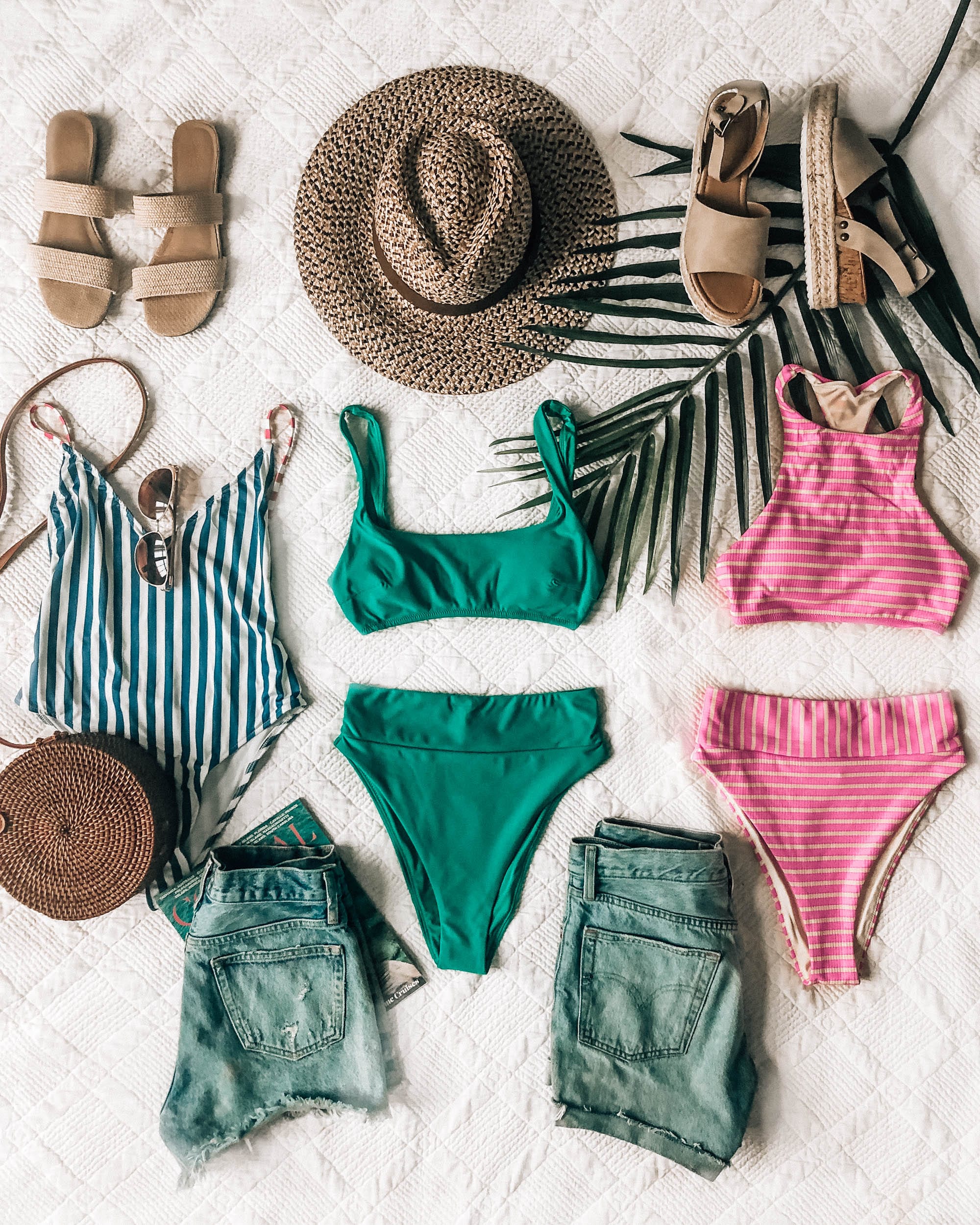 Despite what the weather looks like outside (and has looked like for what seems like weeks), my mind has been thinking about warmer places and browsing swimsuits online. Incase you missed it, I recently shared my vacation staples and while doing some research over the past few months/years, I've also come across some beach resorts that are on my radar for upcoming vacations whether that be this year or later down the road. I'll hopefully visit at least a couple in the upcoming year. Last weekend while my sister and brother-in-law were in town, they were asking me and TJ about whether or not we'd recommend Sugar Beach in St. Lucia, and it had me reminiscing about our time there! By the way, we would 180% recommend it and we plan to visit again one day! It was truly the most beautiful beach destination we've ever visited and I don't think any resort could ever top it. However, I'd love to visit some new countries since I've really only been to a few (DR, Canada, and Bahamas).

Some of these resorts are closer to home (Charleston) and some are as far as St. Barth, Puerto Rico, or Mexico. Note: this does not cover any in Europe – that would be impossible to narrow it down so I kept it to North America!

Wild Dunes Resort
Wild Dunes Resort is located on Isle of Palms right next to Charleston, SC and has been on my list to visit for years. We've visited downtown Charleston numerous times, especially leading up to our wedding, but haven't spent a ton of time on the surrounding beaches. This looks like a really relaxing and laid back oceanfront resort and would make the perfect long weekend escape! They have amenities for everyone – golf, spa, bikes, and more. Plus, I'm always craving Charleston food and this resort has several dining options but also is just a quick ride down to downtown.

The Pearl
The Pearl is located in the 30A area in Rosemary Beach, FL. 30A is the highway between Panama City and Destin so that is where the area gets its name incase you are unfamiliar like I was! Over the past couple of years, this area has become more and more popular and it's definitely on my list for 2019. The beaches look beautiful and apparently there are multiple neighborhoods within Rosemary Beach that are all connected by paths you can walk on with cars being restricted to alleys behind some of the homes. Anyways, The Pearl looks so charming, has a private beach with complimentary beach chairs and umbrellas, a spa, and has access to another large beach club where you can rent bikes, play golf, paddle-board, relax at adult only pools, and more.


Hamilton Princess
Bermuda has been on my travel list for a while now. While it's fairly close to North Carolina (2.5 hr flight from Charlotte), flights can be pricey so I've been watching for flight deals to pop up! Specifically, the Hamilton Princess hotel has been on my list and you can honestly just let the photos speak for themselves. It's a pink palace on a beautiful island with all of the amenities you can dream of and I can't wait to see it in person.

Serafina Beach Hotel
This one is located in Puerto Rico! My sister's boyfriend is from here and has convinced me to visit, especially with easy and direct flights from Raleigh. Old San Juan is such a colorful and vibrant downtown and I've heard everyone rave about the food so I'm thinking if we visit, we may split up the stay ½ downtown, ½ beach. This boutique hotel is located right on the beach and looks so chic. TJ and I prefer smaller hotels and this one looks like it's right up my alley.

Christopher St. Barth
St. Barth is BEAUTIFUL but I rarely hear about it. It has also been on my radar for the last couple of years but the island was totally devastated by Hurricane Irma back in 2017 and a lot of the resorts closed down for a while while they rebuilt. There are so many beautiful resorts I've seen but this one seems the most reasonably price-wise compared to some of the others with rooms starting at around $400/night (but, hey, if it fits in your budget then you should totally check out Le Barthelemy and Le Sereno because wow. Flights here are also very steep but I have seen some deals for around $500.
The Cove
This resort is located in Eleuthera in the Bahamas. I've heard from several people that Eleuthera is their favorite place they've ever visited… it's calming, beautiful, and gives a much more authentic Bahamian escape than other larger cities like Nassau. The Bahamas can also be very pricey but I think sometimes it can be worth it for a good trip… at least that's how we felt about our time in St. Lucia.


Sugar Beach Viceroy
Speaking of St. Lucia, we went here on our honeymoon but it was so perfect, we really want to go again. You can read more about our stay here. The resort has a private beach located right between two giant pitons that don't even look real and it's so dreamy… every detail down to the best hashbrowns in the world that can be delivered to your private villa when you wake up each morning. Truly bliss.


The Palms Hotel and Spa
I've never visited Miami but I feel like I need to one day… it's pretty easy to get to and the beaches look beautiful, not to mention there are SO many highly rated places to stay including this one.


Anywhere in Tulum
Okay, maybe not anywhere, but there are so many I'd love to visit in Tulum in Quintana Roo, Mexico. Coco Tulum, Hotelito Azul, Nest Tulum… They all look so unique and jungle-y. I feel like I could really get behind the lifestyle there too with all the juice, fresh & healthy food, and riding bikes down the street to go find your healthy food. 🙂

I'd love to hear if you're heading to a beach this spring or summer or if you have any specific resorts you've stayed at and would 100% recommend!
xo, Shelby