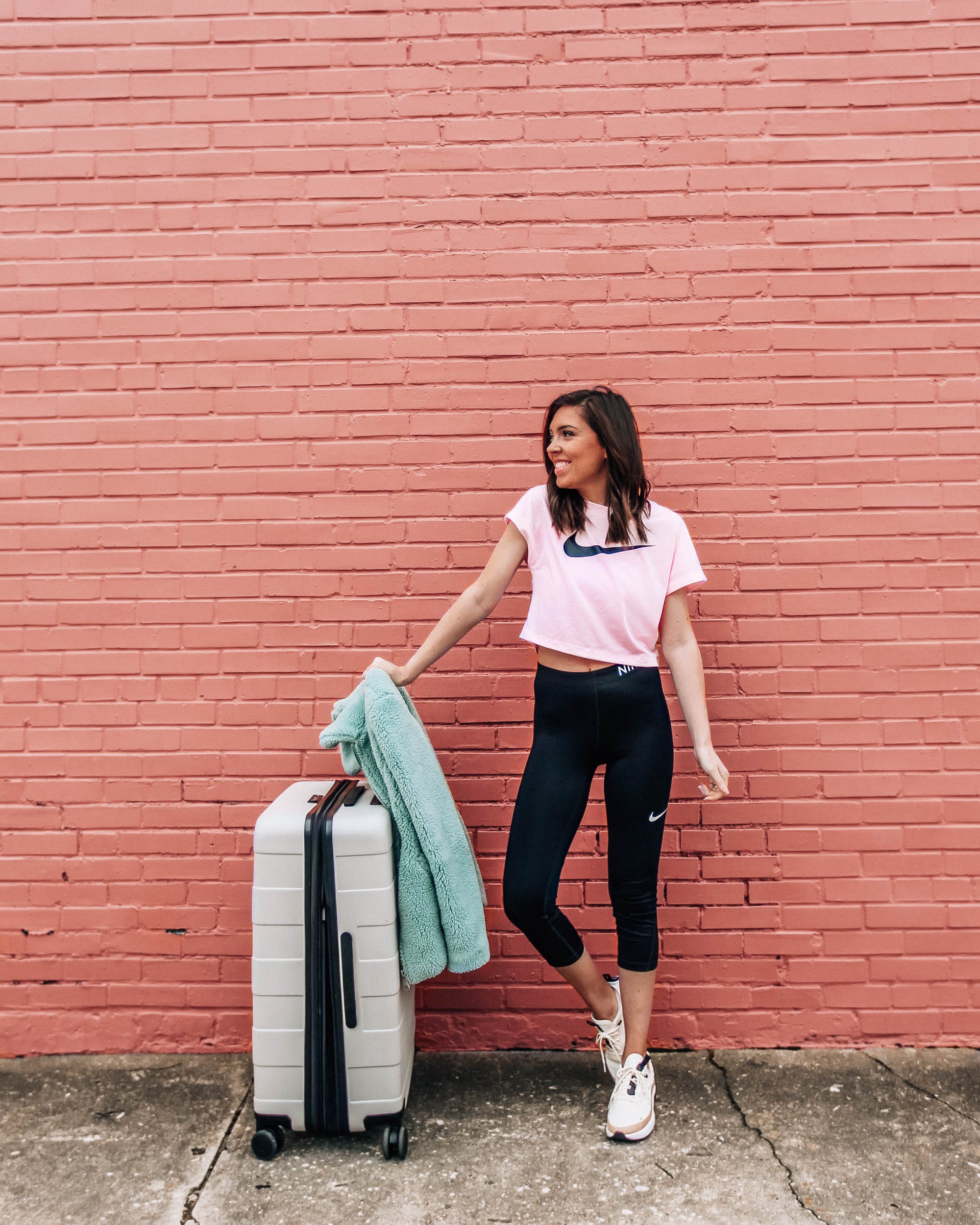 We arrived back home Friday morning and have spent most of this weekend cleaning up the house, unpacking, and making our usual Home Depot trips. It's been a while since I shared a 'Sunday 6' – six things I've recently purchased, found, read, and/or watched that I've been loving. I haven't purchased much new clothing lately since we're in that weird end-of-winter time of year but I'm hoping this will be the month that it warms up! Until then, we're trying to wrap up our "phase 1" of our kitchen projects which I'll hopefully share next week! Lots of 'learning experiences' happened today…. which is also the story of my life.

Let's get into the SIX:

1. Affordable Luggage

I mentioned that I'd give my review of my $99 suitcase from Target but, to be honest, I feel like I don't have too much to compare it to since I've never owned a hard-shell suitcase before. I've always just used my parent's hand-me-down suitcases but I finally just ended up buying this exact one after seeing and falling in love with it in Target back in December. Anyways, I had zero issues with it after traveling to Oregon last week. The quality seems good but, of course, it doesn't come with any extra features such as battery chargers, etc. The wheels swivel 360 degrees and the space feels huge (and it comes with one of those TSA locks). I'll have to update you on how it holds up after the next few trips but, overall, I'd recommend it for an under $100 large suitcase!

2. Duvet Cover Set

Another recent Target find… oops. But have you guys been inside Target lately? It's extra cute right now. Our white comforter needed an update thanks to our dog. It was gross but still super comfy so I didn't want to totally get rid of it. I've been loving this soft light pink duvet cover, especially for the price.
3. A gluten-free and dairy-free cookie brand.

I'm always trying to find ways to lower my dairy intake… I don't think I could ever say no feta cheese or mozzarella cheese BUT I can say no to dairy-filled desserts, especially since I found out about Sweet Loren's at my local Lowe's Foods. LAWD it's good. I don't understand how but these cookies are so. good. We are putting some in the oven tonight after dinner!
4. $25 Rainboots

I promise this is my last Target find… I mentioned on my stories a while back that I was eyeing a new pair of rainboots from Everlane. That was until I stumbled upon these at Target, which I 100% know is not the same quality-wise but I was pretty impressed with them after wearing them practically every day last week. They run true to size and are the perfect color that could go well with so many outfits.

5. Athletic Short Sleeve Crop Top
I found these $24 t-shirts while I was in Portland and they're perfect! I had been looking for some new basic athletic tops I can workout in and these are a good price, great quality, and look cute paired with high-waisted leggings!

6. A salad on repeat.

I have to give credit to Lex from Restoring Radiance (a food blogger I follow). She posted THIS salad one day about a month ago and life hasn't been the same since. We've been having this at least once a week and it includes all of my favorite ingredients: pine nuts, rotisserie chicken, roasted sweet potato, greens, goat cheese, and a delicious home-made dressing! It's so good. I literally just ate it while writing this.

That's all! I hope you all had a great weekend. I'm excited for March! I have a bunch of projects planned and just cannot wait for a new season just around the corner. In case you are looking for a new swimsuit, South Moon Under is having a 15% off SWIM sale for a limited time and they carry some of my favorite brands!