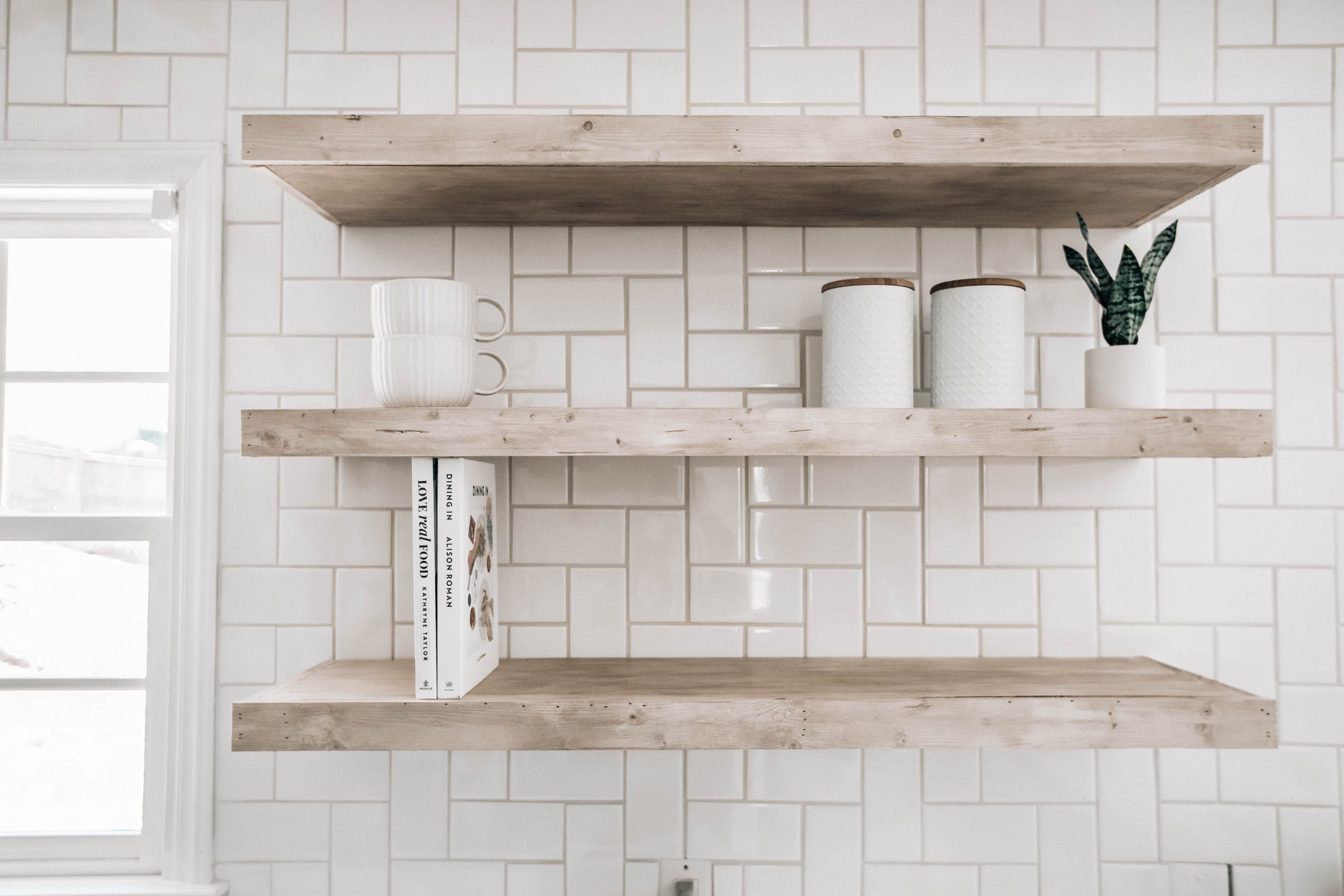 Our kitchen is still very much NOT complete and in a total construction mess (holes and outlets all out and about) but this post is alllll about the shelves… whether you want to be very brave and try and make them yourself OR just buy them! First, we'll discuss the easier route, shelves that you can simply buy and call it a day. Well, you'll still have to do some mounting but it will save you a lot of time. The exact shelves that I wanted to buy are these. With the quantity and the length I was looking for, they would cost close to $1000 and, with everything we're doing to our kitchen, we figured we could instead maybe make them and save at least $700 or so, especially since we already had the tools we needed.

I've purchased floating shelves before, specifically these for our office. I knew I didn't want to do white shelves again because our kitchen was already so white. I felt like it needed some wood to give it a warmer feeling.

Anyways, here are some floating shelves I like that you can just order online. The downside is you may be limited in customized sizes unless you're willing to pay more.


How We Made Our Floating Shelves (by TJ)

As we were adding our subway tile to the wall, we made sure to mark where the studs were so we knew where to anchor the shelves into the wall.
To build the base of the shelves, we began with three 1 x 2 boards, that we cut into three 46 inch long pieces that would serve as the base of each shelf (we decided to hang 3 total shelves). With the remaining 1 x 2 boards, we cut 10 inch pieces and screwed them into the 46 inch strips on both ends and the middle. See the photo below: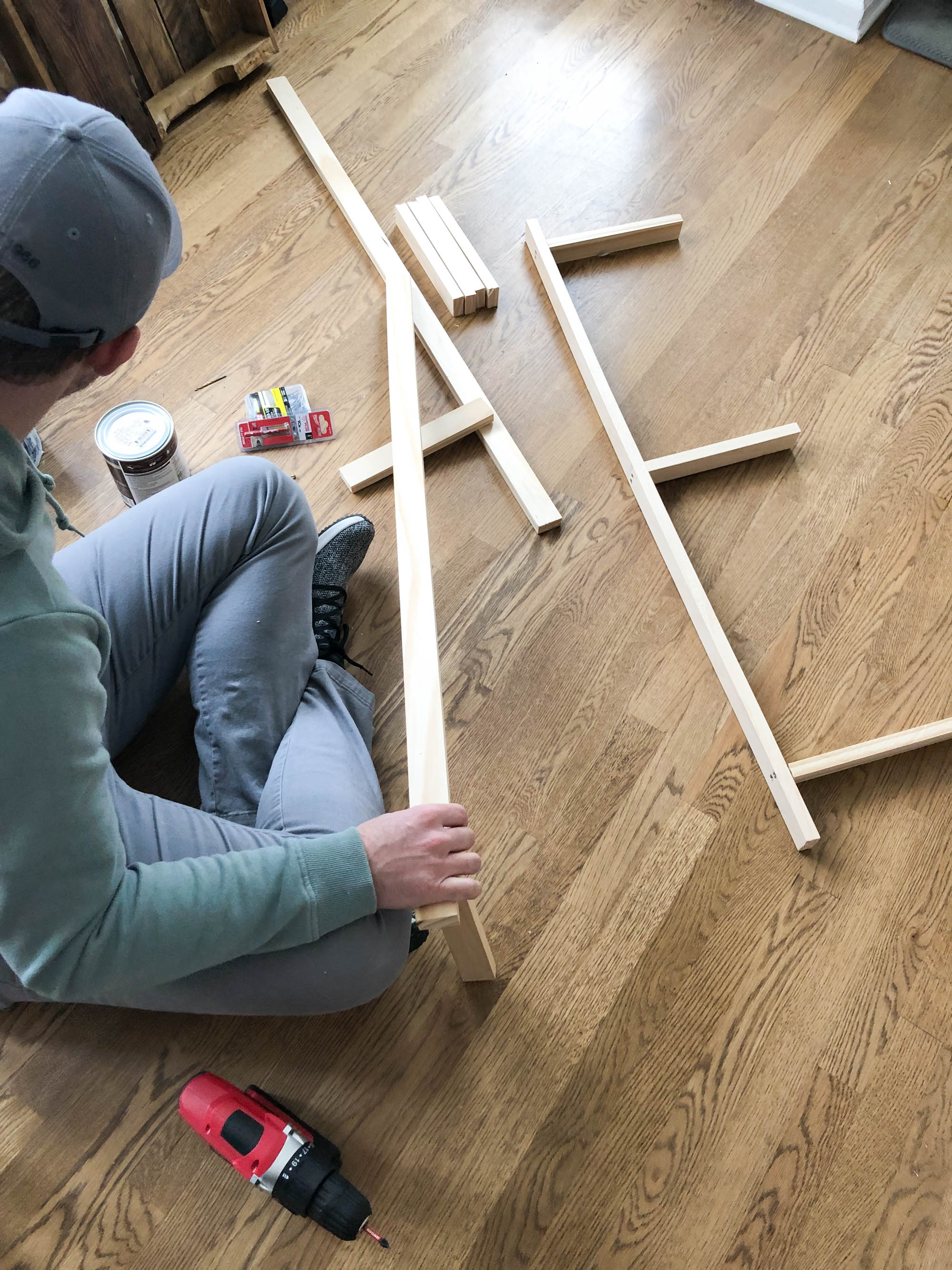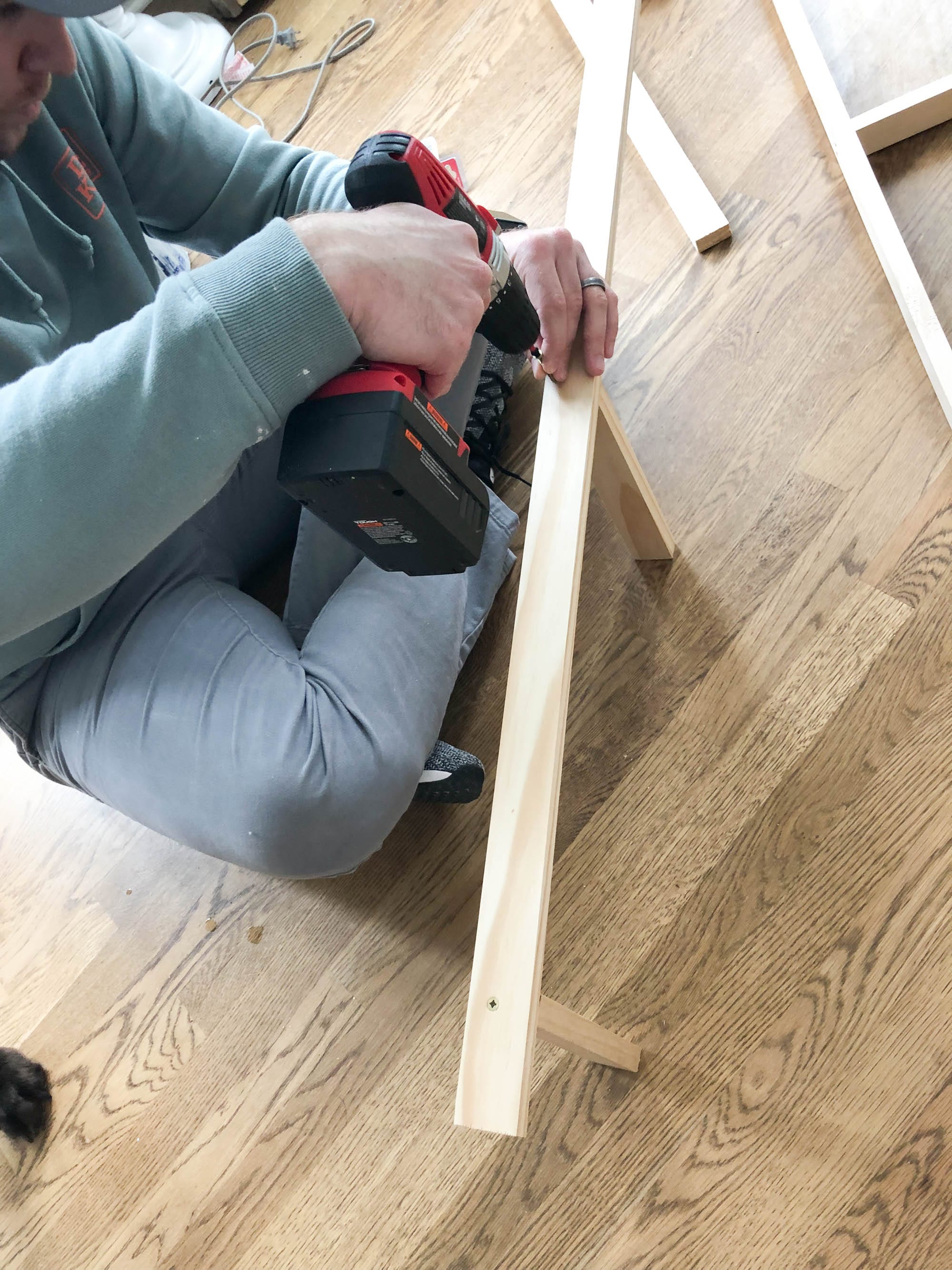 Once these boards were ready to be mounted we moved to the back splash. With the studs marked, we put notches where the boards would be screwed into the studs. In order to screw into the tile, we used a diamond tipped drill bit to drill down into the dry wall. Pro-tips: start at a 45 degree angle when drilling with the tile drill bit and then moved to a 90 degree angle. Also, the drill bit will get very hot, so keep a spray water bottle handy to cool the bit down.
Once we got through the tile, we used #10, 2 1/2 in. wood screws to stabilize the shelves on the wall. We kept the shelves about 11 inches apart. Make sure to use a level long enough to encompass the entire backbone of the shelf. With the backbone of the shelves anchored into the wall we began to build the actual box of the shelves. For this we used plywood, cut into sections to cover the backbone of the shelves. We used a little wood glue, as well as 18 gauge 1 1/2 inch brads (using this cordless brad nailer) to secure the plywood to the 1 x 2's. Shelby took over with the staining.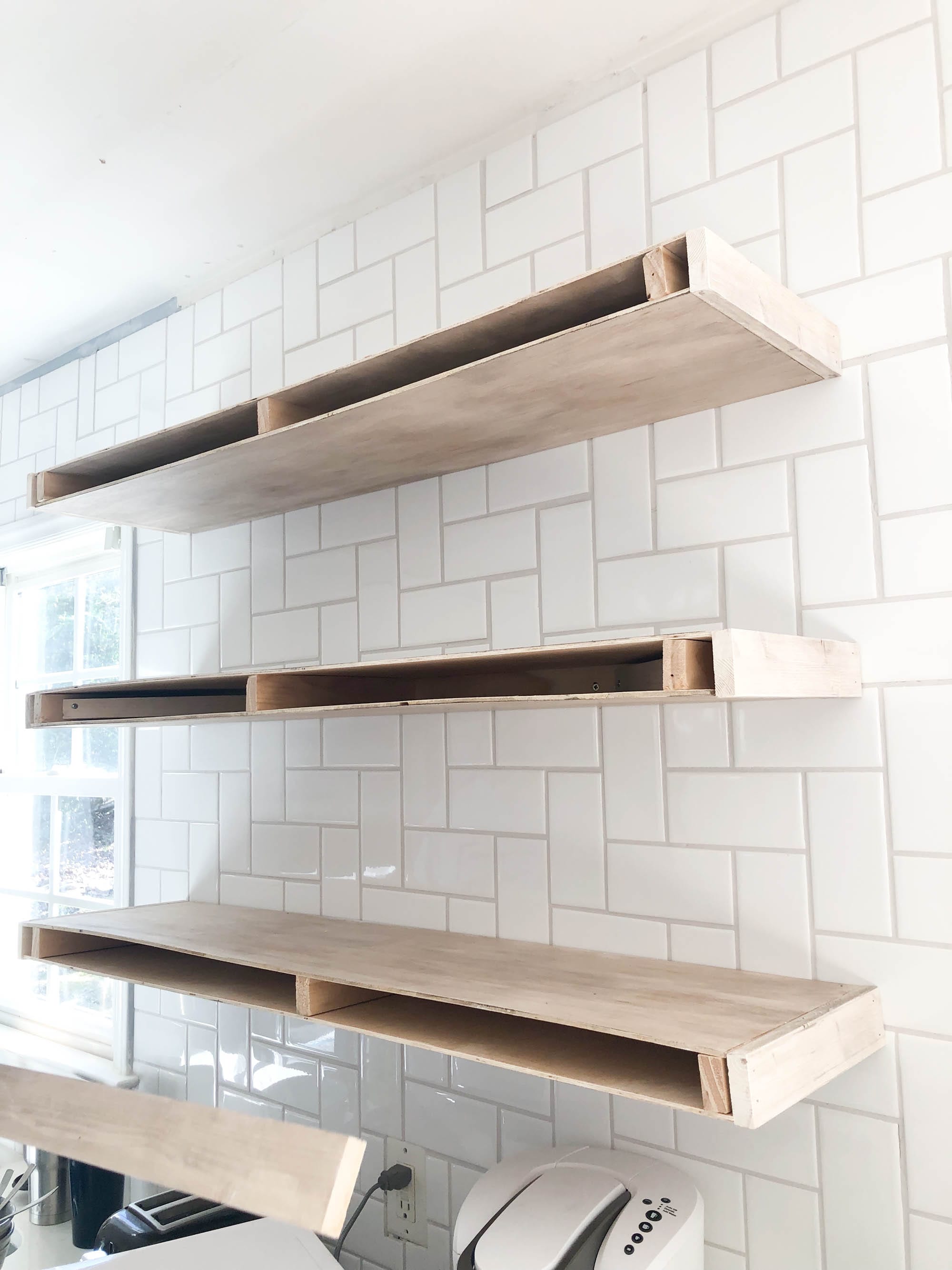 For the staining, I wanted to go with an almost unfinished look but with grey-ish driftwood tones. This was my first time staining with transparent stain so I learned a lot. In fact, I'd almost go back and do it all over again with the knowledge that I have now. I've stained our deck and our porch before but those were with solid color stains and you can't really mess those up.
With stain where you can see the grain of the wood through it, it gets a little more difficult, especially on plywood (birch). Birch plywood does not accept stain evenly so there are a few steps required beforehand so that it ends up looking less splotchy. First, sanding the wood and secondly, conditioning the wood before staining. I noticed a huge difference in how even the stain applied after using the wood conditioner. I shared more details in my 'Home Projects' highlight on Instagram (videos may be more helpful) but if you have any questions, let me know! I also started with this White Pickling Stain and then used this stain in Cordovan Brown (a super light layer of that).
I still have a few more steps in completing these shelves and that includes: filling the cracks in the sides where the plywood meets the real wood and filling a few of the tiny holes from the brad nails and sealing the top side of the shelves so that they don't get damaged.
… And a few basic things we wish we knew:
Staining plywood – must start with sanding and then wood conditioner before applying the stain.
Warping of plywood – do NOT use or buy warped plywood (which is unfortunately very commonly sold in stores). One of the sheets we used in the bottom shelf was almost too warped to use but it was too late so we had to go extra hard with the nailer. If you look closely, you can see we added nail after nail after nail into the bottom one.
Adding additional 10 inch sections of 1 x 2's to ensure stability.
I think that's about it! If you have any questions, don't hesitate to ask!
To give you a view of the cracks that need to be filled and where the plywood meets the front, here is a more detailed photo of looking up from underneath the shelves. I don't mind too much though because you can't see these unless you're at a really weird angle but just to give you a better idea.