We moved into our home almost a year and a half ago. One of the first pieces of furniture we ordered for the house was a dining table… but for the patio! Since we moved before spring, we wanted to be able to eat outside when guests would come over and there were just so many cute outdoor dining options on the internet that I thought surely I'd find an indoor dining table soon after. Well, that didn't happen and, for some reason, finding an indoor dining table was not easy for me. I knew I wanted something with thick light wood that had a casual feel to it since our house is more cozy than anything. I wanted a table that I could see ourselves using for years and years… one that would fit our home no matter where we live in in the future and maybe even eventually transition into more of a kitchen/breakfast nook table if we ever do decide to have a more formal dining room. About a year ago, I came across the Tavola Dining Table from Article. It comes in two colors and it is described as being an outdoor OR indoor table. I loved everything about it… the Scandinavian feel, how well-made it looked, and the thickness and natural driftwood color of the wood.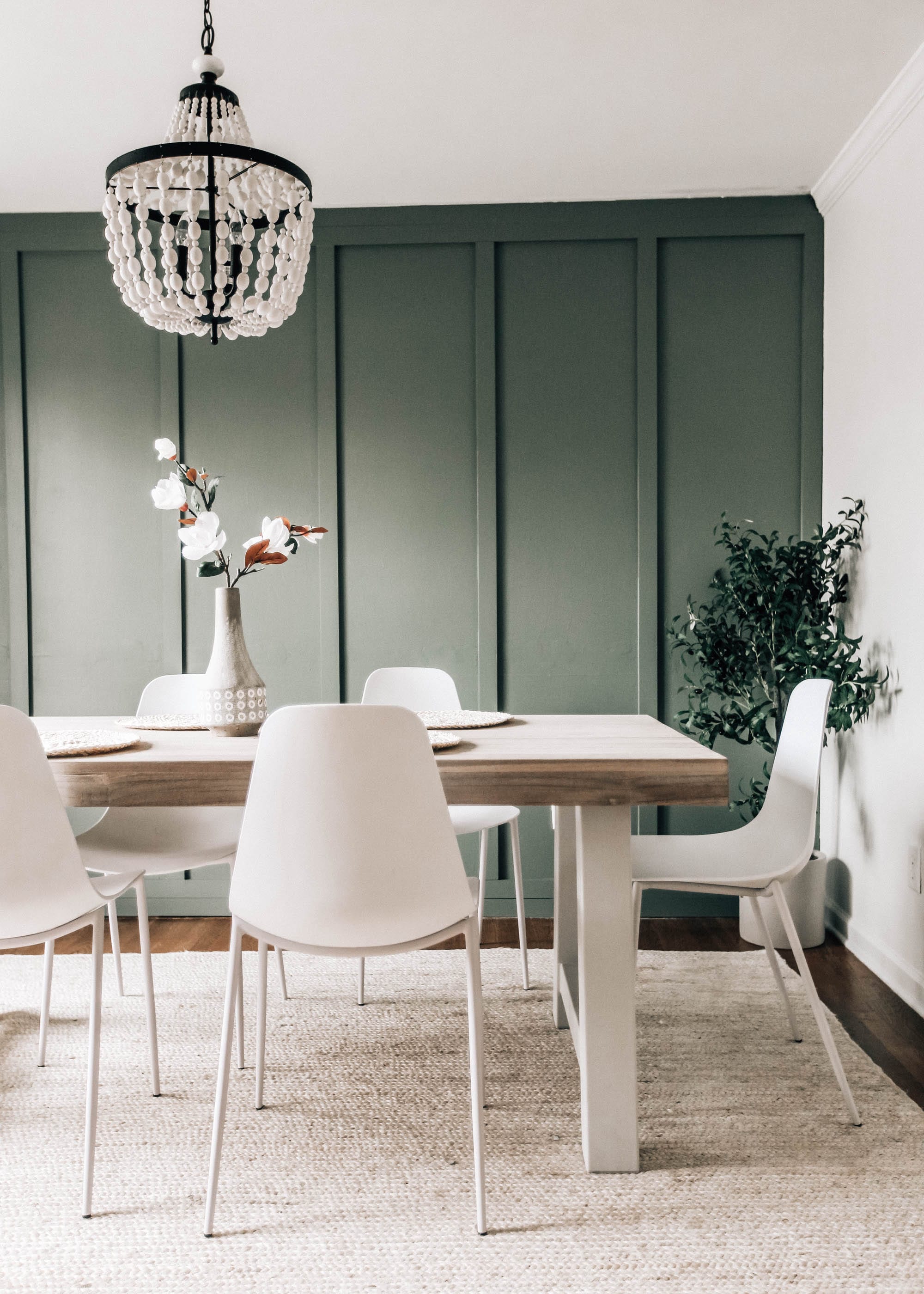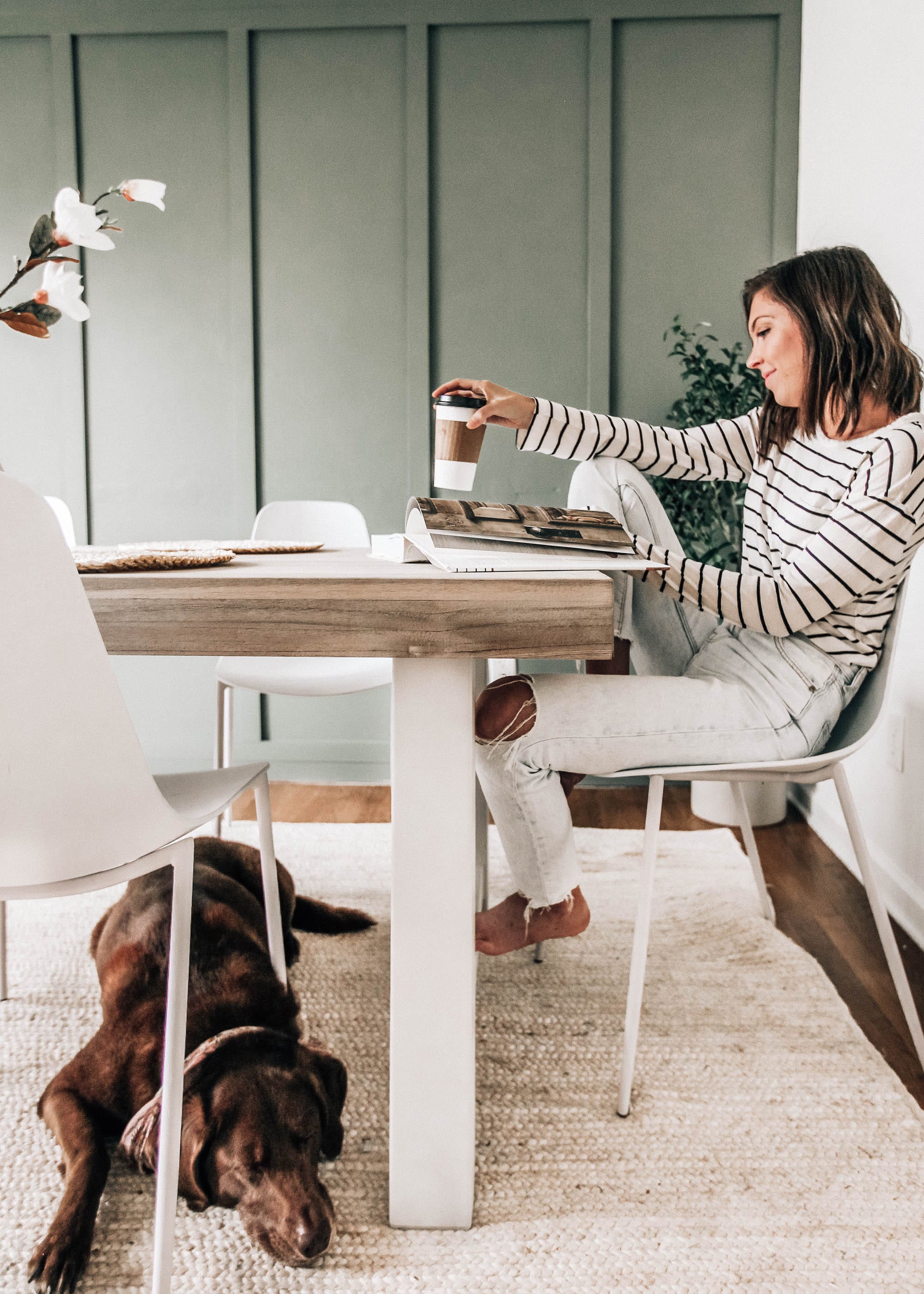 Probably a year had passed and I still had not found a table I loved more than the Tavola Dining Table. I figured it was a sign that it was "the one" and I finally decided to move forward with ordering it! It comes in several sizes but I wanted one that would fit 6 people. I had never ordered anything off of Article before so I wasn't sure what the experience would be like but we were really impressed! The table came within a couple weeks of ordering and I was able to schedule the exact day for it to come. We added the delivery and assembly option which TJ thought was the greatest thing ever since he's typically building things late into the night in our living room. Once the table was delivered, they assembled it within the next 30 or so minutes and voila! So easy. I decided to go ahead and order some dining room chairs from Article as well. I went with the $49 Svelti Dining Chairs which actually are available in 10 different colors. I just went with white and they are simple, budget-friendly, and make the space look very clean. They also match my white beaded chandelier. 🙂 Because they're made of polypropylene these dining chairs are also super easy to wipe down and keep clean.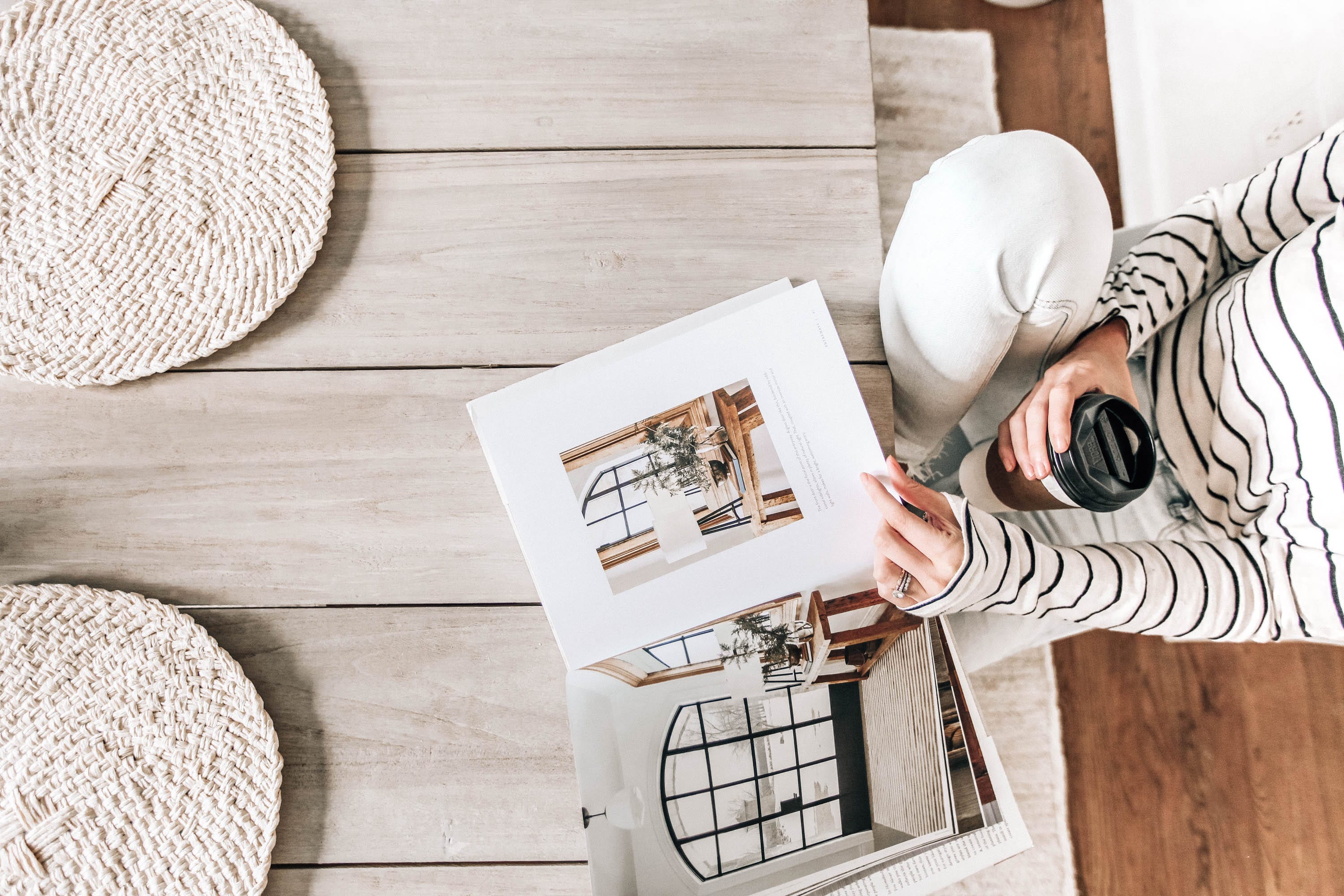 The first few nights we had our dining room table, we spent every single evening just sitting there listening to music until it was past our bedtime. We were in love with it! I don't even think we watched TV that entire week. I've even been working on my laptop there every day and it's become my favorite piece of furniture in the entire house. I do feel like I still have to be careful when it comes to spills though since the wood isn't sealed like other types of wood; however, it is topped with chemical-free naturally water-resistant teak (bonus that it's certifiably sourced). I did a lot of research on teak and it seems to have a lot of natural properties that make it one of the most durable types of wood for furniture. So this teak dining table really should stand the test of time.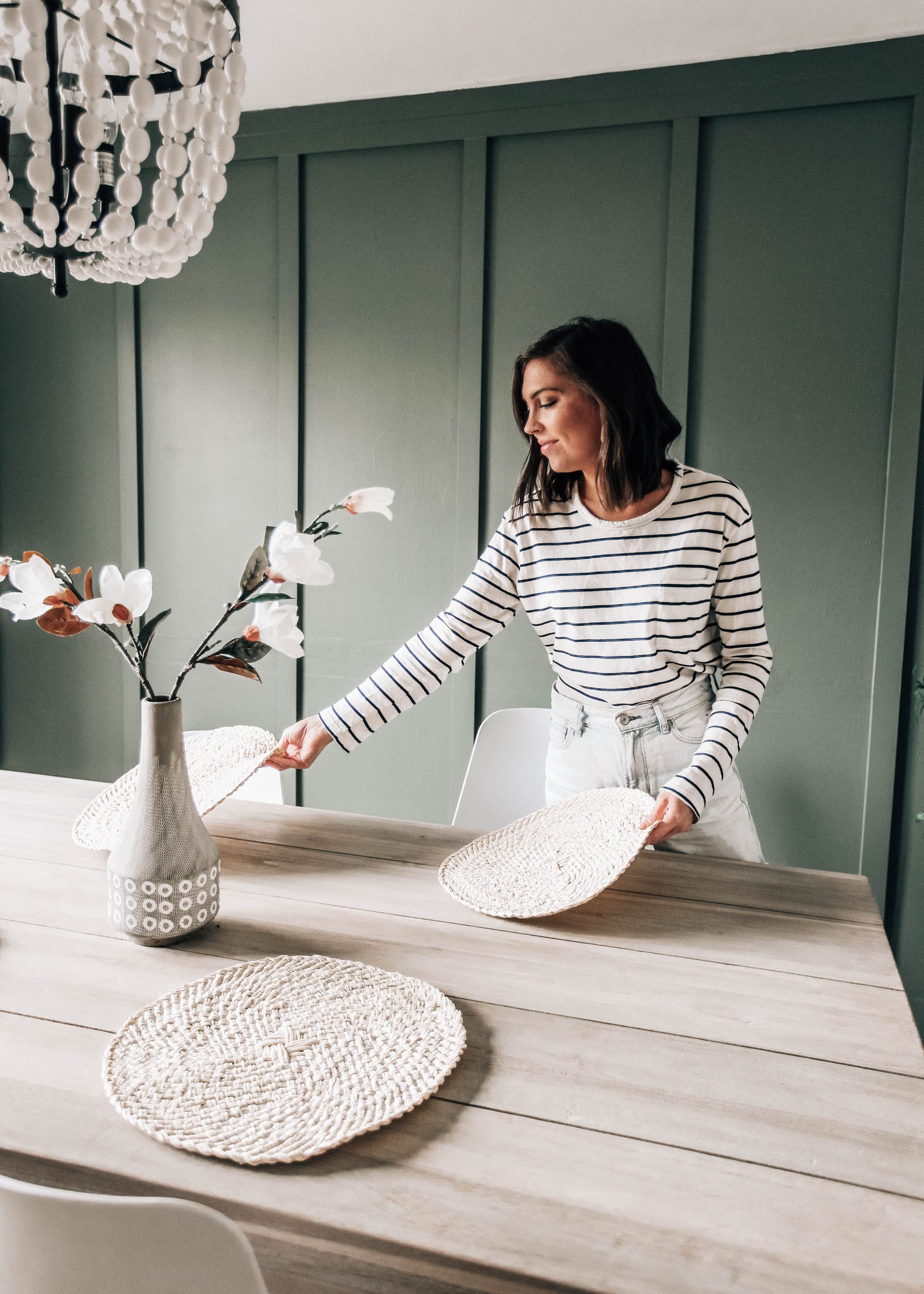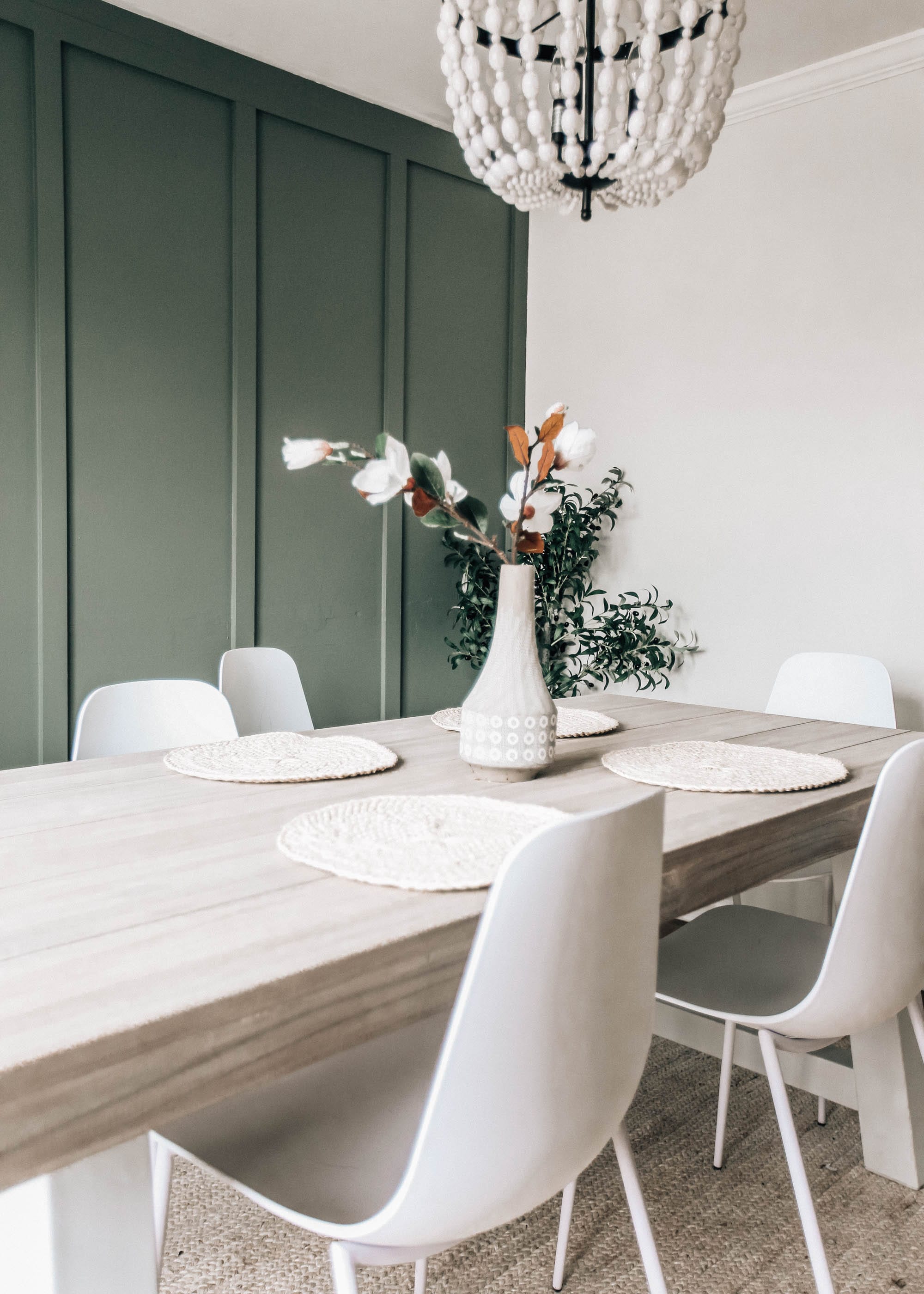 Anyways, it's been just over a month since we've had our dining table and I couldn't be more happy with it. My parents were over the other night for dinner and couldn't stop complimenting about it. If you follow along on my Instagram Stories, there is a highlight dedicated to this beauty where I shared a little bit of the delivery process. Another great thing about Article is that basic shipping is free for orders over $999 and a they offer a 30-day 'no questions asked' guarantee! We absolutely love the Tavola Dining Table and can't wait to use it for years to come.