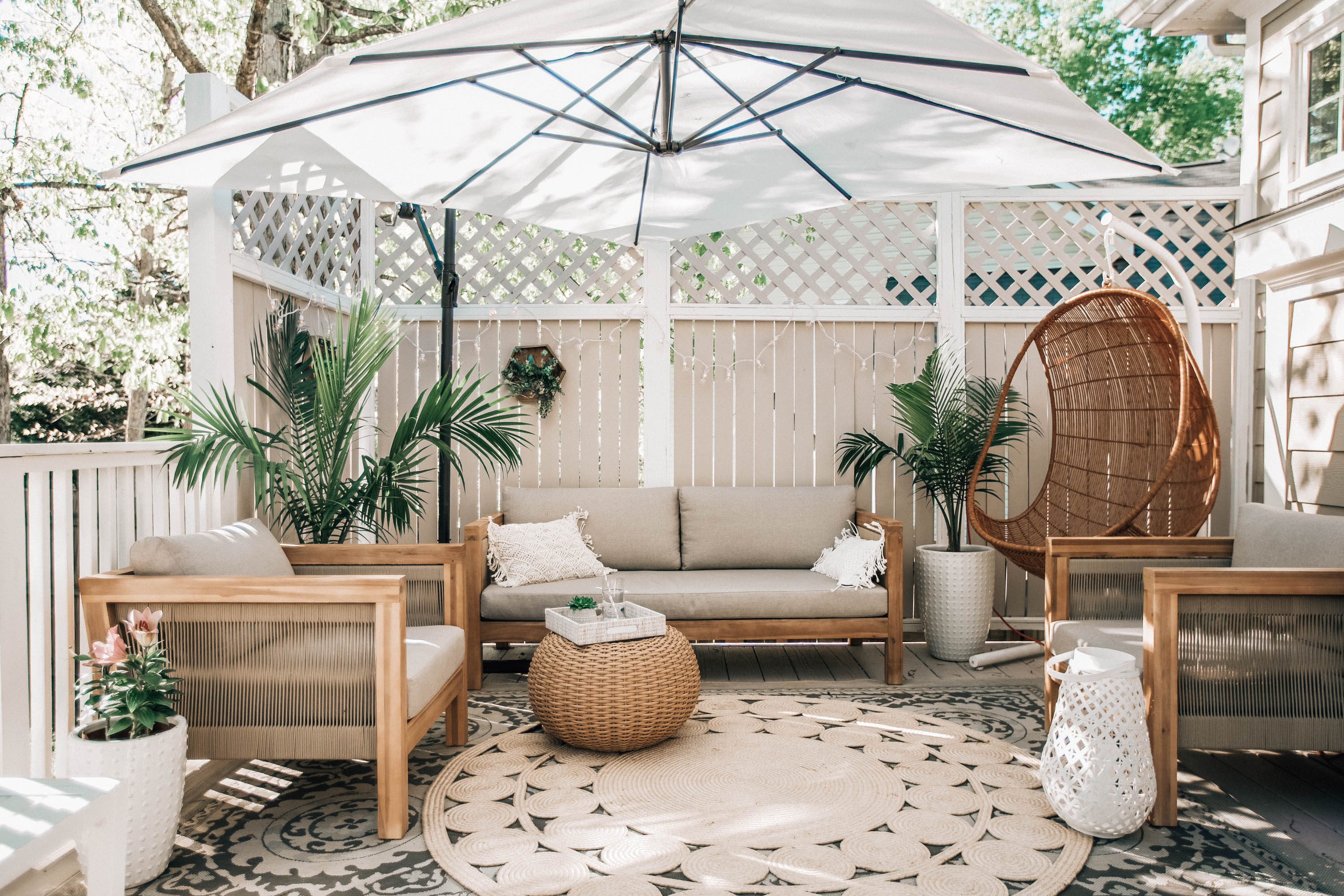 Our patio is pretty much ready for the spring and summer right now (minus the herbs that will be planted) and, since this will be our second spring at our house, I wanted to answer some questions about how I keep our patio looking decent. I'll keep updating this as more questions pop up over the year too. For example, ants became a problem for us last July/August but we found a really simple solution for those. We've barely made it past the worst of pollen season (taking Claritin while I write this) and I know my patio often times looks very, very clean… but, to be honest, it doesn't just instantly look like that! We sometimes have to use a leaf blower to blow off leaves and those weird squiggly things that keep falling down from the tree above, and we sometimes have to wipe down the cushions because birds will poop on them… it's just what happens to outdoor furniture that isn't covered (under a pergola or roof, etc).

We recently got rid of our outdoor sectional so that we could fit a really large umbrella in the corner. So, I can only speak about that furniture since we have only had our new cushions for about a week. Anyways, for the most part, we kept those cushions outside for most of the year except for late December through Feb/March. It was typically too cold to sit outside and enjoy the weather so, during those months, we moved the cushions to the garage, which brings me to the first question:

WHAT ITEMS DO YOU LEAVE OUT YEAR ROUND?
We leave out most of the actual furniture (chairs/sofa) and the rugs all year. However, our furniture was metal so I am not 100% sure how wicker would hold up. I'll be keeping our wood furniture out all year too but will most likely buy some sort of covers for them. This past year we did bring in the hanging egg chair and put it in the garage for the winter. After it would rain heavily, we would pick up the rugs and hang them over the deck railing to dry more quickly. For cushions, if we know a heavy rain storm is coming and we remember in time, we will bring in the cushions or sit them up on their sides just so we can use them the next day without waiting for them to dry. However, we usually didn't bring them in. Our previous cushions dried really fast and were made to stay outside. If it rained on them, we would just pick them up afterwards and lay them on their side so that they would dry fast. Any throw pillows always go inside unless guests are over. Those are more for decoration than anything. NOTE: Our cushions are not white and I think that really helps. If my cushions were white, they'd probably give me anxiety and I'd bring them in way more often. If we had a covered deck, I would maybe consider white but only if the material was really water-resistant.

DO THE CUSHIONS GET MOLDY/MILDEWED?
Ours didn't really get mildewy at all! I think the key is setting them on their side right after they get wet so that they won't stay wet but, in case yours do get mildew on them, I've heard you should mix Dawn dish soap and water in a spray bottle and spray onto the cushions (you can even use some white vinegar), and scrub with a soft brush. Then, hose them down with water (I use the high-pressure jet setting) and let them dry on their side.
HOW DO YOU KEEP YOUR PATIO CLEAN, ESPECIALLY WITH THE AWFUL POLLEN DOWN HERE? DO YOU CLEAN THE POLLEN OFF DAILY? HOW DO YOU KEEP THE RUGS POLLEN-FREE?
It doesn't stay as clean as it looks in photos. If you think my house is always 100% ready for an Instagram pic, that is very much not the case. I wish! Before this past week, I wouldn't sit outside on that deck. There is about a 3 week period in April that I will not do anything with our patio (last week was pretty bad before we had a lot of rain over the weekend). I won't set up our patio and spend a lot of time on it until the worst of the pollen is gone. If you go to weather.com and click on "other forecasts" on the right side of the site, click "allergy forecasts" and it'll show you tree pollen/ragweed pollen/grass pollen forecasts. Our pollen situation still isn't ideal this week but it's much better than it was last week. For the pollen on the rugs, I'll spray them down with the hose. Since TJ and I will be going out of town this weekend, we'll bring the cushions inside due to pollen and storms in the forecast. It all just kinda depends!
DO YOU RECOMMEND A LARGE UMBRELLA V. PERGOLA?
I've always wanted a pergola but with how our deck is right next to large windows, it would block a lot of light into the house. So, we just went with a large umbrella instead, which also saved a lot of money. We just got it last week though so I'll keep you updated with how we like it. So far, I think it's the greatest thing ever. Pergola's are beautiful though and I would love to have one at our next house!
IS EVERYTHING WATERPROOF?
The items we keep outside year-round are water-resistant. Everything is made to be outdoors, rain included but, like with anything, the cushions will overtime be affected by the weather, so it's important to dry them on their sides when possible and clean them every now and then.

DO YOU WATER YOUR PALM TREES OR LET THE RAIN TAKE CARE OF IT?
I'll water it if the soil looks super dry! The soil for them should always be a little moist and the majesty palms live best in shady low-light areas (they're a house plant but do well on shady patios in the warm weather).

WHERE IS YOUR UMBRELLA FROM?
My 8 ft. offset umbrella is from At Home! I really wish you could order online from there but you can only shop in-stores, sadly. It was $129 though which is really good compared to a lot of others I've seen at Target!

HOW DO YOU KEEP YOUR RUG FROM GETTING DISGUSTING, MOSTLY FROM RAIN?
I think I was smart in choosing a darker rug with a pattern that hides a lot of the weathered effects on the rug but occasionally, we would sweep it, hose it down, and hang it on the railing to dry. If you notice any mildew on it, you can just get a deck scrubbing brush and scrub it off with a little bit of mild soap. I'm not sure if this makes a difference but maybe having it on a deck allows it to dry better than it being on a solid concrete patio. I really haven't had many issues with our rugs at all.

Every time I share a photo of our deck/patio on Instagram stories, somebody asks about keeping it clean and the truth is, it won't always be in pristine condition. There are so many environmental factors that can make your furniture and cushions look worse than when you brought them home from the store but they are made for the outdoors, and if you choose colors/materials carefully and do a little bit of cleaning and care throughout the year, it'll hold up well! If any other questions pop up, please ask so I can add them to this!