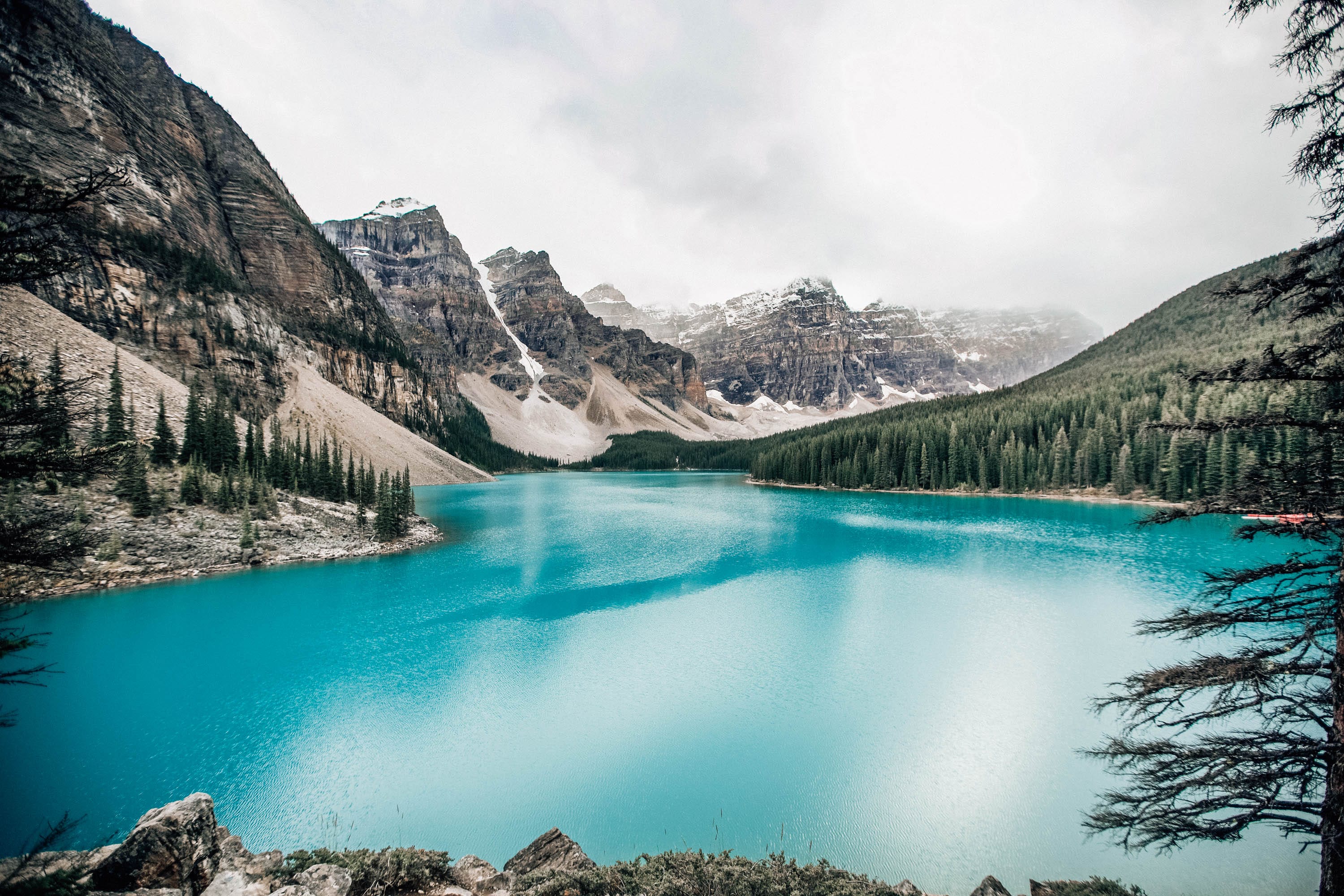 This past weekend we traveled to Banff in Alberta, Canada for the second time within a year, which we never do, but this place was so special it was calling us back from the minute we left! We visited in early October last year and it had snowed a lot leaving us with the most beautiful views of snow-covered trees surrounding the not yet frozen lakes… it was ideal! We felt that we had visited during it's sweet spot at that time but knew that we were missing out on some things due to the snow. Some hikes were closed, canoes were put away for the year, and there were a few closed roads keeping us from seeing some of the most beautiful spots. It was still one of our favorite trips of all time but we knew we also wanted to experience it in the "summer" before the snow, even if it meant that it would be more crowded.

I thought I'd start out this post with an itinerary/daily diary of our long weekend adventure and finish it with answering a few questions I received while we were there. If you are more interested in seeing how Banff looks in mid-October, you can read the post of our previous trip here!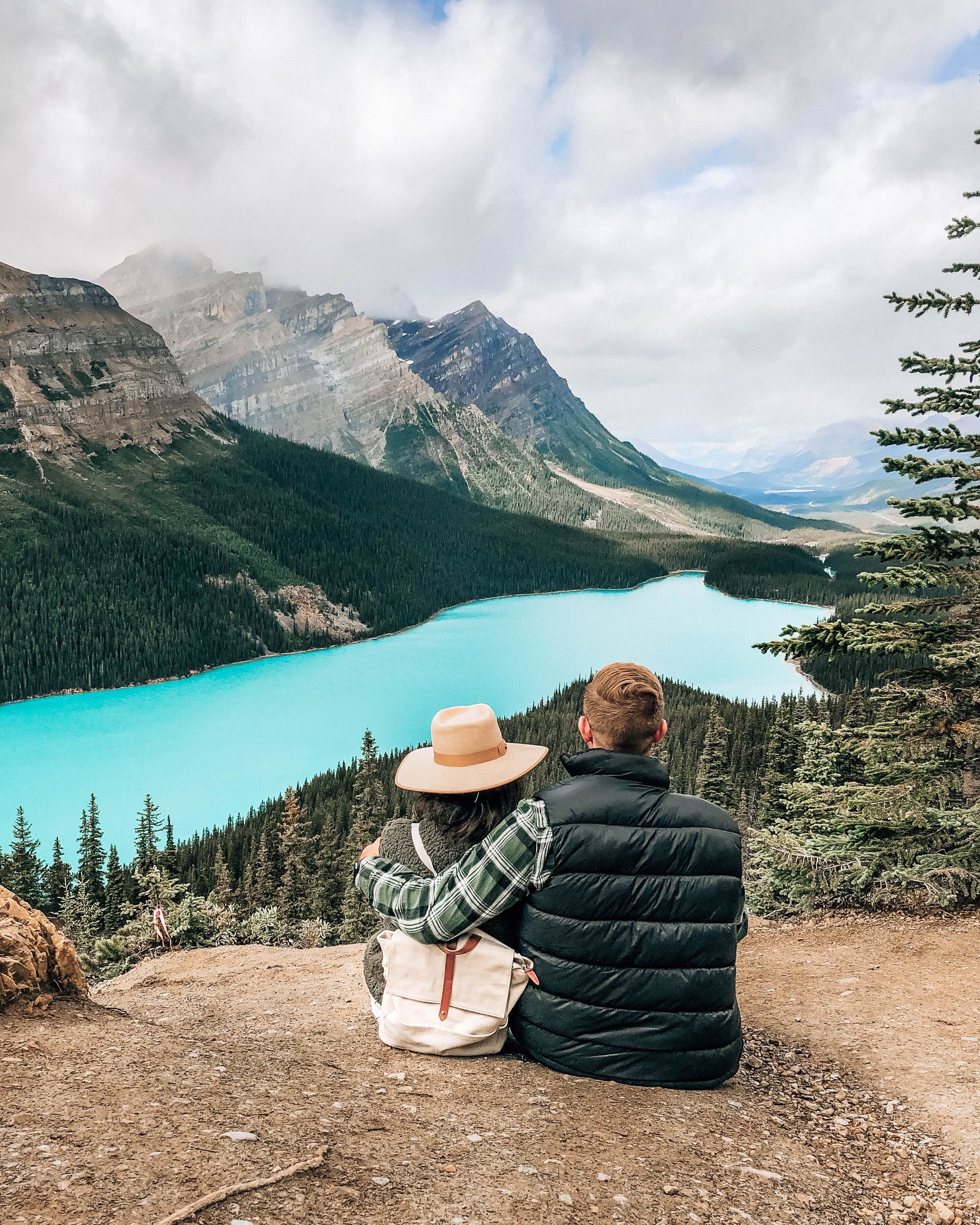 THURSDAY

I met TJ in Banff around 5:30pm. He had already arrived to Calgary a few hours earlier than me and picked up our rental car. He also had a burrito in the car waiting for me which was the best start to our long drive to Banff (it takes about 1.5 hours). As soon as we arrived, we checked into our Airbnb downtown and met our hosts, a sweet couple from Switzerland (Albert and Esther) who used to own a restaurant in Banff for over 30 years. They were basically professional chefs and professional Airbnb hosts. This was the house we stayed in. It was a bit of a splurge but this trip was an early birthday present and was booked pretty last minute so we figured we would give it a try since our options were pretty limited. Note: Last year we stayed over an hour more down the road at Emerald Lake Lodge. If you're thinking of visiting Banff and wanting to stay in any of the hotels, I would recommend trying to book about 10 months out or more. They book up fast this time of year! Anyways, this time we really wanted to switch it up and stay downtown for a different experience.

As soon as we checked in, Albert (the host) asked me what our plans were for the following day. I told him that I wanted to wake up early and go see Moraine Lake, which we didn't get a chance to see on our previous trip due to snow and road closures. He basically told me that the parking lot would be full by 5:00am and that the road would be closed way earlier than I thought. He recommended that we stop by Moraine Lake in the evening after 5:30pm to ensure the road is open. He also sounded a little offended that I would consider missing his breakfast. I trusted Albert so we changed up our next day plans and walked to find some casual dinner. We found Eddie's Burger Bar and it was delicious. We really loved being able to walk to dinner every night. Albert's Airbnb was just a couple of blocks away from the main street where all of the restaurants were so that really made things convenient.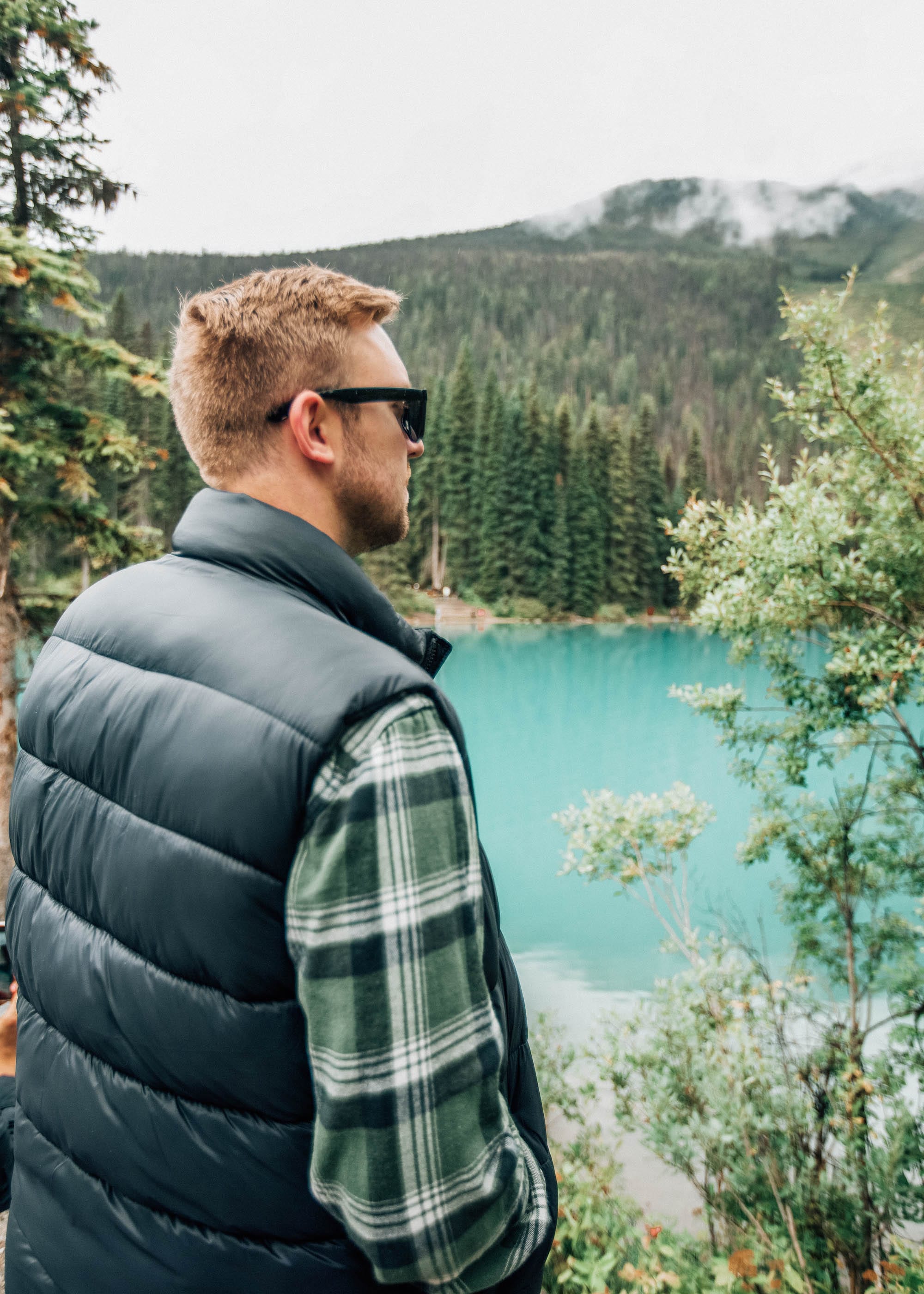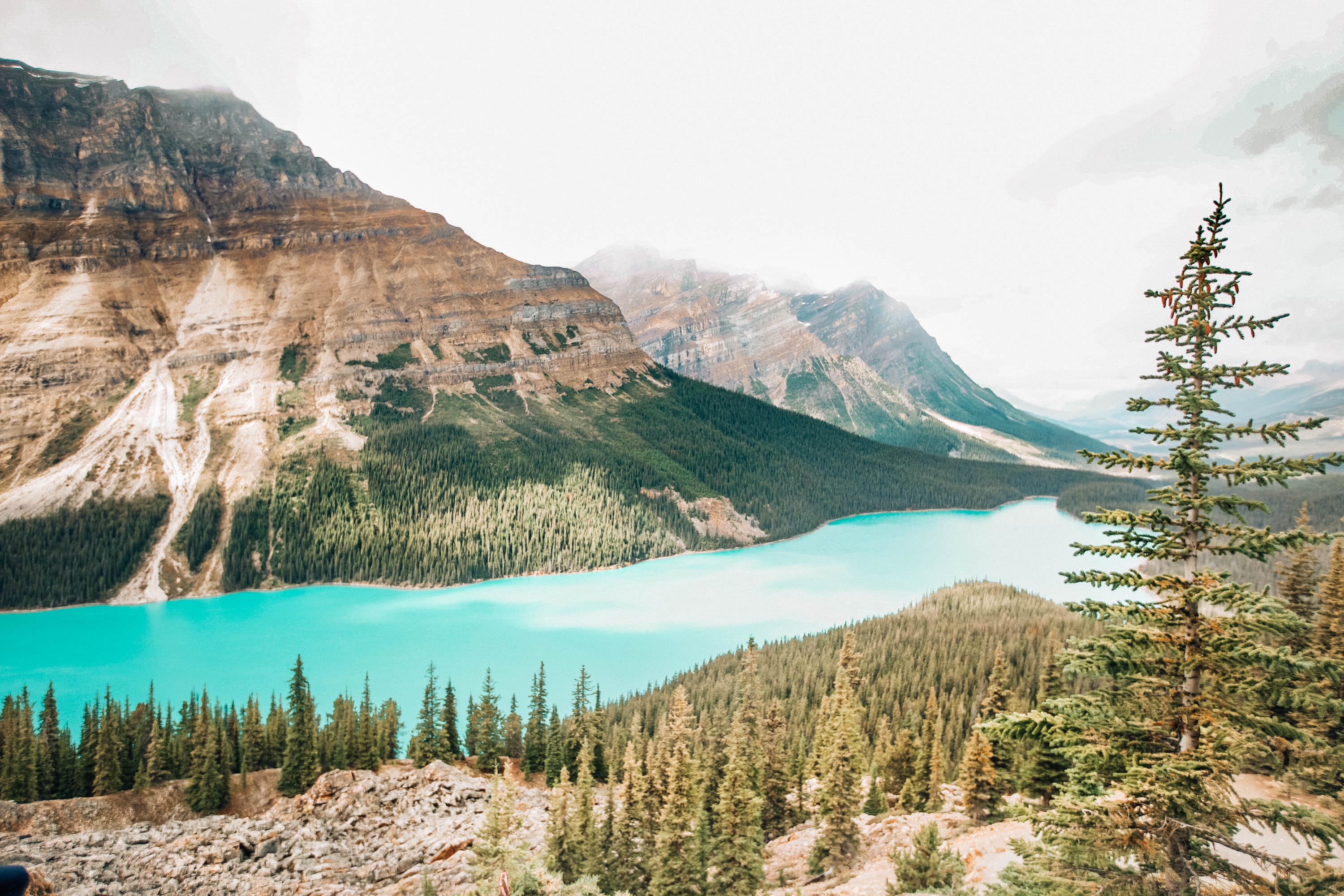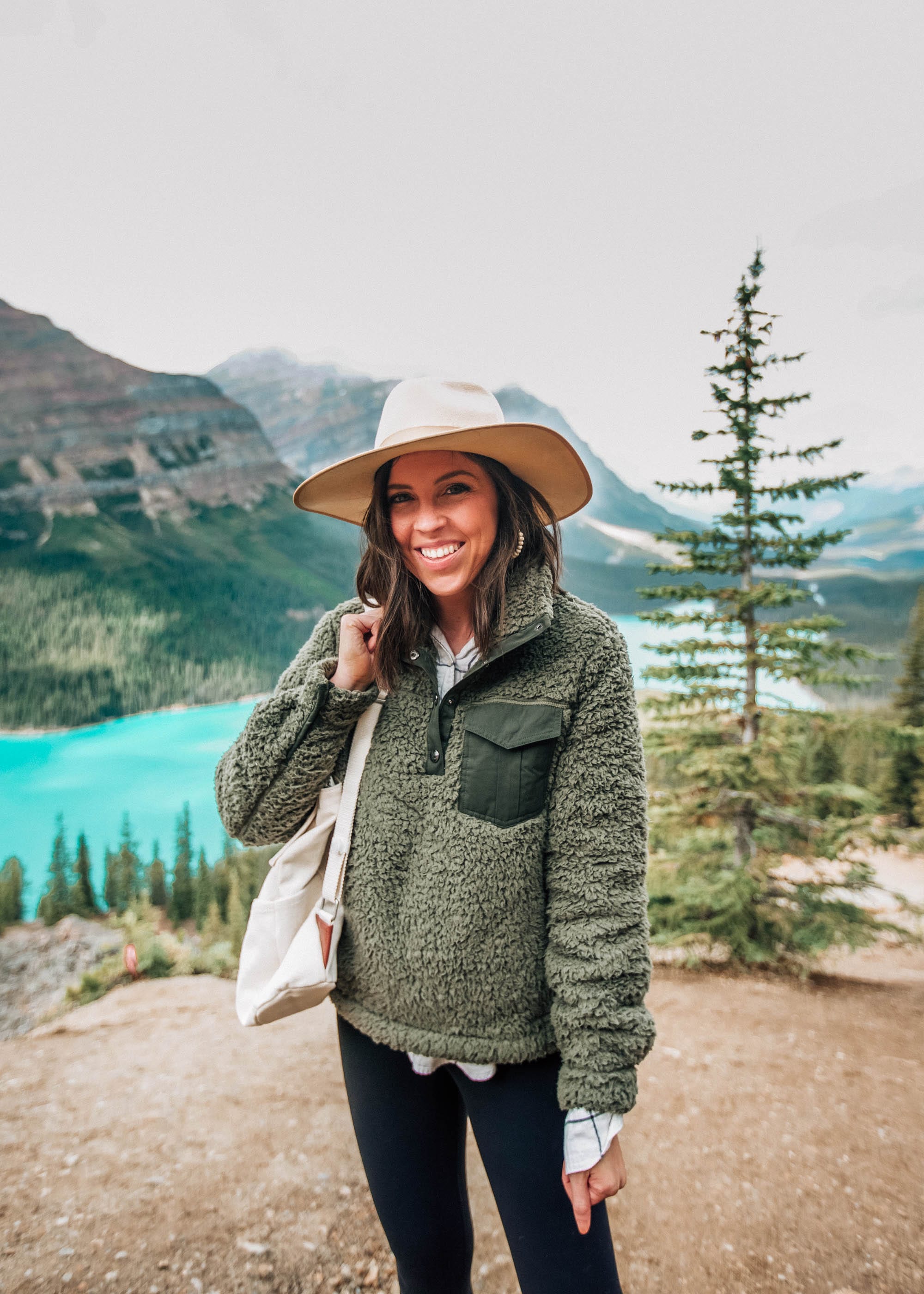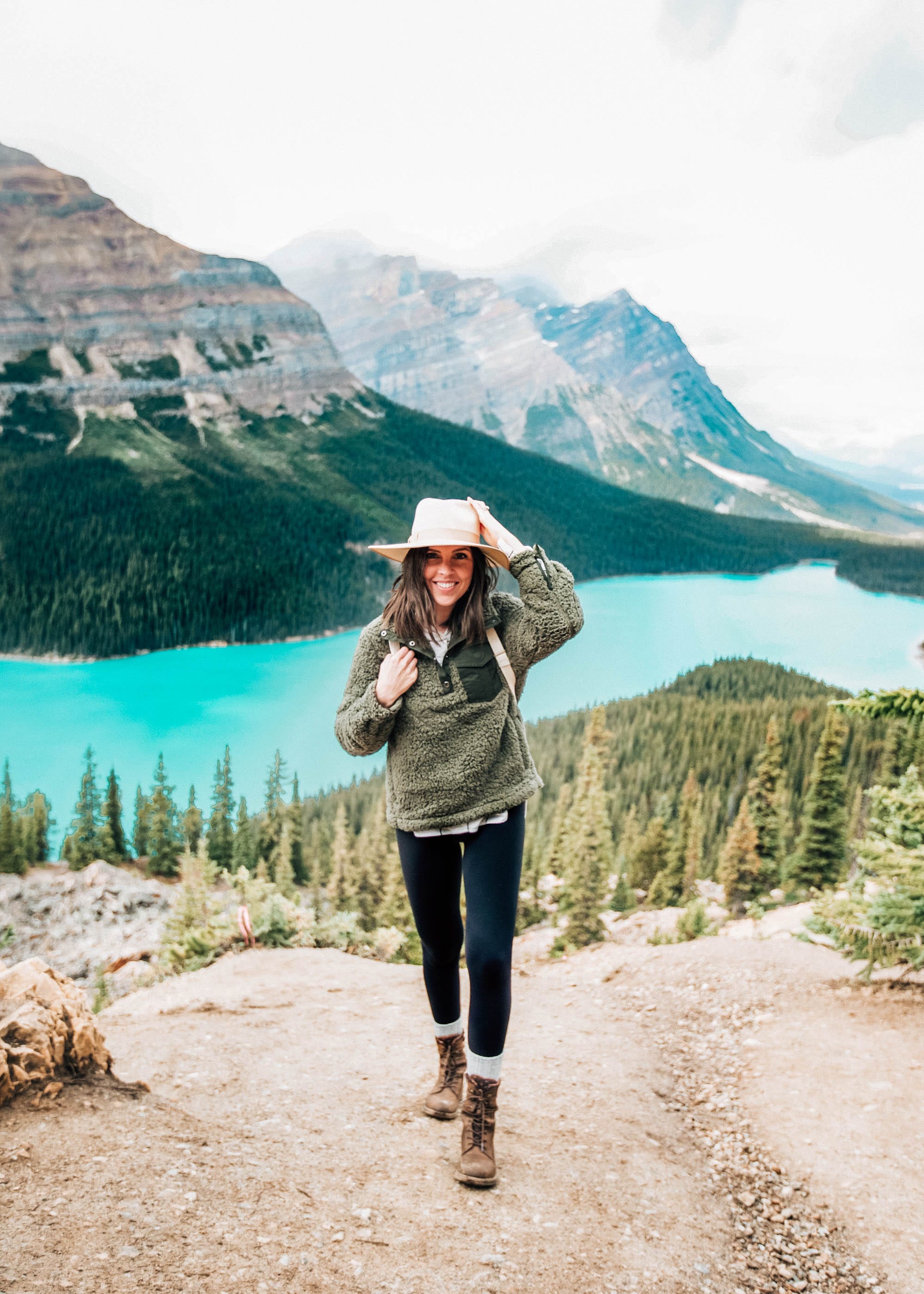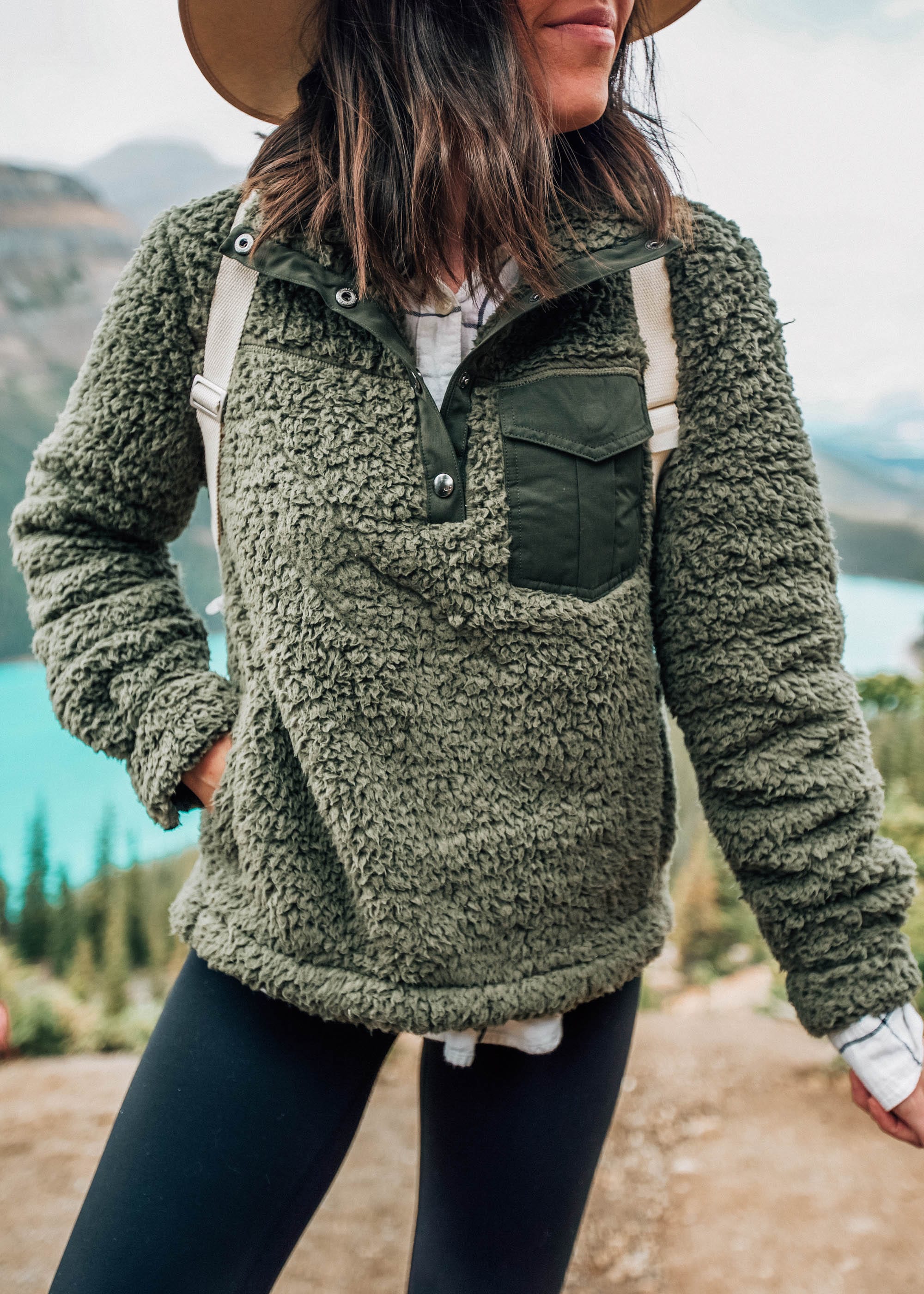 FRIDAY

We woke up Friday morning and walked downstairs to the most delicious spread of croissants, fruit salads, frittata, caprese salad, and practically every other breakfast food I could think of. I now knew why Albert didn't want me to miss his breakfast. It was honestly one of the highlights of our trip. They had four tables downstairs sitting in front of a complete wall of windows where we would look out and see wildlife walking down the streets of Banff and it was just magical.
After breakfast, TJ and I decided to drive down to Emerald Lake for old times sake and see the lake where we stayed last time. It was beautiful. All of the lakes we saw on this trip were 10x more blue than when we saw them previously. They are the most blue in late July through September but Banff's most crowded time is July and August so it's key to time it right! Personally, I would probably never visit in July or August because I don't want to deal with traffic and parking problems. We walked around the lake and then decided to head over to Peyto Lake again. Peyto Lake is a little ways away from everything else but it is one of the most beautiful views I've ever seen. Unfortunately, I've been hearing that they closed after this past weekend until 2021 for renovations along the path. So, before you make the drive out there, I would recommend doing some research online first! I guess we got lucky with the timing!
This lake was even more beautiful than we remembered. It was sunny this time around as opposed to snowing so we were really able to get a clear view of the entire lake and mountains surrounding it. If you visit Banff, this is a must-see. Even the drive out there is beautiful.

We drove back to Banff to get some lunch and walked by a small restaurant called Coyotes Southwestern Grill. By this time, it was after 3pm and we were starving so we weren't very picky with where to eat. This ended up being delicious and a great casual quick option before we would later drive out to Lake Moraine!
Lake Moraine was probably one of the places I was most excited to see because it was new to us. Last year, we couldn't even get on the road because of it being closed due to avalanches. We lucked out again with how perfect the weather was when we visited Lake Moraine. It was very clear and you could see everything perfectly. It honestly felt like we had the lake to ourselves. The view took my breath away and we both wanted to just sit there for hours and stare at it. We actually ended up walking down the rocks to the lake shore and walked around the lake exploring. That night probably goes down as one of my top 3 favorite nights of my life. Time flew by and before we knew it, we were going to miss our dinner reservation. Luckily, we had a little bit of service and called to let them know we weren't going to make it and decided that we would just pick up some pho from a local Vietnamese restaurant called Pho House which was very, very delicious, by the way. I will 100% be doing that again.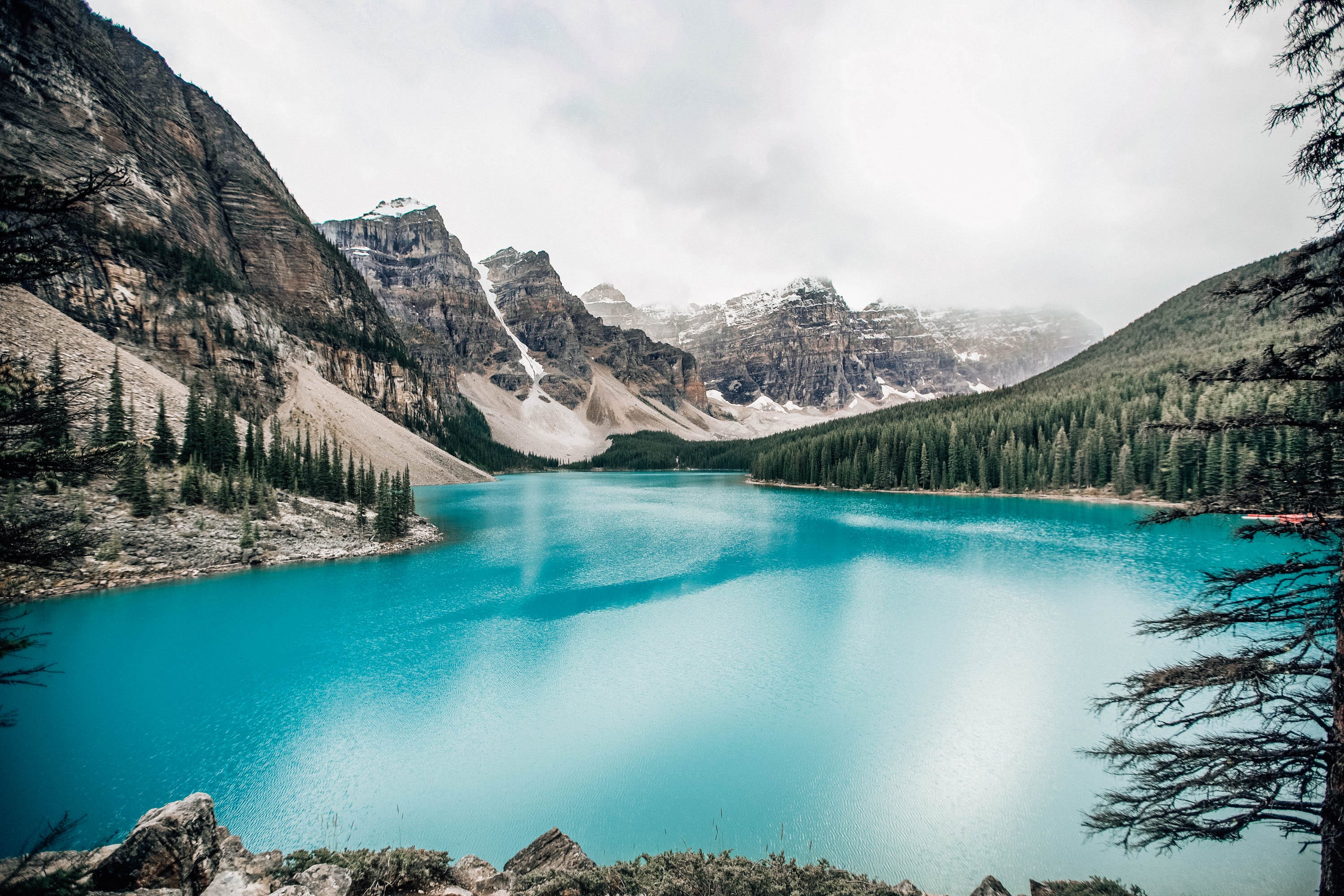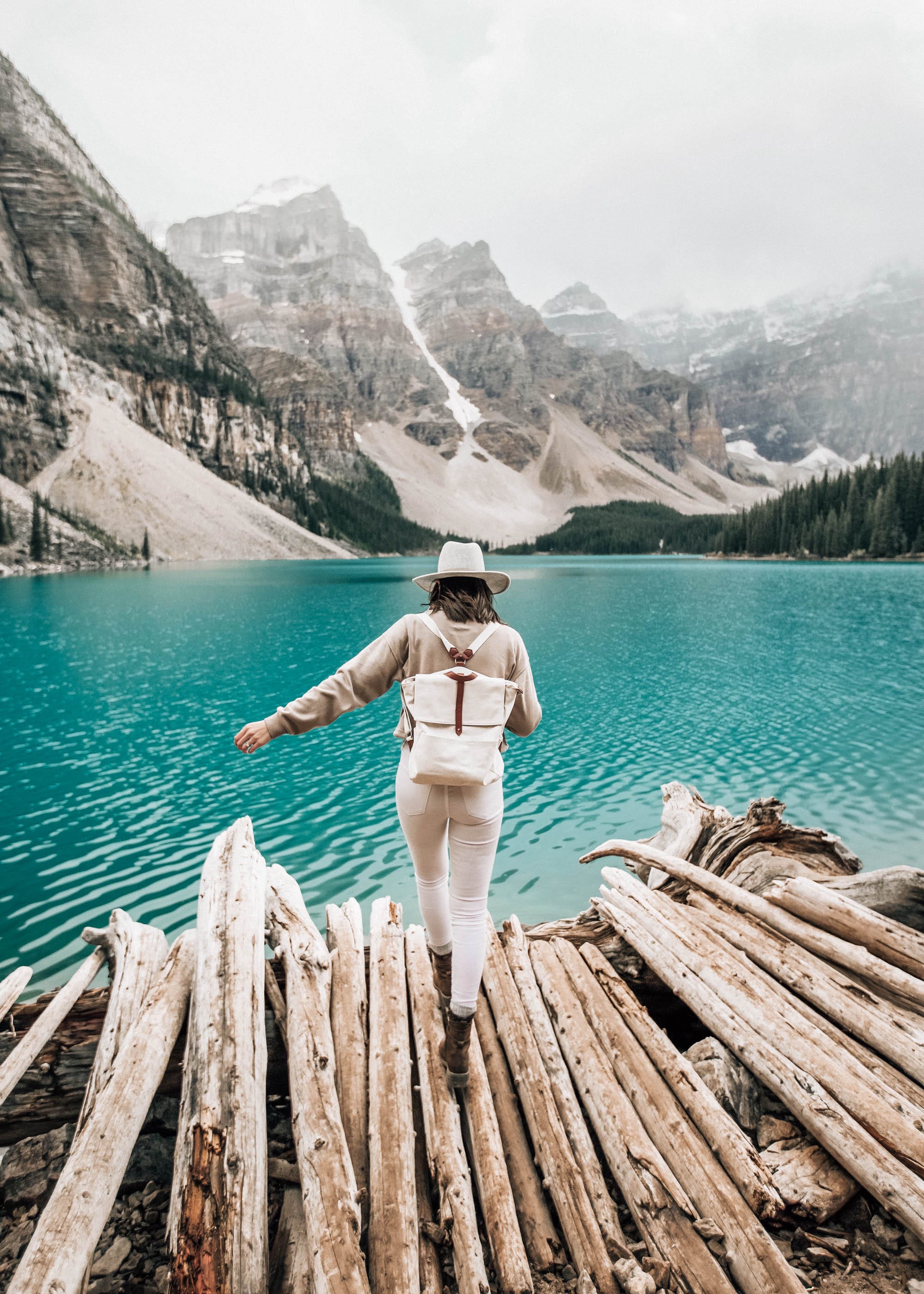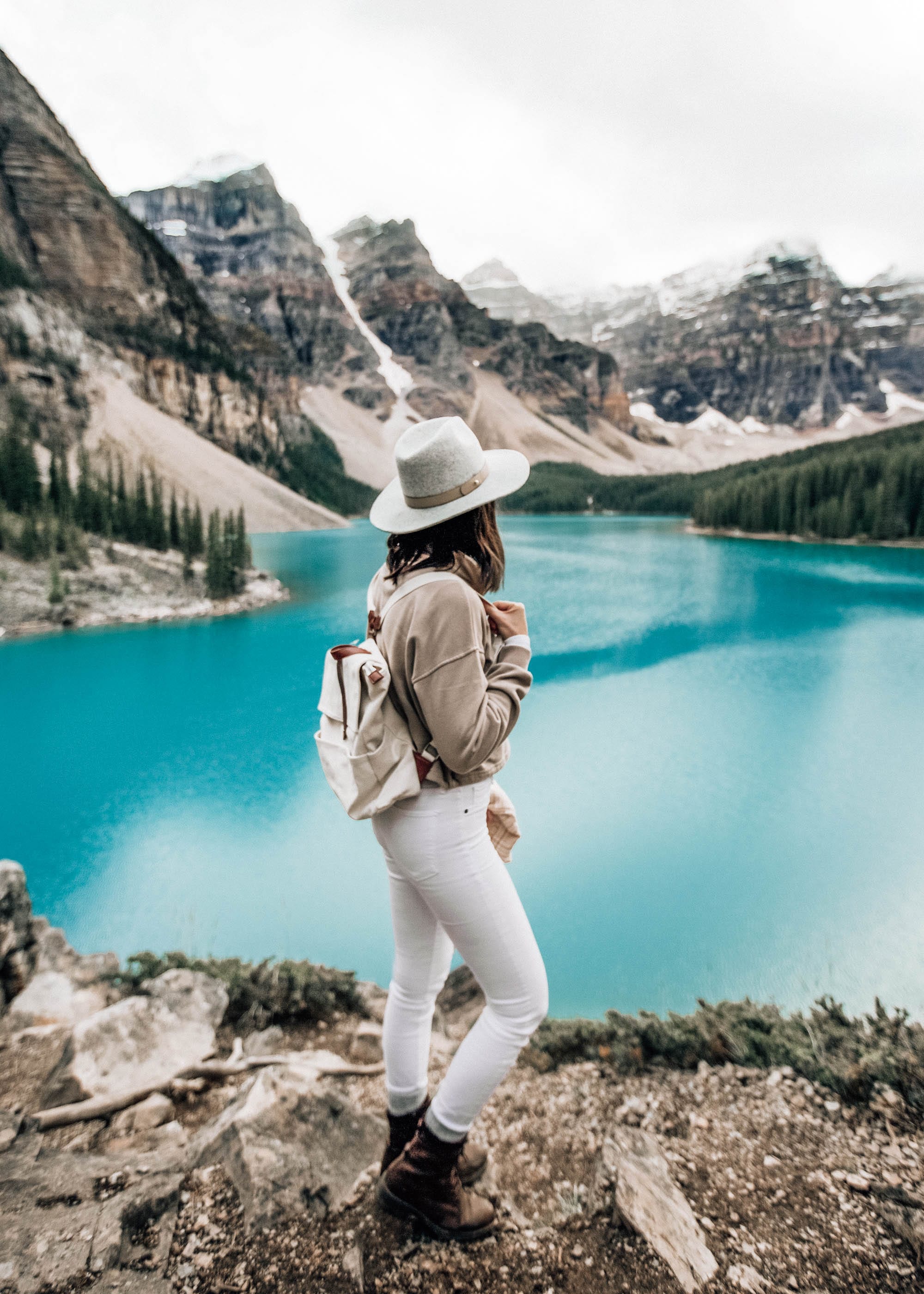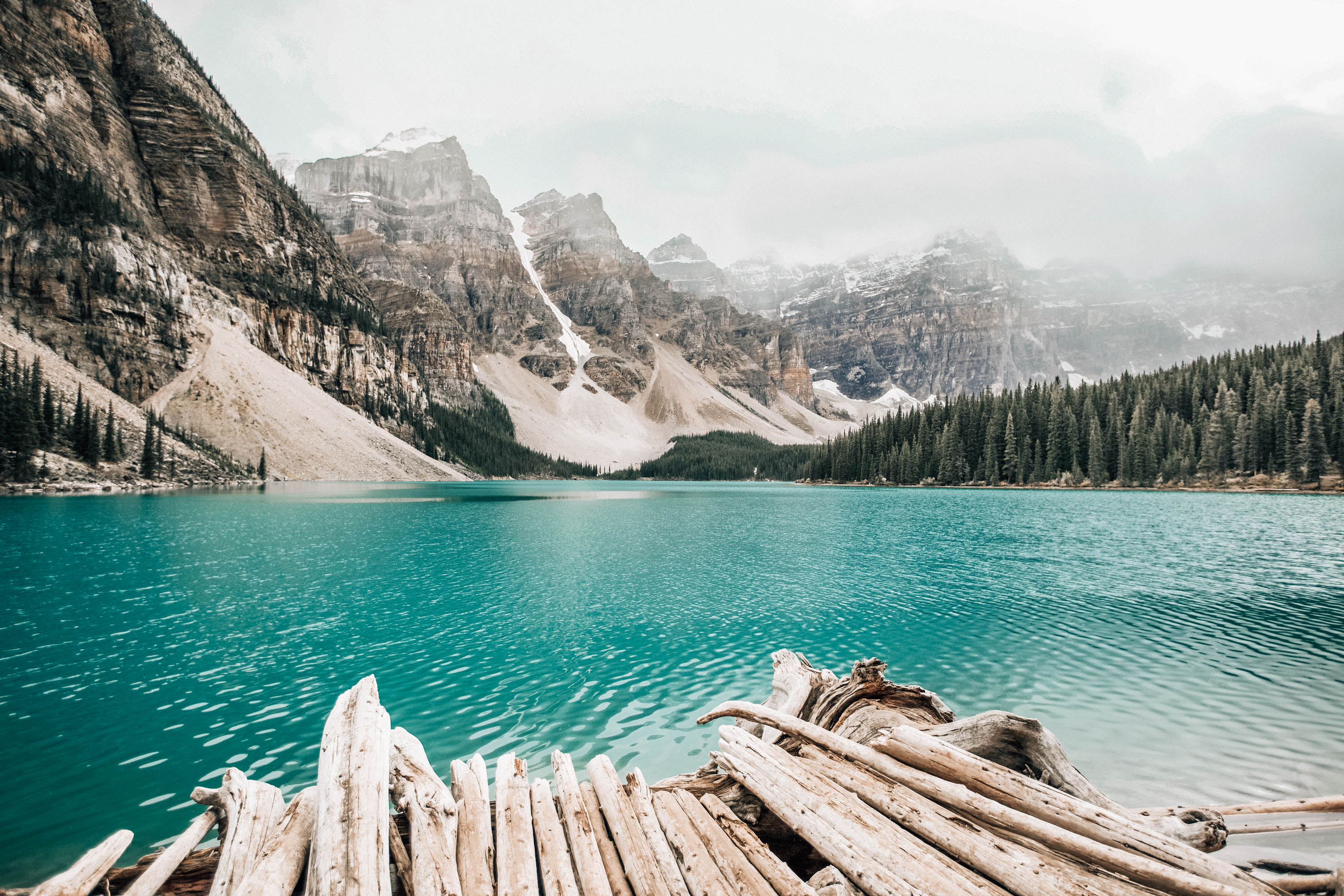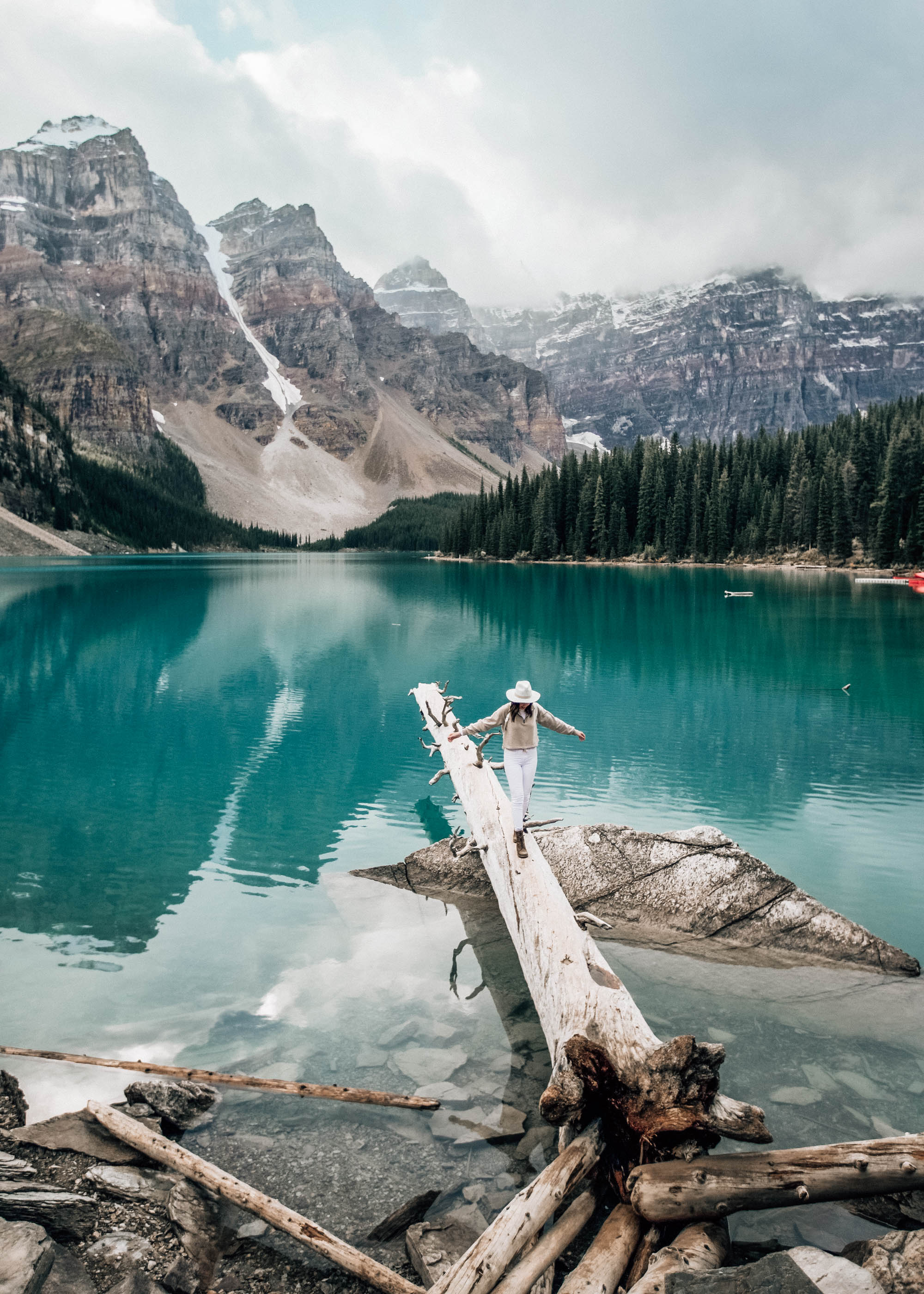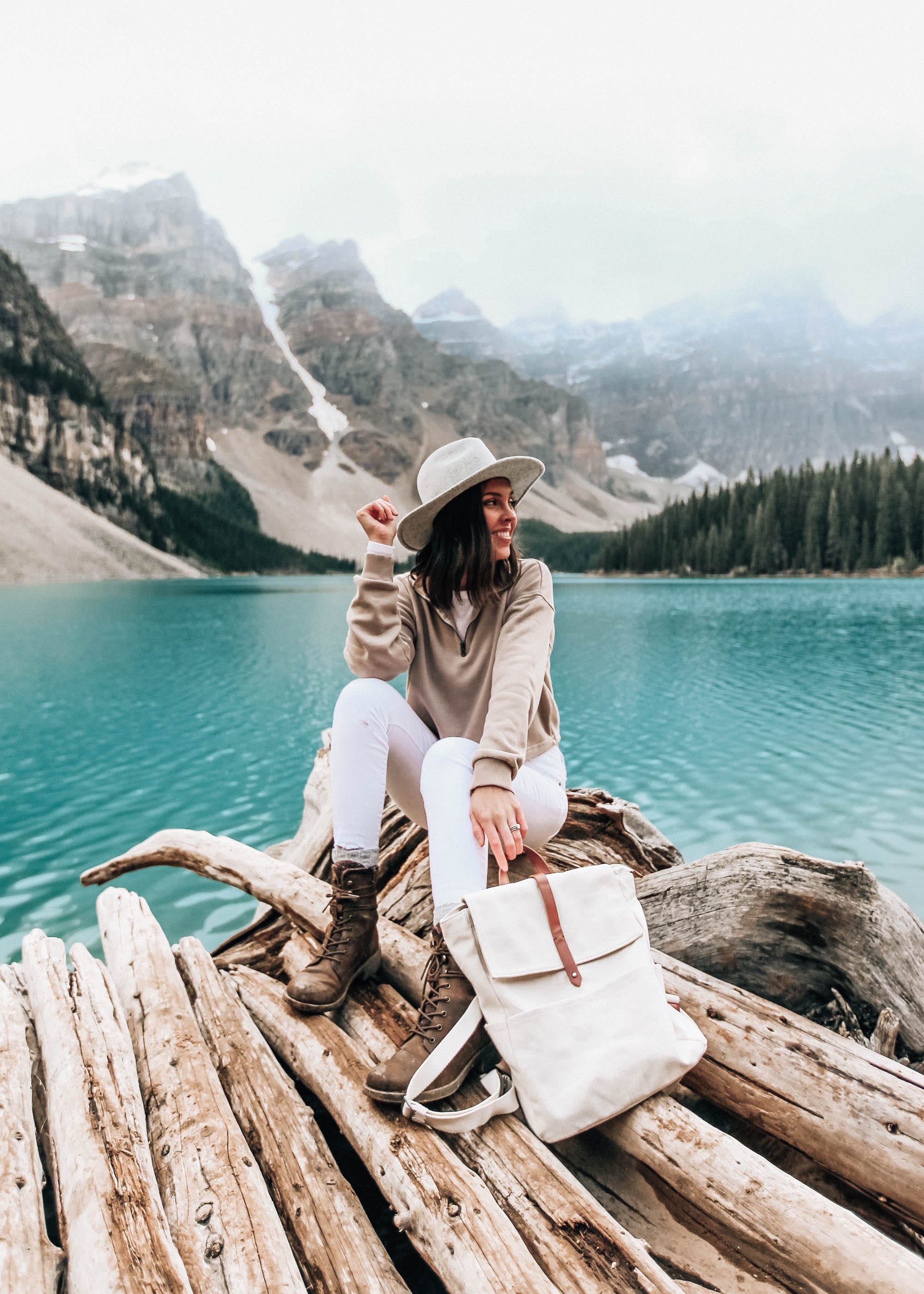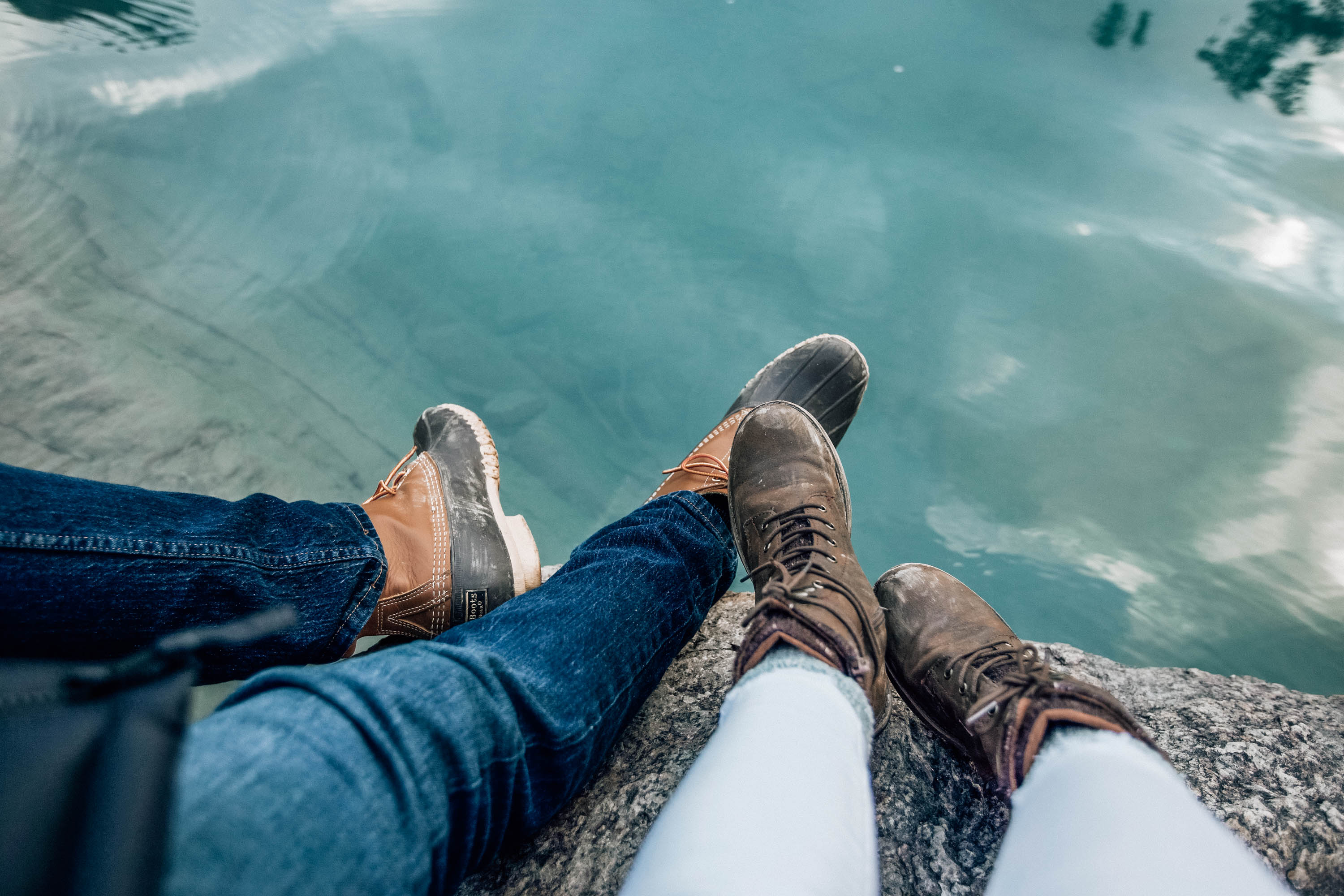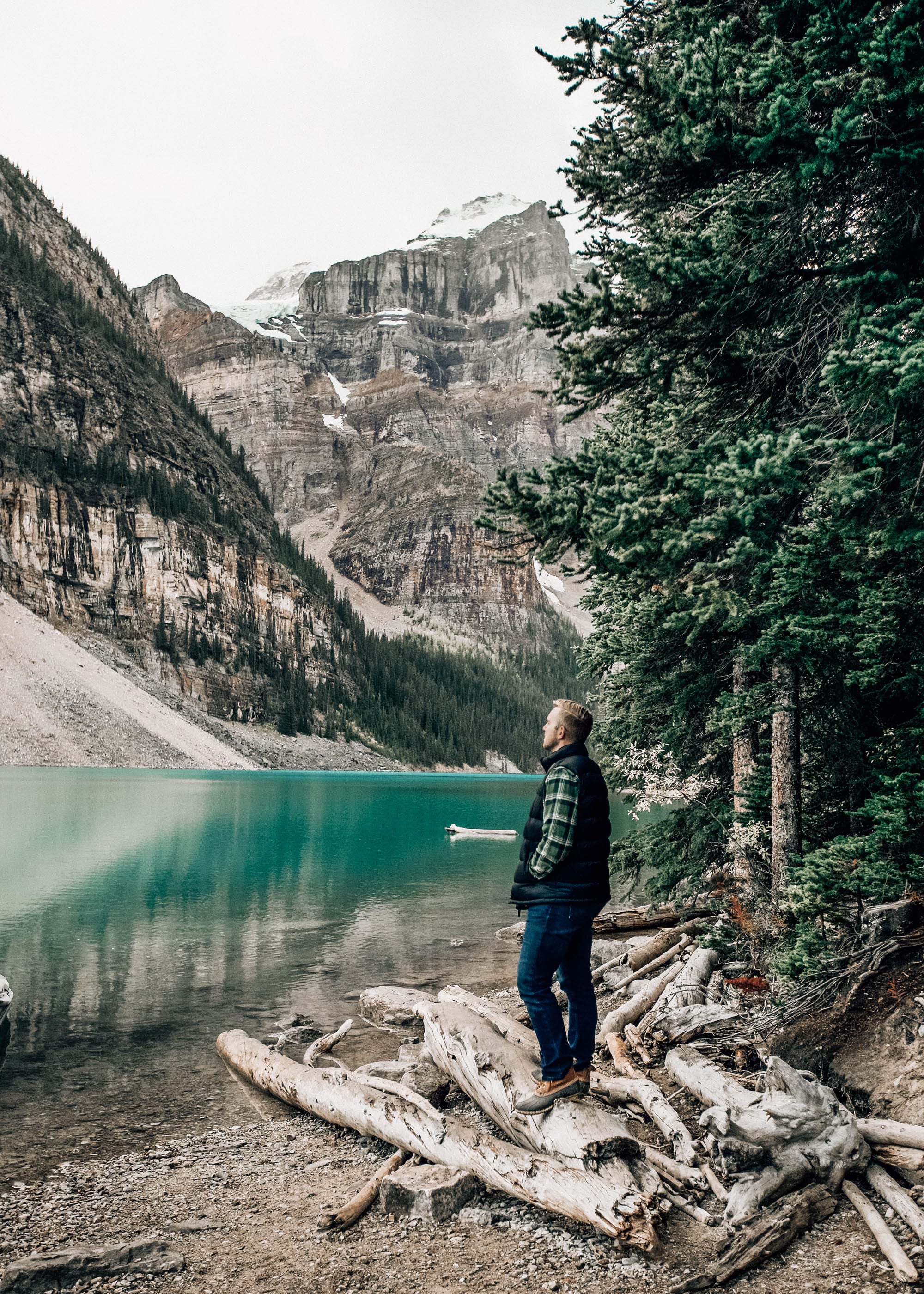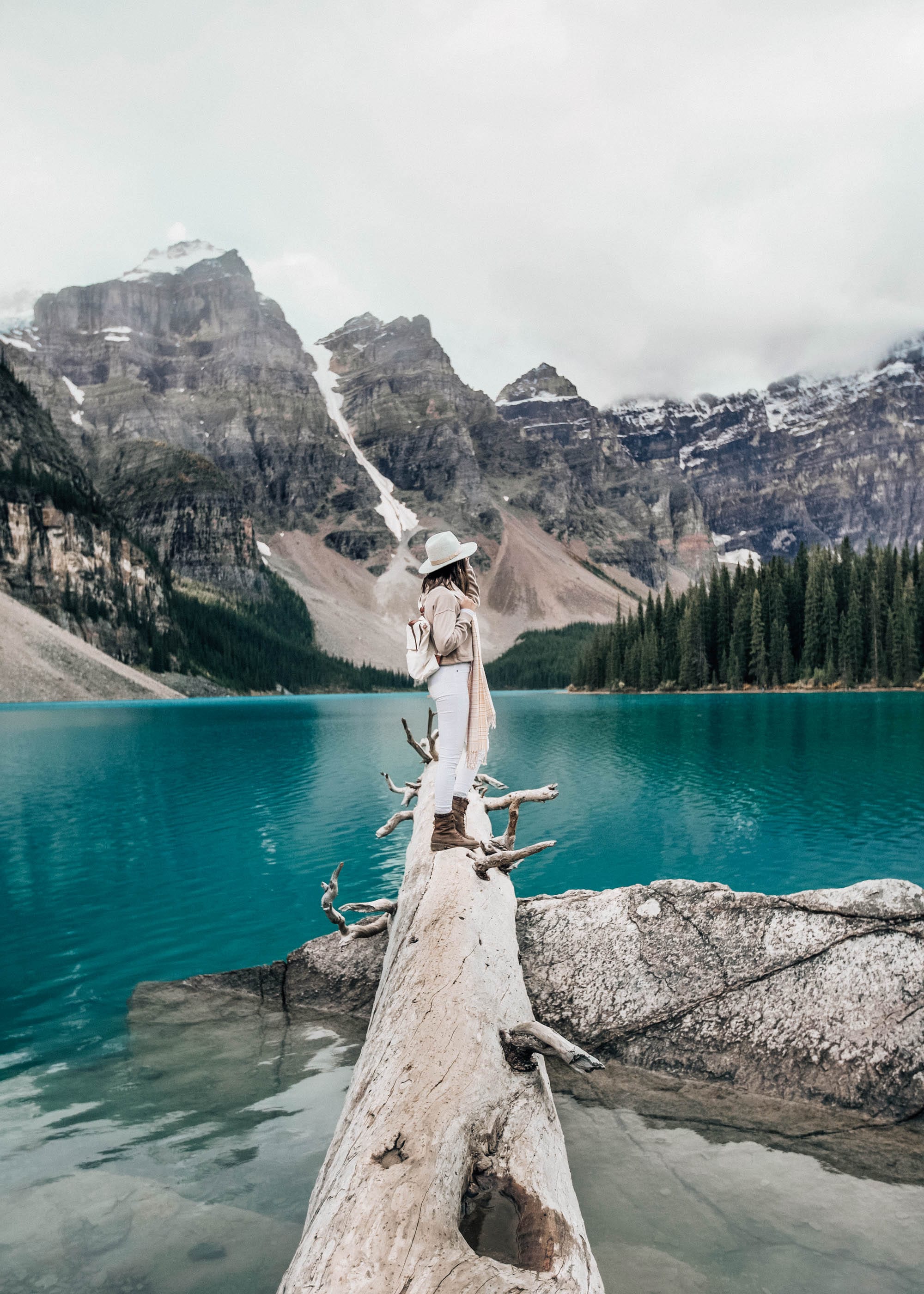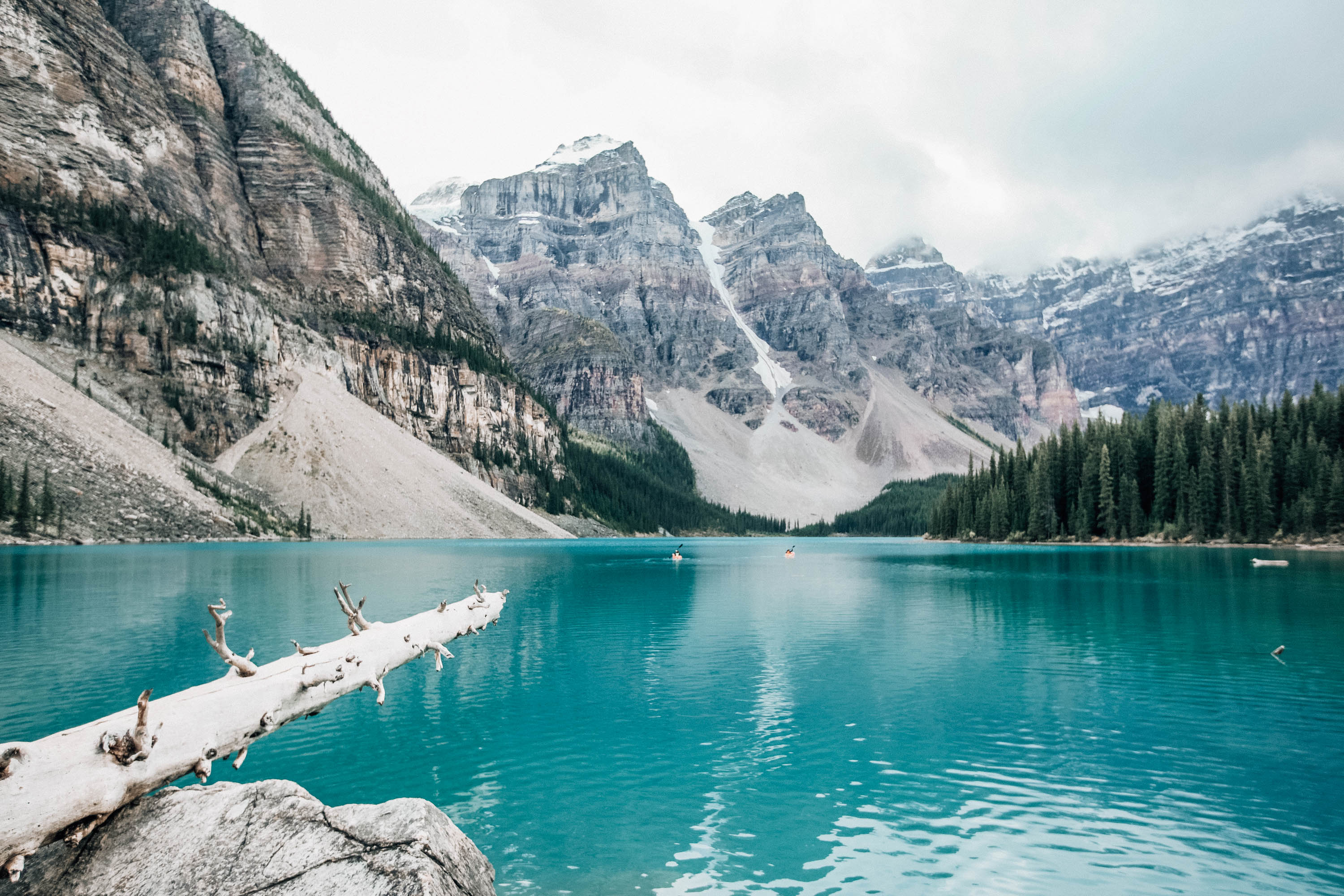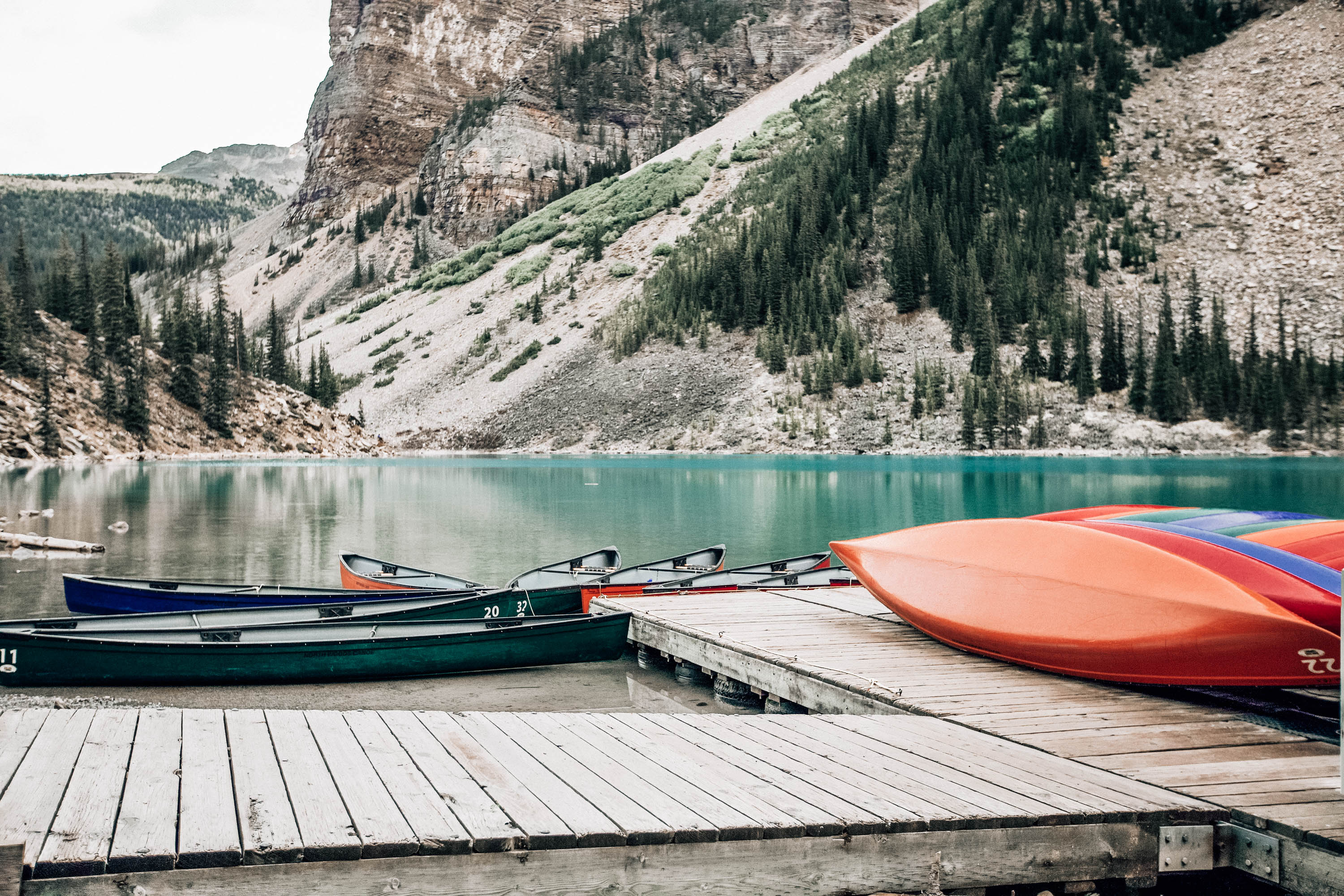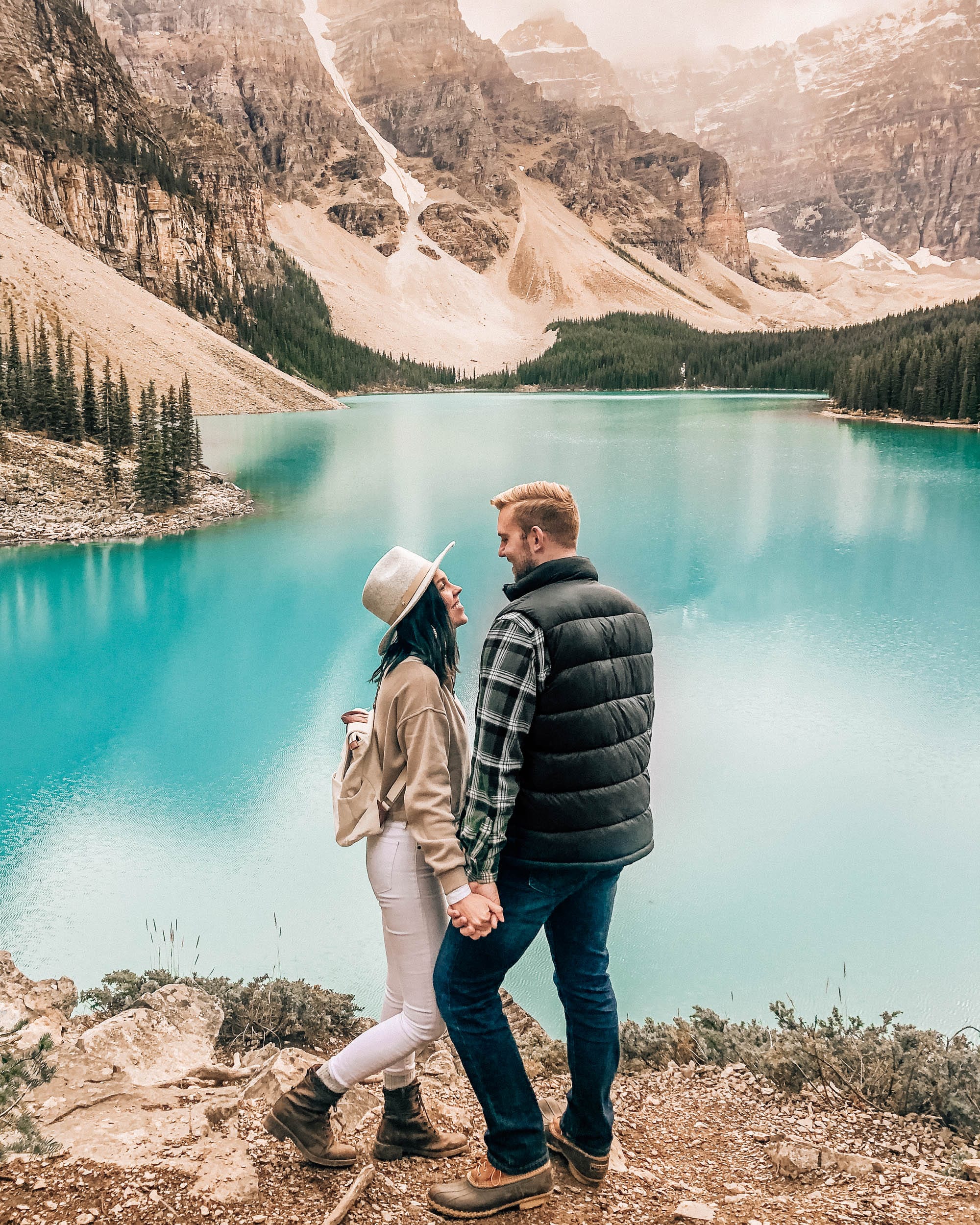 SATURDAY

On Saturday (after breakfast, of course), we drove out to Lake Louise early (about 9am) so that we could get a parking spot and hang around there for the rest of the day. We met up with my friend, Makayla, who happened to have planned a weekend in the same place at the same time with her fiance, Alex. It was so fun getting to see her and we ended up spending the entire day with them walking around Lake Louise and hiking up to Lake Agnes Tea House. We didn't do the exact Lake Agnes Tea House hike because we started from the other end of Lake Louise as opposed to the main trail for Lake Agnes. Our way was 20x more difficult but it was so much fun and I was so proud of us for doing it! We also got to see some incredible views that we wouldn't have seen otherwise if we hadn't taken some of those connector trails.

Once we got up to Lake Agnes Tea House, we ordered some tea and biscuits (highly recommend the biscuits/jam!) and rested up before hiking back down.

By the time we got back down to Lake Louise, the crowds had cleared up a bit and we considered going out on the canoes but we knew we probably wouldn't have enough time before our dinner reservation at The Bison.

After relaxing and living our best robe lives for about an hour, we got ready and walked to The Bison downtown. This restaurant was all around an incredible experience with the entire menu being locally sourced. I ordered the most delicious wild trout on top of quinoa and I will 100% be back here. For most of the nicer restaurants in Banff, I would strongly suggest making a reservation ahead!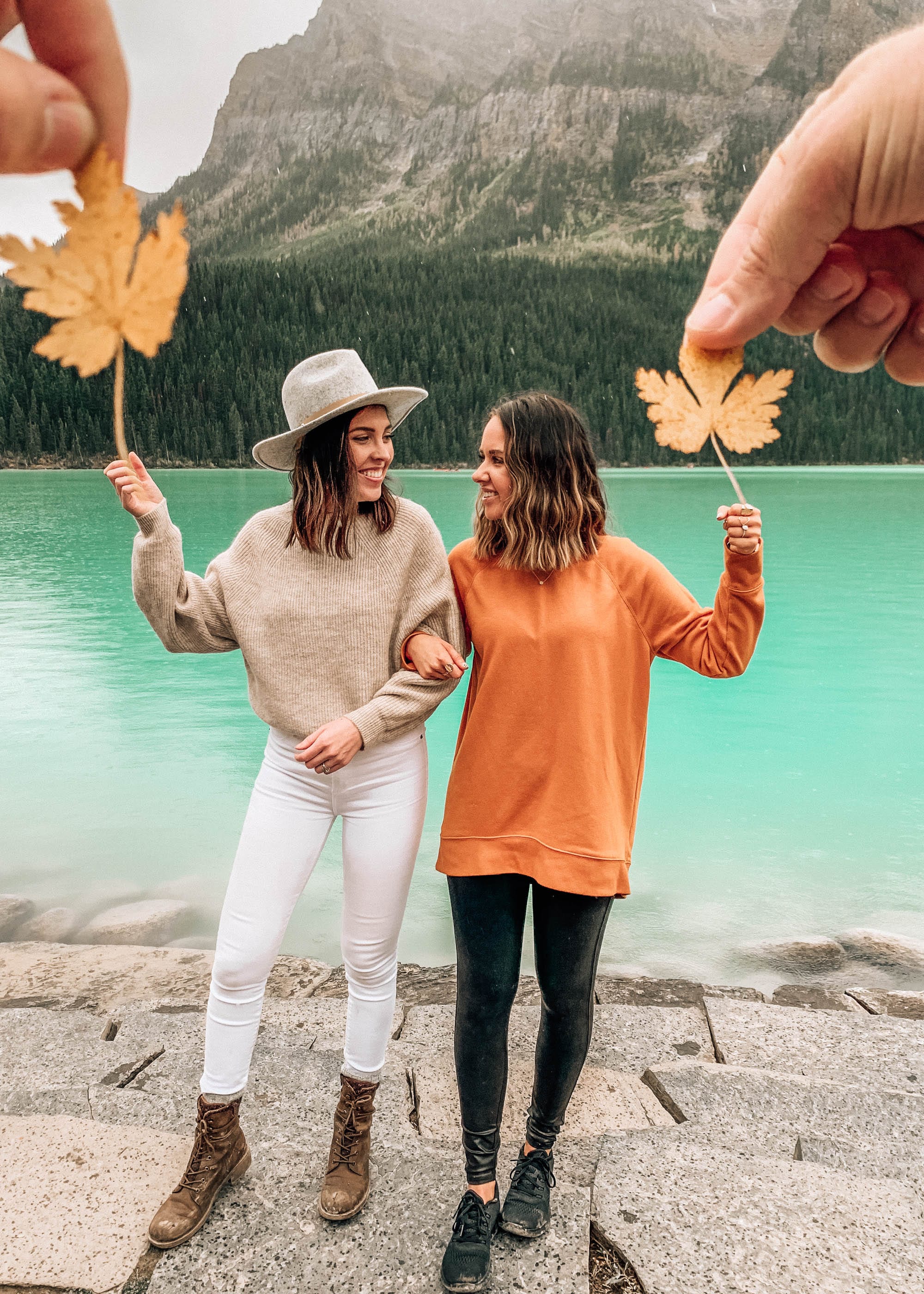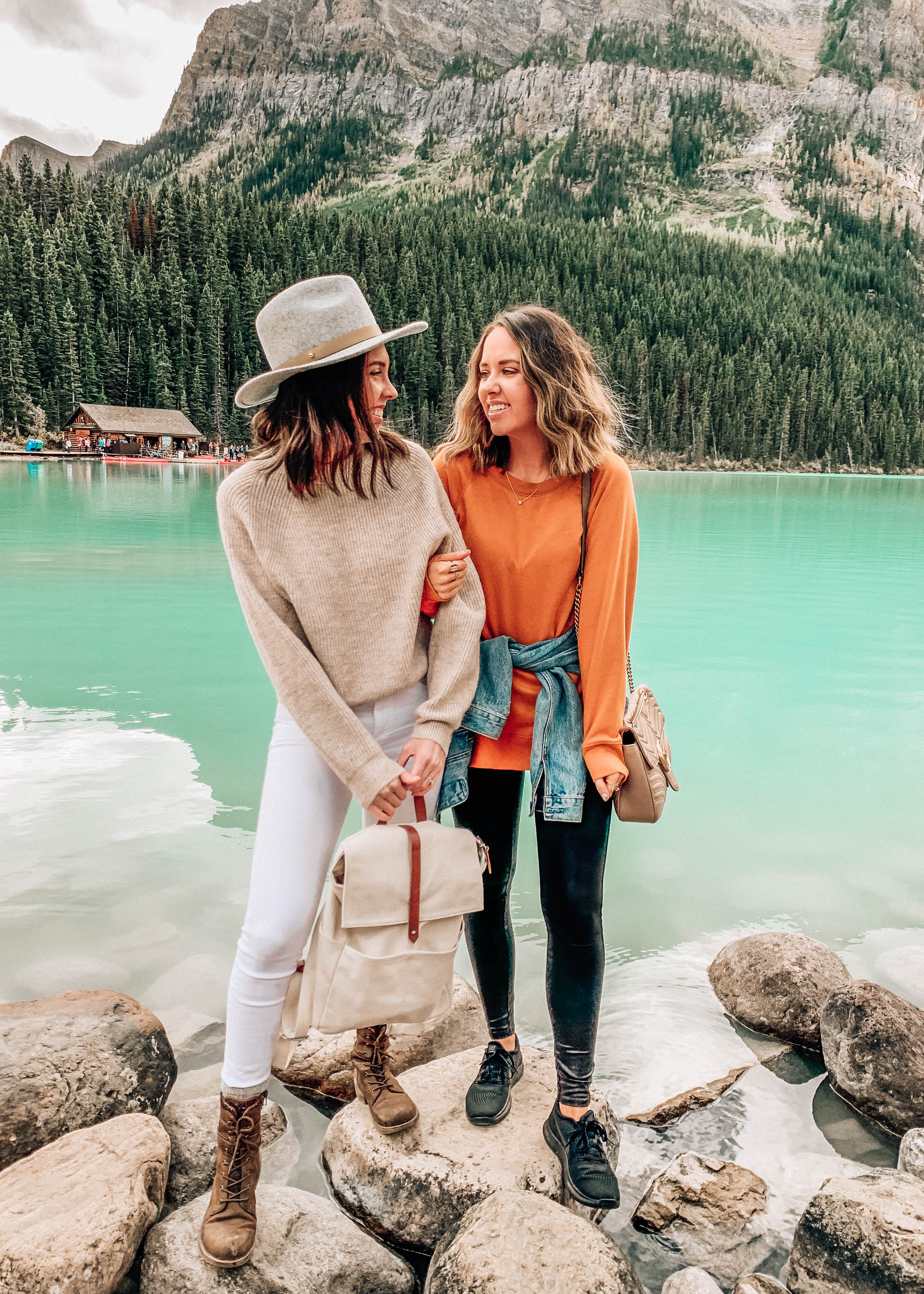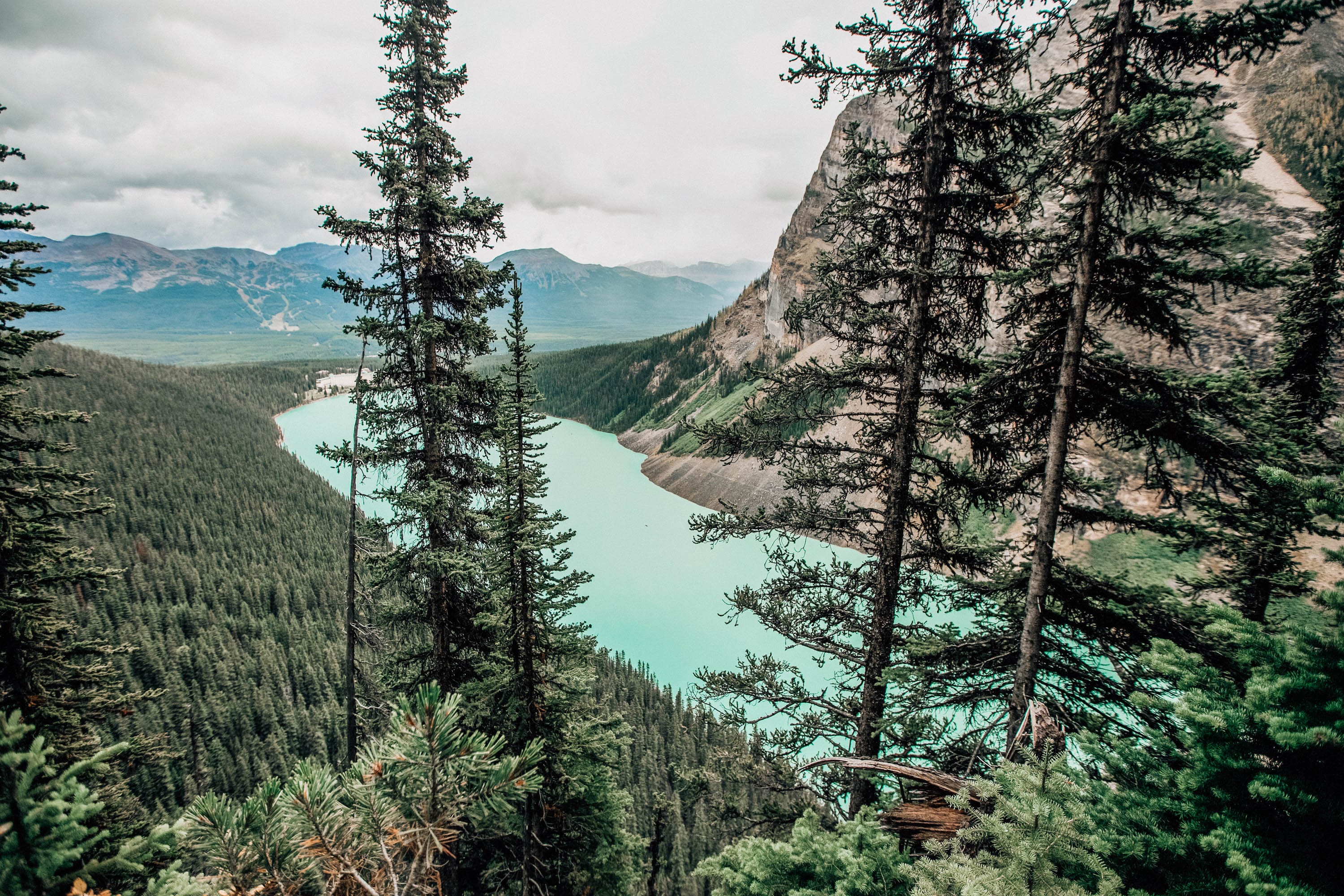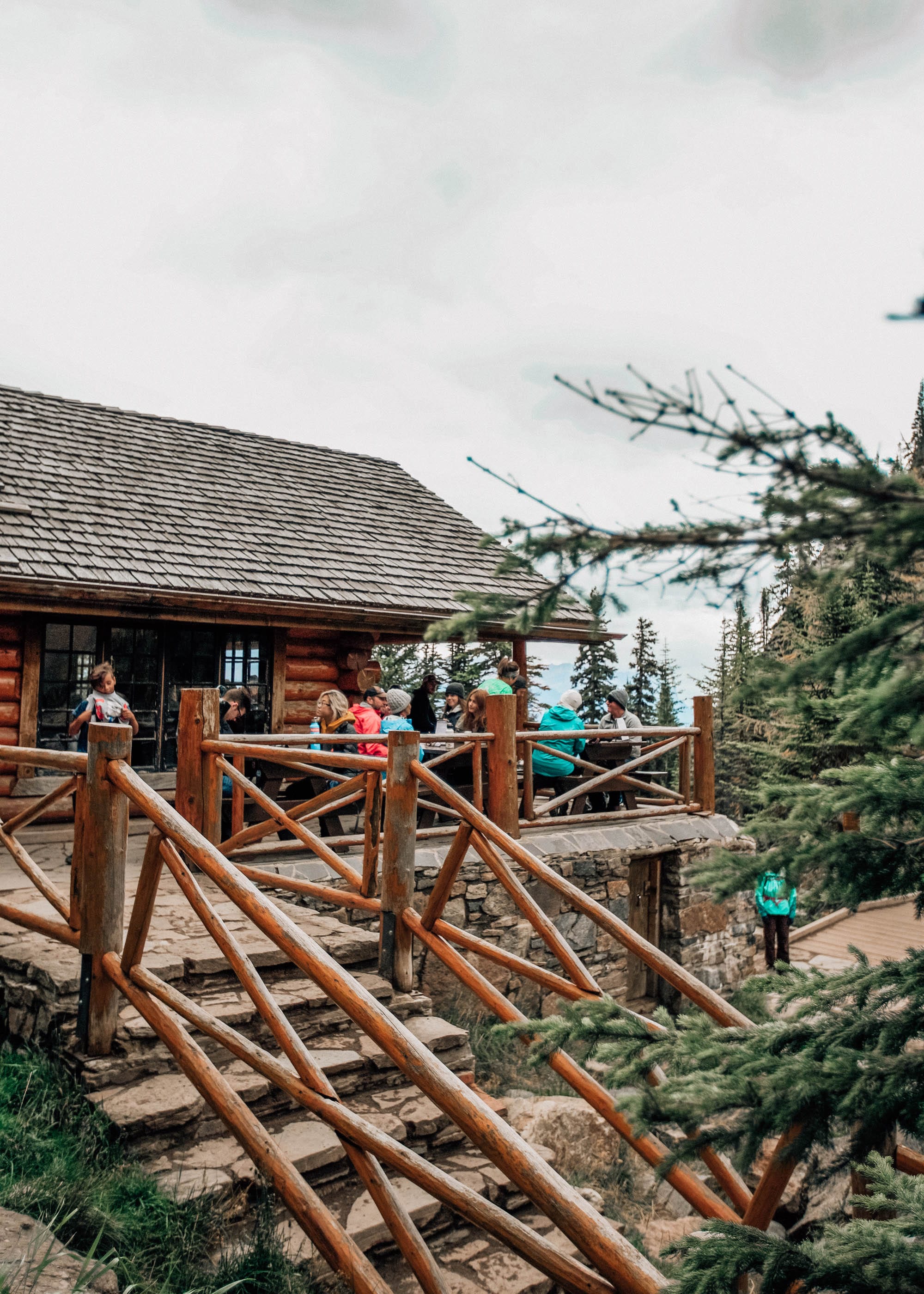 SUNDAY

Sunday morning was time to check out of the airbnb so we ate breakfast and decided to have a pretty low key day with no set plans. We knew we wanted to stay around the town of Banff so we packed up our car and found Bow River Trail. The views along this trail were beautiful and I couldn't believe we hadn't seen this spot before.

After walking along the trail for a while, we decided to grab some lattes at one of the local coffeehouses. There are a few great coffee shops in Banff that I love: Little Wild and Good Earth Coffeehouse. I'm sure there are many more but those are the only two that I've personally been to.

It was soon time to head to the airport and we decided to stop in a small town along the way called Canmore. I'm glad we did because this town was adorable and I might consider staying there next time. I've read that Canmore is also a great place to stay on a Banff trip if you're wanting to save a little bit of money as opposed to staying right in Banff. It felt like it was just a quick 10 minutes away.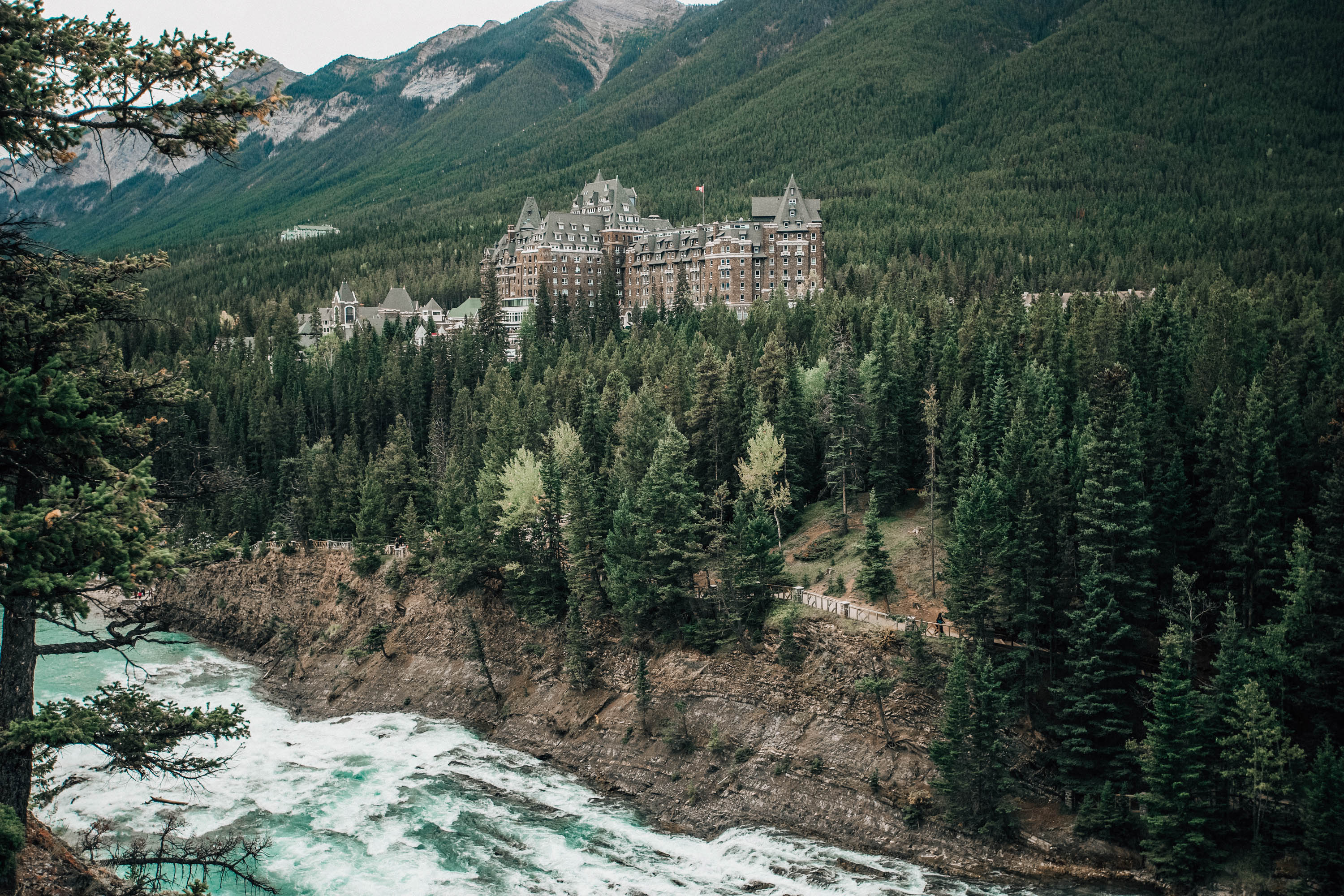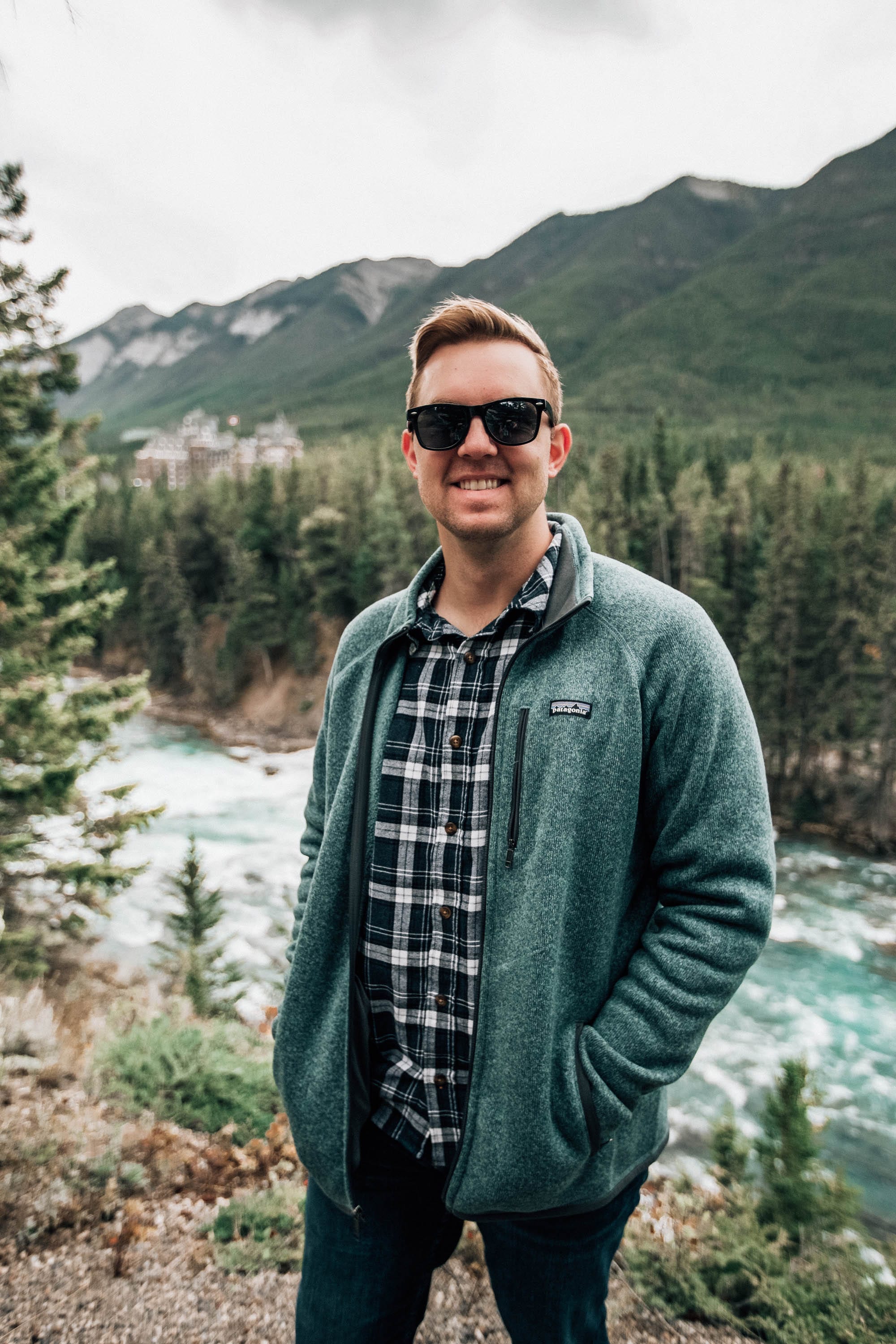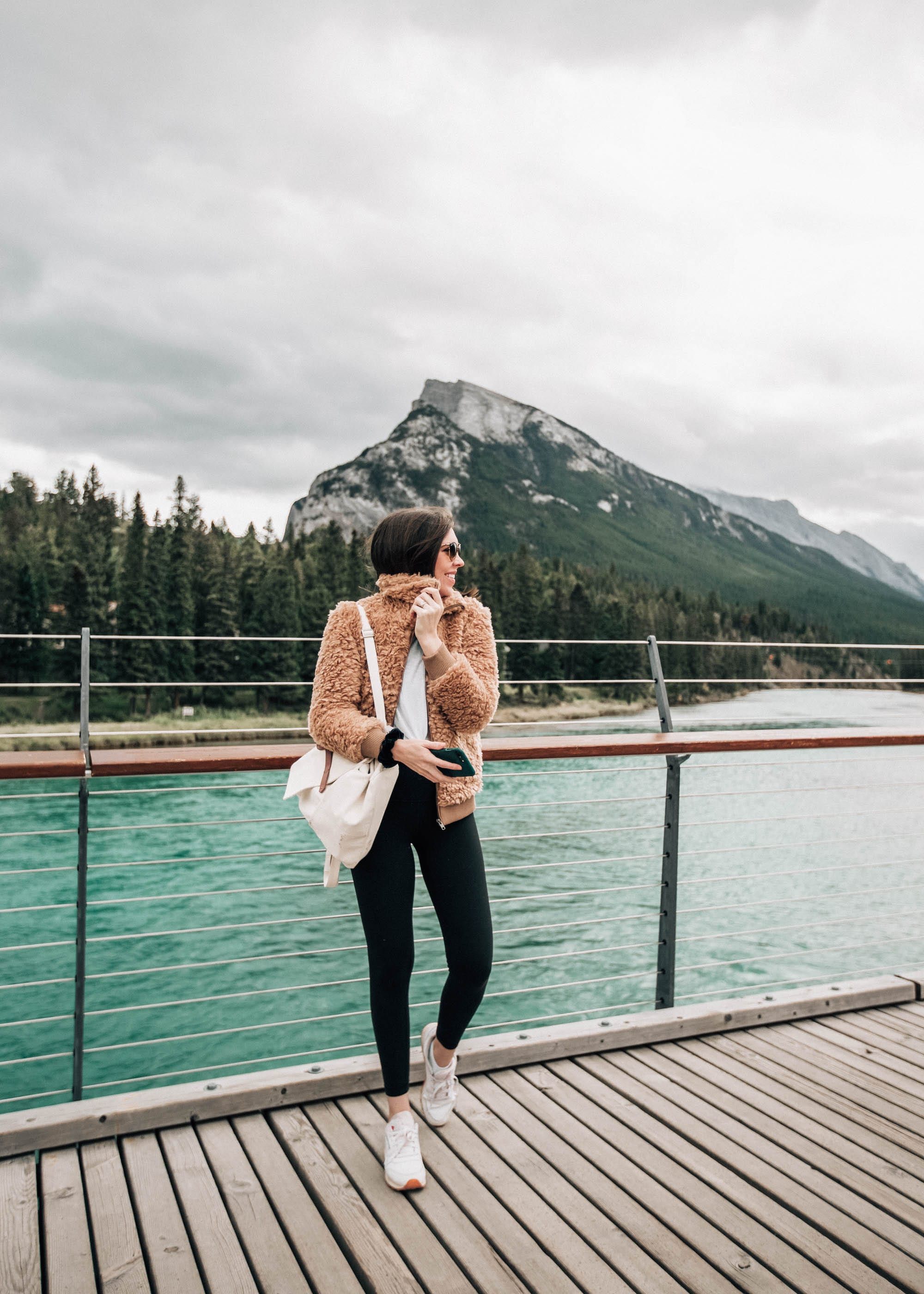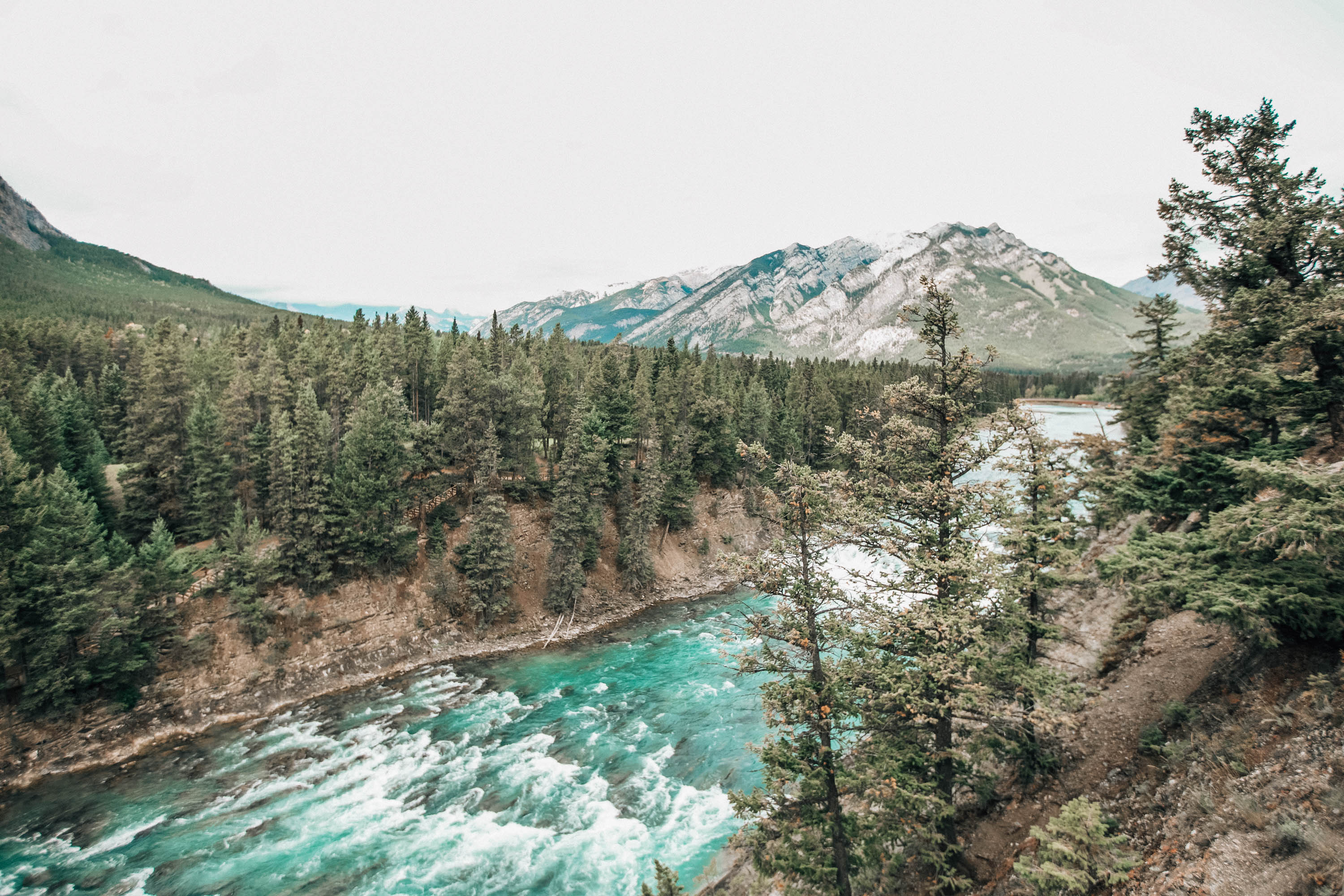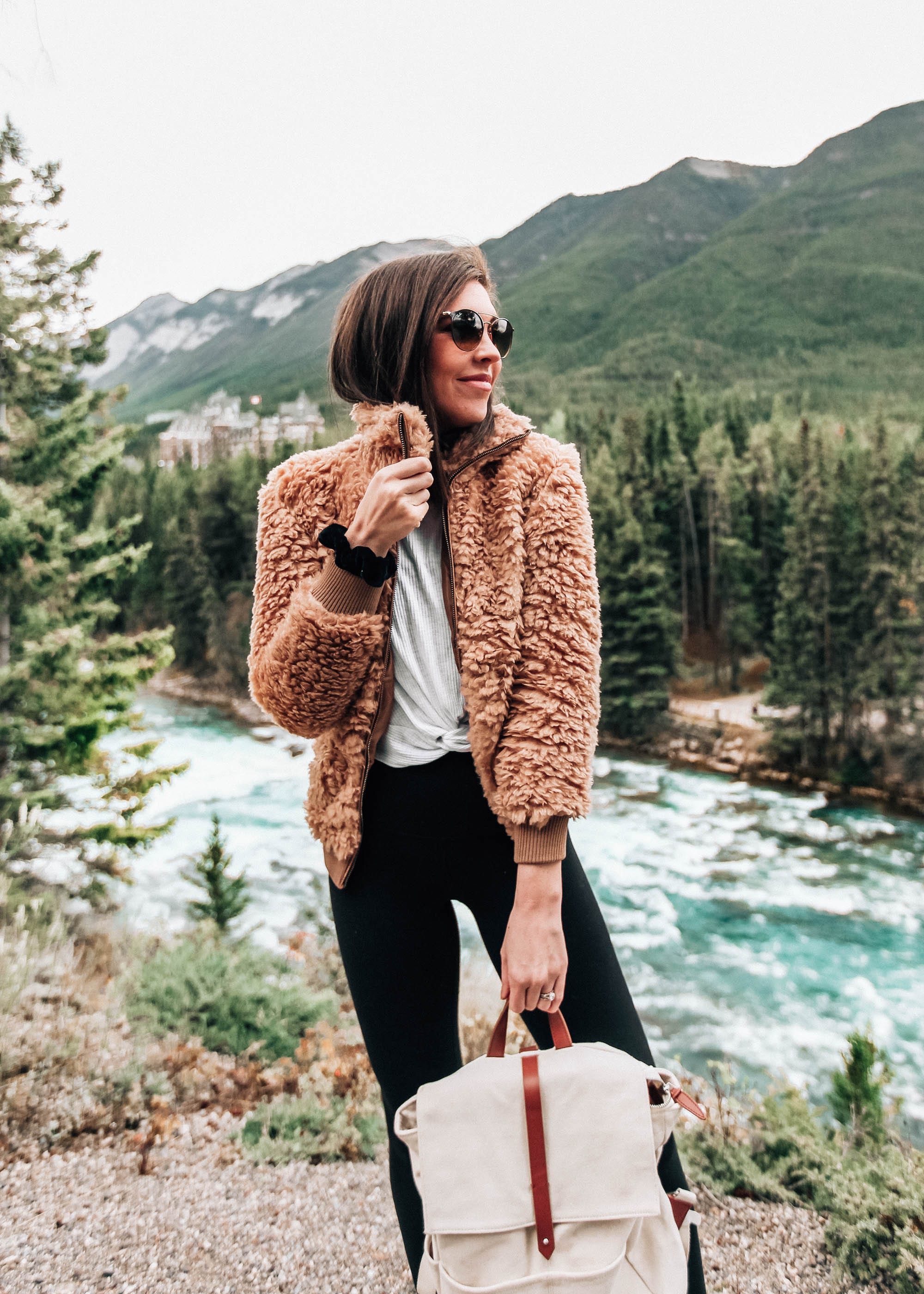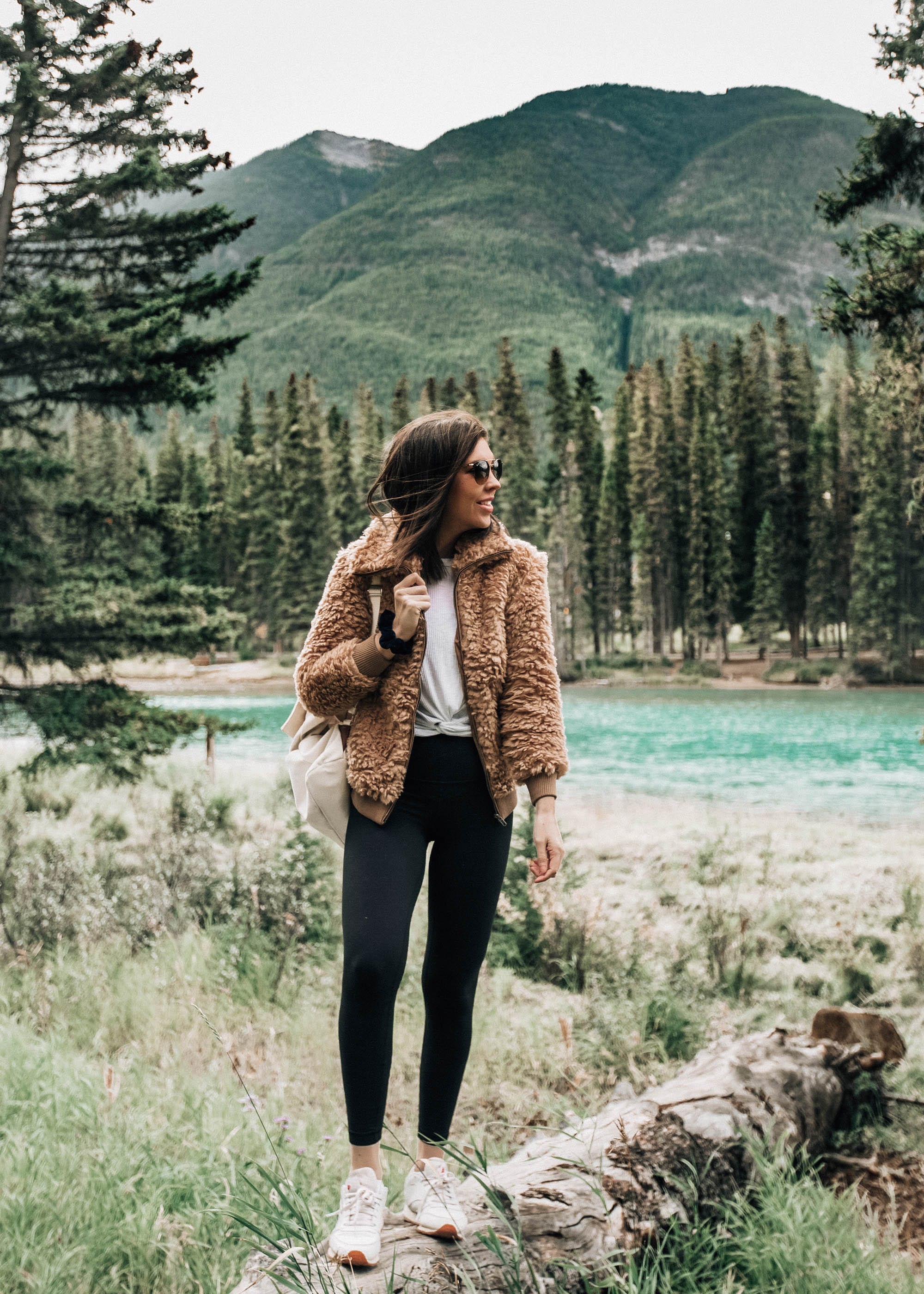 Q + A
Where did you fly from/connect to and what airline did you use?
To get there (both times), we booked through Air Canada and flew to Toronto and then Calgary. After we arrived in Calgary, we picked up our rental car and drove about an hour and a half to Banff.


Where would you recommend staying?
There are so many options of places to stay but, no matter where you stay, you're going to be spending more time than you think driving. Downtown Banff is about an hour away from all of the most beautiful lakes so most people will either decide to stay near the lakes (in Lake Louise Village or even farther at Emerald Lake) or in downtown Banff. About 15 minutes before Banff, there is also a small town called Canmore, which is another great option to stay, especially if you're wanting a more budget-friendly trip.

Last year we stayed at Emerald Lake Lodge, which is actually in Yoho National Park, about an hour and 15 minutes west of Banff. We did A LOT of driving last year! This time around we chose to stay in downtown Banff at an Airbnb. Both places were amazing in their own ways. Emerald Lake Lodge was a gorgeous setting and the Airbnb was incredibly convenient.
What time of year/season do you recommend visiting?
This really depends on what you want to do while you are there. Last year we went during the second week of October and it had already snowed about a foot and half the week before we got there. This made everything look like an absolute winter wonderland! We loved exploring the area with the fresh coat of snow which made our trip 10x cozy. On the down side, there were a few hikes that we were expecting to go on, but they were closed due to avalanche risk. This was a major bummer. This was right at the beginning of the off season for the area and there weren't as many people visiting. The later you go into the season, the less people that will be there.
This most recent time we went a few weeks earlier to catch the trails that we missed and see the landscape without the snow. This also meant that there were a lot more people to try and navigate around. The lines for getting into Lake Louise and Moraine Lake were ridiculously long, downtown Banff had a lot of tourists, and the restaurants were crowded. This is even worse from July-August. We were told that some of the lines into the lakes block the entire highway. So, personally, we will probably always avoid traveling there in July/August but I do know that is the most popular time for good reason! If you visit before July, the lakes may not be fully thawed yet, FYI!
TJ loved the snowy landscape and spending time relaxing by a wood fireplace and watching the snow fall. If this is what you want to do, we would recommend heading there late September into October, but be prepared to go through some winter weather. If you want to explore the outdoors and go on all the hikes you can, the summer to early fall months are probably the best.
When can you rent canoes and how much does that cost?
There are a couple different places to rent canoes, all of which close at different times in the year. When we stayed at Emerald Lake Lodge, they literally closed the canoes the day we got there. The price for riding the canoe was $70-$80/hour. One good thing about this option is you do not have to stay at the Lodge to rent the canoes. But there is a very limited supply, so you may need to wait.
You can also rent canoes at Lake Louise and Moraine Lake, but those are more expensive. The Lake Louise price was $115/per half hour. A lot higher than Emerald Lake. They do have a lot more canoes, so you may not need to wait as long. Lake Louise also allows canoe rentals deeper into the fall, until the lake freezes (then you can trade the canoes for a pair of skates!).
One thing we learned from our Airbnb host, Albert, was that you can also canoe down the Bow River. We never explored this option, so I am not sure what the prices are like, but we did see a few canoers as we were driving along the highway.
How long of a trip do you recommend?
We would recommend a 3 or 4 night stay. This will give you enough time to travel around the area and see the lakes, go on hikes, or explore the city/town area. If you are coming from the East coast, probably closer to 4 nights. This past visit we were incredibly tired by the middle of the trip after doing so much hiking. But the first time we traveled there we could have sat in front of the fireplace and watched the snow for a week.
Do you suggest renting a car?
YES!! This is really the only way to get around unless you want to deal with tour buses and shuttles the entire time. It is actually pretty inexpensive to rent cars around there… I was surprised. The closest airport is Calgary which is an hour and a half away. Also, even if you stay at one of the lakes (Louise, Moraine, Emerald) you will still need a way to get around.

Favorite places to eat?
Banff is considered a foodie town, so there are a ton of great places to eat! The first time we visited, we rarely ate outside of the Lodge. The food was amazing there and we have heard great things about the other lodges around Lake Louise and Moraine.
Our other favorites were The Bison and Eddie's Burger Bar (it was pretty casual and small, be prepared to wait if you don't have a reservation) downtown. The Bison is a fabulous option for a nicer dinner. It was my first time having Trout and I loved it! Some other places that were highly recommended were Park Distillery, The Grizzly (if you like fondue), and the Pho House if you are in the mood for take out. For quick bites to eat and coffee, I love Wild Flour and Good Earth Coffeehouse.
Are there any ways to make it more affordable?
Yes! TJ was able to find a great deal for our first trip to Emerald Lake Lodge on Expedia. He bundled the hotel stay and the flights and we ended up saving about $300. Check out those bundles. Also, if you are okay with not going during peak season (July-September) the hotel stays will be much cheaper. You can also stay a little farther outside Banff in Canmore. It is about 15 minutes away from Banff, but still has a lot of fun things to do. You can also find affordable Airbnb's in Banff and Canmore.
You can also bypass some of the paid shuttles by going to the scenic lakes in off hours. Get to Lake Louise and Moraine Lake later in the afternoon (or extremely early in the morning). You will still have plenty of time to explore the lakes without all the people. There are also activities that can be done in off hours for free as well. The Banff Gondola typically costs about $60/person, but after 7pm it is free.
What are your top 3 must do's?
Visit Moraine Lake and Lake Louise (and Peyto Lake if it's open). The color of the water is breathtaking.

Spend time walking around downtown Banff exploring the town and walking the Bow River Trail!

Eat at the Bison!
Activities you haven't done, but considered for next time?
A few things we wish we could have done is gone on the Banff Gondola. We saw it from a distance and the view looked incredible. At the top of the Gondola there is also a restaurant, the Sky Bistro that we heard was very tasty. We only had a quick dinner on the way to the airport in Canmore, but it seemed like there was a lot of fun things to do in the town. We would have loved to spend more time and explore that area. There is also a pretty well known rope swing in Canmore as well.

If I missed any questions, let me know! Also, if you missed our first post about our trip during October, you can read that here.

Happy Friday!