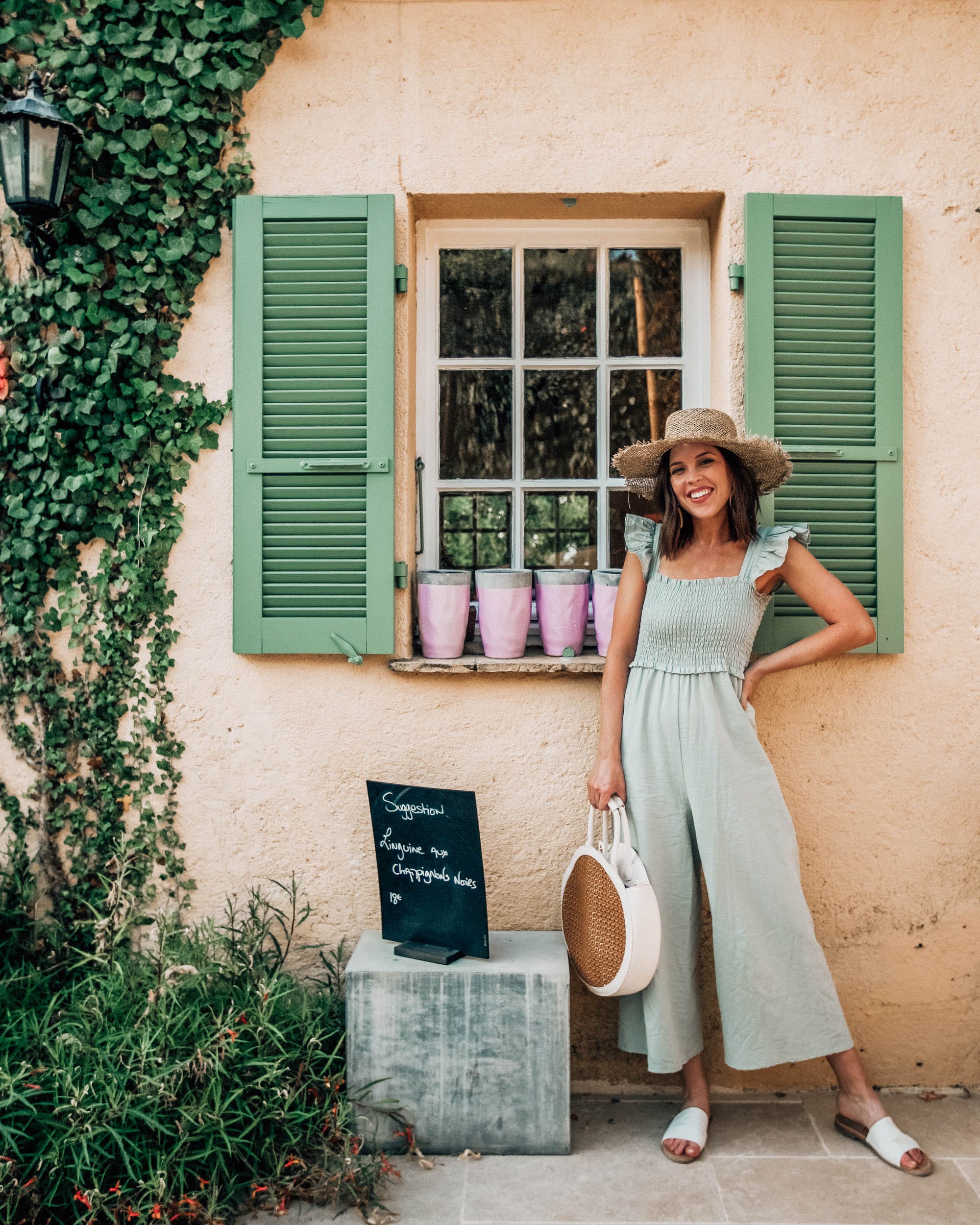 2019 was a challenging and exciting year of growth, trials, and new experiences. In a couple of weeks, I'll share more details of our plans for the new year and what it is going to look like but today I wanted to look back and reflect on everything I learned from this past year. It's crazy how you can look back on your life exactly 365 days ago and compare it to what you thought it would be now whether it's better than you expected or just completely different. Think of all you've accomplished! Or think of what you could have worked on better. I've been thinking of all of these things but for today's post, I just wanted to focus on the lessons learned. TJ and I look at each other all the time and say "you live and you learn". We're constantly making mistakes and learning from them but I appreciate them! I can 100% say that I am entering the new year in a completely different way than I ever imagined but sometimes life just works that way. I'm also ending this year with an overwhelming sense of gratitude for good health, a job I love, family, and the experiences in 2019 that built thicker skin and the feeling that I can handle anything. I'm just feeling so pumped and ready to embrace all that 2020 holds. I'm also extremely grateful for my friends on the internet. 🙂 Many can view social media as something negative and I do think that it's very healthy to take some breaks from it when needed but there were many times this past year where your messages meant more than you know… messages that gave me hope during really hard times. I don't say it enough but thank you for being here and being my friend, even if it's just online – your friendship has helped me offline in more ways than I can count.

1. "Your anxiety doesn't have to control your life." I remember my doctor told me this back in 2018 and I didn't believe her. I told her I was experiencing panic attacks frequently. I couldn't even walk into Target without feeling like I was going to pass out. I avoided driving down specific highways because of the fear of passing out in the car. I said no to coffee dates because of it. It got out of control. That doctor was right though… your anxiety doesn't have to control your life. Since May, for the first time in my entire life, I feel like I can live fully. And that itself has made 2019 a life-changing year. Looking back, I can't believe it took me this long into the decade to do something about it. For the longest time, I thought I'd feel weak for seeing a doctor for anxiety but, in reality, I was weak for going so long for not seeing a doctor for anxiety. After a couple of years of letting my issues worsen until it affected my everyday life, I finally feel like a normal person and feel like I can fully live my life free from worrying over things I shouldn't be. Sure, there are times when life throws you terrifying situations and you worry like crazy, but the days of me worrying over nothing are over and I want you to know that if you are dealing with something similar, do NOT be afraid to go see someone who can help.
2. With success, comes some haters. I tried to think of some fancier way to say that but I'll just cut to the chase. Growing up, I was always someone who was a people pleaser. The thought of someone saying something mean to me was too much to handle and it was about exactly a year ago when I realized that as I was finding success in my life and in my career, that some trolls popped out to say hi (but not to my face). I couldn't believe it at first but now I just know that it is expected, especially in this digital age. I don't have to deal with this too often but it's sad to know that some girls I am friends with deal with this much more frequently. If you've dealt with this in your life or in the workplace, just know that haters are confirmation that you're doing something right.
3. Get pet insurance. If you think something is wrong with your dog, something is probably wrong with your dog. We've had Colbie for about 8.5 years now and Russell is 13 (although we've only had him living with us for 1.5) and WOW did we spend a lot on them this year. Spleen removal, eye removal (next week), the list goes on for 2019. We decided to get pet insurance moving forward and I'd highly recommend looking into it, especially if your pet is younger! Most emergency vet offices don't offer payment plans so if something happens and you want to try and save your dog's life, try to have at least 6-9k saved up!
4. Be extra careful when nailing things into any outer walls of your house. Important pipes run along those outer walls and we learned this the hard way when we nailed board and batten into our AC coolant pipe. lol. Actually, no lol because it was in the middle of July.
5. You can't plan your life but you can plan your finances. Financial planning is something I want to be better at next year. This year threw us a lot of…. unexpected expenses and the truth is, you can't always plan your life. One year from now, you might be moving for a job or have to buy a new car. This year I finally decided to organize my bank accounts (business v. personal savings and checking) and I'm going into the new year with a plan for the unplanned.
6. Clutter in the house = clutter in the brain. This was something I've realized for a while but, with each passing year, I feel like I need to declutter even more! By the time I'm 30, I'm probably going to own like 5 shirts. There is just something so calming and motivating when you have a clear space and you get rid of the excess in your home. I think better, I work better, and my mood is better. My goal for the new year is to stay on TOP of this all week long, all year long! As someone who works from home, it's key!
7. Cooking at home is one of the best habits you can form. 2020 is going to be the year of Cooking with TJ. 🙂 but really. He is going to be spending a lot more weeks HOME and with me so I'm excited to get back on track with us in the kitchen together. Eating at home is just so much healthier in so many ways… physically, financially, probably mentally.
8. If you are given an opportunity that sounds terrifying but deep down you know it's awesome, you better say yes! I had a couple of public speaking opps this past year and I remember thinking "there is absolutely no way I can do this" but now I feel like I can do it again and again! Be brave in 2020 and know that you are stronger and more capable than you think!
9. Invest in good bedding (and a silk pillowcase). 2019 was the year of good sleep for me. I upgraded to some seriously good sheets, perfectly squishy pillows, and started to use a silk pillowcase to help my skin and hair. Investing in your sleep is one of the best things you can do for your health and something I intend to do for the rest of my life.
10. Home projects will probably take longer and cost more than you originally planned for. TJ and I bought this house not really knowing how much we would be working on it. It's been a learning experience and one thing that we realized happened 100% of the time was that every project took longer than we expected and there were always extra costs that we didn't plan for. 🙂 Happy home-ownership!
11. Making a to-do list for the following day the night before will change your life. Making a meal-plan before each day will really change your life. Also, drink your water!
12. Life is better when you get ready, even with just a little mascara. I have been the queen of not getting ready. If you work from home, you can probably relate to this BUT I promise that on the days you spend just 15 minutes getting "ready" (a little makeup, hair, and some real clothes… I do love leggings though), you'll feel so much more productive and ready for anything that comes your way that day.
13. Burn-out is inevitable if you don't recharge your batteries! I'm still recharging my batteries from these last two months. For anyone who owns their own business, you know that it is almost impossible to stop thinking about it. It's always on your mind, your brain is always thinking of new ideas, and I think it's important to accept the fact that you need a break every now and then. It's not normal to always be "on". I think in 2020 I'm going to try and always have Saturdays be my off day.
14. 1 week in Europe is probably not long enough! In 2019, we visited Europe for the first time and we're still trying to catch up on sleep from that week. JK but we decided that if we visit again, we'll stick to one localized destination instead of splitting it up into 3 stops within 1 week. On the other hand, 3-4 days in Banff IS long enough. 🙂
15. Microbladed eyebrows = a gift.
16. Everyone is on a different spot in their journey and everyone has their own strengths. Don't compare. Don't judge. Just do you!
17. Waking up earlier does not always make you more successful. Good sleep, water, a plan, and hard work makes a big difference though.
18. Someone is always going through what you are going through! This is so comforting to know during hard times and one of the best parts about social media. It inspires me to share more daily life in 2020.
19. Every day is such a gift, every moment should be celebrated, and there is so much to be thankful for. This isn't something I necessarily learned this year only but every year it becomes much more apparent.
HAPPY ALMOST NEW YEAR!!!


Love, Shelby