If I'm being honest, I don't think I've ever really loved my hair until this past year. I've always had uncontrollable frizz, constant baby hairs and breakage. For someone who has never colored or even highlighted my hair, it has had some major dryness at times, likely due to heat damage. It wasn't until this year that I noticed less frizz, more moisture PLUS shine & softness. 2020 also brought me bangs… which has really helped my baby hair issue since they completely hide them and give my usual part a rest.
In terms of my routine, I try to wash my hair no more than 2-3 times per week and limit the heat tools as much as possible (I'm still working on that). About a year and a half ago, I was introduced to a few new hair products that I've been using ever since, and they've made a big difference in my hair. They're all a part of the Herbal Essences Potent Aloe Collections, a sulfate free, paraben free collection that is made with real botanicals certified by the Royal Botanic Gardens, Kew.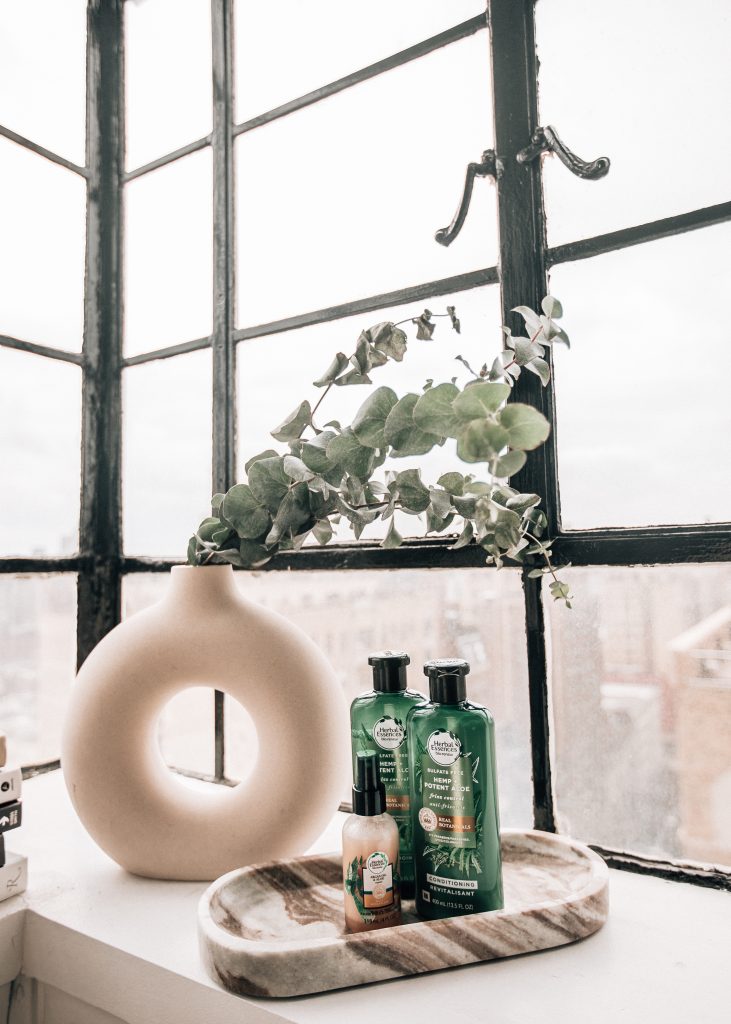 FRIZZ CONTROL SHAMPOO AND CONDITIONER
Herbal Essences Hemp + Potent Aloe Shampoo and Conditioner have been my go-to for months now and is the first step in my hair routine. I used to use the Bamboo + Potent Aloe Collection but switched things up a bit recently. The good news? They're both part of the same collection of sulfate free and PETA cruelty free products made of real botanicals and sustainably harvested aloe. Not only do they smell incredible, but the Hemp + Potent Aloe Shampoo is one of the only mass hair brand products that meet the ingredient standards for the Environmental Working Group.
ARGAN OIL & ALOE HAIR OIL MIST
After I get out of the shower and my hair is slightly tangled, this Argan Oil & Aloe Hair Oil Mist smooths and helps fight frizz. It's been such a game changer and now I ALWAYS use it right after washing my hair.
25mm ROUND BRUSH
About a month ago, I bought a new brush specifically for my bangs and I cannot recommend it enough (less $ version here). It heats up very quickly and when used with a hair dryer creates the perfect amount of volume for the bangs. It was definitely a splurge for a brush but worth every penny. When it comes to styling bangs, I start with damp hair and brush left to right repeatedly a few times to confuse the roots so that they don't drift to one side. Next, I'll take my round brush and pull up using the hair dryer to heat up the brush. It only takes a few seconds since the brush heats up so quickly but I just love the volume and slight curl it creates. 
1.25in. CURLING IRON
This curling iron has been in my routine for years and I try to only use it a few times a week at most. It curls my hair in no time at all and I've never had any issues with it so I plan to continue using it for as long as I can! If I'm going for a more wavy look, I like to leave more ends out (3 in.) but if I'm going for more curls/less wave, I'll leave barely any ends out when curling. 
HAIR ACCESSORIES
My last step in my hair routine is an accessory that I've been reaching for almost every day… specifically, a hair barrette, which also takes me back to my middle school/elementary days. My mom would always put my hair in a barrette but nowadays, I reach for the tortoise and gold classics. Sharing a few of my favorites below:
[show_shopthepost_widget id="4413962"]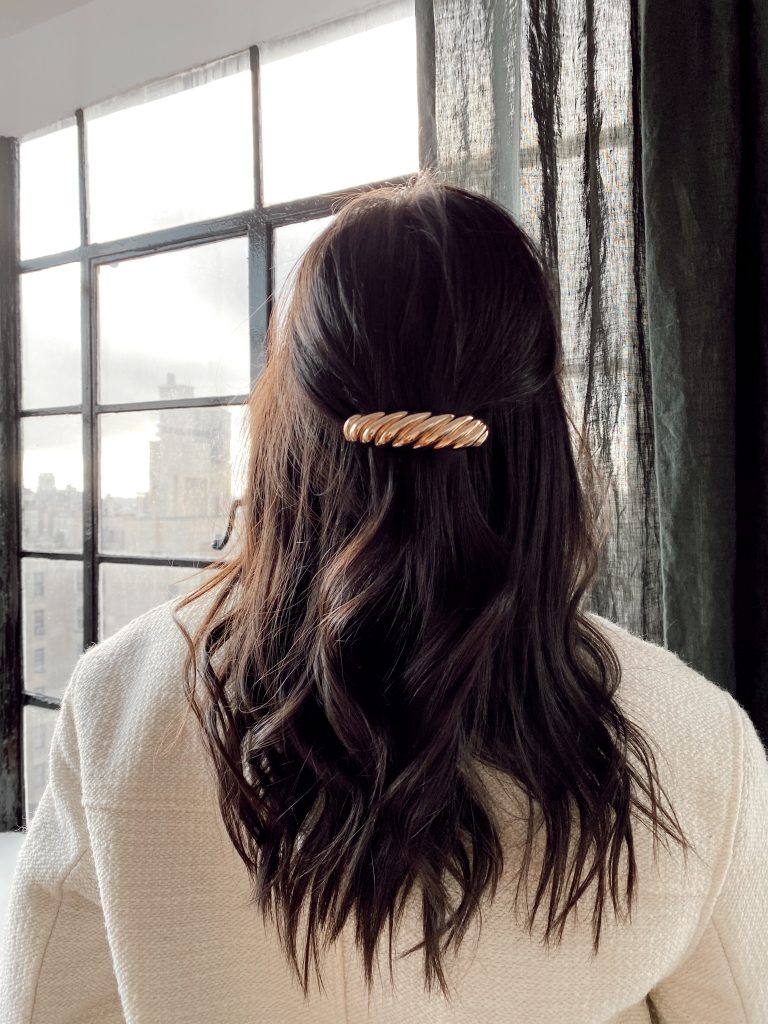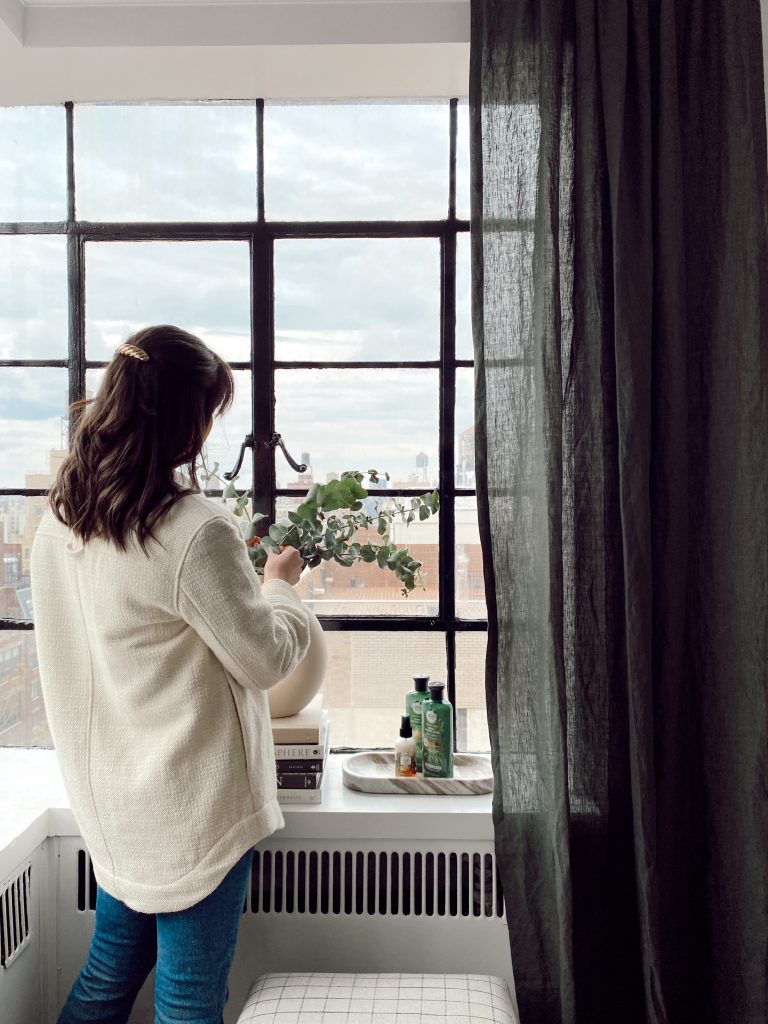 Let me know if you have any questions or if you've had the chance to try the Herbal Essences Hemp + Potent Aloe Collection yet. If you're wanting to order a few products depending on your personal hair concerns, you can find the collection here.

This post is sponsored by Herbal Essences. All opinions are my own.