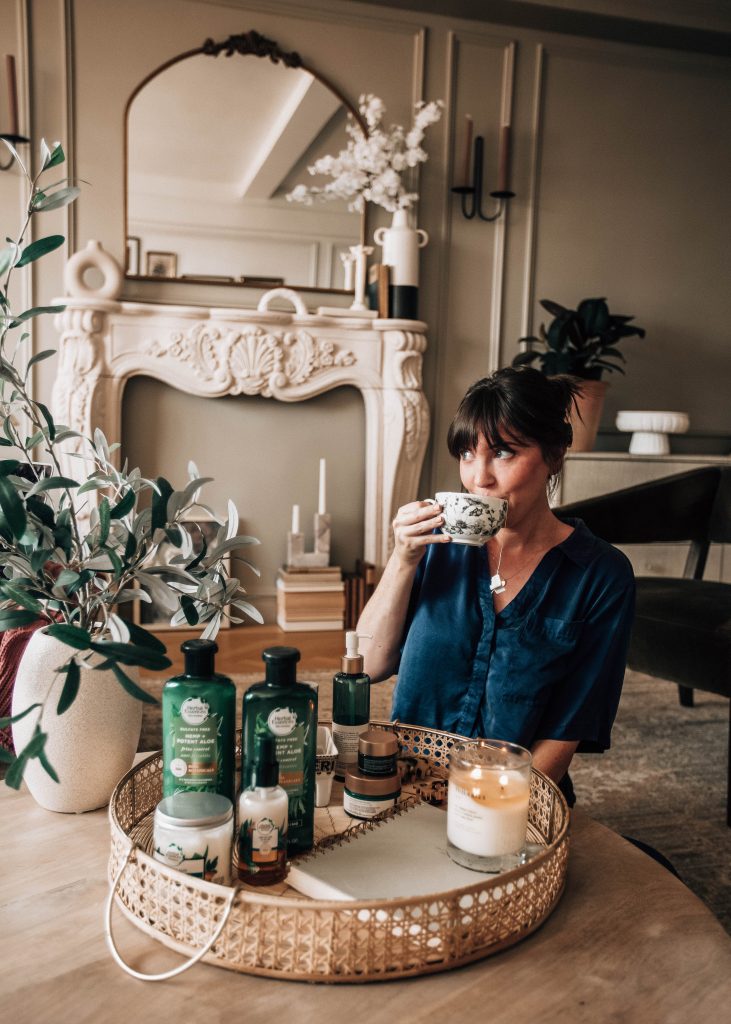 As someone who is fairly introverted, I really don't mind spending time at home alone. The other night, TJ had a work dinner for the first time in over a year (almost forgot those existed). I knew I'd be spending some time at home by myself that night so I planned on having a much-needed, simple at-home spa night. I ordered my favorite greek food for dinner to be delivered, picked out all of my facial serums and hair treatments, put on my favorite washable silk pajamas and picked out a movie.
The first step of a spa night for me is taking a shower/washing my hair and doing all of the hair treatments so, if needed, they can sit while I do other skin masks. For the last 1.5 years or so, I've been using Herbal Essences Hemp + Potent Aloe collection, which is made with real botanicals certified by the Royal Botanic Gardens, Kew. This collection is one of the few of the mass care brands that ranks very high on the EWG website. In addition to the Hemp + Potent Aloe shampoo and conditioner being the best to combat my frizz (especially in this summer humidity), I follow up with the Argan Oil and Aloe Hair Mask along with the matching Hair Oil Mist once I'm out of the shower. The Argan Oil and Aloe Hair Mask is the best hair mask for dry hair – my hair always feels so silky afterwards! Plus, the Argan Oil & Aloe Hair Oil Mist does wonders for detangling and repairing. If you're in the market for some new hair products (and want to discover how amazing Aloe vera for hair is), I'll link this collection here because it is not only affordable and easy to find, but has made a big difference in my hair over the last 1.5 years.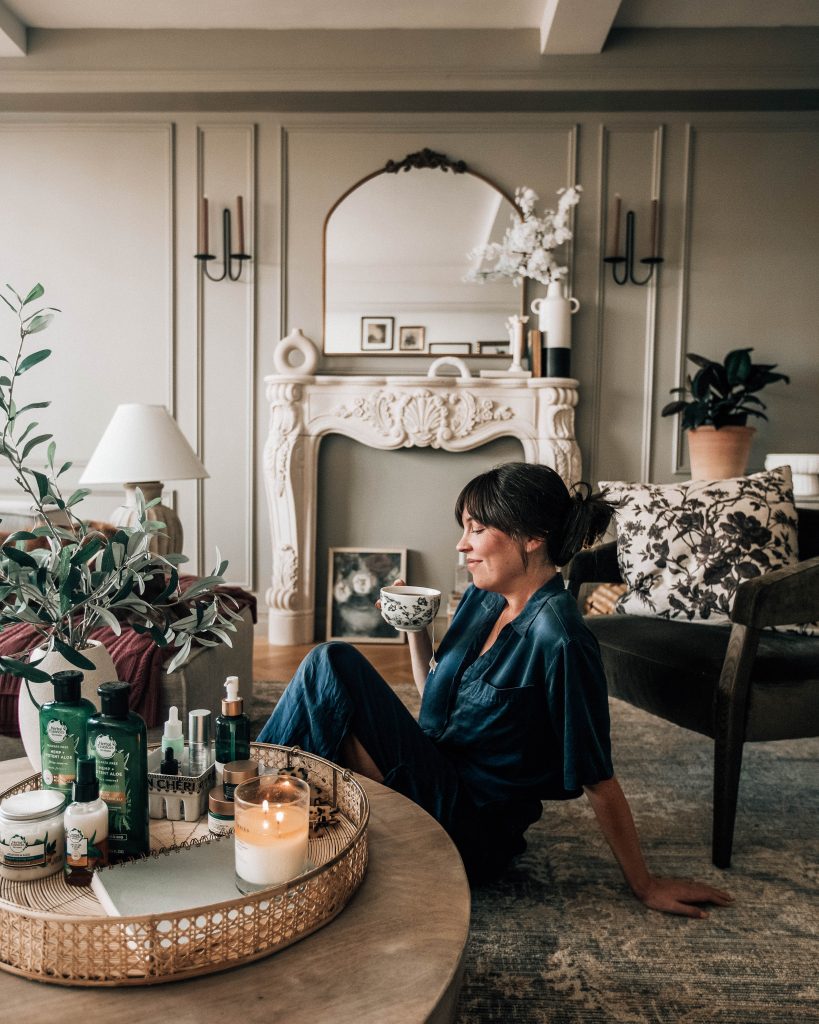 I'll apply some self tanner immediately after drying off (don't forget about exfoliating beforehand) and then step into my silk pajamas. To avoid any mistakes, I'll use extra moisturizer on my knees, ankles, and feet to avoid tanner mishaps. I'm not going to lie, some nights call for an XL t-shirt but when you're having a spa night… it calls for your finest! And I can't recommend these splurge-worthy pajamas enough.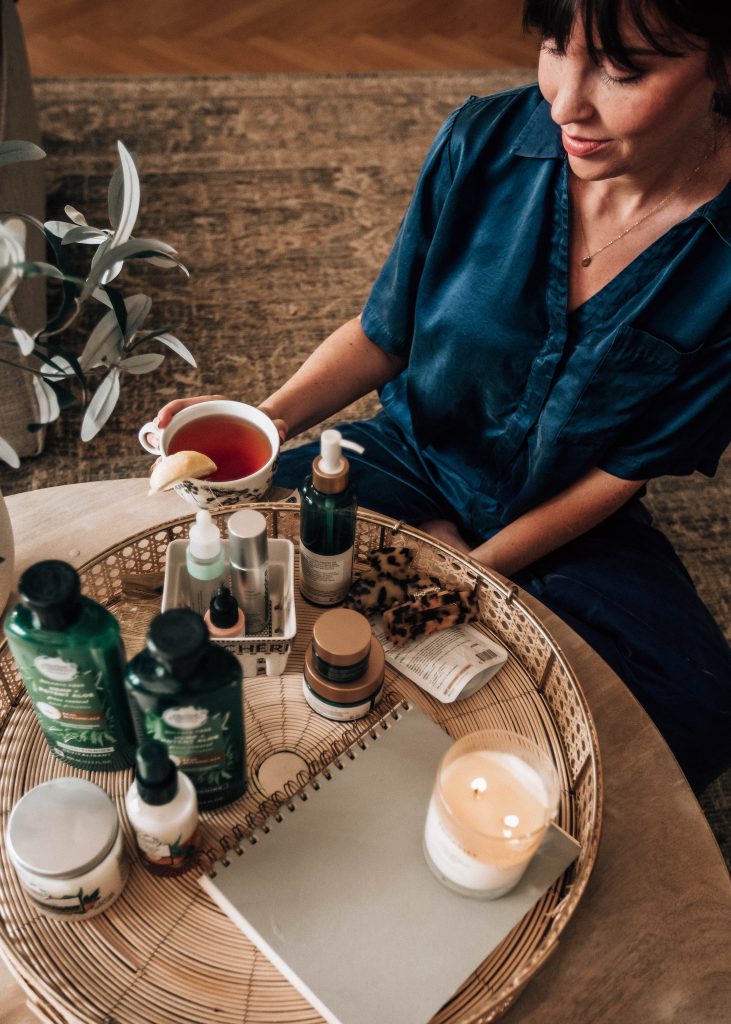 Once ready to get the skincare treatments started, I'll prepare a cup of rose tea with lemon. I've lately been drawn to Rose Hips with Hibiscus! Nights alone are when I can re-watch some of my all-time favorite movies like My Best Friend's Wedding, You've Got Mail, or How To Lose a Guy in 10 Days. But before pressing play, I'll get my journal out and jot down some thoughts to really help clear my mind.
While my hair is drying and tea is steeping, I'll turn on my facial steamer to prep my skin for all of the serums I'm about to apply. A spa night is not complete without a face mask so I'll usually start with one of those and then move on to serum and moisturizer later.
How would you spend an evening at home alone?
Thank you to Herbal Essences for sponsoring this post.