It's my favorite time of the year… when it's 70-80 degrees just about every day ('til the summer heat arrives) and one of our favorite things to do is bring dinner outside to the park to enjoy on a big picnic blanket right before the sun sets. Sometimes we'll pick up sandwiches at a local deli but other times we'll make our own dinner to bring out there. When I think of summer park days, the first thing I'm in the mood for is refreshing pasta salads, salsas, and sandwiches. Today I'm sharing a few favorite recipes we love to make that all use simple ingredients that taste like summertime. I'm excited to partner with the Vidalia Onion Committee and highlight my personal favorite ingredient.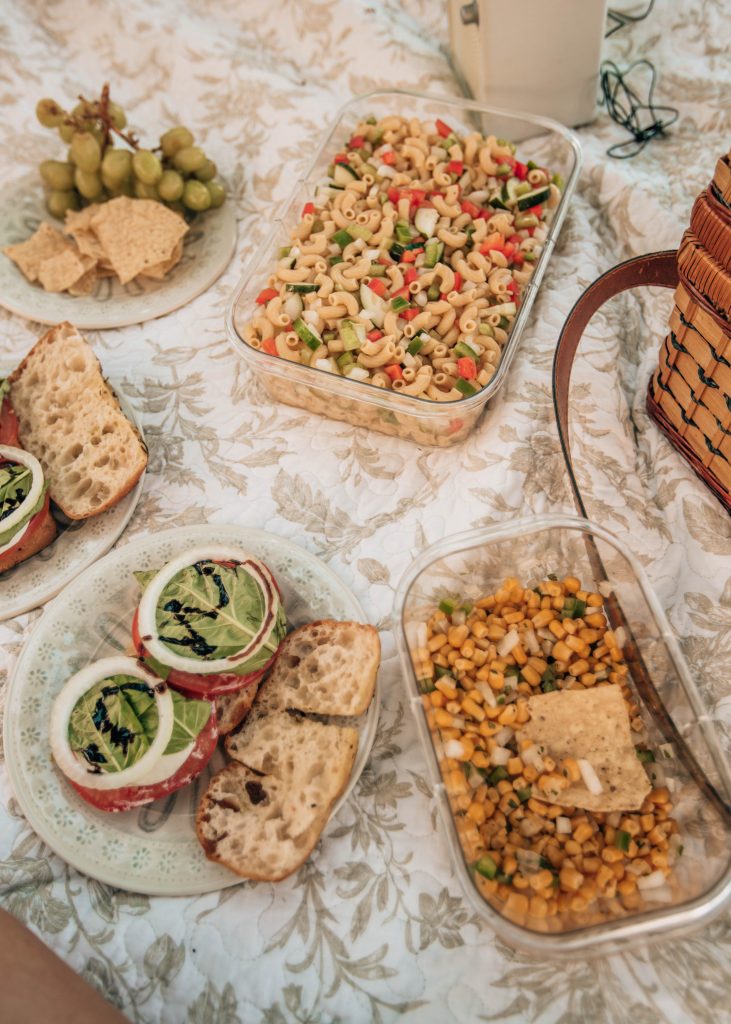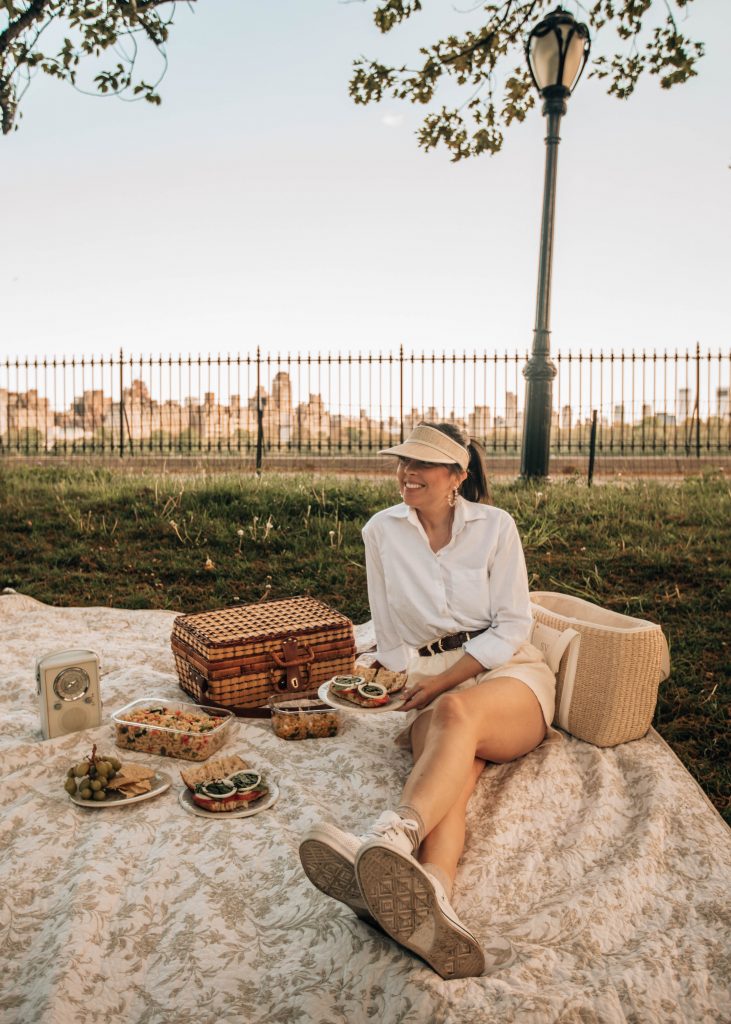 Vidalia onions have a sweet, simple, yet distinctive taste and the harvest hits stores in April and typically runs out of stock by August or September. They're also hand planted and harvested in only 20 counties in South Georgia so you'll want to pick these up while you can! Not only do I add them to just about every single pasta salad, casserole, and sandwich I make, but they're also a good way for me to get more vegetables in my diet.

So, last week, we ended up making a modified version of my favorite pasta salad in my Grandma's cookbook, a simple corn salsa, and caprese sandwiches. I love to make this pasta salad at the beginning of the week so I can eat it for lunch throughout the rest of the week. For the caprese sandwiches, we picked up fresh focaccia bread from a local bakery but you can of course make your own too.
'PICNIC PASTA SALAD' RECIPE:
4 cups cooked pasta, elbows or penne
1 Vidalia onion, chopped
1 green pepper, chopped
1 red pepper, chopped
1/2 large cucumber, diced
Pinch of salt and pepper
1/4 cup of olive oil
1/4 cup of red wine vinegar
1 lemon, juiced
1/2 cup of feta
In a large serving bowl, mix all ingredients. Stir to combine.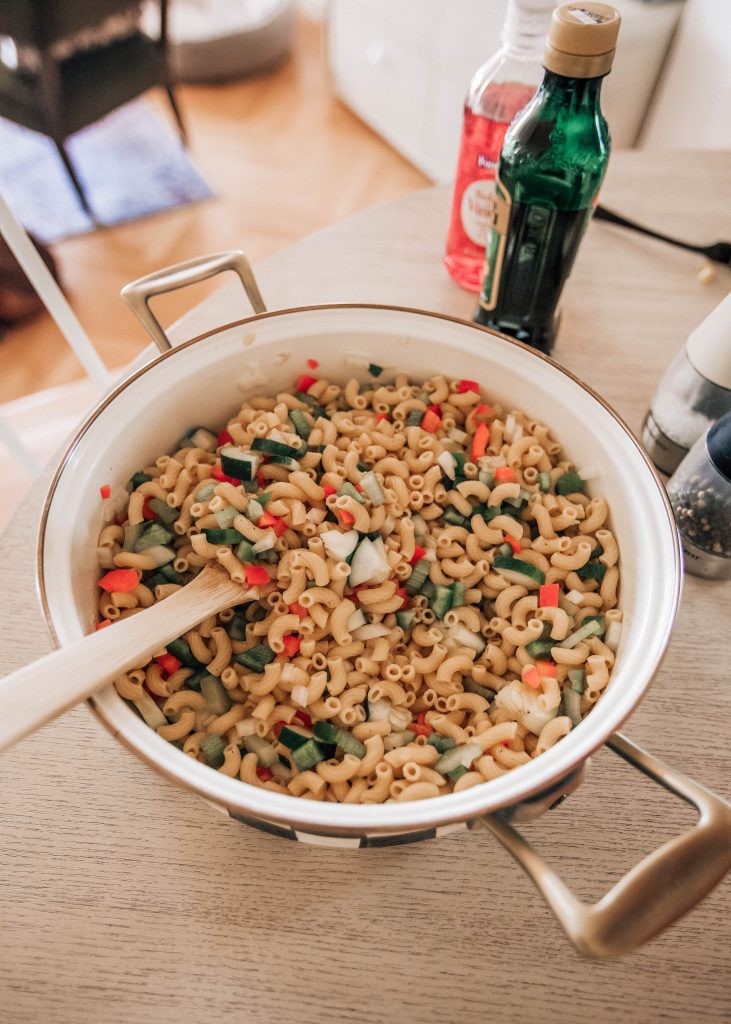 CORN SALSA RECIPE:
3 cups corn kernels, shucked (or you can use cooked corn if you prefer)
1 cup finely chopped Vidalia onions
1/2 cup finely chopped cilantro
1 medium jalapeno, finely chopped
1/4 cup lime juice (about 2 limes)
1 tablespoon of white vinegar
1/4 teaspoon of chili powder
1/2 teaspoon of sea salt
In a medium serving bowl, combine all of the ingredients. Stir to combine.
Adjust flavor with vinegar or lime juice. To add more spice add additional jalapeno.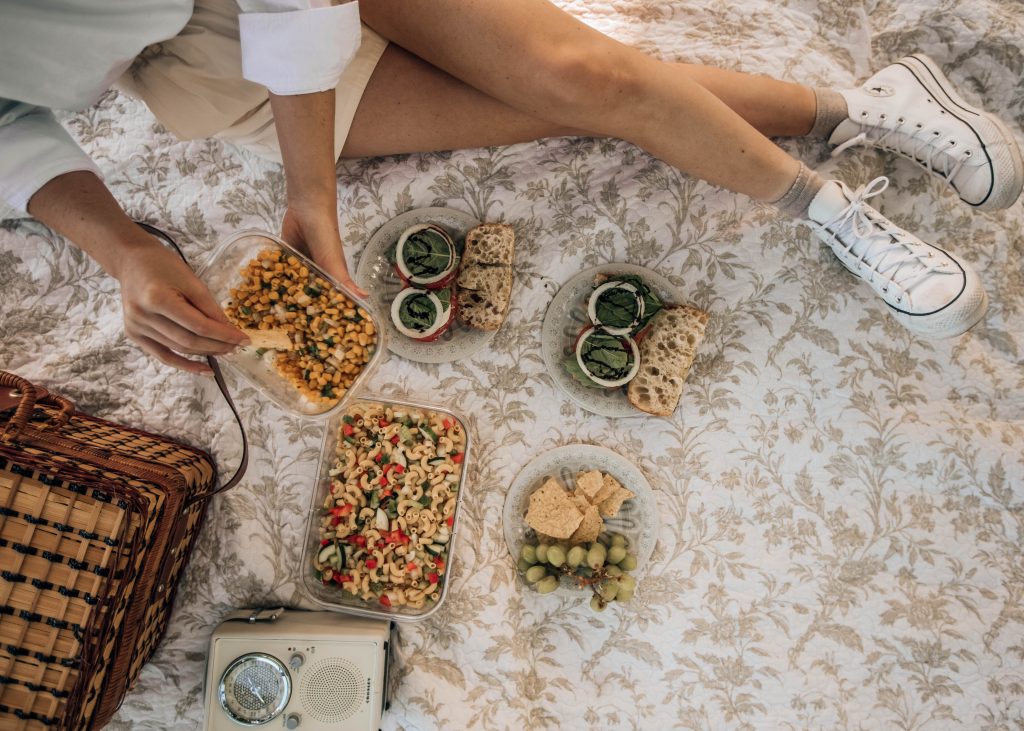 CAPRESE SANDWICH RECIPE:
Rosemary focaccia bread
4 Vidalia onion slices
1 heirloom tomato, making 4 individual slices
Fresh mozzarella cut into slices
Pinch of salt and pepper
8 basil leaves
Balsamic glaze
Slice focaccia bread into individual sections.
Add layers of onion, tomato, mozzarella, and basil.
Drizzle glaze onto top of sandwich ingredients.