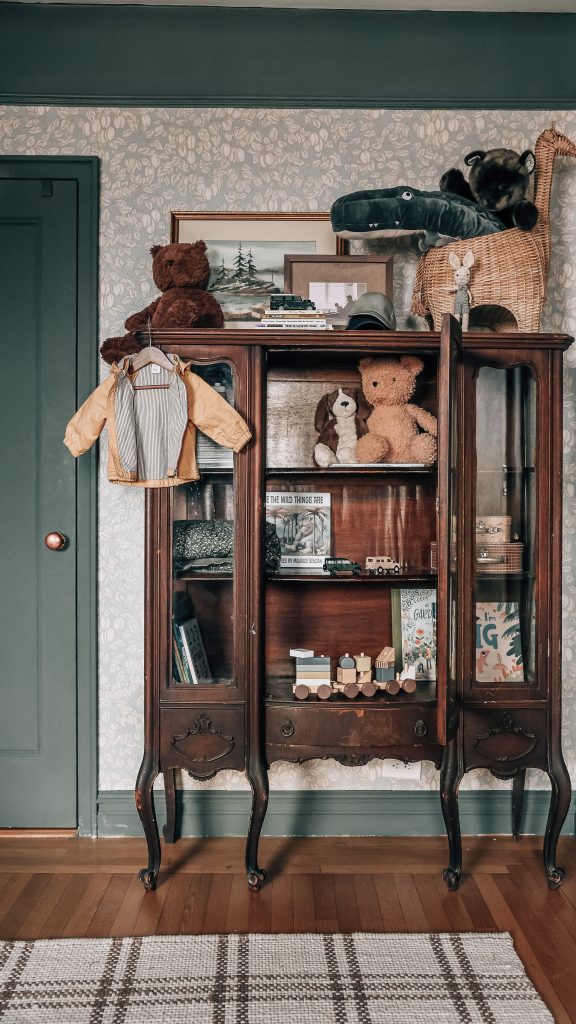 I've come to the conclusion that I buy way too many things on Etsy. I just can't help myself with all of the unique vintage shops when it comes to decor. I've also found several baby clothing shops on Etsy. It's just a really favorite place of mine to shop so I decided to start sharing with you my latest finds, starting with today's nursery edition.
When searching for unique wooden shelves on Etsy, I came across this antique shop and immediately ordered these wall shelves/towel holders. The towel holder is perfect for hanging up extra clothing and the wooden shelf fits perfectly in a spot to the left of the crib. Small shelves for kids rooms are so fun because you can use them for books, toys, stuffed animals, clothing, the options are endless. Linked more shelves with similar detailing here.
[show_shopthepost_widget id="4741472"]
While filling one of our cabinets with books one day, I decided to look into some sturdy bookends and couldn't pass up on all of the vintage dog options I found on Etsy. Love that these add character to the cabinet but aren't just for one stage of life too… something he can have even as an adult.
[show_shopthepost_widget id="4741487"]
I've always had an obsession with Land Rover Defenders but when we visited France last summer (and found a toy car at a flea market), I decided to start a collection of toy cars that our boy could grow up and play with. I collected toy cars when I was little so it feels really nostalgic to add to this growing collection.
[show_shopthepost_widget id="4741489"]
I was searching for a wood tone that would match our crib and came across Hanna's shop. These wooden holders are stunning and the perfect addition to our nursery. I must note though that Hanna lives in Ukraine and has had to put her business on pause due to the war (typing this feels absolutely unreal) so, while she cannot ship orders out (the last I checked she was sheltering in a subway in Ukraine), any support of her business during these times would mean so much to her. Even just favorite-ing her store would mean a lot.
[show_shopthepost_widget id="4741494"]
Striped Baby Sweatshirt Onesie
Not decor but worth mentioning as part of my latest Etsy finds that I have been loving! These sweatshirt onesies are 0-6 months leaving a HUGE range of growth before no longer fitting. They're really soft and simple and one of my favorite things to dress Brooks in. The specific store I placed an order from is currently taking a short break so I am unable to link the product but I've shared some similar options here.
[show_shopthepost_widget id="4741505"]
A simple way to add some personalization to a nursery or kids room! Love how classic these look for a boy's room. I originally had this over the crib but swapped it with a custom name felt pennant flag and moved this banner to a closet door.
When deciding what to hang on the wall over his crib, I thought these custom name pennant flags were timeless and personal. You can personalize the colors and font to make it fit any nursery color scheme but I decided to go the neutral route since we have so much green and blue happening in the room already.
[show_shopthepost_widget id="4741508"]
Used Set of Children Books
One of my favorite weekend activities is stopping in the local bookstore and picking out a book to add to the nursery but man does it get $! New books are so pricey and I realized that you can buy a whole set of used children books on Etsy for $20 or less. The vintage book collection options are also endless on there! Children books also just add functional character to a room.
Baby Mobile for Crib
I have a couple of different baby mobiles but sharing a few of my favorites:
[show_shopthepost_widget id="4741510"]