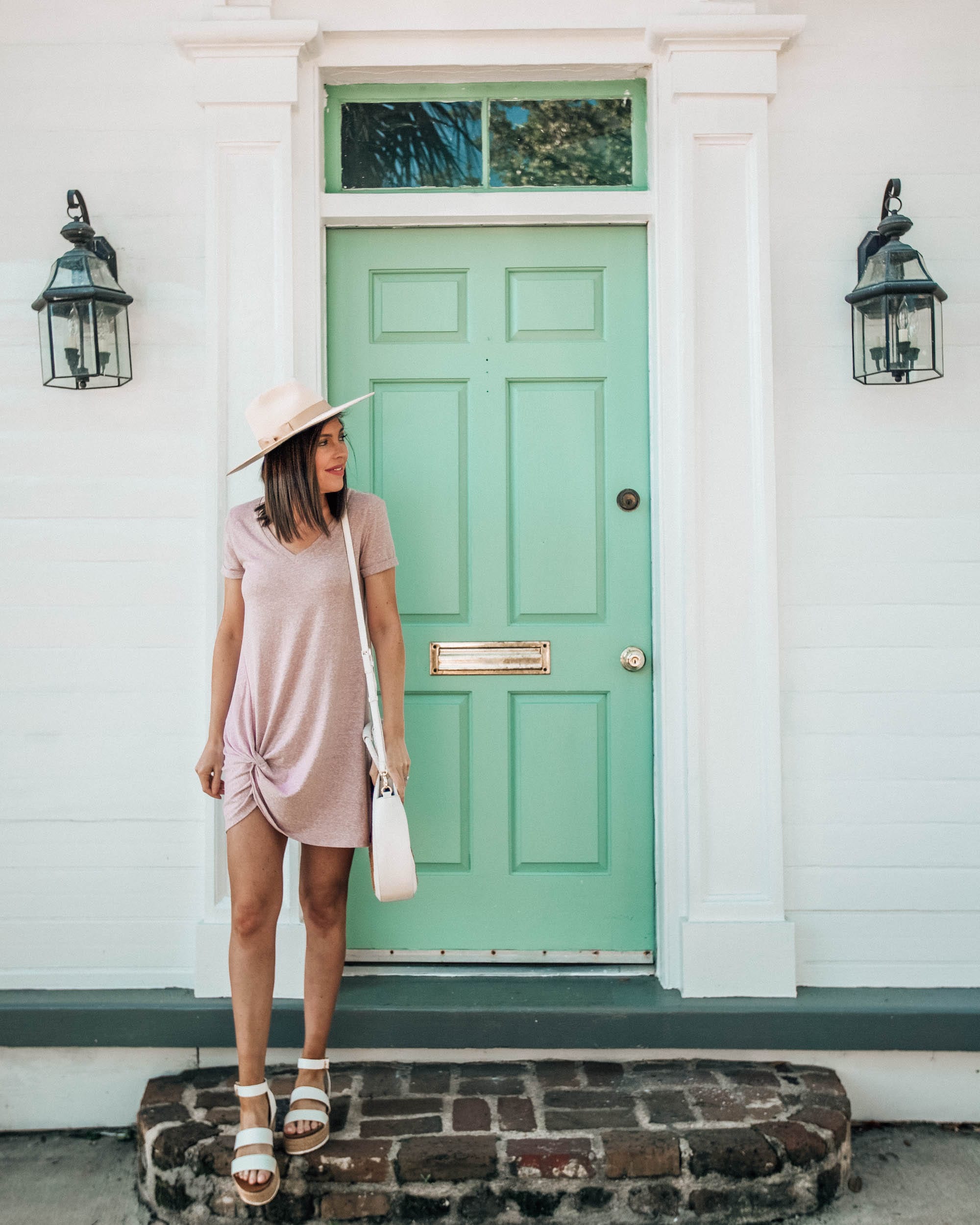 TJ and I were invited to tag along with my sister and her boyfriend to Charleston this past weekend and I can never pass up a trip to that city. I've written a few posts about Charleston before which I'll leave below but this past weekend was fun because we only went to places we hadn't tried before… including the Airbnb we stayed which was a 5 minute walk away from King St. Other places we've stayed in the past have been: Belmond Charleston Place, Harbourview Inn, The Vendue, and the Courtyard Charleston Waterfront (Marriott) with my personal favorite being HarbourView Inn but, sometimes, downtown Charleston hotels can be a splurge, especially between April and June.

A few previous Charleston posts:

The Most Recommended Charleston Restaurants
Airbnb's in Charleston & Savannah
A Winter Getaway to Charleston

Our Stay at Harbourview Inn

Our Wedding Day

I didn't originally plan to write anything about our weekend… so I didn't actually get many photos, sadly! I tried to document most places in my Instagram stories but I definitely didn't share everywhere we went! Everywhere we did this time, from the coffee shops and restaurants to the airbnb and shops, were completely new to us and it made it feel like we were exploring the city for the first time (sorta). Below, you'll find where we ate this weekend along with a mini guide of my personal favorites but don't forget to check out this post for a full list of the most recommended restaurants in Charleston!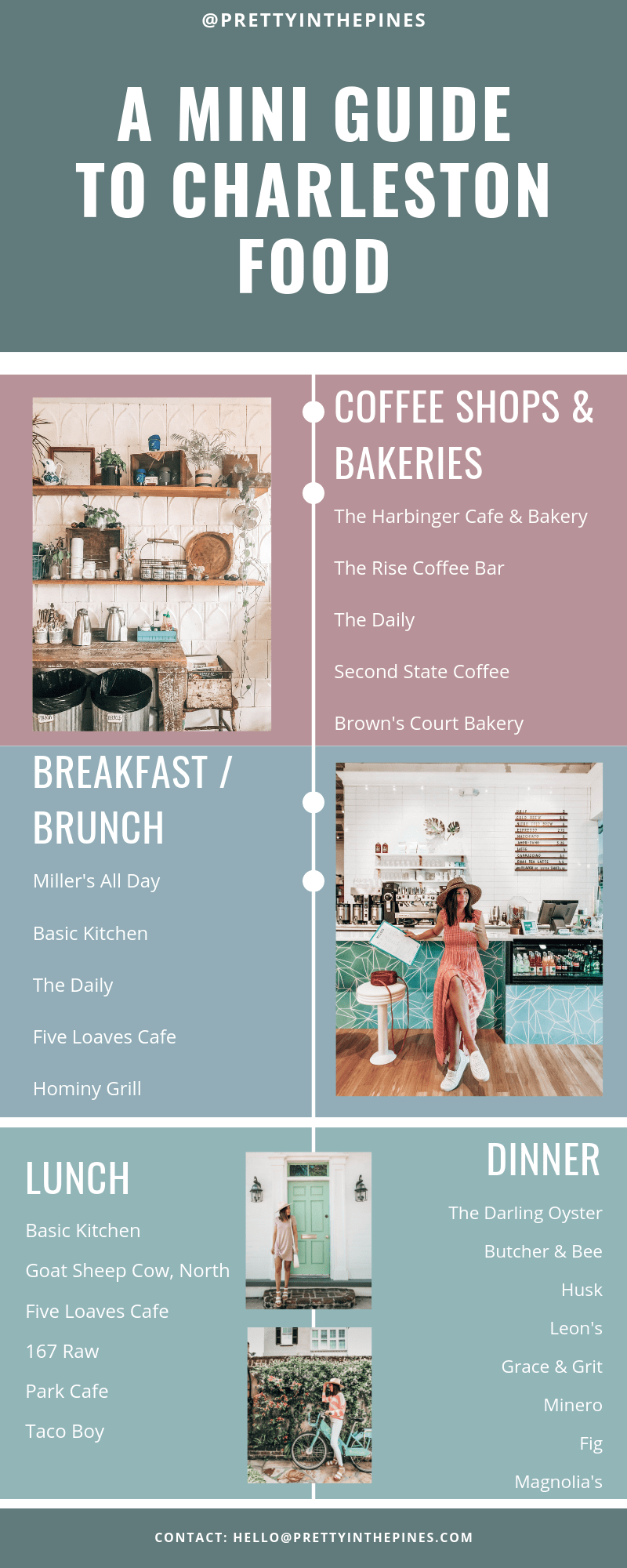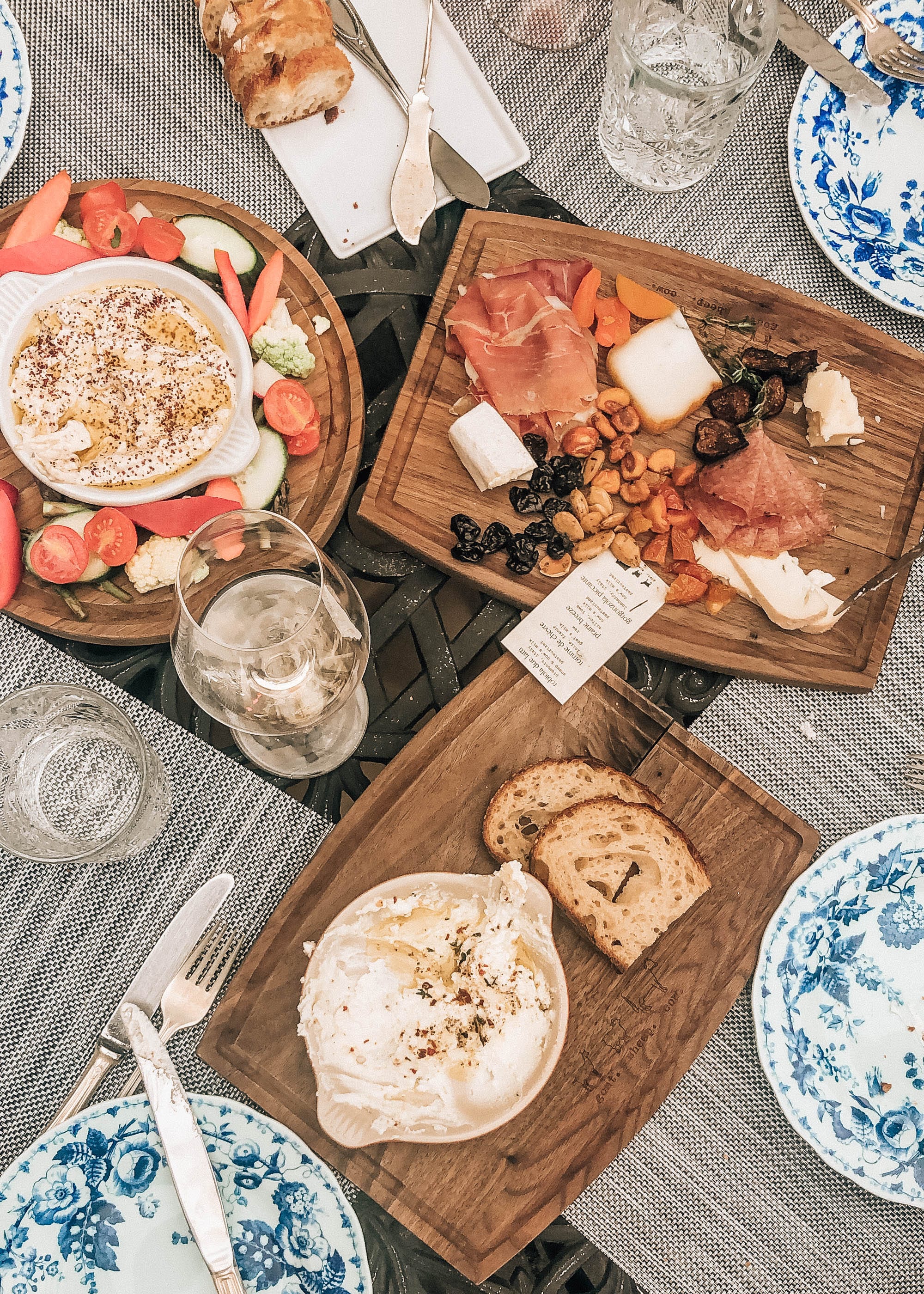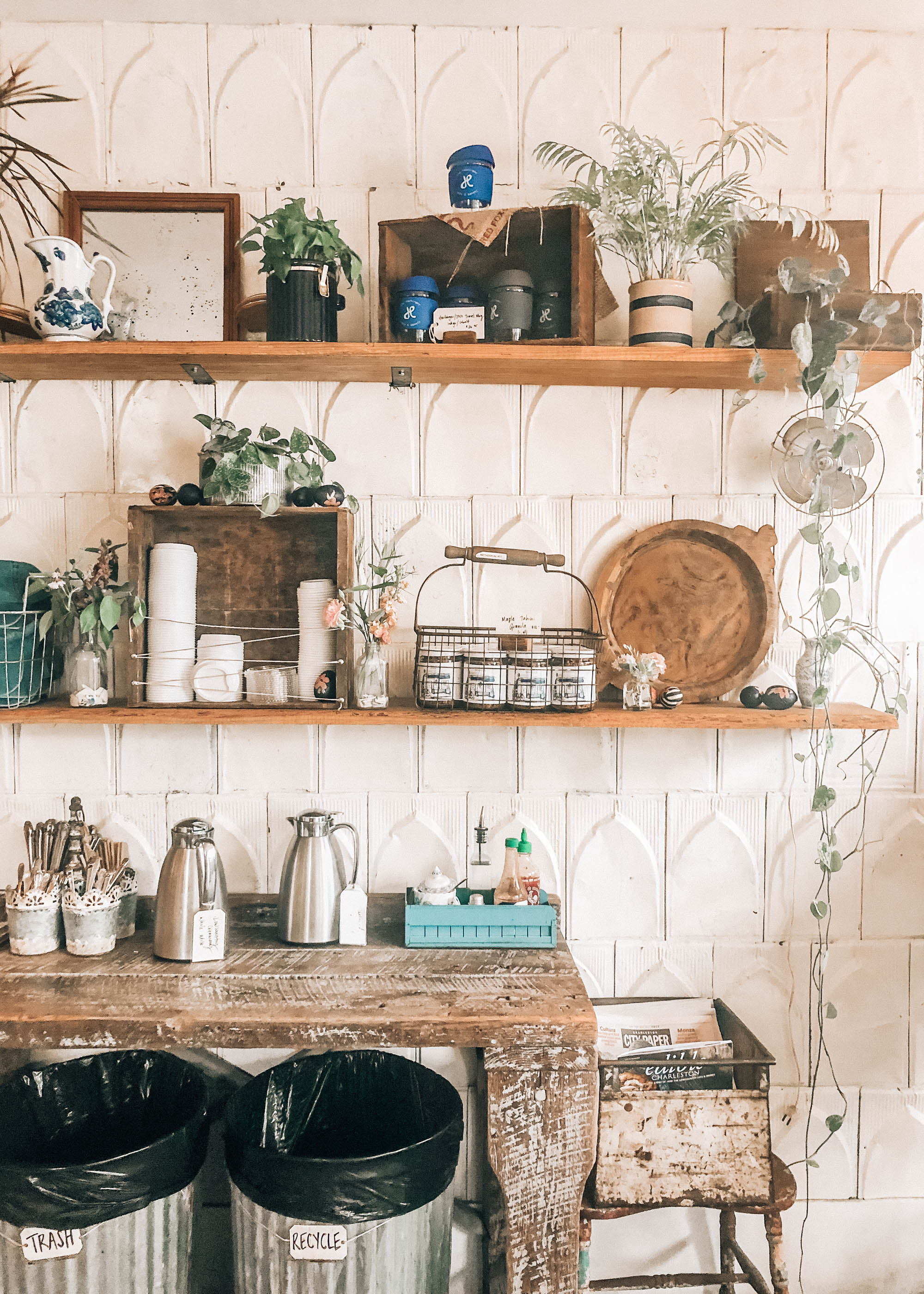 Last Weekend's Itinerary
FRIDAY

9:00am: We left Raleigh, dropped our dogs off at my parent's house and then hit the road!

1:00pm: Grabbed a bite to eat at Goat Sheep Cow (North). If you like cheese, you'll love this place. We sat outside on their patio and ordered the best sandwiches (Italian, Pesto Grilled Cheese), a cheese board, some yogurt dip and Pinot Grigio which was the perfect way to start our weekend. By the time we had arrived, they had already sold out of their "daily sandwich" so I'll have to go back sometime to try!

2:15pm: It started storming pretty hard around this time so we decided to stop at The Harbinger Cafe for lattes while we waited for the rain to slow down before heading to shops on King St. This is also a really cute place to get some work done. I'm definitely going to have to stop by this cafe next time we visit as my mouth is watering just thinking of the cookie I had there. It was one of the coolest coffee shops I've been to and they also served really delicious looking food. Order "The Best Friend" cookie if you stop by and if you like bean salads and quinoa salads, this is a must try because they have about 15 different salads like that. This place definitely makes my personal fave list too.

3:00pm: We drove down to King Street and did some shopping since we couldn't check in until 4pm. I went into Candlefish and bought a couple of candles, which is a really unique shop to visit if you're ever in town! They have a candle "library" with 100 different scents… you could easily spend a lot of time in here.

4:00pm: We checked into our Airbnb. We actually found this one super last minute but it had 2 bedrooms (1 bath) and was in a good location… it took us about 10 minutes to walk to The Darling Oyster if that gives you any idea of where it is! It was also really close to my new favorite cafe which I'll share in a little! We stayed in apartment C (it's within a 4 unit home).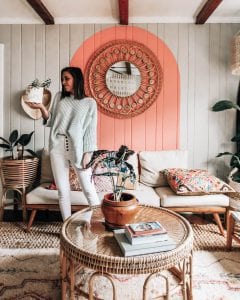 6:30pm: We all had a reservation at this time for FIG and wow… everything was SO good. The menu was a little intimidating at first but the food was much more simple than the menu makes it sound. It was absolutely delicious and I would love to go again. I ordered their White Shrimp Postage Stamp Ravioli (shrimp ravioli) and Broccolini Gratin.

SATURDAY

9:30am: TJ and I had a late-ish start to the day but started off at The Rise Coffee Bar, a cute coffee shop located right beside/attached to The Restoration hotel. I ordered a lavender latte and then we walked across the street to Basic Kitchen. This restaurant has been on my list for as long as it opened (I think a few years ago) and we tried going to this restaurant last year but it was closed (they close at 3 on Sunday's, FYI) so this time I was determined to go! Honestly, this restaurant is my dream restaurant. It is beautiful inside yet still casual. The food and the atmosphere were both right up my alley. Basic Kitchen is all about food that gives you energy and makes you feel nourished and it was my perfect start to the day.

10:30am: We decided to rent bikes through the city's Holy Spokes bike share. We rode bikes all through some of my favorite areas and it was the most beautiful day for it!

1:30pm: We stopped in to Five Loaves Cafe for lunch which was only a 1 minute walk from where we were staying and it quickly became my new favorite spot. This place is super casual and serves sandwiches/salads/soups but wow. Everything I ordered was the best I'd ever had… a caesar salad with tortellinis, the soup sampler, pretty much everything on the menu I'd like to try one day.

6:00pm: We dropped off my Alex, my sister, and Brian to their reservation at Butcher & Bee while TJ and I drove across the bridge to Mt. Pleasant and ate at Grace and Grit, a restaurant that was highly recommended to me last year. If you like grits and seafood, go here because they have like… 20 different types.

8:30pm: We met back up with my sister at Uncork, a wine-bar on King Street where they had live music. I loved it and could have sat there for a long time but we wanted to go next door to Callie's Hot Little Biscuits for a cinnamon biscuit dessert (I think their night hours start at 10).

SUNDAY

9:00am: Before leaving town, we walked over to a small bakery called Brown's Court Bakery and ordered some food for the road. They served breakfast sandwiches, pastries, bread, and coffee and had a porch area where you could bring your dog if you wanted. This place was another place I'd love to visit again!

Do you have a favorite restaurant or coffee shop in Charleston? I'll have to update this Quick Charleston Restaurant Guide as I try more and more!