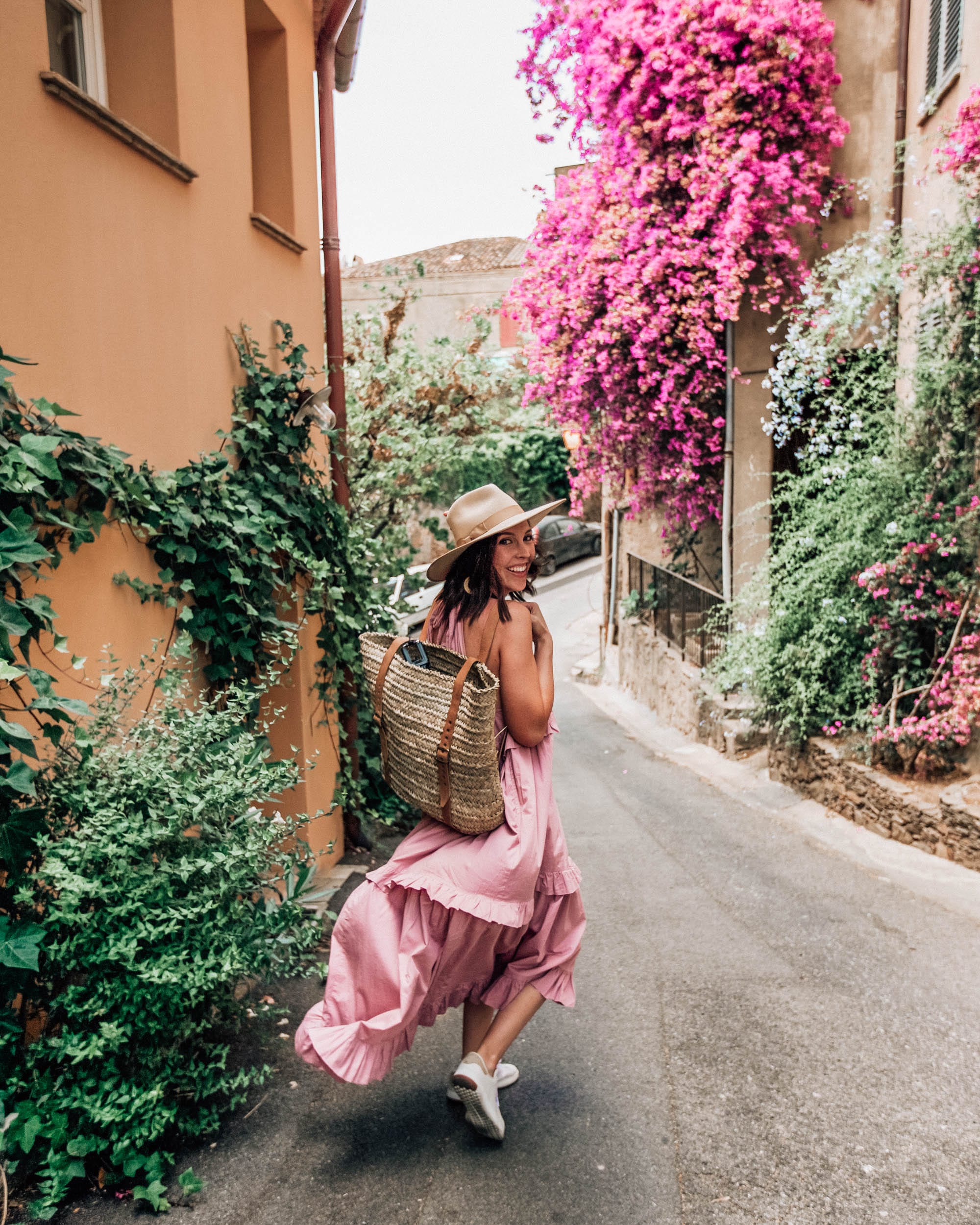 Every time I sit down to write this post I find myself getting distracted looking back at all of the photos of the stunning villages and coastal views so it has taken me much longer than expected to write this! About a year and a half ago, TJ and I decided to plan a trip to the South of France. We knew from the beginning we would go in July but it wasn't until April/Mayish when we started to book everything and we somehow lucked out even for waiting semi-last minute with all of our places to stay, especially the budget-friendly Airbnbs! I knew I always wanted to visit Italy and France but, for some reason, I decided that our first trip to Europe would be the South of France and I am so glad we decided on that, although I am pretty confident that I'd be in love with Italy as well. If we were to go to Italy, I would want at least 10 days though and we didn't have that for this trip. I also remember being really inspired by the movie, "A Good Year", and immediately ordered this book on Amazon to learn more about the area.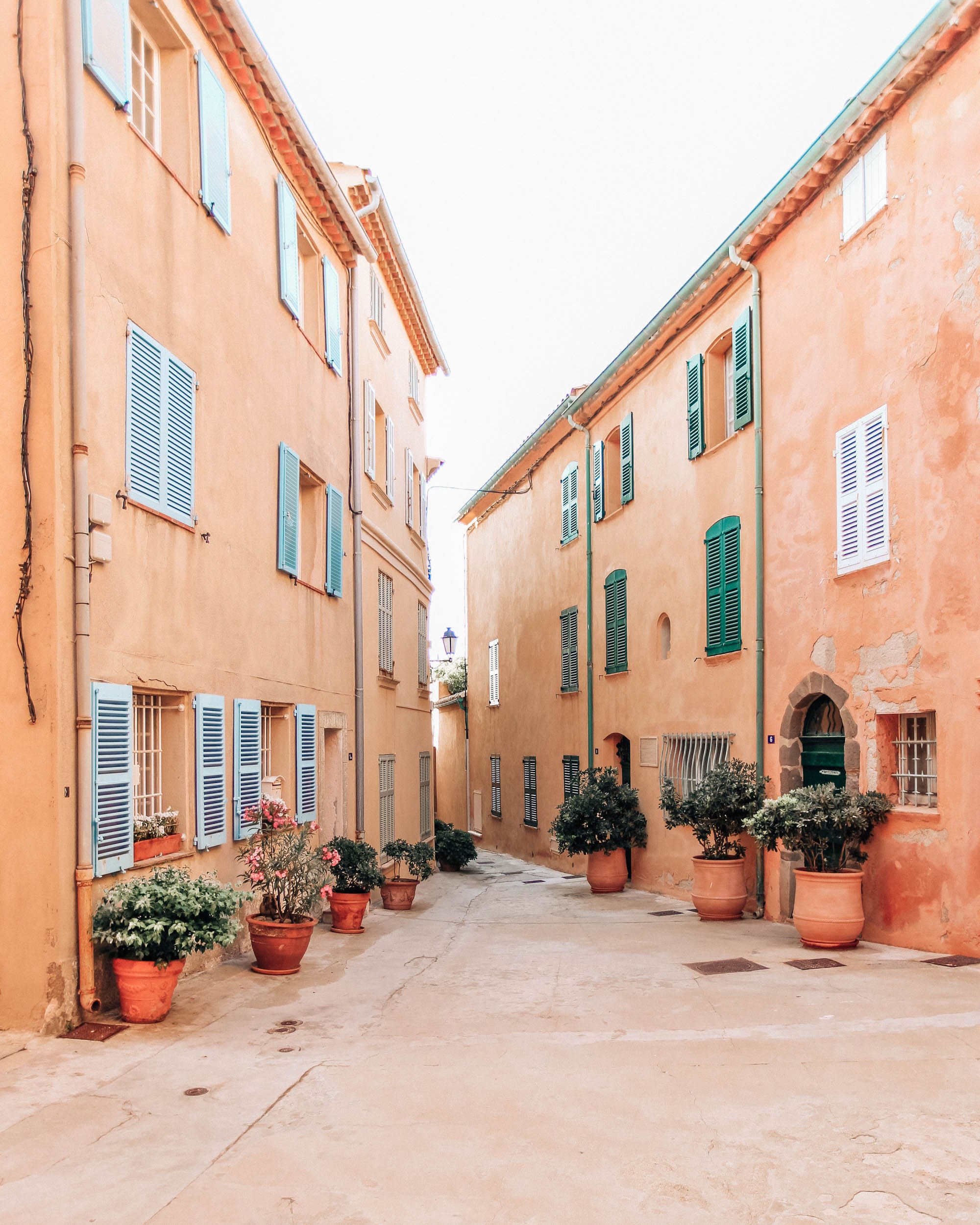 Our flight over there wasn't too bad… about 6-7 hours to London and then 2.5ish from London to Nice. We flew out of JFK though so it ended up being quite a long travel day. We didn't sleep on the overnight flight getting there (we were too excited) so when we finally arrived in Nice, we picked up our rental car, and headed to our first of three stops. I thought it would be easier for me to break these posts up into 3 parts: our first, second, and third stop. We decided to splurge the first two nights and stay in a hotel, La Bastide d'Antoine, right outside of St. Tropez in a town called Gassin.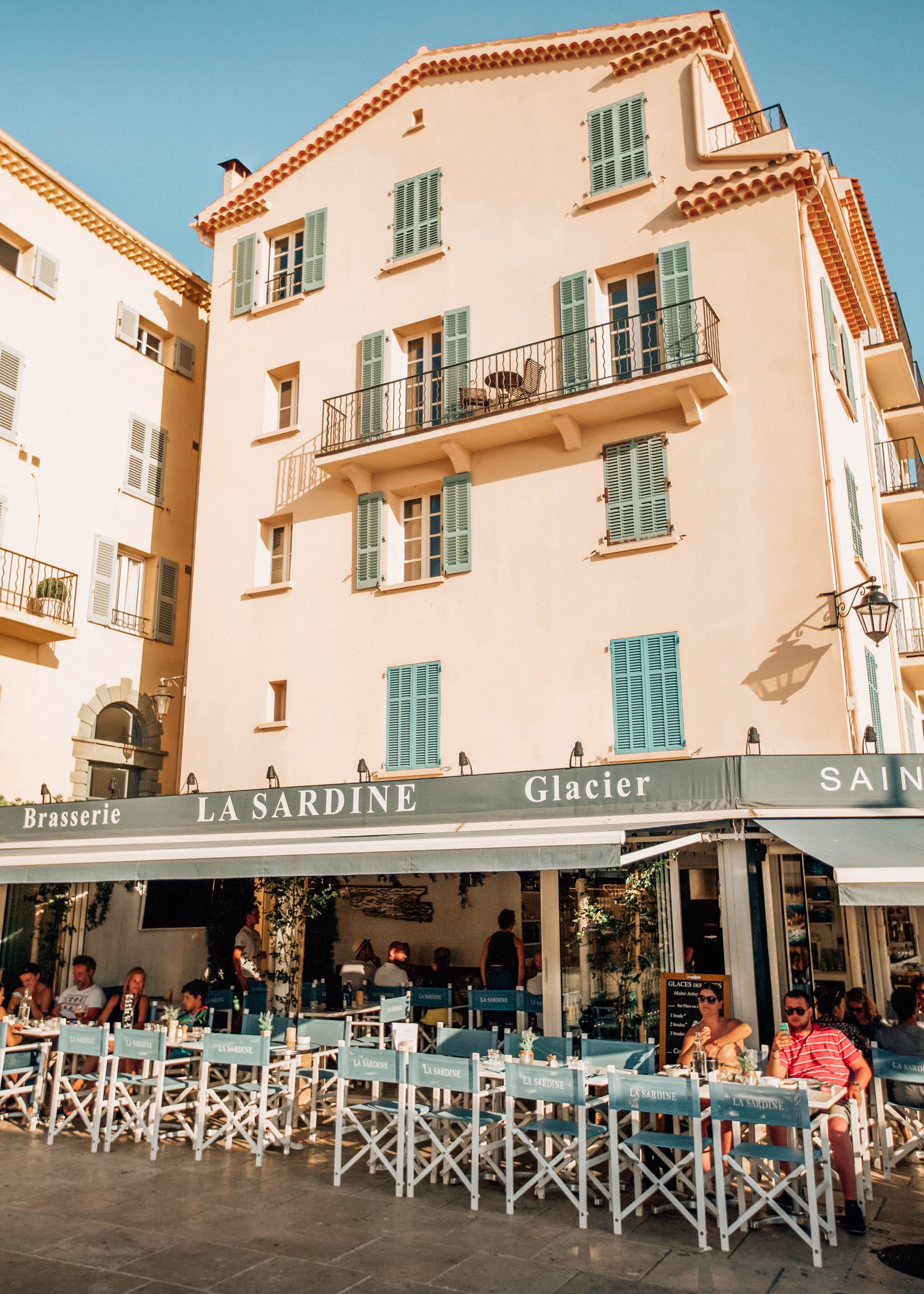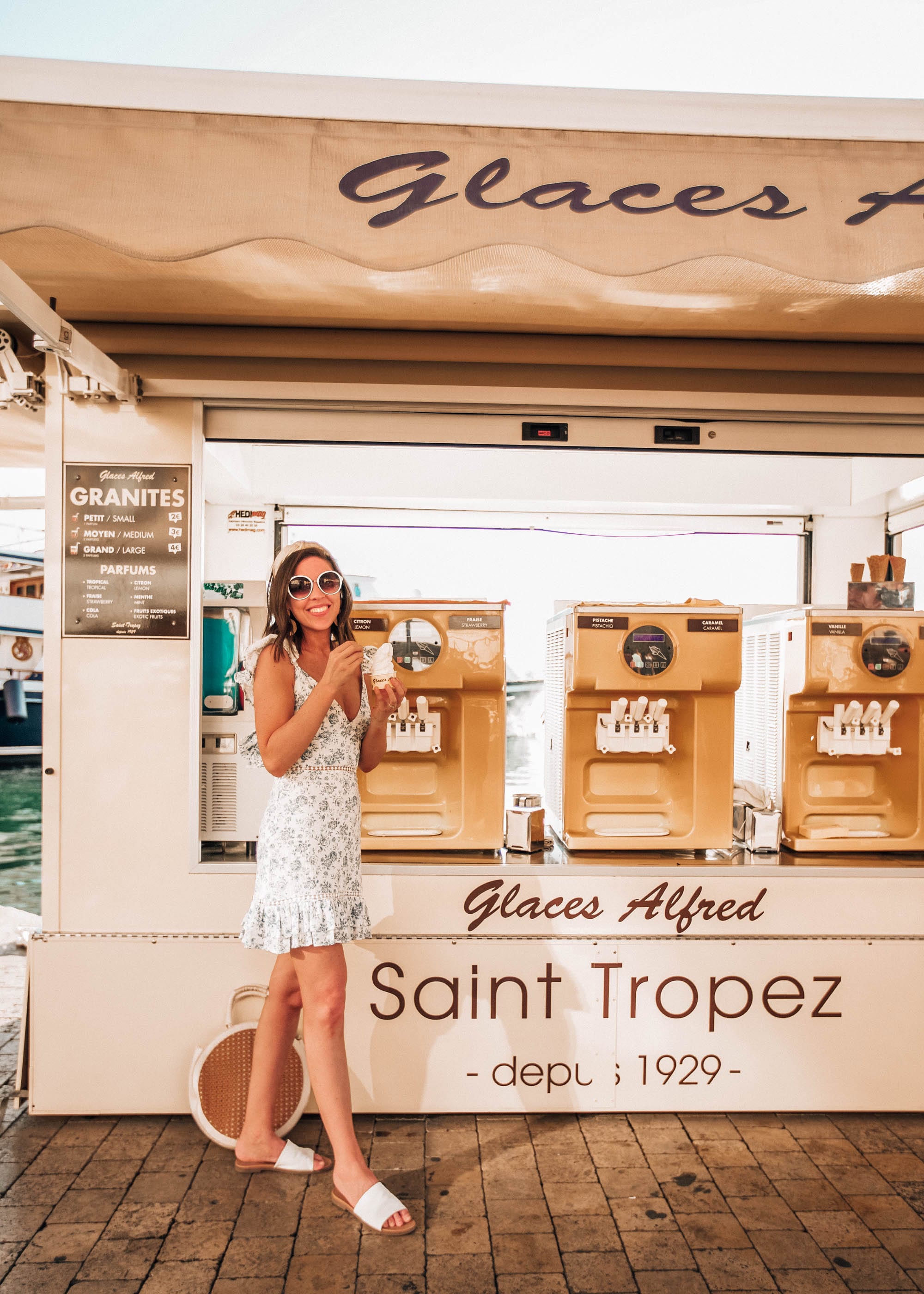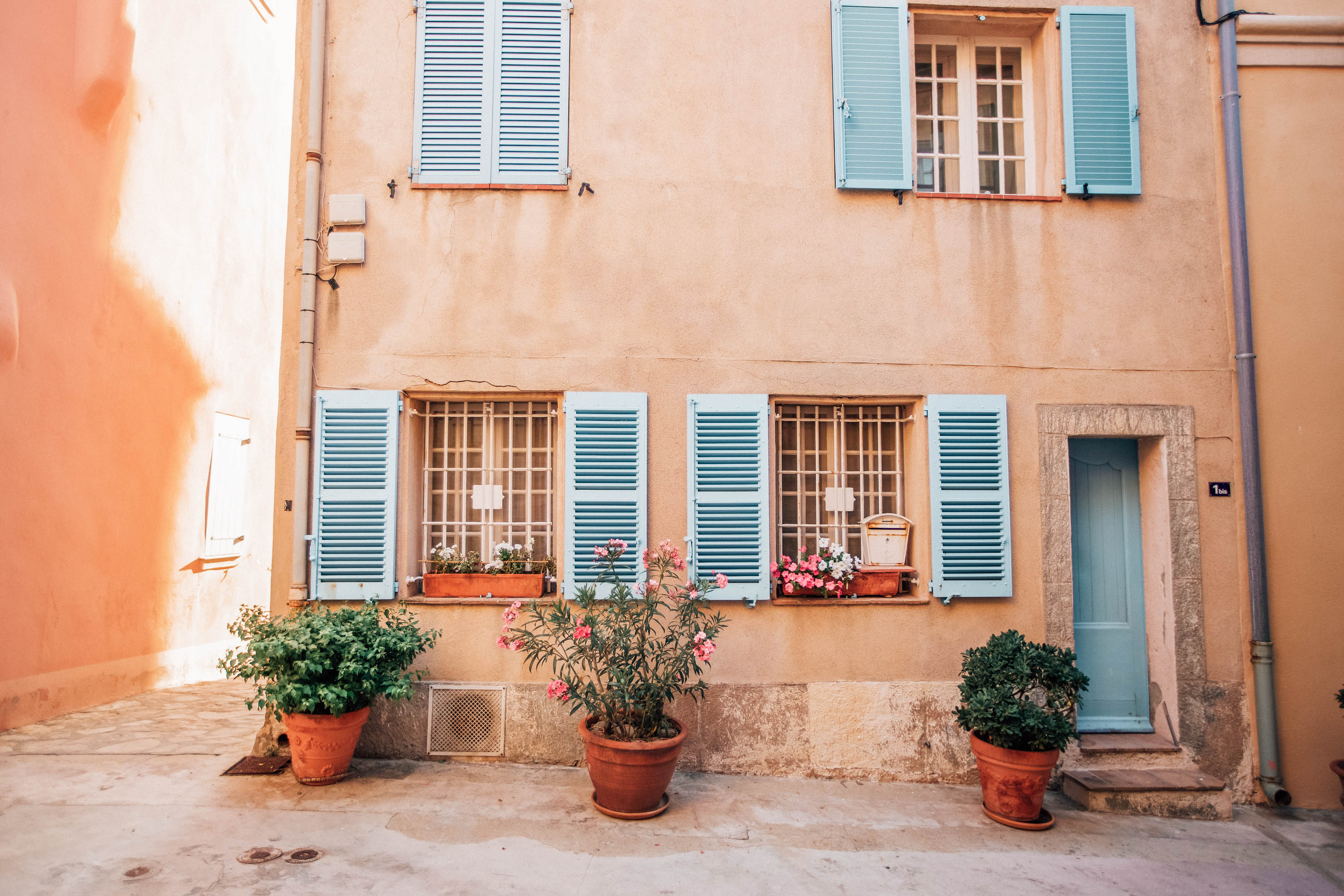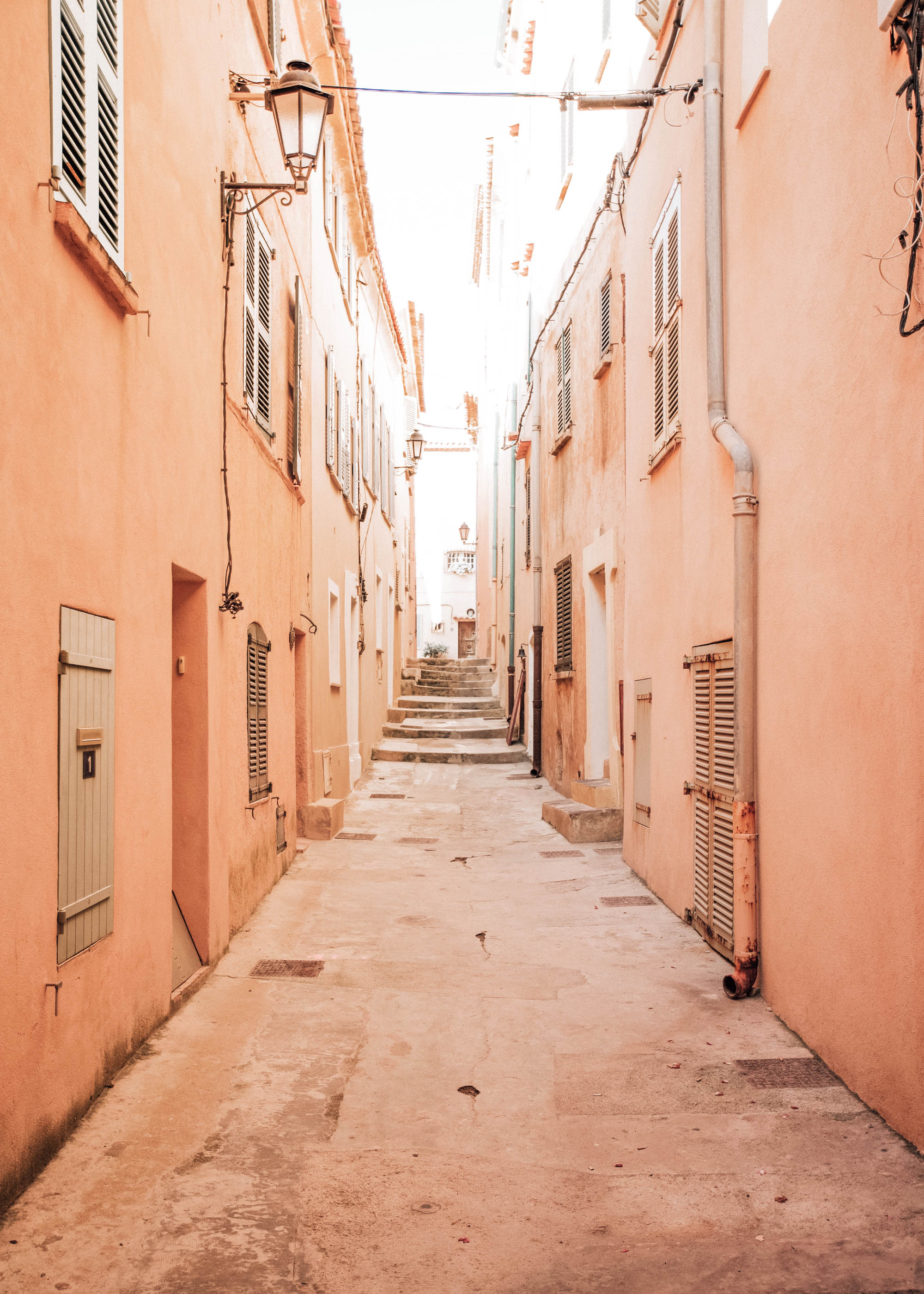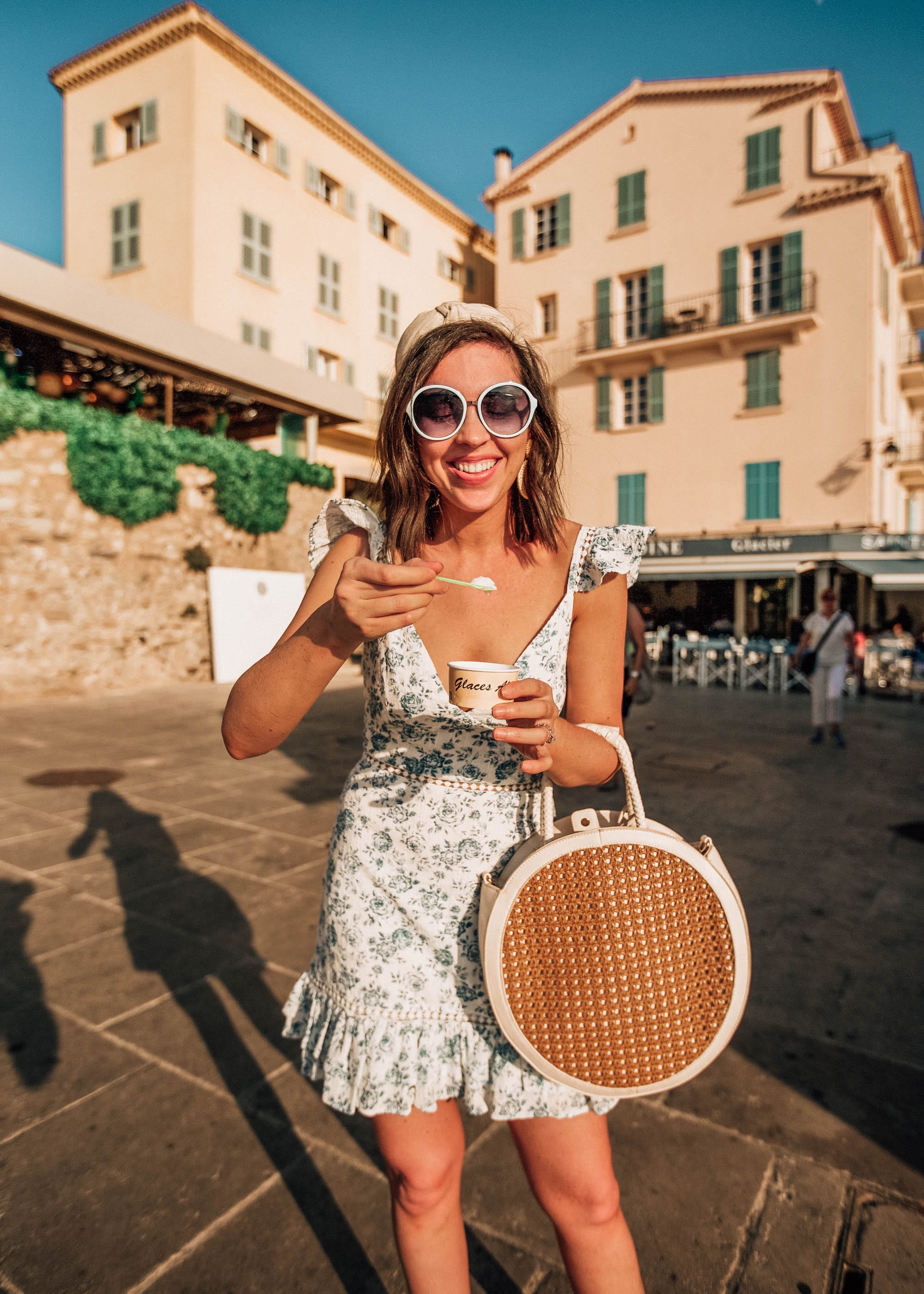 When planning a trip to the South of France, it's incredibly hard to narrow it down to the different towns you want to see. I knew that I wanted to spend half of our time by the coast and half of our time in the countryside. If we could do it again, we would have stayed at least 3 days longer than we did so that could have just one day to relax at each destination. There was very little relaxation on this trip… there was just way too much to see and do and not enough time! However, it was still such a fun and adventurous trip that I'll never forget. I'm honestly already trying to figure out how I can go again. If I could go again, I would visit completely different spots and it would feel like a whole new experience. Everywhere was just so beautiful and unique.

Once we arrived to our hotel for the first 2 nights, La Bastide d'Antoine in Gassin/St. Tropez, we checked-in, ordered some rosé, bread, and cheese by the pool and the largest caprese salad I'd ever seen. It was in that moment when I knew this trip was about to be a dream. After our snack/dinner at our hotel, we drove into St. Tropez to explore. TIP: If you plan on renting a car, prepare to spend some time finding parking in the busier towns, unless your car is really small. If you're able to ask for a compact car, do it! Or else you'll find yourself in a tiny little parking garage trying doing 20 point turns to get out like we did. The car rental company gave us a hatchback that for some reason was the longest car ever.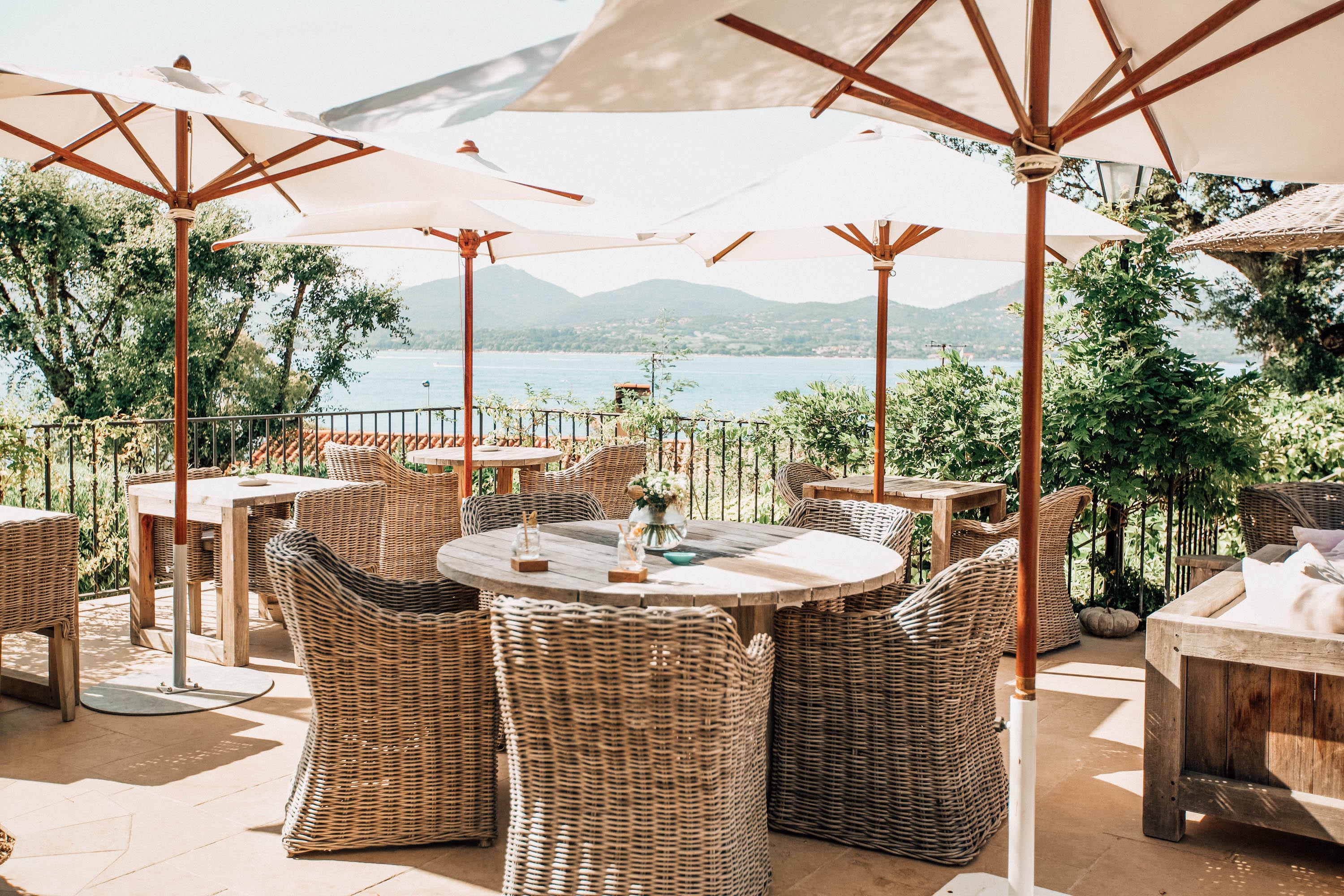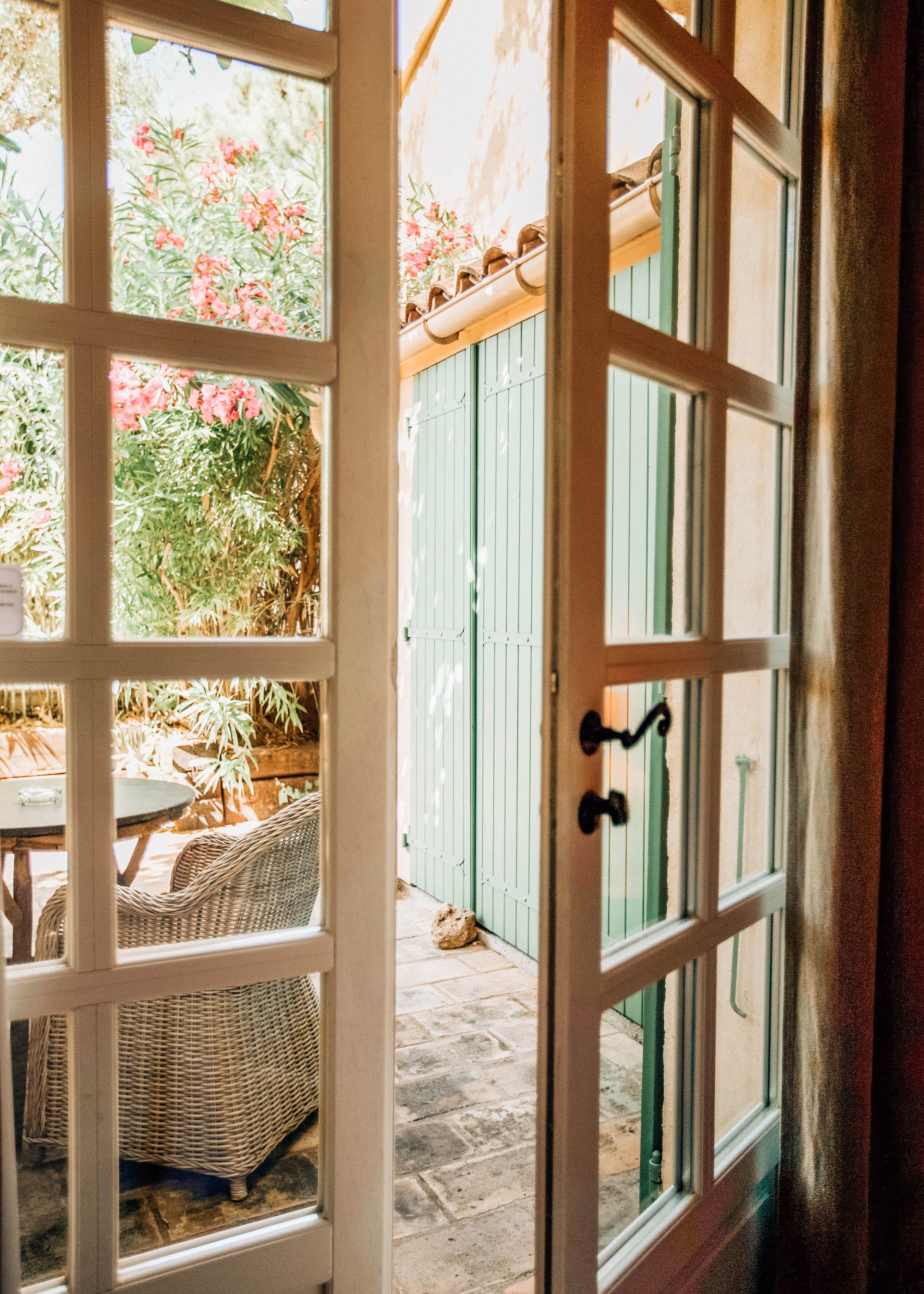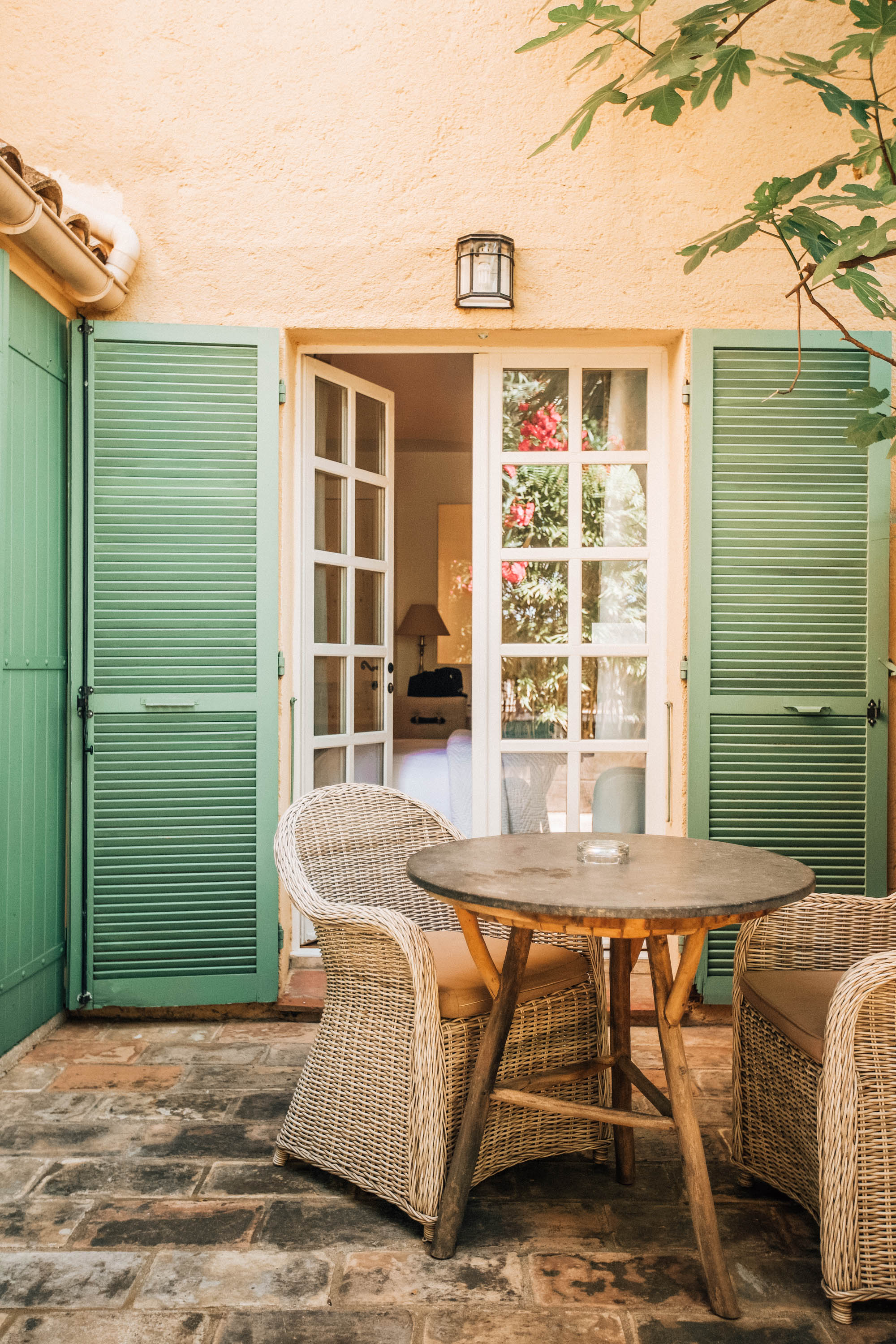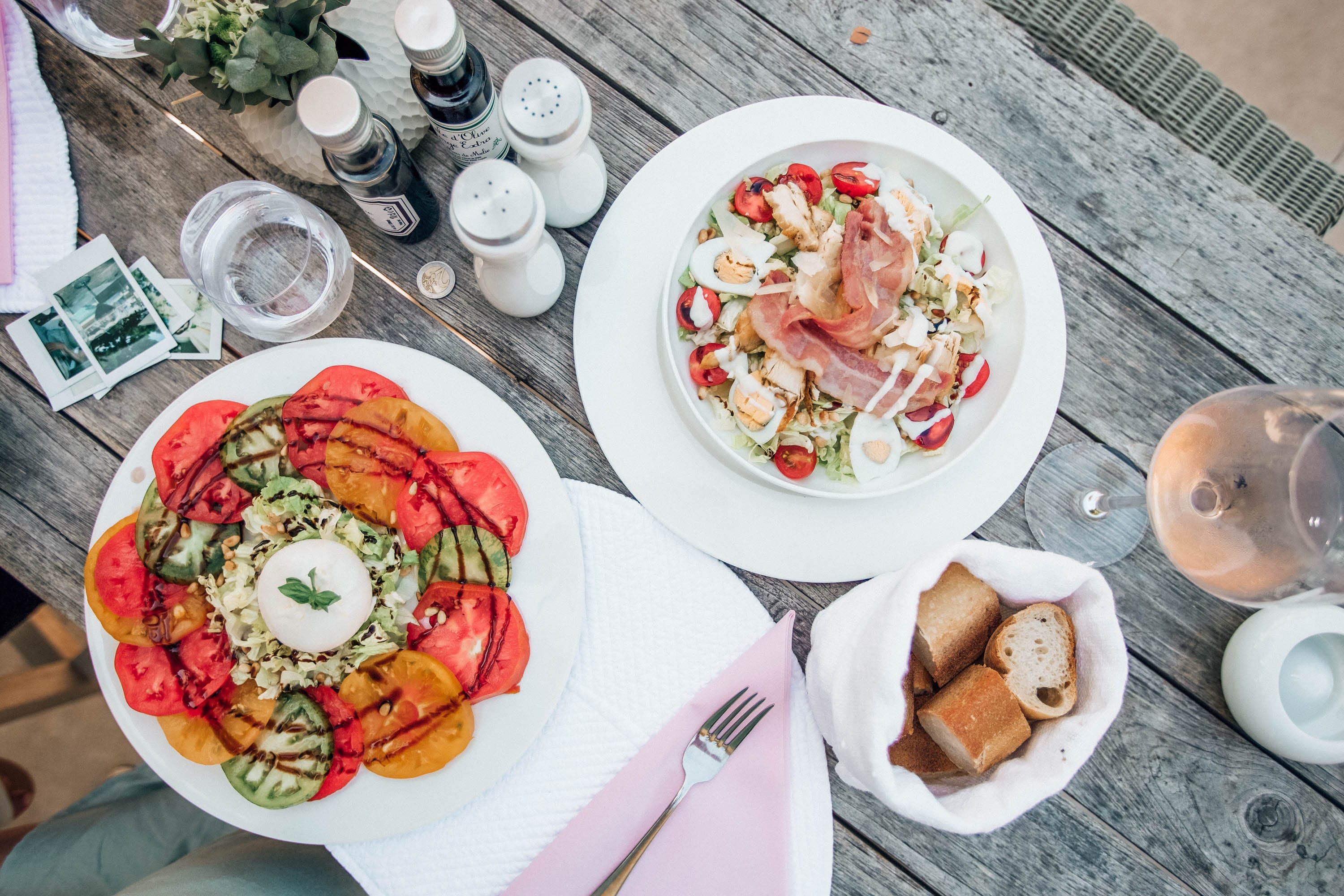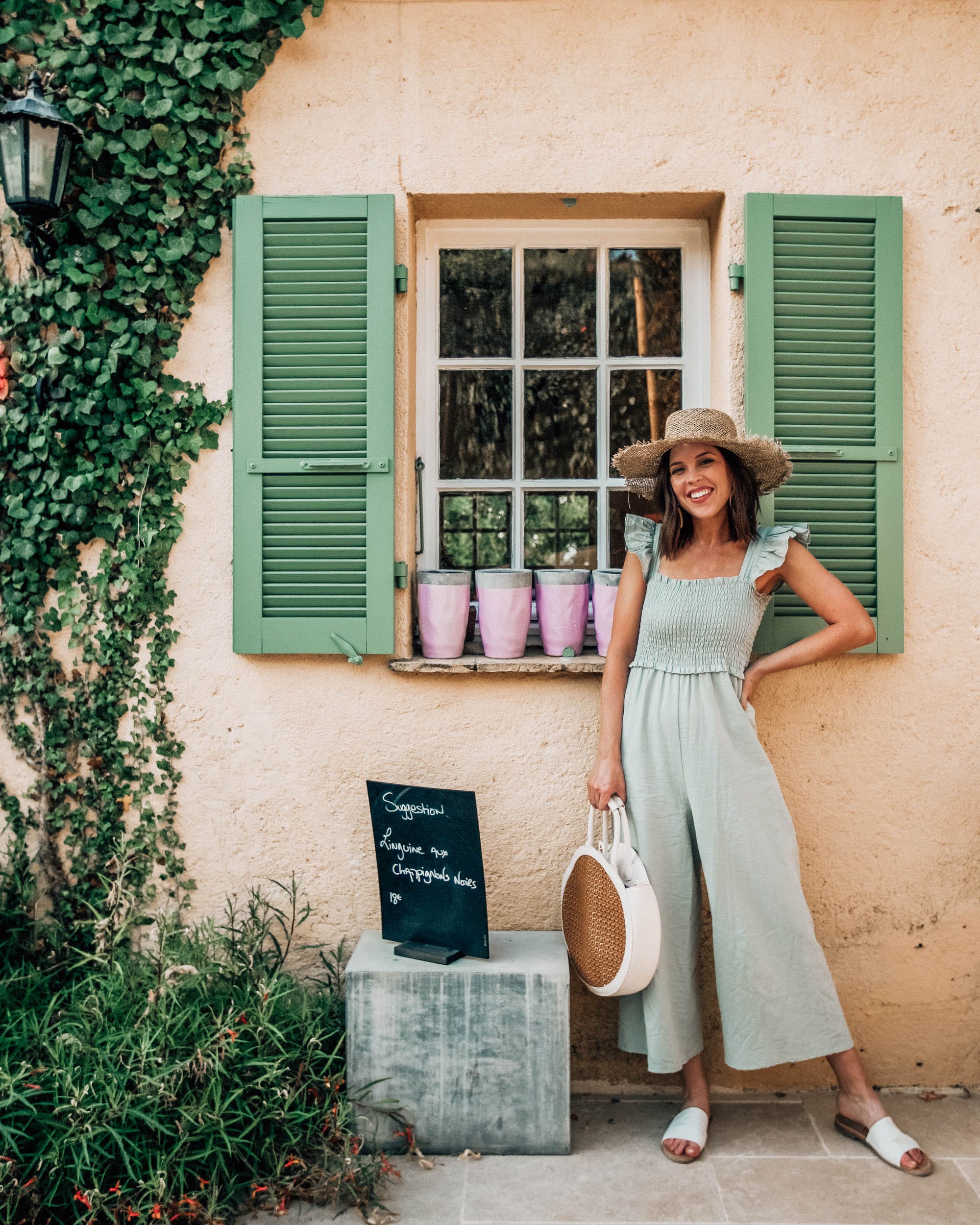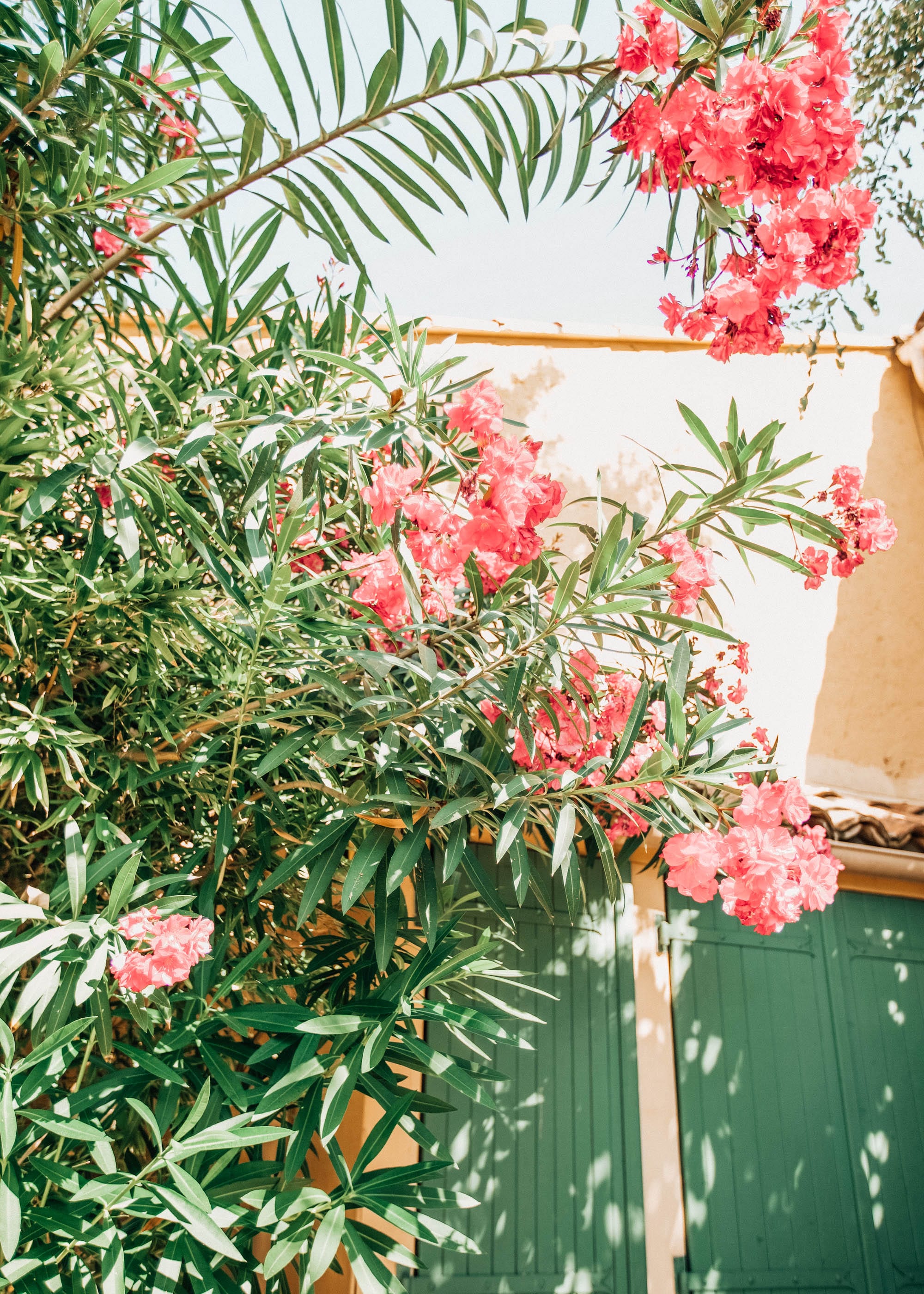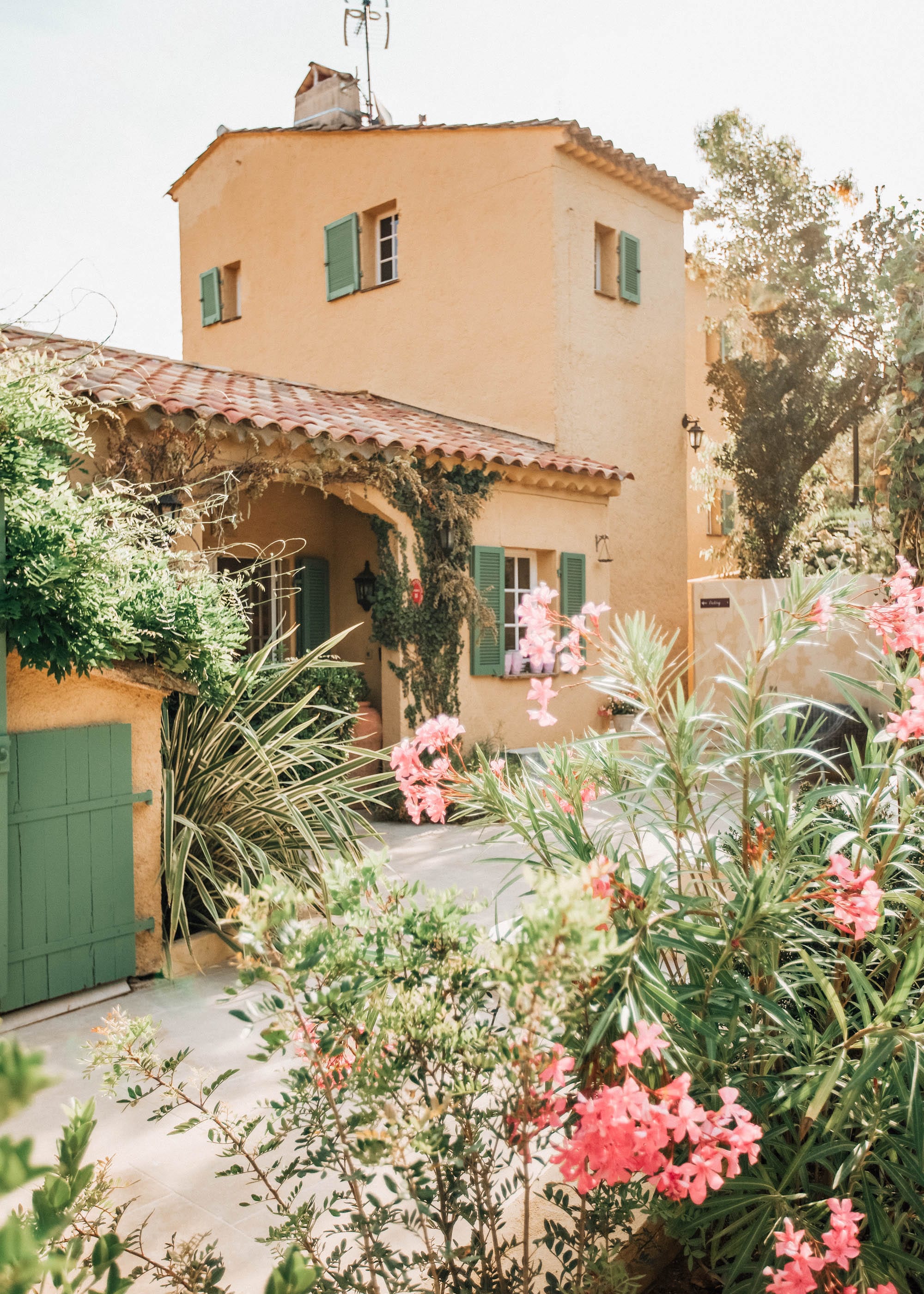 St. Tropez was the first city we visited and it was pretty much what I expected it to be, but more crowded. It was absolutely beautiful, though, and we loved getting lost in Old Town, finding endless colorful secret alleyways. We found a glace (ice-cream) stand and ordered some lemon glace and headed back to our hotel to finally get some sleep.
When we woke up the next day we drove to a smaller town that was close-by called Grimaud, about 20 minutes outside of St. Tropez, which might have been one of my personal favorite days of the whole trip. Every inch of this town was so dreamy; I couldn't believe it was real. We found a small cafe called La Bou Bou and ordered omelets before exploring more of the town. We actually dined outside the entire week, because that's apparently the norm over there, and I was more than okay with that! This trip was just my dreams coming true. The food was absolutely delicious and the cafe filled up quickly after we sat down under the umbrellas. Once finished with brunch, we began walking the town, exploring the small, fashionable shops, centuries old architecture, and observing the residents and tourists. The town had rolling hills, a very cute "centre ville", and great quiet spots to record Beauty and the Beast sing-along videos. One thing we began to notice was how the cafes and restaurants were closed in the middle of the afternoon. It was tough trying to find a place to just buy a couple bottles of water. Definitely be prepared for that as you plan out your trip. One thing we just missed was their market in the middle of the village. They were packing up as we got there, but we were determined to find another one among the villages we were planning to go visit (more on that in part 2). We ended up spending about 3-4 hours in Grimaud and then headed over to centre ville Gassin.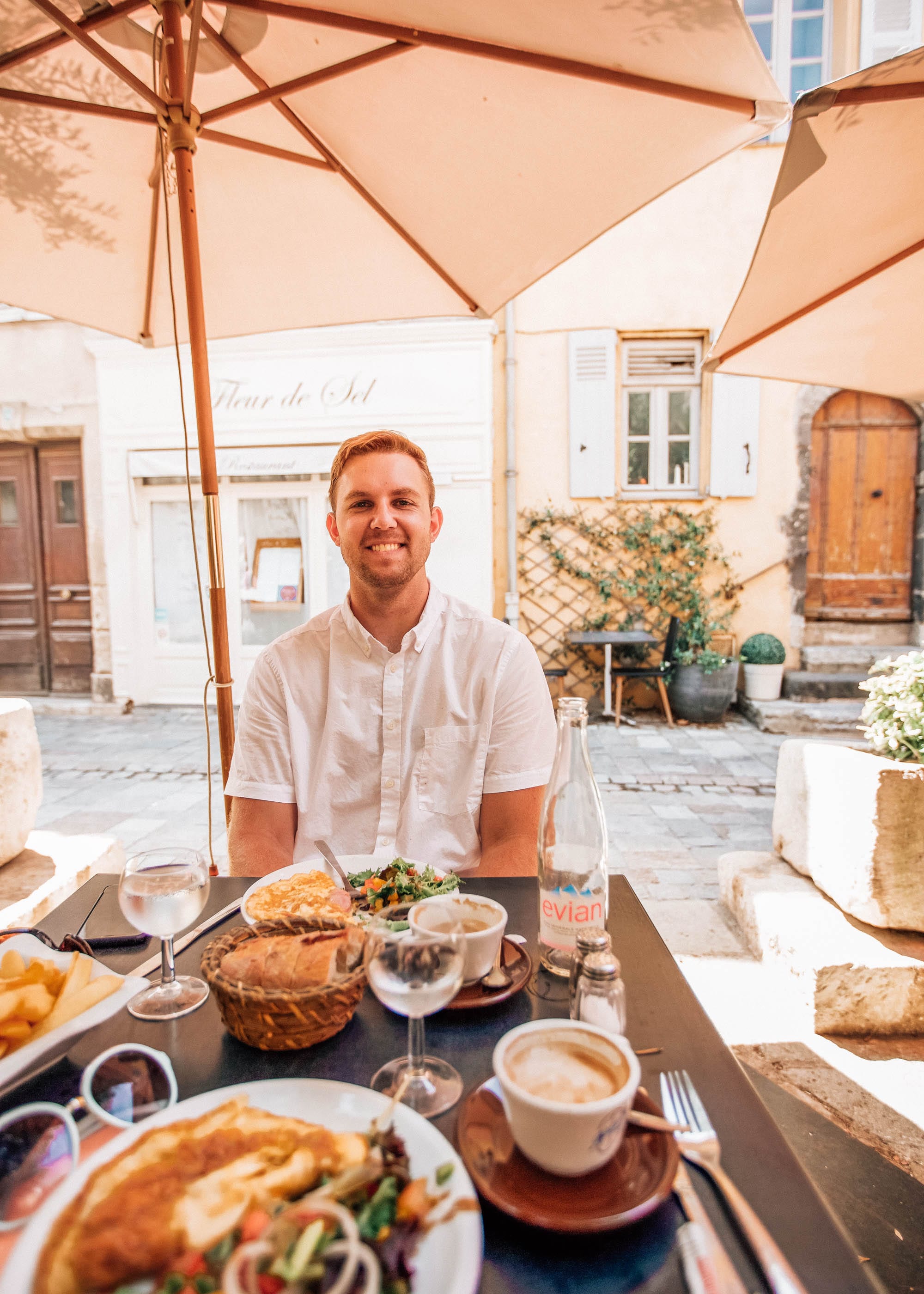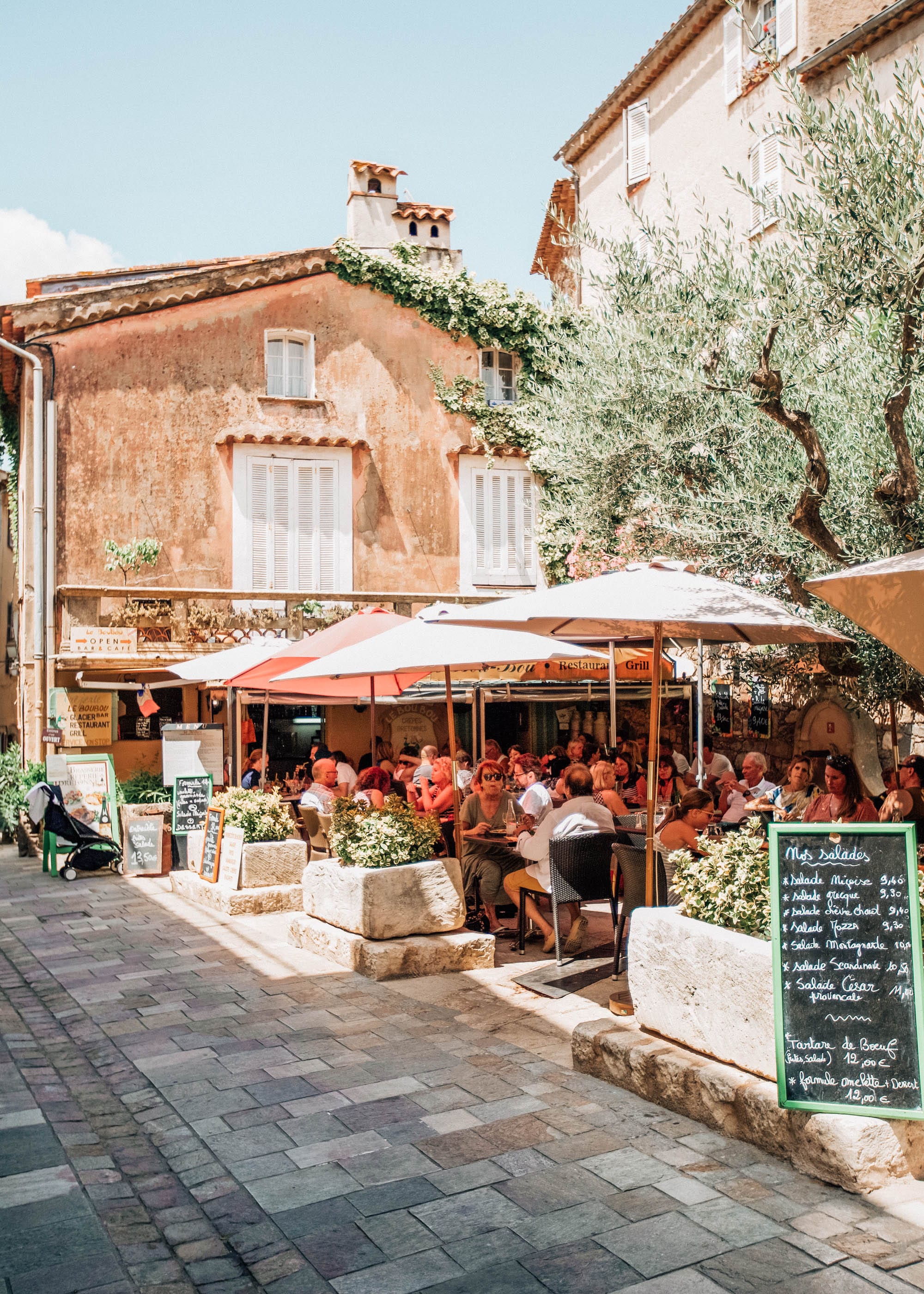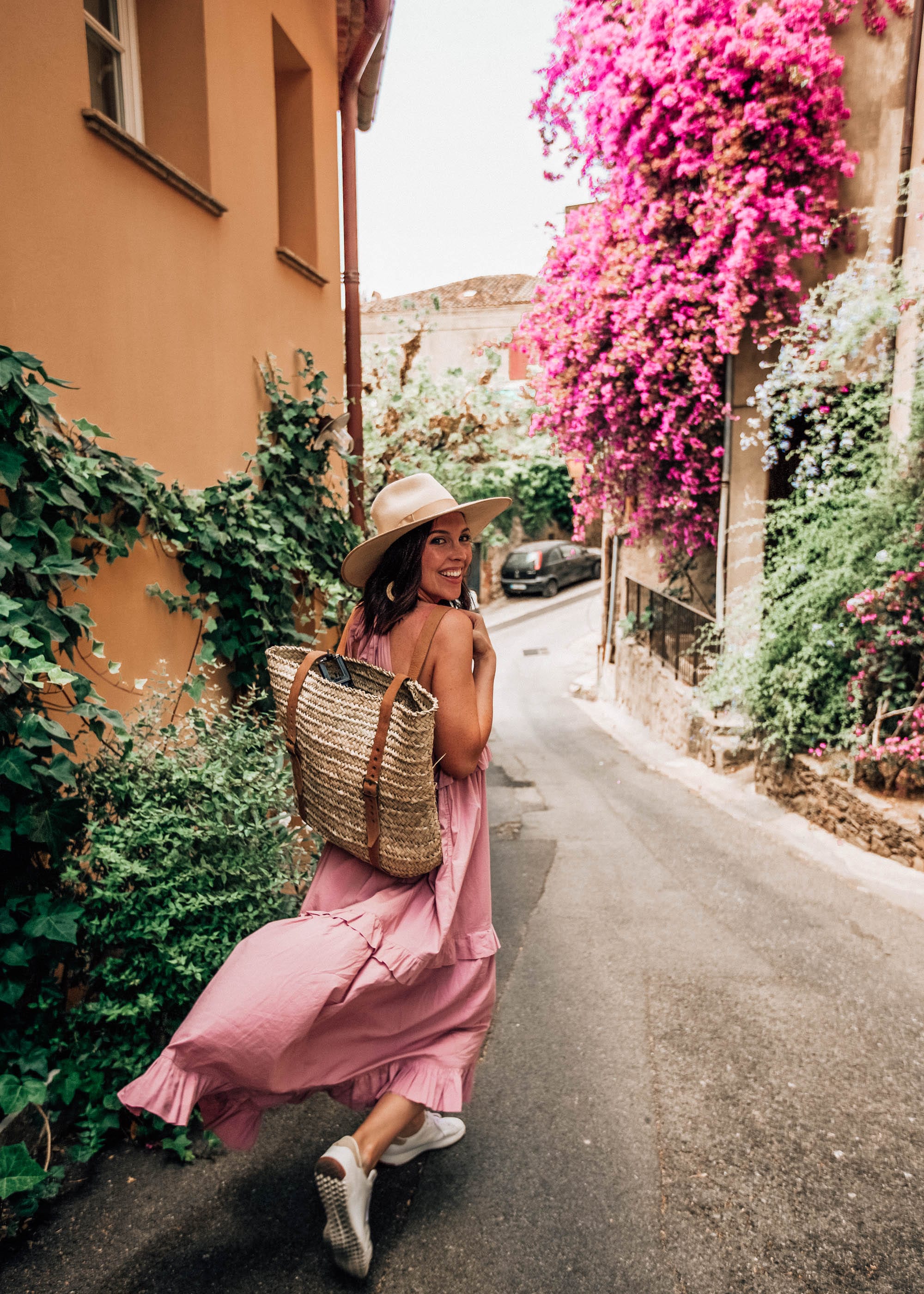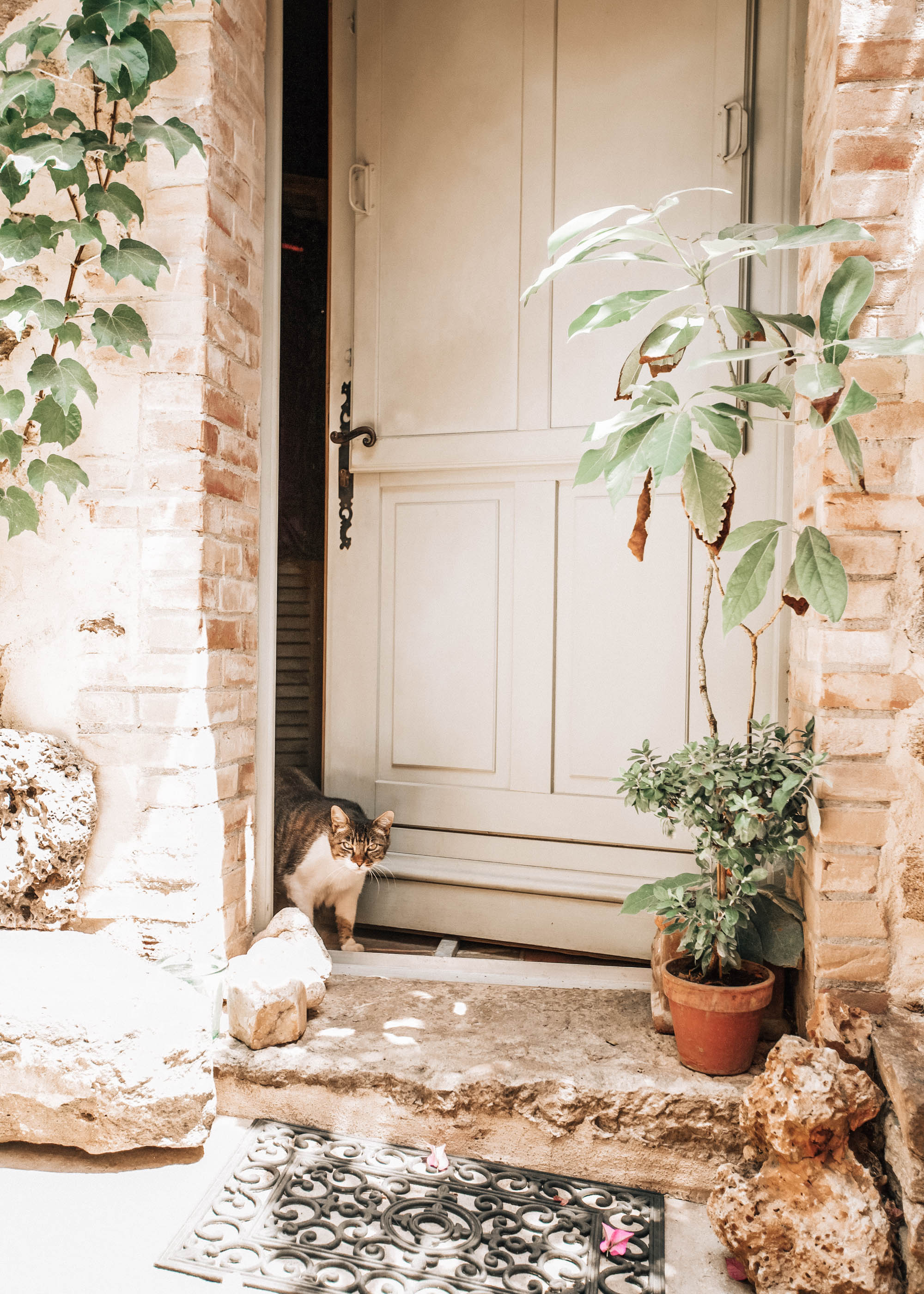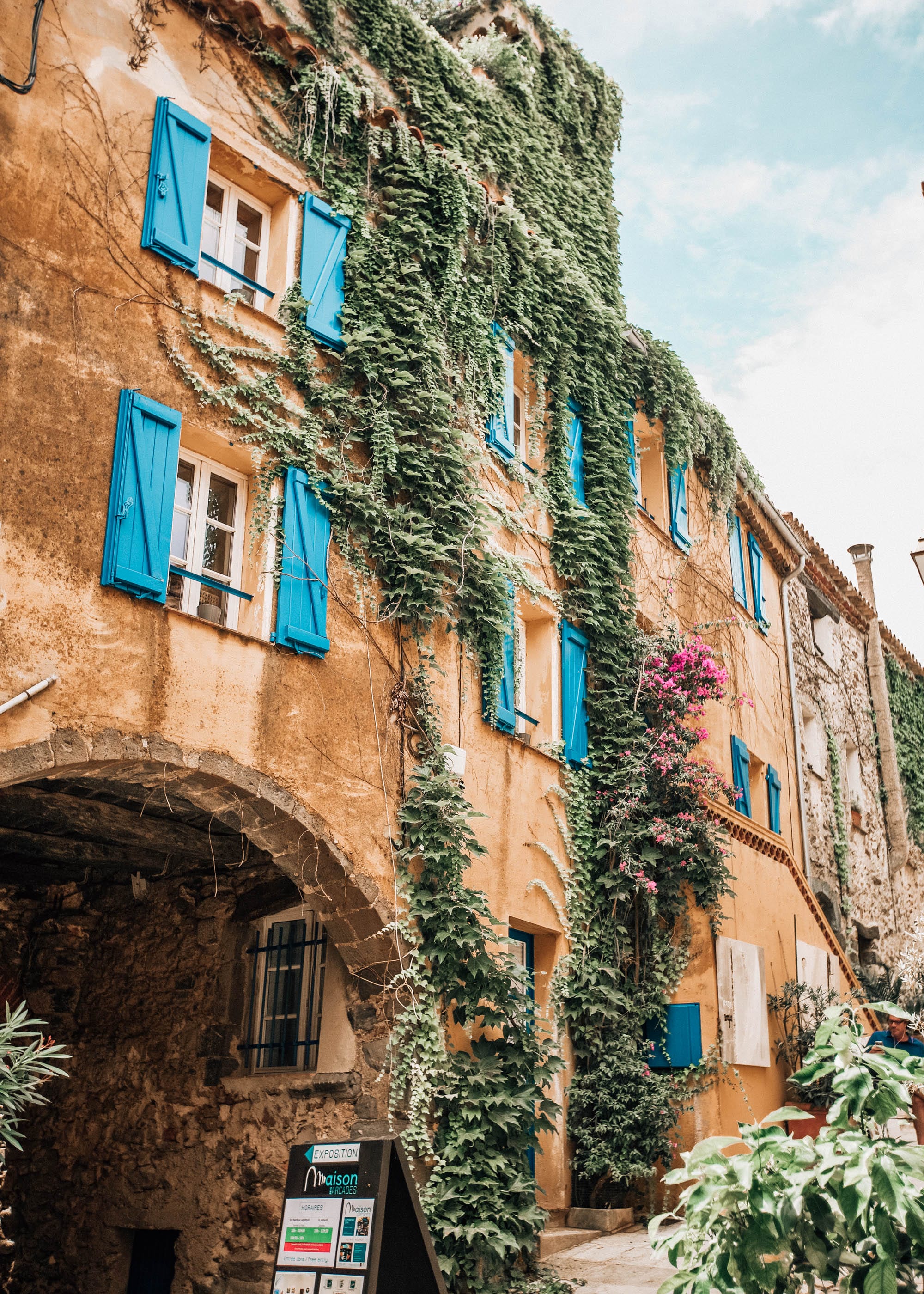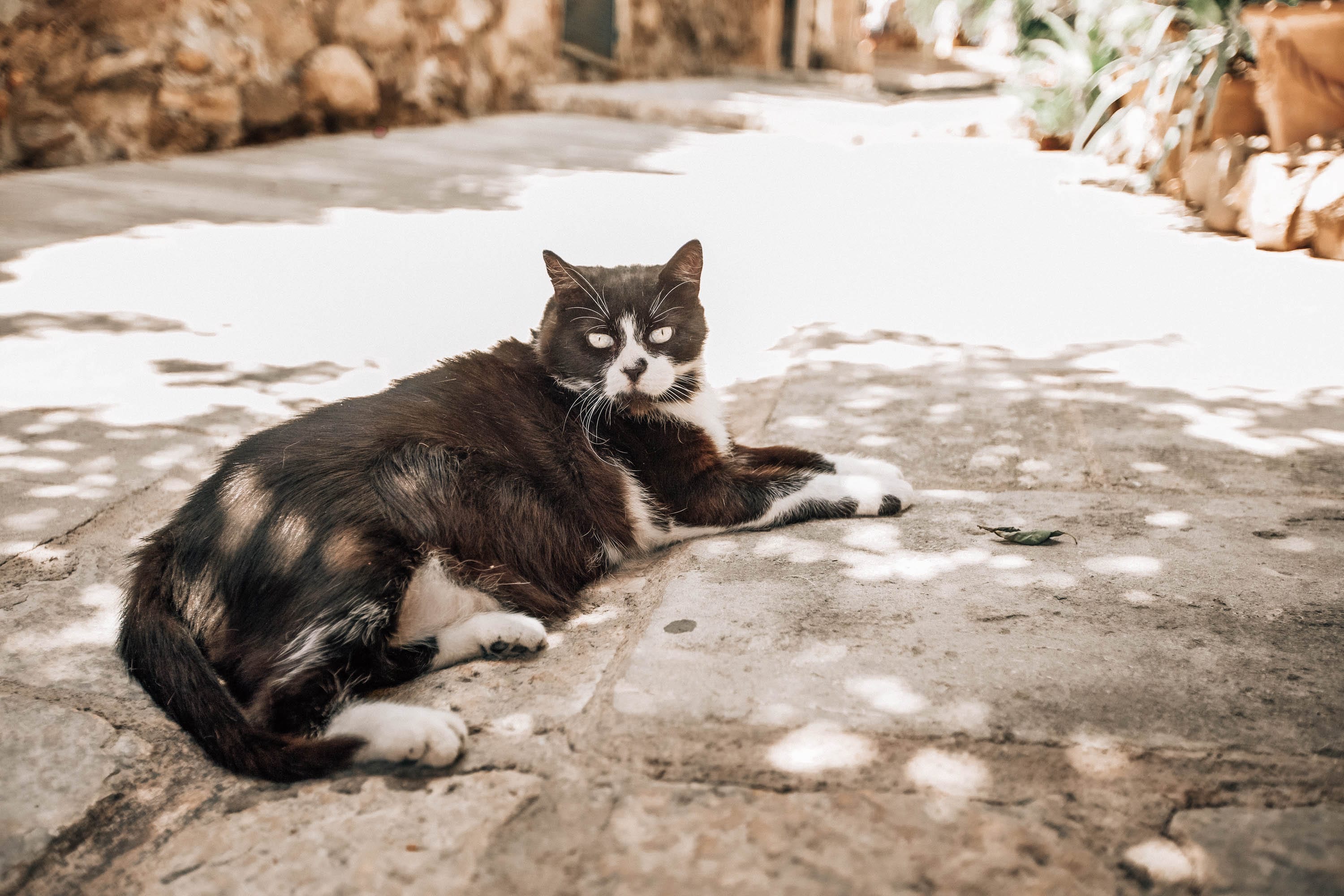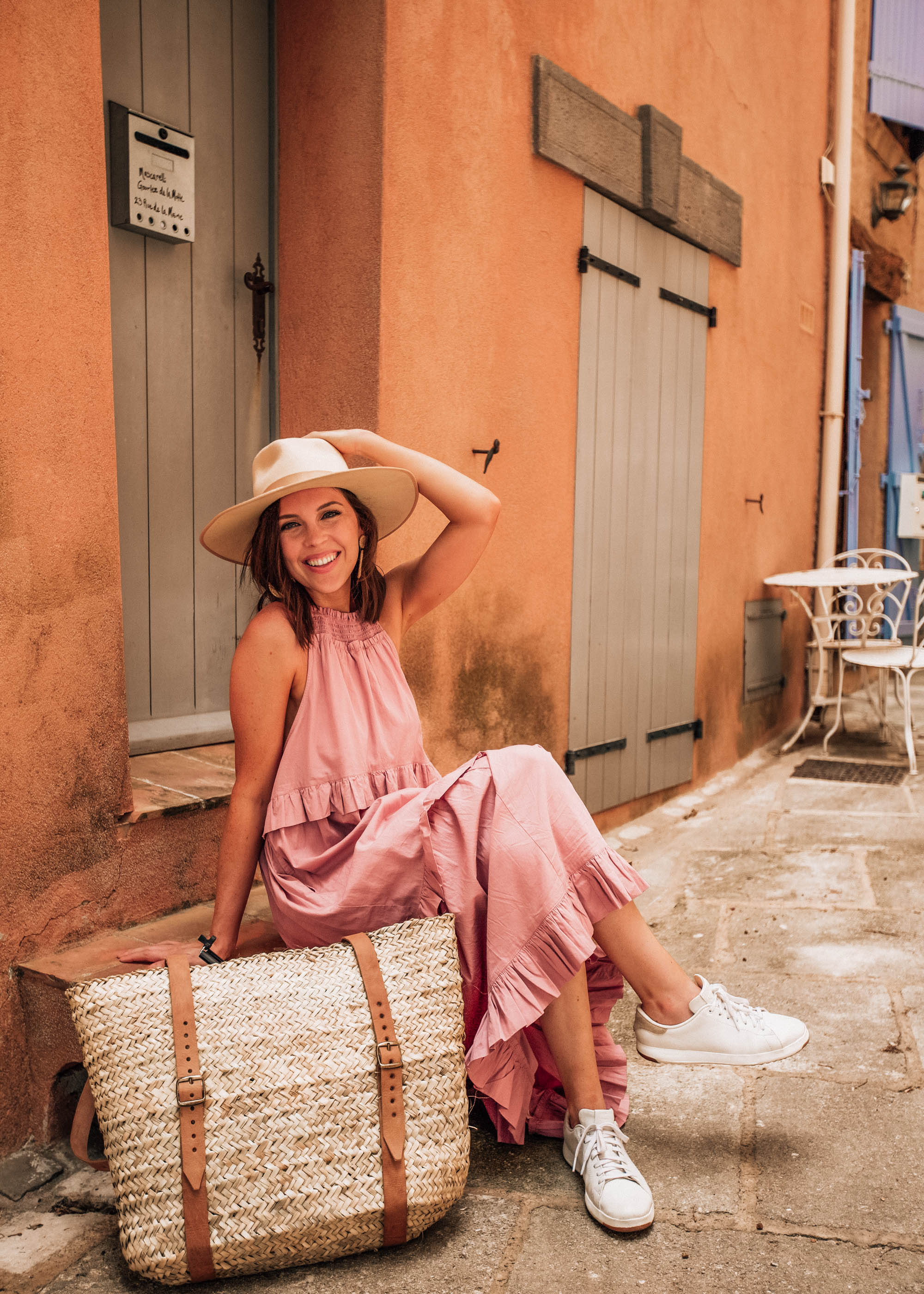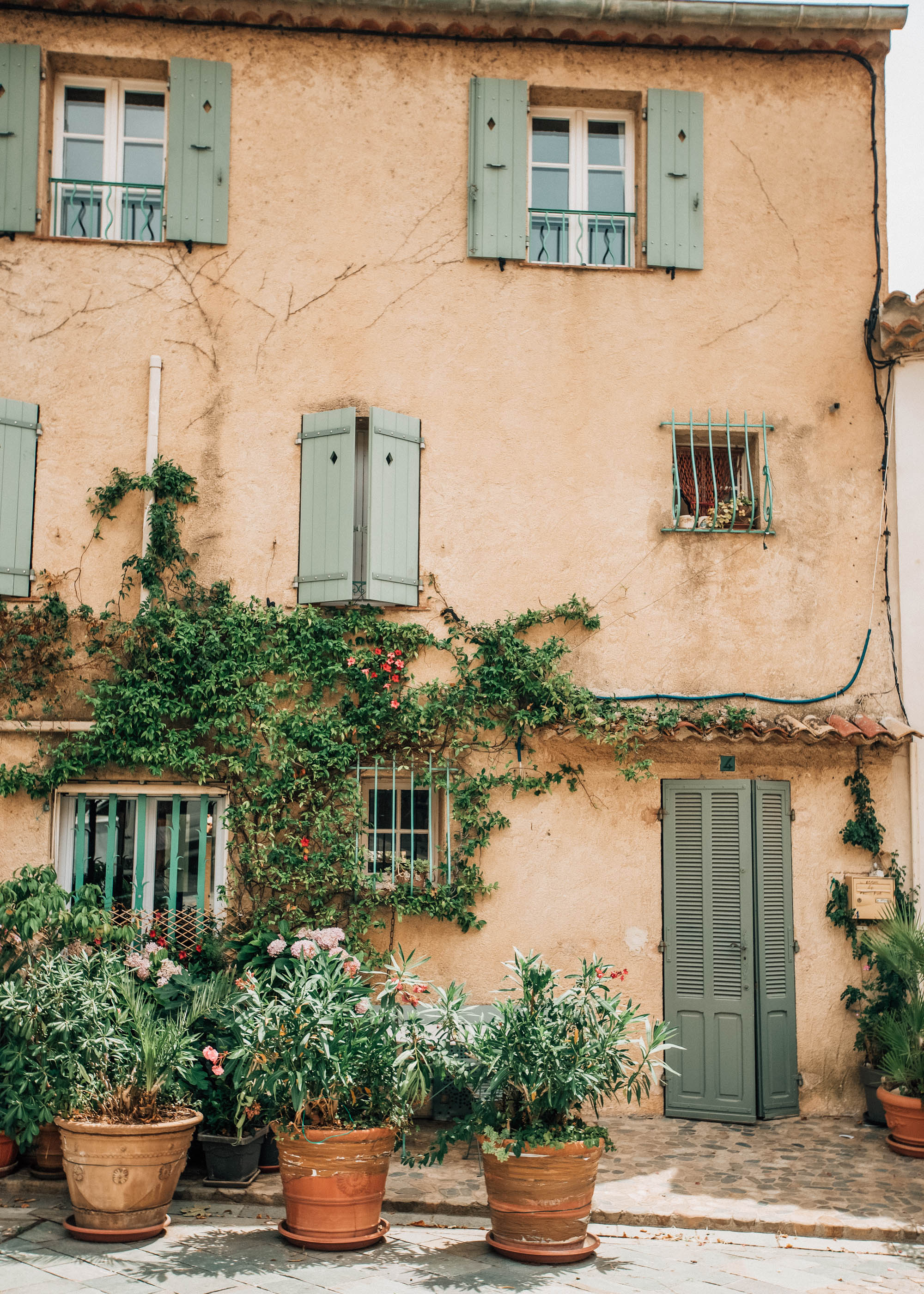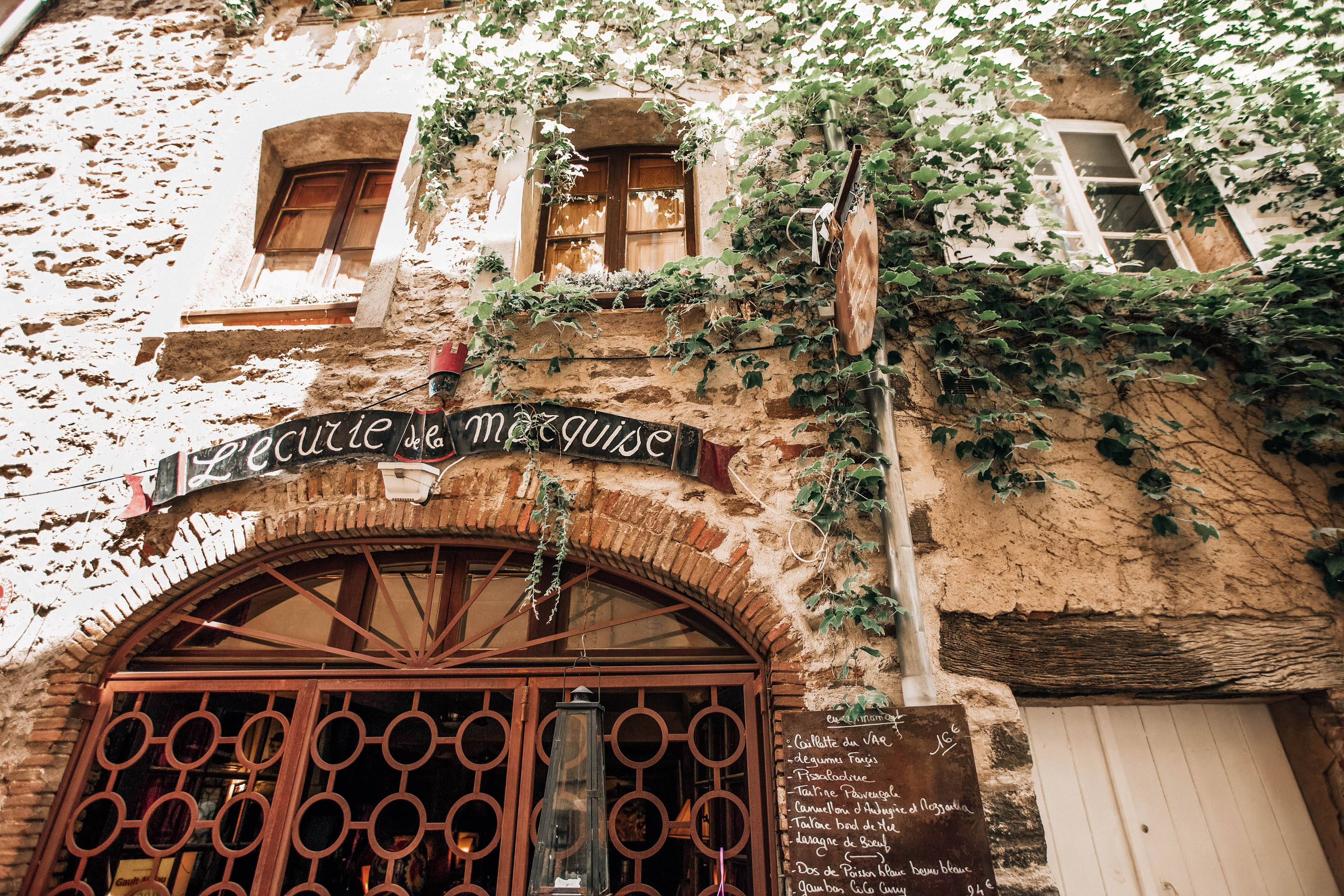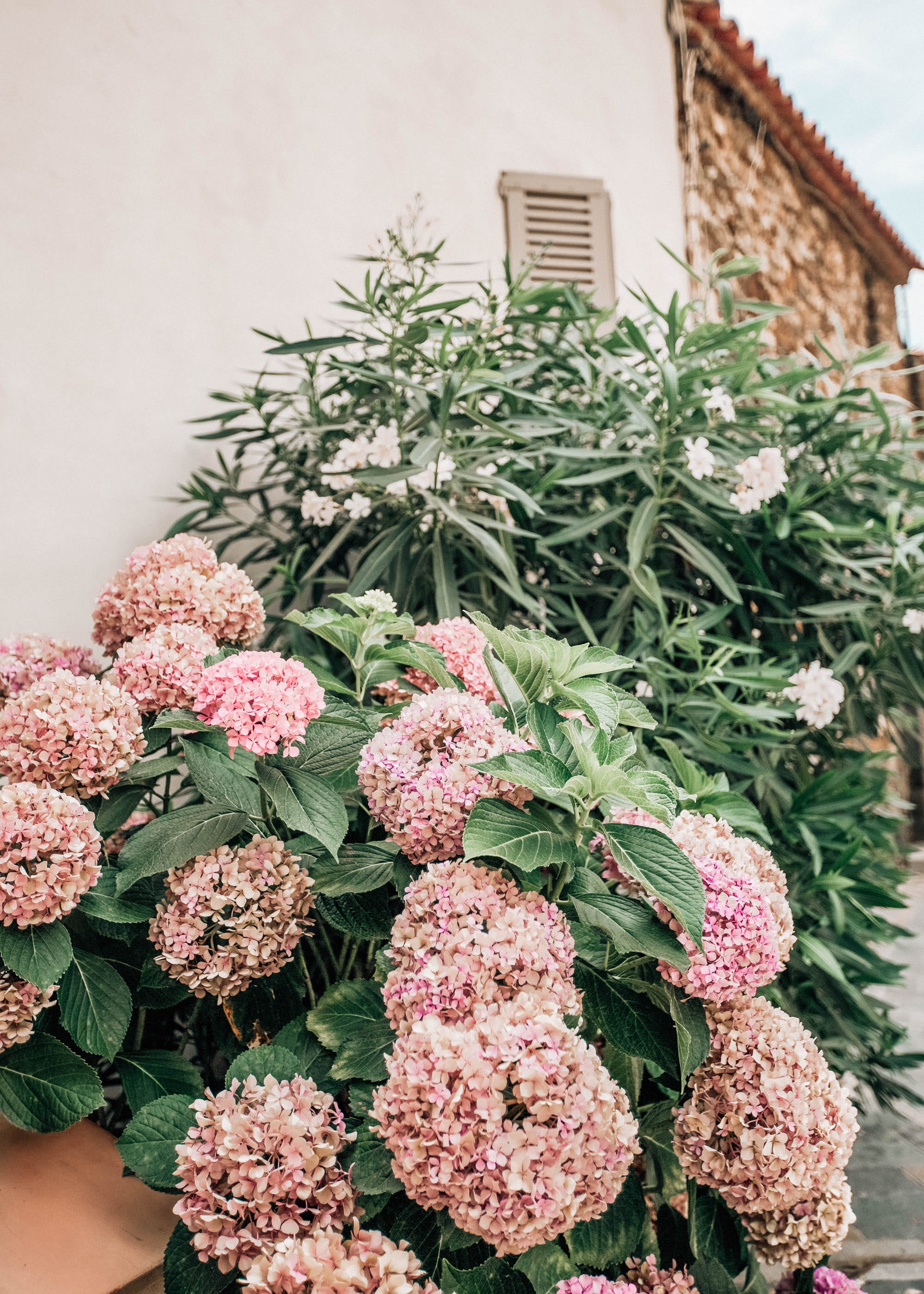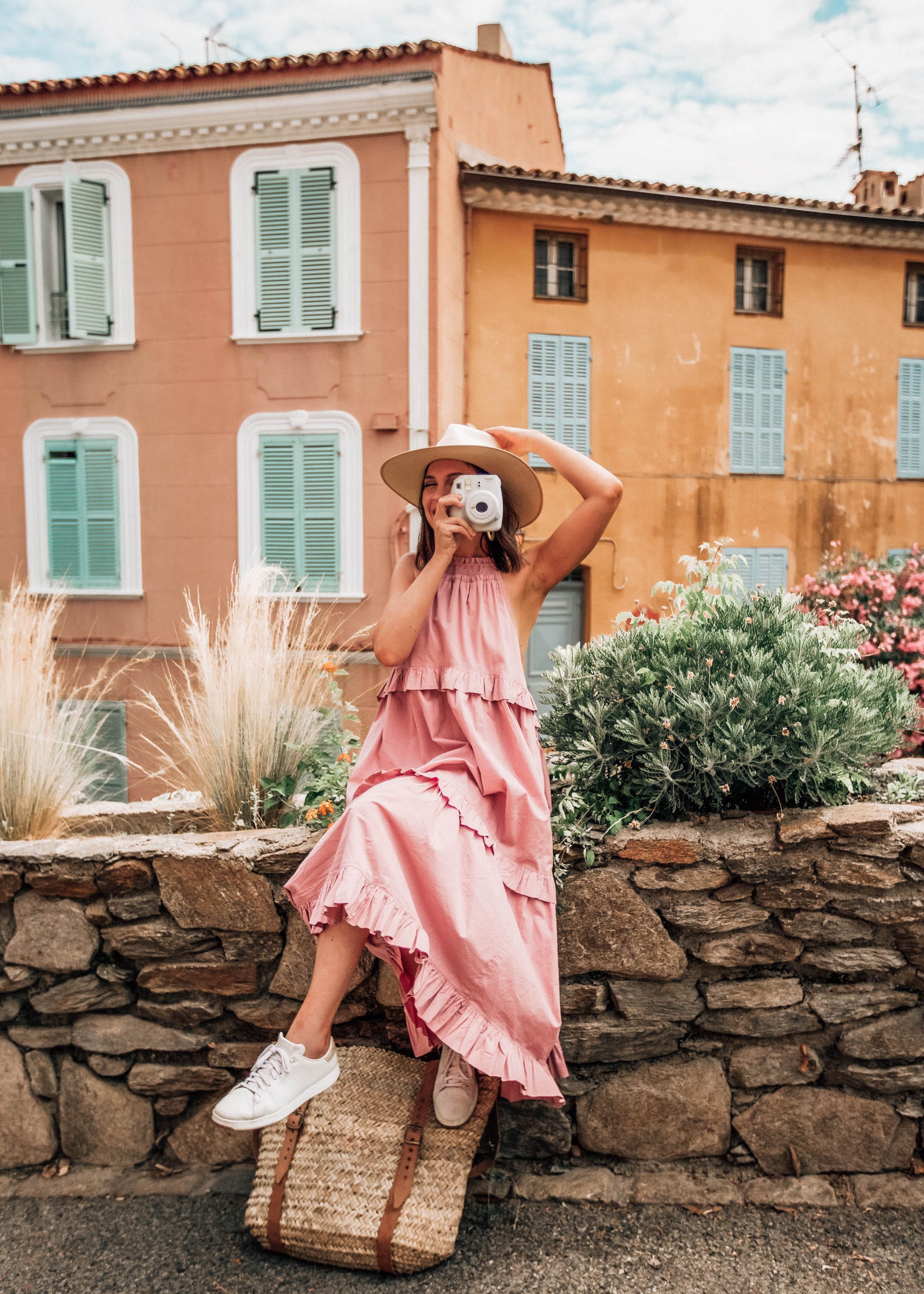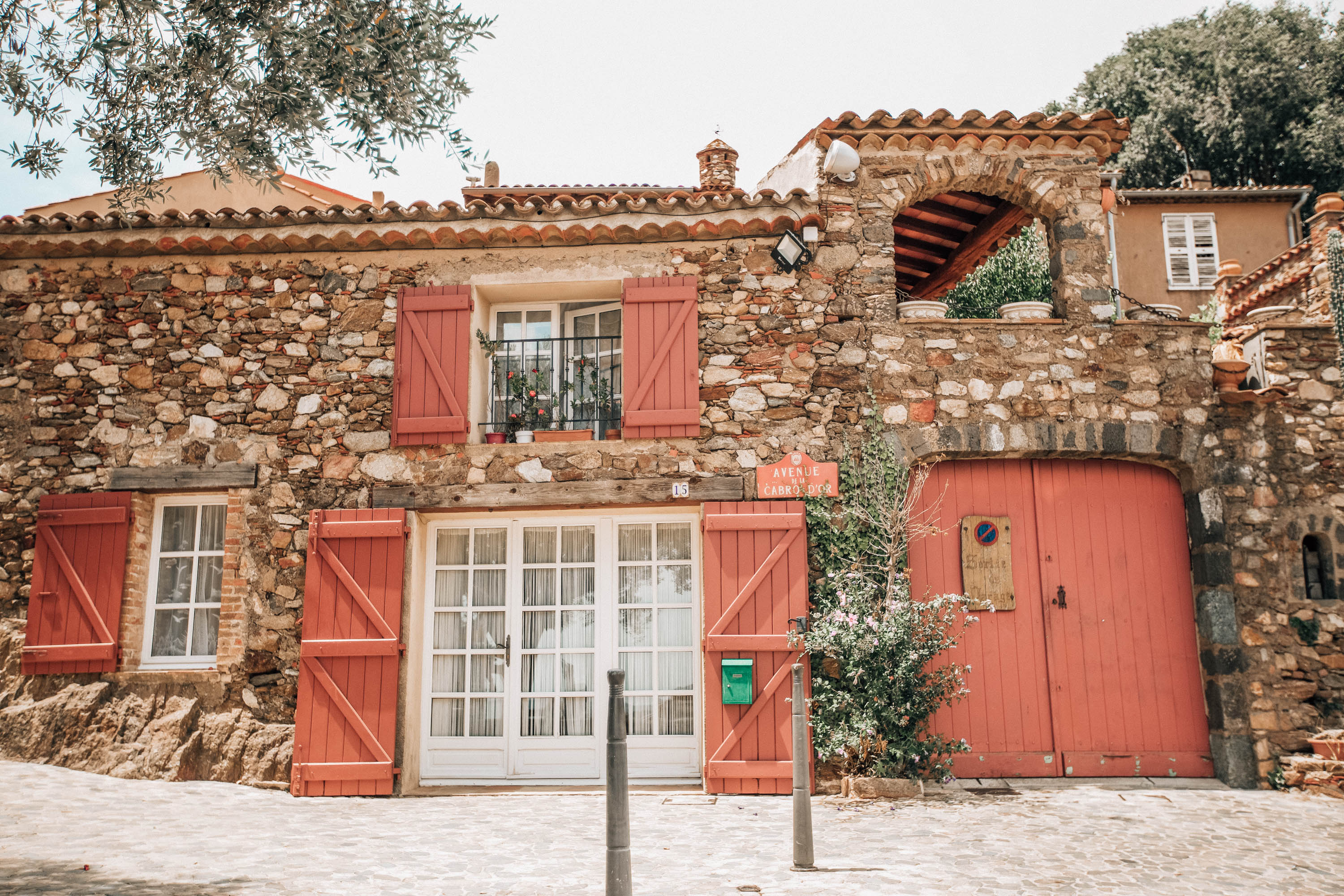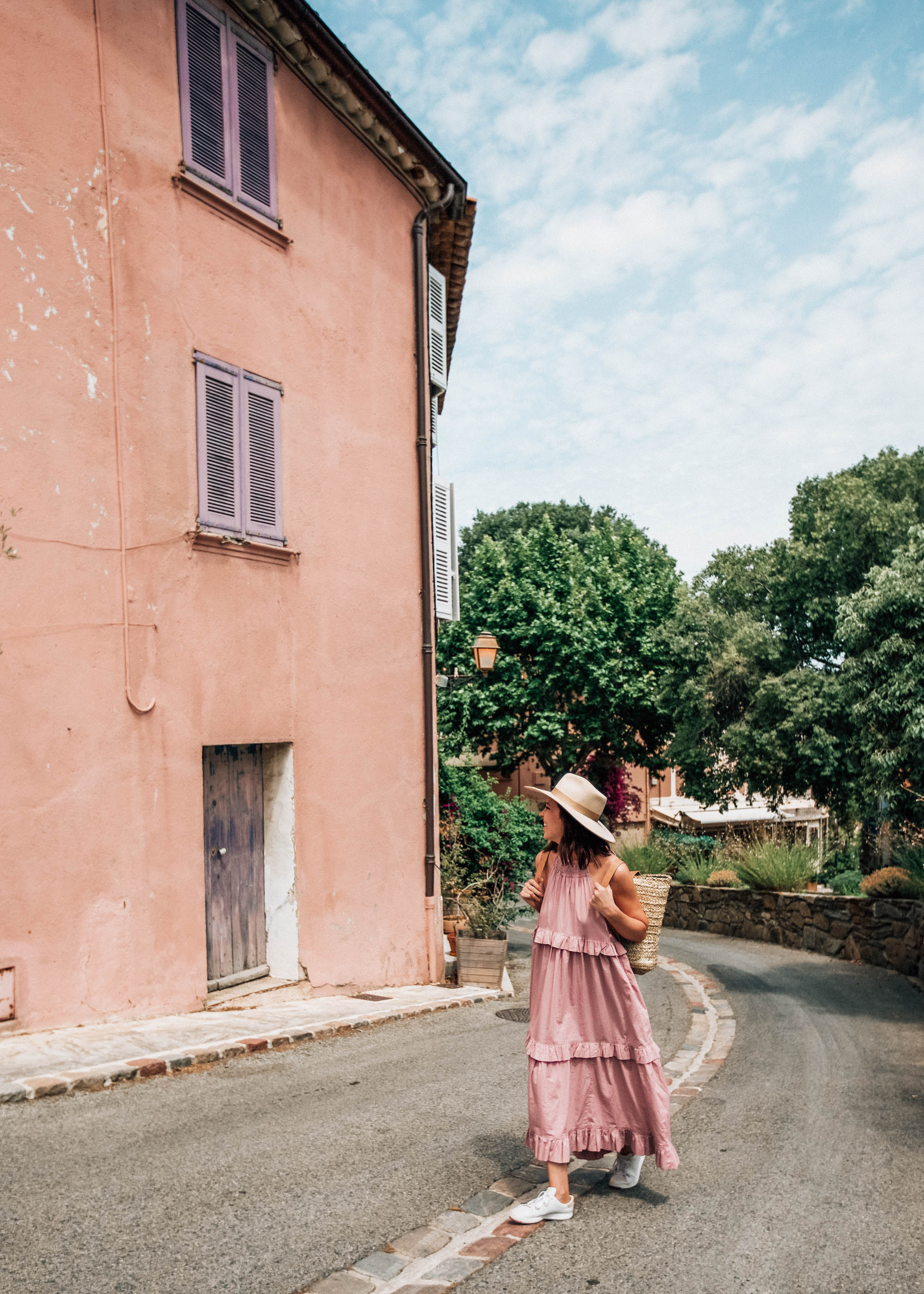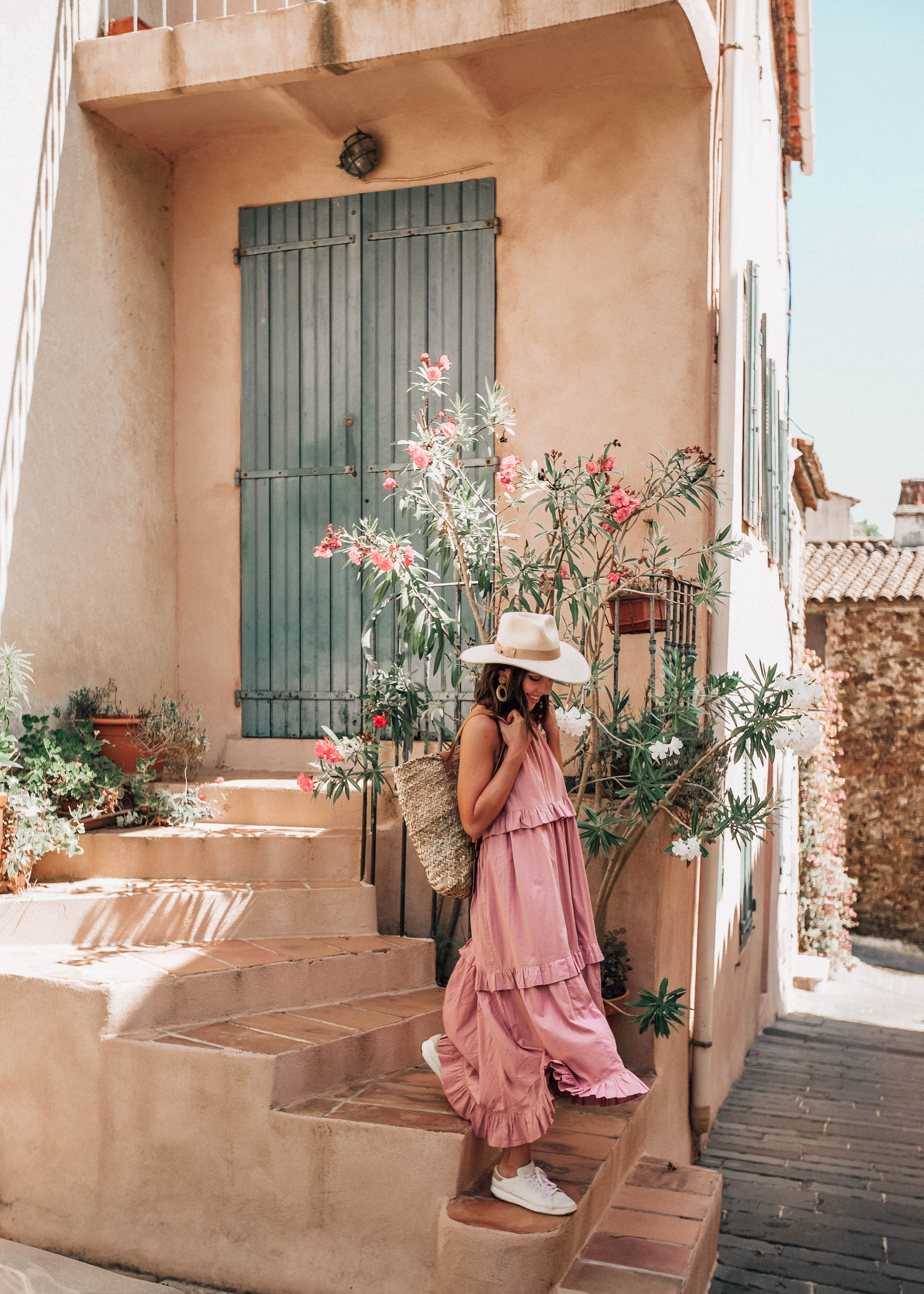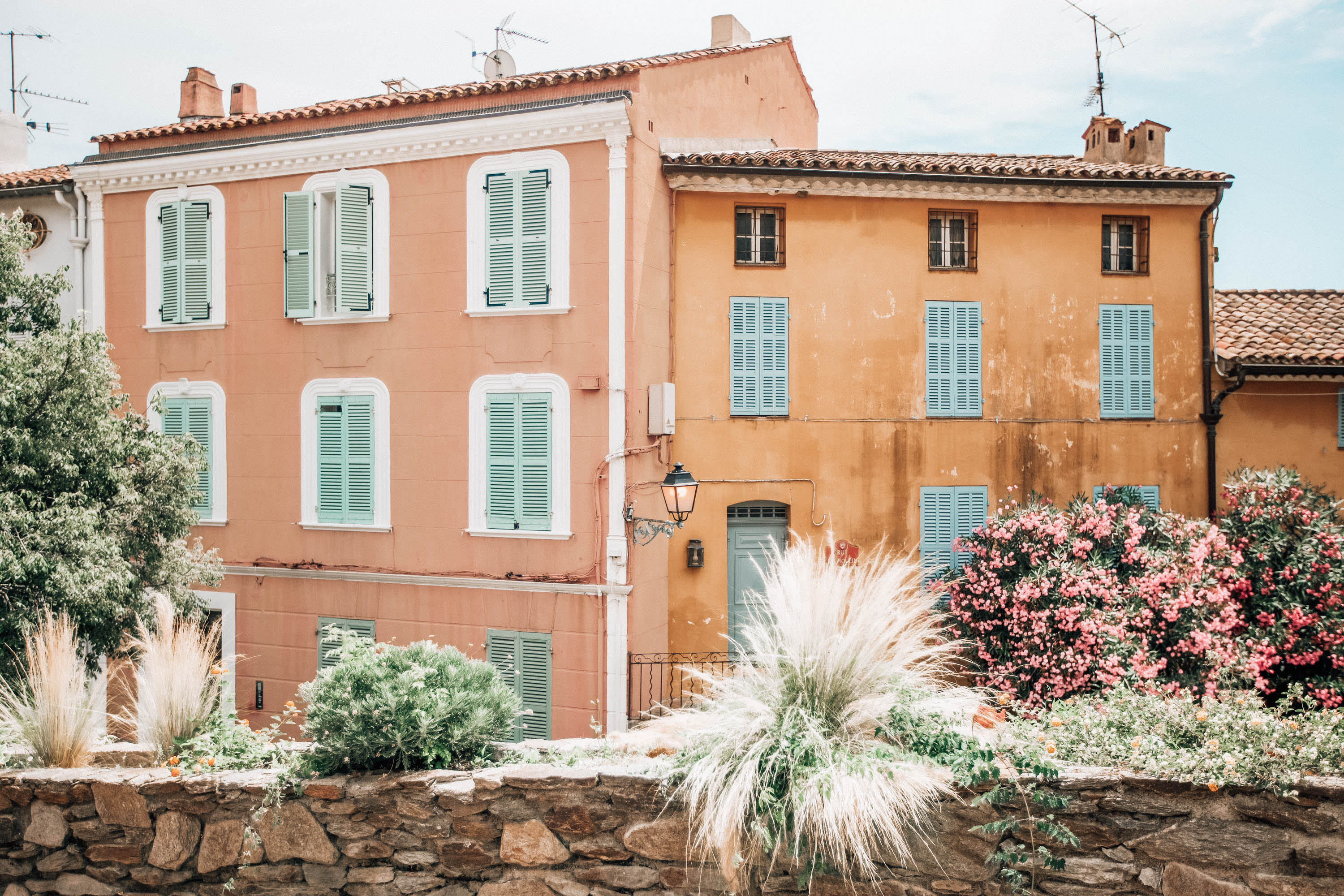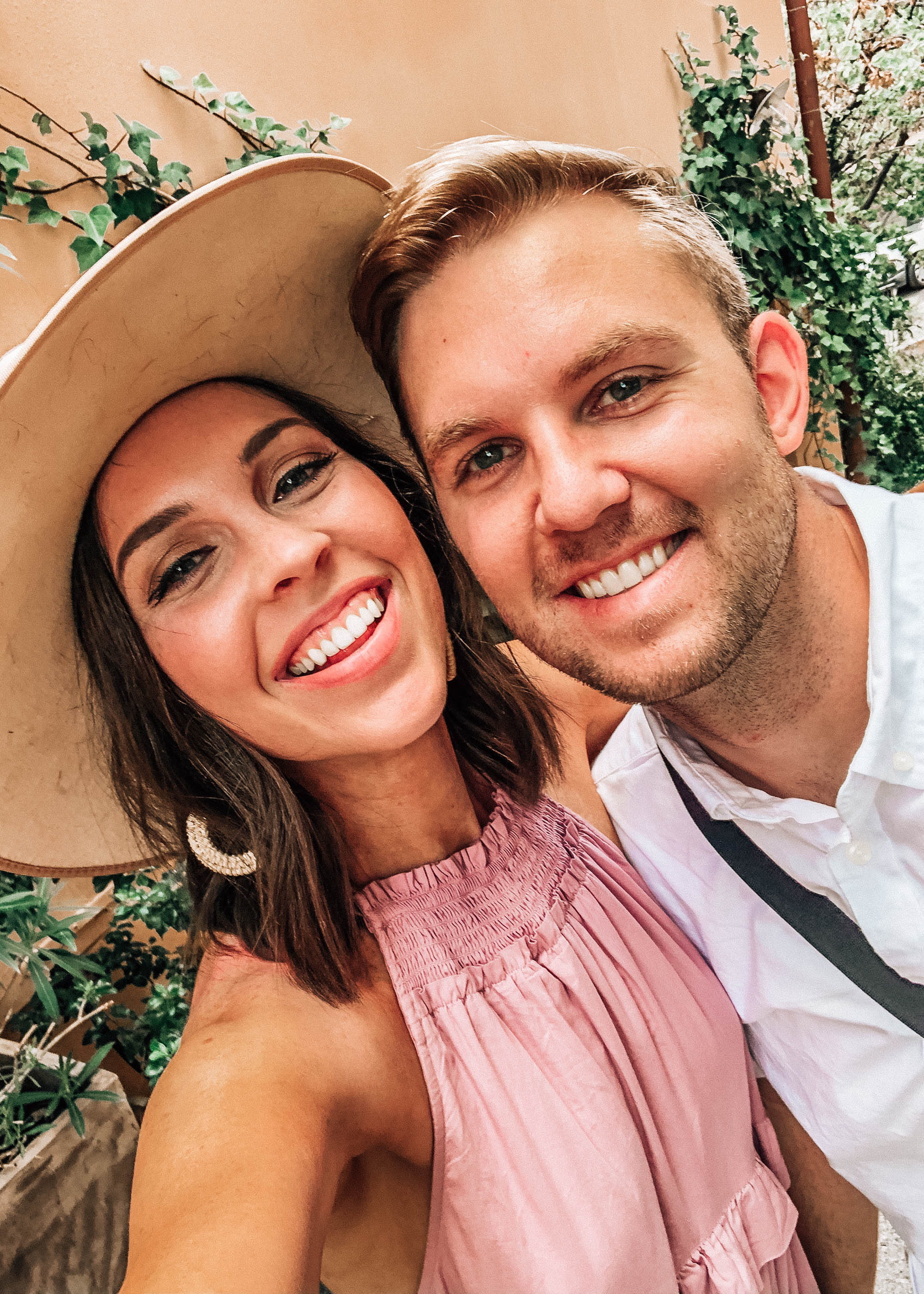 We could have spent all day in Grimaud, but had other places to go see. Gassin, which is a tiny town on top of a huge hill with 360 degree views. It was beautiful. The town was very quiet during the day but it was poppin' by dinner time. And when I say quiet… I mean dead. We barely saw anyone out of the street. We decided to go back to the hotel before dinner and relax by the pool for a bit before heading back out to Gassin for dinner at Le Micocoulier.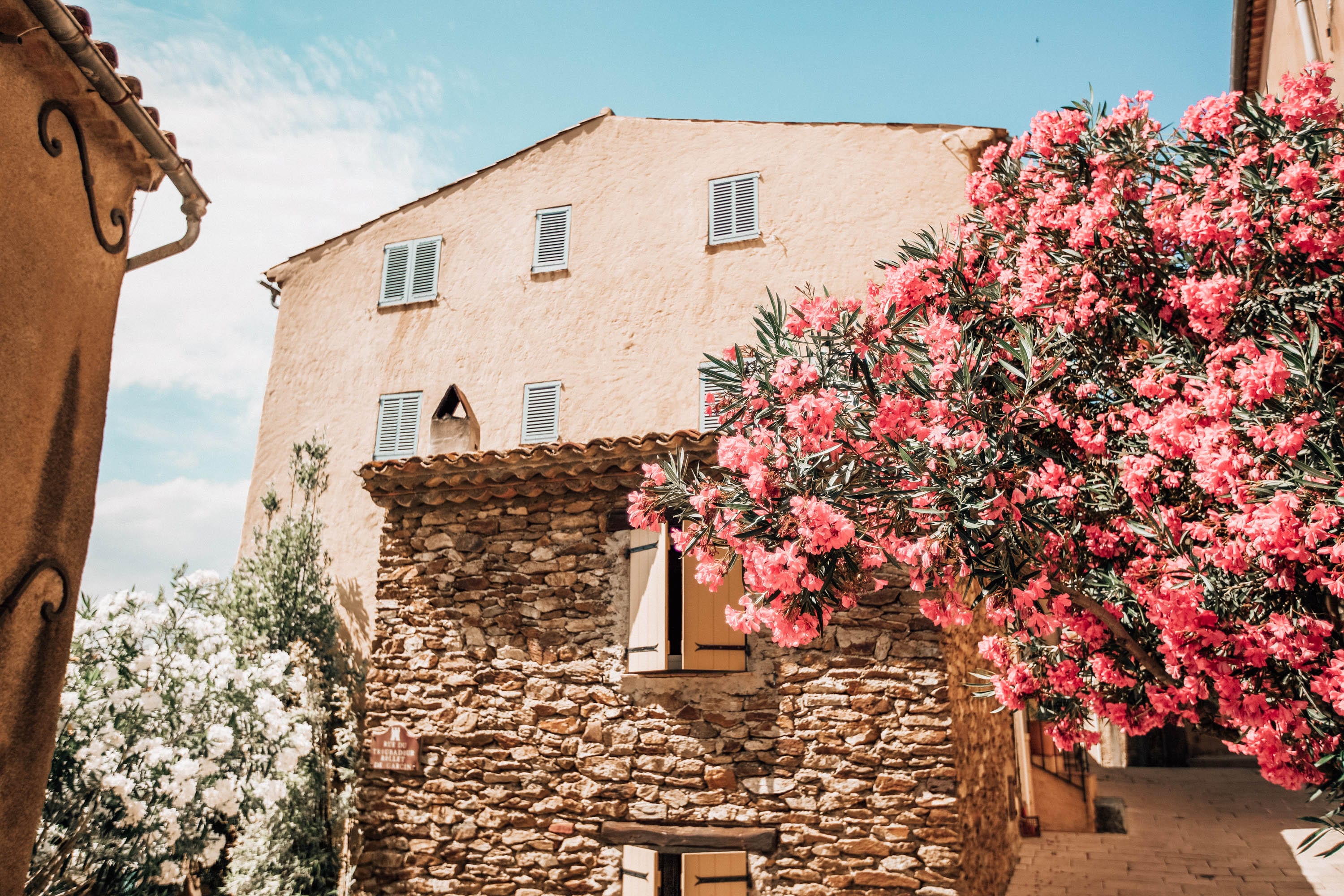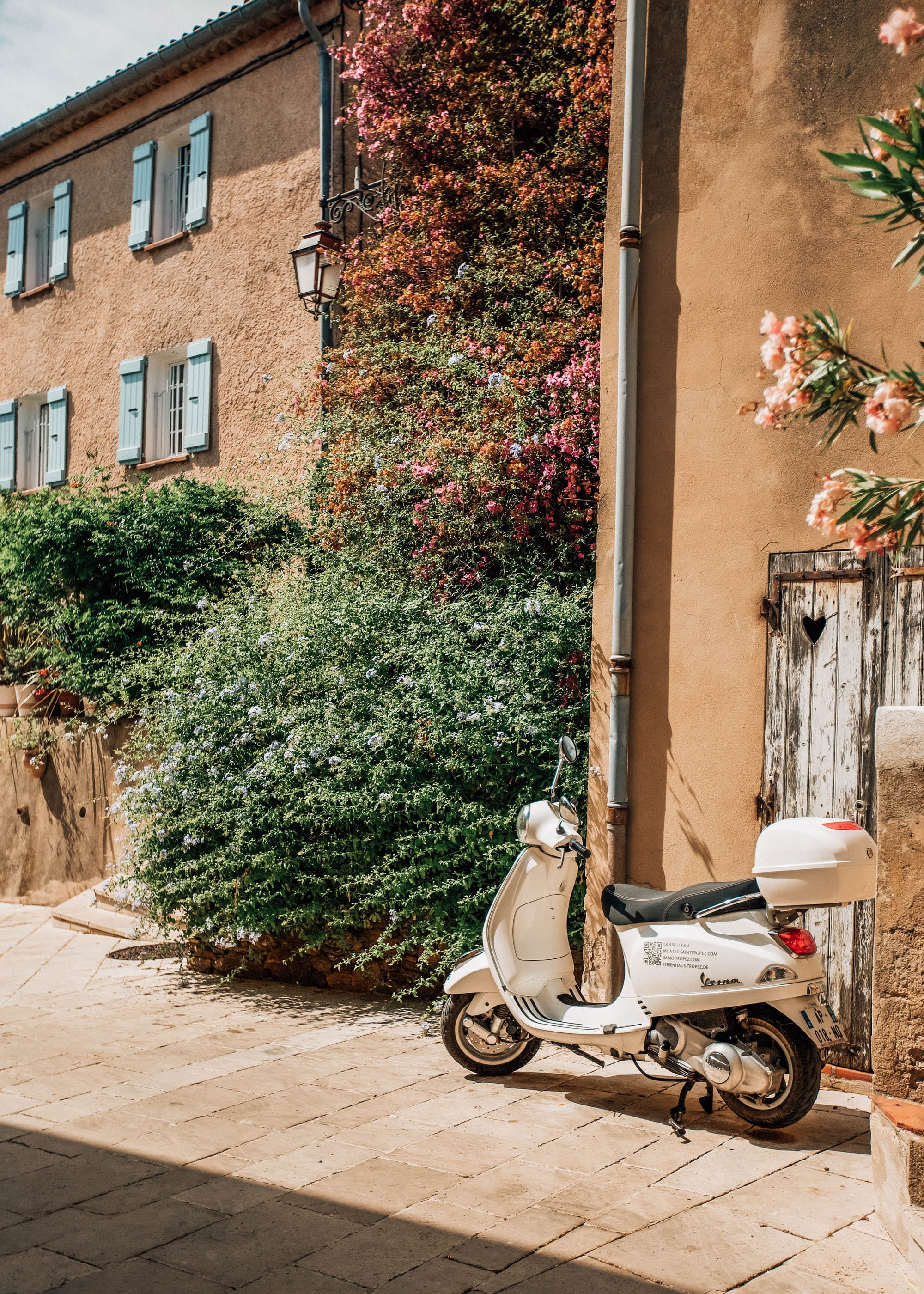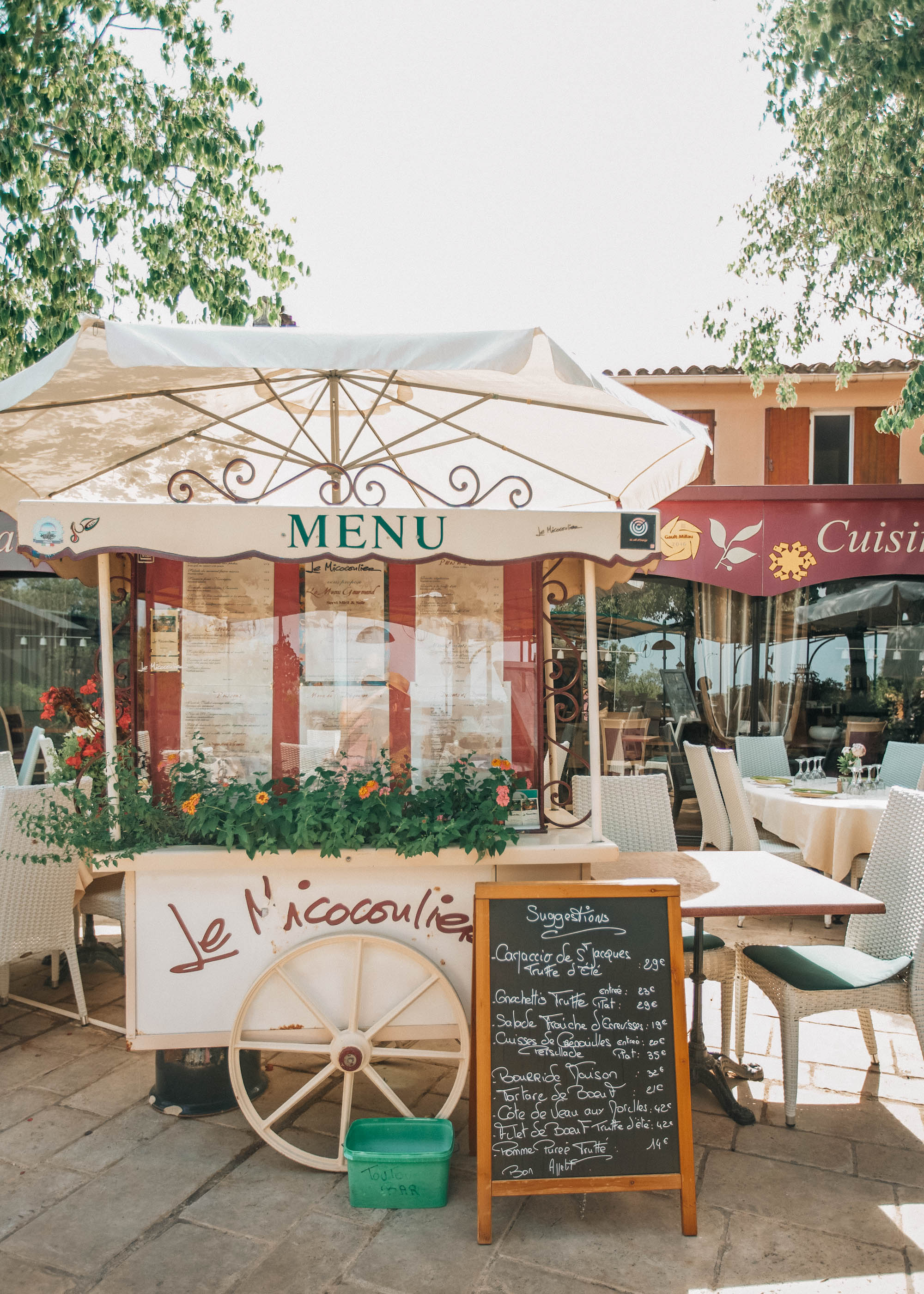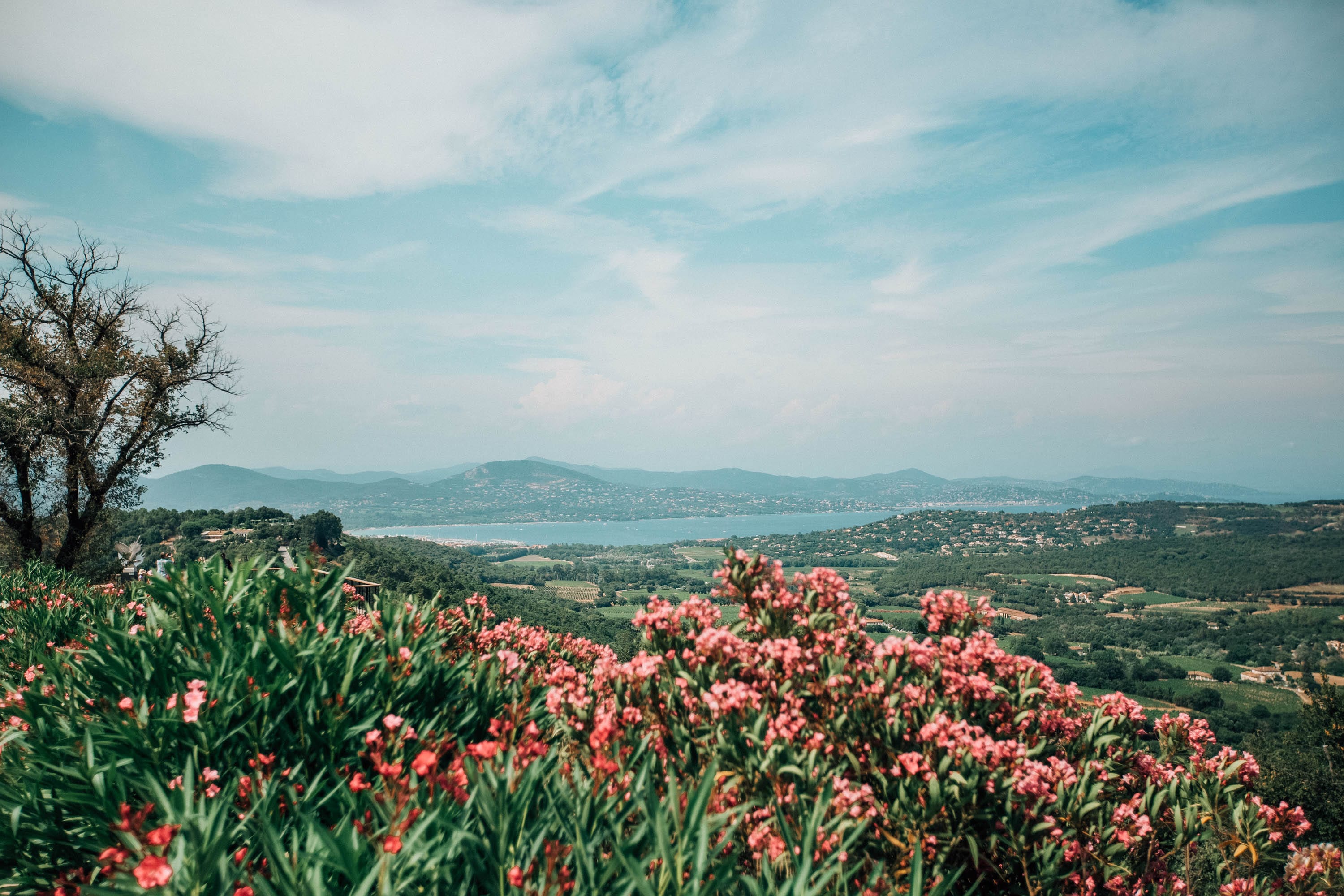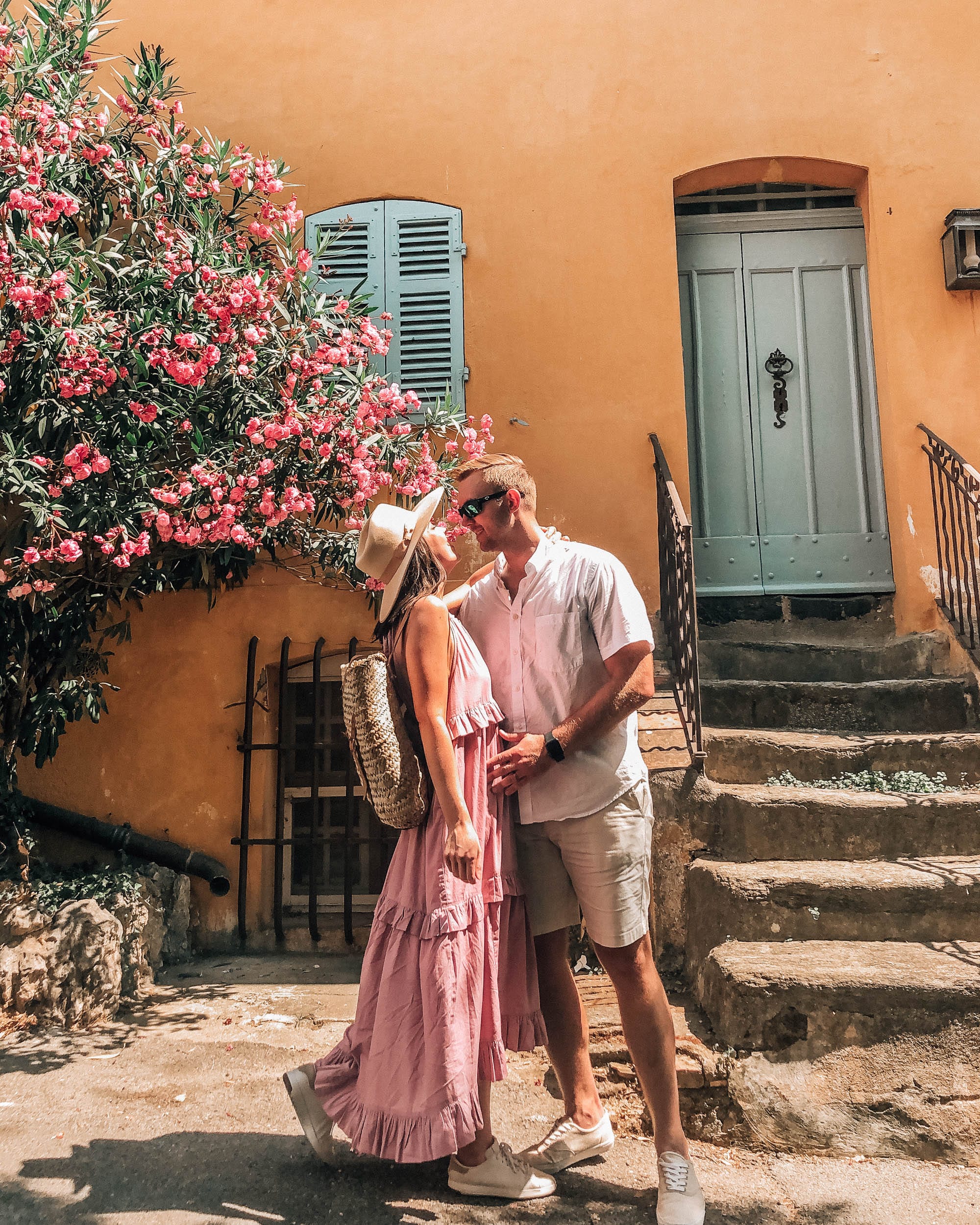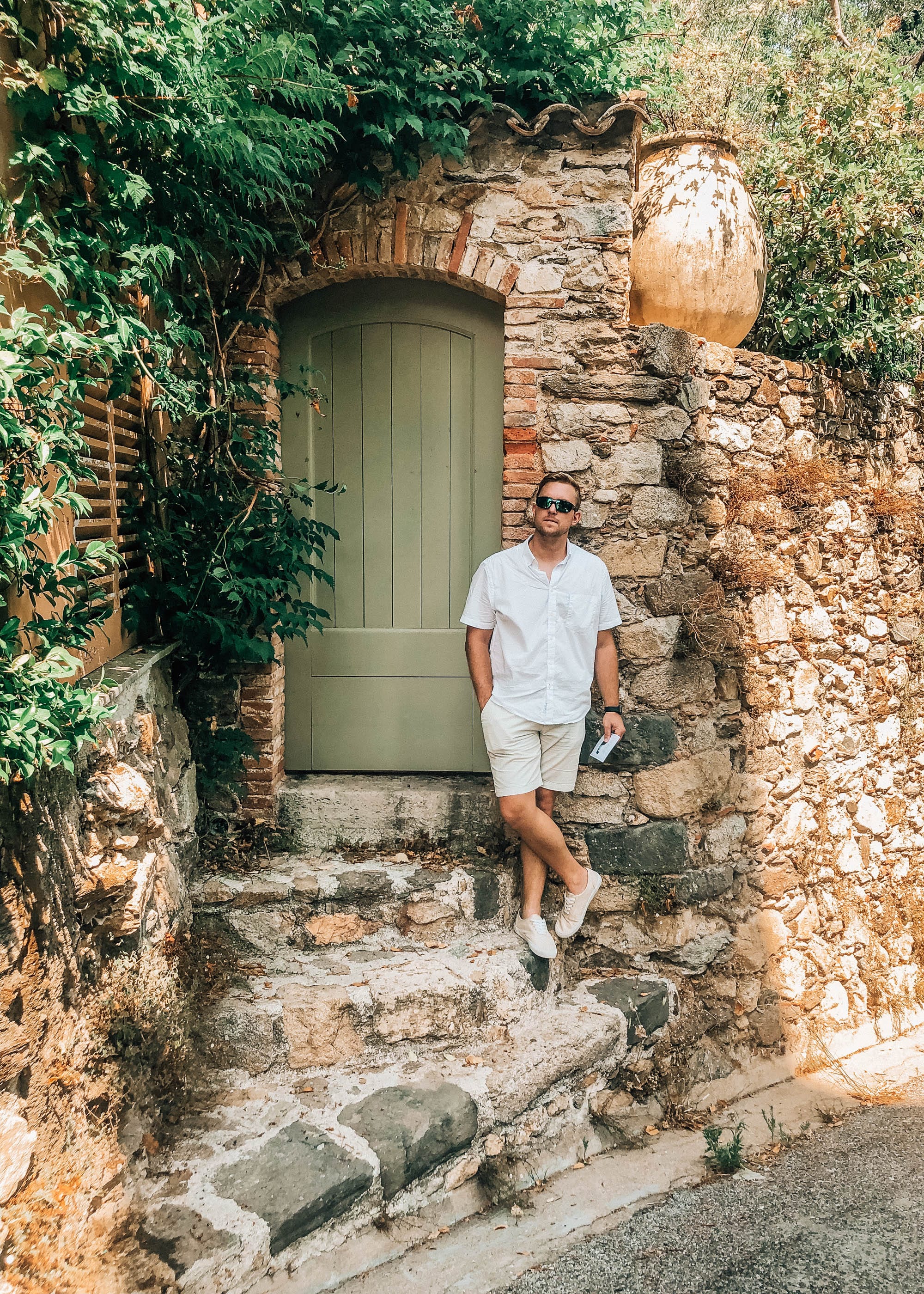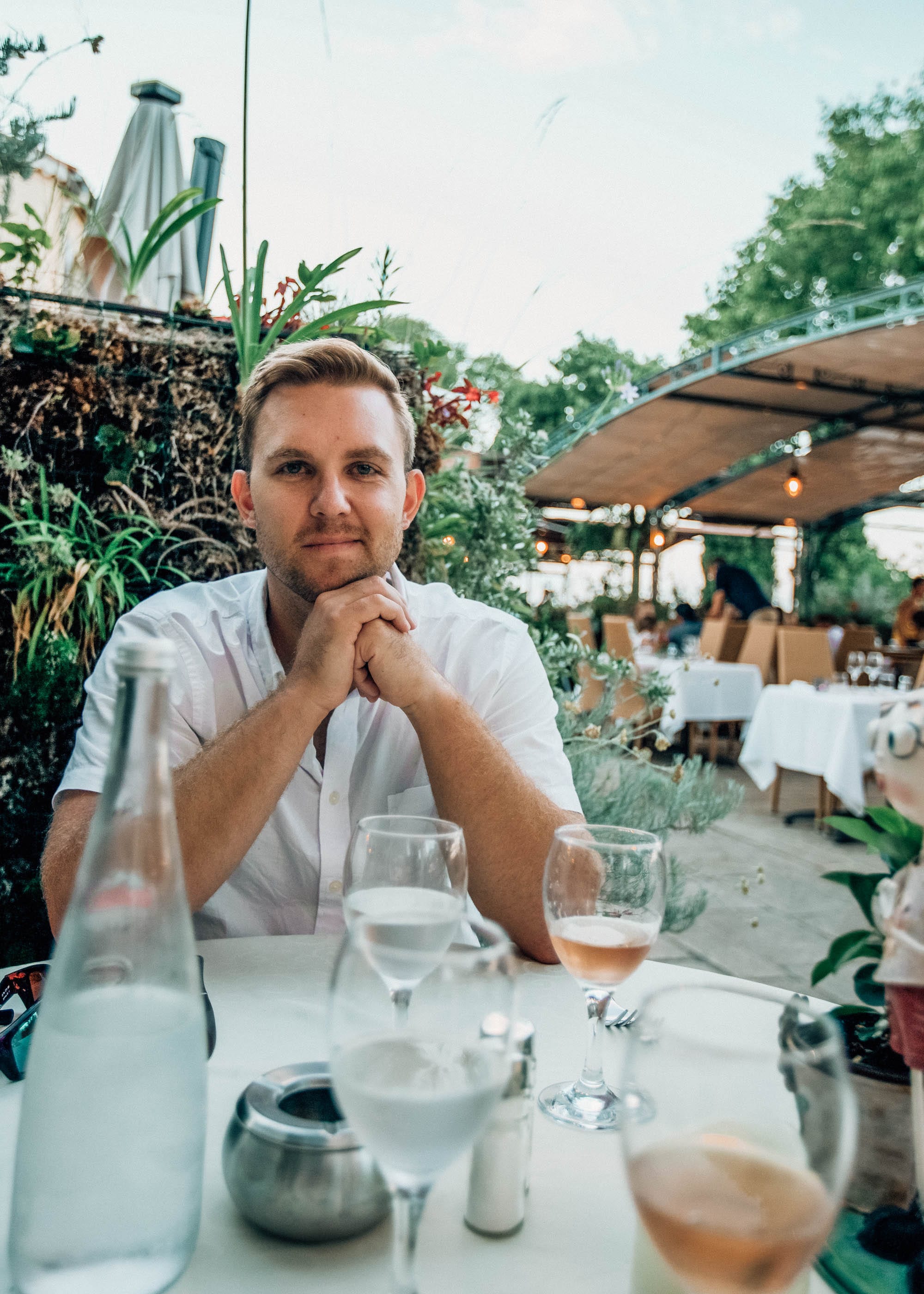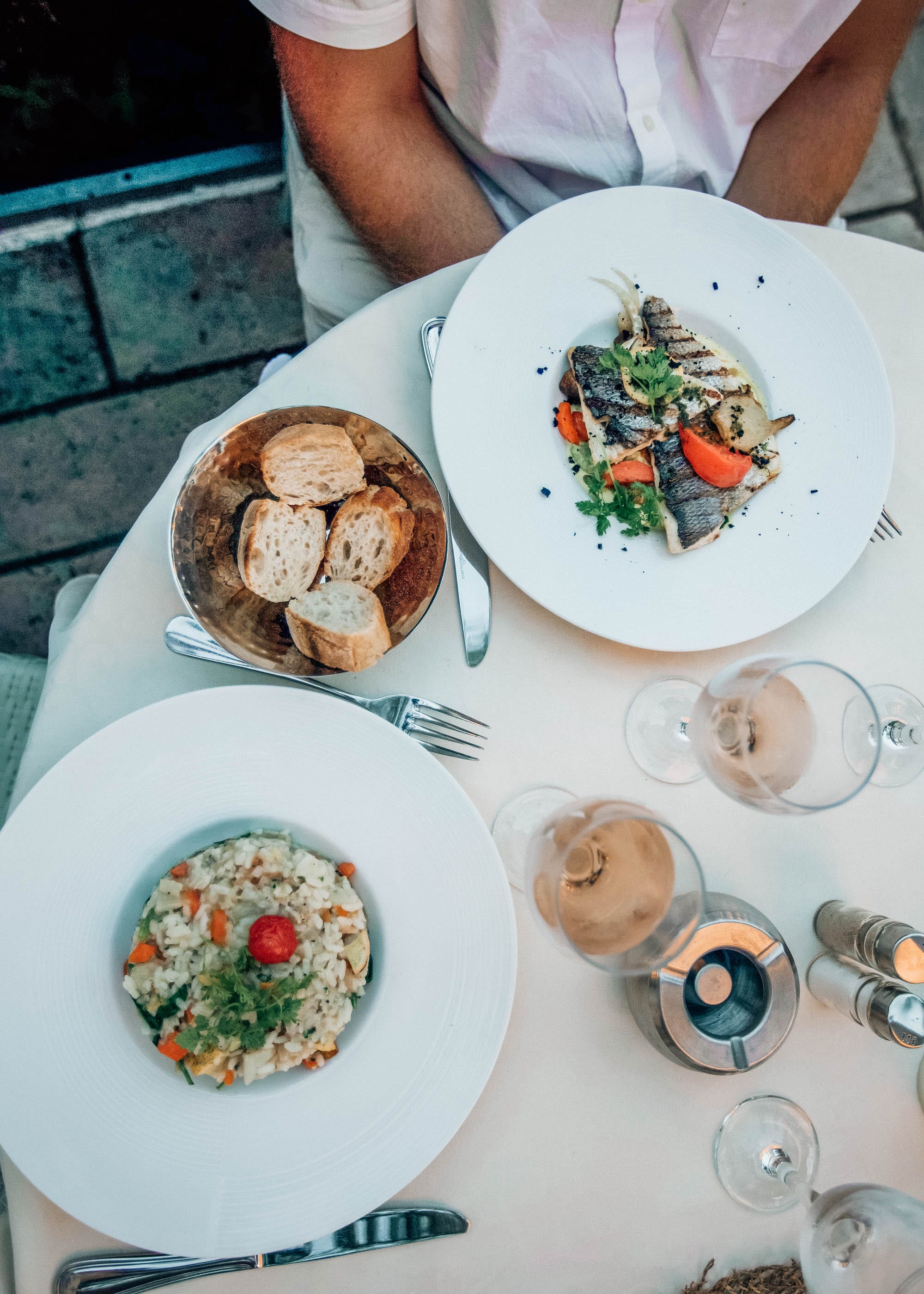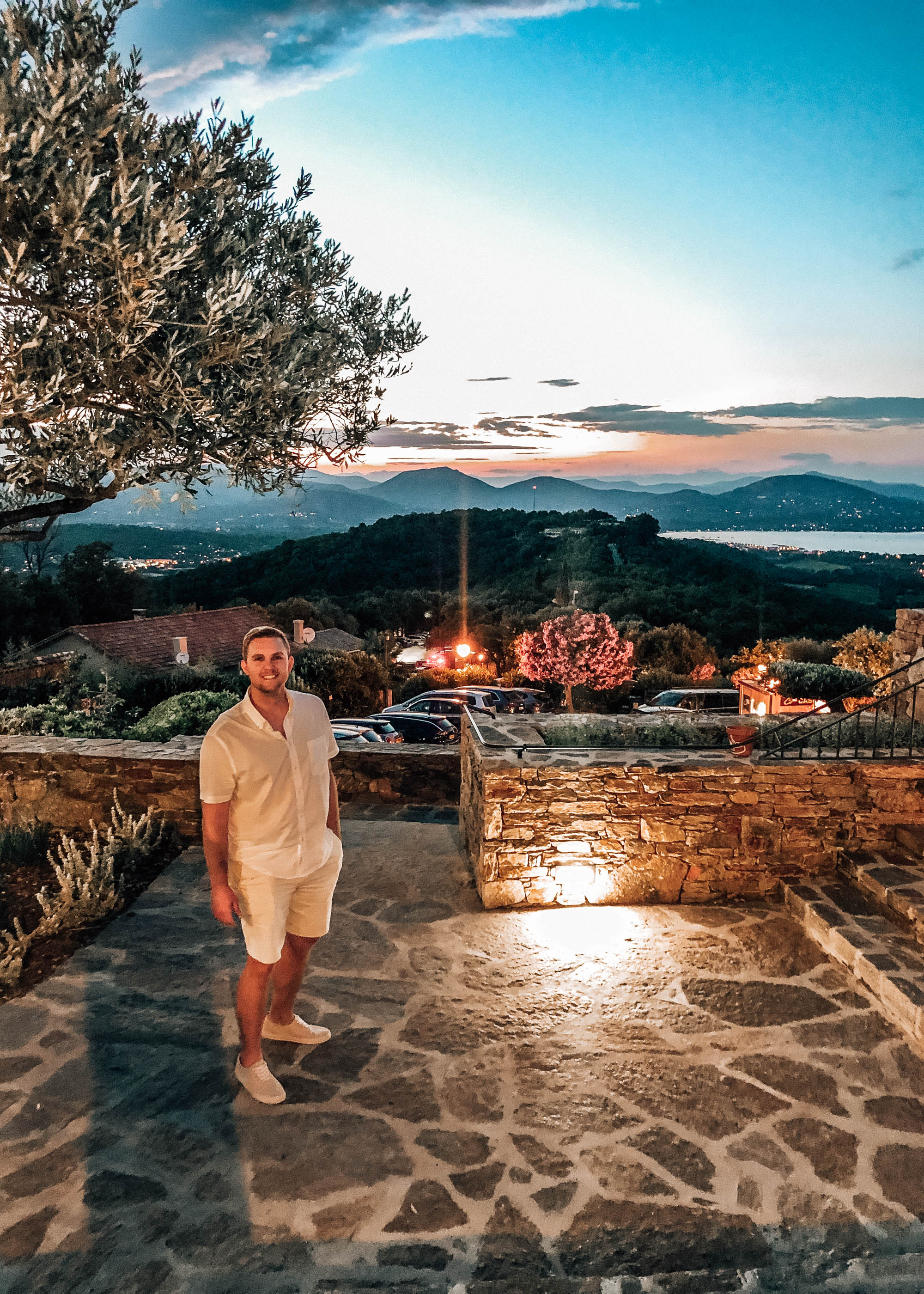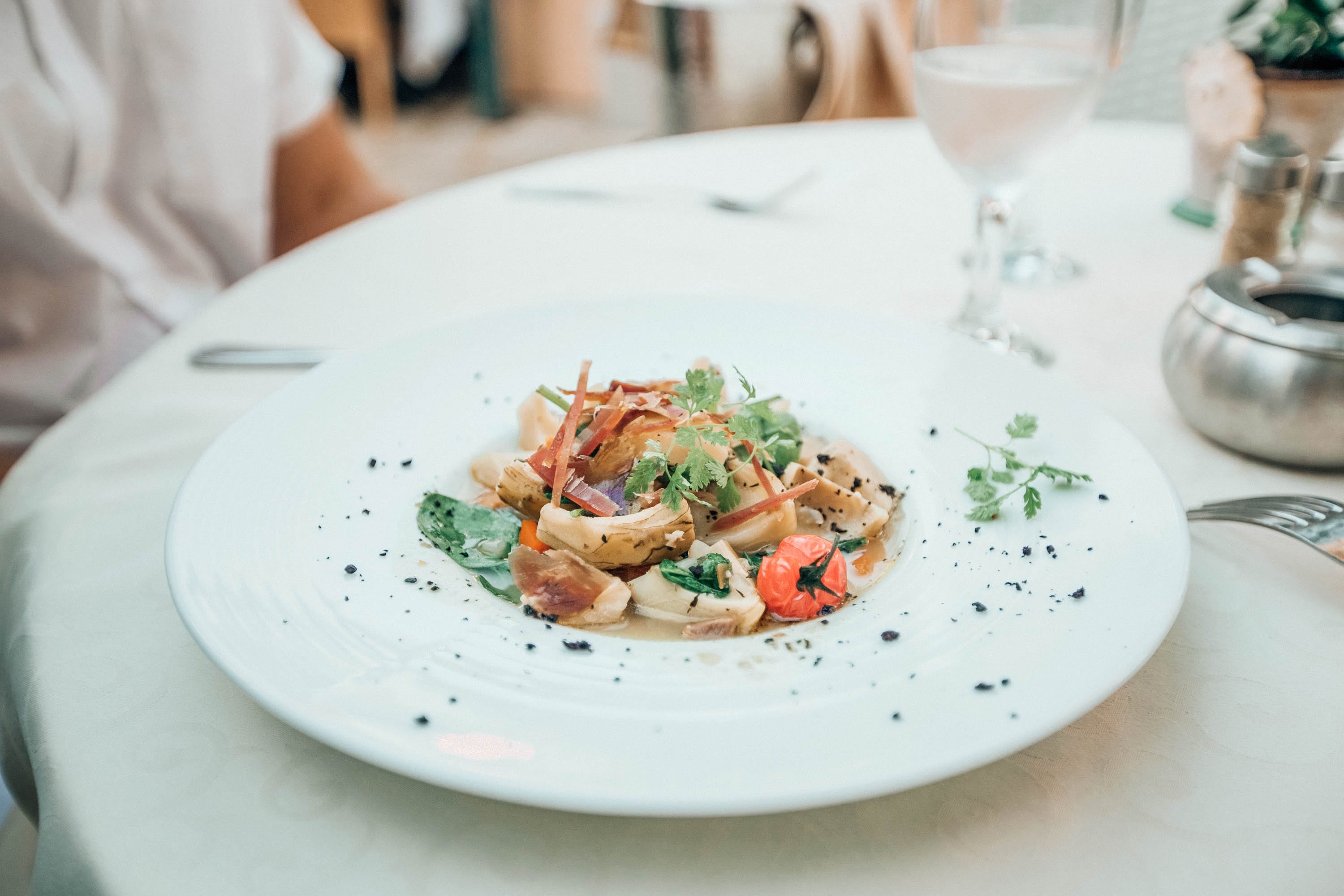 This was one of mine and TJ's favorite dinners of the week. Delicious food, incredible atmosphere, great service, and great views. Another tip for folks who have not been to Europe before: dinner is an all night affair. In America, we are used to having tables turnover 2 or 3, even 4 times a night. In France (and other parts of Europe) you get your table for the entire evening. This is one reason they especially like that you make a reservation. You could go to 2 or 3 restaurants and not find an open spot. At Le Micocoulier, we split the cutest bottle of rose, which came in 50cl, which is the perfect amount for 2 people to share, and appetizer of steamed artichoke hearts. For our entrees, I got the vegetarian risotto and TJ got the grilled sea bream. All of it was beyond delicious.
Once our dinner was over, we headed back to the hotel for a late evening by the pool. We had a dessert of fruit and whipped cream as we sat and talked about the day. We prepared for the next leg of trip, which we knew included about 3 hours of driving and headed to bed. The next morning we spent some time by the hotel before checking out and picked up some croissants in St. Tropez for the road!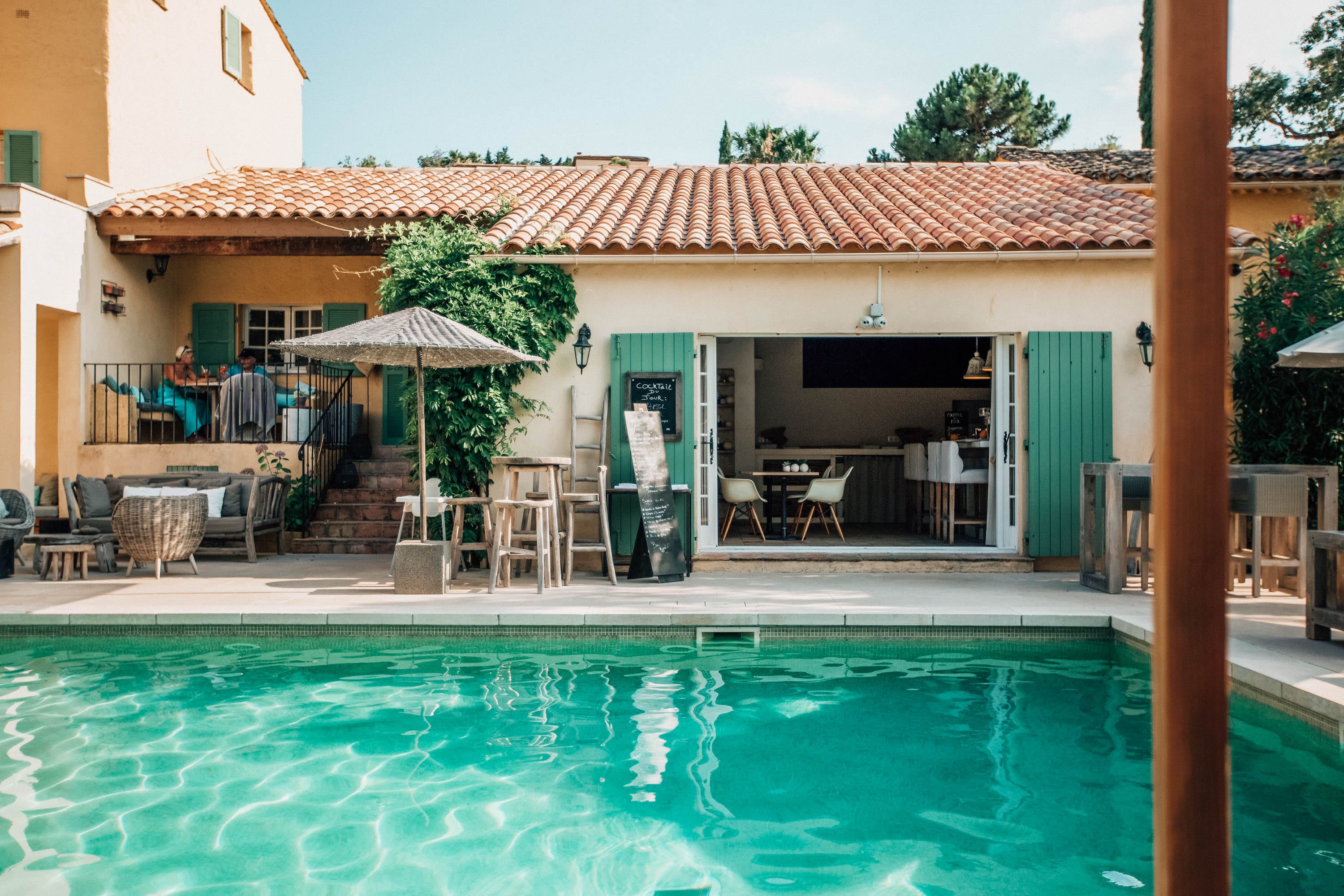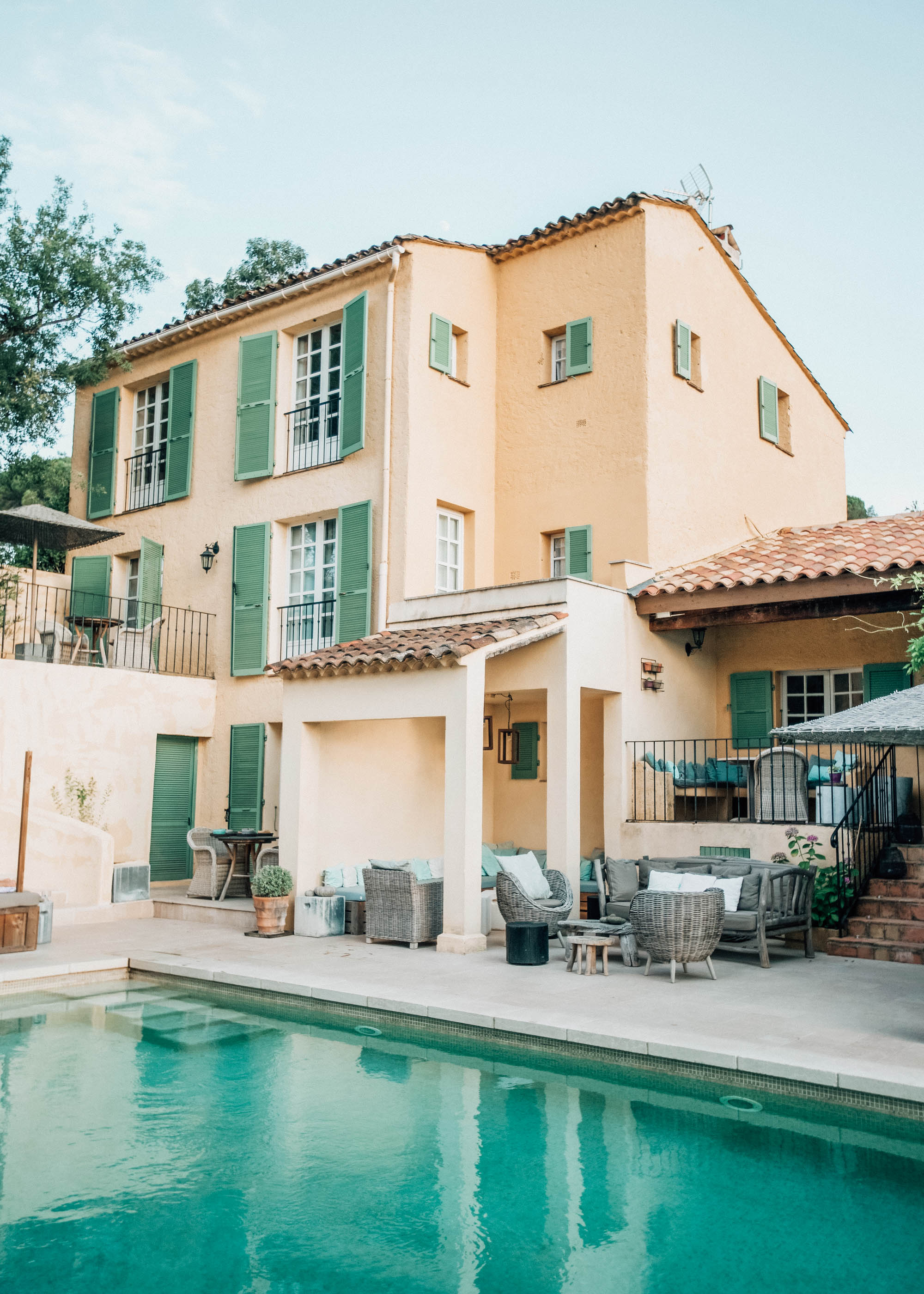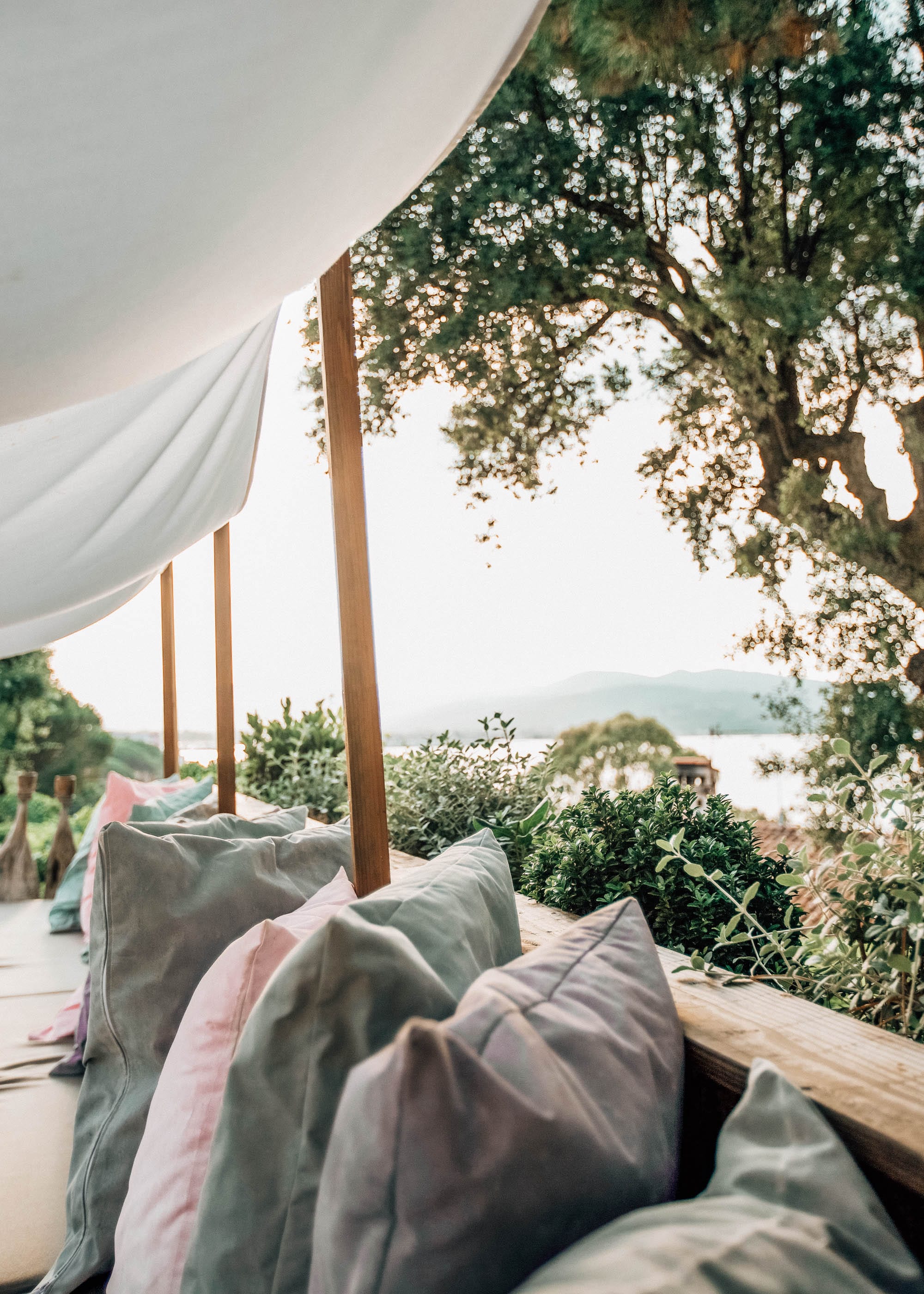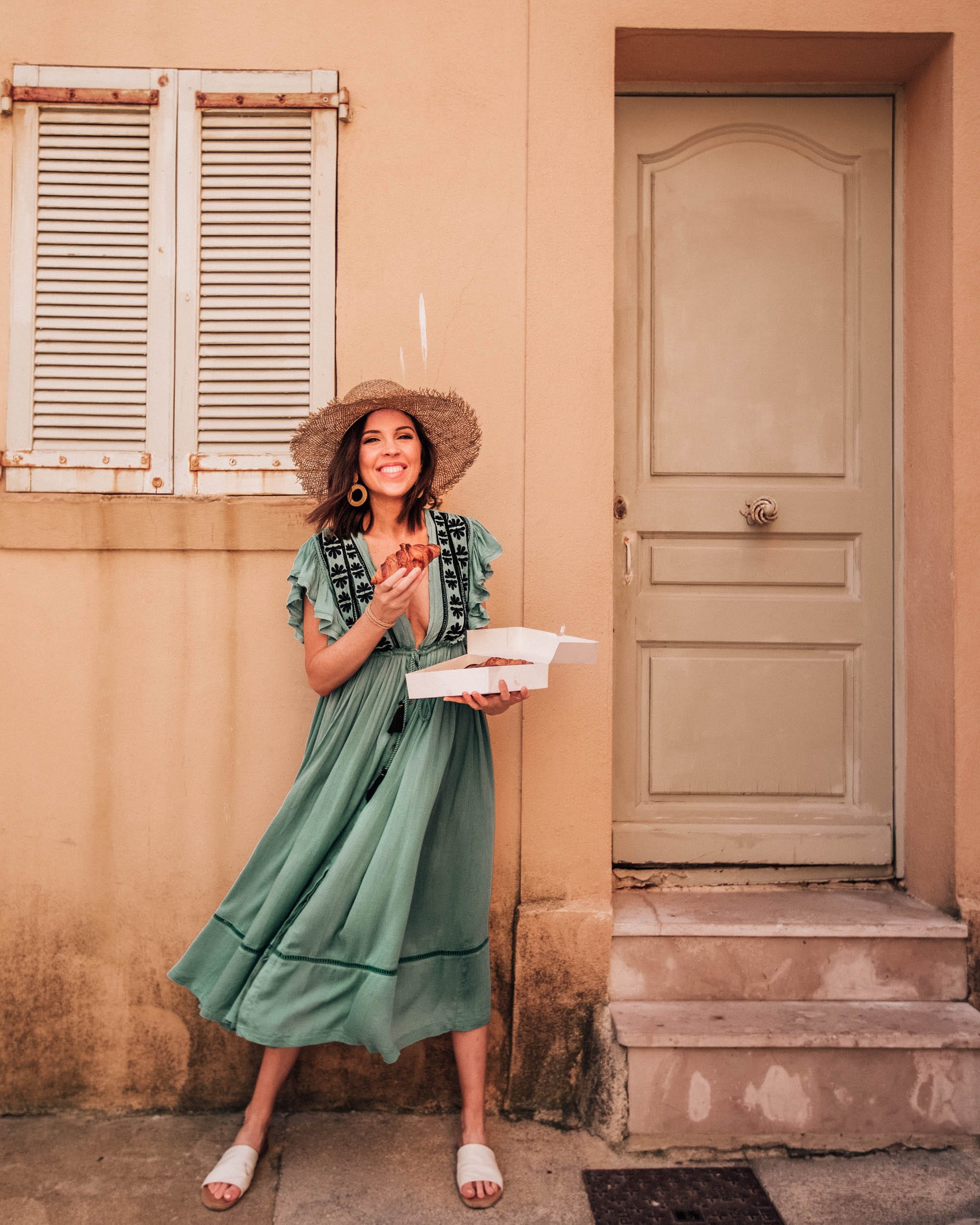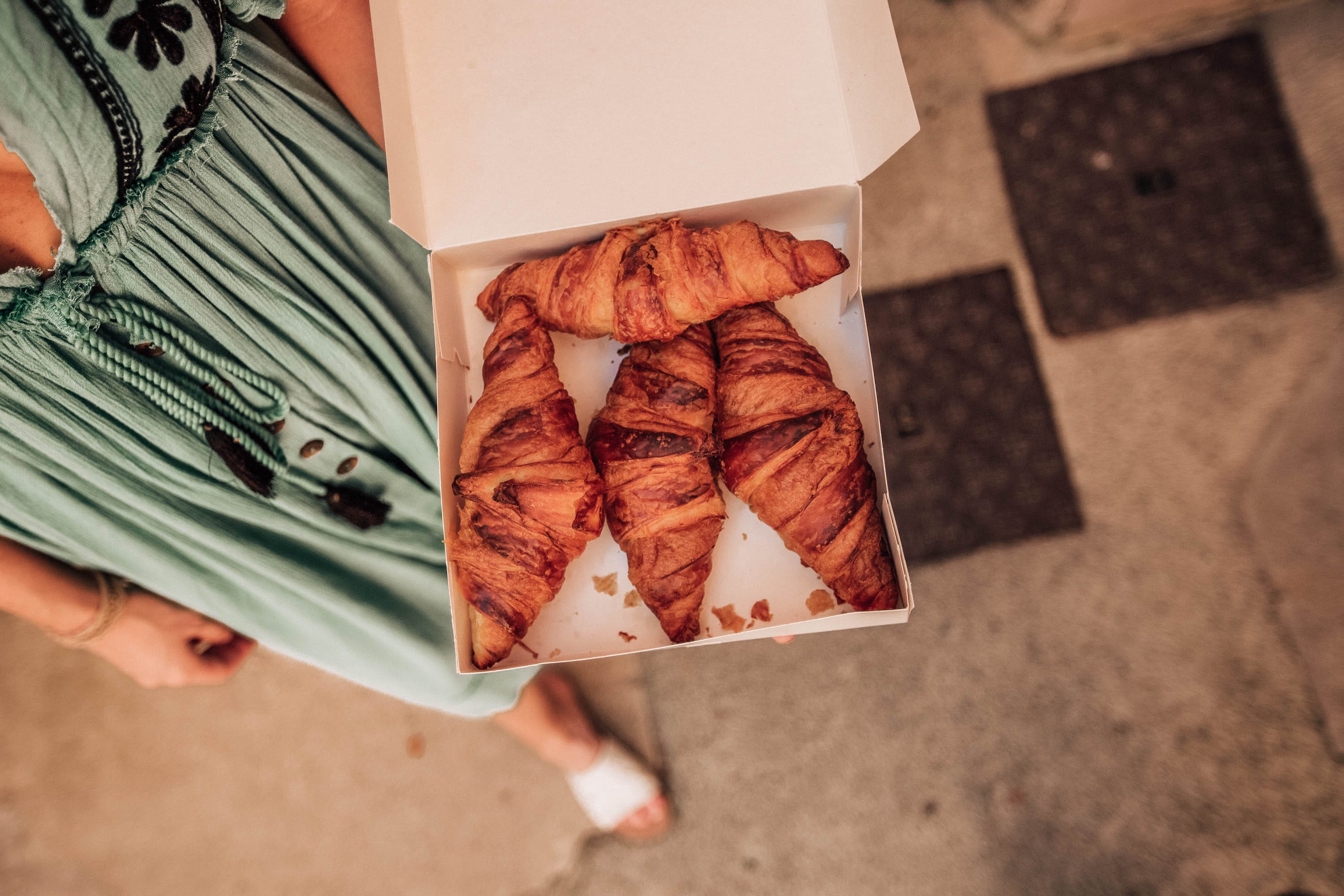 SHOP ART PRINTS FROM THE TRIP:
[show_shopthepost_widget id="4537961"]