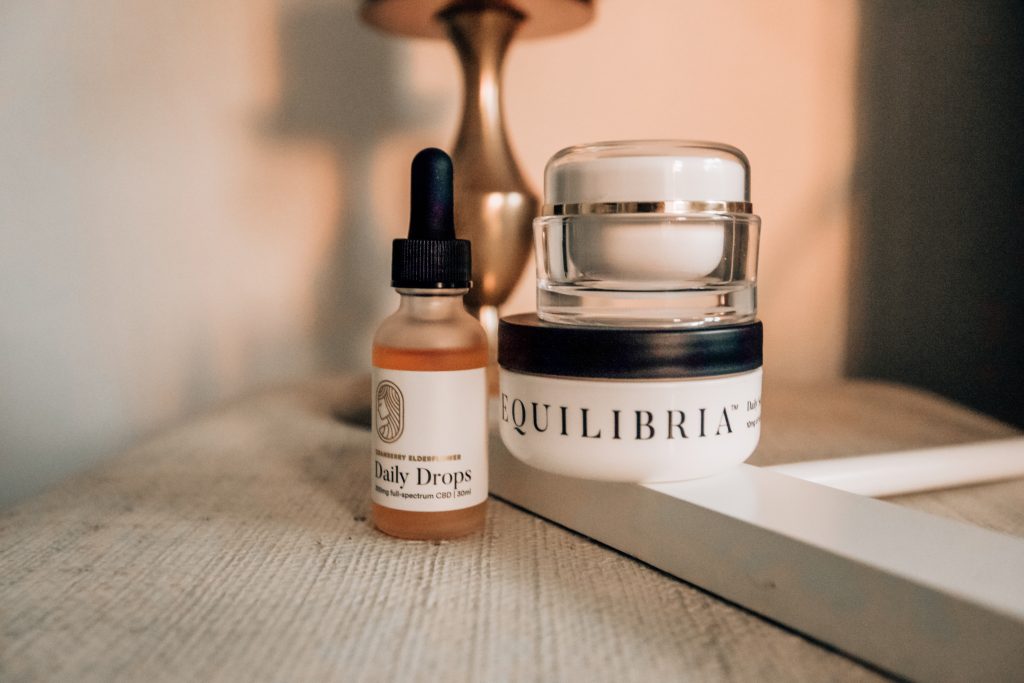 Today I am partnering with Equilibria and sharing a little bit of how I first discovered CBD products and the role they've played in my everyday life. If you're interested, I also have a discount code that you can use for 15% off your first order (prettyinthepines). You can also use prettyinthepines50 for 50% off subscription orders now through 12/31. Anyways, I've shared my anxiety story in depth about a year ago but, in case you missed it, a few years ago (about the time when we were about to get married), I started to experience panic attacks in very specific situations. They essentially happened in situations where I felt like I could lose control in public (ex: driving down the highway, eating at a crowded restaurant, walking around the grocery store, getting on airplanes, etc.). You can read more about it in this post but it really started to negatively affect the quality of my life so I tried multiple ways to try and ease the severity of it all.
This is when I first tried CBD oil… you just hold it under your tongue for 60 seconds. I remember one day I was getting on a plane (which would normally cause a panic attack) and by the end of the day, I remember saying to TJ, "I didn't even feel anxious at all today while traveling!". I then remembered that earlier that day I took CBD and that is when I realized "wow, this actually makes a difference". I then continued to take it when I would drive to work, go to social events, or basically whenever I'd leave the house. It was definitely not my highest point in my life but having a "safety net" or resource that I knew could make even a small difference was so exciting at that time.

Fast forward to today and I am in a way better place mentally but still use Equilibria products regularly and am continually impressed by the company's products. Personally, I use CBD mainly for sleep and stress these days but there are countless benefits and so many types of products to choose from. Even their bath soak is worthy of mentioning! I also have many friends who use CBD to help them focus throughout the day. Consistency is key though.
In case you are unfamiliar with CBD, it is a natural ingredient found within industrial hemp flowers. When taken properly and consistently, it is clinically proven to help with your physical and mental well-being.  In my experience, it just helps me feel more calm and clear-minded rather than overthink and overanalyze every little unnecessary thing that could make me spiral into panic mode. It helps me feel more present. If you tend to get anxious in social situations like I did, it helped me enjoy those moments more and feel like I could live in the moment.

If you don't have any idea where to start or what product to use/dosage to take, Equilibria has their own dosage specialists to help guide you with all of this! My first call with my dosage specialist was incredibly informative and this is a huge part of what sets Equilibria apart from other brands, in my opinion. They are always there as a resource for you to answer ANY questions that you might have.

Aside from CBD oil (drops), CBD also comes in several different types of products. I have the soft gels which are slower releasing than the oil, the relief cream that helps me get through days when I have cramps (just rub it on my skin and it provides incredible relief), an energizing roller (for mornings), a calming roller (for night), and daily treatment oil that nourishes my skin, bath soak, the list goes on. If you're brand new to CBD and want to try a little bit of everything, I'd recommend ordering the Brilliance Box (in mint… personally, I prefer the flavored over non-flavored).

I hope my experience helps give you a little bit of insight on CBD. Don't forget that you can get 50% off your first month of subscriptions with the code "prettyinthepines50". Everything else can use 'prettyinthepines' for 15% off your first order.